September has arrived and that means Spring has officially sprung in Tasmania! As my all-time favourite season (ahem, it is also my birthday season), there is no better season to visit Tasmania in my eyes. The weather has started to pick up, the days are noticeably longer, and you won't get the summer crowds. There is perhaps no better time to visit Tasmania than in shoulder season. You'll enjoy reasonable weather but you can still benefit from shoulder season prices. So if you're coming to Tasmania in Spring, here are the best things I suggest you do!

1. Experience the Bloomin' Tulips Festival
If you can time your visit for it, the Bloomin' Tulips Festival is perhaps the biggest event on the North West Coast at this time of year (those colours – its not hard to see why!!!) The festival comes around in October each year and doesn't last long. Be sure to check in advance regarding dates as they change slightly depending on the season.
(Image via Cradle to Coast Tasting Trail)

2. Check in to a Coastal Getaway
Just before the summer price hike, take advantage of low occupancy and check yourself in to one of Tasmania's privately owned coastal holiday homes! My favourites include Thalia Haven (pictured), Rocky Hills Retreat and the Avalon Coastal Retreat. Each holiday home has a kitchen, so be sure to pick up some fresh local produce and cook up a storm. Nothing says Tasmania in Spring than making the most of the local produce. Think white wines, delicious cheeses and citrus flavoured desserts.

3. Ride on the West Coast Wilderness Railway
Although most of the tourist action takes place on the East Coast in the warmer months, a great escape is the popular West Coast Wilderness Railway. The West Coast is full of beautiful rainforests, misty skies and extremely beautiful scenery, so if you wish to make the most of it be sure to stay a couple of nights in Strahan to explore the region.
(Image via WCWR)
4. Explore Maria Island
One of the most photographed spots on one of the most popular outlying islands, is the gorgeous painted cliffs on Maria Island. Daily ferries operate to the island in both directions, but due to popularity I would suggest booking in advance!
(Image via ABC)

5. Indulge at The Raspberry Farm
If you happen to visit Tasmania by ferry (the Spirit of Tasmania operates twice daily from Melbourne), one of your first stops should be the Christmas Hills Raspberry Farm, located on the highway between Devonport and Launceston. The entire menu features raspberries, raspberries, and more raspberries!
6. Visit Tasmazia!
One of my favourite little finds off the beaten path is a great place for kids (or big kids like me) – Tasmazia. The maze is a great outing for the day if staying in the Central Highlands, or taking a day trip from Launceston.

7. Walk on Air at Tahune Airwalk
Heading down South, one of the most beautiful attractions is the perfect day trip from Hobart: Tahune Airwalk. The crowds start to arrive roughly one hour after opening, so if you'd like to have the place to yourself I would suggest arriving bang on opening time (which means an early start – but so worth it!)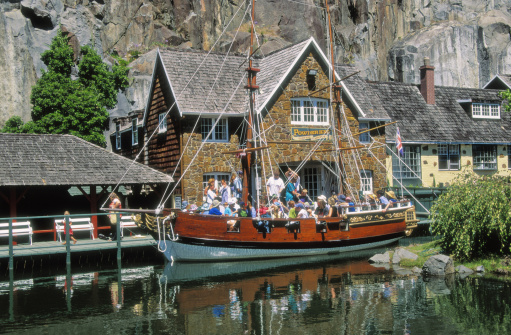 8. Step Back in Time at the Penny Royal
Back up North in Launceston, the Penny Royal has recently been refurbished and is an absolute mecca for kids (and again, the big kids!) There's rock climbing, a bridge walk, motorised boat tours and some fab food. I really love this part of town as it also connects to the Cataract Gorge, a natural gorge full of great walking and hiking routes.
(Getty Images)

9. Take a Wine Tour
Tasmania is famous for its wines, so why not head to one of the fabulous wineries (there are many) or pick a few to visit in the Tamar Valley Wine Region! My favourites include Josef Chromy (Launceston) and Strathlynn (Tamar Valley).

10. Fly over Wineglass Bay
As the weather starts to pick up around the state, the East Coast of Tasmania begins to draw crowds in the hundreds and thousands – from all over Australia and the world! Be sure not to miss Wineglass Bay, one of the most photographed spots on the island. You can hike to the bay, see the bay from above, or take a cruise to the bay.