With its rich orange sunsets, endless beaches, playful wildlife and spiced curries, Sri Lanka is an unforgettable destination that will have you filling in dinner party conversations for years to come. Moreover, Sri Lanka is the perfect budget-friendly option for your first safari experience or a tropical getaway without the hefty price tag. Here are 10 great reasons to visit Sri Lanka and make this your next holiday destination! Plus, we've named it one of the 20 best places for female solo travellers.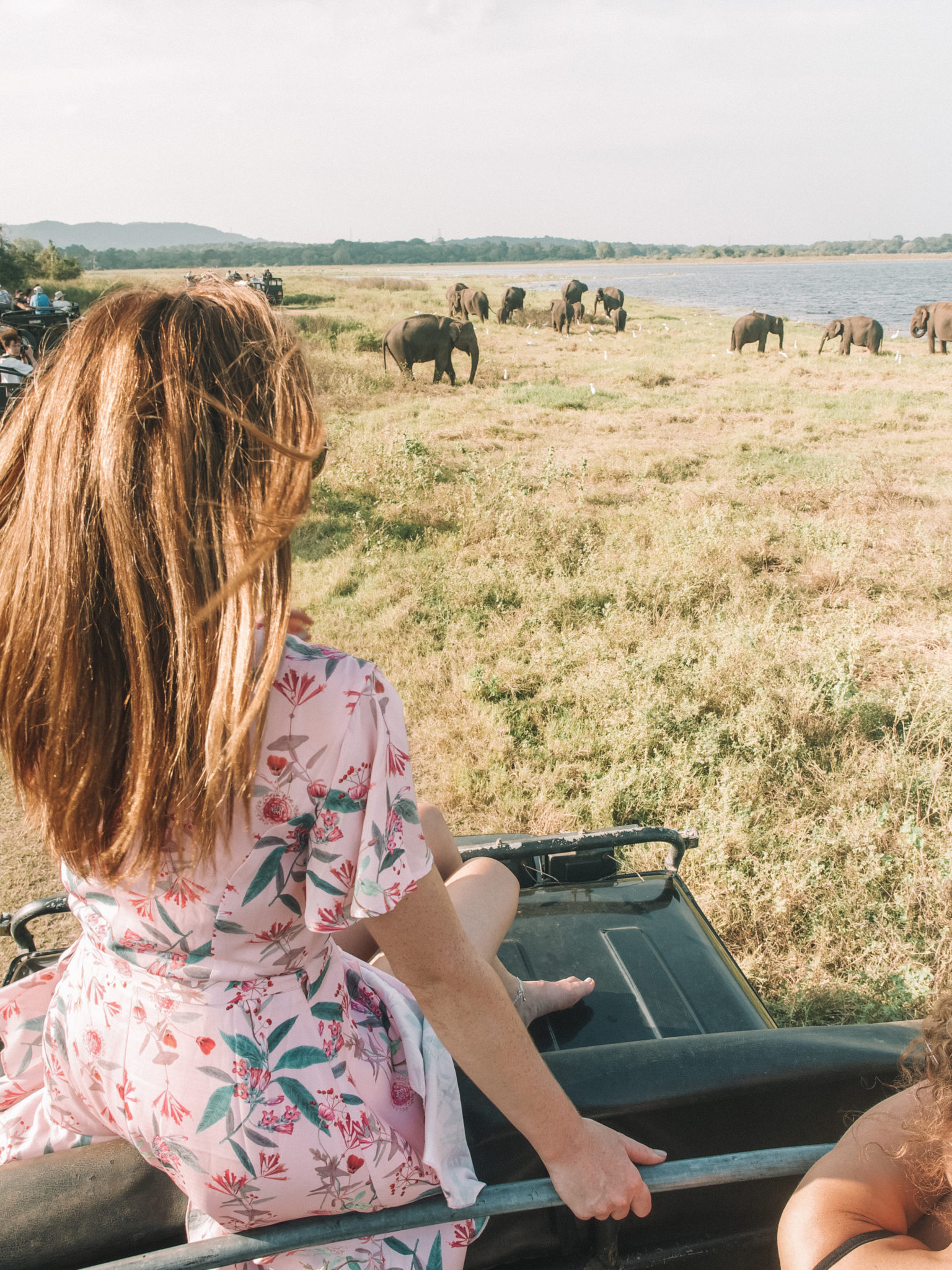 Reasons to visit Sri Lanka
1. For the Asian Safari Experience
Ever wanted to go on safari but haven't got the time or cash to invest in an African adventure? Sri Lanka is your next best bet. Throughout my time in the country I encountered so much wildlife, especially monkeys, but the most memorable was, of course, my Asian safari with elephants!
2. Affordable Ayurveda Retreats
Ayurveda simply translates to 'The science of life' – an ancient system of holistic medicine originating in India and Sri Lanka. It is still the predominant medical system on the island today, and has rapidly exploded in popularity amongst tourists looking for Ayurveda in Sri Lanka. There are numerous Retreats and Resorts specialising exclusively in Ayurveda, Yoga and Meditation, as well as general Wellness, all at a fraction of the cost of something similar anywhere else in the world. Many are also dotted along the southern coast of Sri Lanka, enabling guests to have a beach vacation as well. A visit to an Ayurveda retreat is a great way to reduce stress, cleanse, tune into your senses and realign with your best self.
3. The Wildlife
It doesn't take a pre-organised safari to experience all the wildlife that call Sri Lanka home. Monkeys are everywhere you go and are extremely relaxed around tourists (unless provoked – ugh! People!) Bird watchers will have a field day, along with the chance to see elephants and leopards on a jeep safari in one of the national parks.
4. Exciting Cities
"India lite" is how Sri Lanka was first described to me when I touched down in Colombo. Although I haven't yet been to India, I could see the striking similarities with all of the colour, excitement, tuk-tuks and crowds (though they are much less in comparison!)
5. The Food
Spiced curries, fresh fruits and coconut water is just the beginning! Sri Lanka's tropical climate means it is abundant in produce, particularly when it comes to delicious veggies and fruit. Vegetarians will rejoice in the wide range of curries on offer, thanks partly to the fresh produce and partly in thanks to the largely Buddhist population.
6. Temples & Buddhist Culture
Buddhism accounts for approximately 70% of Sri Lanka's religious population, with many of the countries top attractions centering around temples, Buddha statues and religious sites. This offers a great insight into Buddhism and locals will only be more than happy to offer further information to help you gain a deeper understanding.
7. Traditions & The Way of the Land
Many of Sri Lanka's traditions are passed down from India, so those who have already travelled to neighbouring India will draw a number of similarities. Sri Lanka is in contrast less busy and chaotic, with much of the country being occupied by rural farming. This is a great opportunity to travel to the countryside and enjoy Sri Lanka at a slower pace – learning about ancient traditions and rural living.
8. Roadtripping through the Countryside
The landscapes of Sri Lanka are extremely diverse: from surfy towns along the coast to a laidback country lifestyle through Kandy and the various tea plantations in the highlands. A great way to see the country is by roadtripping it, though train travel is also a great cultural experience.
9. Affordable Luxury
If you like to dabble in a little luxury on vacation then Sri Lanka is a great option to save and extend your dollar further. Certainly in Sri Lanka you will get more bang for your buck, with an emerging market for affordable luxury tourism.

10. The People of Sri Lanka
Last but not least – my favourite part about any country I visit is the people I meet and the stories they tell. From the tuk-tuk drivers to the village farmers, restaurant owners and everyone in between, I met so many amazing people on this trip. Sri Lankans are proud of their country and culture and welcome visitors like family to their businesses.
Have you been to Sri Lanka? What did you love about the country!?
Thanks to Sri Lankan Airlines for flying me to Sri Lanka for this whirlwind tour! SLA now fly direct to Colombo from Melbourne, daily. All opinions are my own.