New York is no stranger to food that looks almost too good to eat. Colourful bagels, over the top doughnuts and sorts of sugary good news, is on offer. These are the most stupidly delicious things to eat in New York City – get ready, there are a lot of carbs on offer!

The best things to eat in New York City
Milkshakes like you've never seen 'em
If I could have chosen one place to visit on this trip to New York and one place only, it would be these deliciously good looking milkshakes from Black Tap NYC. They don't come cheap at around $20 a pop, but they're a work of art if I do say so myself.
Found at: Black Tap NYC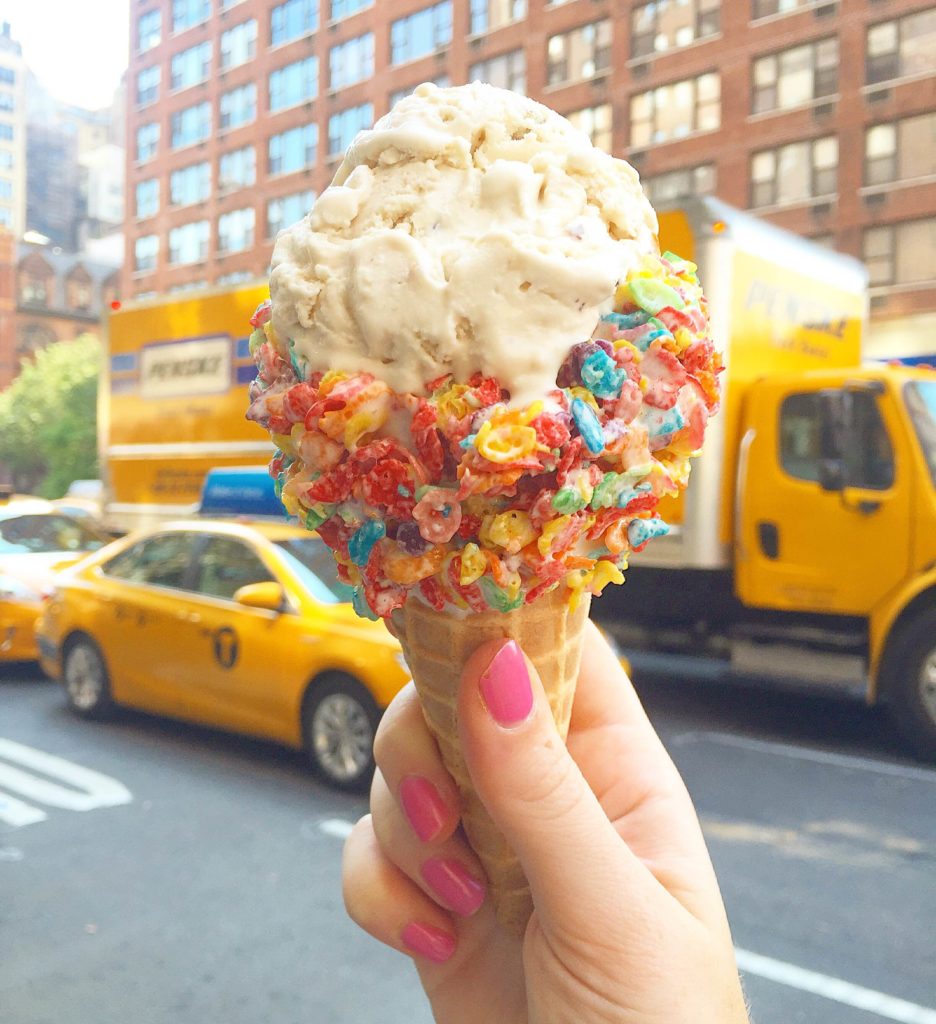 Cereal Ice creams for breakfast
If you're a cereal eater and want to try some of the North American offerings, then save yourself a trip to the supermarket and head straight to Emack & Bolio's. This delicious ice creamery serves an incredible list of flavours inside cereal coated ice cream cones. Ice cream for breakfast!? Why on earth not!
Found at: Emack & Bolio's

The Gooiest Cookies
Nobody hates cookies and nobody will disagree that if you've eaten a cookie from Levain bakery, they're probably the best cookies you've ever had. If you have a chance to go in the morning be sure to arrive early and you'll be able to have them at their best – warm, fresh, and deliciously gooey!
Found at: Levain Bakery

Burgers & Curly Fries
There's no doubt you've heard of Shake Shack before. Long before I came to New York for the first time I had heard about the craze, and years later it appears that craze is yet to die down. Be sure to grab a burger AND the curly fries, because they're damn delicious. The shakes are great too, but you'll be struggling to fit in all three so choose wisely!
Found at: Shake Shack

The Cronut
Chances are you've heard of the cronut, too. If you haven't then prepare yourself for the most intriguing creation of your life: a croissant-donut. Yup, it exists! They're super popular and sell out by 10-11am each day, so be sure to arrive early and be prepared to wait in line.
Found at: Dominique Ansel Bakery

Japanese Tacos
It might sound like an odd combination at first but believe me when I say you won't regret trying Japanese-Mexican tacos. This is a great option for vegetarians, with a number of offerings but I'd mostly recommend the lentil tacos! The iced tea is really good, too.
Found at: Takumi Tacos

Cereal Milk
The flavour that Milk Bar are most famous for is cereal milk. It might sound a little confusing at first, but let me explain (trust me, you've gotta try it!) The flavour is the one you get when you've eaten a bowl of cereal and there's the sugary milk leftovers at the end – kind of like the milk has been infused by the sugary cereal. In other words, it is delicious! You can buy cereal milk flavoured everything, but I'd mostly recommend the soft serve ice cream (even if it is overpriced and undersized).
Found at: Milk Bar by Momofuku

American Style Macarons
Although Macarons are French and Italian (by creation – depending how you make them), you won't find anything more American than the macarons on offer at Dana's Bakery. Unfortunately their NYC location closed down, but just half an hour over in Jersey they have their flagship store or you can order them to be delivered to your hotel. Expect flavours like S'mores, cheesecake, and red velvet. Yum!
Found at: Dana's Bakery
Rainbow Bagels
Nothing is more iconically New York street food-ish than an old and faithful bagel. Although the best bagels I tried were at Ess-a-Bagel, the prettiest I saw were at Best Bagels (location in the Upper West Side). They almost look too good to eat!
The Bagel Store
$1 Slice of Pizza
Because where else can you get a good ol' greasy slice of pizza for just a buck!? If you're around the Times Square area and want a cheap but filling snack, you can't beat the $1 slice of pizza – available at street stalls in the surrounding side streets.