Singapore is full of weird and wonderful local dishes to try during your stay. Here are the top 10 handpicked foods to try in Singapore. Disclosure: as a vegetarian, I was not able to try the meat dishes selected for this feature. However for the sake of all meat lovers, these non-veggie friendly dishes come highly recommended by a Singaporean local – thanks Josephine!
Breakfast:
1. Soft-boiled (slurpy) eggs & Kaya Toast
Singapore has one main traditional breakfast: Soft-boiled eggs (you slurp out of a bowl) and Kaya toast. Remember the good old days when bread was just white, thinly sliced, and lathered up with butter as a kid? Traditionally you will eat your kaya toast this way, however the spread is a sweet coconut flavour with a good dose of melted butter – Y.U.M. Of course these days you can order brown bread, if you must!
Best Kaya Toast & Slurpy Eggs in Singapore:
Killiney Kopitiam: 67 Killiney Road, Singapore 239525
Chin Mee Chin Confectionery: 204 East Coast Road, Singapore 428903 (closed on Mon)
Ya Kun Kaya Toast: 18 China Street #01-01, Far East Square, Singapore 049560 (there are over 30 outlets of Ya Kun in Singapore)
2. Chwee Kway (水粿 lit. Water Rice Cake)
Singapore's second breakfast dish worth trying is a hot alternative that is also veggie friendly (though it really doesn't look to be – I asked a thousand times), is regularly seen at Hawker's Centres in Singapore and Johor. The base is a steamed rice cake that is topped with chai poh (preserved radish) and hot chilli. The younger generation avoid this carb-heavy dish, but it is well worth a try to taste the flavours of old Singapore.
Best Chwee Kueh stall:
Jian Bo Shui Kueh: 30 Seng Poh Road, #02-05, Tiong Bahru Market and Food CentreS(168898)
Lunch:
3. Bak Kut Teh (肉骨茶 lit. Meat bone tea/ Pork Ribs soup)
There are many stories about the origins of the Bak Kut Teh's origins, but my favourite is that during the days of olden Singapore, a starving beggar came by a street stall selling pork noodles and begged for food. The stall owner himself was in poverty, but wanted to help him, so he boiled some left over pork bones and threw in some cheap spices to give the soup flavour. And the rest is history!
Best Bak Kut Teh stalls:
Song Fa Bak Kut Teh: 11 New Bridge Road #01-01, Singapore 059383
Ng Ah Sio Pork Ribs Soup: 208 Rangoon Road, Hong Building Singapore 218453 (closed on Mon)
Ya Hua Bak Kut Teh: 7 Keppel Road, #01-05/07, PSA Tanjong Pagar Complex, Singapore 089053 (closed on Mon)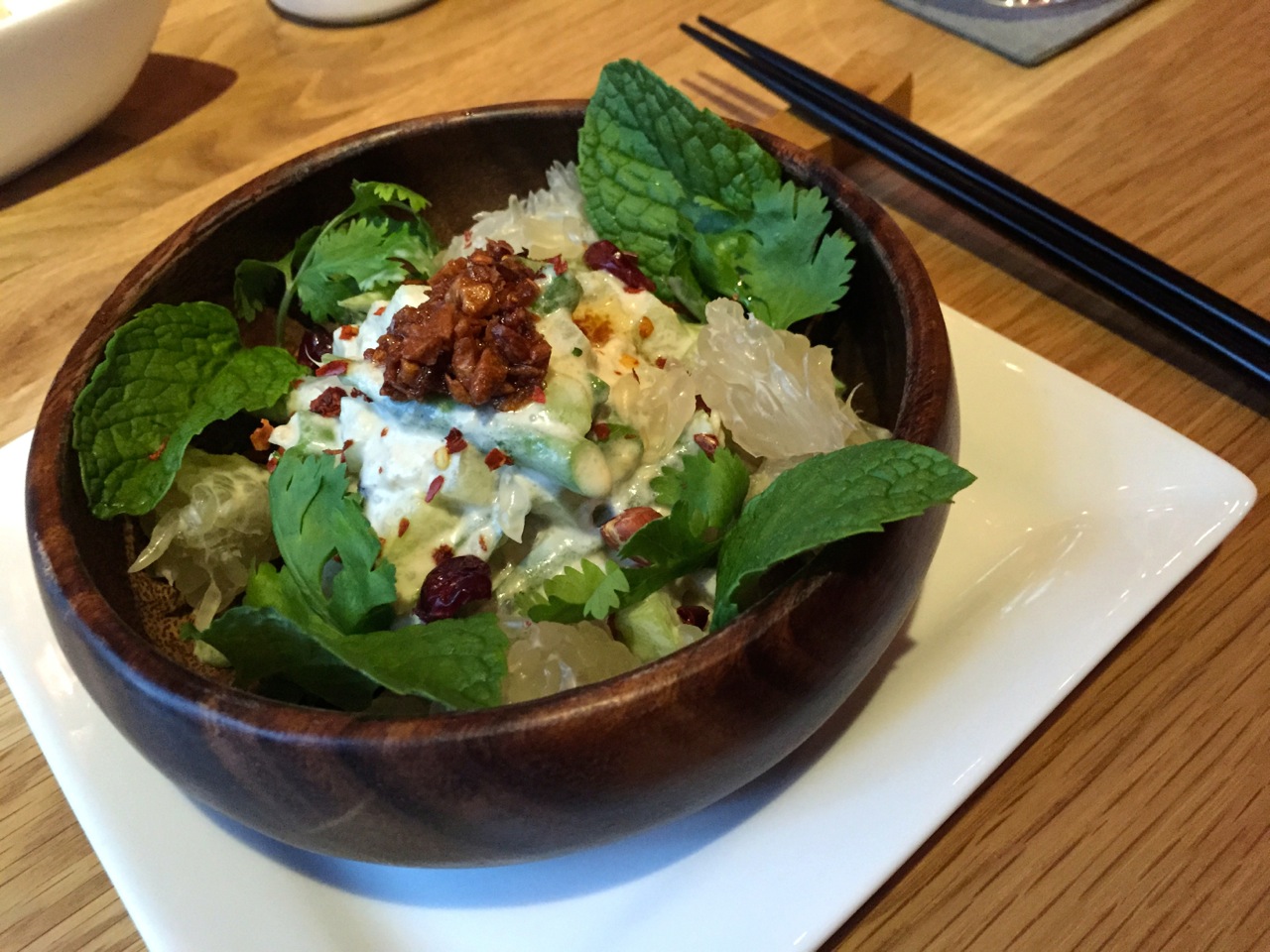 4. Pomelo Salad (veggie friendly)
You can't go wrong with a pomelo salad. Pomelo is sort of like a grapefruit but sweet instead of sour. It goes fantastically in Asian salads and is a common ingredient for Singaporeans in their entree course. Try it, it will surprise you!
5. Wanton Mee (云吞面)
Ahhh, Wanton noodles! A signature dish for the East, particularly in Hong Kong, these dry noodles are often drenched in sweet sauce and topped with slices of pork and wanton dumplings (also filled with pork) and a small portion of soup served on the side. Great if you like pork, I suppose!
Best Wanton Mee stalls:
Fei Fei Wanton Mee: 62 Joo Chiat Place, Singapore 427785
Parklane Zha Yun Tun Mee House: 91 Bencoolen Street, #01-53, Sunshine Plaza, Singapore 189652
6. Laksa
The curry laksa is an important dish for Singapore because it is a merge of both Chinese and Malay elements, of which Singapore is itself. This is most commonly known as Peranakan culture. There are plenty of differing version of laksa, so be sure to try a few!
Best Laksa in Singapore:
328 Katong Laksa: 51/53 East Coast Road, Singapore 428770
Sungei Road Laksa: Blk 27 Jalan Berseh, #01-100 Singapore 200027
Janggut Laksa: 1 Queensway, Queensway Shopping Centre, #01-59, Singapore 149053
7. Popiah
This thin wafer filled with ingredients such as prawns, builed eggs, chinese sausage, bean sprouts, carrots, lettuce and turnip is often served with a sweet hoisin sauce and a great snack if you're on-the-go.
Best Popiah Stall:
Glory Catering: 139 East Coast Road, Singapore 428829 (closed Sun)
8. Fried Carrot cake (菜头粿)
Singaporeans love their fried carrot cake, as do Malysians. Typically it encompasses fried eggs served with radish (chai poh) and white radish flour cake.
Best Fried Carrot Cake Stalls:
Carrot Cake 菜頭粿 (that's the literal name of the store): 20 Kensington Park Road, Chomp Chomp Food Centre, Singapore 557269 (closed on alternate Tues)
Fu Ming Carrot Cake: Blk 85 Redhill Lane, Redhill Food Centre, Singapore 150085
He Zhong Carrot Cake: 51 Upper Bukit Timah Rd, Bukit Timah Market and Food Centre, Singapore 588172
Dinner:
9. Dim sum (点心)
Needing no introduction, dim sum is a staple in many parts of the East and Singapore is no exception. There are many great places to try dim sum, but for the most tried and tested, be sure to check out Tim Ho Wan.
Best Dim Sum:
Tim Ho Wan: 450 Toa Payoh Lorong 6, #02-02, ERA Centre, Singapore 319394
10. Chilli Crab
You can't come to Singapore without seeing chilli crab on the menu. It's everywhere.
Best Chilli Crab in Singapore:
World of Wanderlust visited Singapore as a guest of Singapore Tourism Board. Some of these recommendations were suggested by STB, however my opinion is as always, my own.