One thing is for certain on the streets of Tokyo – things get weird. But as weird as it gets in Tokyo, it is always somehow wonderful… from cat cafes to restaurants with dancing robots, here are some of the best, in search of the weird and wonderful things to do in Tokyo, Japan!
Weird & Wonderful: Things to do in Tokyo
Be Entertained by Robots
…I mean, they're not actual robots and mostly the entertainment consists of dancing people in robot costumes, but all in all this is an incredibly weird AND wonderful way to spend an evening in Tokyo. Located in Shinjuku, the Robot Cabaret is one of the weirder things to do in Tokyo – winning the title of total must do if you're in search of the whackier side to this intriguing city.
(website)
Take a walk down Memory Lane
Also located in Shinjuku is the incredibly popular Memory Lane, located on the west side of Shinjuku Station. This one is more on the wonderful side, as it is a laneway filled with local bars and eateries – a great insight into the Tokyo time forgot.
Try your hand at Karaoke
If you're a Lost in Translation fan like me, your idea of Tokyo is busy streets, flashing neon lights, a karaoke bars. Should you wish to visit the Karaoke Bar Scarlett Johansson and Bill Murray did, you totally can! You'll find that bar in Shibuya, just a five minute walk from the station at Karaoke-kan (30-8 Utagawacho).
Visit a Cat Cafe
One of the earliest animal cafes trends or perhaps the one that started it all are the highly talked about cat cafes. Tokyo is now full of them so you have plenty to choose from and yes – as it sounds – you enter the cafe to hang out with domesticated cats and sip a cup of tea. Quite sophisticated!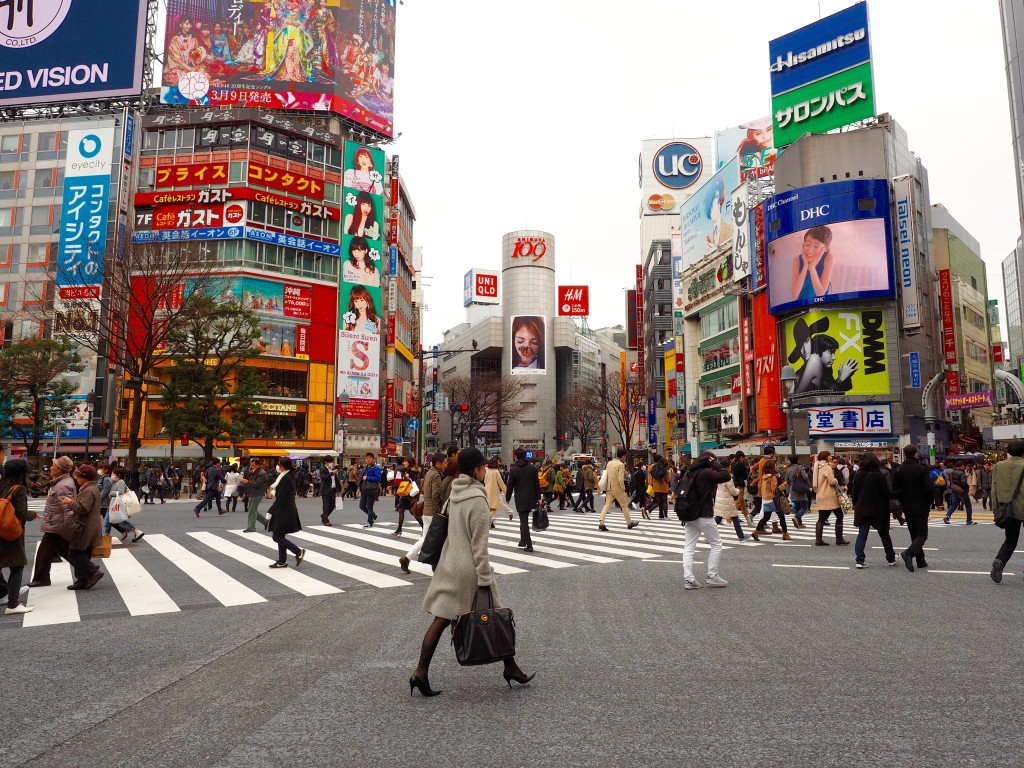 Navigate the crowds at Shibuya Crossing
While more on the wonderful side (though at times can still be weird!), the highly talked about Shibuya Crossing is Tokyo's scramble of pedestrian crossings that create a manic intersection, with flashing neon signs and billboards galore. As the pedestrian traffic hits the streets, the entire crossing comes to life and it is a great spectacle to be a part of – so be sure to cross a few times for effect!
Visit the Owl Cafe
If you're looking for a guaranteed hoot in Tokyo, head on over to the owl cafe. Although I questioned it at first (not being a fan of wild animals being used as pets), the cafe seems to have some very strict rules in place to ensure these animals are well looked after. The animals are also born in captivity and raised as pets (much like domesticated animals such as cats and dogs), so the arrangement seems to be legit. Its as simple as it sounds – you come in, pay to hang out with owls for an hour, take some photos, have a drink, and leave with a new (or increased) love for these gorgeous animals.
(website)
Go Bunny crazy at Nicolas Charles' Bunny Loving Cafe
There are so many fun character cafes to choose from in Tokyo but the one that caught my eye most (and resulted in two days of searching for it) was the Nicolas Charles House – dedicated to bunnies in every way imaginable. As you walk in you are offered a pair of bunny ears to dine in, followed by a bunny-friendly menu full of fun treats. The parfaits are for sure the most photogenic choice, and the caramel flavoured bunny parfait was DELICIOUS (just – so – rich!!!)
(website)
Solo traveller? Visit the Moomin Anti-loneliness Cafe
If you're visiting Tokyo alone you might want to pull up a chair at the Moomin Cafe – famous for allowing guests the opportunity to sit with a plush toy as their company whilst dining.
(website)
Enter Kiddy Land
Located in Harajuku is this impressive multi-storey toy house, selling everything from Hello Kitty to Sailor Moon, Peanuts and everything in between! Don't expect to just see kids in here, though – this is great fun for adults too!
(website)
Sleep in a Capsule
If you're visiting Tokyo on a budget there are hotels that make the city affordable… Just don't expect more than a blind as your door and not enough space to sit up!
(website)
World of Wanderlust visited Japan with Trafalgar on the Splendours of Japan Tour.