As one of my favourite underrated countries I have explored in Europe, I adore Bosnia and Herzegovina. In fact, I've got a long list of reasons as to why you'll love this country in the Balkans! The culture is of course one of the best reasons to visit, but there is also some beautiful scenery. Often travellers overlook this hidden gem. If you're more of a slow traveller then pack your bags and give yourself some time. These are the 12 best places in Bosnia and Herzegovina to explore.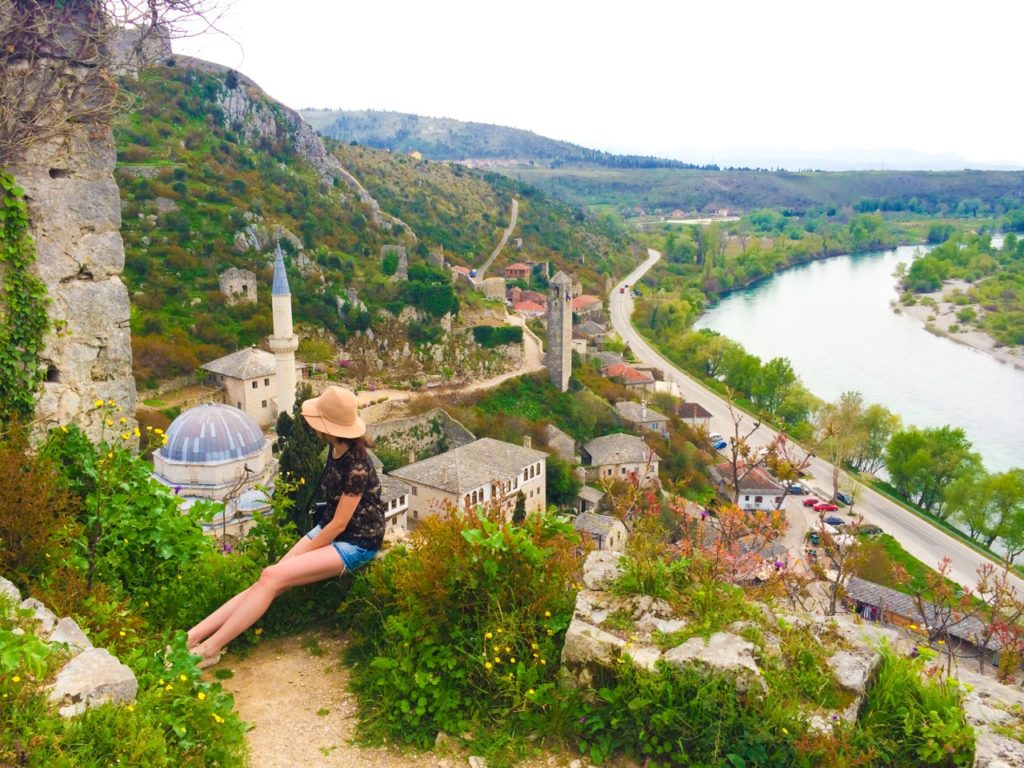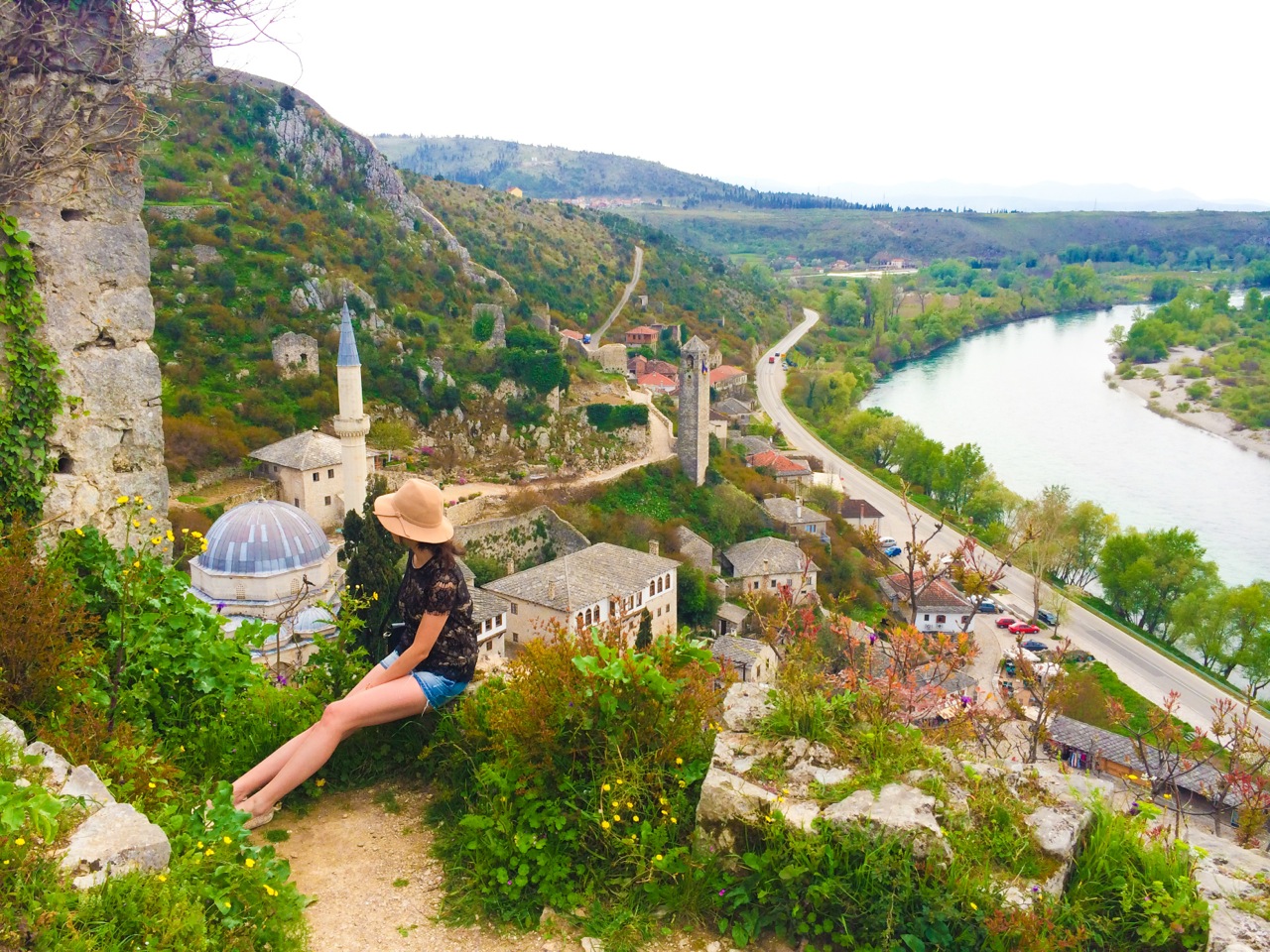 Počitelj, Čapljina
Although I had never heard of it before arriving to the country, Počitelj quickly became one of my favourite villages to visit with thanks to a local guy who offered to show us the hillside village on a cloudy afternoon drive out of Mostar. Located on the left bank of the river Neretva, Počitelj has incredible views overlooking the village and river below if you're willing to hike the stairs to the top.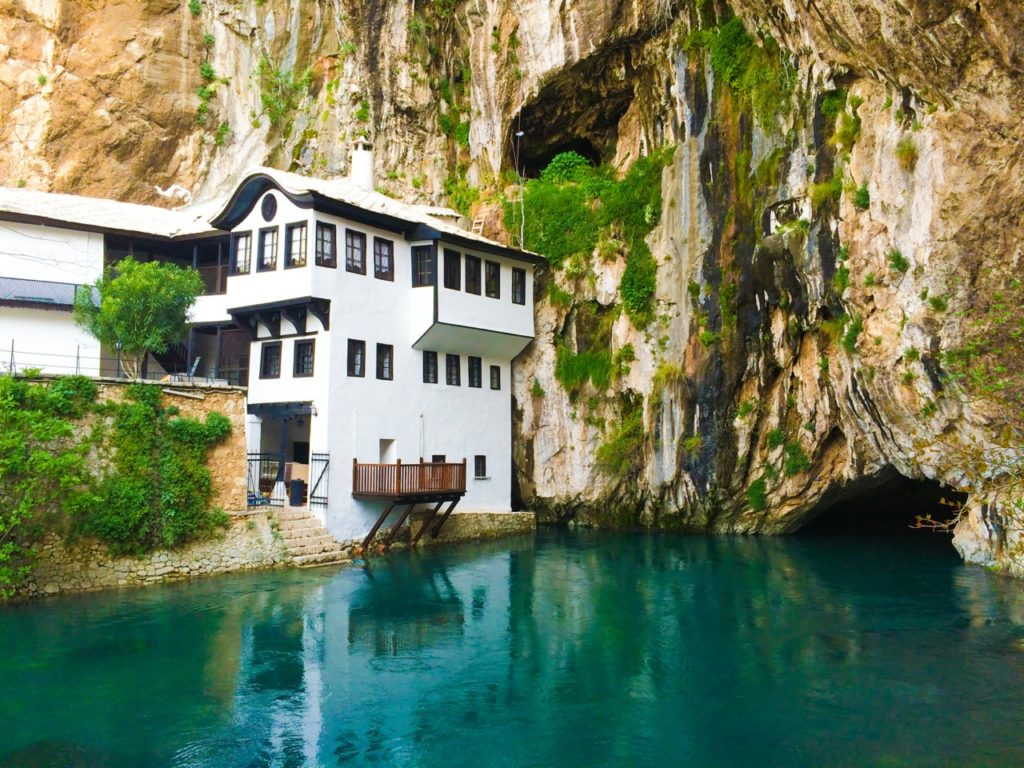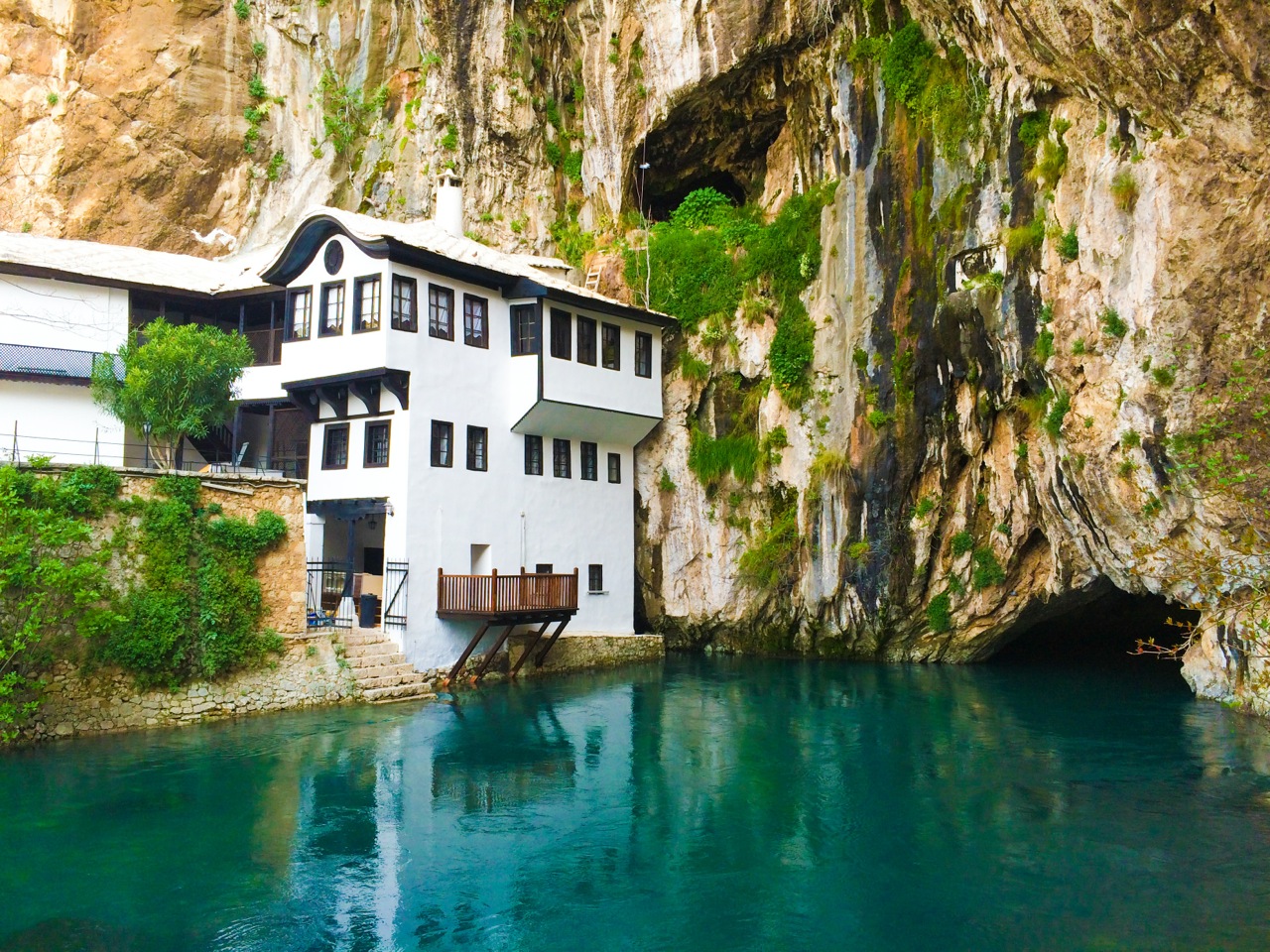 Blagaj
A small town outside of Mostar, Blagaj is often overlooked by travellers visiting the nearby famous old bridge. Blagaj is where I stayed for a week to explore Bosnia & Herzegovina and the family who kindly hosted me were all too eager to show me around the country around their work schedules. But it was here in Blagaj that I really took the time to unwind and switch off from the online world – deep in the Southeast of the country. Pictured is the Dervish Monastery Blagaj Tekija, a 600 year old monastery at the base of a cliff.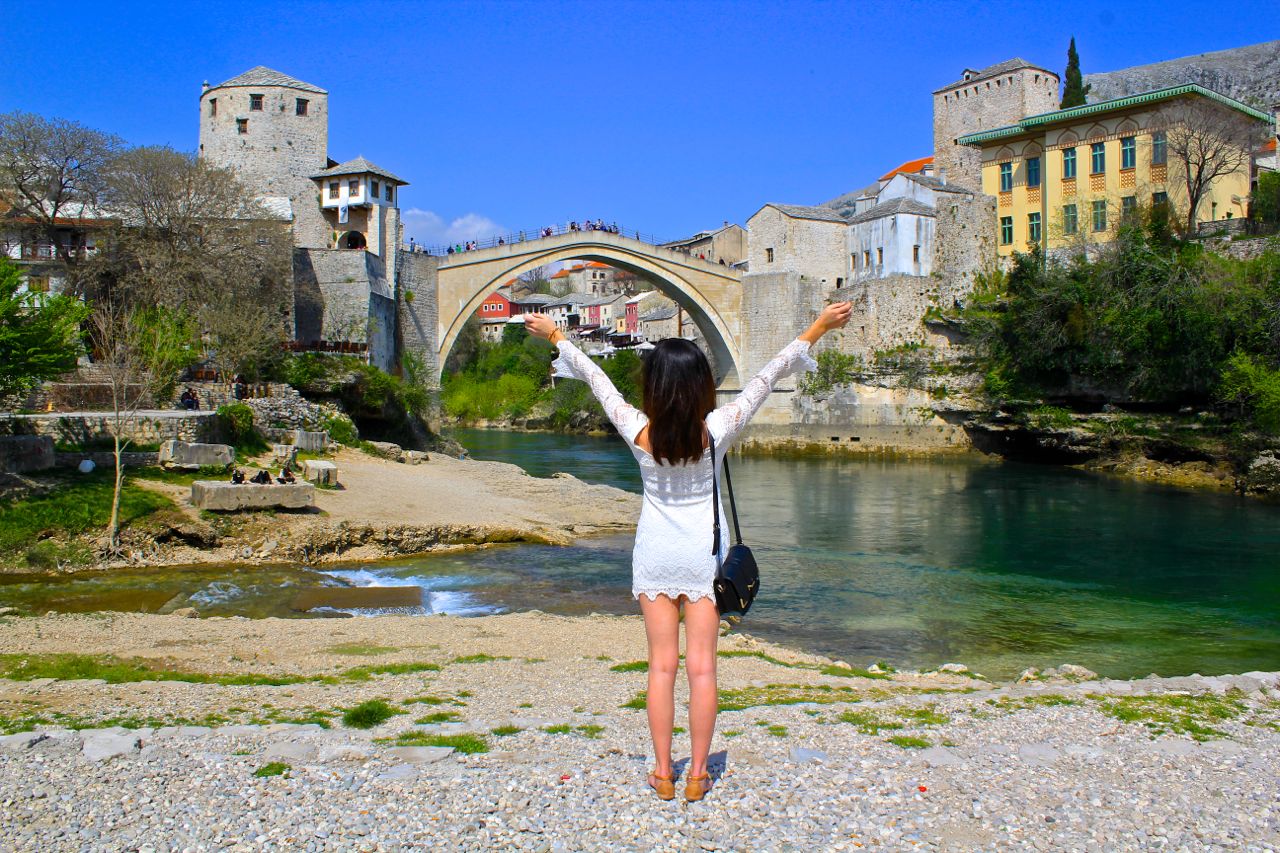 Mostar Old Bridge
Chances are you have already seen or heard of Mostar's famous old bridge as it has built quite a reputation for itself as the major attraction in Bosnia & Herzegovina, thanks in part to its' proximity to neighbouring Dubrovnik (Croatia) and accessibility as a day trip. The old bridge (Stari Most) was rebuilt after the 1990s conflict after standing for 427 years and has become famous for its diving competition every summer at the end of July.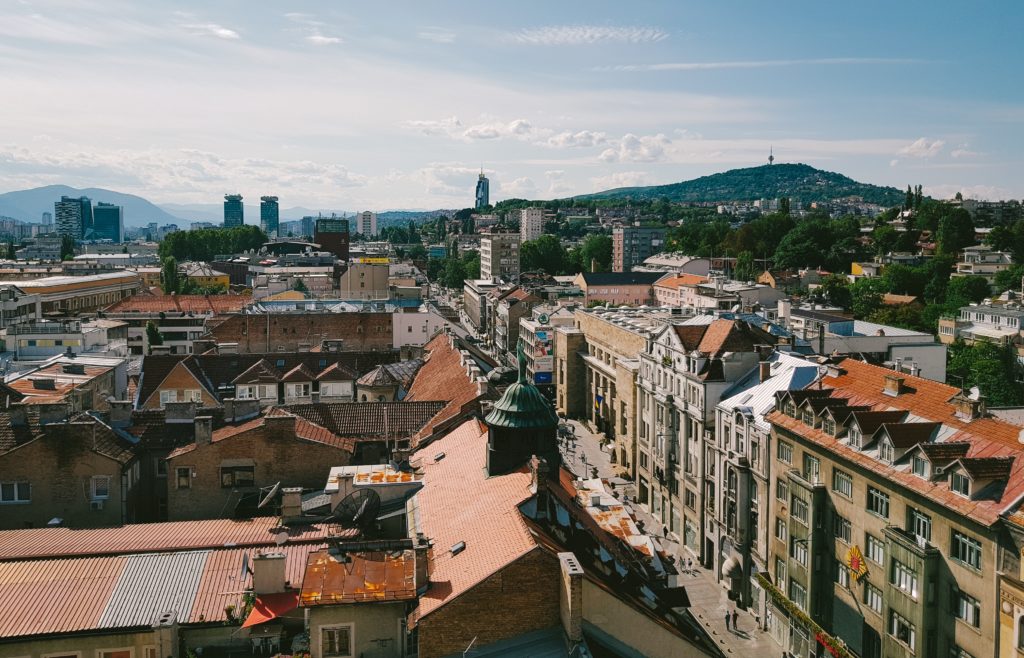 Sarajevo
A compact city with a lot to cover in a short geographic space, Sarajevo feels like a world away from reality with its' cobblestone streets, misty hookah lounges and laidback attitude. There's also a lot of history to uncover in the capital of Bosnia & Herzegovina, so despite its' small size, be sure to allow for a few days to discover this city on foot.
Kravica Waterfall
Located in the heartland of Bosnia & Herzegovina, Kravica waterfall is a local's favourite as well as for those visiting from abroad (especially in the summer months to escape the heat and pop in for a dip!)
Banja Luka
As the second largest city in the country, Banja Luka is another great pit stop for those city folk who need a plethora of restaurants, bars and pubs to choose from. This city is the centre of the Bosanska Krajina region and is located in the northwestern part of the country.
Neum
With only 20km of coastline, Neum is the only town from Bosnia & Herzegovina to be situated on the peninsula with access to the Adriatic Sea (read about the history of such in this intriguing article). This makes Neum a popular spot for holidaymakers, though with its close proximity to Croatia's coastline, is often overlooked by travellers to Bosnia & Herzegovina.
Jajce
Another small town that must be visited is Jajce, with its impressive Pliva waterfall being a highlight for travellers passing through.
Travnik
If you find yourself in central Bosnia be sure to stop in Travnik, an idyllic town with an interesting history given it was the capital city of governors from 1699 to 1850.
Sutjeska National Park
As the oldest National park in Bosnia, Sutjeska National Park is a must visit for active travellers who prefer to get outdoors and work for their viewpoints. The park includes the highest peak of Maglić at over 2,386 metres, on the border with Montenegro.
Blidinje Nature Park
If adventure travel is more your style, the second park you cannot miss is Blidinje, located in the heart of the Dinaric Alps. Hiking and climbing is in abundance and with the country remaining such a hidden gem of Europe, you'll often feel as though you have the entire park to yourself.
Konjic
The final destination we'd recommend as a must visit in Bosnia and Herzegovina is a small town in the north known as Konjic. This historic importance of this town makes it a necessary pit stop in your travels. During the Bosnian War the Konjic region served as an important link between Sarajevo and Southern Bosnia & Herzegovina. Aside from history, the town sits amongst some of the most beautiful scenery you will find in the country.