London has some really fantastic restaurants, I feel very lucky to live in a city where there is so much choice. However, the majority of the London foodie scene is largely unhealthy, delicious don't get me wrong, but not great for you. So if you're like me and enjoy the odd indulgence but also really enjoy keeping fit and healthy then this post is for you. Now you can eat out and not feel guilty after! London is fast catching up on the health trend with new restaurants and cafes opening almost every month. Having tried and tested as many as possible these are in my opinion the best of the best. So here you have it, 14 healthy cafes in London that you need to know about!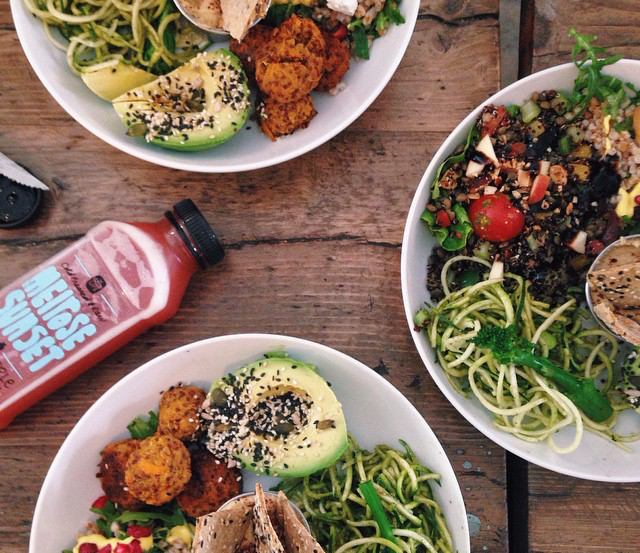 1. The Good Life Eatery
This was London's first cafe that stocked cold-pressed juice, it opened almost two years ago in Chelsea and they are without doubt one of the most popular healthy eateries in the city, proven by the fact they're opening up their second branch in Marylebone in the next couple of months.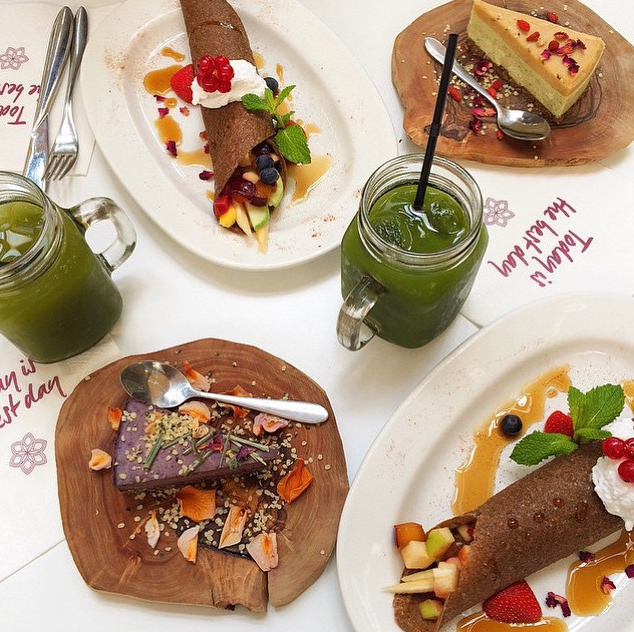 2. Tanya's Cafe
Another raw centric cafe for you. I can't say that raw food if my favourite way to eat but the food they manage to make here that tastes surprisingly similar to the food it's mimicking is really quite impressive. Tanya's first opened in Chelsea and has now branched to Parson's Green too. I highly recommend the juices here, they're pretty incredible.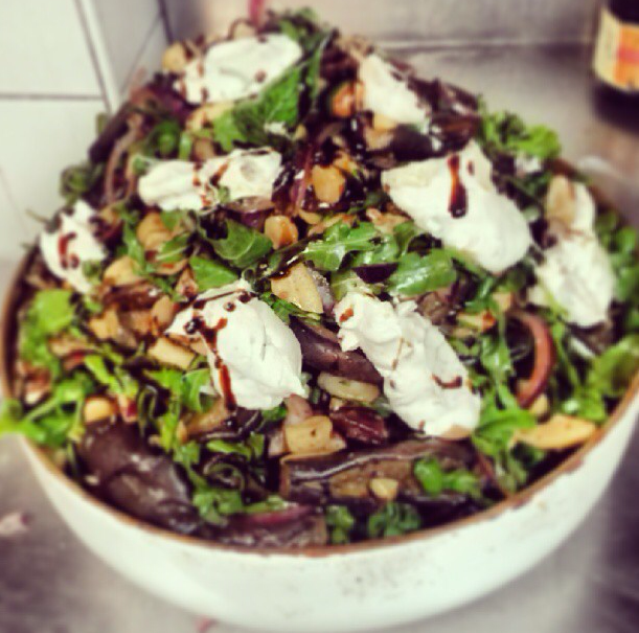 3. Mildred's
Mildred's caters specifically for vegetarians, however for all you carnivore's out there, don't be put off there's a delicious array of dishes that prove to even the most dubious of meat-lovers that you don't need a portion of meat for every meal. Their Energising Detox Salad and Sweet Potato Curry are both incredible. I'd highly recommend Mildred's to anyone and everyone, if you're tempted you'll find them in the heart of Soho, careful though – they're too popular for bookings, show up early and fight your way to a seat!
4. Wild Food Cafe
Centrally located in Neal's Yard, Covent Garden, the Wild Food cafe is a 'raw-centric' restaurant with a menu suitable for vegans and vegetarians. Their ethos is centred around well-being and all items on the menu are freshly prepared each day with ingredients locally sourced as much as possible. I wasn't a huge fan of the deserts but the salads and sandwiches are really delicious. Be sure to pop by for a meal if you're in the area, you'll leave feeling satisfied but not stuffed!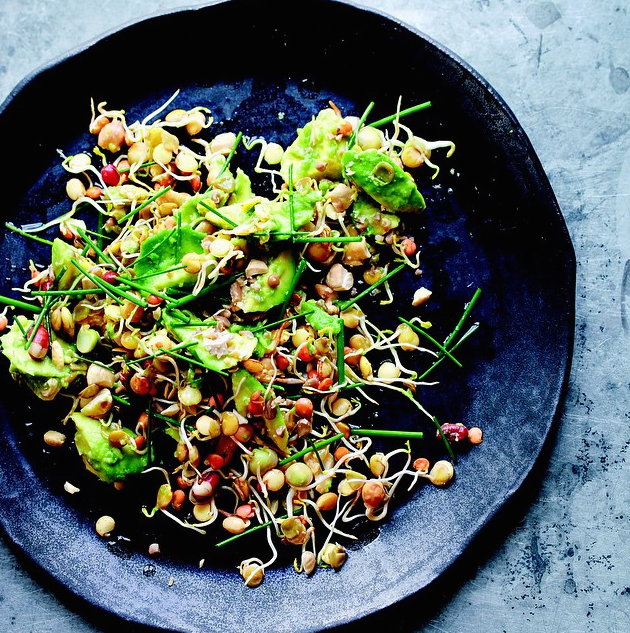 5. The Detox Kitchen
These guys are perfect for your lunch break. They have a variation of fresh seasonal salads – veggie, chicken, prawns, the list goes on. Whether you're seeking a more filling option with rice or something lighter with lettuce they always have an amazing selection. Or if you just want to pop by for a smoothie, they have them on offer too. You can find The Detox Kitchen on Kingly Street or in Harvey Nichols.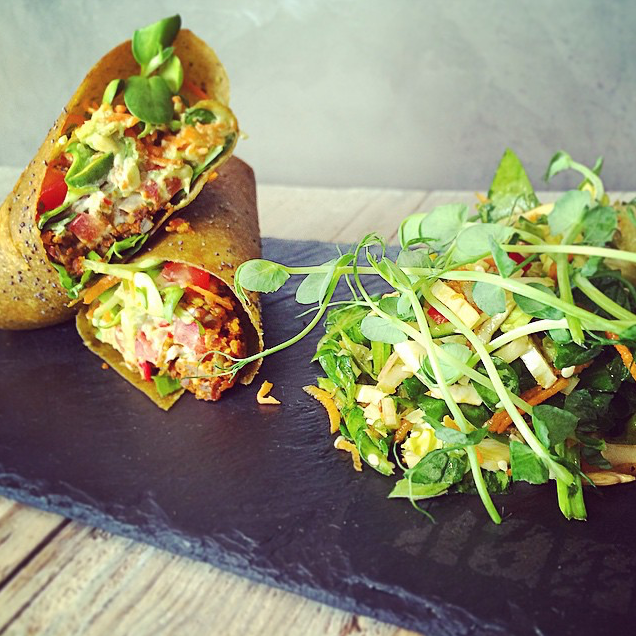 6. Nama Foods
A third raw-eatery for you all. This one is located in Notting Hill, they offer raw-food courses, juice cleanses and raw cleanses. Or if like me you just fancied a refreshing, non-stodgy, healthy meal they're also pretty good at that too! They're open for all meals of the day, I particularly enjoy their breakfast menu – the Pancakes and Ice Cream is definitely worth a try. The Chocolate Heaven smoothie is also one to add to your list of must-try's. If you're looking for a more savoury option at lunch then you should check out their take on a pizza, it's pretty impressive. Whether you're super into raw foods or are just looking for something a bit different and healthy then this is your place!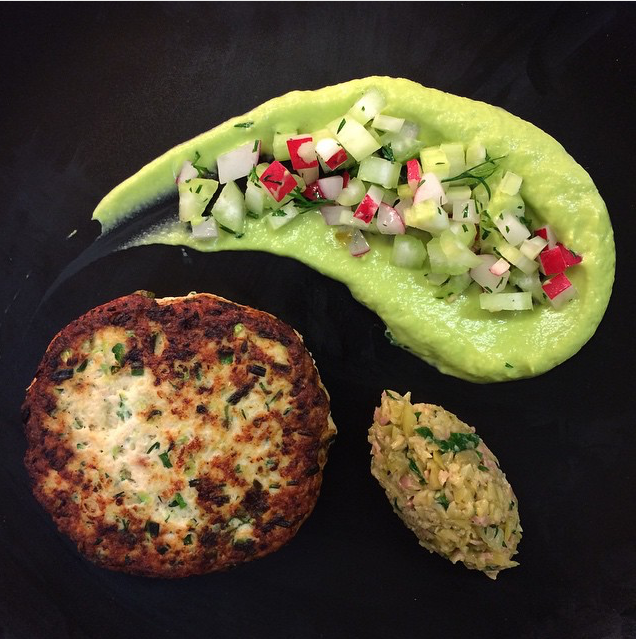 7. Pure Taste
For those of you who follow the Paleo Diet (also known as the Caveman Diet) then you will love this restaurant. Actually for anyone who loves a protein filled, healthy meal you will love this restaurant. The whole menu is coded underneath according to different dietary requirements, which I thought was a particularly exciting feature. Despite being London's first Paleo restaurant there are items on the menu to suit vegan, vegetarian, coeliac – you name it. You'll locate Pure Taste on Westbourne Grove in Notting Hill and I would highly recommend you do.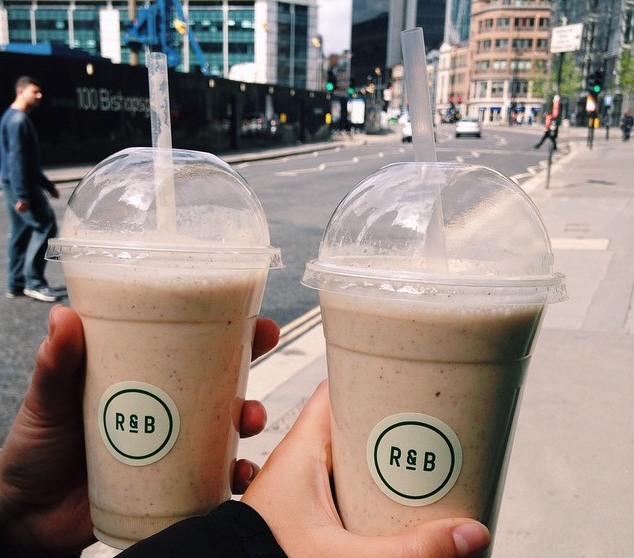 8. Roots and Bulbs
Roots and Bulbs prizes themselves on creating nutritious cold pressed juices, superfood smoothies and also providing wholesome, natural and well-sourced food. They have locations in Marylebone and South Kensington. They also have bars set up at the work-out studio 1Rebel and the hairdressers Daniel Galvin. My personal favourites on their drink menu come from their superfood smoothie section, the 'Gym Freak' smoothie is pretty delicious and also unsurprisingly perfect post-gym. The mixed quinoa salad and chocolate brownie are my go to choices from the food menu, seriously, the chocolate brownie is on another level.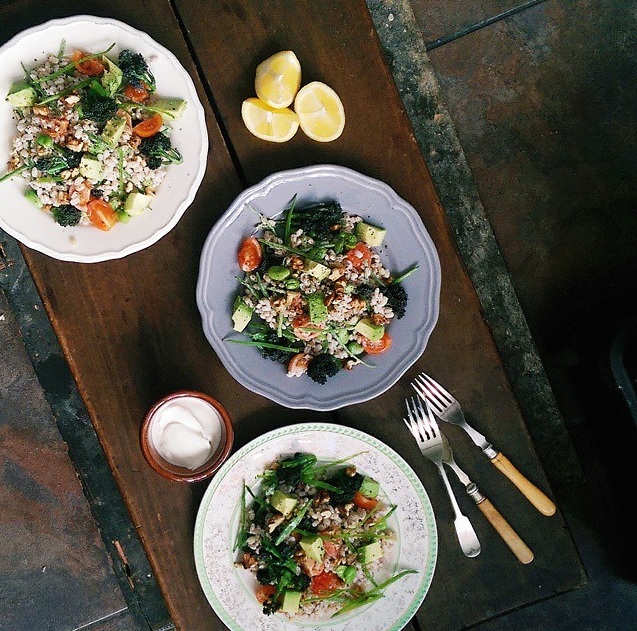 9. Maple and Fitz
Maple and Fitz is the first cold-pressed juice bar in Fitzrovia (central London). They also serve really delicious, nutritious and honest food. All their ingredients are well sourced and their menu is packed full of nourishing meals. This is a great place for a lunch break as it serves you all the nutrition you'd need in the middle of the day without you being starving by 4pm. If you're in a hurry to get to the office and haven't had a chance for breakfast they also have a great breakfast menu. The Avocado chilli toast and Julius Caesar salad are personal favourites. Be sure to also try their Kale-Aid juice and the Raw Energy balls.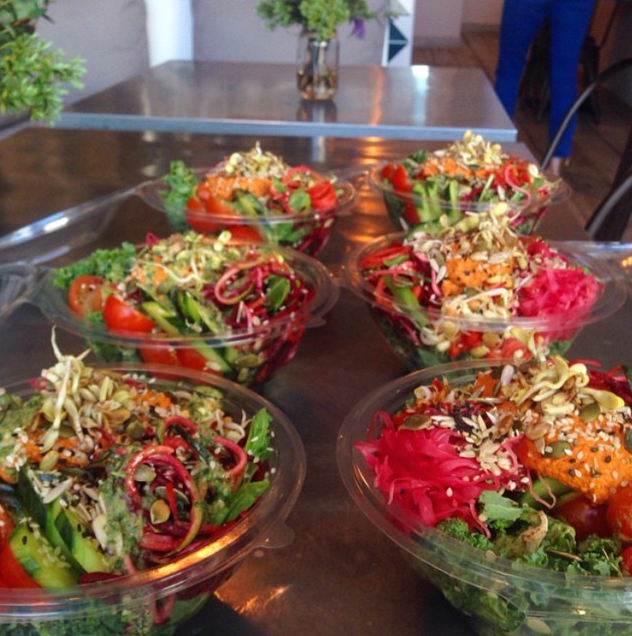 10. Juicebaby
Juice Baby is fantastic, they're trying to make sustainable and healthy food on the go. If you're a fan of acai bowls, they serve a mean one here, their Mulberry granola is also pretty exceptional. If you're seeking out a healthy lunch spot, this Chelsea based bar is perfect for a lunch-break or for picking up some breakfast. One thing you must try however is their Nut Butter Fudge smoothie, whilst it may sound devishly naughty it is packed full of nutrition whilst also quenching that sweet-tooth of yours. You'll find Juice Baby on King's Road, I can't recommend these guys enough.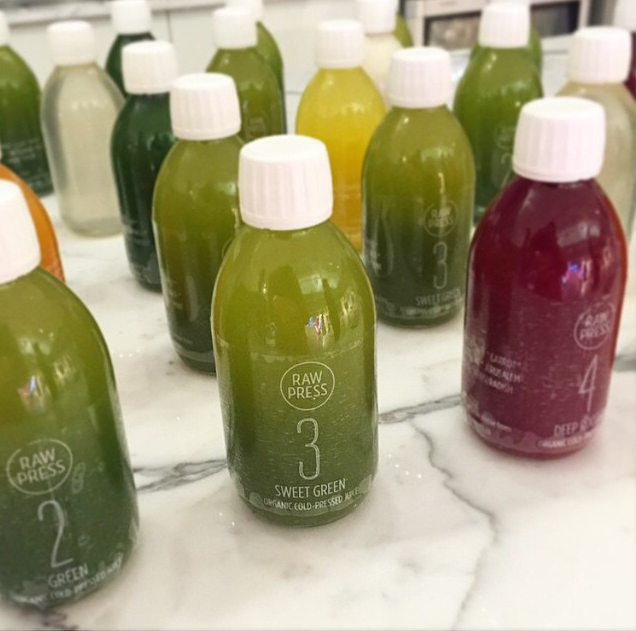 11. Raw Press
Raw Press have a cafe in the Wolf & Badger store in Mayfair they also have a juice 'outlet' in the Wolf & Badger store in Notting Hill. Their cafe serves, as you may have guessed, fresh pressed juices, along with an array of healthy, yet filling, salads, soups and a number of other yummy lunches. If you work in the area or are looking for a spot for a weekend lunch then be sure to pay these guys a visit. The roasted butternut squash salad is enough to coax me in any day!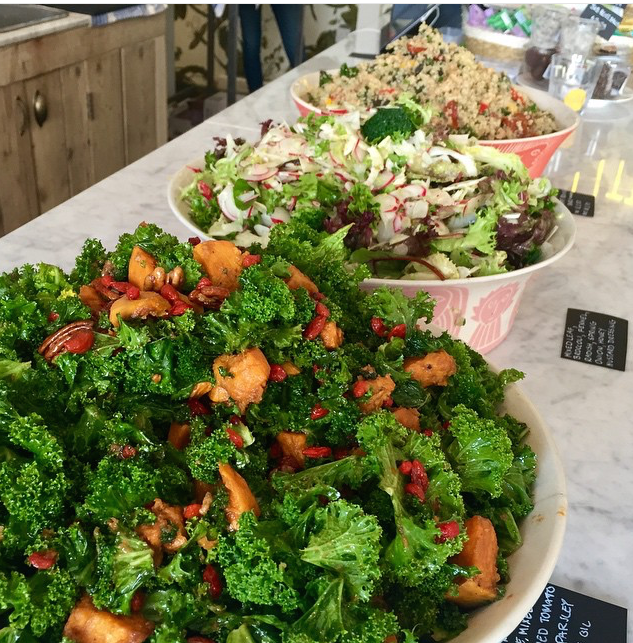 12. Little H's
This adorable little deli is located opposite it's bigger sister – Hally's, in Parsons Green. They specialise in gluten, dairy, sugar free and vegan food with a couple more indulgent treats if you're feeling naughty. They're definitely worth checking out for a healthy breakfast, lunch or juices. You can also get take out to go, very conveniently Parson's Green is just over the road, providing the perfect alfresco dining spot for your healthy treats!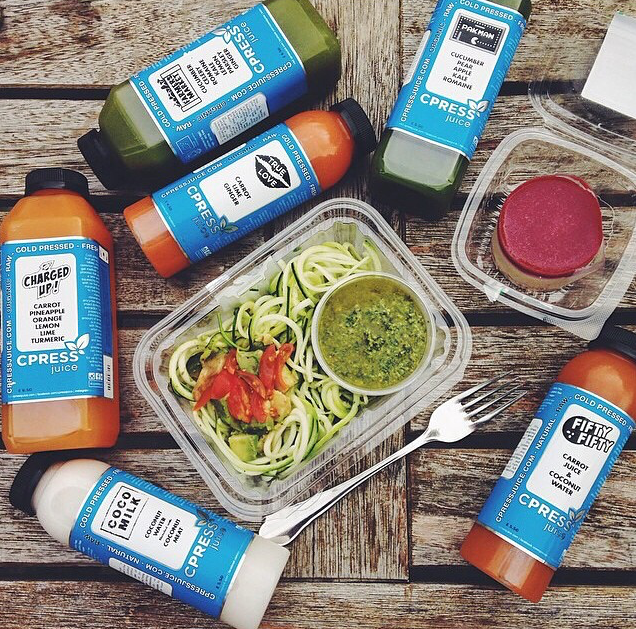 13. CPress
Despite their popularity as a juice bar, these guys definitely know how to do a salad well. Another little treasure that you'll find on Fulham Road is C Press. All of their food is super healthy, nutritious and filling. Their Pesto Zuchetti and Sweet Qnoa salads are personal favourites. If you're not in the mood for a salad then their snack pods are really delicious, especially their acai pod. In terms of juices the 'True Love' juice made from carrot, lime and ginger is a pretty great start to the day. If you're in the area be sure to give these guys a visit.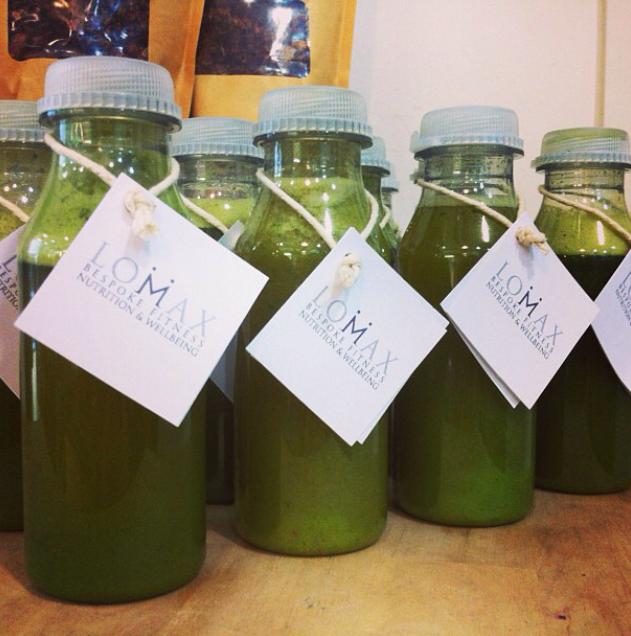 14. Lomax Cafe
Lomax is located in Chelsea on the Fulham Road. It's a bespoke nutrition and fitness studio providing all manner of fitness classes and also a sensationally delicious cafe on the ground floor. They have the perfect array of food to compliment you post-work out (or if you just want a filling, nutritious meal!) The Protein Pancakes are potentially some of the best I've tasted in London, they also have a large variation of eggs to pack in all the protein you need. If you're feeling like a cup of tea and cake but don't want to feel guilty then they have an entire shelving unit packed with sweet treats that are actually good for you and that taste even better. It's also a pretty great location for people watching!
PLANNING A TRIP TO LONDON? CHECK OUT OUR GUIDE: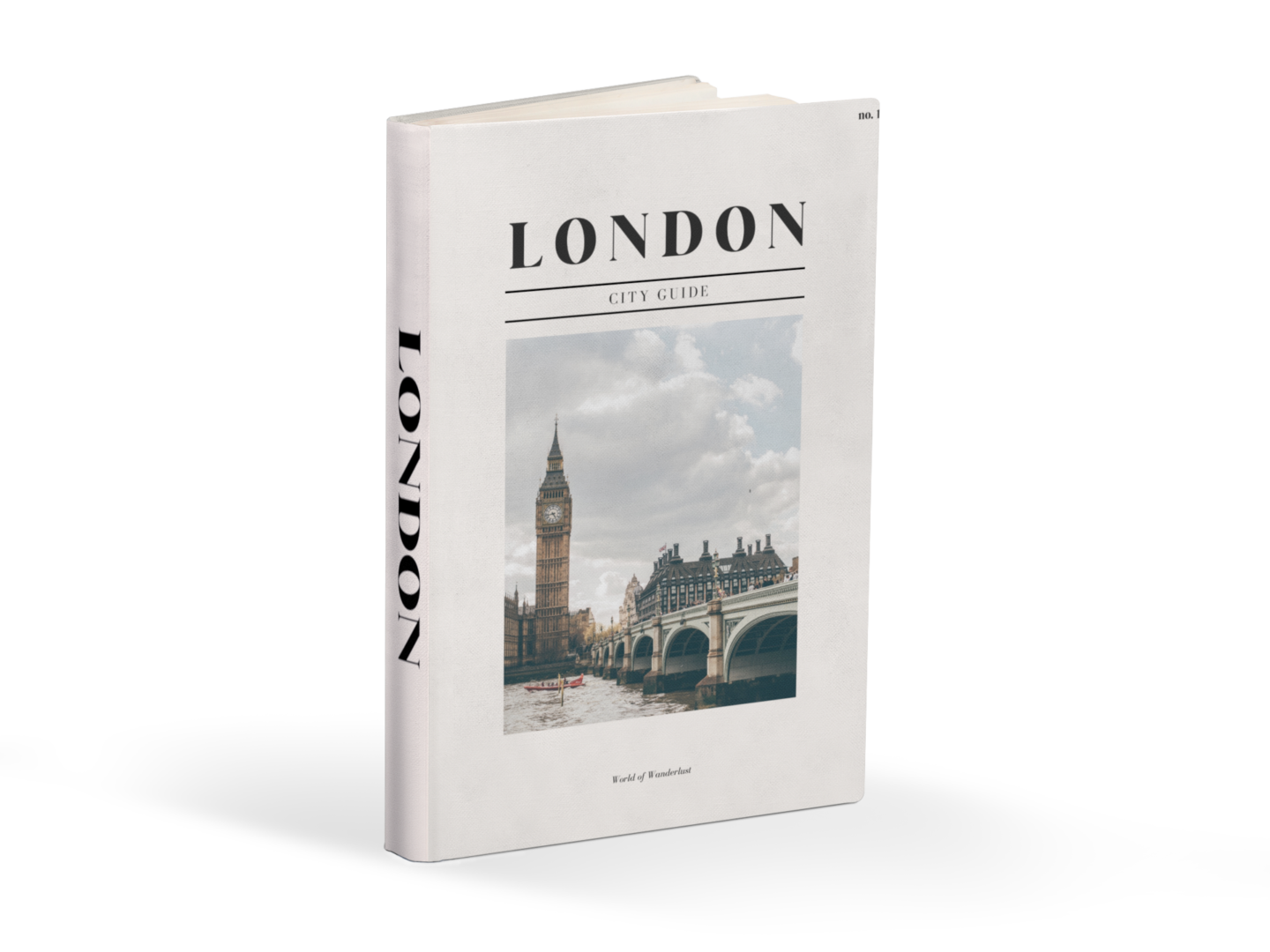 The WOW Guide to London