There are so many cafes in Bali that it's hard to know where to go! All over the island, you'll find great coffee, hearty breakfasts and fresh, seasonal fare made with love & local produce from the land. From pancake stacks to raw vegan spreads to start your day, here are my favourite cafes to eat at around Bali.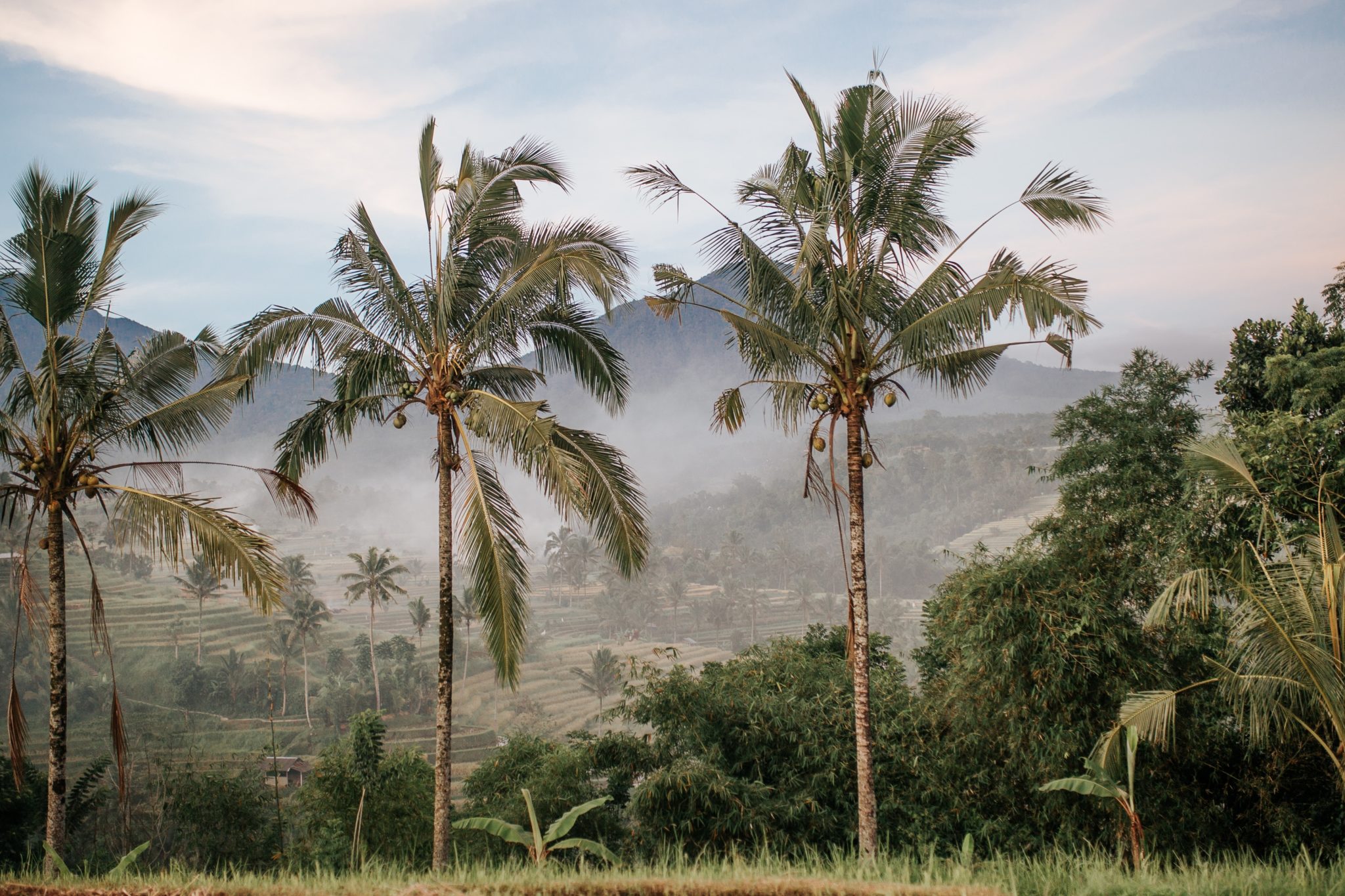 These are the best Cafes in Bali
Watercress Cafe
Just a scooter ride away from the bustle of Seminyak, Watercress' philosophy of 'Eat Fresh, Live Well' radiates throughout their menu. Enjoy a slow morning here or pop by later in the day for a tasty selection of salads, grilled vegetables and local flavours like Gado Gado and Beef Rendang.
Jalan Batu Belig No.21 A, Seminyak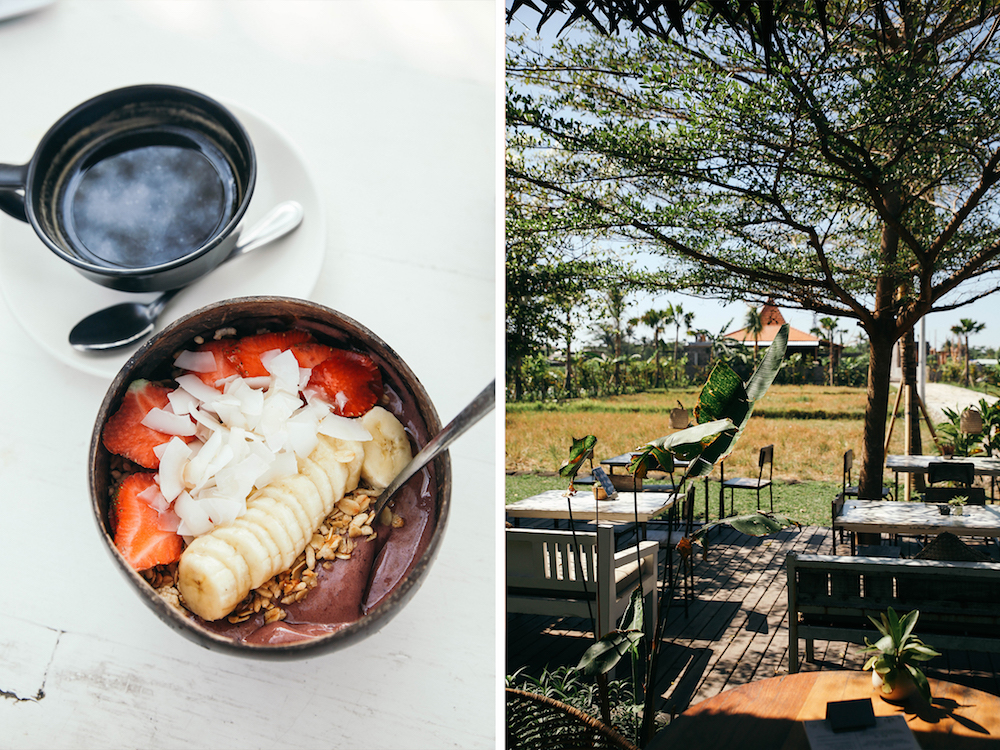 Nook
Located between Seminyak and Umalas, Nooks dreamy views of the rice paddies are unbeatable. Enjoy your meal here and then browse the shelves of their gift store located inside the cafe.
Jl. Umalas 1 Gang Nook No. 1, Seminyak

The Cashew Tree
Down South at Bingin, The Cashew Tree sits perched up on the hill above the ocean. This cafe offers an incredible menu of health-conscious, vegetarian and nourishing choices for breakfast, lunch and dinner. The family-owned cafe also offers yoga classes on Wednesdays through Saturday at 8:30am. As far as the best cafes in Bali go, this is one of our faves.
Jl. Pantai Bingin No.9, Bingin Beach
Kelly's Warung
Sitting on the sand at Bingin Beach, Kelly's Warung is the spot for a feast between a swim or surf. With simple Indonesian eats like Nasi Goreng and fresh juices, you'll want to spend all day here just lazing on the bean bags, watching the waves.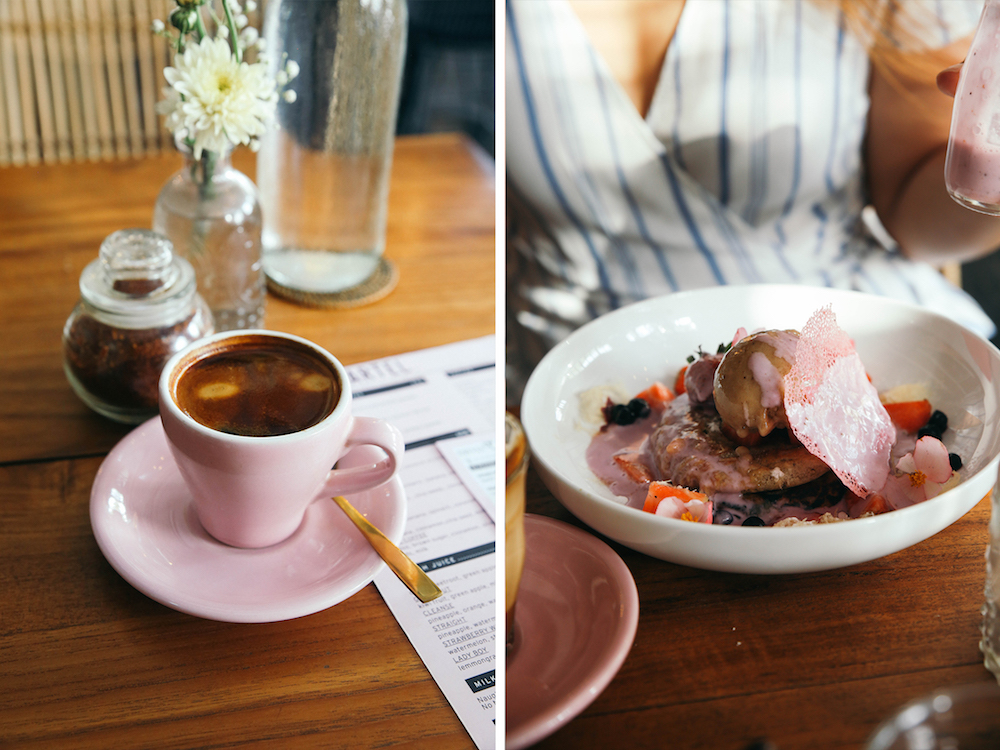 Coffee Cartel
If coffee is your thing, you can't go past Coffee Cartel where you can even have your own custom message printed on top of your latte of choice. With plenty of options for non-coffee drinkers like matcha, charcoal and beet lattes, their airy & modern space is located in the heart of Seminyak. For something sweet, the vegan hotcakes are a must-try.
Two Trees Eatery
A cheery & healthy spot, Two Trees Eatery is passionate about creating a space that is environmentally friendly and to encourage those to eat what is good for your body. This is a cosy spot to park up and enjoy Island time whilst feasting on dishes that are full of love and fresh ingredients.
Shady Shack
Full of greenery, good vibes and hidden nooks to sit in, Shady Shack is a fully vegetarian cafe located in the heart of Canggu. A place to escape & slow down, you're bound to love the quirky corners and mismatched interiors of this outdoor cafe. If you're here for lunch, don't go past the Shady Burger!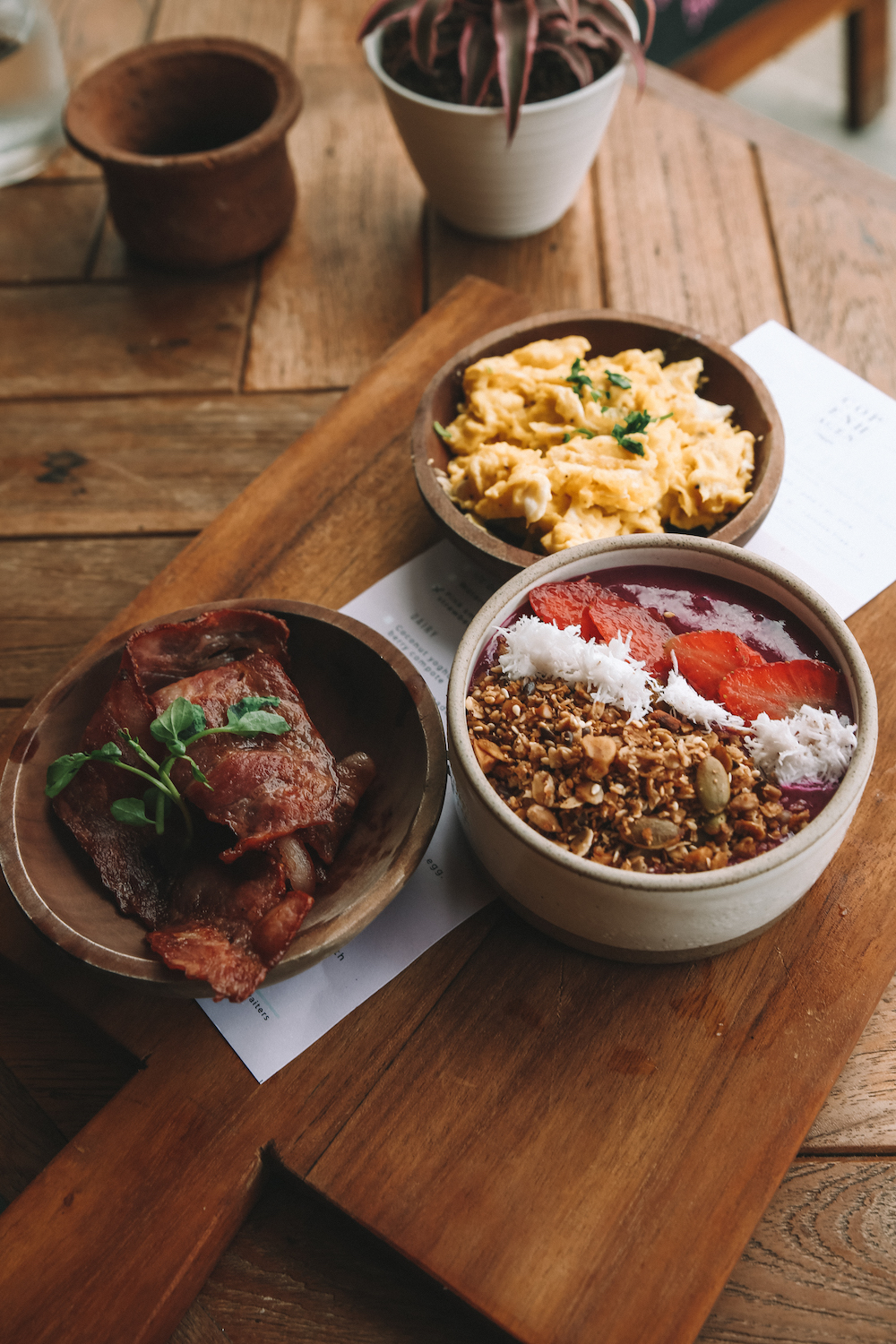 Copenhagen
If you're indecisive when it comes to making menu choices like I am, Copenhagen is a perfect fit for you. Tucked away over in Canggu, at Copenhagen you get to choose a selection of different samplers to make up your breakfast tasting tray. Think dragon bowl smoothies, homemade cinnamon buns, scrambled eggs, toasts & crispy bacon, difficult breakfast choices are a thing of the past.
Jl. Padang Linjong No.71a, Canggu
Peleton Supershop
A plant-based cafe and artisan bicycle shop in one, Peletons menu is designed to energise the mind and body. Sourcing local ingredients and promoting a planet-friendly lifestyle, sit on the mezzanine level and watch the streets of Canggu go by. The Vegan Grill Out bowl is a must-try as well as their Ms Jackson jackfruit BBQ tacos!
Jl. Pantai Berawa No.46, Canggu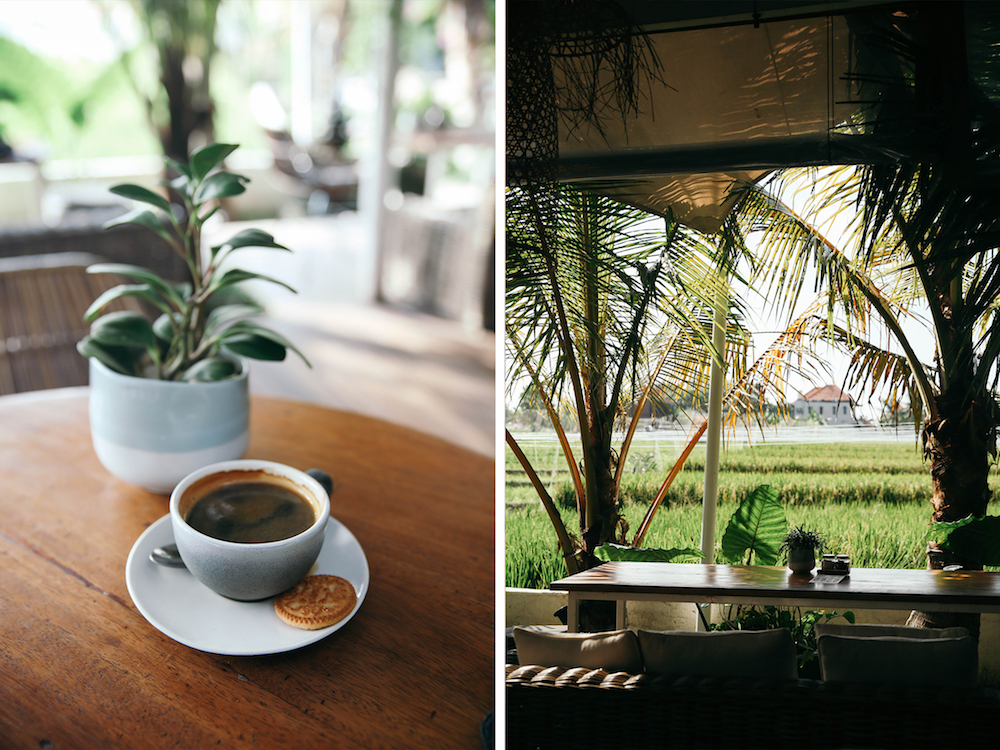 Milu by Nook
Milu is a beautifully designed space where you're bound to want to take all of the decor home, which is perfect because there's a store within the restaurant where they sell Balinese bags, home decor & accessories. With views of the Canggu rice paddies, Milu is a pretty dreamy setting and feels a bit like a tropical storybook at sunset. Serving breakfast, lunch and dinner.
Jl. Pantai Berawa No. 90 XO, Canggu
Sayuri Healing Food
Up in Ubud, it's all in the name at Sayuri Healing Food who are passionate about sharing & bringing light and joy to the world through their food. Offering yoga classes, raw cooking workshops, and an all plant-based, wheat free and dairy free menu, everything here is filled with good intentions and love. Leave your shoes at the door and step inside to discover what Ubud is all about.
JL Sukma kesuma no 2 , Br Tebesaya, Ubud
Sari Organik
Located right within the rice paddies, Sari Organik is a set on an organic farm with the most magical of views providing a lush dining experience. It's a short 800 meter walk fro the main road til you reach the cafe and is stunning at golden hour.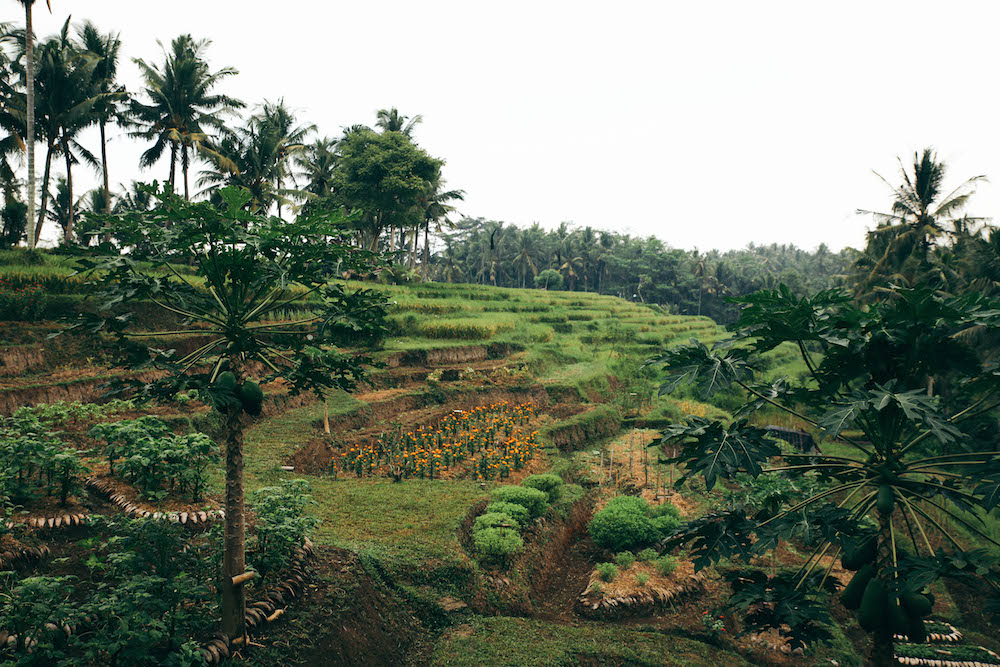 Clear Cafe
Serving up clean, healthy foods in an artfully inspired setting, Clear Cafe's intention is to create a space where clarity of thought and purity of intention will manifest. Sourcing ingredients from all over Bali like cashews from Karangasem and coconut oil from Tabanan, each dish here is fresh and full of local flavour.

Cafe Vida
An organic cafe & plastic-free restaurant where you'll find a menu free from the use of any chemicals and fertilisers. Their health booster shots tasting flight is where you can fuel up on all the vitamins and minerals your body might be needing. This includes the likes of Jamu Essence Tonic, a traditional Indonesian herbal medicine. This is made from natural ingredients like bark, roots, flowers seeds and fruits that helps the concentration of antioxidants. It is also the perfect vitamin C energy booster!
Jl. Raya Batu Bolong No. 38A, Canggu
Over to you! Have you been to Bali lately? Where were your favourite eating hubs?