Let there be no ambiguity here: I purely choose to revisit Italy again and again and again because of the food. It is what lures me back time and time again. Sure, the scenery is gorgeous no matter where you are – on the coastline, in the Northern lakes district or floating down a canal in Venice… but the food is what draws me back every single time. And if you're wondering which foods you must try in Italy, you've come to the right place.
Below is a list (take it as a check list, if you will) of the best foods to try in Italy. Being a vegetarian myself I only every indulge in a handful of these (making up for in sweets what I lack by way of savoury selections), however to be fair to the meat eaters I have included all the most popular dishes and where to find them.
It should also be noted that Italian food isn't really Italian food. Each region in Italy specialises in something – be that a certain dish or type of cooking – so really, you should aim to eat regional in Italy. Thus I have also included where to find the best, most authentic version of each dish to really help you taste the flavours of Italy!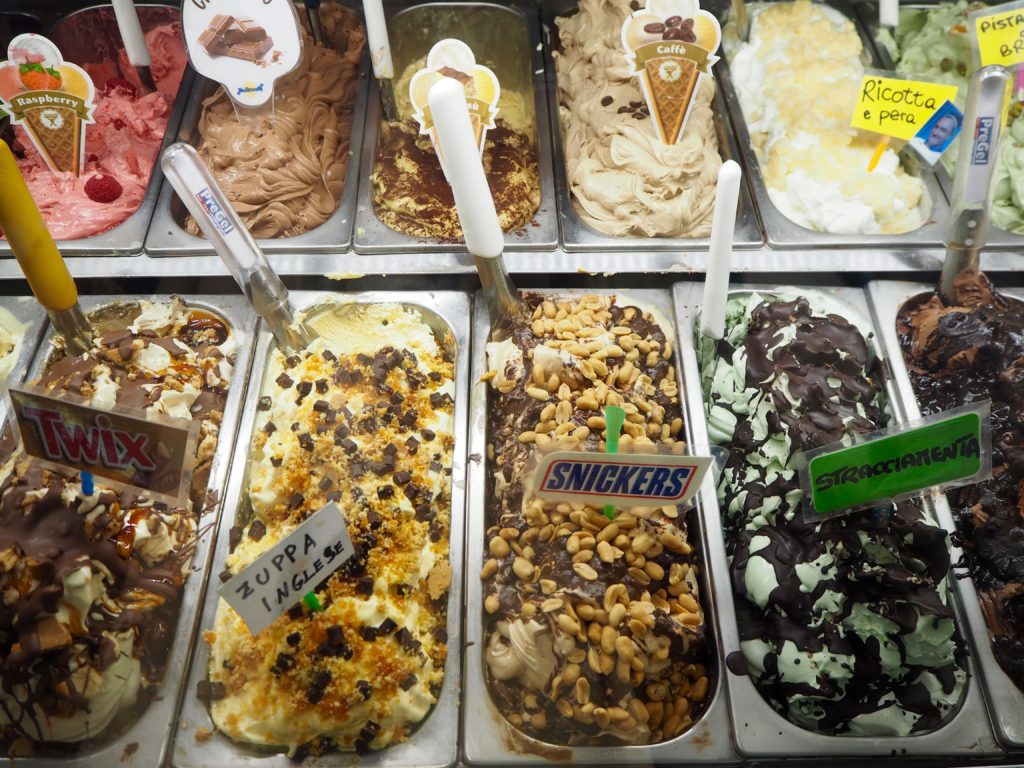 The best foods to try in Italy
Gelato
I'll start this list with my all time favourite (and perhaps yours) – Gelato. As a huge fan of ice cream for my past 20-something years of existence, I was in a world of delight when I first arrived in Italy at 17 years of age and tasted my first gelato. Coming from a small town on an island in Australia, I had never tried gelato until this point, which is probably a good thing in hindsight as no gelato across the world will ever compare with the Italian's. My favourite gelaterias across Italy are tried and tested (usually at least 10 times) and include:
Florence – La Carraia // Rome – Gelateria I Caruso // Milan – Il Massimo del Gelato // Sorrento – Primavera
Tiramisu
Originating in the region of Veneto, Tiramisu is an Italian classic dessert that has swept the world by storm. You'll find many variations on the classic dish and in all honesty, sometimes a more contemporary take outdoes the original… but in Italy it is hard to come by a bad house-made Tiramisu!
In Rome check out Flavio al Velavevodetto for a perfectly portioned individual serving.
Panna Cotta
Panna Cotta, a creamy white dessert topped often with a drizzle of caramel sauce is said to originate from the region of Piedmont in Italy. Panna Cotta is light but holds itself with just enough solidity to not fall apart on the plate, but still fall apart in your mouth. A true Italian delight!
In Rome check out Pompi Cafe & in Venice be sure to try the Panna Cotta at La Bitta.
Carbonara
The origins of Carbonara are extraordinarily vague, however as it is a pasta dish we know it invariably comes from Italy, we're just not sure which region to be precise (it is subject to much debate). The dish is usually served with spaghetti pasta in Italy, though you will find different variations throughout Italy and the world, with some chefs using fettucine, rigatoni, linguine, or even bucatini. The dish consists of a light eggy sauce, cheese, bacon, and pepper (traditionally there is no cream, peas or mushrooms as you might have tried back home).
Rome – Da Danilo // Da Sergio // Da Enzo // Milan – Ristorante Da Oscar // Florence – Antico Noè // Venice – Al Chianti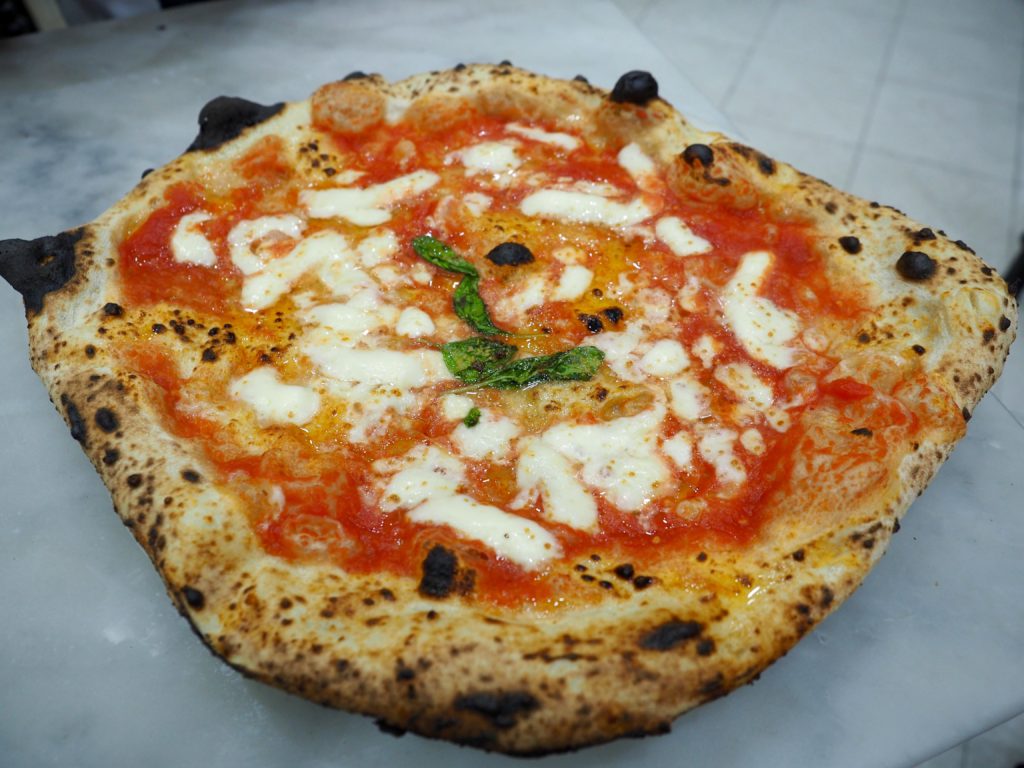 Margherita Pizza
This year I finally made it to Naples and let me be frank: I came here to try the pizza. Naples, a sprawling city in the Campania region, is the birthplace of pizza. The pizza in Naples comes in a variety of variations – large, small, crispy, doughy, lots of toppings, sparse toppings… you name it. There's no denying this will be your best experience (in the world, ever), though a few of the faves have opened up stores in New York City, so you can also find a great pie there.
Naples – Da Michelle, Pizzaria Starita, Di Matteo
Bruschetta
Who doesn't love bruschetta!? This breaded dish can be ordered anywhere in Italy as a starter and you just know you can't go wrong. The dish has its origins in central Italy but can be found in nearly every restaurant throughout the country, sometimes being offered complimentary to start an evening meal. Bruschetta is made with garlic rubbed bread, topped with a variation of toppings including tomatoes, cheese, onion, cured meats and/or vegetables.
Its hard to go wrong with this Italian staple and you'll find bruschetta available almost everywhere!
Caponata
This Sicilian regional dish is a popular antipasto made with eggplant, olives, capers and celery. Caponata is a great option for vegetarians in the summertime (the sun down South can get extremely overwhelming!) and of course you'll find the best caponata at its origins in Sicily.
Focaccia Bread
Foccacia bread is made flat, plain inside, but topped with the likes of olives, olive oil and a variety of herbs. This is an easy dish to try and recreate back home, and luckily you will find the standard of foccacia bread fairly similar across Italy.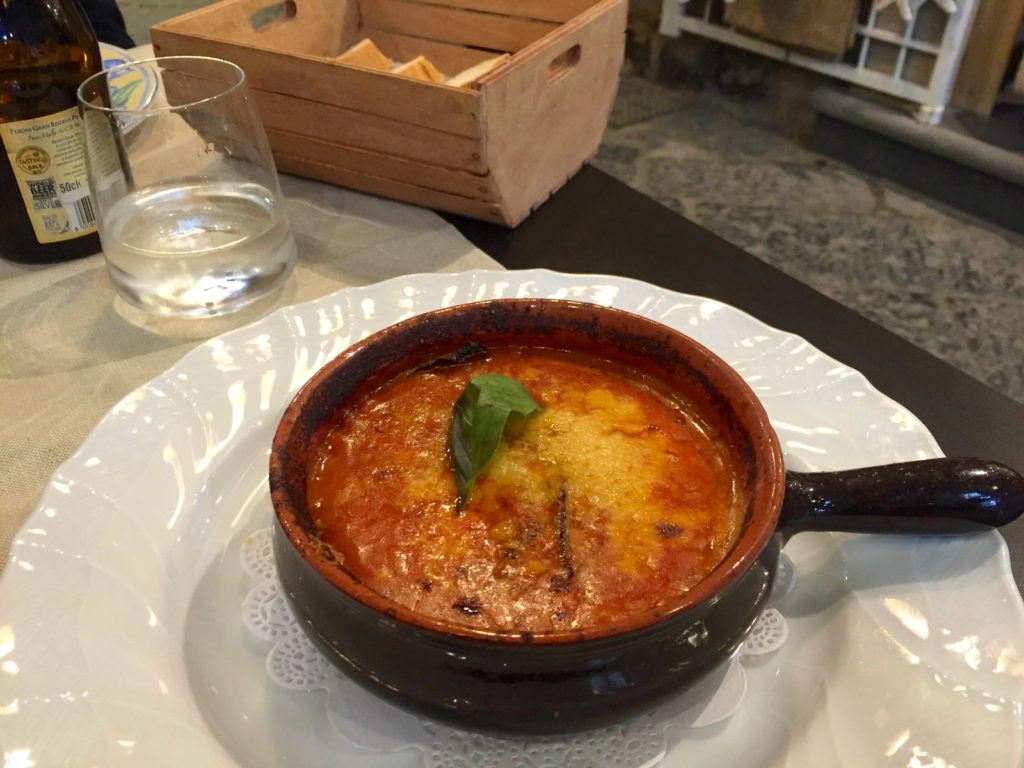 Aubergine Parmigana
When in Campania you simply cannot go without trying the Aubergine Parmigiana, or in Italian you will find it on the menu as Melanzane alla Parmigiana. Being a vegetarian I can sometimes find it difficult eating abroad, however in Italy this is my absolute go-to dish. Essentially the dish consists of baked eggplant covered in a rich tomato sauce and mozzarella cheese.
The best parmigiana I had was in Positano at Le Tre Sorelle.
Bolognese
You might immediately notice I didn't type "Spaghetti Bolognese", because in Italy, this dish isn't necessarily served with spaghetti pasta! In fact, bolognese was born in Bologna, where the dish is most certainly not served with spaghetti, which instead hails from the South of Italy. Just order a "Tagliatelle alla Bolognese" and you'll be fine.
The best Bolognese in Bologna can be found, well, anywhere in restaurants throughout the city!
Espresso
As soon as you arrive in Italy you might realise the coffee culture here is very different to anywhere else in the world. First of all, the Italians are very passionate about their coffee. Second of all, it is all about the glorified espresso! Sure, you can still order different coffees (if you prefer your coffee less strong, order a caffè Americano).
Rome – Rosati // Milan: Biancolatte // Florence: Scudieri // Venice: Torrefazione Cannaregio
Ravioli
There is again a little contention when it comes to discerning the origins of ravioli, but the earliest records show ravioli in both Tuscany and Venice… but any further discussion would be speculation, so I shall avoid at all costs!
When in Rome drop by Trattoria Monti for a spectacular ravioli in typical Italian home-style cooking.
Lasagna
Would this be a complete Italian foods list without lasagna!? The answer is most definitely no. As a vegetarian I love trying veggie alternatives on the classic dish, though if you eat meat you really can't go past the classic lasagna with that rich bolognese sauce (10 years ago before vegetarianism it was one of my favourite dishes my mother cooks!)
To play it safe and follow the recommendation of a meat eater, check out these 15 Best Places for lasagna in Rome.
Creamy Gnocchi
Again, many regions lay claim to gnocchi; potato dumplings that are thick, heavy & hearty. Usually served in a creamy sauce, gnocchi is incredibly indulgent but entirely delicious – you must try it at least once!
You'll find gnocchi on menus everywhere but for my preference, I order it only at those swanky restaurants where you pay way too much for way too little food, but when it comes to gnocchi a little goes a long way!
Prosciutto
You might be surprised to see prosciutto on the list as I've been a vegetarian for far longer than I have been travelling, but my boyfriend tells me it absolutely cannot go ignored on a list of must eat foods for Italy! Essentially prosciutto is a flavorous dry-cured ham that can be found all throughout Italy.
happy eating in Italia!