I don't know about you, but I'm really missing New York City. I miss the sights, the smells and hell, I even miss the sounds of yellow cabs tooting their way through pedestrian traffic. There's not a day that goes by that I don't miss this city. And if you're anything like me, sometimes an escape through film is enough to tickle your fancy. So with that in mind, these are the best movies to watch based in New York City, to help transport you back to the city that never sleeps.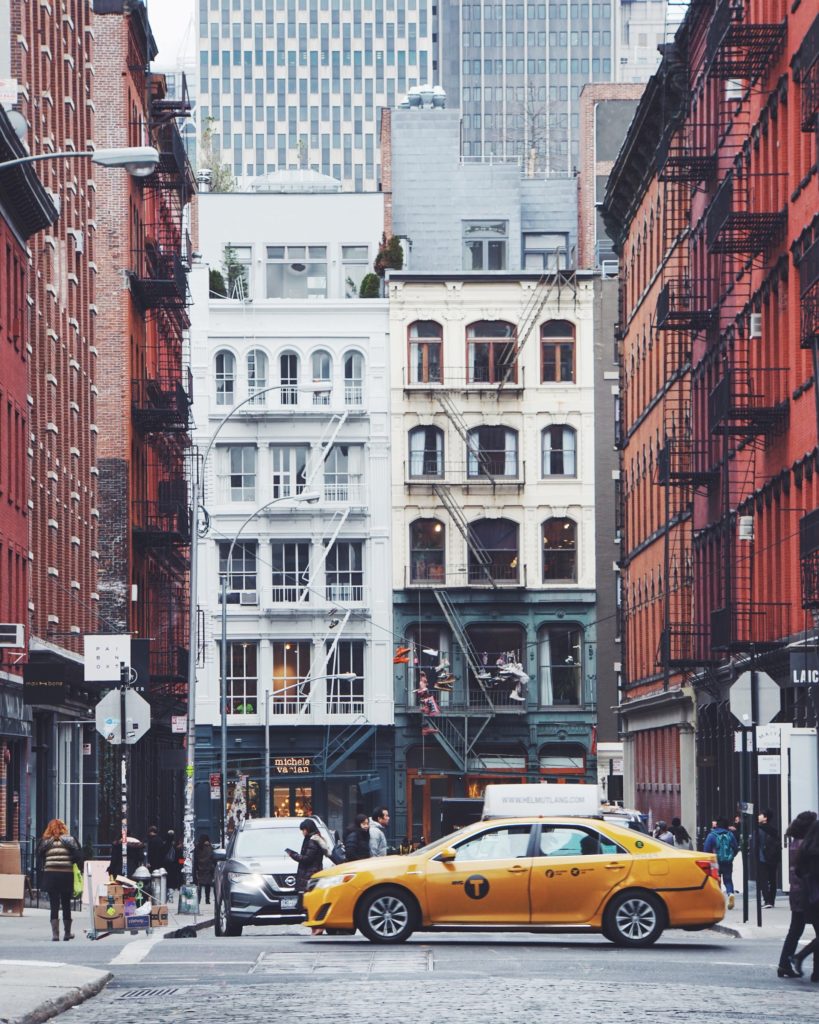 These are the best New York City Movies
1. Taxi Driver (1976)
With a whopping 96% score on rotten tomatoes, Taxi Driver is certainly one of the most popular films set in New York to date. The story follows a taxi driver (go figure), who is in fact a war veteran, who is embroiled in the sleazy nightlife of New York City and finds himself wrapped up in quite the debacle. Engaging from start to finish, this is certainly one to watch if you'd like to get wrapped up in the nightlife – perceived or not – of the city. As for the best new york city movies to watch if you're missing the city, start here.
2. West Side Story (1961)
As perhaps the most famous film showcasing New York, it comes as no surprise that West Side Story (1961) is set to launch a reboot of the hit film in 2021. But of course thespians will be aware that West Side Story was first a musical, with a story inspired by and loosely based off Shakespeare's Romeo and Juliet. The story is set in 1950's New York in the upper West Side – which was then a multiracial, blue collar neighbourhood. The story follows the ill-fated relationship of lead characters Tony and Maria.
3. Wolf of Wall Street (2013)
Who doesn't love Leonardo DiCaprio in a tuxedo? And when you put that against the backdrop of New York City, you've got me hook, line, and sinker. The film Wolf of Wall Street is a fast paced glimpse into the world of stockbroking in New York City and this film certainly doesn't miss a beat. Co-starring Australia's own Margot Robbie and with a guest appearance by Matthew Mcconaughey, this is a must see film at least once in your lifetime and a great look at Manhattan's financial district.
4. If Beale Street Could Talk (2018)
If your style of film is a romantic drama, then look no further than this 2018 masterpiece as one of the best New York City movies on the market. Based on the novel by James Baldwin, If Beale Street Could Talk is a timely film that highlights the injustices faced by Fonny, who is falsely accused of rape. His pregnant lover Tish sets out to prove his innocence as we follow the characters through a whirlwind story set in the city.
5. The Apartment (1960)
This 1960's comedy drama is a laugh a minute as you follow the film's lead character, insurance worker C.C. Baxter (Jack Lemmon), who lends his apartment out to his bosses for their extramarrital affairs. Entertaining and delightfully witty, this is a great look back at black and white film, set against the backdrop of New York City.
6. The Devil Wears Prada (2006)
This would have to be one of my favourite ~guilty pleasure ~ films of all time. There's just something so dry, witty and charismatic about this film. The Devil Wears Prada follows Andy, a journalist who has high hopes of making it in the literary world, but ends up working as a fashion assistant to one of the city's most renowned magazine editors. With plenty of coffee runs darting across the city and last minute errands, you'll feel as if you are immersed in New York City yourself in this fast paced comedy drama featuring Anne Hathaway and Meryl Streep.
7. Ghostbusters (1984)
This supernatural comedy is one of the best films of all time. With a rating of an impressive 97% on rotten romatoes, it is perhaps no surprise that Ghostbusters was revitalized in 2016 for a remake. However, if you're anything like me, you'll prefer the original for its dry, hardly trying humor.
8. Rent (2005)
After huge success on Broadway, Rent was adapted to film in 2005 and enjoyed similar success. The story follows a bunch of young Bohemians living in the East Village as they struggle with life, love, aids, and the impact their lives will have on the country they live in. This is a perfectly adequate reflection of the East Village and the mixing pot it continues to be of people's stories – their coming together and falling apart.
9. Coyote Ugly (2000)
Now I don't know about you, but Coyote Ugly is one of those unforgettable films of my childhood. I'll never forget when it first came out and if I remember correctly, I returned to the video store every day for a week until I could get my hands on a copy to rent. The film is loosely based on a true story – following an aspiring singer as she works in a women-run bar in New York City to entertain their male customers.
10. American Psycho (2000)
As another classic in this line up of New York City based films, American Psycho follows a wealthy investment banker as he dives into his dark and twisted fantasies. The film takes place all over New York City.
11. 27 Dresses (2008)
As one of the classic wedding films of the 2000's, 27 dresses is a lighthearted romantic comedy that takes viewers all over the city to the most popular filming locations. From central park to swanky hotels, this film is a great choice for a fun, whimsical film that explores the life of a bridesmaid for-hire.
12. How to Lose a Guy in 10 Days (2003)
Anotherg reat romantic comdy, How to Lose a Guy in 10 Days is light hearted, fun, and very watchable. It is the kind of film I play in the background as I sit scouring the web for flights to New York City, or researching new bakeries and cafes opening throughout the West Village.
13. Center Stage (2000)
As a dancer growing up in my teens, I was nothing short of obsessed with the film Center Stage. The story follows an aspiring ballet dancer as she embarks on a placement at the American Ballet Academy. The film follows a range of dancers on their journeys, each with their own challenges and achievements. And of course, it takes place all over New York City!
14. Breakfast at Tiffany's (1961)
As one of the most recognised film titles in the world, Breakfast at Tiffany's follows Audrey Hepburn as she attempts to charm a new young man who has moved into her apartment block. This is a great piece of cinema and certainly one of my favourite flashback films for a rainy day.
15. When Harry Met Sally (1989)
I can't tell you how many times I have watched this film, but I can certainly tell you it is too many to count! This is one of my favourite films of all time, following Harry and Sally as they rekindle their friendship later in life, but both fear becoming romantic will ruin the great friendship they have. The film is set across locations throughout New York and is, in my opinion, one of the best rom-coms of all time.
16. Goodfellas (1990)
As far as Italian-American crime syndicates go, Goodfellas is up there as one of the most engaging stories of the mob in New York City. With stars like Robert De Niro and the backdrop of New York, you can't go wrong.
17. Uptown Girls (2003)
Starring Dakota Fanning and the late Brittany Murphy, Uptown Girls follows the story of a young girl who reluctantly meets her new nanny, an adult who still possesses girl like tendencies. But most importantly, the story is set in New York City and as the name suggests, is set in uptown Manhattan.
18. Wall Street (1987)
Similar to Wolf of Wall Street, this film follows the extreme highs and lows of the financial district in New York City. Wall Street follows an impatiest stockbroker who is impatient and willing to do whatever it takes to reach the top.
19. 42nd Street (1933)
Set in the golden era for Broadway, 42nd Street follows the story of a leading lady on Broadway who is replaced on stage by a young and unknown actress. This newcomer becomes the star of the show and of course disturbs the peace along the way. It is a great film for thespians and theatre enthusiasts, set way back in the 1930's.
Still want more? Check out our New York Archives.
Planning a trip to New York? Shop our City Guide: