It isn't hard to find 20 of the best beaches in Europe when there are so many to choose from, but rather harder to choose which beaches to leave out! Here are our top picks for 20 of the best beaches in Europe, from Sardinia in Italy through to off the beaten path islands in Greece, here is where you will find them…
Navagio Beach in Zakynthos, Greece
Also known as Shipwreck Beach, this is one of the most iconic beaches to visit in Greece and the picture certainly shows you why! This exposed cove is surrounded by crystal blue waters and trails around to catch the best view.
Grand Plage Biarritz, France
Biarritz (a seaside city in France) is renowned for its' iconic waterfront, making this one of the best seaside cities to escape to. The city is located in the southwest of France on the coastline, right before the border into Spain – making this a great last stopover in France before crossing into Spain for further explorations.
Calanque d'En Vau in Cassis, France
For something a little more wild and remote in France, head for Calanque d'En Vau in Cassis.
Nissi Beach, Cyprus
As one of the most well known beaches in Cyprus, Nissi Beach is a traveller's favourite and for obvious reasons: the crystal clear waters, plentiful wildlife, and incredible summers in the Cyprus sun.
Egremni Beach, Lefkada Island, Greece
Another Greek favourite (and believe me when I say there are many) is Egremni Beach on Lefkada Island. As it is not on the popular and well-known Greek islands, this is a beach where you can actually relax and blend in to local life.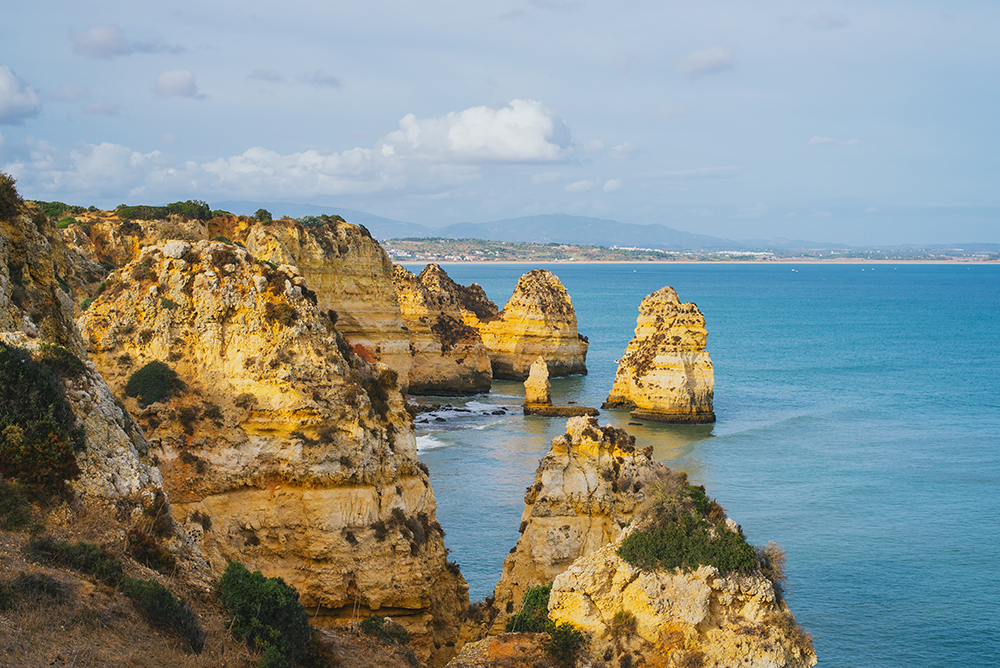 Praia da Marinha in Algarve, Portugal
When the Portuguese go on holiday, they go South to the Algarve. If its good enough for the locals, its good enough for us! Last year the WOW Team travelled to the Algarve to experience the stunning coastline and our favourite beach was Praia da Marinha, located just a short drive from Lagos city centre. Take yourself a picnic and a swimsuit – you'll want to stay a while!
Cala Macarelleta Beach, Spain
Minorca is an absolute mecca for beautiful beaches and Cala Macarelleta tops the list.
Kampen Beach, Denmark
It might come as a surprise to see a Danish beach on the list given the Nordic countries are so renowned for their winter climates, however Kampen Beach is one such beach worth mentioning!
Oludeniz Beach in Oludeniz, Turkey
Also known as the blue lagoon, Oludeniz beach is one of the most popular in Turkey. The nearby village is equally gorgeous and a great coastline getaway from the busy Turkish cities!
Rabbit Beach in Lampedusa, Sicily, Italy
Located off the mainland of Italy a ferry ride away is Rabbit Beach in Lampedusa, one of the best options for a hidden paradise away from crowds and city life.
Sveti Stefan Beach, Montenegro
Montenegro might not be your first choice for a beachy getaway, but the Balkans can be quite unassuming in that manner (think about that huge influx of tourism in Croatia over recent years!) Sveti Stefan is one of the most renowned beaches and certainly an icon for coastal Montenegro.
Playa de las Catedrales in Galicia, Spain
Also known as the 'beach of cathedrals', this particular beach is especially unique given its' archways that line the way along the coastline. If you're looking for something completely out of the ordinary and memorable for years to come, this would be it!
Myrtos Beach in Kefalonia, Greece
Blue waters at their best is all that comes to mind when considering Myrtos beach! This gorgeous beach has a worldwide reputation and is frequently cited as one of the best beaches in Greece.
Elba, Italy
A small Italian island, a charming coastal town, clear blue waters… there really is no reason not to visit Elba!
Elafonissi Beach, Greece
Its hard to write a list of Europe's best beaches and not include at least a handful from Greece as there is an abundance of beaches here worth mentioning! Elafonissi Beach in Crete is another such Greek beach worth mentioning.
Cala Mariolu in Sardinia, Italy
If rock jumping isn't your thing the beach itself is small but large enough to position yourself for the day and watch the waves come and go with the hours!
Iztuzu Beach, Turkey
Another great beach in Turkey's southwest that is popular with locals and visitors alike is Iztuzu – home to as many beach chairs in perfectly formed rows as the eye can see.
Playa de Ses Illetes,

Formentera, Balearic Islands
Argued to be the most 'fashionable' beach in the Balearic Islands, this is a see and be seen moment to last a life time – bring your best bathing suit!
Woolacombe Beach, United Kingdom
You probably weren't expecting to see a beach in the United Kingdom make the list as it is so renowned for its' winter climate as opposed to the summer beach destinations, but you've got it wrong if you haven't considered Woolacombe Beach! Located in North Devon (England) this is a great beach to sit back and watch life pass you by – either from the beach itself or the hills above.
Cala Rossa, Sicily, Italy
So many great Italian beaches, so little time. If you find yourself in Sicily, you really can't go wrong with a visit to Cala Rossa – another of Italy's iconic beaches.