These are tricks of the trade: tried and tested tips that have helped me over the years when capturing my travel moments on camera. These are all specific tips related to travel photography to help travellers capture their moments more efficiently & effectively. For more tips on travel photography, see here. Let the secrets be revealed!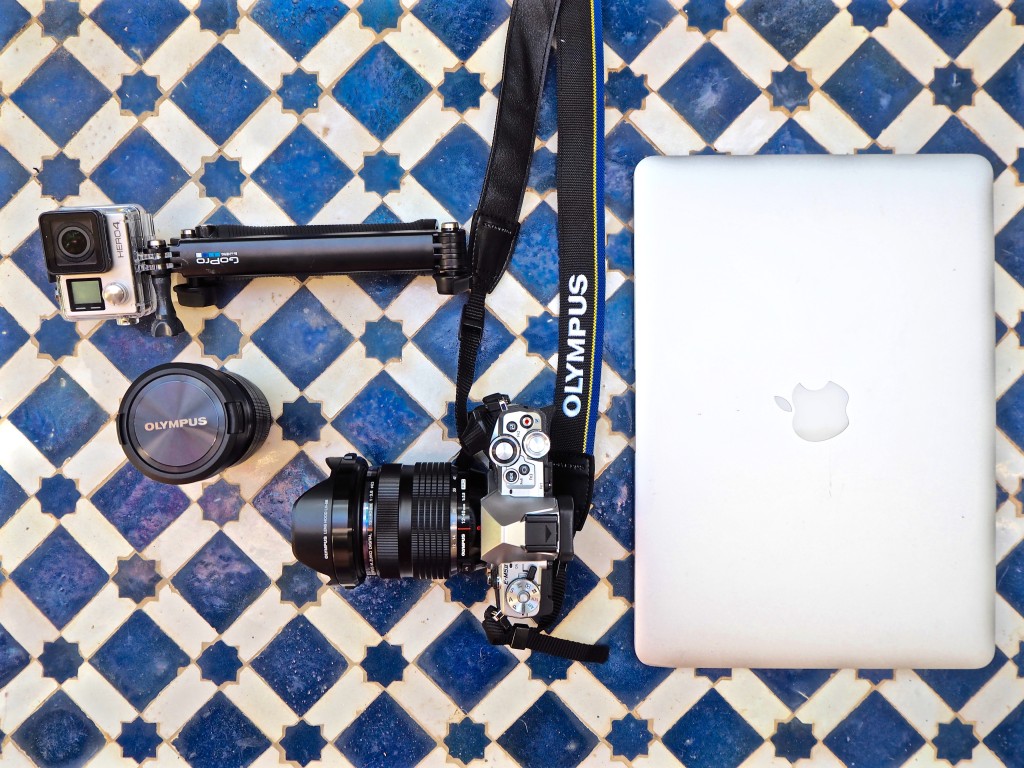 Taking Better Travel Photos
Tips & Tricks
#1 Pack Only What You Need, But Don't Miss These Essentials…
When it comes to packing for travel more generally, you should always only pack what you NEED and remember you can buy anything else once you arrive or throughout your trip. When it comes to travel photography, there are a few key items you can't miss. Here they are:
Camera (I stand by my Olympus PEN EPL7 (Aus buyers, click here for US buyers) as the best travel camera given its size, lightweight, and high image quality on par with my previous DSLR); extra battery (1); battery charger; gorillapod for solo travellers and couples wanting images together; gopro for action photography and watersports; fuji instax for couples (I take mine on trips with my boyfriend to capture special moments of our own that won't make it to social media!)
#2 Pack Better
One of the core problems in travel photography is taking care of your gear. That could mean having dust on your camera (tarnishing your photos/results), or extend as far as having your camera gear smashed/broken in transit. Before you go anywhere, be sure to properly protect your travel photography gear. Make it easy on yourself by having an easily accessible bag and a system in place to follow to ensure your gear is in good order. After all…. you're talking about thousands of dollars of gear a lot of the time! Another great point to make is that cameras should for the most part be packed in your carry-on luggage as that way they are in your hands, not the hands of luggage carriers! That being said, investing in a quality hard case allows for packing your precious things in check-in luggage (my saviour with loads of tech gear!)
#3 Research Your Location
This is an absolute must if you're looking to take the best photos to showcase your destination. With so many people travelling so often and to so many places, you can rest assured that almost always the photos you will be taking have been taken before. Your job is to take them better or show a different angle, different story, or different perspective. A prime example of researching a location may be Horse Shoe bend in Arizona. I received a handy tip off from a photographer two days before arriving that I should not arrive at sunset for the iconic sunset shot, as at this time of year the sun would be directly behind my frame and result in so much backlight that the photo would appear dull and lifeless. This of course is not a hard and fast rule, as you can produce beautiful images by shooting into the sun (try a wide-angle lens and allow the sun to peak out from behind objects). Its not only about knowing where to go, but knowing when to go too! There are also many tips to be found online about certain cities and destinations and how to grab the best photos – like where to find the best photo locations in Paris!
#4 Beat the Tourists
"Traveller or Tourist" argument aside (I argue you should be both), one of the most irritating scenarios for a photographer is to arrive at a place when it is filled with tourists in so much fluro and so many bumbags that it just completely detracts from the shot you are aiming to take (i.e. the streets of New York require people to show the story, the Taj Mahal does not). The trick here is to arrive bright and early at first light, while the rest of the city is still sleeping! This also makes for a very interesting perspective on a city before it wakes up – streets to yourself and a moment or two of serenity before the madness.
#5 A note on lenses
Just as there are different utensils for different types of foods (i.e. trying using a spoon to eat pasta…), there are different lenses that work for different types of shooting. The essential lenses to have in your kit are: a wide angle for landscapes, a general shooting lens for every day use, and a prime lens for food/flowers/portrait photography!
#6 Use Pinterest for Inspiration
While you're doing your trip research, one of the best tools available to you is completely free (and also very addictive!), which is Pinterest. The best way to use Pinterest for photo inspiration and trip research is just to sign up and start using the search bar tool to research your destination. Within moments you will have a plethora of visual content at your finger tips to inspire your own and know where not to miss for those photographs!
#7 Use Google Earth (for hardcore locations -ha!)
If you really want to visit a location but can't find out how to access it, the easiest weapon is to resort to Google Earth to find a pathway or entrance point to your location. This is especially useful to find vantage points to choose from!
#8 Candid is the new Cool
Typical holiday snaps are for the most part pretty cringe-worthy (i.e. a big grin with the Eiffel Tower in the background). Selfies aren't far behind either! The best way to share a location and get yourself in the frame is to act candidly or face away from the camera show your profile (side of your face/body).
#9 Set Aside Days Specifically for Photographing
As humans we have 'on' days and 'off' days when it comes to most things, so it should come at no surprise that some days we don't feel like photographing and some days we don't even feel like leaving the hotel bed! Don't feel guilty about it if you feel like a less strenuous day every so often in your travels, just take the day off and be sure to shoot on a designated day when you can go at it 100%!
#10 Book a Room with a View
Finding vantage points in a city can often be tough when everyone is heading to the same places, but a great way to go against the crowds and find your own perfect viewpoint is to book a hotel room with a view! Another great option is to book a private apartment with a balcony (i.e. in Paris this would be perfect) and watch the sunsets from the comfort of your temporary home with a glass of wine and cheese!
#11 Learn About Composition to Better Frame your Photos
I recently wrote a post explaining some of the core methods of composition, as well as ways to break these rules and take photos that are more creative and have more of a story element, rather than a strict focus on full landscapes.
#12 Be Prepared for changing weather conditions
Just because it is raining outside does not mean you can't capture great photographs! Overcast days actually allow for great photographs (often better) as the lighting is much more shootable and allows all of your image to be depicted much better than if it were not overcast. This is especially good when shooting portraits! The best way to be prepared for the rain is to invest in a lens hood which will protect your lens better, and even consider other weatherproof gadgets.
#13 Always Carry Your Camera With You
This might seem like an obvious one, but many of us leave our cameras behind and replace them for a day or a whole trip with the ol' iphone. Sure, they take great pictures and have a high photo quality, but in poor weather conditions or particularly when trying to shoot a moving object or whilst on a moving object, they completely suck! Be sure to always pack your camera, even if you're not sure you will need it for that day. You never know when a great opportunity and subsequently great photo will arise!
#14 People tell a story
Using people in your photographs doesn't always have to mean a candid portrait or a photograph of a group of people posing for your camera. Think about how you can always use people – often without their knowledge – to tell a story. This means not showing their face (as if you are photographing a person's face you should always ask first, especially in close proximity), but instead having a person placed in your photo to show scale of a landscape or cycling past in a street in Amsterdam as this is such a large part of the culture in the Netherlands. If you think a photo is bland and needs more to tell the story, people are always a great option to make that happen.
#15 Learn to Shoot at Night
Shooting cities in the evening will provide you with a completely refreshed take on a city and a completely new set of photographs to match! If you're out in the countryside, see here for a guide on how to photograph stars!
#16 Invest in the Right Lens to Photograph Nature & Wildlife
Plan on getting up close and personal in the Amazon or want to capture all the beautiful flowers of a flower market adequately? The best way to capture nature + wildlife is to invest in a telephoto zoom lens. A 50mm lens is also great but will require more work as there won't be a zoom function and you will have to physically move around more for your photos.
#17 Notice and Photograph "The Little Things"
One of my favourite travel photography books is the Colours of Paris, which captures so many little quirks of Paris that you often notice, but hardly ever choose to photograph. One photographer I know who does this well is Emma Kate and I always admire her ability to capture small moments and make them seem larger than life. Be sure to keep an eye out for the little things – flowers on a balcony, colourful socks on a clothes line, patterned tiles on the ground beneath you, etc.
#18 Travel to Places you'd love to Photograph!
This might seem like an obvious one, but I'm still guilty of not making it to countries I absolutely dream of photographing because they are either too far out of the way, too expensive, or too 'unsafe' according to the Western world. While all these factors certainly make it more difficult, I would rather be saving + waiting a little longer than usual to visit one place I have always wanted to visit, rather than visiting two or three places I kind of want to see. Places I still haven't been and would LOVE to photograph include Cuba, Norway, Iceland, and even Greenland!
#19 Switch up your Angles
When travelling and taking photographs of landmarks, it is particularly tempting to shoot everything at eye-level. This is alright for some of your photos, but if all your photos are at the same eye-level this will make for a pretty bland collection of travel memories. Especially when photographing architecture, look for different angles – shoot from the ground up, from above looking down, etc. etc.
#20 Insure your Gear & Check What is Covered
Last but never least, be sure to ensure you are insured! Photography gear is usually expensive and can often result in travelling with thousands of dollars in heavy camera gear. The last thing you want to do is lose or damage your tools! I use Southern Cross Travel Insurance on a multi-trip 12 month insurance policy which means I'm covered for as many trips I take in that year for a once off fee! They've also been kind enough to extend 10% off to WOW readers using the code: "WOW".
Photography FAQ:
What camera do you use?
An Olympus PEN E-PL7 for day to day and OM-D Mark II for more thoughtful shots.
What lenses do you use?
Nearly always I use the 14-42mm on my Olympus PEN and a fisheye on my OMD. I also have a few long range and wide angle lenses that I use for landscape photography, but typically only travel with the first two in order to travel light.
What camera settings do you use?
I would love to say I use manual all the time and know the ropes, but I'm still learning! For quick photos, I use automatic settings or select "brighter" a notch or two on my Olympus PEN, particularly for blog photography like flat lays.