1. Take in the Views from the Top of The Rock
A city as sprawling as New York, the only way to get a grasp of the sheer size of the city is from above and there's no better view than those on offer atop the Rockefeller Center. This is hands down my favourite view over the city – especially at sunset.
45 Rockefeller Plaza, New York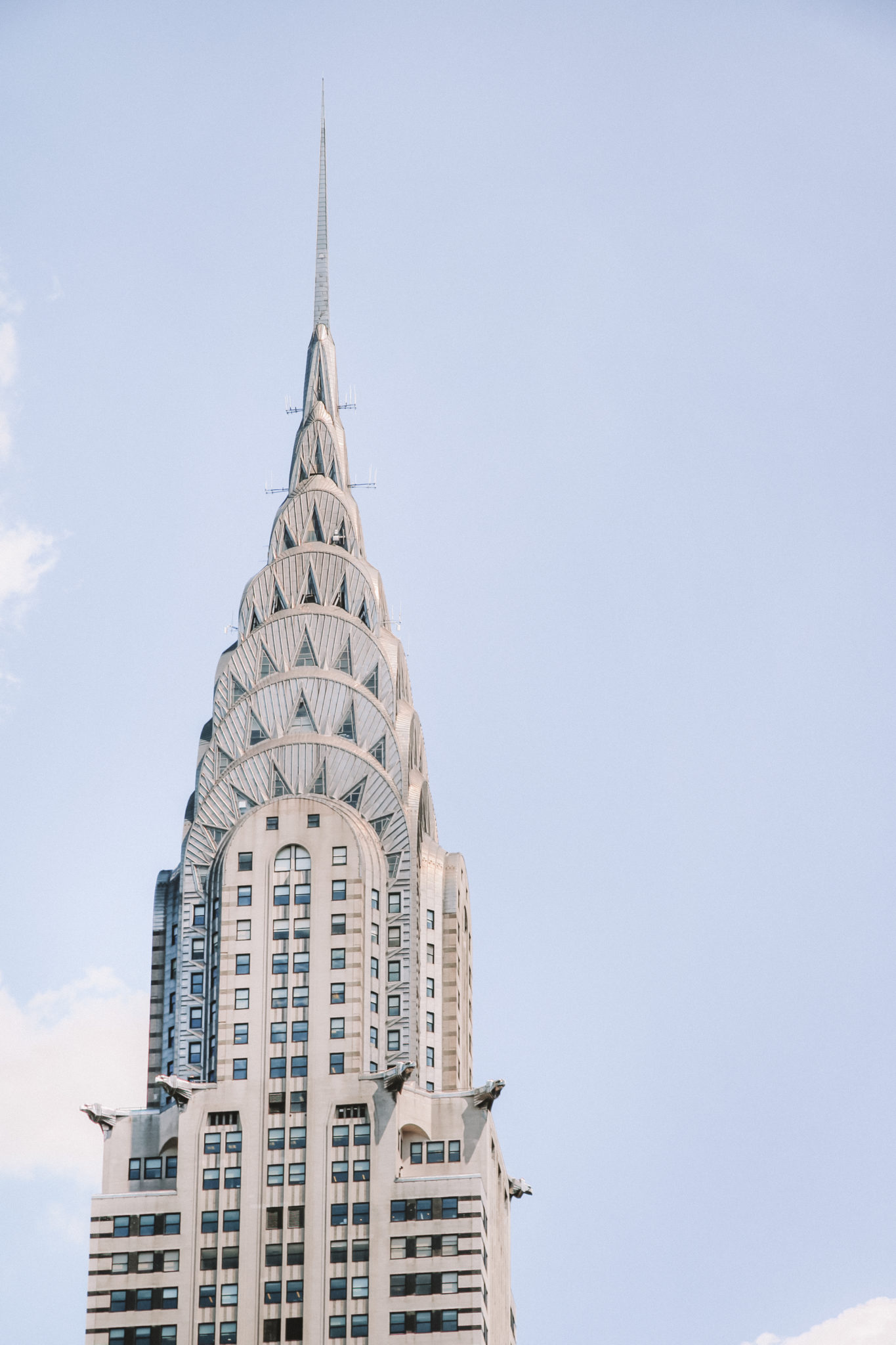 2. Discover Midtown's Art Deco Architecture
There are many reasons to love Midtown but for me, there's none better than the plethora of Art Deco architecture to discover. The most obvious place to start would be the Chrysler Building on Lexington Ave, which was once the tallest building in the world. The neighbourhood surrounding the Chrysler is full of Art Deco architecture, especially if you survey the buildings for the intricate detailing.
The Chrysler Building, 405 Lexington Ave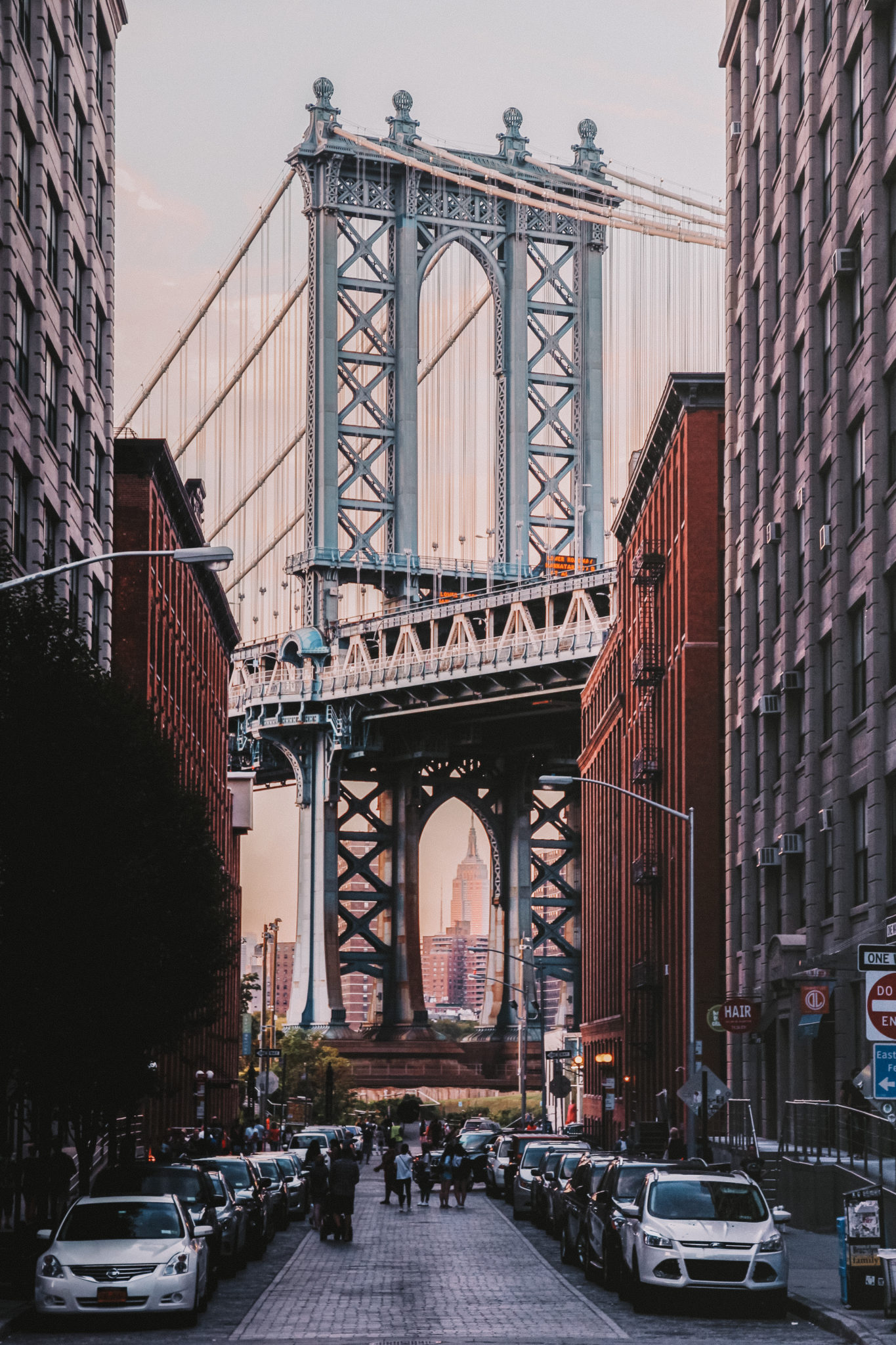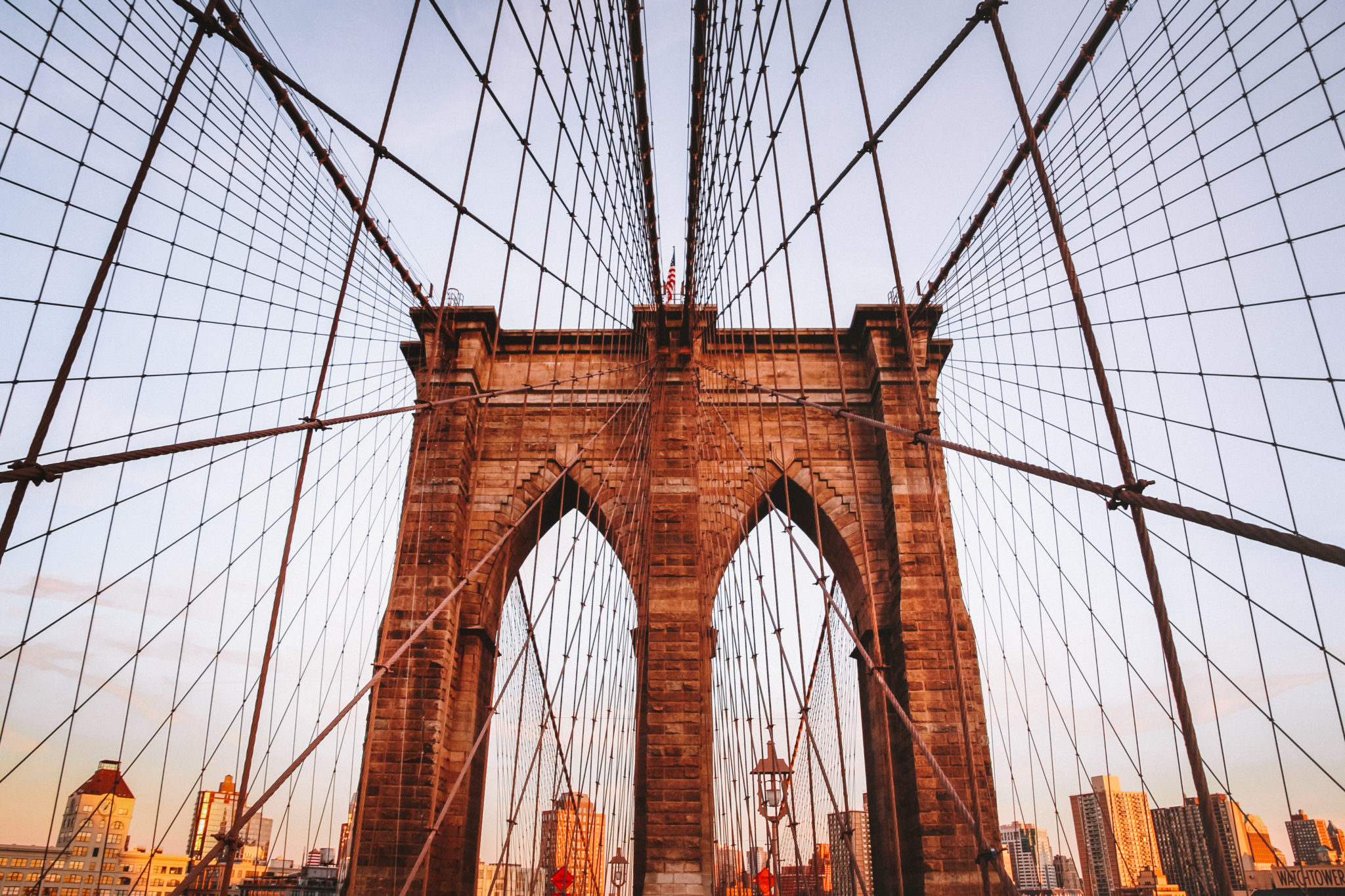 3. Walk the Brooklyn Bridge and Explore DUMBO
Once you've checked off all of the top sights and attractions to see in Manhattan, there's the whole of Brooklyn to explore. Begin by crossing the Brooklyn Bridge and making your way to DUMBO, one of the most charming and happening areas of the neighbourhood.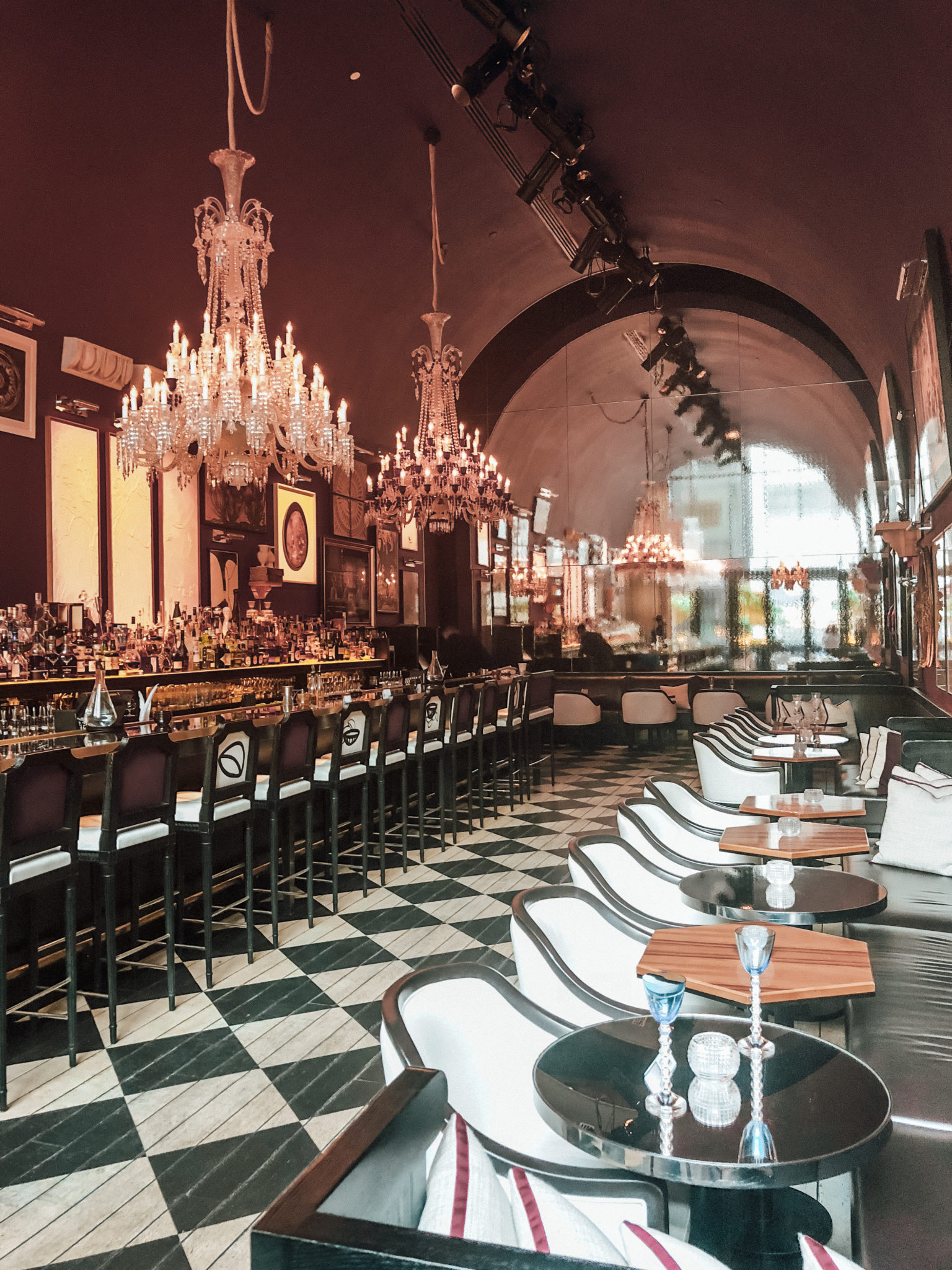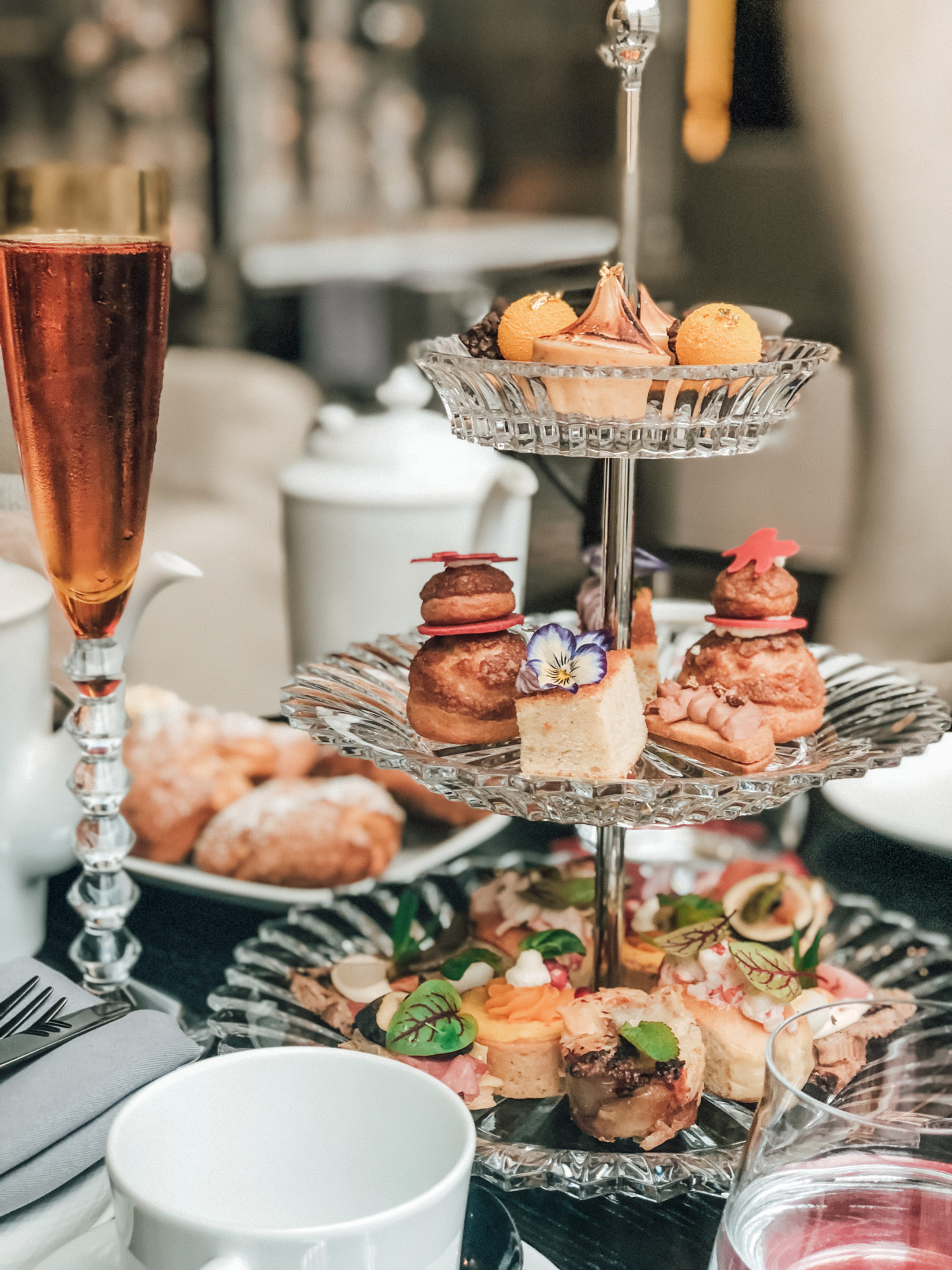 4. Afternoon Tea at the Baccarat Hotel
Despite being an English tradition, afternoon teas have had a complete boost in popularity in New York over recent years and have become a staple at many of Midtown's leading luxury hotels. Not only is this an indulgent afternoon to unwind, relax and reflect on your day so far, but it is also a great way to see and experience some of the most beautiful hotels in the city. The Baccarat is one of Midtown's best kept secrets and especially so for afternoon tea – they offer a range of teas themed on different places such as a traditional English afternoon tea setting, Tsars of Russia tea offering and even a Moroccan themed tea with Arabic pastries.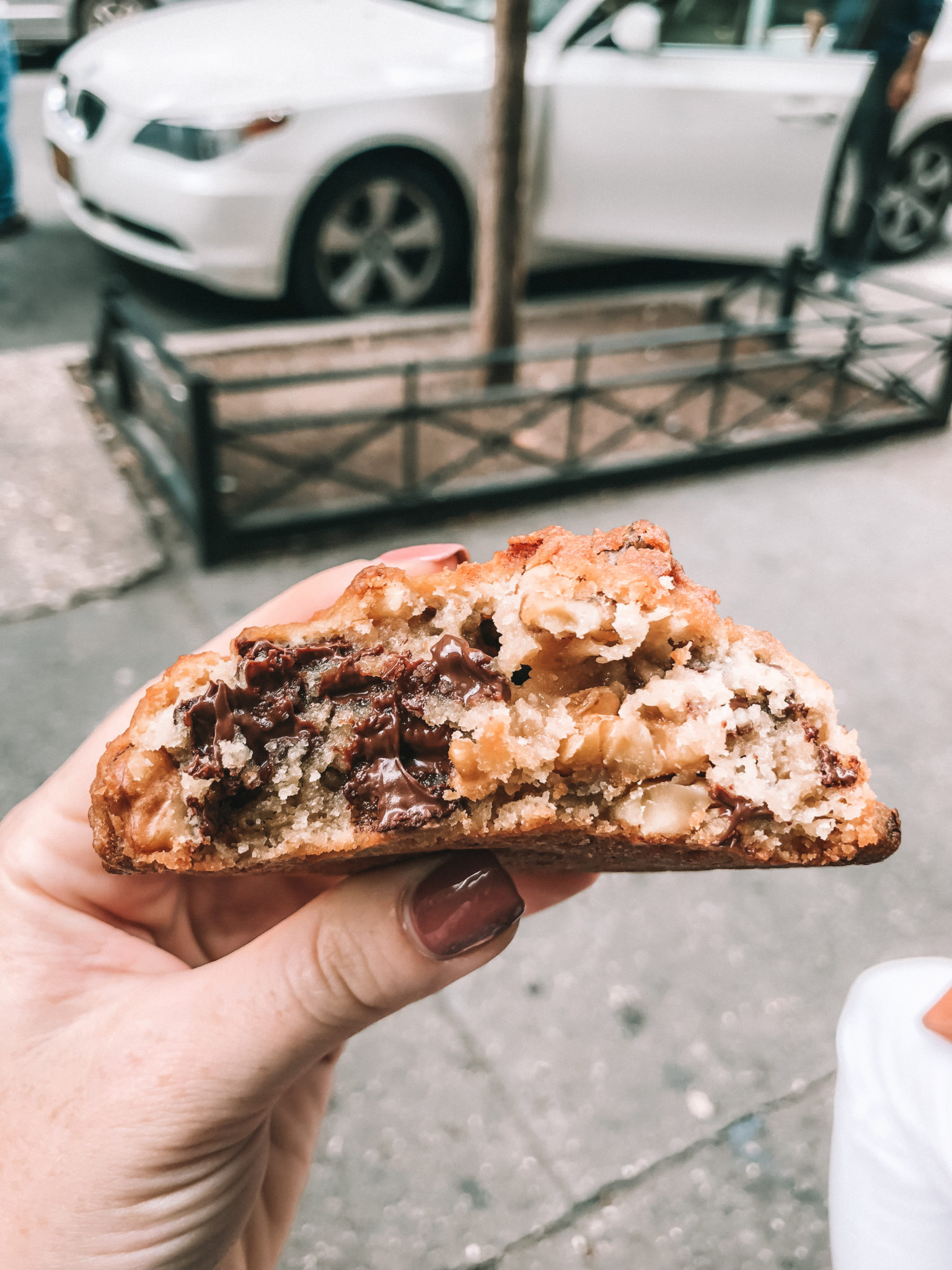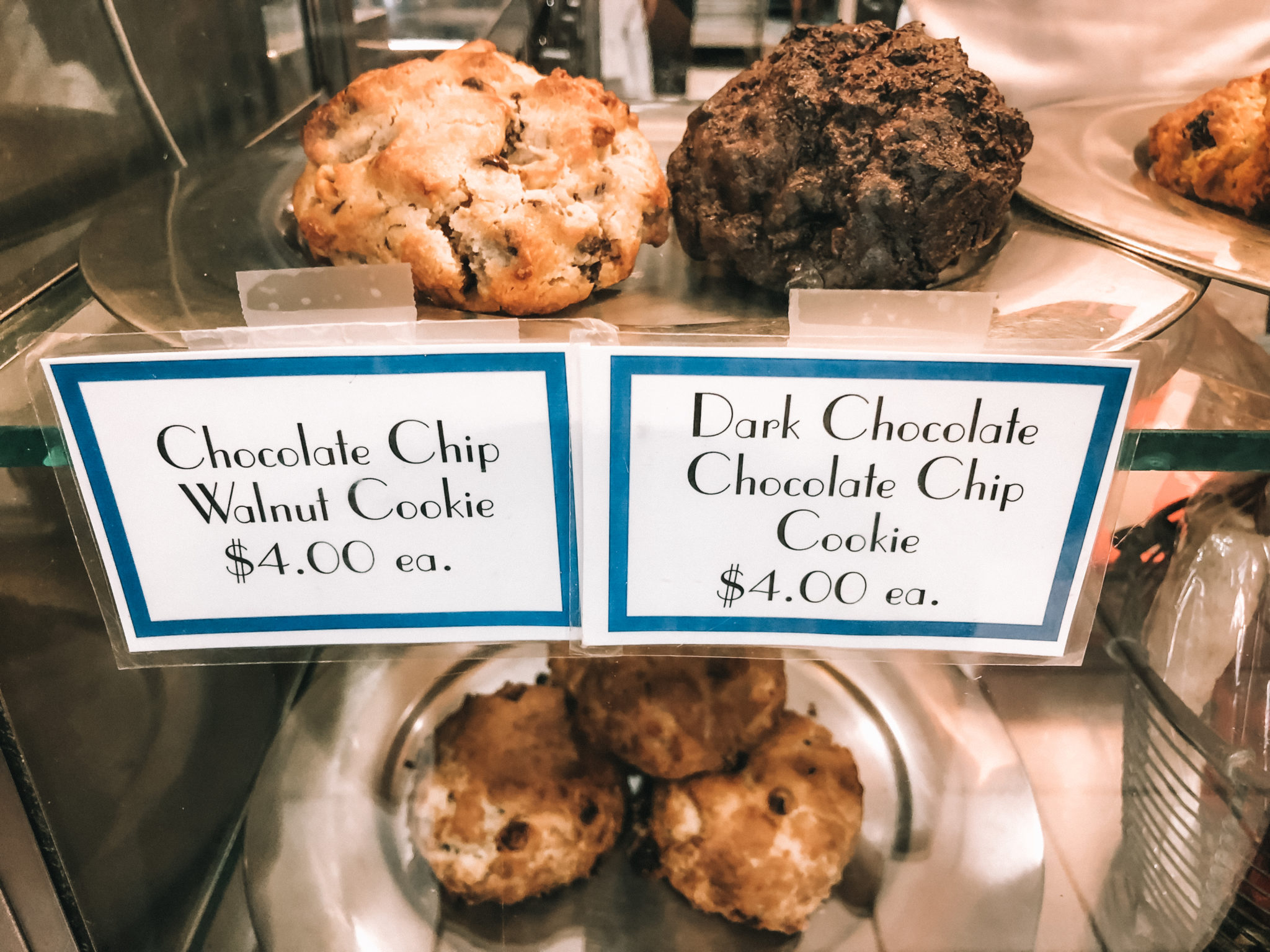 5. Try NYC's Best Cookies from Levain Bakery
One of the best ways to experience New York City is to eat it and there's no place in town that does cookies quite as well as Levain Bakery in the Upper West. Try the house special Chocolate Chip Walnut Cookie first but if you're game, order a follow up Dark Chocolate Peanut Chip Cookie for a very decadent afternoon pick-me-up.
6. Explore the West Village
Back over in Manhattan you'll find one of the most charming neighbourhoods to explore in all of the city: The West Village. Here is where you can visit Magnolia Bakery's flagship store (try the hummingbird cupcake – you won't regret it), visit the Perry Street facade made famous for being the exterior shot of Carrie Bradshaw's apartment in Sex and the City and wander the homely streets filled with expensive brownstones and warm + cozy restaurants with only a handful of seats and even fewer tables.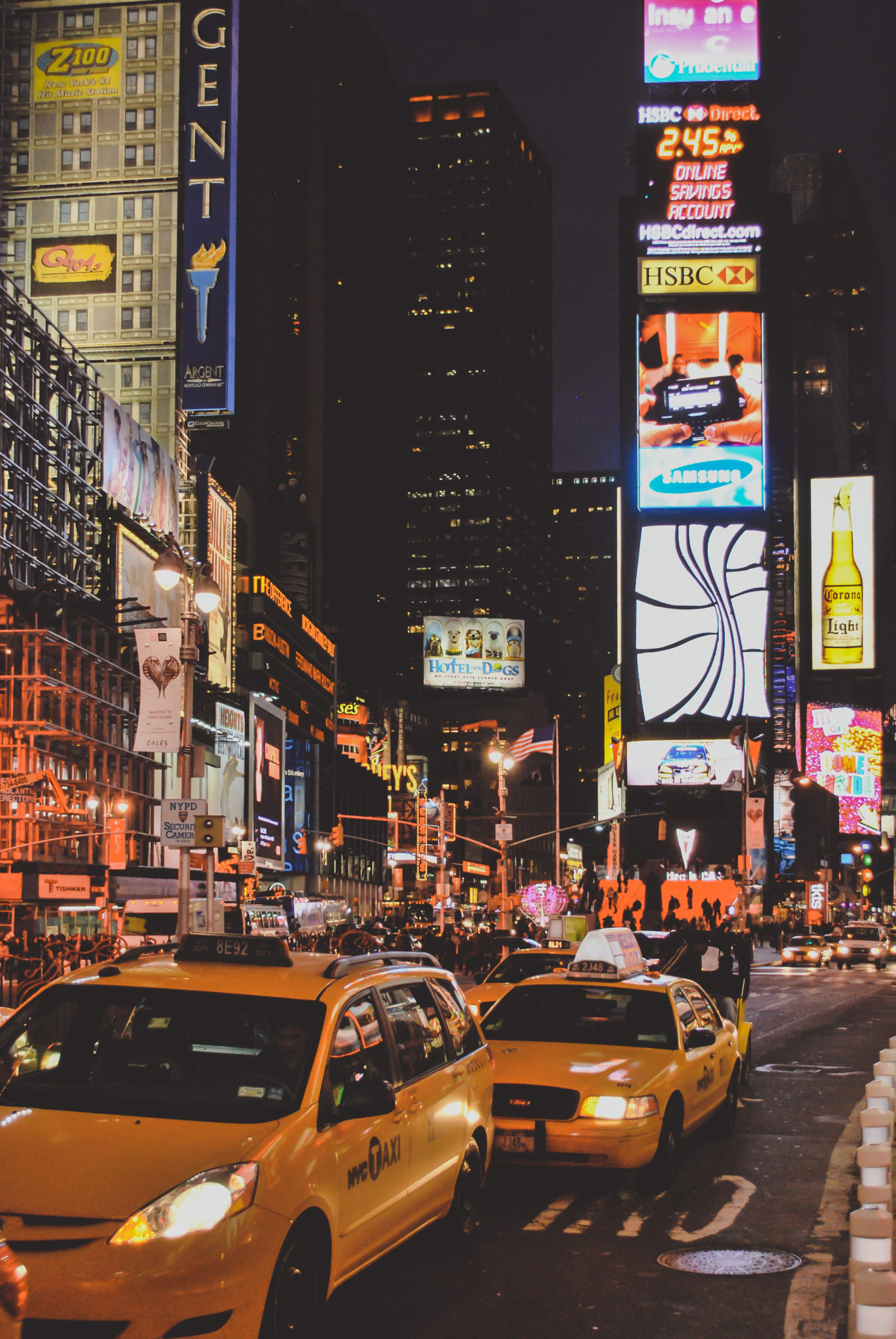 7. See Times Square at Night
Despite being the most chaotic area of town after 5:00pm, Times Square is a must-visit at least once on your trip to New York, even if it is just in passing en route to a Broadway show.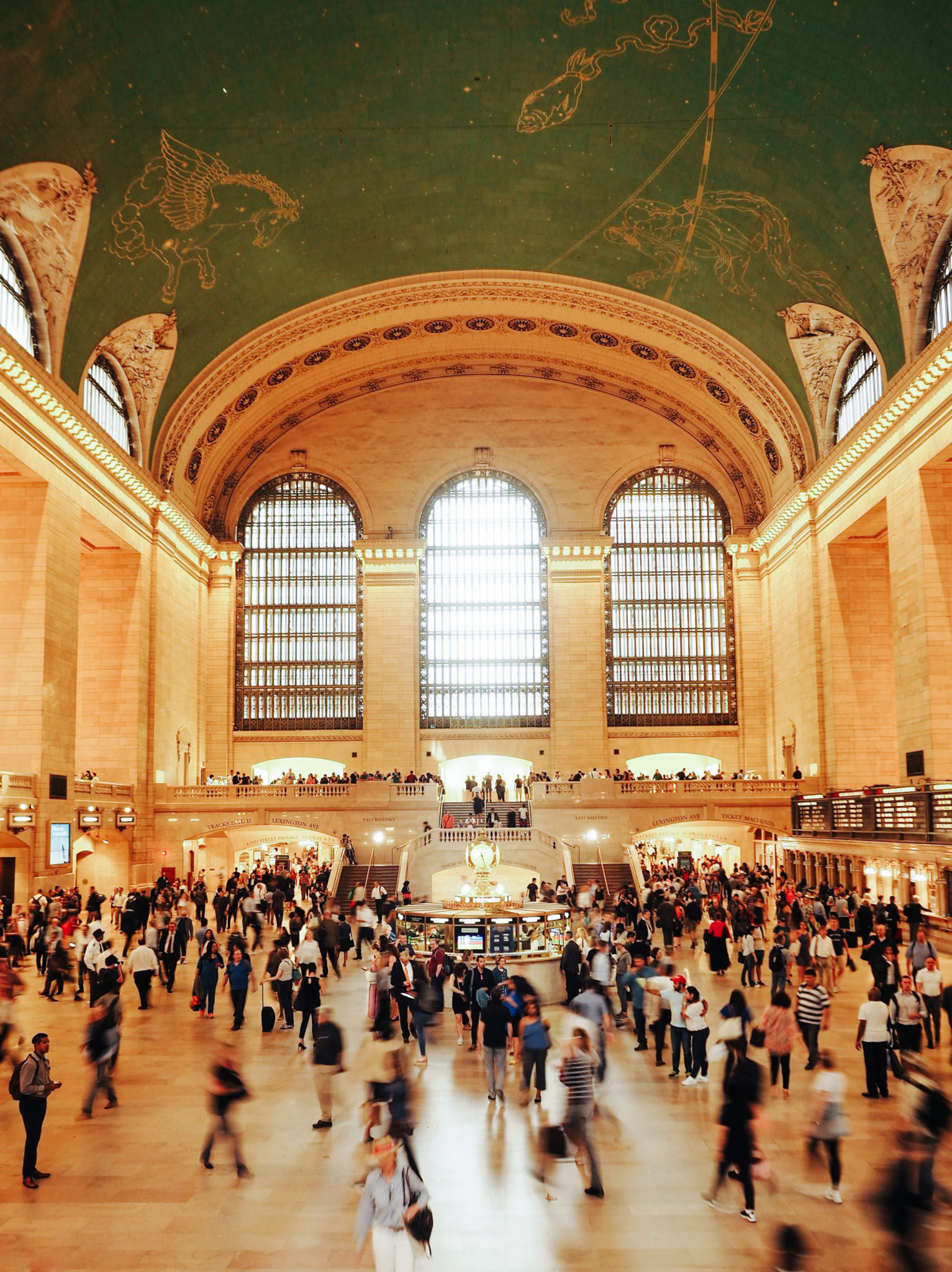 8. Visit Grand Central Terminal
If you're a fan of the hit series Gossip Girl you'll want to visit GCT for one of the most recognisable (opening) scenes in the series and also to visit the Campbell Bar inside the building, which was also used to film one of the opening scenes. Regardless of whether you're a fan of the show or not, Grand Central Terminal is one of NYC's main train stations and a mecca of activity. Twice I've witnessed proposals here!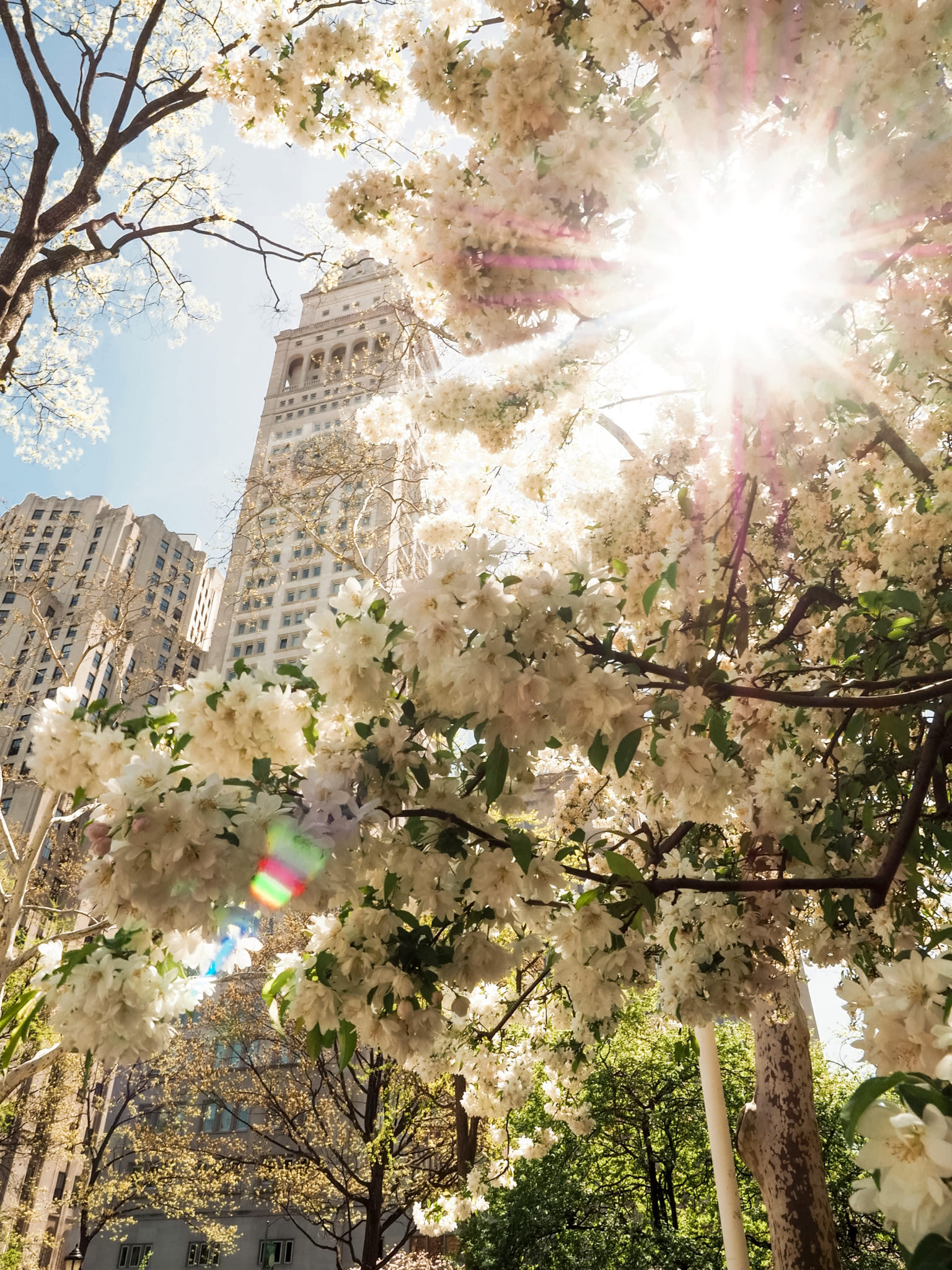 9. Madison Square Park in Spring
If you tire of the skyscrapers and big city life and want to find an oasis in the city, there are a handful of beautiful public parks to enjoy throughout New York – one of my favourite being Madison Square Park. The most beautiful time of year is to visit in Spring when the blossoms come to life and frame the Flatiron building from afar.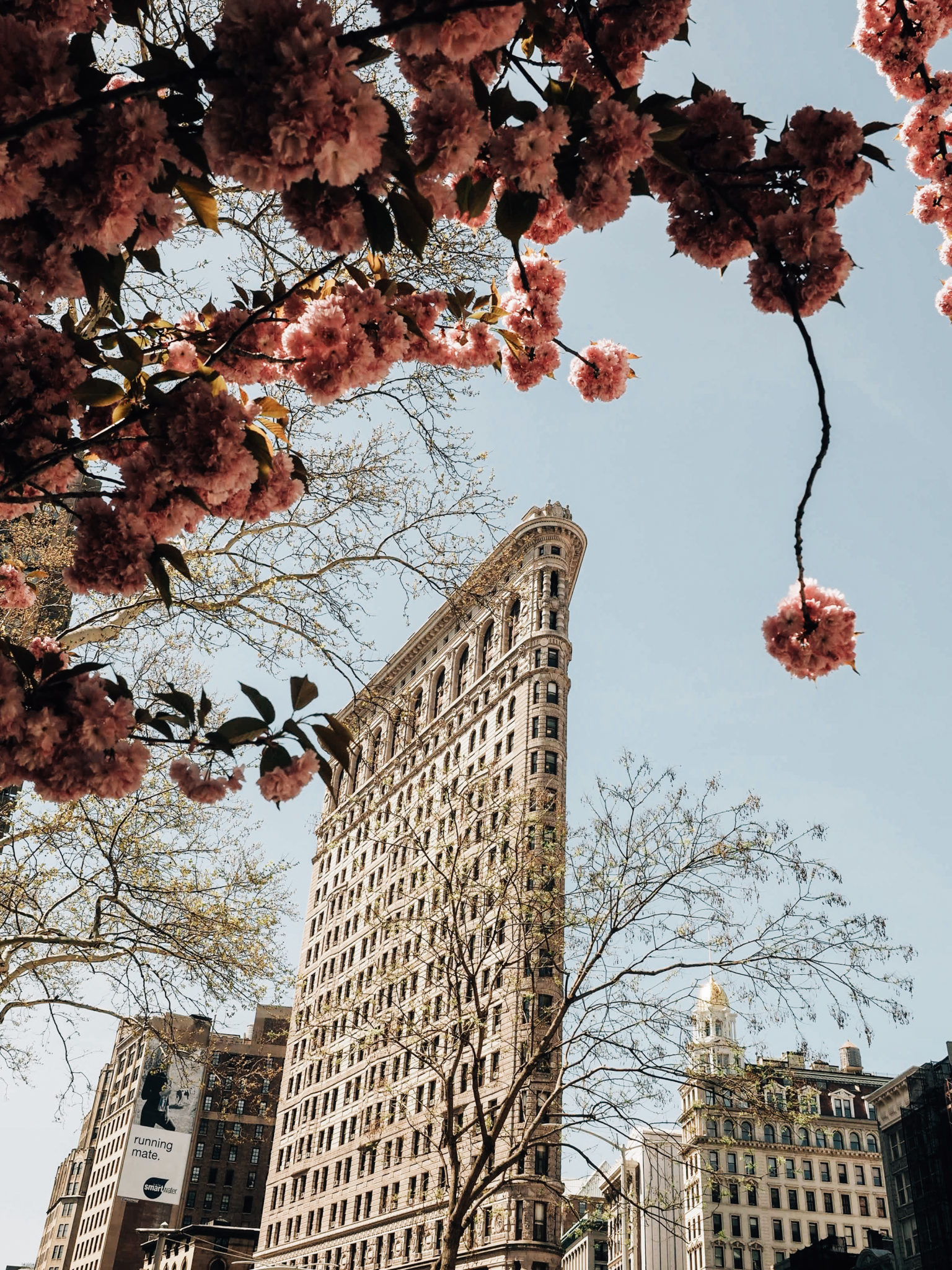 10. Marvel at the Flatiron Building
Speaking of the Flatiron, this is another intriguing piece of architecture not to be missed while visiting New York City. Named solely for the fact that the shape resembles a flat iron from a birdseye view, this has become one of New York's most photographed landmarks.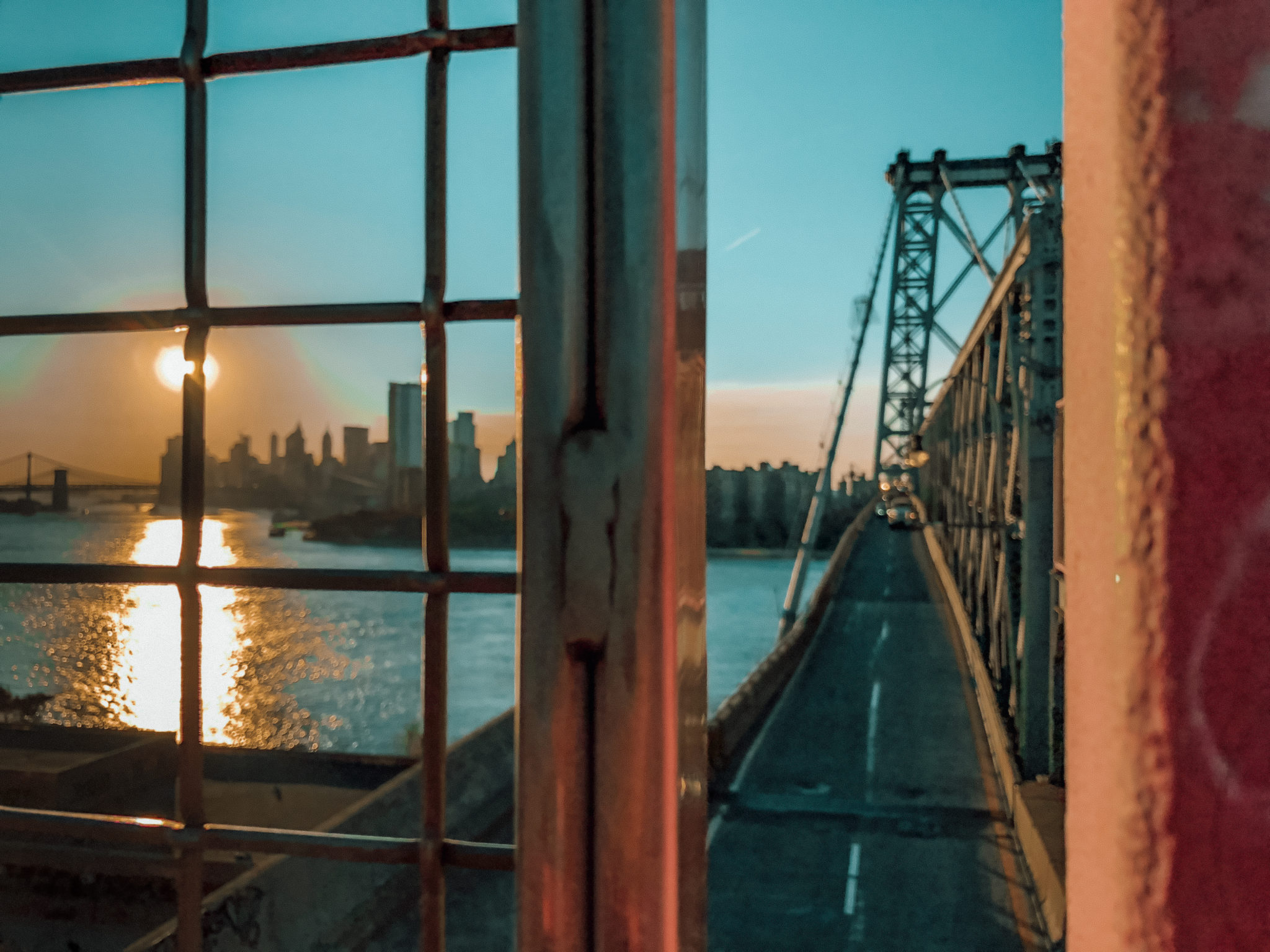 11. Walk the Williamsburg Bridge
If you fancy a different side to the city and are looking to go a little further off the tourist path, there is much to discover over in Brooklyn and especially so when you break away from the hoards of tourists in DUMBO to visit Williamsburg, a little further North in Brooklyn. The best way to see this neighbourhood in my opinion is to walk from the Lower East Side (LES) to Williamsburg via the W'burg Bridge. The views back toward Manhattan are some of the best in the city, especially at golden hour.
Williamsburg Bridge, Brooklyn, New York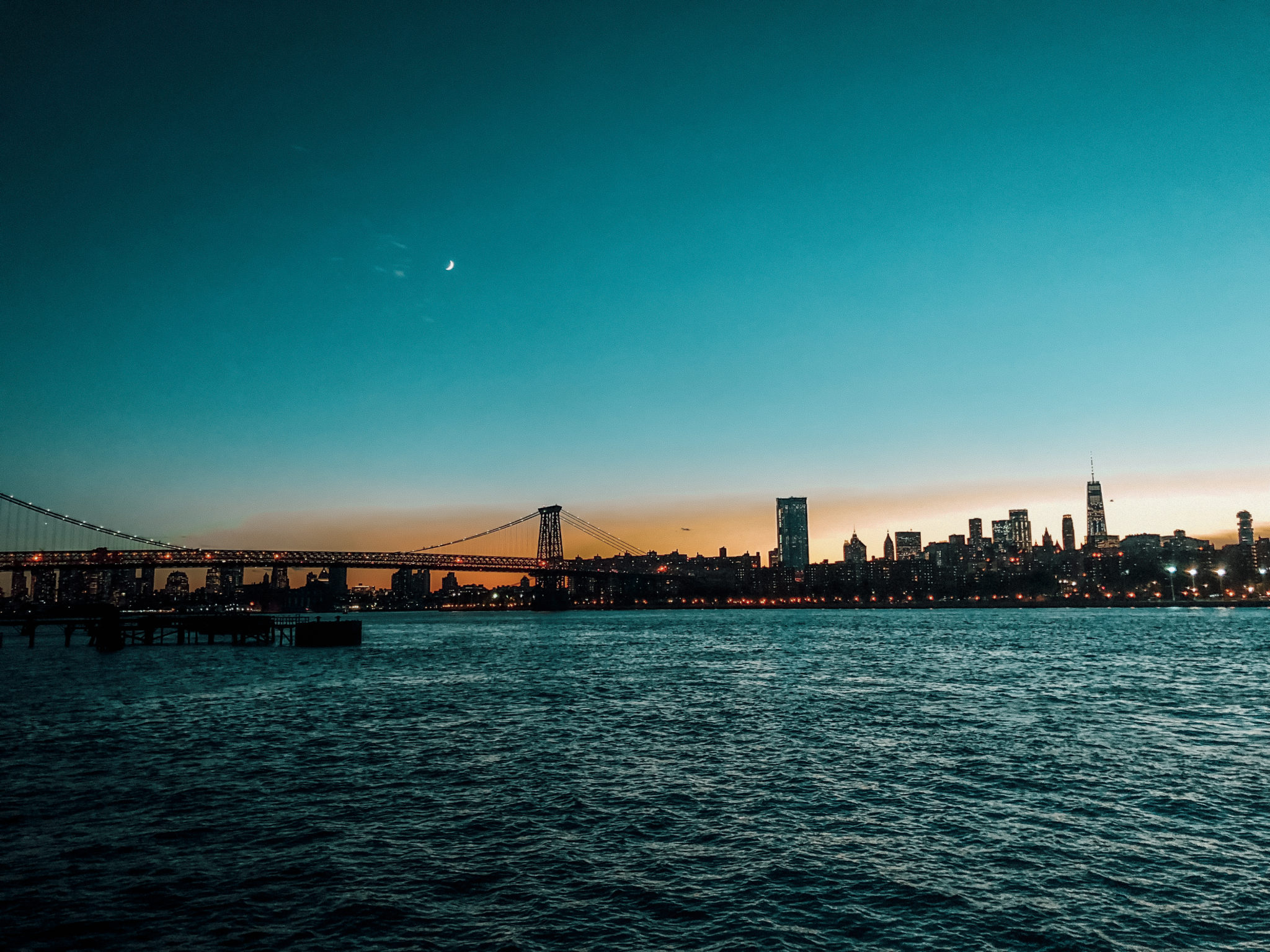 12. Take in the View from North Williamsburg Pier
While over in Brooklyn be sure to visit North Williamsburg Pier for one of the best sunset locations where you can see unobstructed views of Manhattan.
North Williamsburg Pier and Park, Brooklyn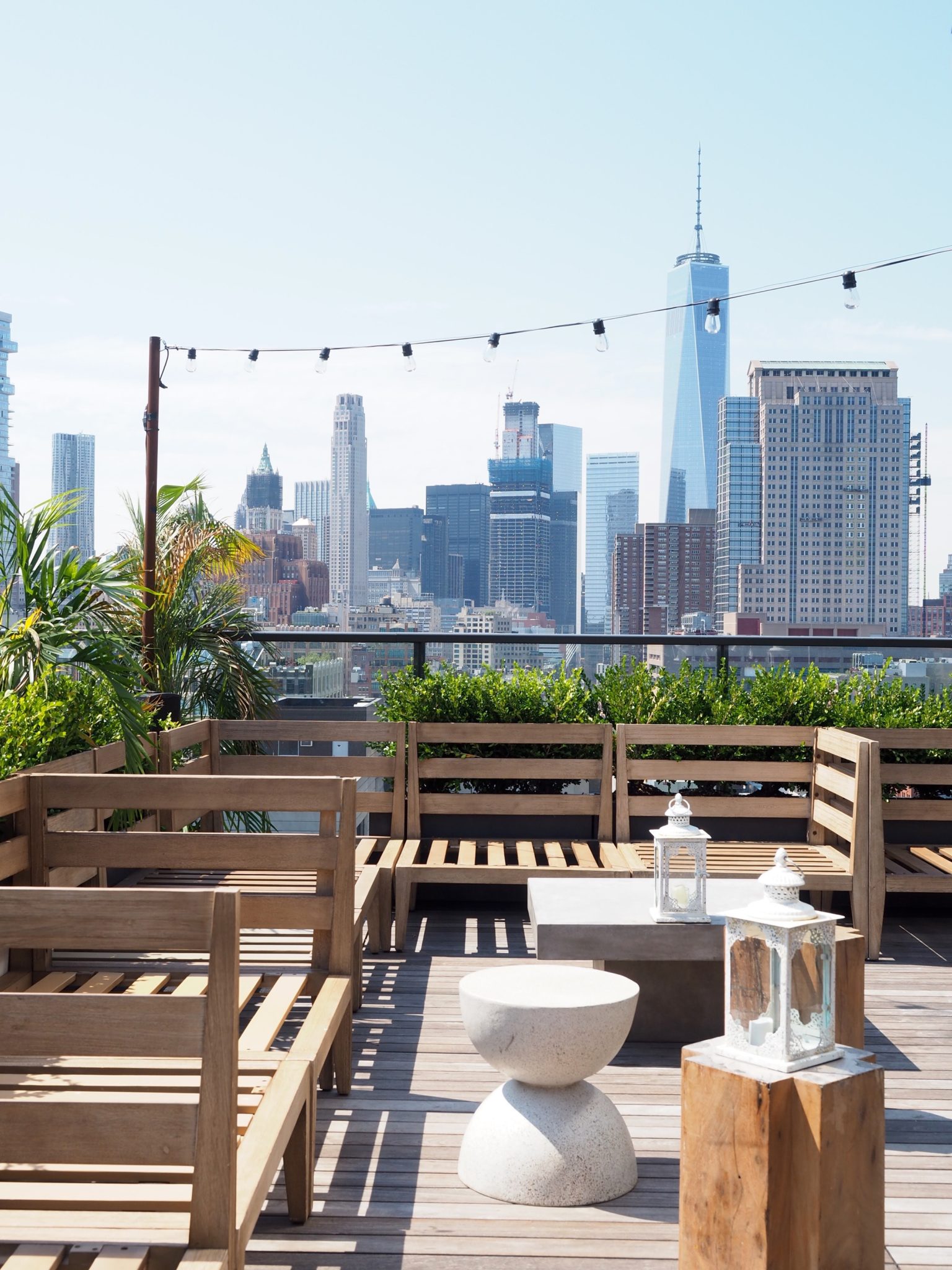 13. Check out the Best Rooftop Bars in the City
There are endless rooftop bars in New York City and often you will find they provide the best views of the city – especially at sunset. Some of our favourites include Salon De Ning in Midtown and Bar Hugo in Soho.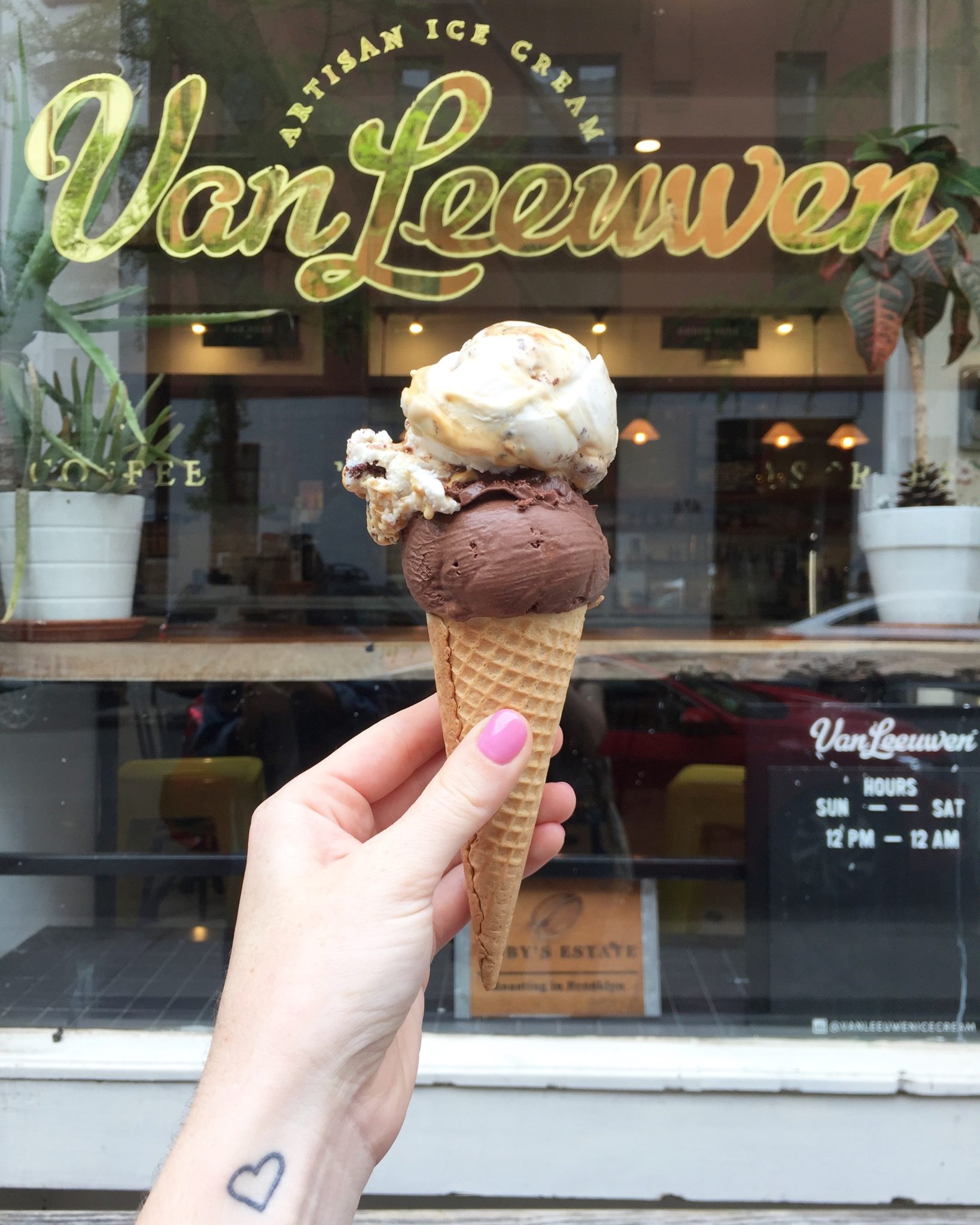 14. Vegan Ice Cream at Van Leeuwen
Vegans rejoice because New York City is an absolute haven for plant foods and especially when it comes to sweets. You'll find an endless supply of sweet treats at By Chloe in Soho or at the Erin Mckenna Bakery on Broome Street, however it is Van Leeuwen vegan ice cream that will truly blow your mind. The dark chocolate is life changing and their seasonal flavours are always worth the trip the your local location.
Multiple locations | 152 W 10th Street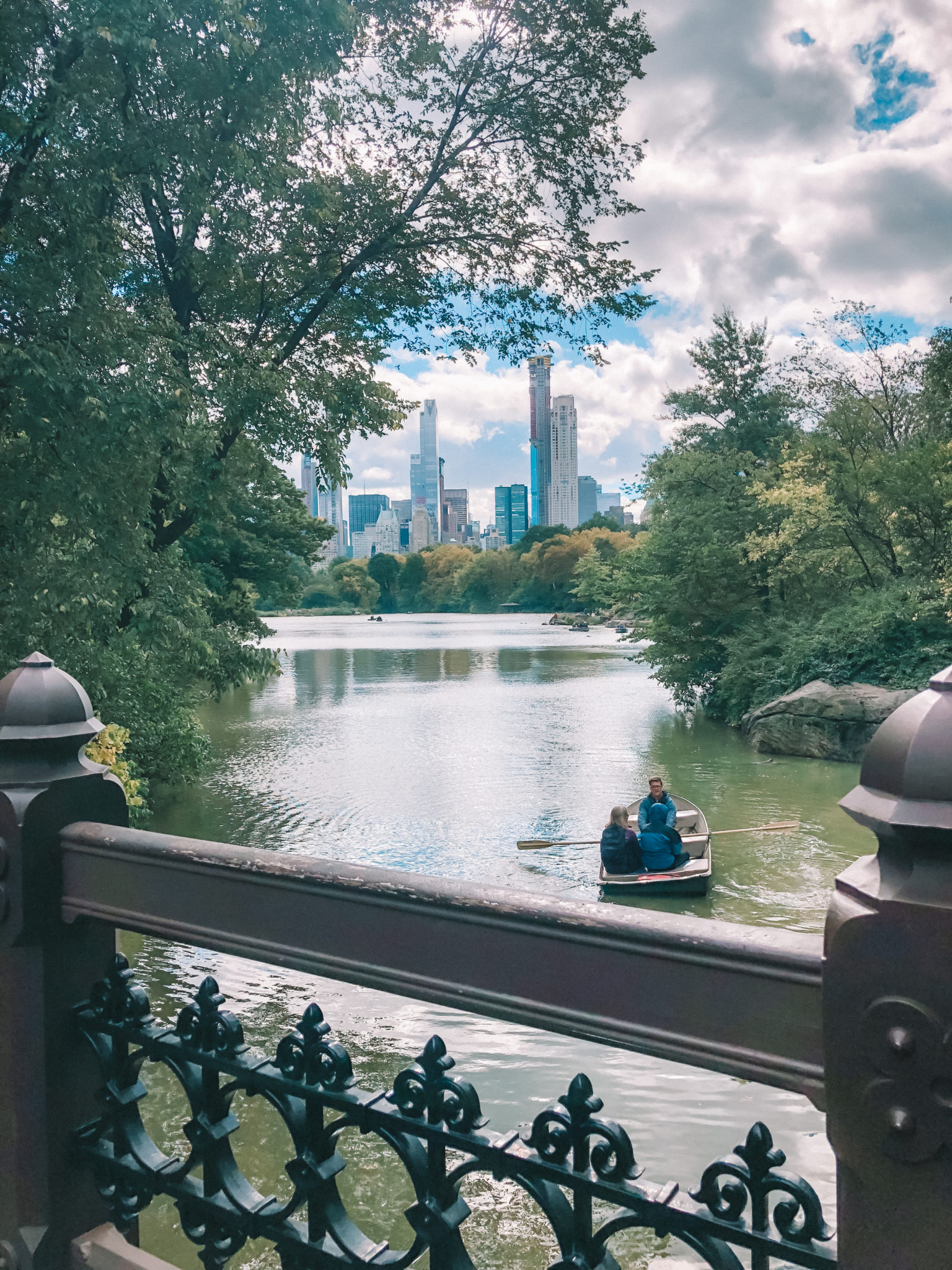 15. Row a Boat on Central Park Lake
Another quintessential NYC experience is to not only step foot in central park, but to make your way to the lake, rent a boat and row your way around the largest body of water in the park.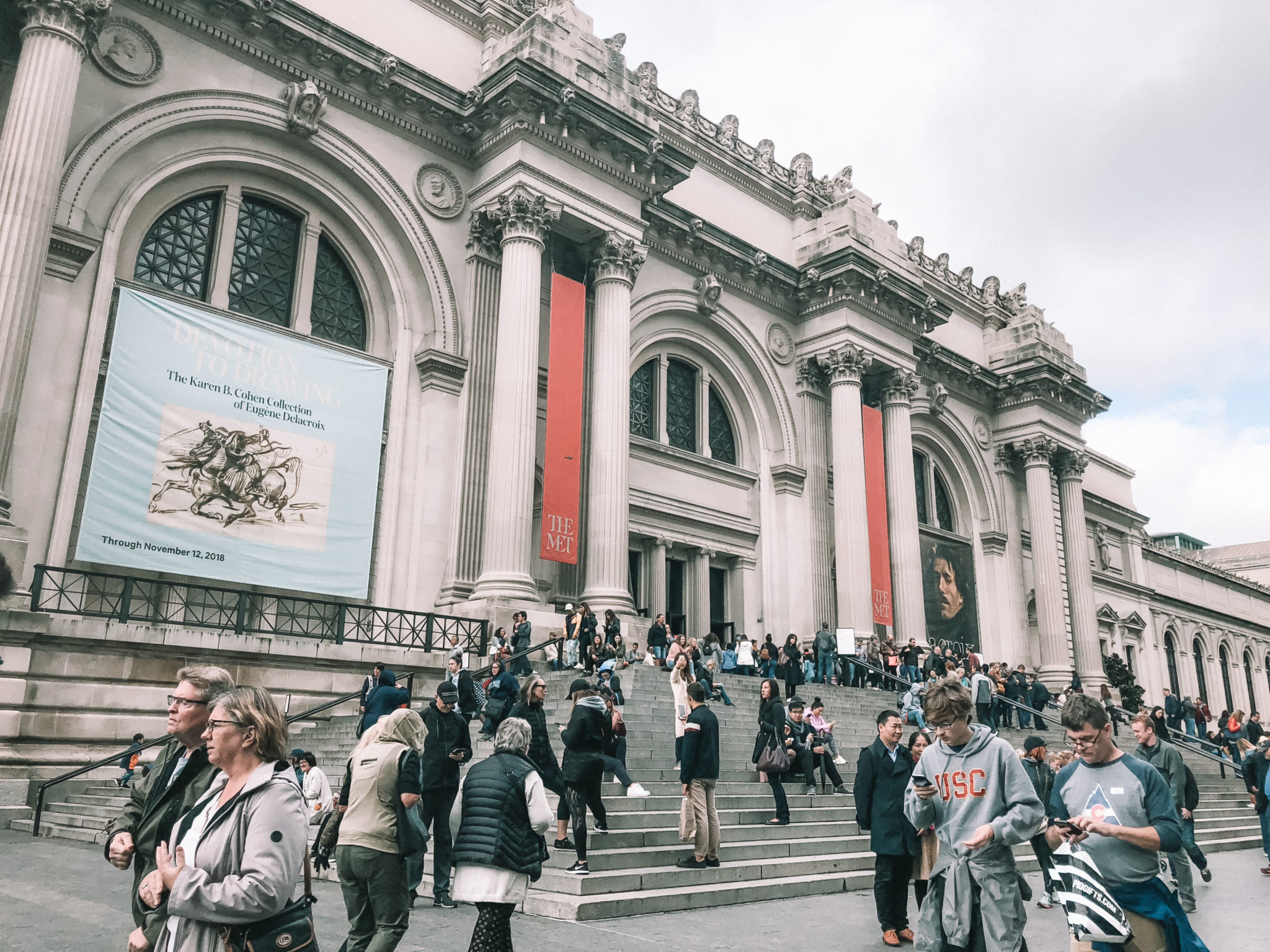 16. Visit the Metropolitan Museum of Art
Whilst in Central Park be sure to make your way over to the MET and walk through the famed halls of art history. The collection is huge and warrants an entire day for a visit, especially if you're visiting on the weekend and facing the crowds!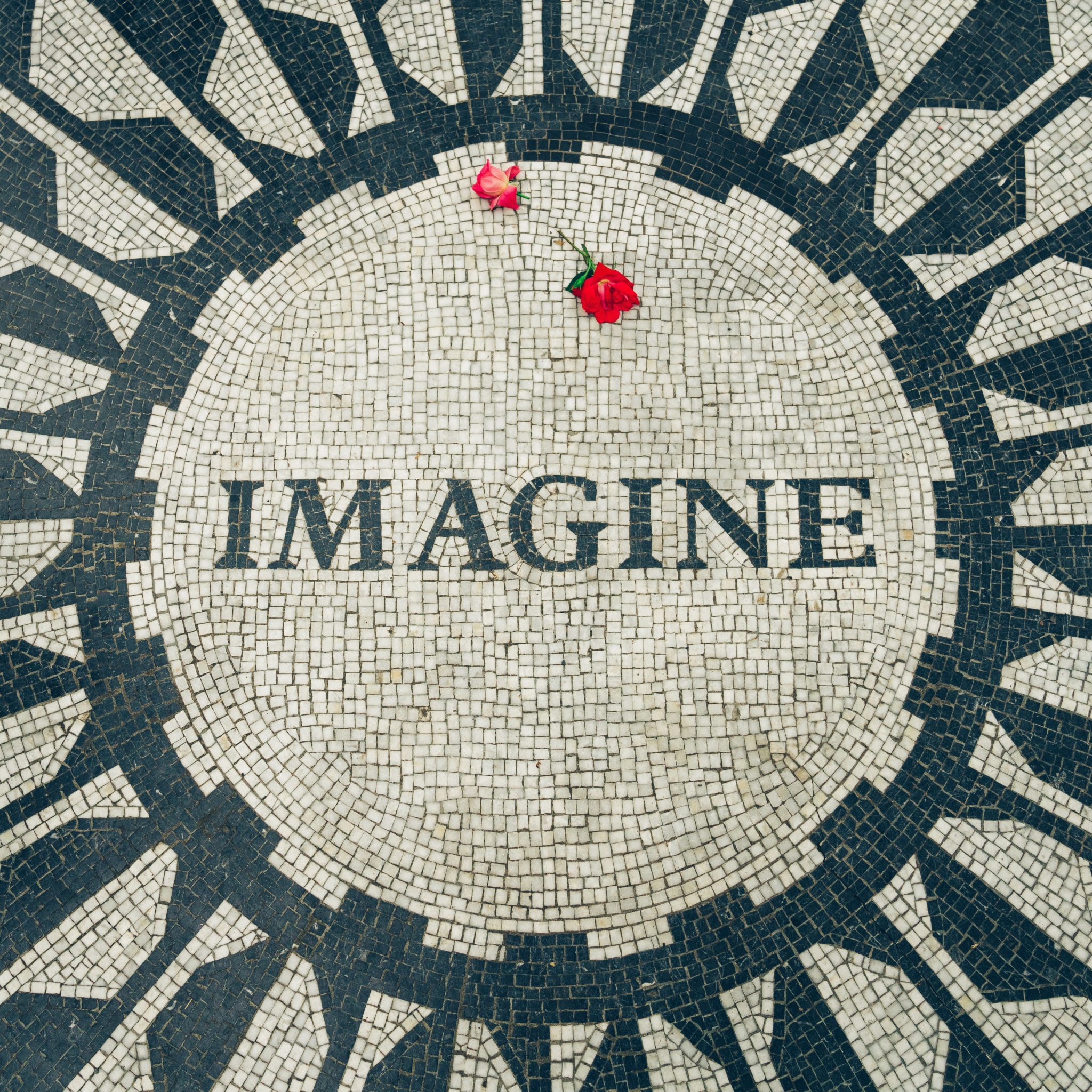 17. Visit the John Lennon Imagine Memorial
Over on the West side of the park you will find Strawberry Fields and the John Lennon Imagine memorial – both of which are worthy of a visit, especially if you're a John Lennon fan.
18. See a Broadway Show
Seeing new shows on Broadway has quickly become my favourite thing to do in New York City and oh boy, have I seen a few! Popular shows such as Wicked, The Lion King and Book of Mormon are a safe bet, but it is the shows I never expected to like that really hit me hard: Beautiful (The Carole King Musical), Jersey Boys and Newsies are some of my favourite shows.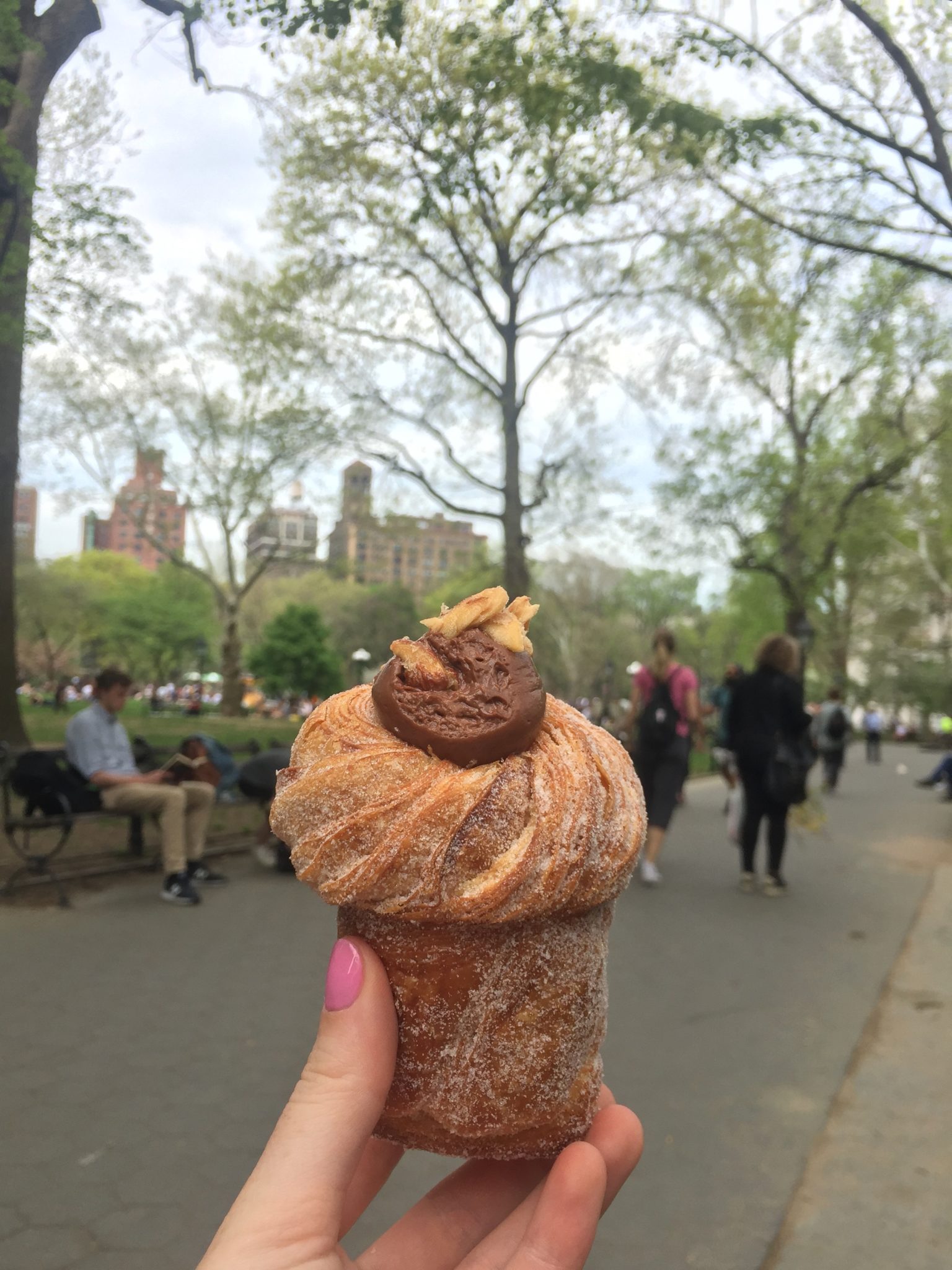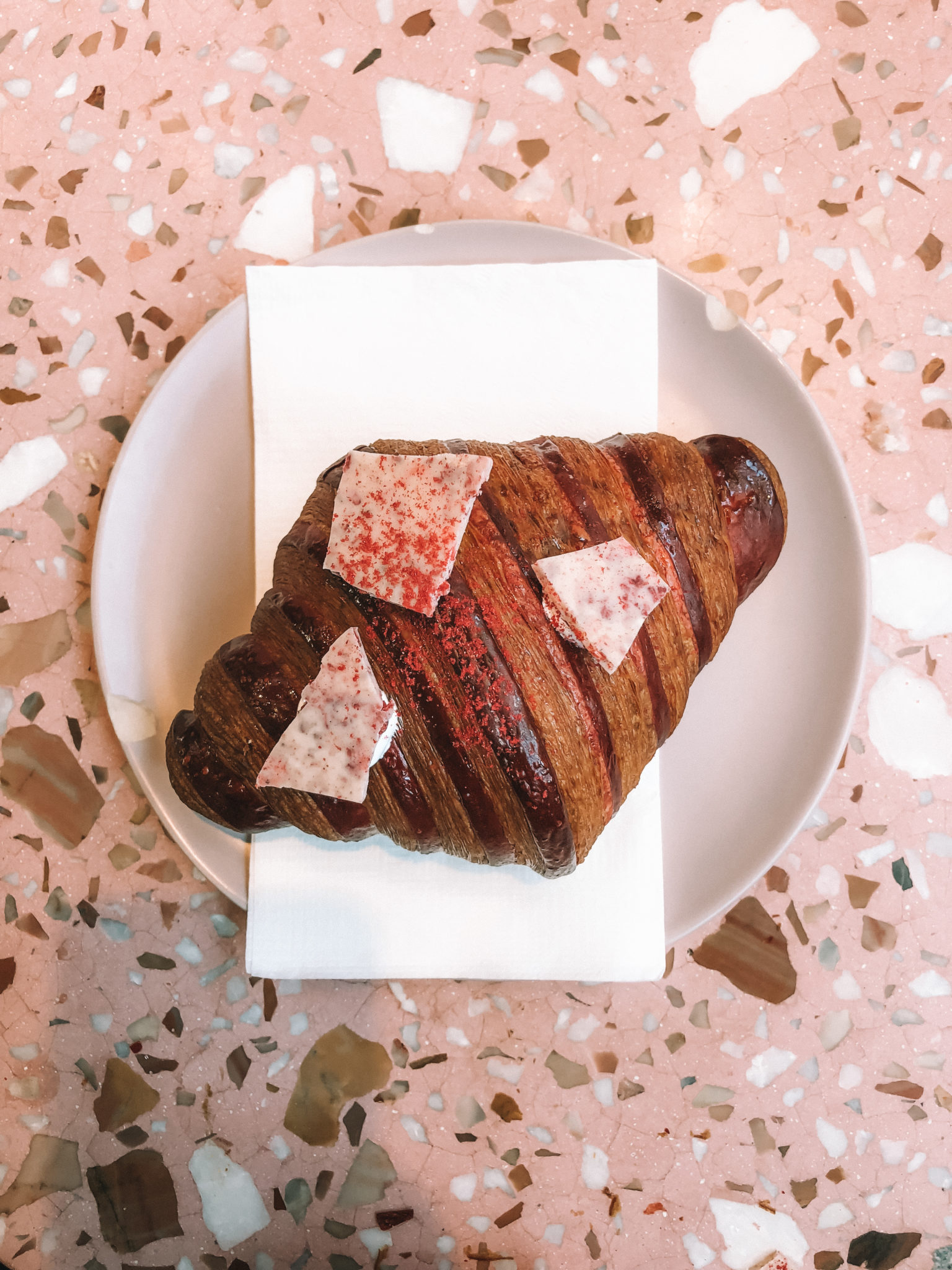 19. Eat a Pastry from Supermoon Bakehouse
Move over cronuts and rainbow coloured bagels: Supermoon Bakehouse has taken New York City by storm. This bakery is famous for their luxury croissants and cruffins (a croissant muffin hybrid). But they also make a great espresso, too! Be sure to drop by and see what all the fuss is about. I visit at least twice every time I'm in New York!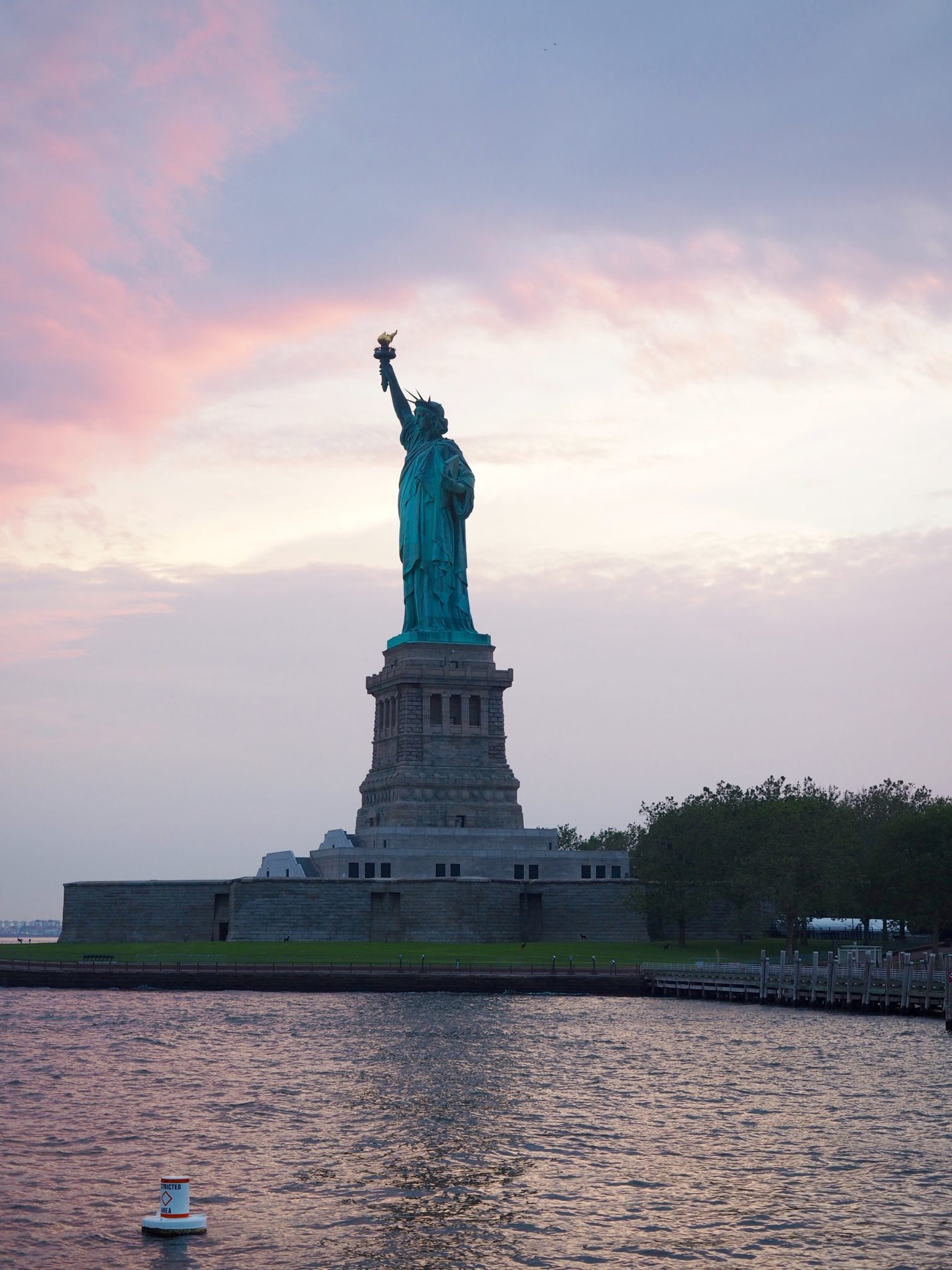 20. See the Statue of Liberty at Sunset
Seeing the Statue of Liberty has always been on my list of things to do in New York City. But for one reason to another, it has never happened as an up-close encounter. One of the best ways to see the statue is from the water itself, with the Staten Island Ferry being a popular (and free) way to see the statue from afar. You can also take a sunset/evening cruise on the Hudson River and see the Statue of Liberty, Brooklyn Bridge, Manhattan Bridge and Williamsburg Bridge.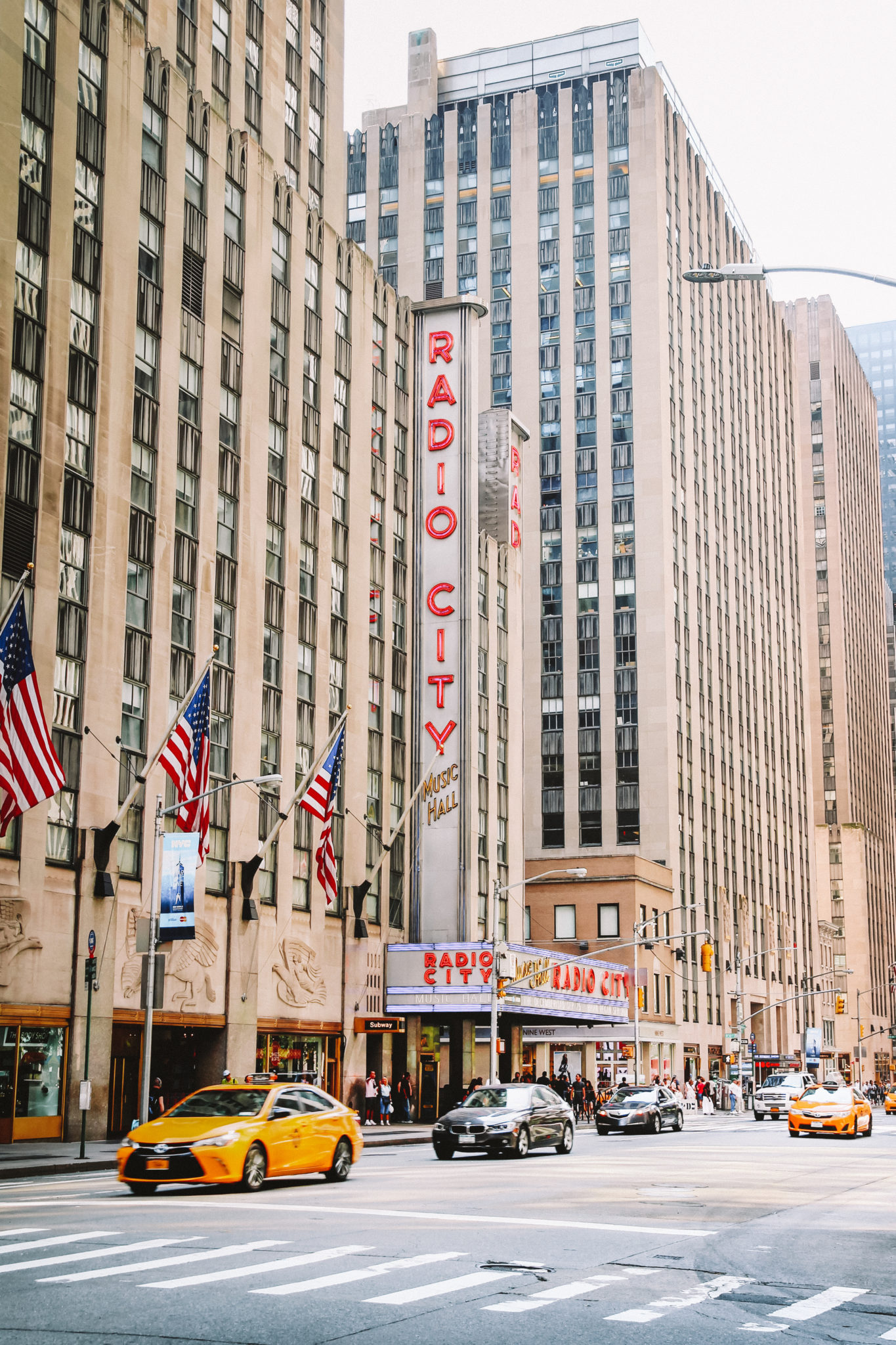 21. See a show at Radio City Music Hall
A city as sprawling as New York, there are often international artists passing through town with shows around the city. Radio City Music Hall is one of the key locations for gigs and always has a show to look forward to – check ticket master for upcoming shows.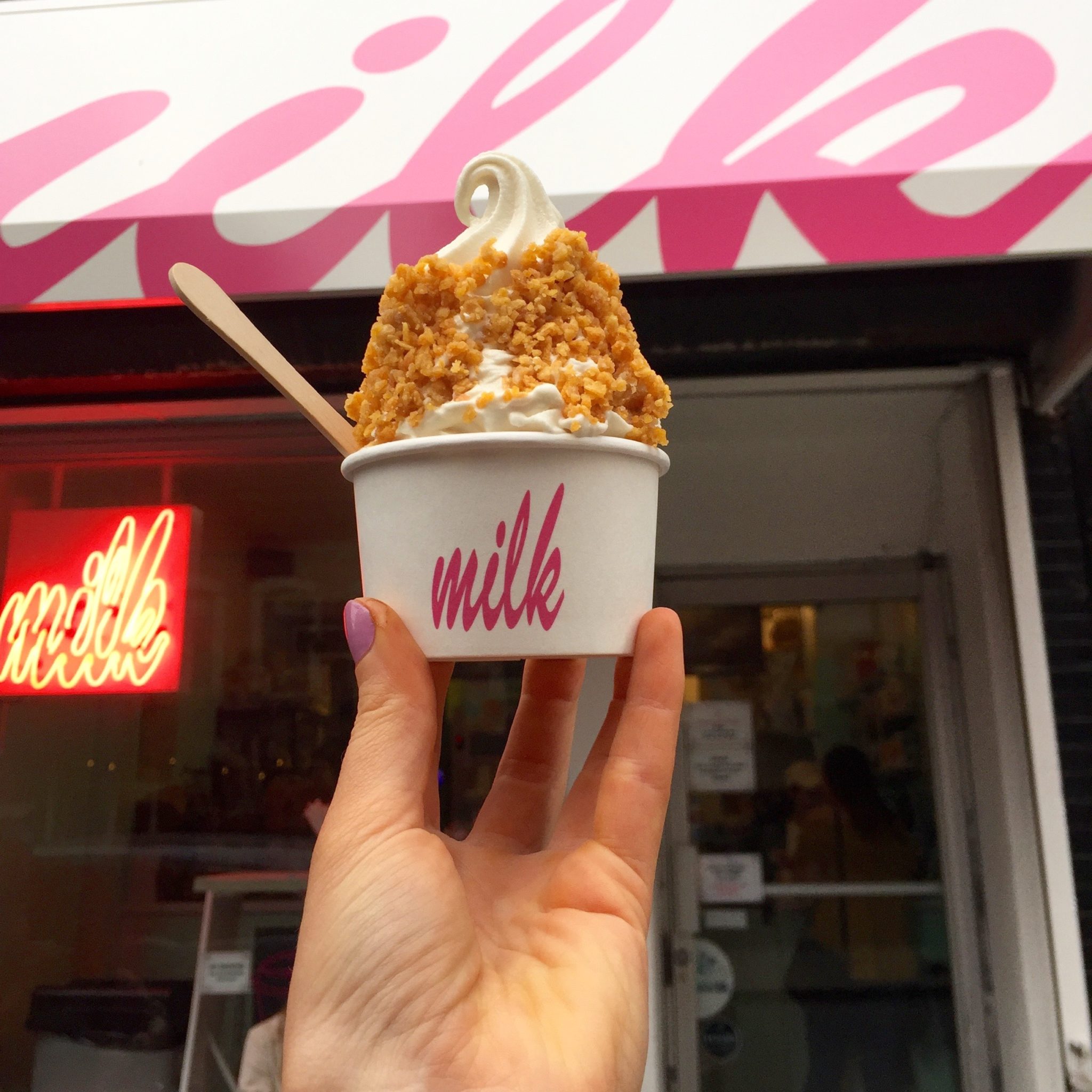 22. Try Cereal Milk Ice Cream from Milk Bar
An offshoot from Momofuku, Milk Bar is famous for its cereal milk soft serve ice cream. As you might have guessed, it tastes just like the milk left over after a bowl of cereal. Talk about childhood nostalgia!
251 E 13th Street, East Village
23. Visit the New York Public Library
If you're a bookworm like me then make sure you don't miss the chance to step inside the New York Public Library. From a map collection to public study spaces, there are different rooms and floors to explore.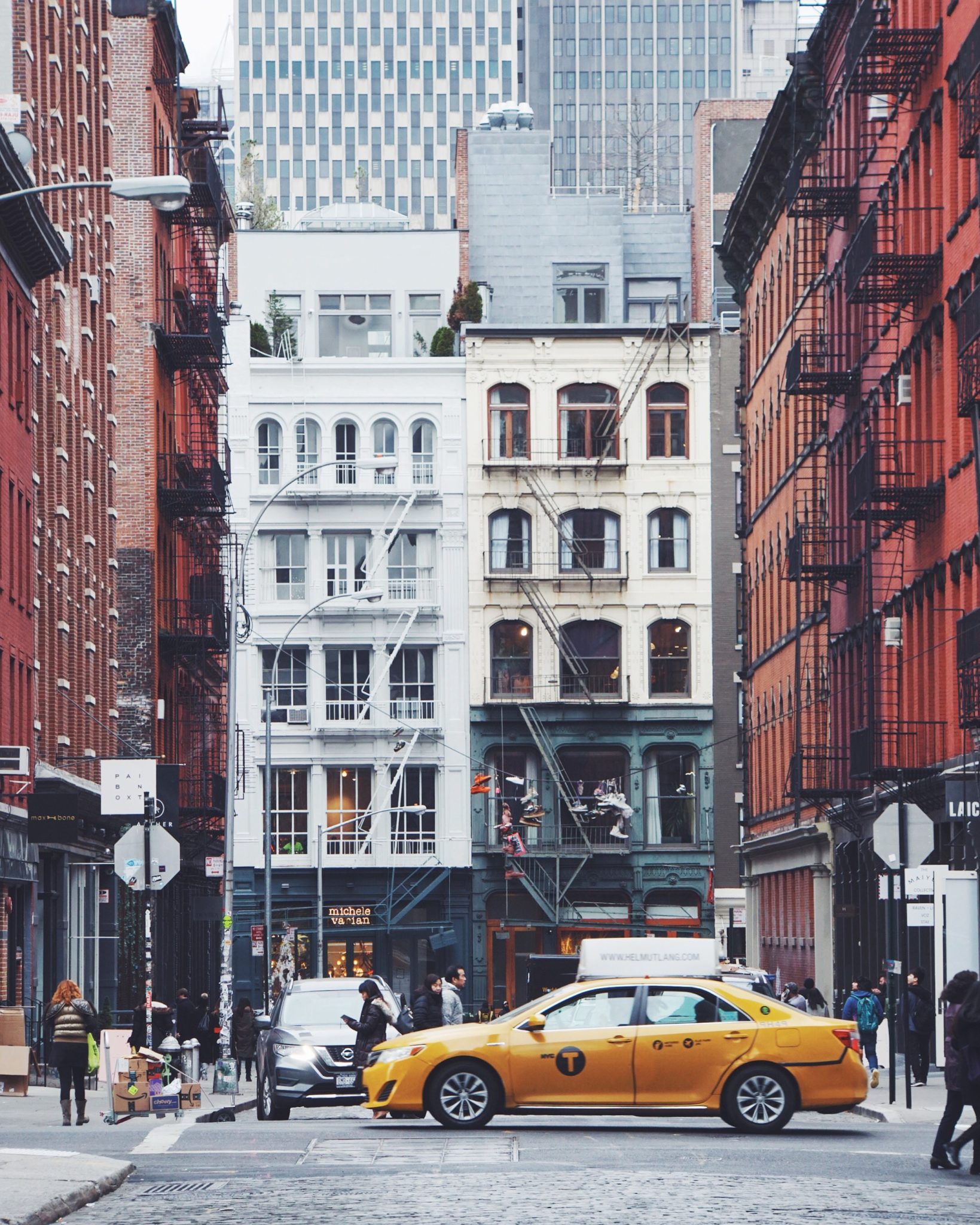 24. Go Shopping in Noho and Soho
If boutique shopping is your thing, head over to Noho and Soho for the ultimate shopping experience. Although you will find all the international designers on Broadway, there are oodles of great local designers on the side streets.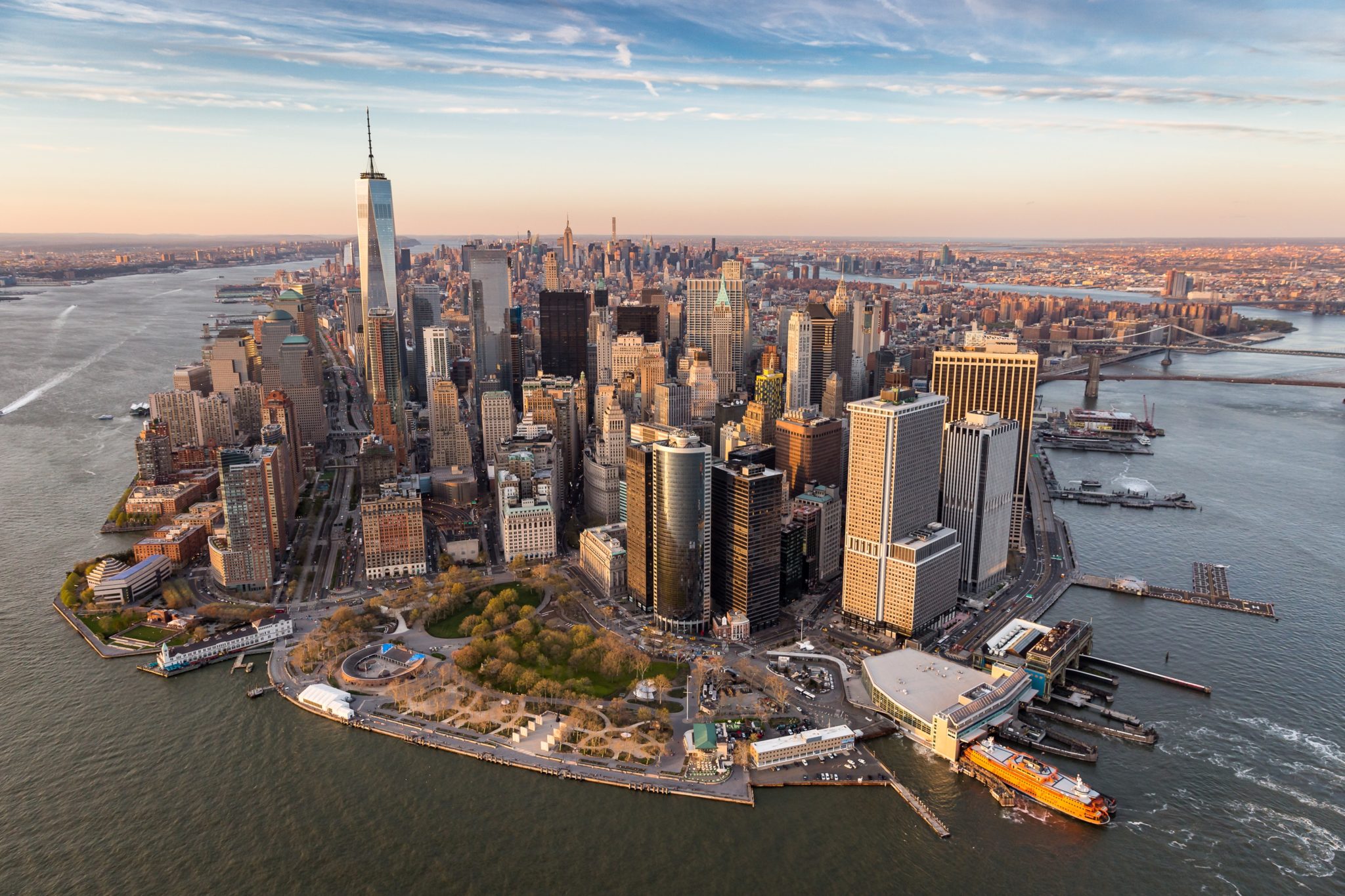 25. Fly over the city
If you're eager to get a view of New York City from above then there's no better way to do so than boarding a helicopter flight over the city. Although expensive, this is a great way to get a feel for the size of the city and see the city skyline from a birds-eye view.