As one of the world's leading honeymoon destinations, the Maldives is a popular choice for loved up couples looking to relax, unwind, and enjoy paradise. But there's so much more to do than laze around on the beach with a good book (though that too is highly recommended). So if you're looking for activities to keep you busy and entertained throughout your visit to the Maldives, here are 29 of the best things to do in the Maldives.
Taste the sweet life
With a tropical climate and year round warm temperatures, you can rest assured you'll find plenty of great fruit on offer in the Maldives. While much of the food is imported to keep up with the high demand of tourism, all the local offerings are just as tasty so be sure to sip the real deal coconut water to feel fresh from the inside out. They're delicious and will promptly get you in the island mood!
Eat Fresh Produce
Nearly my favourite thing about the Maldives (only losing to the scenery, crystal clear waters and my company) was the incredible cuisine on offer. The Maldives is a collectivity of more than a thousand island, closely neighbouring Sri Lanka and India. Thus much of the food influence comes from India and further beyond in Asia, so you can expect plenty of flavour, fresh produce, and delicious desserts.
Parasailing
If you're looking for an adrenaline rush there are plenty of activities on offer in the water! One of the most popular activities is parasailing, which offers a great opportunity to see your island from above.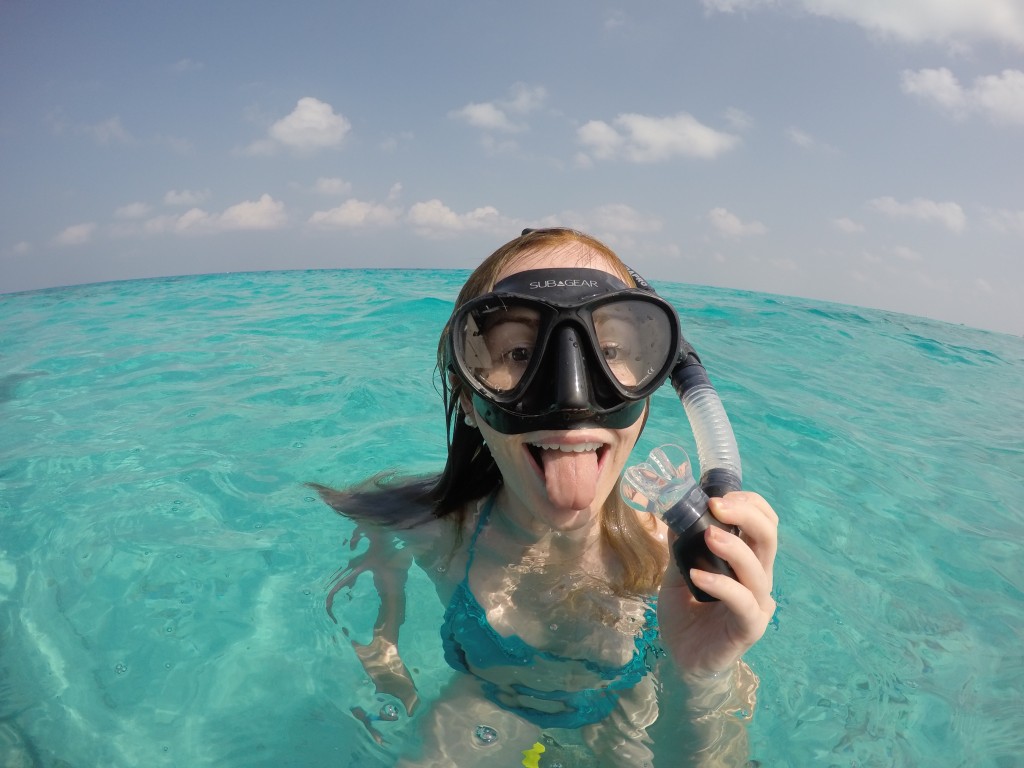 Go Snorkelling
There's no way you can come to the Maldives without jumping in the crystal clear waters and admiring the marine life. No matter where you are located you're sure to be surrounded by ample opportunities to float around a reef and let the spectacle begin! You can expect to see plenty of colourful fish, (small) sharks, and huge sting rays amongst others!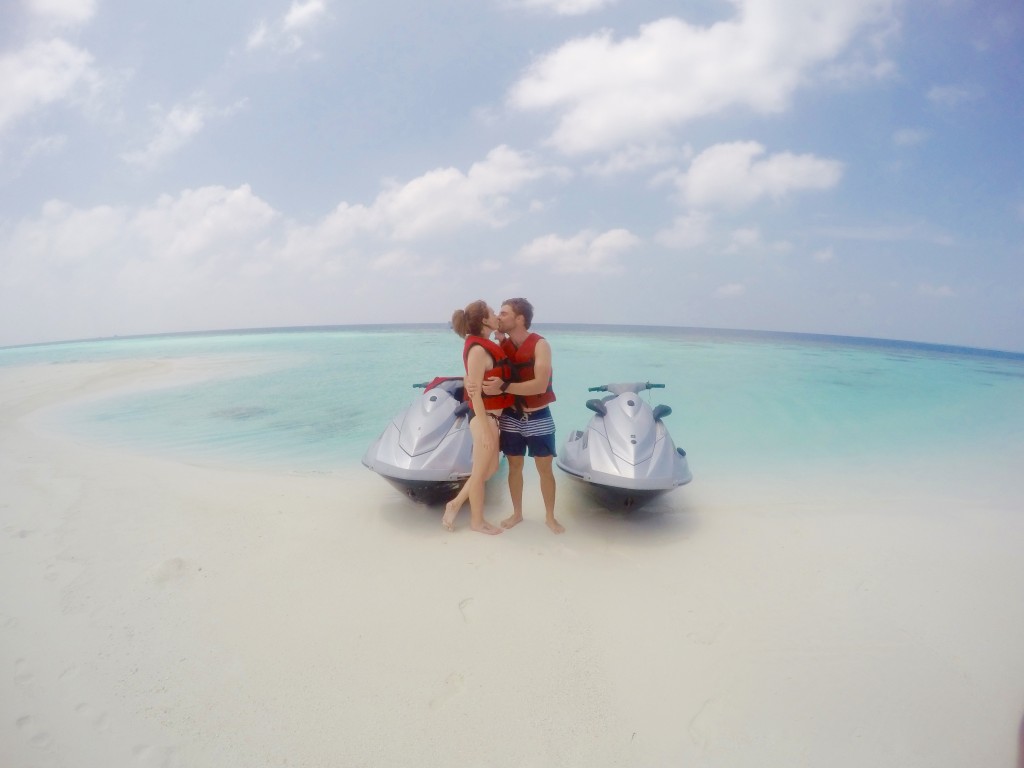 Jet Ski Safari
While snorkelling is a lot of fun as it is, what is even better is jumping on a jet ski to a remote sand bar for incredible marine life watching.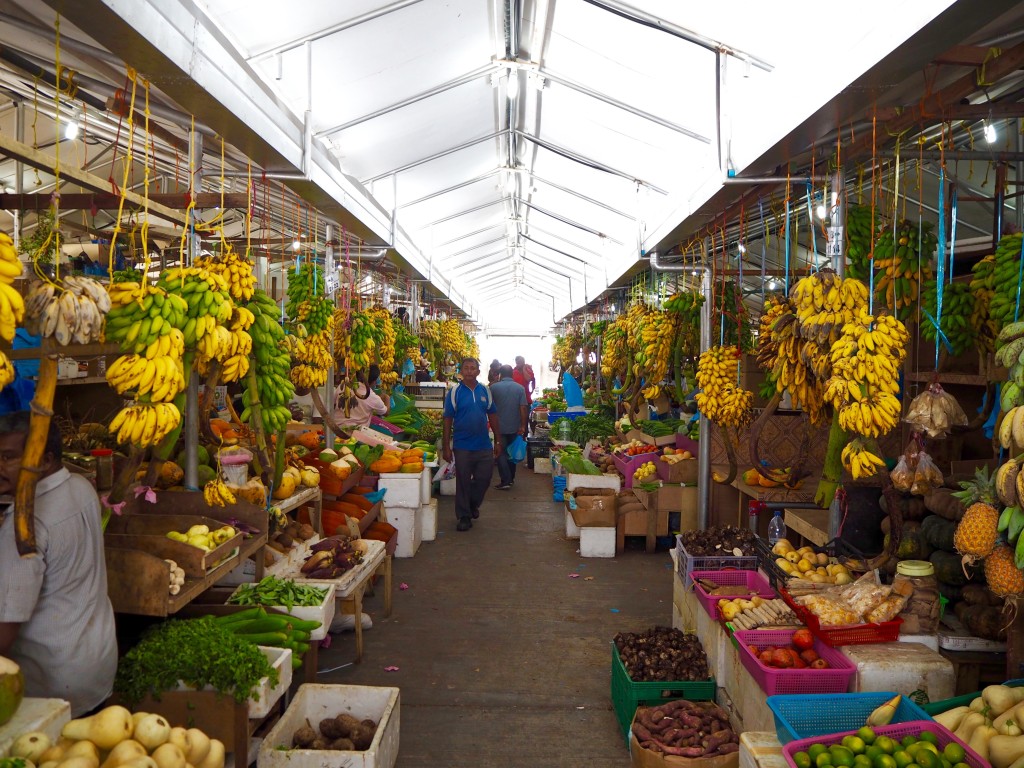 Visit a local island
Maldives is made of a total of 1,192 islands – how's that for an impressive figure! 200 of those islands are inhabited by locals, whilst another 80 islands are home to resorts and operate solely for tourism. If you have time and are interested to see more of the local life, be sure to ask your resort to arrange a local island visit. Male (the capital) is a great place to start but its just the beginning!
Sit back & sip on colourful cocktails
If you envisaged yourself kicking back on the beach with a colourful cocktail in hand, you will certainly have plenty of opportunity to do so in the Maldives. Although the country is entirely Islamic, all of the resort islands off Male serve alcohol and they've mastered the art of refreshing cocktails.
Indulge in a Spa treatment
Whether you're being covered in coconut oil, bathing in coconut milk or being covered in gold leaf, there are all sorts of spa treatments on offer in the Maldives on each end of the spectrum (being covered in gold leaf being on the more expensive – and ridiculous – side!)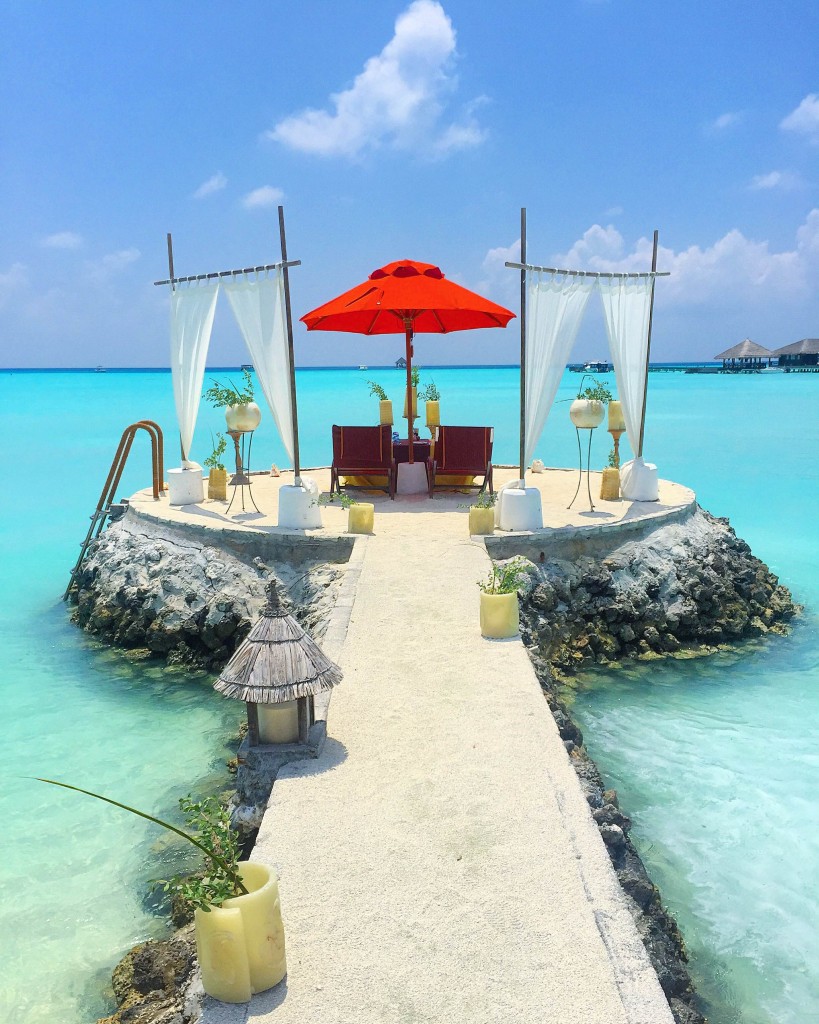 Private Dining
If you're visiting the Maldives with your other half, be sure to make the most of "private dining" set ups around your island for an unforgettable dining experience. This was by far our favourite and most memorable lunch and although the food was outstanding, this picturesque view is all I can really remember!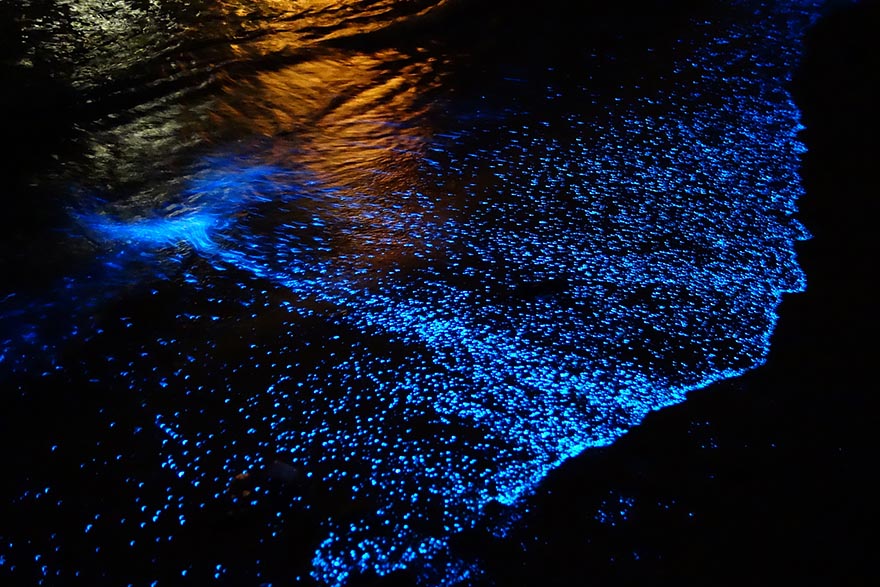 See the Sea Sparkle

You've probably seen the pictures and have maybe even pinned on Pinterest before, but no matter how many times I see photos of the Maldives sea sparkles I'm still just as in awe as the first time I saw them! The natural phenomenon is known as Noctiluca scintillans. (Image via)
Sunset cruise
Absolutely the most romantic activity we enjoyed in the Maldives was an evening sunset cruise on the Jumeirah Vittaveli yacht. Most resorts offer sunset cruises both in groups and privately, where you can kick back and sip on a glass of champagne as the sun sets in the background. Bliss!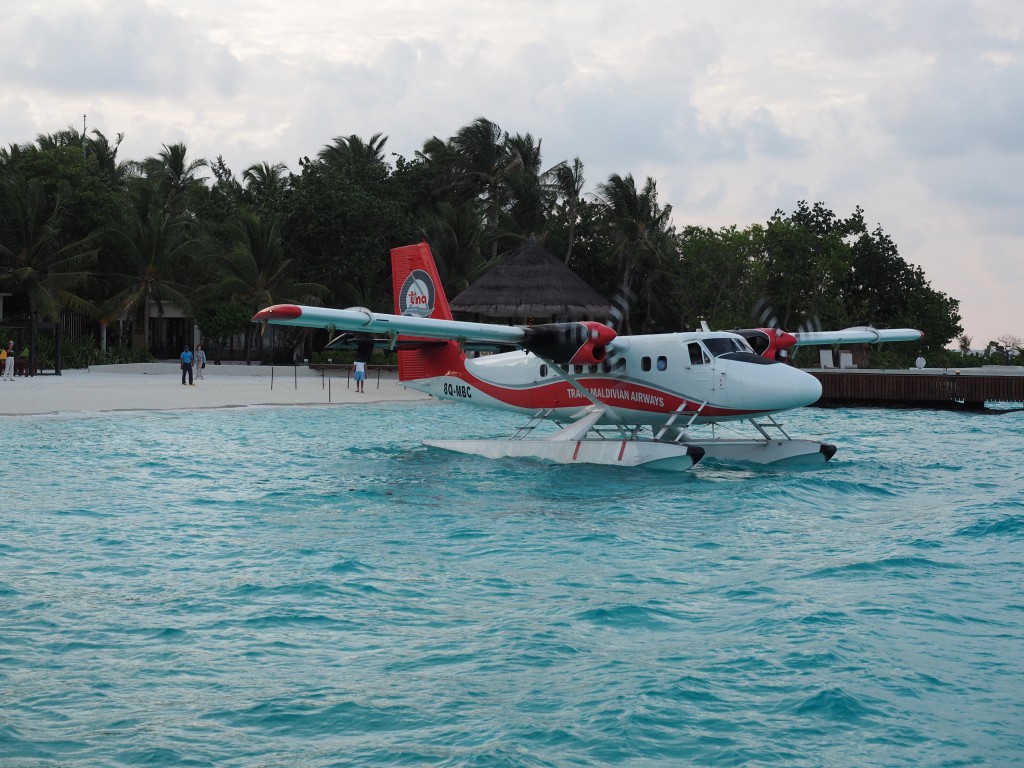 Take a Ride in a Sea Plane
While speed boats are the mode of transport for islands close to Male International Airport, islands further afield often require a sea plane transfer. Use this time to see the islands from above and snap some great shots as the Maldives are even more impressive from above!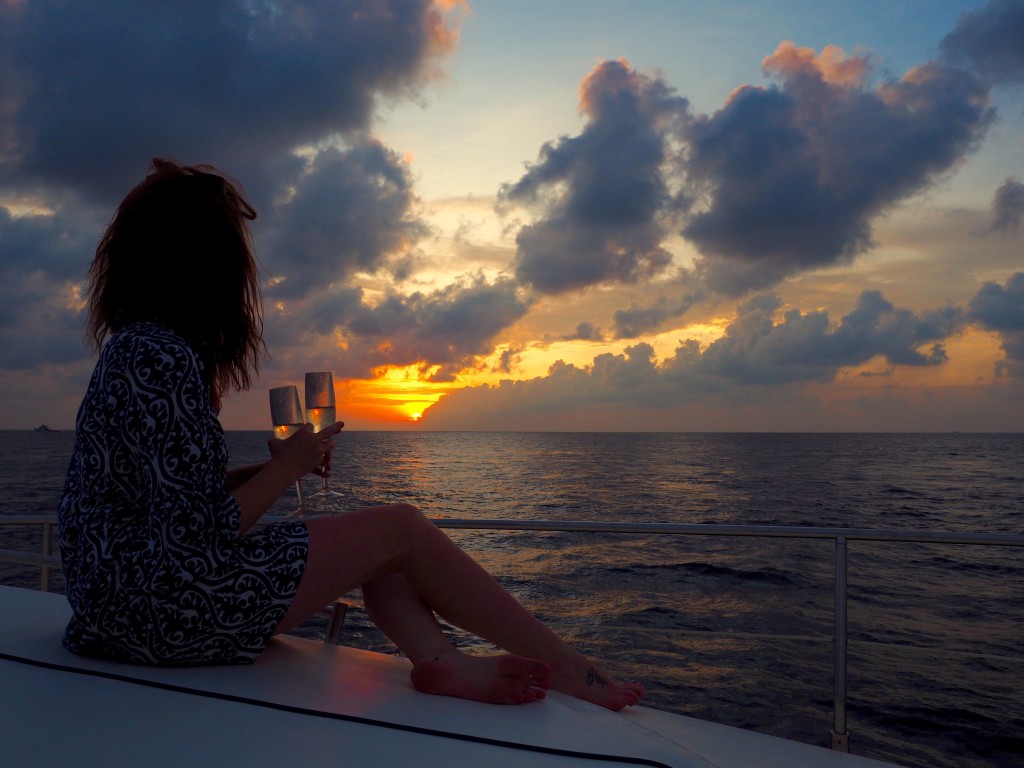 Go Dolphin Watching
…or at least try! On one of our last evenings we decided to take a dolphin watching cruise over 90 minutes on an old traditional boat. While the cruise itself was lovely, we sadly didn't spot any dolphins which of course can never be guaranteed!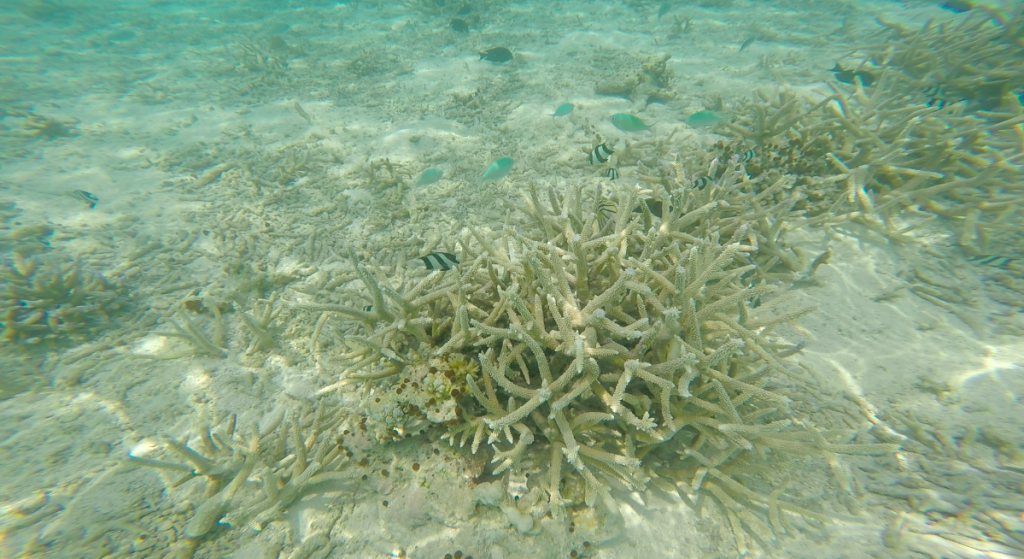 Go Diving
Not only is the Maldives rife with great snorkelling, but also great diving! If you prefer to dive a little deeper into the Maldives (pun intended), there are plenty of companies that arrange day dive trips around the Maldives.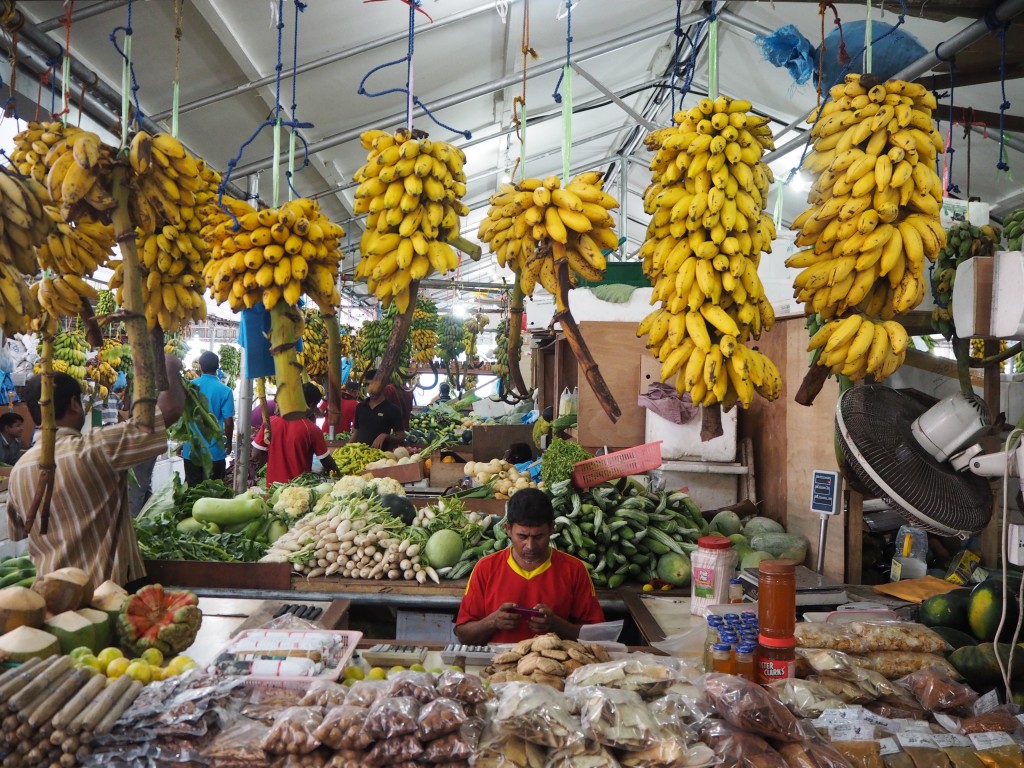 Visit Malé, the world's smallest capital
As the world's smallest capital, I can't say I was expecting too much of my visit to Malé. Some love it and others hate it, but if you want a chance to see local life here in the Maldives, this is where the action happens. There isn't a whole lot to see in the capital so you can easily visit in a couple of hours and tours are typically arranged through your concierge.
Splurge on a Private Pool Villa
One of my favourite things about being vacation is wake up each morning to smell that fresh ocean air. For our first few nights in the Maldives we checked in to a water villa right by the ocean, but for our last few nights we switched it up and checked in to a beach villa, with the added benefit of a proper (swimming size) pool – such a delight to do a few laps each morning!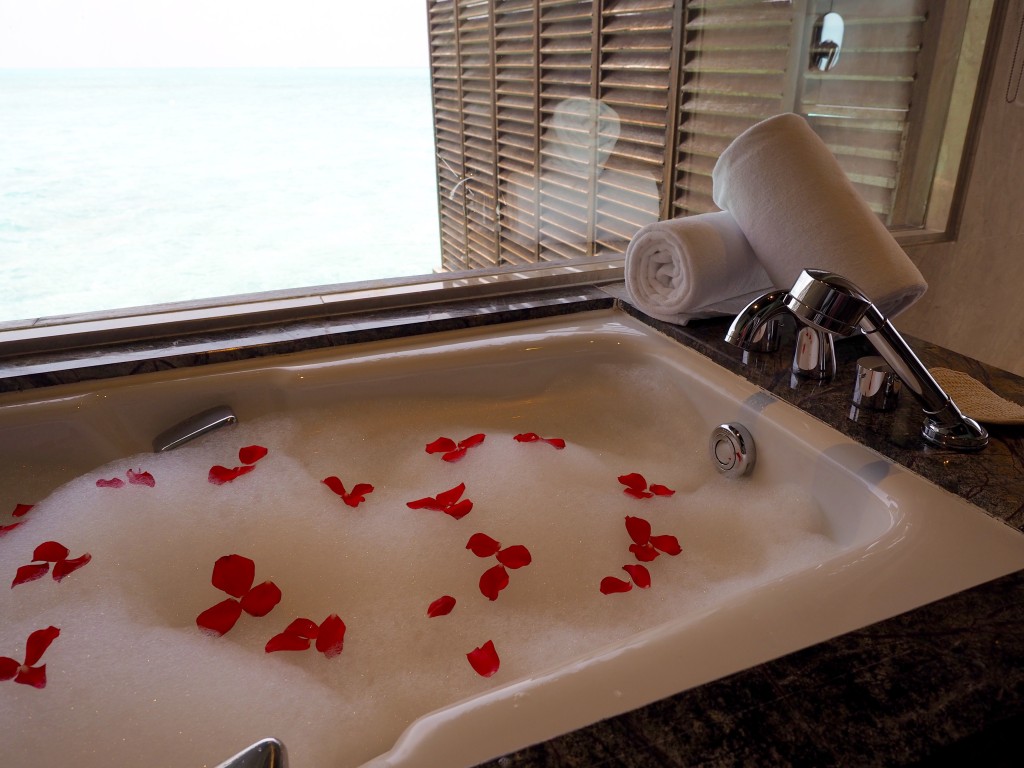 Bathe in Rose Petals
If you're visiting the Maldives with your partner you can expect romantic touches and subtle surprises throughout your stay – such as rose petal baths being prepared for your arrival or a rose petal covered bed spread! The local workers do everything in their power to make sure you have an unforgettable stay and their attention to detail is second to none.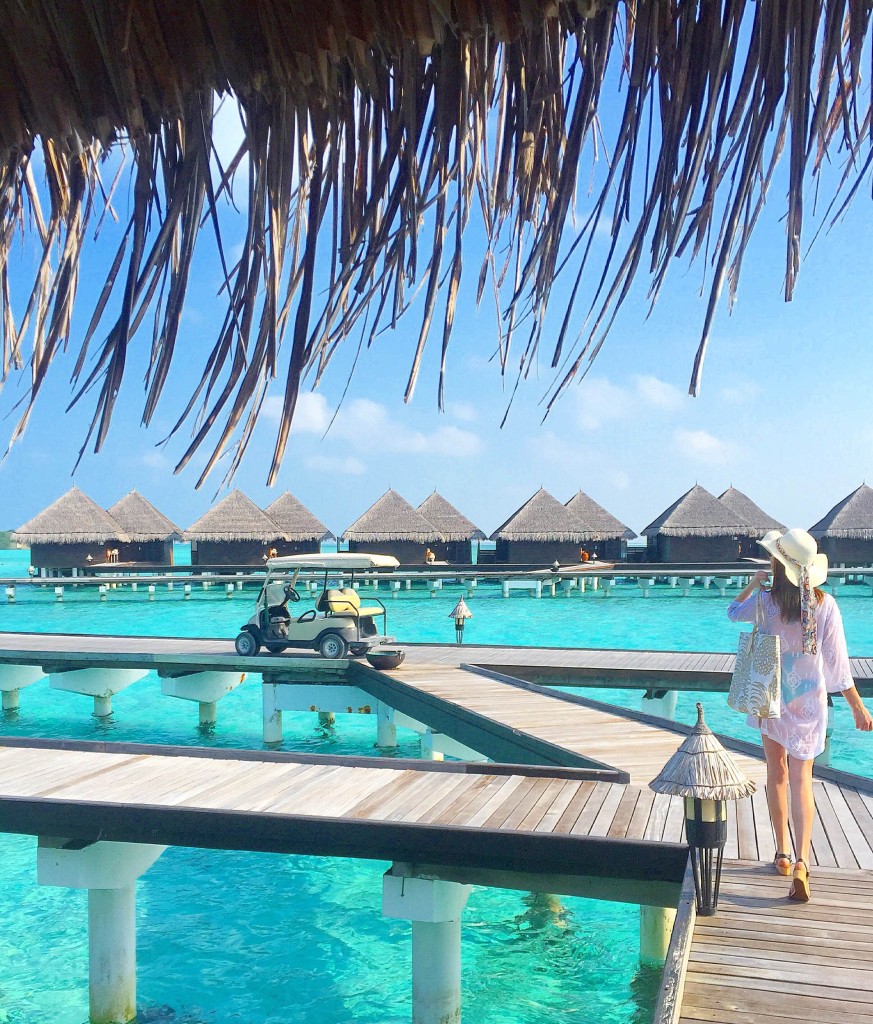 Walk on Water
Staying in an ocean villa is the quintessential Maldives experience for most visitors, so be sure to splurge for at least a couple of nights! Our favourite room during our stay was at Taj Exotica (pictured above), where we could wake up to an endless stream of ocean and clear skies, or take a dip in the ocean right out the front of our room.
Hijack a Golf Buggy
Golf buggies are the mode of transport on the islands and should you ever get the chance, be sure to hijack one to go for a spin! I'm fairly certain you won't be the first to do so as the staff are pretty careful about where they leave their keys – but still, worth a shot!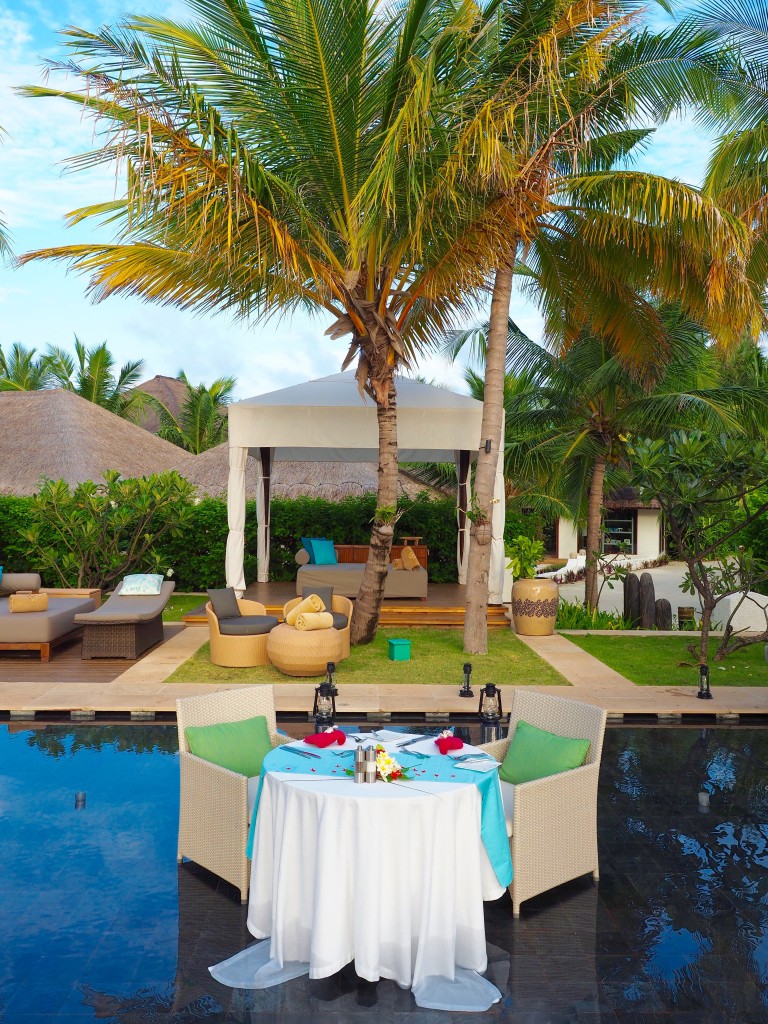 Dine on Water
There's no denying the Maldives is centred around water and water activities… in fact, you can even dine on water! Practically any private dining set up can be arranged – from dining on water to dining in a beach pit dug into the sand. The options are as endless as your creativity!
Swing in the Ocean
Again, the Maldives really does have it all. This swing was one of my favourite secret spots at Taj Exotica.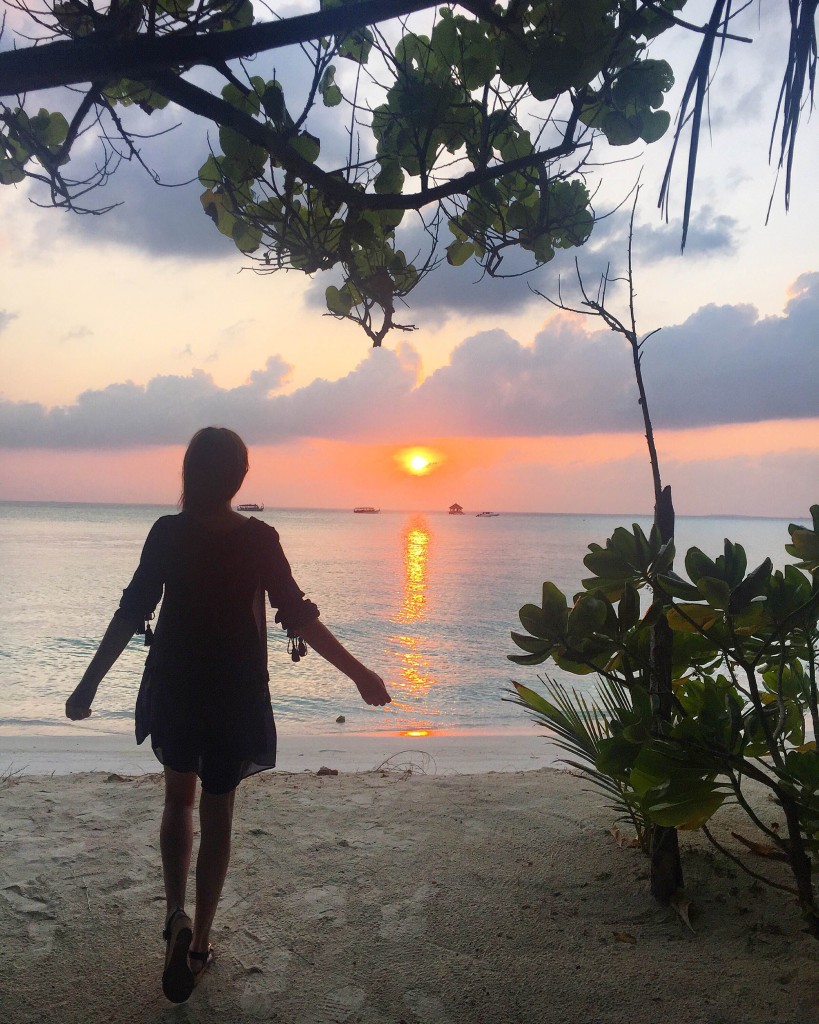 Catch Every Sunset
I gave myself one rule heading in to my trip to the Maldives: catch every sunrise and catch every sunset. The sun rises early around 6am so we started quite early each day, but this was a great chance to see and enjoy the resort to ourselves. Then every evening we would catch the sunset – be that in the pool, by the beach, or at the bar!
Take a Cooking Class
During our stay at Jumeirah Vittaveli we pledged to try as much local cuisine as possible. During one of our lunches, we tried a local cooking class, learning to cook the-most-divine-tasting tofu curry I have tasted in my life! Touché!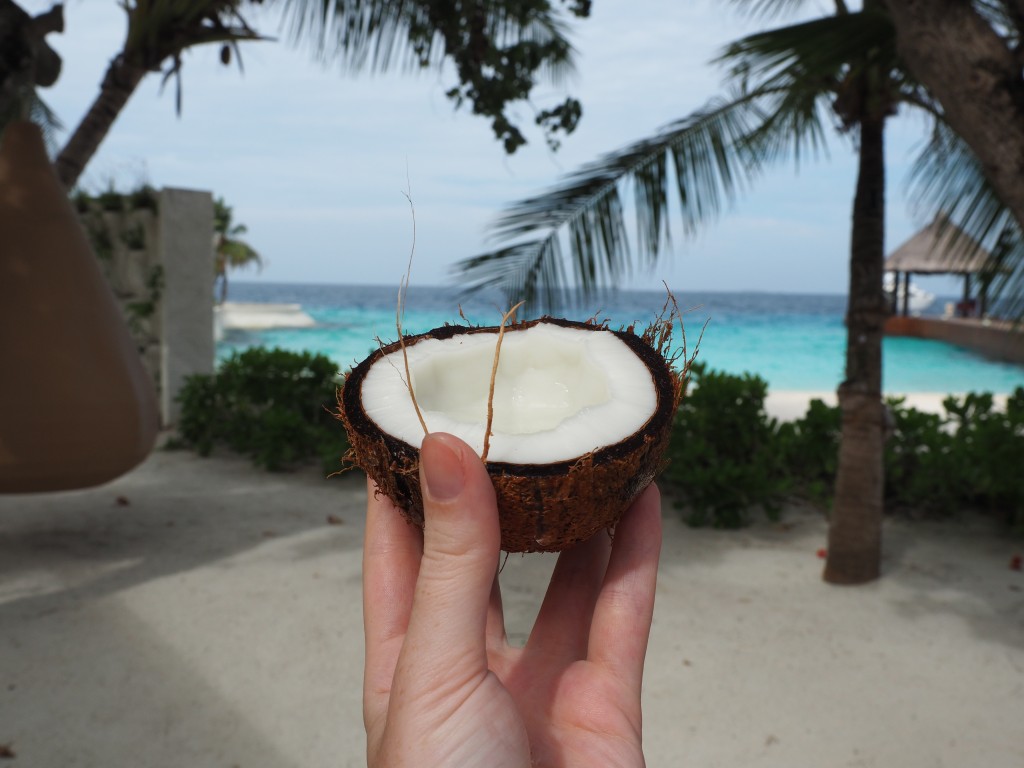 Go Coco Crazy
You may have noticed a few things on this list involve coconuts: sipping coconuts, bathing in coconut milk, and finally learning how to make coconut oil! On this day we also ate coconut… because, y'know… by that time we were coconut crazy.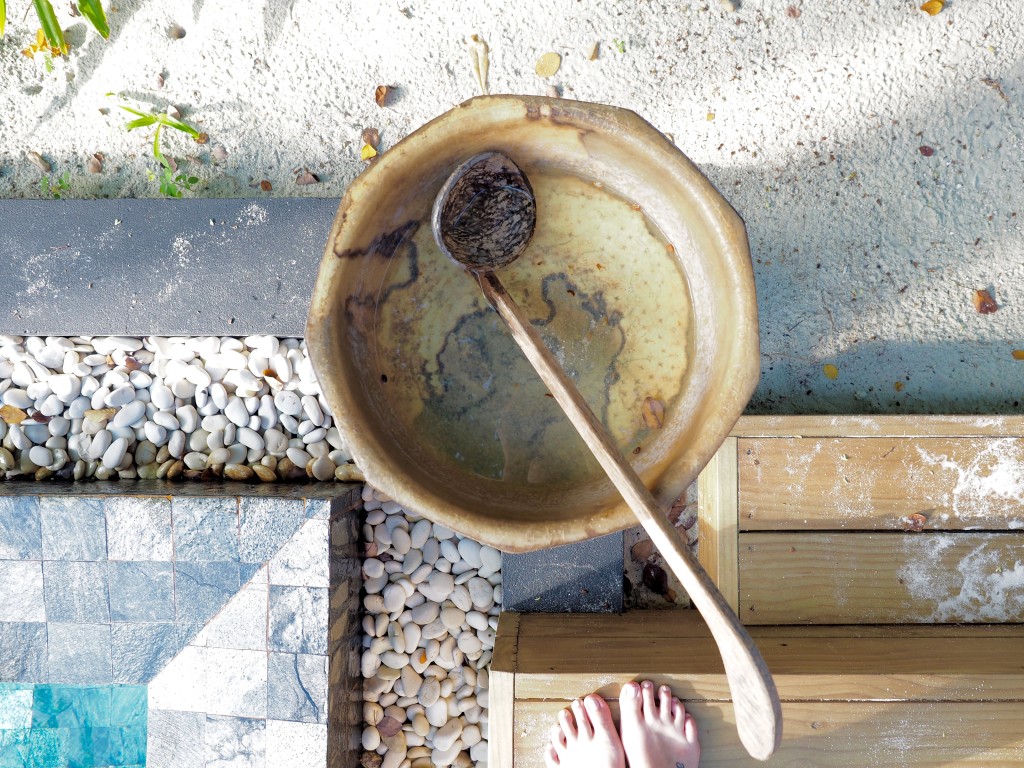 Learn About Local Culture
One of my favourite things about the Maldives – actually, probably my most favourite thing about the Maldives (everything was honestly so good), was the people. Their smiles, enthusiasm, and willingness to share their culture with you is what stays with you long after your visit. I can still envisage those grins!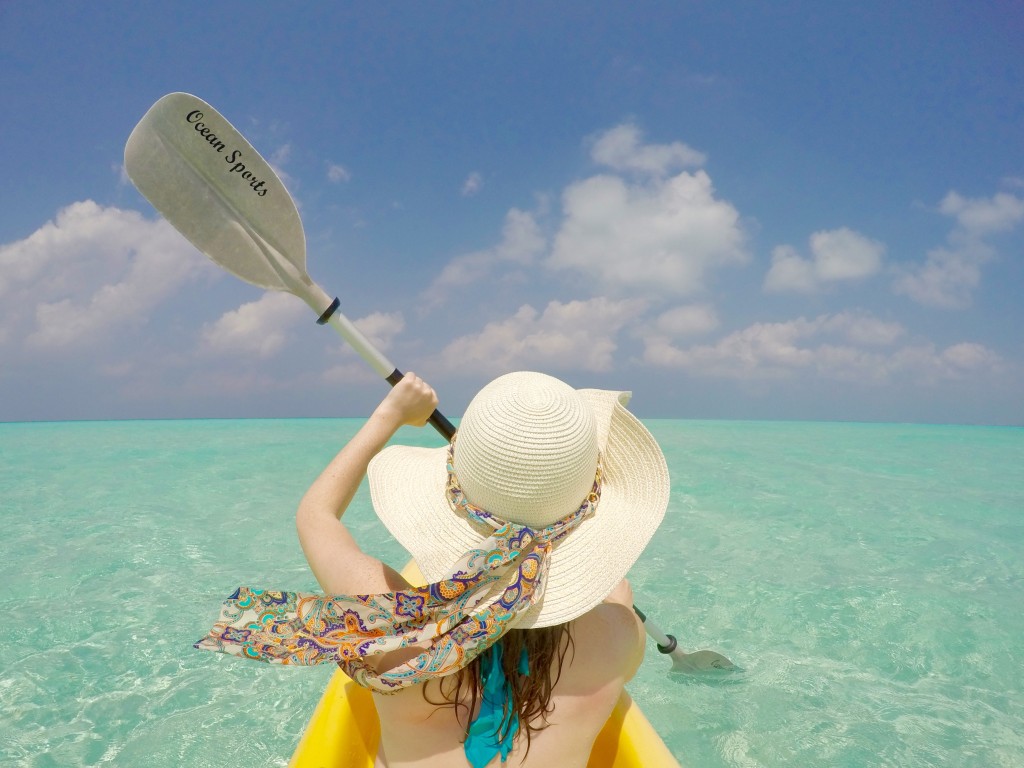 Go Kayaking
Another great water activity that is offered at most resorts free of charge is kayaking. Its a great way to start your day before over indulging in all the incredible cuisine… and its not too hard to get a hang of!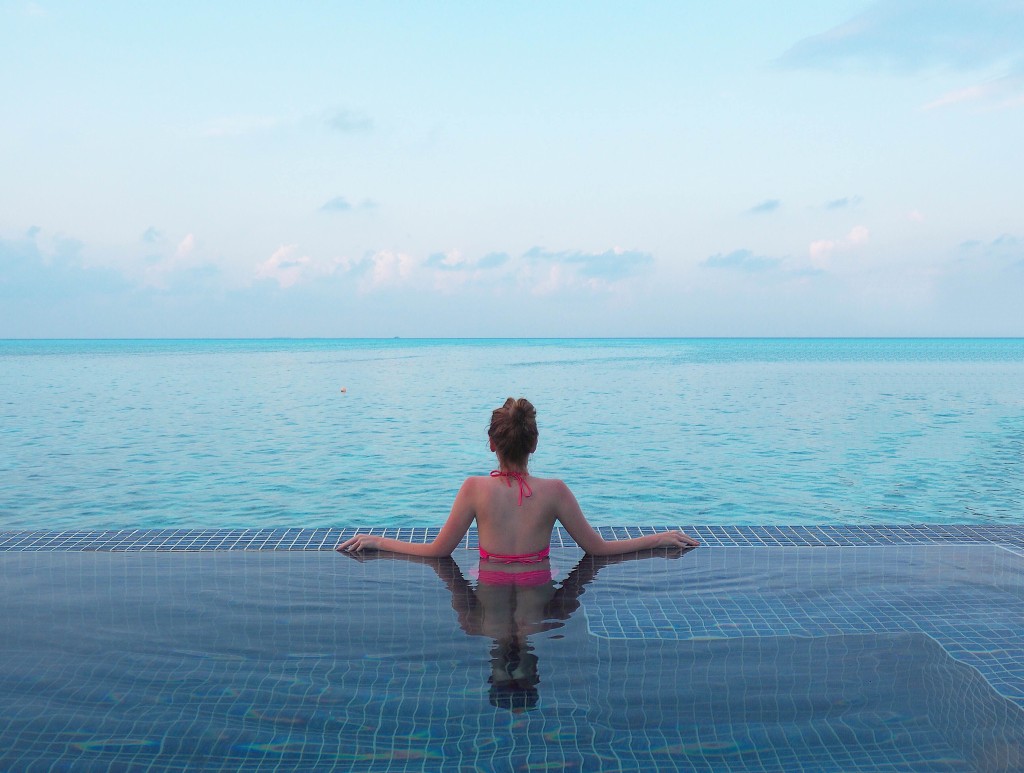 Absolutely Nothing
While it is good to try ALL of the activities and ALL of the food, it is also good to just kick back and take it all in. In fact, the time wasted wasting time was not time wasted at all!
Pack a Good Book
Being in the Maldives means plenty of downtime – so be sure to pack a good book!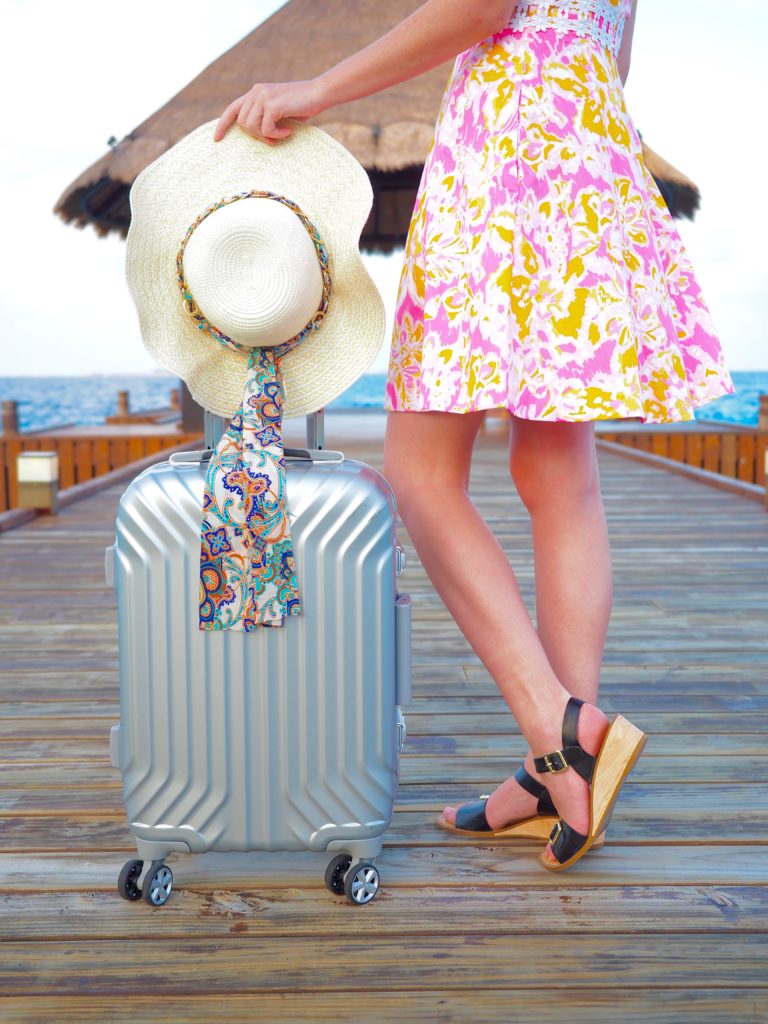 Leave Knowing you can Always Come Back
The only downside to the Maldives is departing on that inevitable flight home. Just remember that this is a paradise that will always welcome you and you can always come back for more!
Our trip to the Maldives was kindly arranged by Wendy Wu Tours – however the thoughts + oodles of photos are my own.