Paris is best discovered on foot, without plans or regard for time. And the reason why you'll want to explore the city on foot is because the best of Paris is hiding beyond plain sight. These are the most beautiful hidden locations in Paris, from impressive interiors to hidden courtyards and everything in between.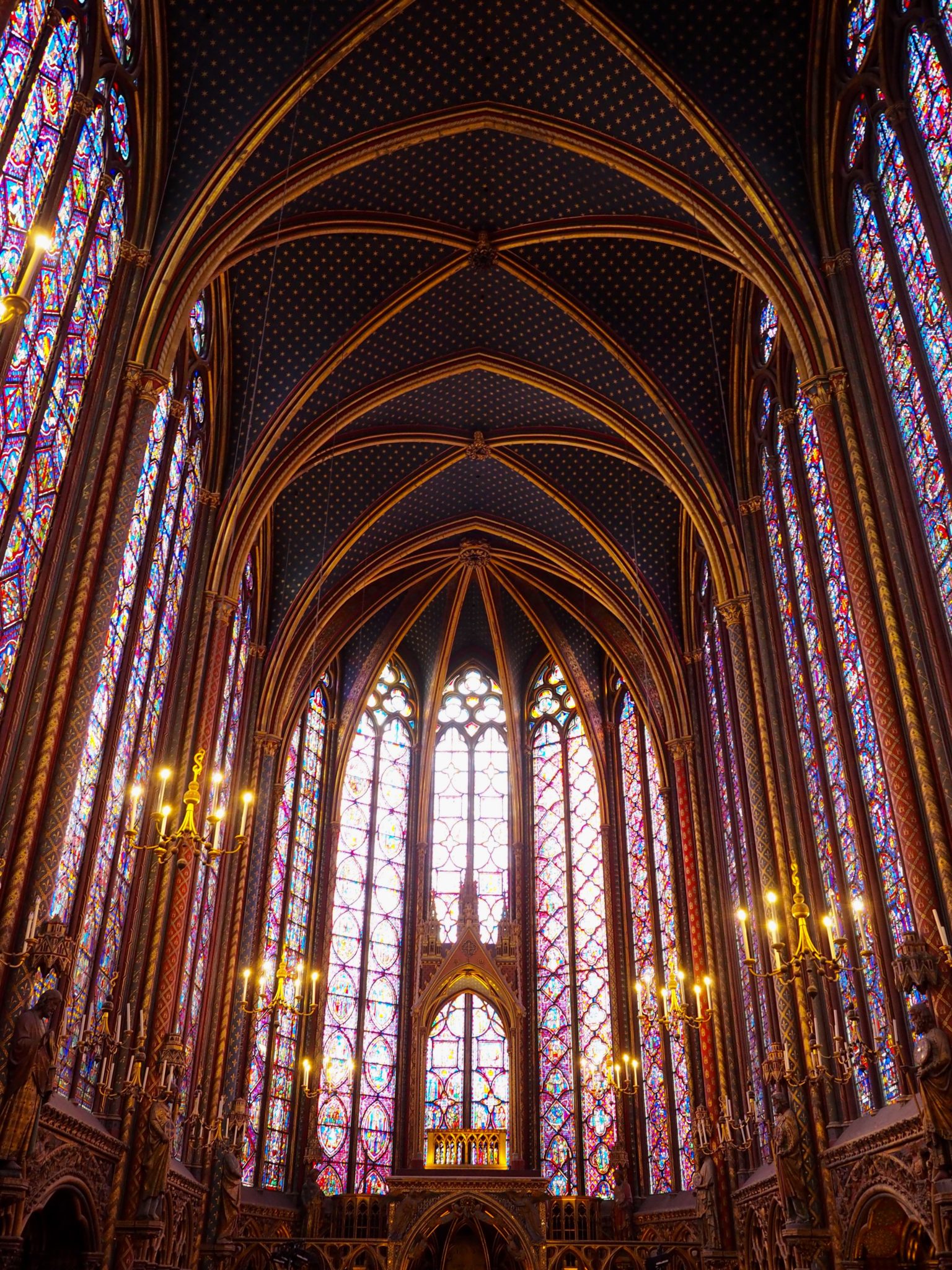 Secret Paris: The best hidden locations
1. Sainte-Chapelle
Located in my absolute favourite part of town, Île de la Cité, this gothic style chapel does not disappoint. I had been travelling to Paris for 8 years before I discovered it, due mostly to the fact that it was closed for restoration for seven years, reopening in 2015. The very first trip I made to Paris after the re-opening, I made a point of visiting and seeing what I had missed all these years: an endless stream of colours just as beautiful as I had imagined.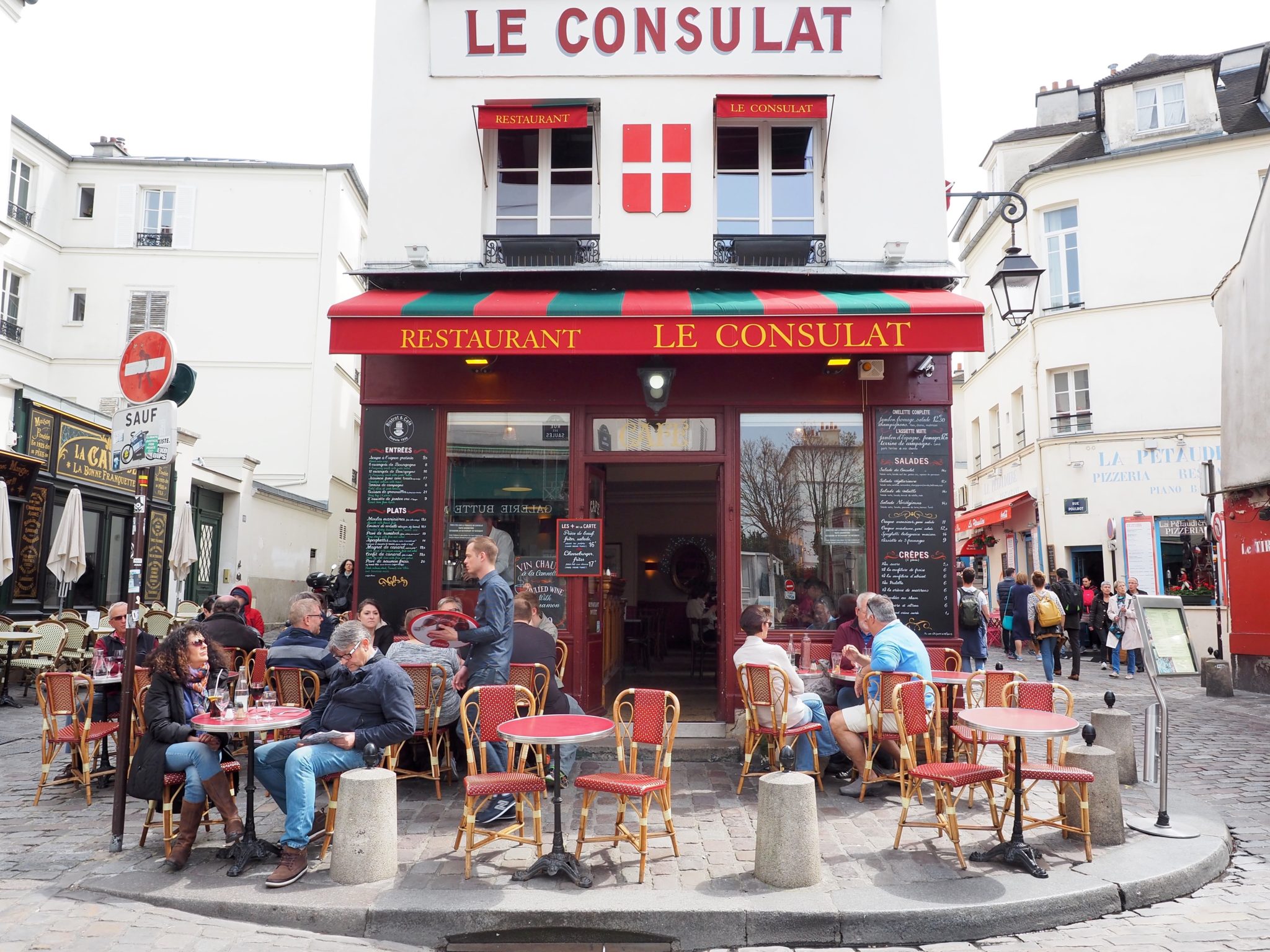 2. Le Consulat, Montmartre
Montmartre was the first neighbourhood I stayed in Paris, so it holds a special place in my heart. The popular artist's neighbourhood has long been undergoing gentrification as with the rest of Paris, but it is the neighbourhood that still retains its bohemian roots, right down to its core. One of my favourite postcard-worthy photos is atop the hill out the front of Le Consulat – best found by meandering through the alleyways and stumbling upon it (leave your data switched off and discover Paris by mistake!)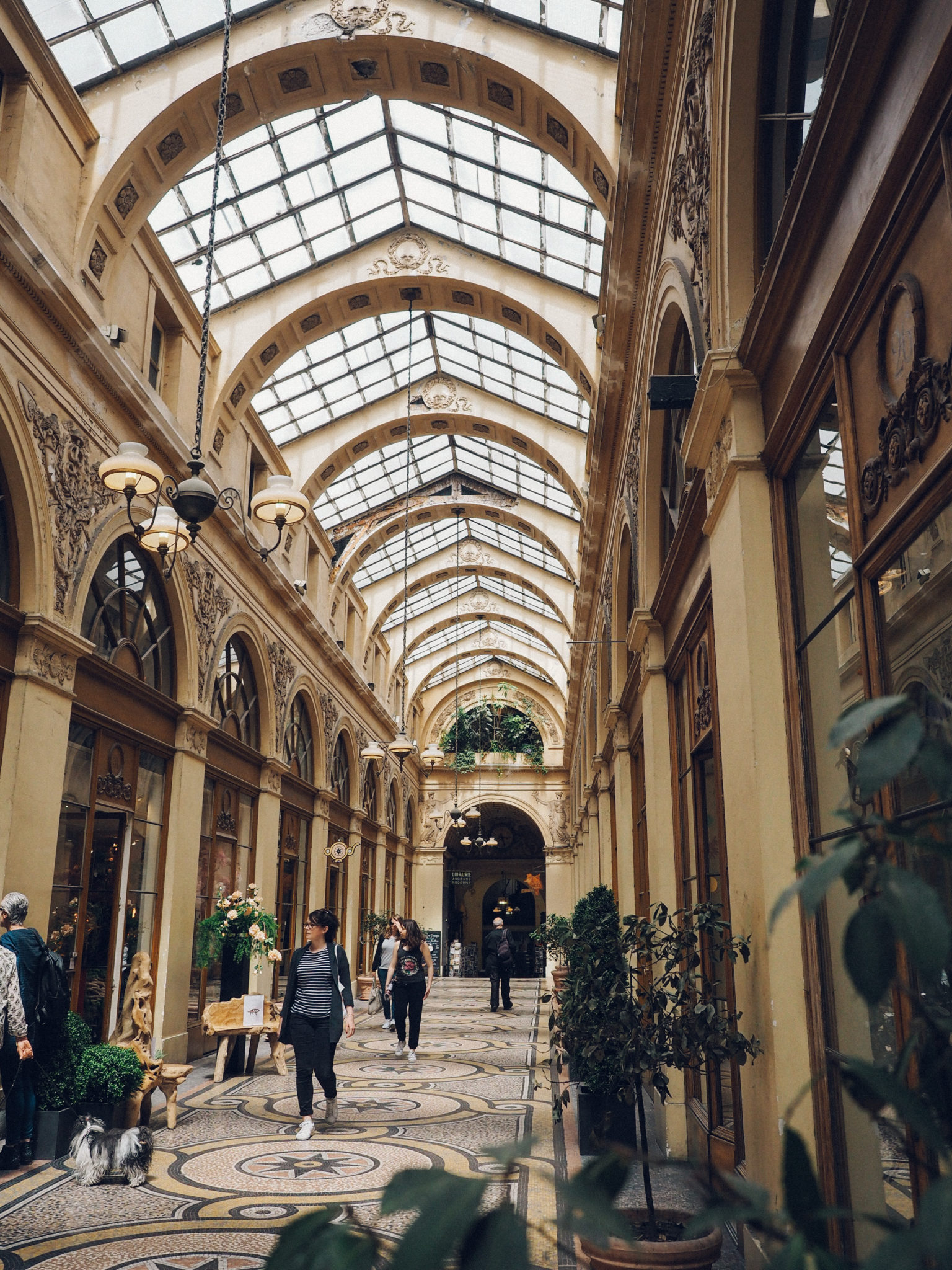 3. Galerie Vivienne Passage
Every year for the past five years I have been making an annual trip to Paris in Spring. Not only is it my favourite season visually (uh, cherry blossoms, hello!!!), but it is also my preferred time of year to skip the summer crowds but also not be bogged down in grey skies through the colder months. On last year's annual pilgrimage to Paris, I made an effort of seeking out all of Paris' hidden passages. My favourite was Galerie Vivienne – a tired but still somewhat charismatic shopping passage that time seems to have left behind.
Read more: The Secret Passages of Paris
4. Palais Royal
A blogger's favourite, Palais Royal has long been the subject of the infamous Paris Instagram shot. The recognisable black and white columns are hidden from the main thoroughfare, inside a gloriously large courtyard.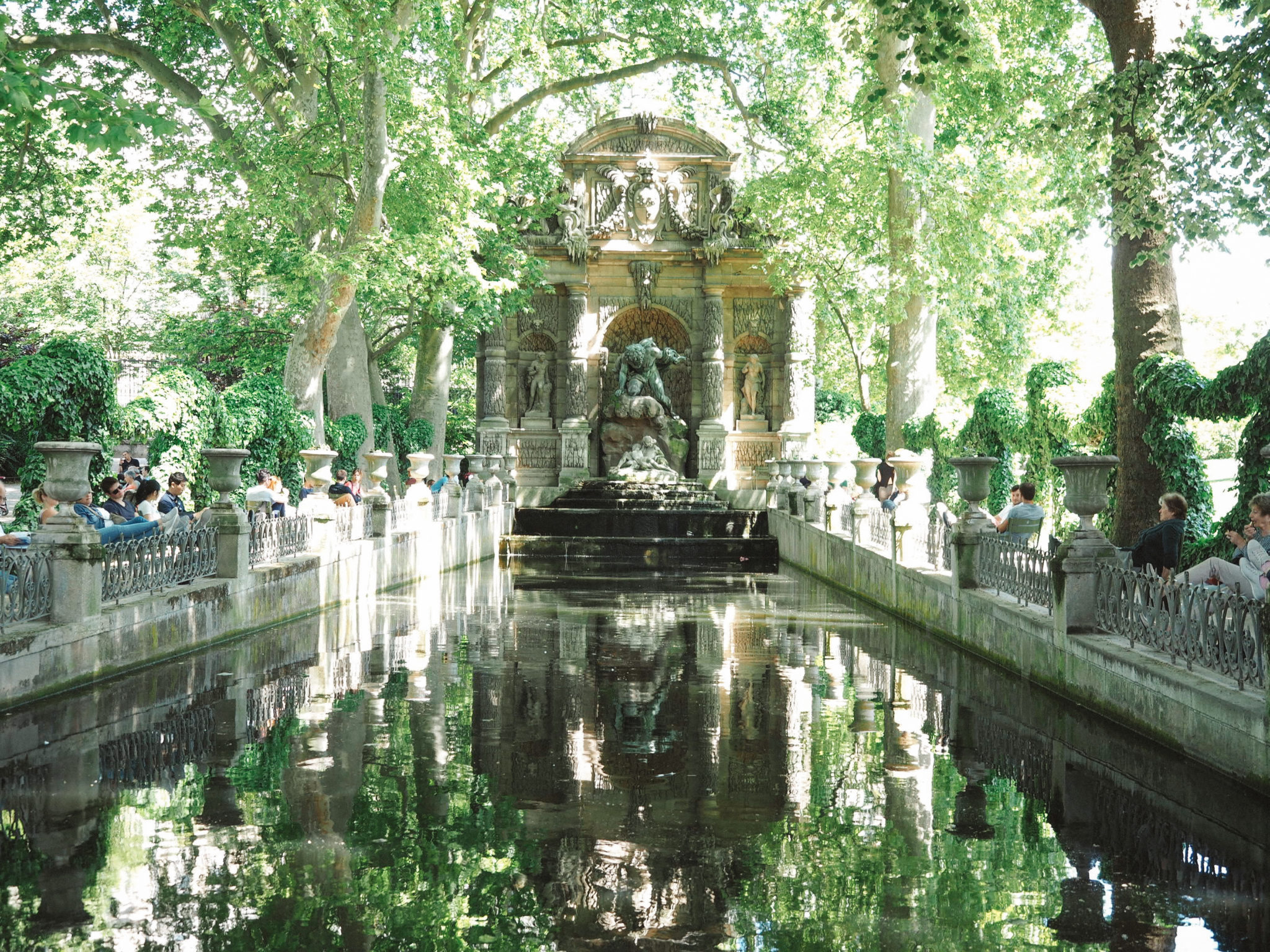 5. Marie De Medicis Fountain
The Luxembourg Gardens are my personal favourite location to pass time in the Spring sunshine, not only for the beauty of the gardens but also for the display of people watching (it never ceases to amaze me how much time I can pass doing just that). Located in a quiet corner of the gardens in the Marie De Medicis Fountain, shaded by the trees with sun stars playfully peeking through.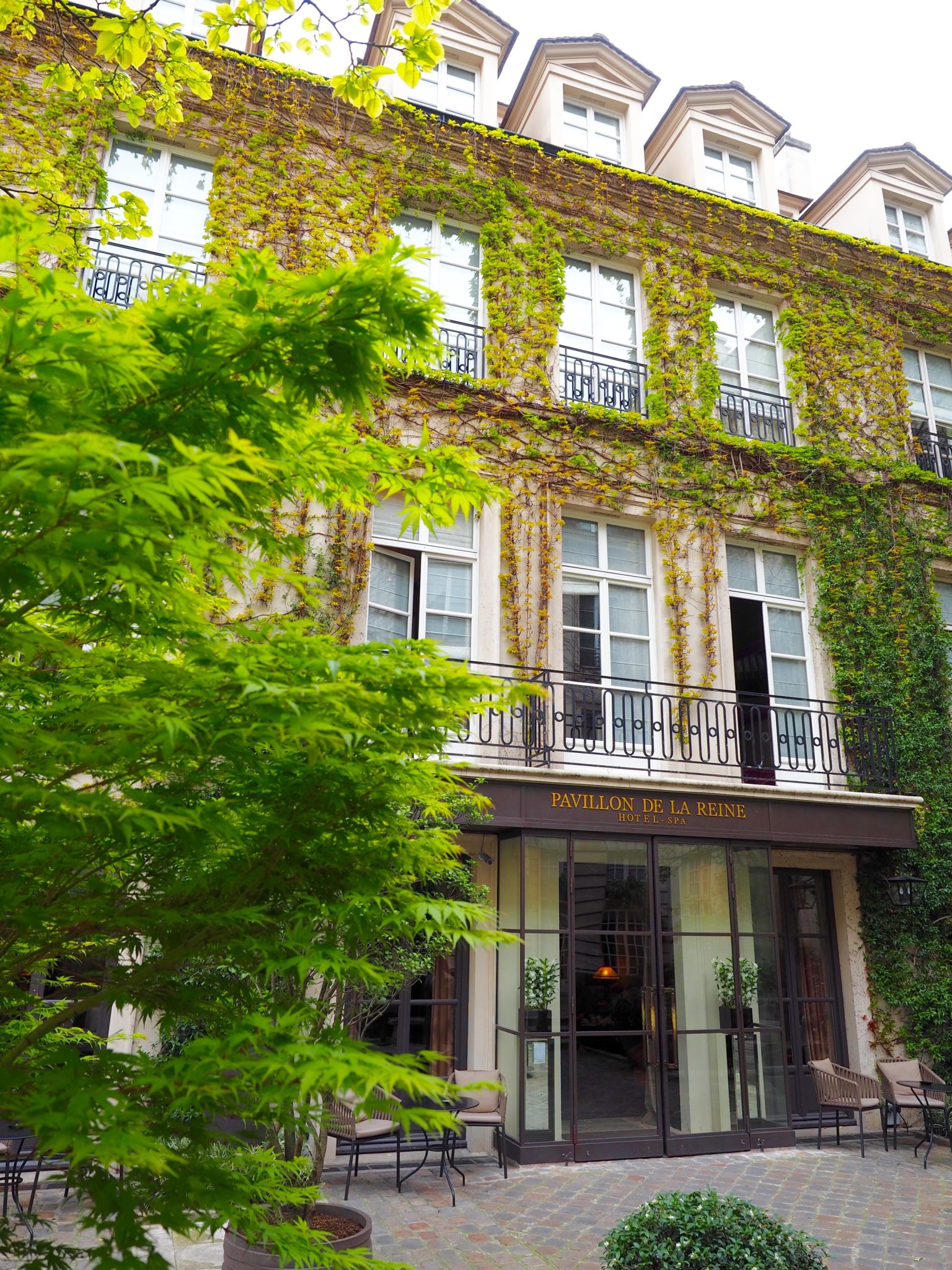 6. Pavillon De La Reine
Over in Le Marais is one of my favourite hotels: Pavillon De La Reine. Located right by Place des Vosges (only the prettiest park in all of Paris), this property is in an unbeatable location and even if you can't afford a night here, be sure to sneak in to the coutryard for a look at the leafy exterior.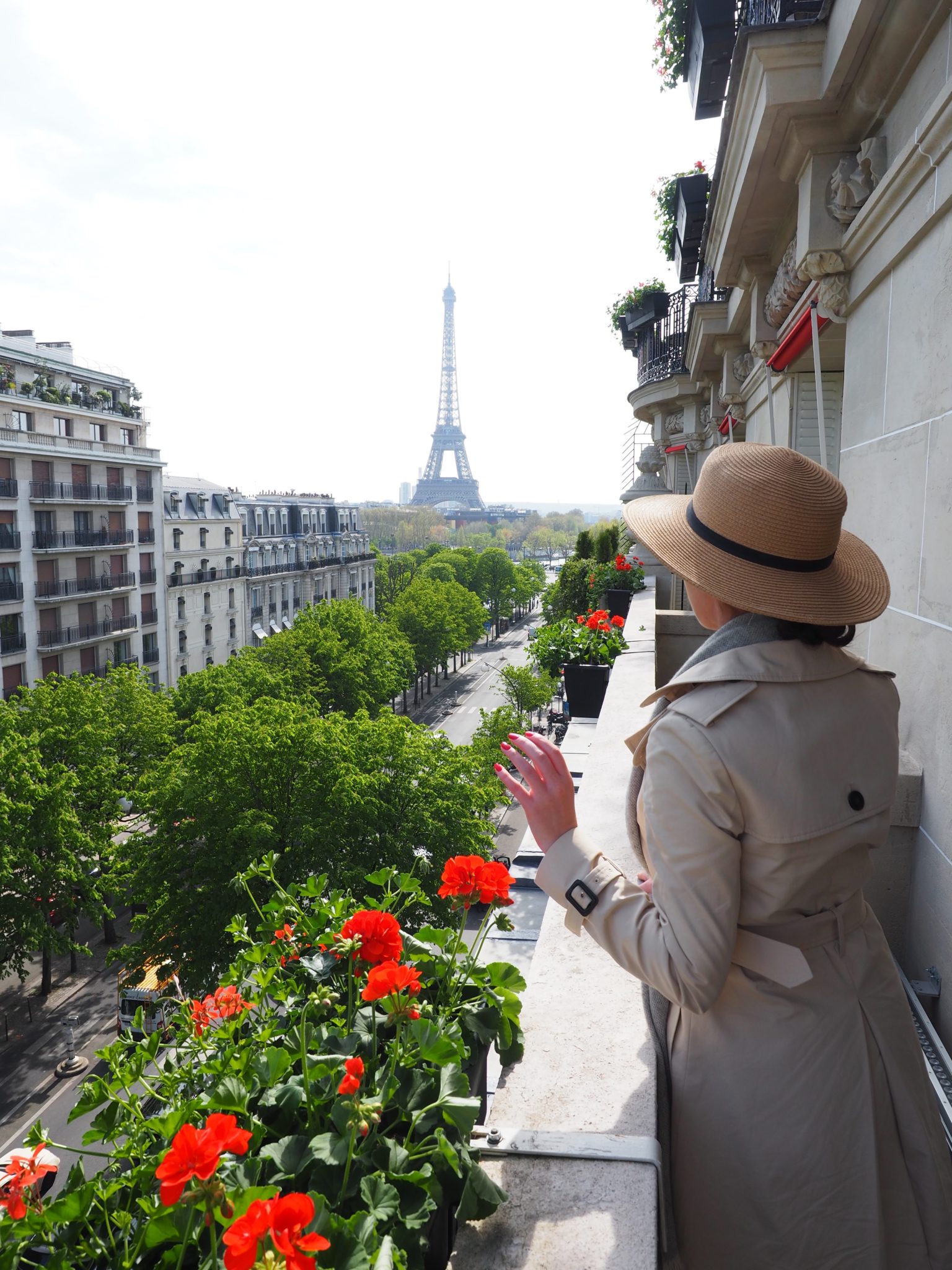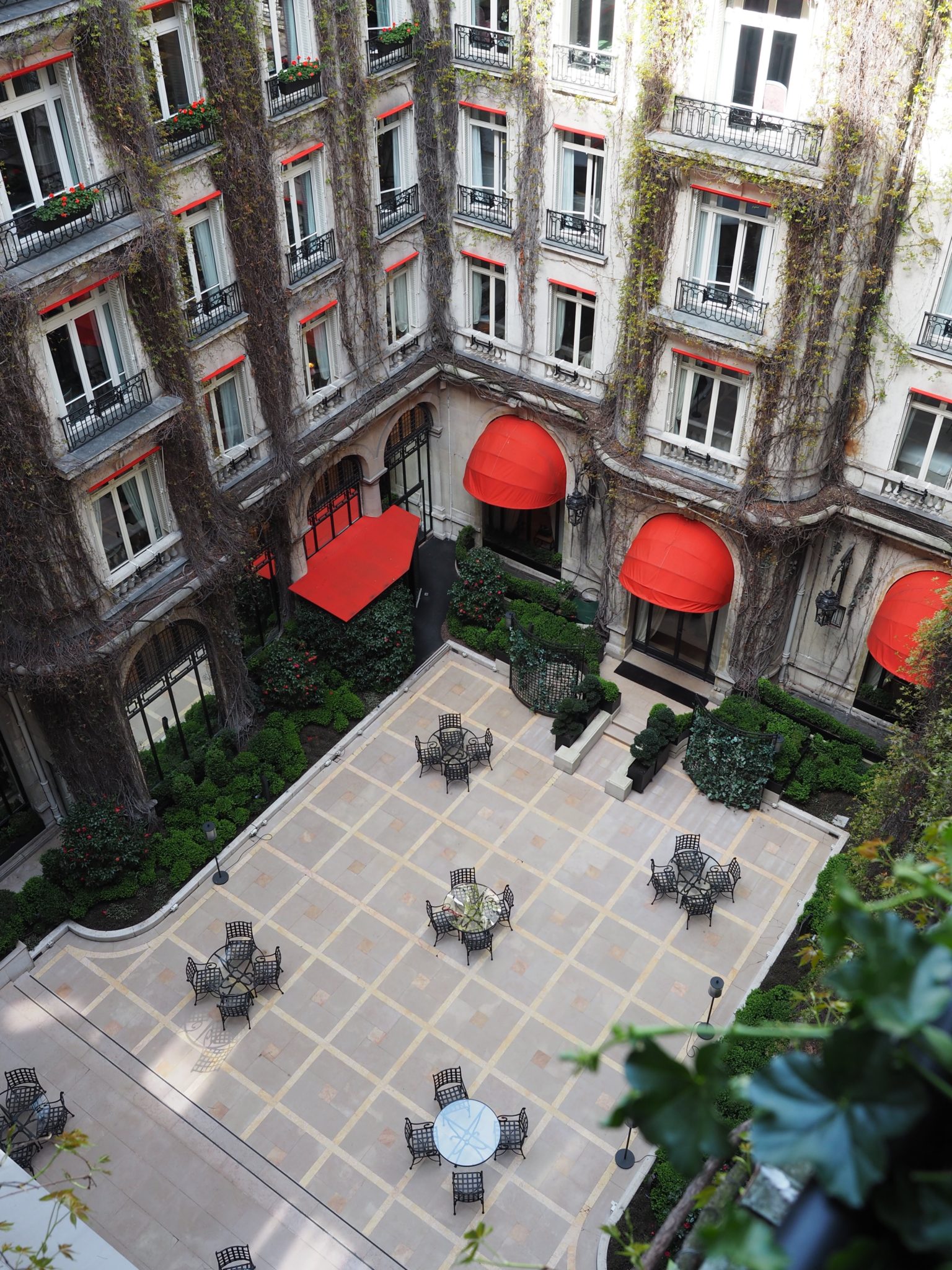 7. The Courtyard inside Plaza Athanee
This fancy hotel nearby the Arc De Triomphe is as beautiful in real life as it looks in photos. Though I didn't stay here, I did have a friend who snuck me up to their balcony for a view of the tower (who could say no to that!?) and spent the afternoon enjoying high tea with a view of the coutryard (which looks way more impressive in full bloom). If you want a squiz, walk confidently past the doorman and you'll almost immediately stumble upon the coutryard.
Read more: Where to find the best views of Paris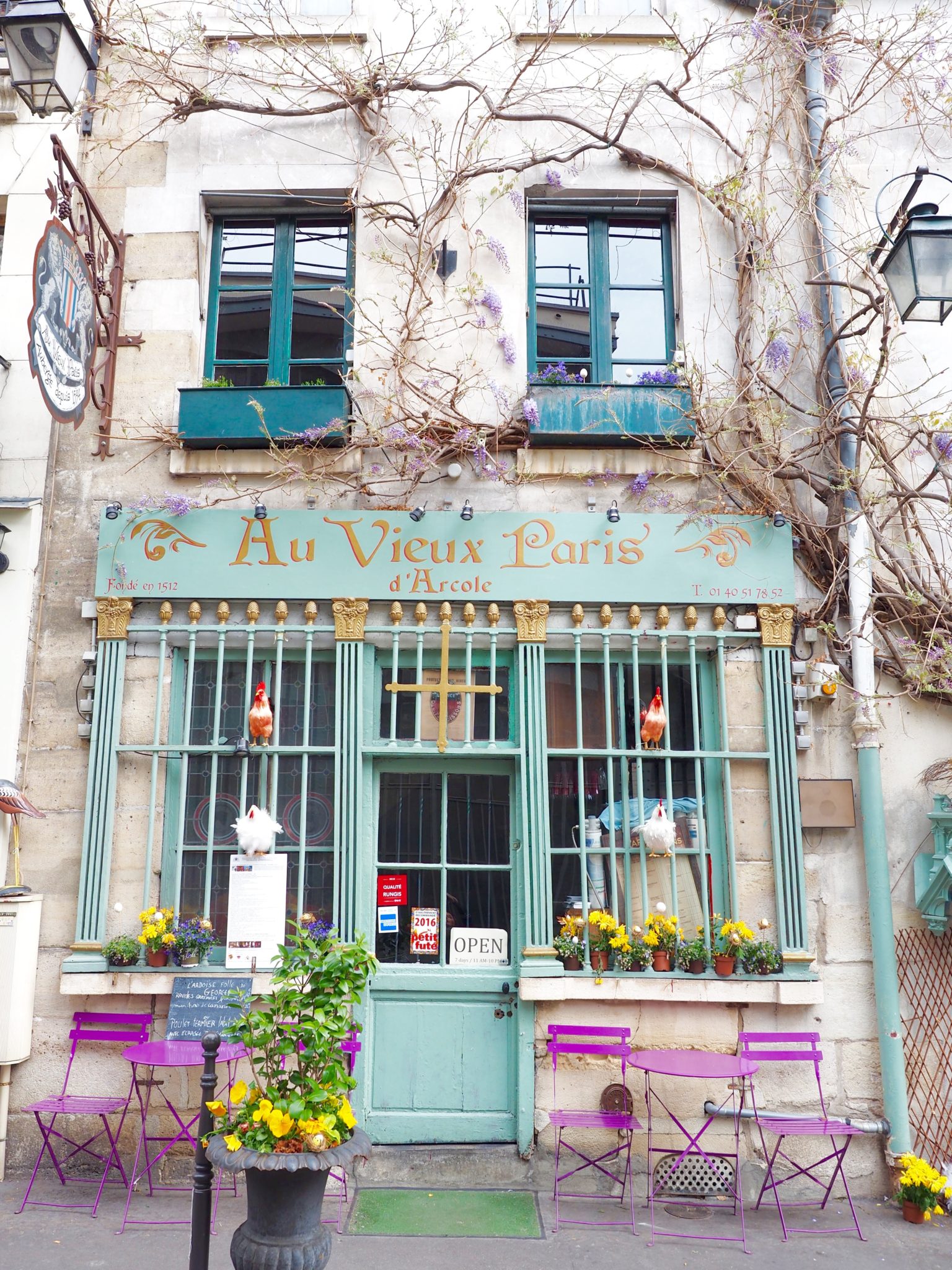 8. Au Vieux Paris
Just a short walk from Notre Dame Cathedral is this hidden beauty: Au Vieux. The interior isn't much to look at, so I'd suggest pulling up a chair outside and ordering a coffee from the owners, who are usually there with their cat roaming around the tables eager for a free feed from a friendly tourist.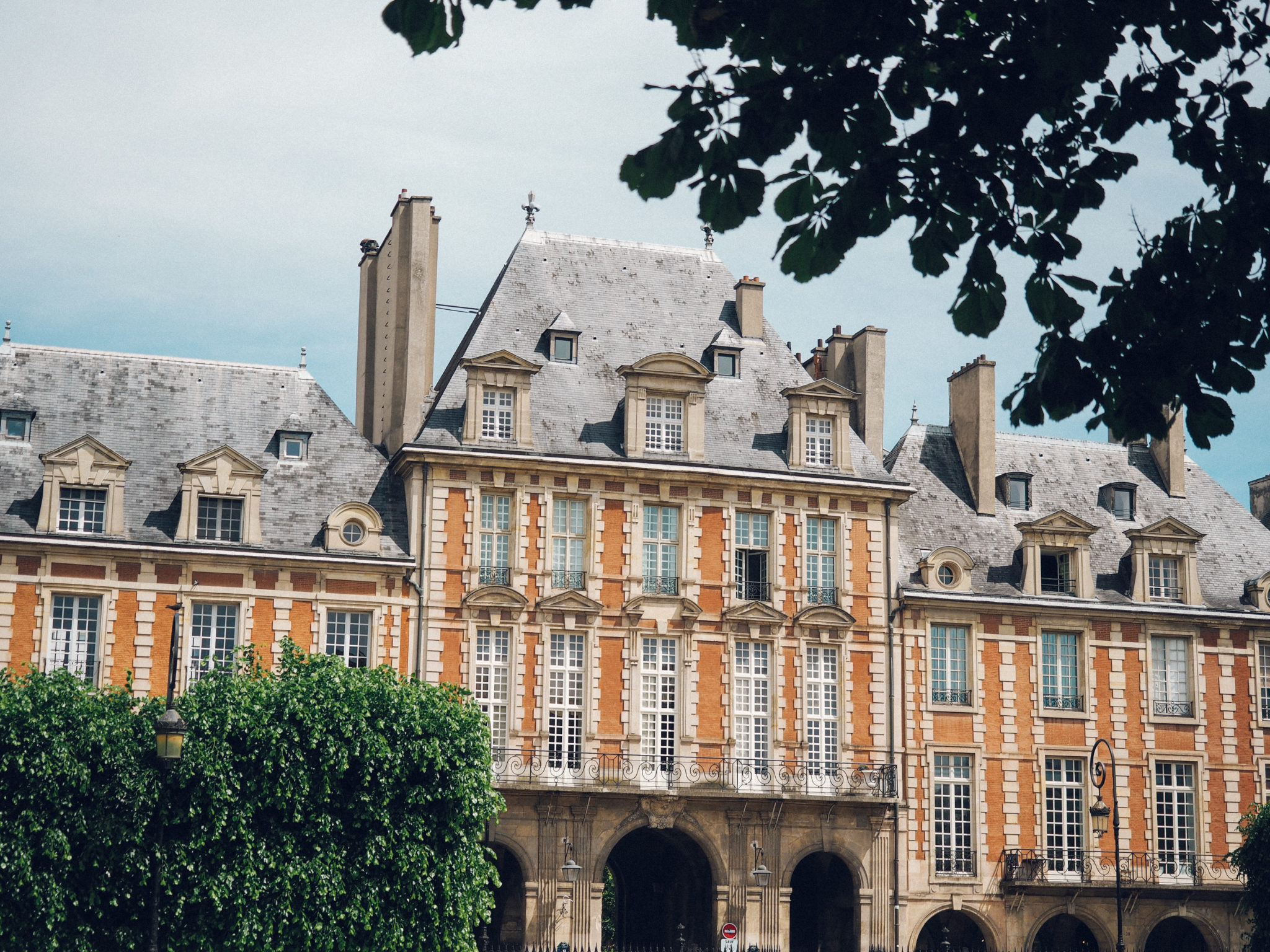 9. Place des Vosges
Located in my favourite neighbourhood in Paris to stay is my favourite park in Paris: Place des Vosges. This beautiful park is not exactly "hidden" as such, but it is a local hotspot and located off the tourist path. Best enjoyed on a Sunday afternoon with a picnic, bottle of vino and some new friends. Be sure to pop in to "Carette" while you're here: they have the best salted caramel macarons in town (and believe me when I say I have tried them all).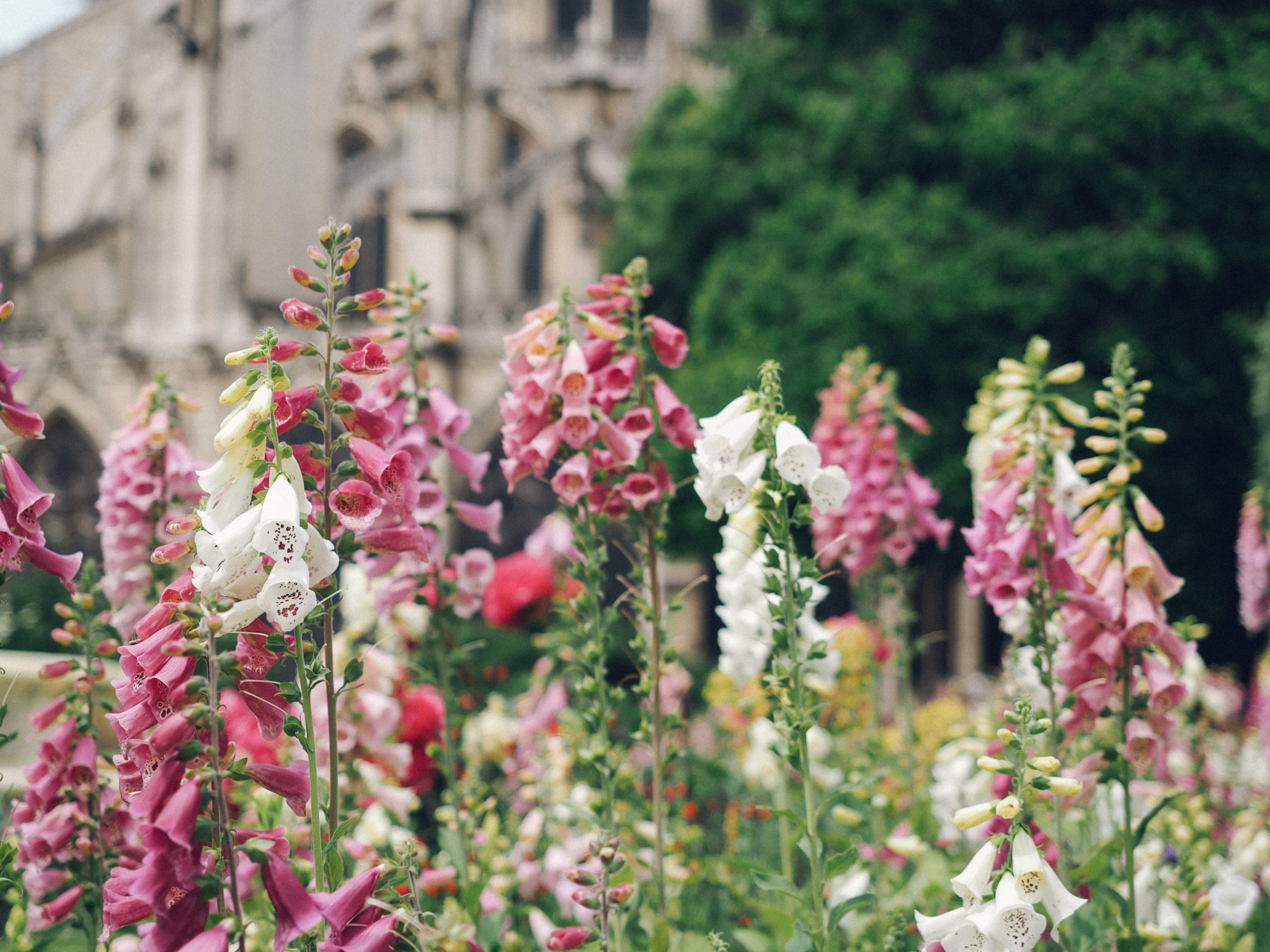 10. The Garden at Notre Dame
Visitors to Notre Dame can be forgiven for doing the quick "we came, we conquered" routine, as the crowds can be a little overwhelming. However, if you take the time to walk around the cathedral and view it from behind, you'll be rewarded with a beautiful Spring garden that is one of the most colourful in the city of Paris. The chairs in the garden are rarely if ever full, so be sure to pack a book if you're on your own and take some time out from walking the city streets.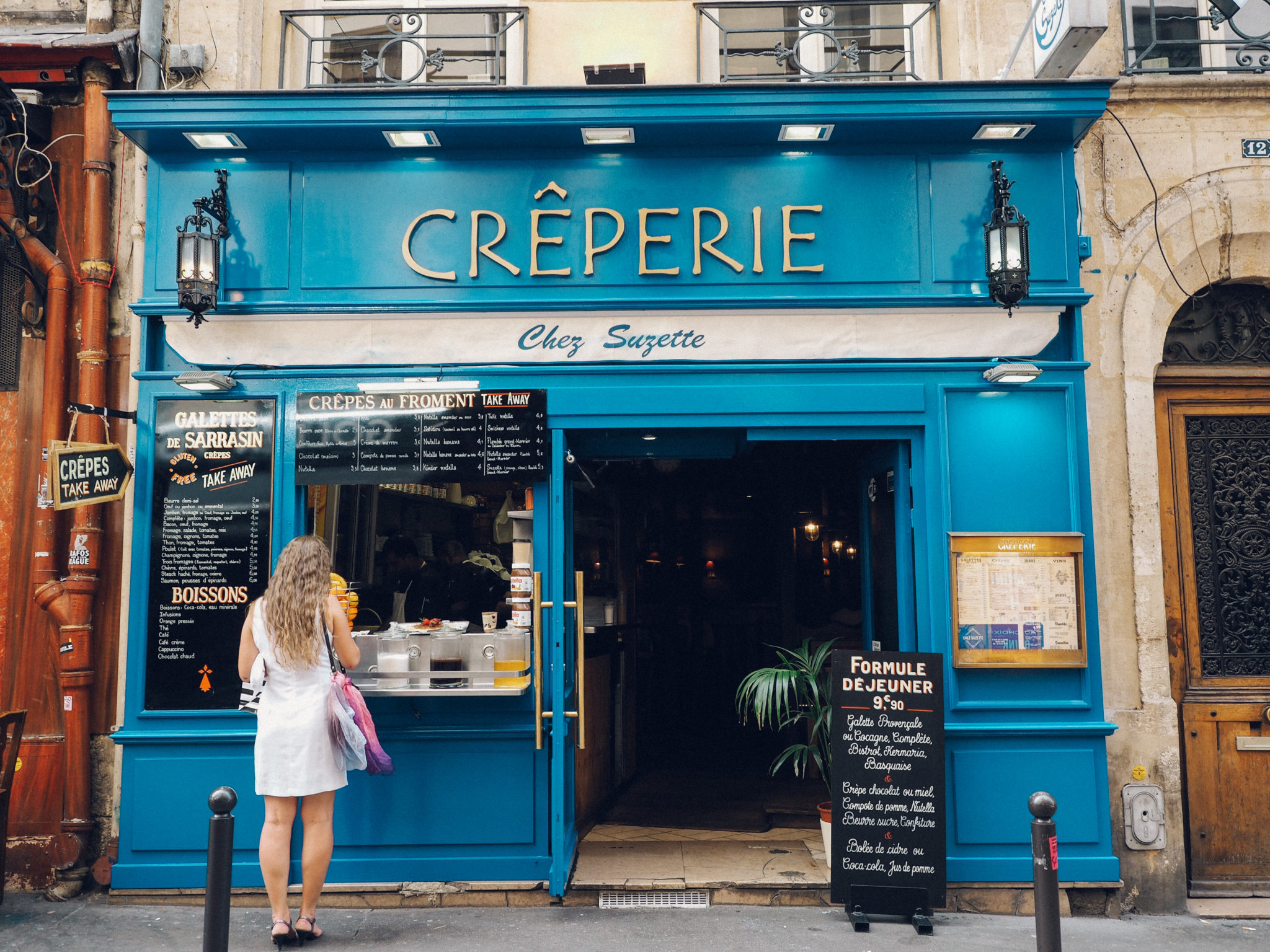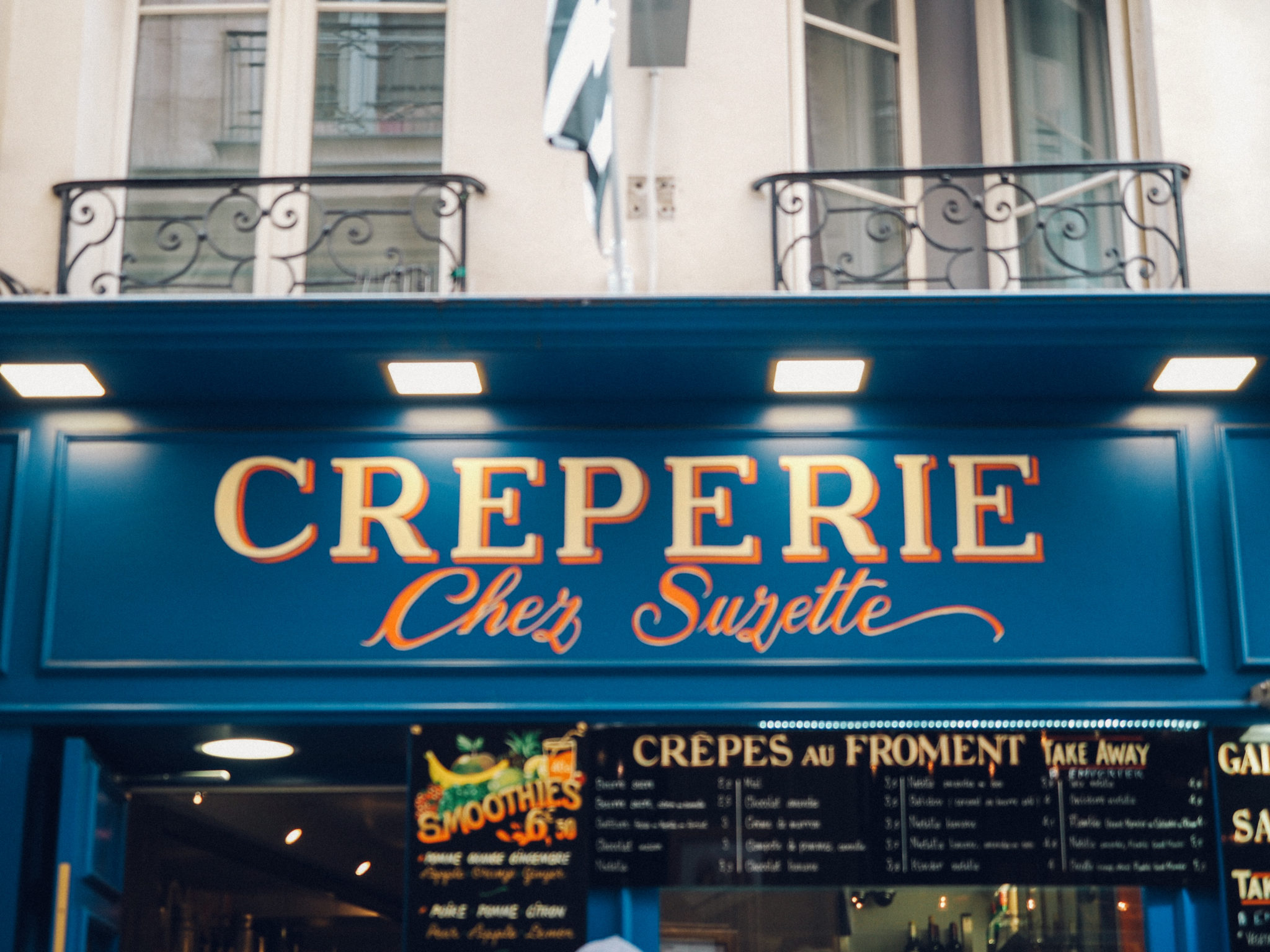 11. A Foodie Walk Through the Latin Quarter
I quite literally stumbled upon the Latin Quarter 6 years ago when I was in search of vintage boutiques in Saint Germain. Before I knew it, one thing led to another and I was in the middle of a cheap eats hot spot, hungry, broke, and eating a cheap falafel sandwich from Maoz like it was my last supper. This area is best enjoyed in the early evening, as the food vendors make their way to the front of their stores to entice prospective customers inside (not in a horrible way – this is France, they manage to make it charming).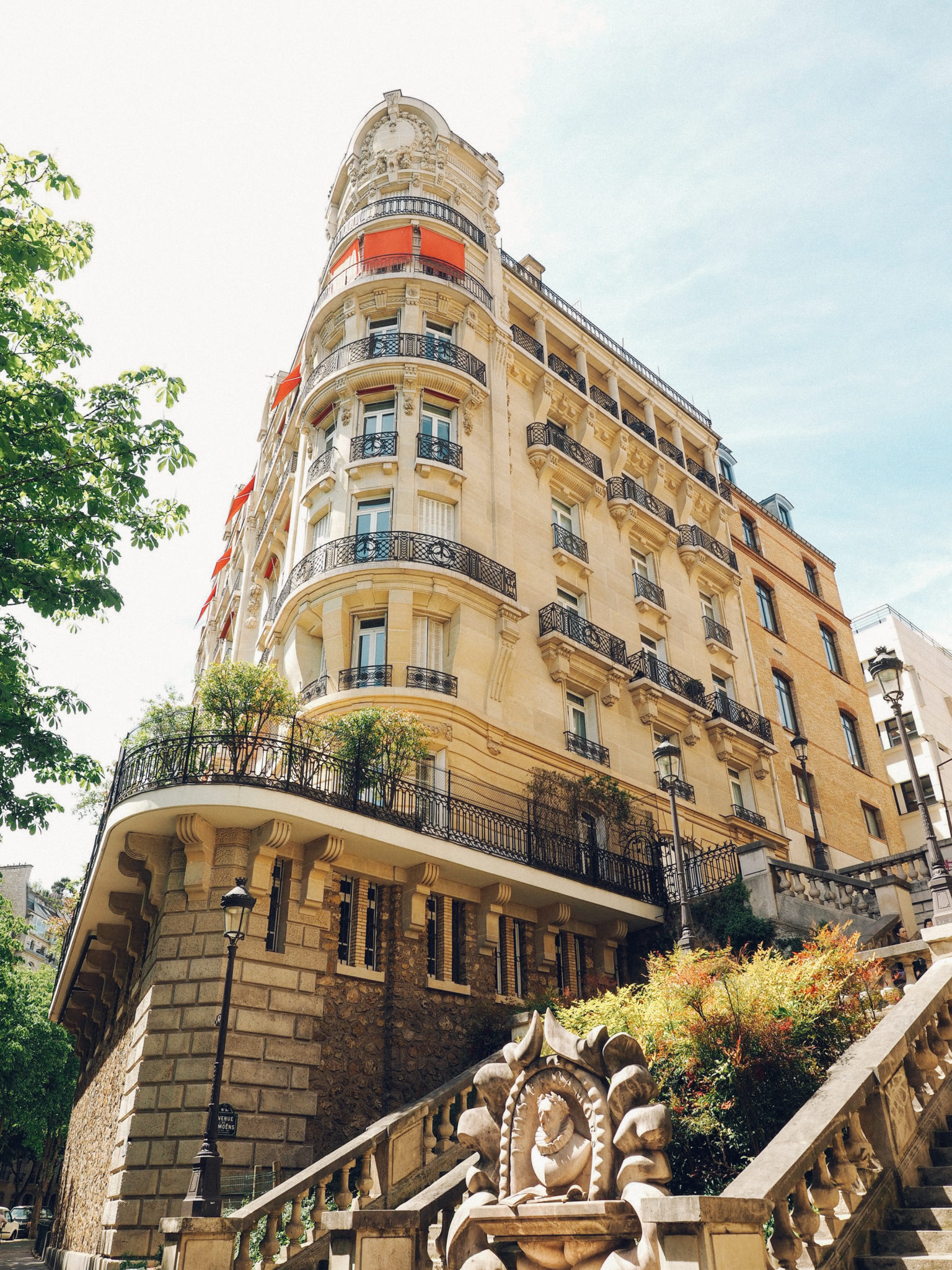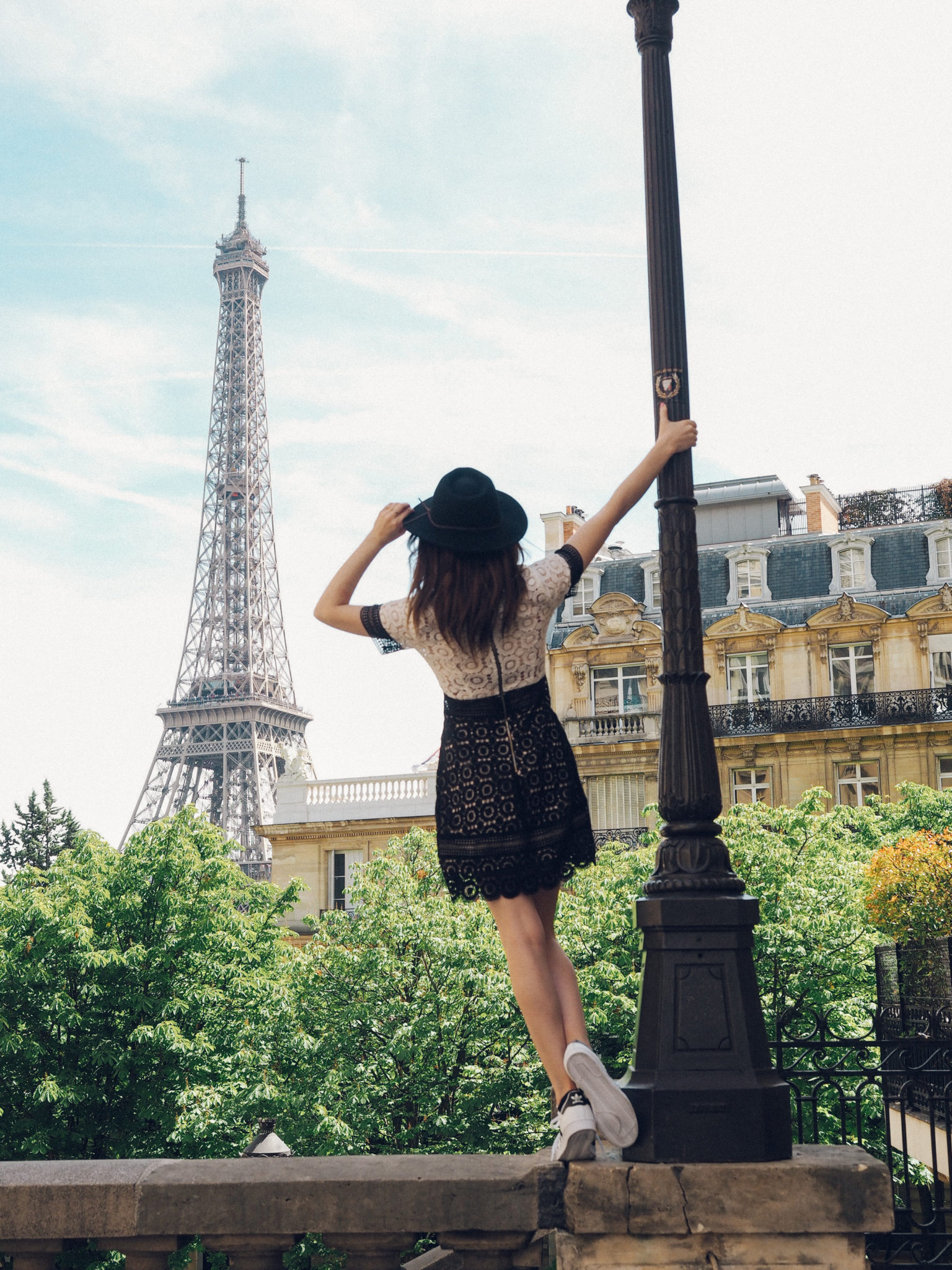 12. Avenue de Camoëns
Located in the 16th arrondisement, this cul de sac is an instagrammer's favourite for its view of the Eiffel Tower, surrounded by posh apartments in this affluent neighbourhood. If you ask me this is one of the best views of the tower in all of Paris.
Read more: 20 Most Instagrammable Locations in Paris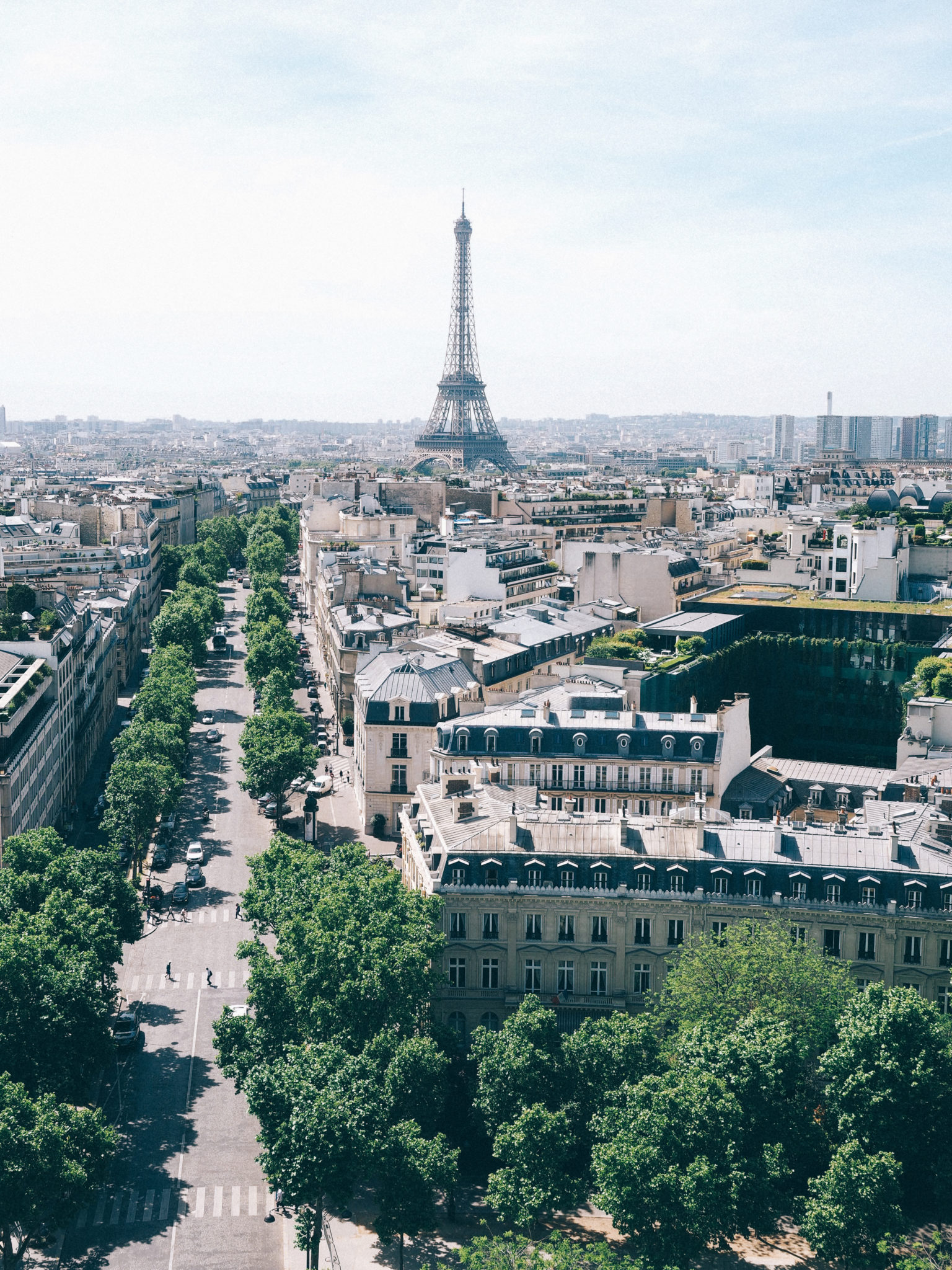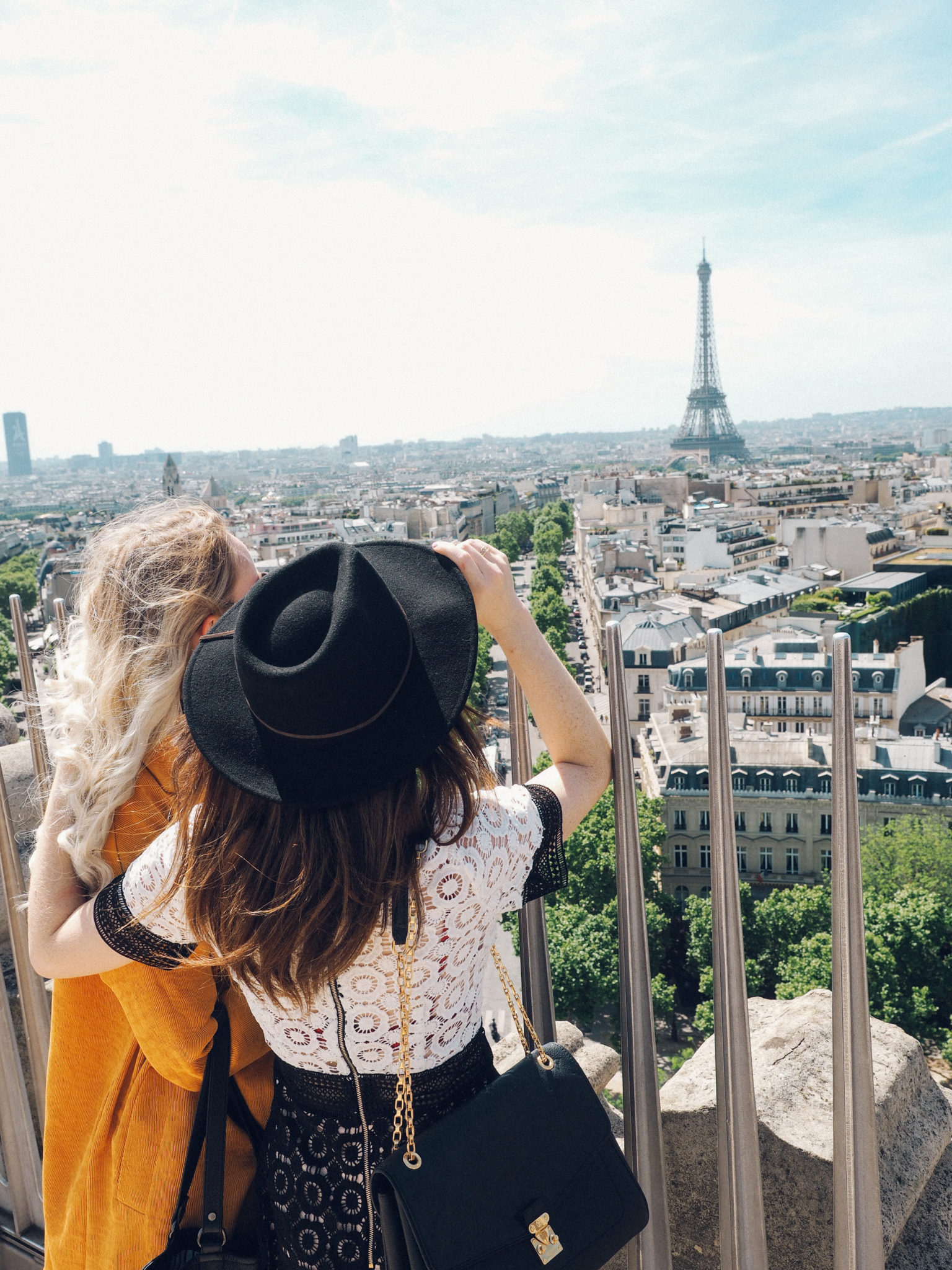 13. The best view of Paris
The best view of Paris is an argument I don't think will ever be solved, but if you were to ask me, I'd say it is atop the Arc de Triomphe. Although not hidden, this location is so often overlooked by tourists (who come to take a photo OF the monument rather than ON TOP of it), that I knew it had to be included in this list.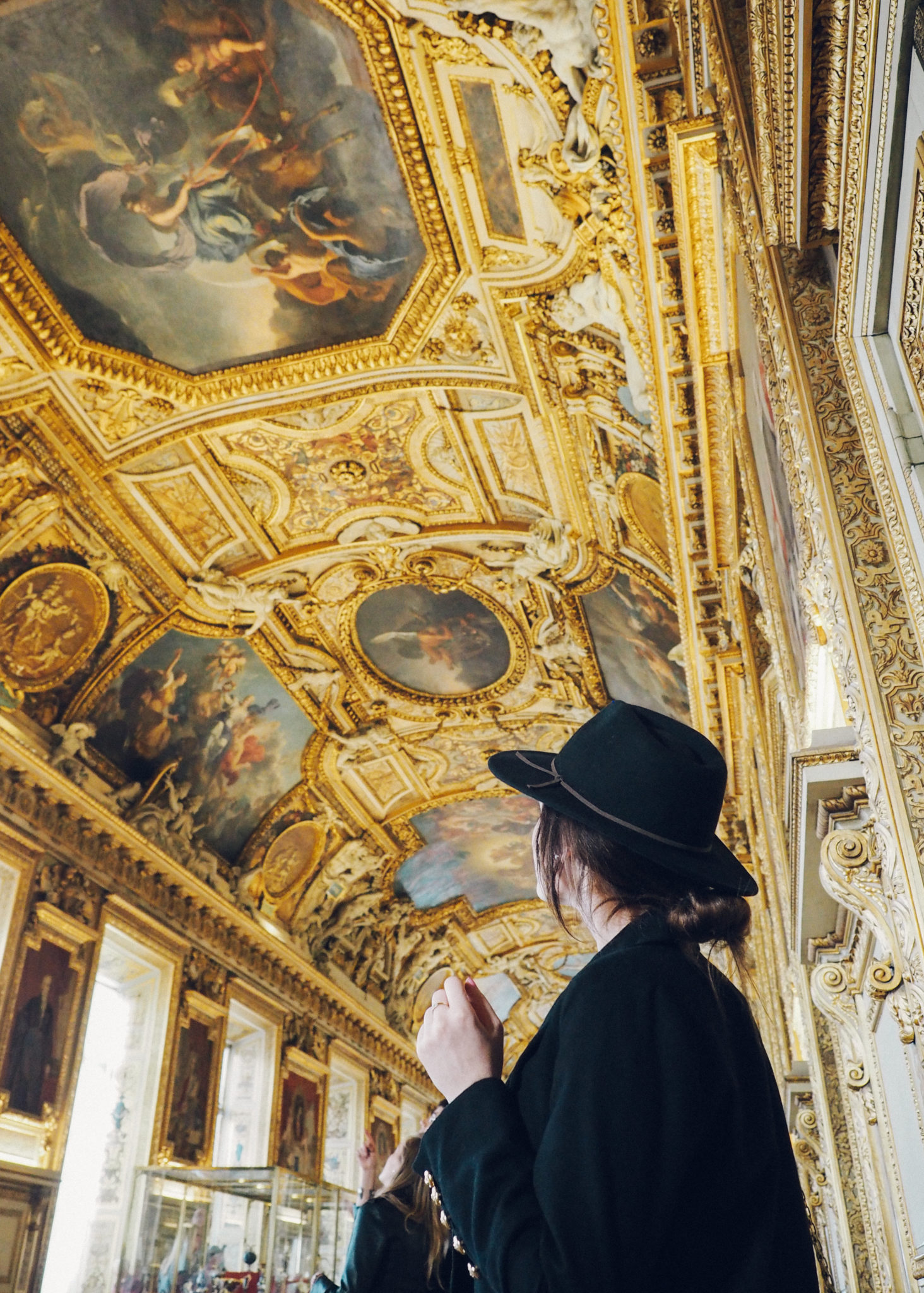 14. The Ceiling Inside The Louvre
The Louvre is a far cry from hidden, but you'd be surprised how very few people visit the museum without appreciating the building itself. Take a look at the ceilings!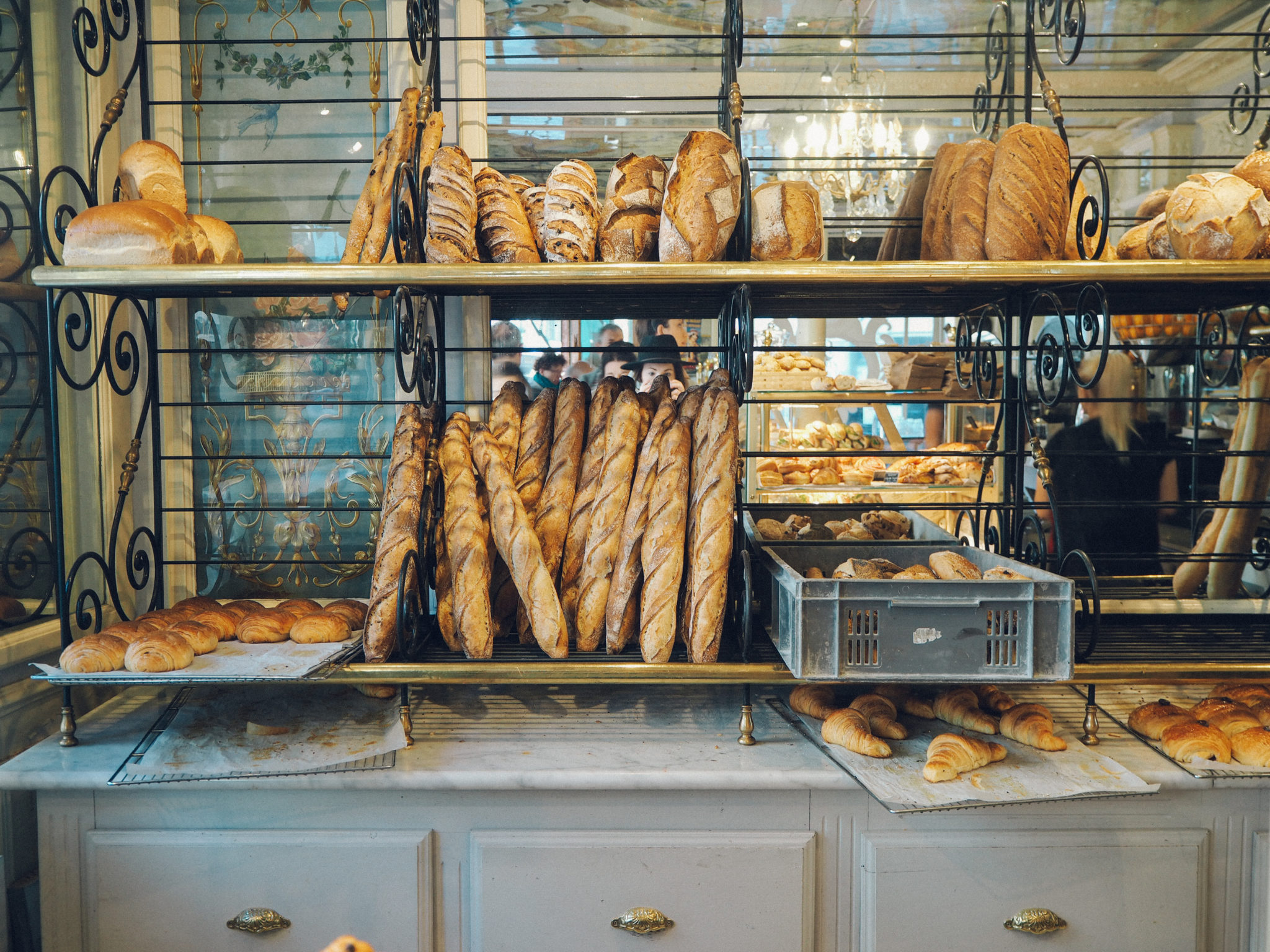 15. Au Petit Versailles
You'll be forgiven for thinking the days of "secrets" in Paris are over with the age of the internet, but I promise you this one is a complete local's hidden gem. Located in Le Marais, this patisserie looks as if it has been plucked out of another century and the tiredness of it would nearly lead one to conclude this is true. But what it lacks in spruce, it makes up for in the quality of pastries and a wide selection if I do say so myself!

16. Merci Concept Store
As a concept store enthusiast, I never tire of stumbling upon quirky shops filled with all the things I do not need but so happen to buy anyhow. You might have already heard about Colette (now closed), but I promise you that Merci is way, WAY, better.

17. Passage Jouffrey
Another of my favourite finds on the hidden passages of Paris haunt is Passage Jouffrey. This 1863 arcade is a walk through time with its tiled floors and glass roof that brings the entire space to life. Amongst the many boutiques you will find old books, canes, custom paper specialists and so many more quirks.

18. Searching for details in The Marais
I've mentioned it once or twice in this article, but I promise you, you will not be disappointed with a visit to The Marais! This neighbourhood is best enjoyed on foot or by bicycle, meandering through the many streets that are lined with small boutiques – a far cry from the likes of the Champs Elysees or Rue Saint Honore.
19. Galerie Vero-Dodat
Another secret passage that I stumbled upon was Galerie Vero-Dodat… without even meaning to! This passage was so secret that I hadn't even heard of it, but was immediately intrigued as I passed the entrance.

20. Pont Alexandre III
Hidden in plain sight is how I would describe my absolute favourite bridge in Paris: Pont Alexandre III. This is my favourite area to wander around at sunset or BYO a bottle of vino, some stinky cheese, and watch the world pass by in the late afternoon.

21. Staircases of the Grand Hotels
My job allows me to see some pretty swanky places, particularly when it comes to the world's most beautiful hotels. When I first check in to a hotel I almost always find the staircase, because I try to take the stairs when travelling in a half-arsed effort to 'exercise'. The staircases in Parisian five-star hotels are something else!

22. The Old Artists Quarter
Atop the hill in Montmartre is the old artists quarter, a charming part of this bohemian neighbourhood that is part fabulous, part tourist trap (and unfortunately more the latter). However if you can avoid the nagging "artists" with their offers to draw you (poorly, mostly), then this is a really lovely area to explore.

23. Rue Foyatier
This beautiful street in Montmartre is one of my favourite spots in all of Paris. The stairs will take you all the way to Sacre-Couer Basilica and all the glories that lay in upper-Montmartre.
24. Marie Antoinette's Gardens
Although technically outside of Paris, this list would not be complete without mention of Paris' extended family: Versailles. The Queen's gardens are a highlight worth seeing, though have bizarre opening hours and seasonal restrictions, so be sure to check before you visit!

25. Canal Saint-Martin
If you're an Amelie fan (like me!) then you can't pass up the chance to visit Canal Saint-Martin and wander the tree-lined canals.

26. 22 Avenue Rapp
If you're a fan of Art Nouveu, then Paris is a museum of hidden gems waiting to be discovered. One of my favourites is #22 Avenue Rapp.
Read more: A Guide to Art Nouveu in Paris

27. The Notre Dame Gargoyles
If you can withstand the 387 stairs to the top, the views from the Notre Dame Cathedral are some of the most impressive in the entire city. Be sure to arrive at least 30 minutes prior to opening time if you don't enjoy lines (and waiting for hours, mind you!)

28. Passage des Panoramas

My inclusion of Paris' passages wouldn't be complete without Passage des Panoramas, located just opposite Passage Jouffrey. This quirky passage has its own train-modeled restaurant and is perhaps the most quirky of them all.

29. Rue Saint Dominique
If pretty Paris streets are your goal, then look no further than this little gem! Here you will find one of the best "street views" of the eiffel tower in the background and typical Parisian street life in the foreground.
Read more: The 12 Prettiest Streets in Paris
30. Rue des Martyrs
If you're a sucker for reading books prior to your arrival in a new city, then you absolutely must read "The Only Street in Paris" before arriving at Rue des Martyrs. This beautiful street is everything Paris used to be: filled with artisans, specialty cheese shops… you name it. If there's one location I should keep a secret, this is it. Be prepared to experience the Paris you thought time had forgot.
PLANNING A TRIP TO PARIS? CHECK OUT OUR GUIDE:
The WOW Guide to Paris