It's undeniable – there's nowhere quite like Tasmania. If you have 48 hours in Hobart, we have the ultimate guide to make the most of your time here. Tasmania is an island of untamed beaches, national parks, mountains, lush vineyards and white sands. So as spring turned into early summer, I hopped on a plane with my sister for a visit to Hobart to see what we could do with just 48 hours in the Tasmanian capital city.
Despite having travelled the world extensively, I have found myself still yet to experience so much of my home country and wonderful, completely accessible experiences right on my doorstep. Why have I looked so far, but not near? I have no excuse! Tasmania is home for Brooke, and after our recent travels to Europe I was more inspired than ever to finally fly across the Bass Strait and get a feel for her island home. I was not disappointed!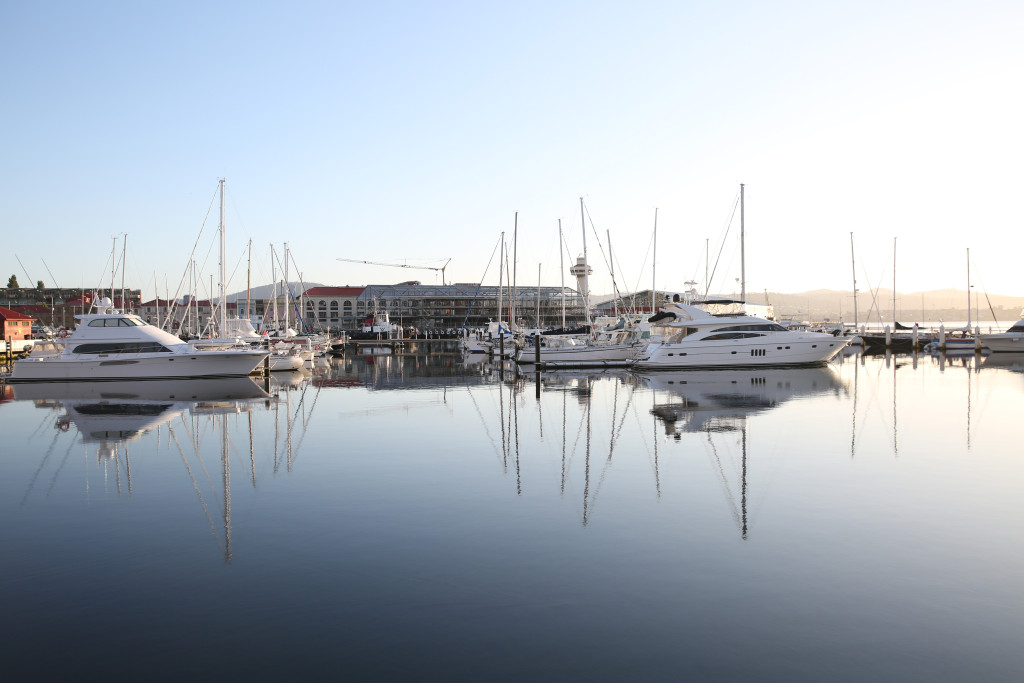 Where to Stay in Hobart
Arriving into Hobart after just an hour and a half flight from Sydney, I immediately felt right at home, yet another world away. Set between the summit of Mt Wellington, and the shores of the Derwent River, Hobart is an eclectic, relaxed maritime city that beautifully blends art, history, natural scenery and – my favourite of all – farm to table produce.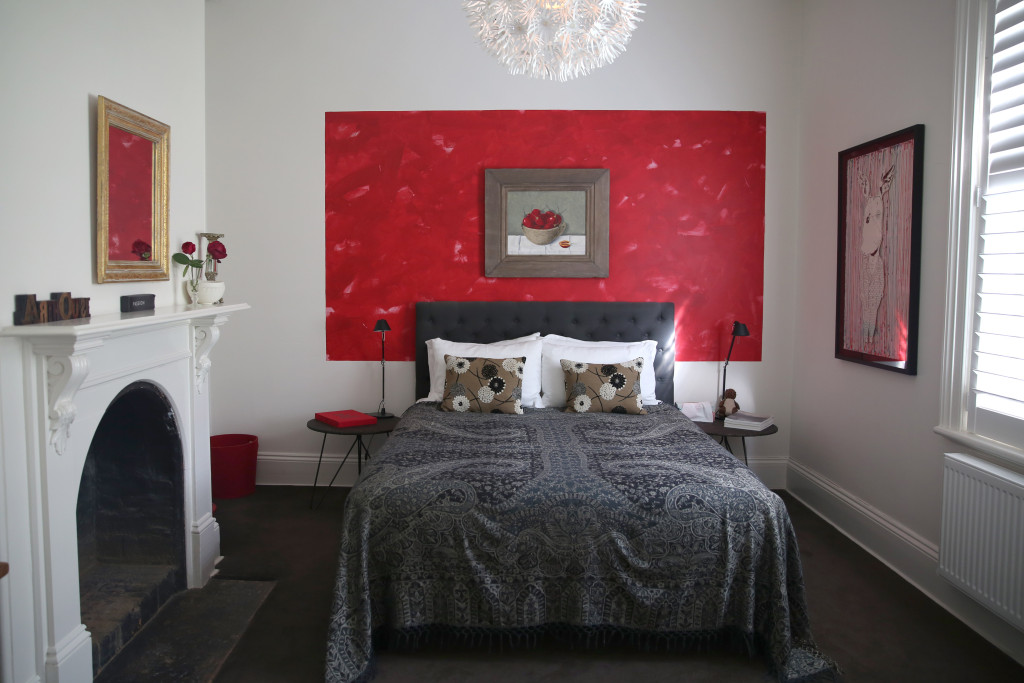 My sister and I stayed at the exquisite Arthouse Salamanca – a private house just minutes by foot from Hobart's historic waterfront and Salamanca Place. We arrived at this white cottage, turned the key and immediately felt like royalty – with a fully kitted out kitchen, more rooms than we knew what to do with, and a giant bathtub beckoning. The little touches – like gorgeous bath products, a bowl of walnuts ready to crack on the coffee table, and an iPod full of jazz tunes docked and play-ready made our 'place to crash' after a day of exploring feel like an experience on its own.
Sunrise at Mount Wellington
Just a 20-minute drive from downtown Hobart to its summit, Mount Wellington rises 1270 metres above Hobart's harbour, and is an accessible and definitely should be a well addition on every Hobart itinerary. Drive up the winding roads to find panoramic views of Hobart – the sheer beauty of the Tasman Peninsula below it will really knock the breath out of you. As we navigated our way up to the summit, hairpin after hairpin, we drove through eerie fog and I felt like I was scaling and climbing above the clouds.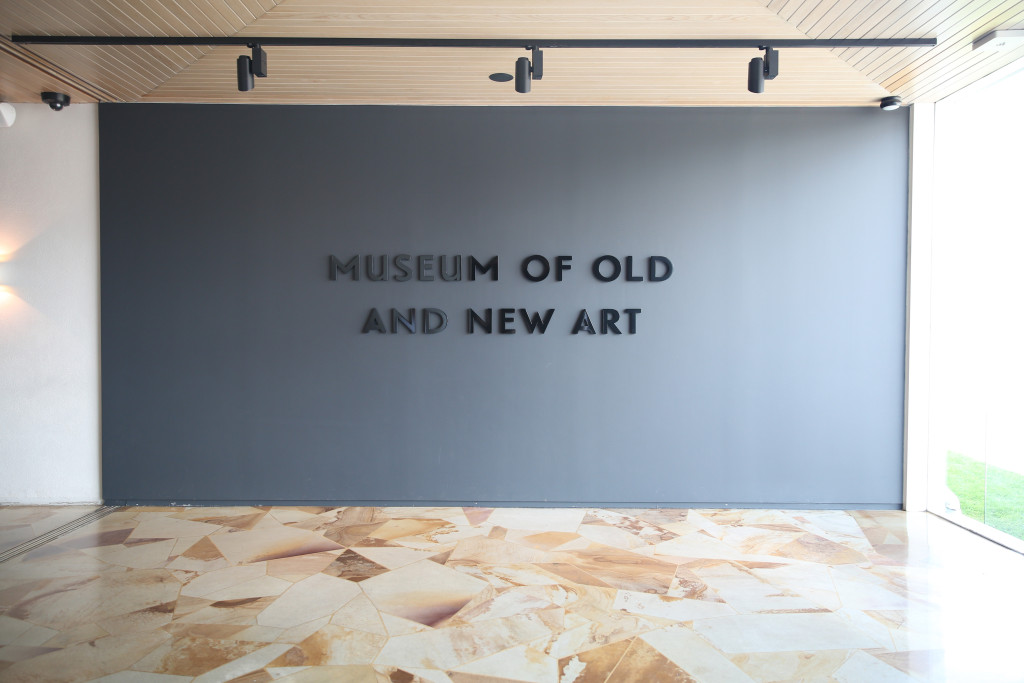 Visit MONA Hobart
As Australia's largest private museum, the Museum of Old and New Art is a gallery with attitude, along with many things. MONA is an underground space, built into a sandstone cliff face, and as we spiralled our way downstairs, I really felt like I was descending into another realm. MONA is a museum themed on love, sex and death… owner David Walsh has described the museum as a "subversive adult Disneyland". At just 15 minutes from central Hobart by car (655 Main Road, Berriedale) – and also reachable via a direct ferry from Brooke Street Pier, it's an experience you can't miss.
Visit Salamanca Market
This market is somewhat of a Hobart Institution that is well loved by locals and visitors alike. The Salamanca Market has been running every Saturday of the year on Salamanca Place since 1973! Attracting thousands of visitors every Saturday, there are 300 licensed vendors, offering coffee, freshly baked treats, flower stands, vegetables and local produce, and handicrafts, artisan produce, jewellery and fine art, woodwork.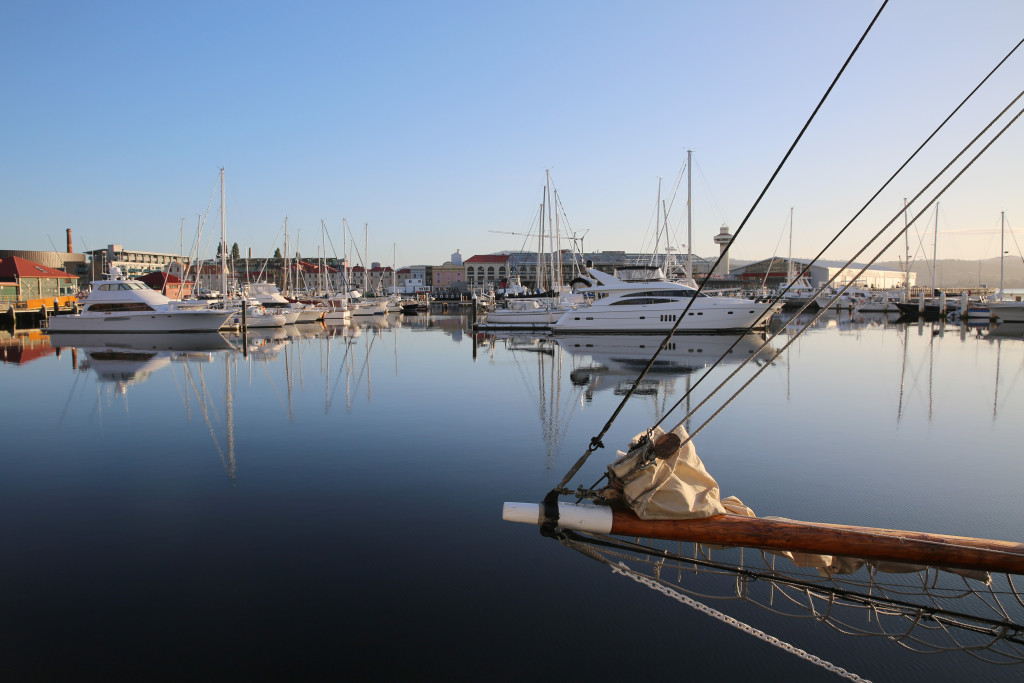 The Hobart Waterfront
The Hobart Waterfront plays host to a series of bars and eateries, a dock for impressive catamarans, and is also a point of departure for water taxis and ferries. We spent lots of time wandering the waterfront for food, drinks… and to walk off our excessive consumption.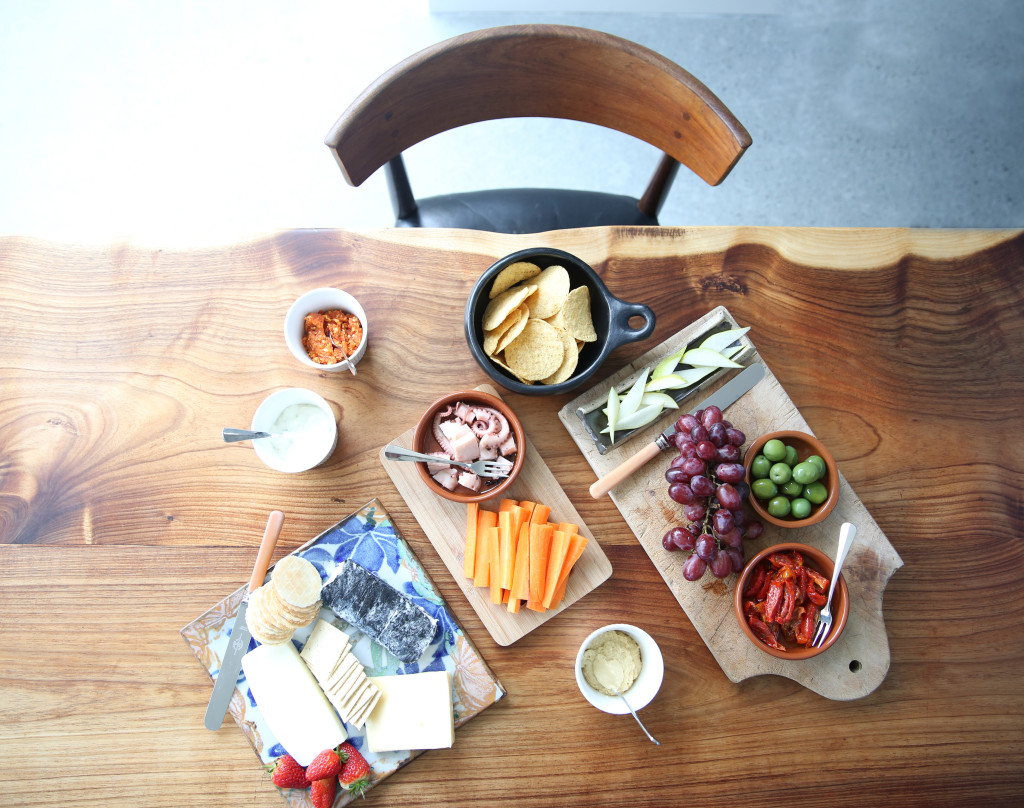 Eating out in Hobart
My first observation about Tasmanian Providore was the big support of local suppliers. Grocery chains, small food markets and bottle shops all champion and support local produce – and we were happy to indulge! On our first night in town, we stocked up on local cheeses, olives, pickled squid, dips and vegetables, and nibbled away for hours from our local produce shop Salamanca Fresh.
On our second night in town, we opted to check out the share plates at Frank Restaurant & Bar (1 Franklin Wharf, Hobart) – a glass-encased restaurant set slightly back from the Hobart waterfront.
My favourite food experience of all, was lunching at Glass House (Main Deck, Brooke Street Pier). Suspended over Sullivan's Cove, Glass House boasts 280 degree water views – and we were treated to front row seats looking out to the harbour. More art than lunch, Glass House offers a divine food experience. We sampled Kingfish sashimi, buffalo mozzarella salad mélange, soft shell crab and the zestiest lemon curd dessert… one of my favourite dining experiences of all time.