My time in the Netherlands came and went in a flash. But if we're being particular it lasted 8 days and 7 nights, all of which were jam-packed. So if you're wondering which cities you must visit in the Netherlands, these are my top picks.
Throughout my time here in the land of bicycles and miniature pancakes I was eager to see, do and taste as much as possible. Although I didn't quite get to every pitstop I had planned, I did manage to see and do everything I wanted in each of the cities I did visit, making up for quality over quantity.
Let's dive in!

Cities and towns you must visit in the Netherlands
Amsterdam
An obvious starting point: Amsterdam is one of Europe's most visited cities and with one picture or postcard, it isn't hard to see why. This city, built on canals with wonky houses, would have to be one of the world's most photographed cities if not the most. Be sure to wander around at leisure and leave yourself three days here (minimum) as there's a lot to see and do. In terms of museums make sure you don't miss the Anne Frank House, Rijksmuseum and Van Gogh Museum. Elsewhere be sure to visit Singel Canal, Keizersgracht Canal, Vondelpark and Jordaan neighbourhood.

The Hague
My next stop in the Netherlands was to catch the (30 minutes-ish) train ride to The Hague, which is better known to the Dutchies as Den Haag. As the centre for global judiciary decisions, I had been eager to visit since my first two years of law school (of which I dropped out of to complete a political science degree). This city was as grand as I had envisioned, with beautiful architecture and perfectly manicured gardens at every turn.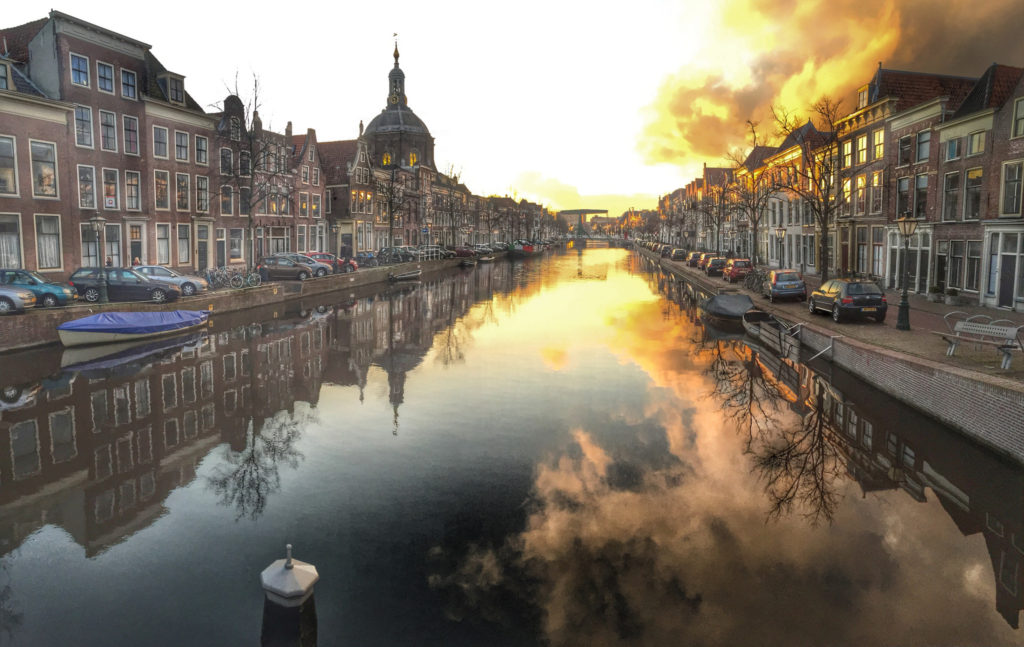 image via Flickr
Leiden
You can reach Leiden by train from Amsterdam in less than 30 minutes, or by train from The Hague in just 10. Pronounced "LIE – DEN", this city is a great pit stop if travelling between one Dutch city and another, dropping your bags at the train station and exploring for a day. With canals and quintessentially Dutch architecture, this is a great alternative to the tourist-heavy streets of Amsterdam.

Delft
By far the cutest city I came across in all of the Netherlands and even one of the most charming in all of Europe, I cannot believe it has taken me so many years of travel to discover Delft! Just a few minutes by train from The Hague, Delft has the charm of a small town with the benefits of a sizeable city nearby (not to mention some of the world's best gelato!)

Utrecht
Described to me as Amsterdam's cooler little sister, Utrecht is a city like no other in the Netherlands and perhaps even in Europe (though it kind of reminded me of the effortless coolness of Antwerp and Ghent in Belgium). Utrecht doesn't have many sights or attractions, but has plenty of cool cafes, eateries and boutiques to discover. Its the kind of city you can visit and feel like a local within minutes.

Image via Flickr
Rotterdam
Perhaps the "coolest" city in the Netherlands, Rotterdam is in a league of its own. Modern and design-focused, Rotterdam was completely wiped out by the Germans in in 1940 as a sign of power to the rest of the country who might similarly meet the Germany army with resistance. For this reason Rotterdam is extremely unique to the Netherlands, as it does not have an old town centre or appear alike any of the other cities in the country, though it does have a widespread reputation for architecture and design.

Maastricht
Well and truly in the south of the Netherlands is Maastricht, another interesting city I discovered on my travels through the country and one that I found a great base to explore from. With a unique location near to the Belgium border and not far from France or Germany, this is a great city to base yourself in for day trips to explore nearby Cologne, Liege, and you could even travel down in to Luxembourg! The city itself warrants a couple of days to explore – Maastricht iss a beautiful city with a well-deserved gastronomic reputation. Of all the cities you must visit in the Netherlands, I think Maastricht is the most underrated.