Melbourne is a vibrant city home to edgy fashion, hidden laneways, a world-class coffee scene and a five year record voted as the world's most liveable city to boot. But what is there to see outside of the bustling CBD? Lots, as it turns out! I recently ventured beyond central Melbourne to explore landscapes and an itinerary of the best-of experiences all within a hop, skip and jump from town. Here's a beyond Melbourne bucket list: adventures and sights to experience on your next visit to Victoria!
Reach for the sky in a Hot Air Balloon
Ascend gently and float up, up and away across the Yarra Valley vineyards, in a hot air balloon at sunrise. It's a pinch-yourself experience that you will be sure to never forget. Global Ballooning Australia offer daily flights (weather permitting). You cannot control speed, direction or where you might land in the hot air balloon, but that's all part of the fun. You will be guaranteed breathtaking, jaw-droppingly stunning views of vineyards and the winding Yarra River from high above. This experience is a must.
Immerse yourself in natural mineral springs
Just a ninety minute drive south of Melbourne on the exquisite Mornington Peninsula you'll find Peninsula Hot Springs. A series of bathing and thermal pools are filled with 50ºC waters rich in healing minerals. Soaking in hot springs has long been an indigenous purification tradition, and the feeling of immersing in these hot springs is something other worldly. Two brothers Charles and Richard Davidson were inspired to build the sanctuary after Charles returned from living in Japan and experiencing the hot springs of Kusatsu. Recently celebrating the 10 year anniversary, these springs are a well loved destination for both locals and visitors.
140 Springs Lane, Fingal
Rest your head in a 1966 vintage airstream
Meet Peggy Sue – surely the most adorable accommodation in existence. Happy Glamper offer unique accommodation experiences on Melbourne's Mornington Peninsula. You can pick the location – bushland or seaside, and they do all of the hard work, so you can literally just arrive and relax. Peggy Sue comes kitted out with an outdoor tables setting, beach towel, dream catcher, board games and even flamingos. Camping never looked so good.
Breathe in sunrise on Capel Sound Foreshore
Set within the sleepy but vibrant Mornington Peninsula, Capel Sound Foreshores Reserve is a pocket of seaside paradise. With a coastline stretching nearly 4 kilometres, the sunrises here are pink, the sunsets are golden and the local fisherman are lovely. Come here to set up a campsite, breathe in fresh air, take stock and get perspective.
Capel Sound Foreshore – Rosebud West and Tootgarook, Mornington Peninsula
Take a joy flight at Barwon Head
Adventure-ready and jet set? Consider a joy flight over the Barwon Heads bluff, Point Lonsdale light house and shoreline with Adventure Flight Co. You can choose from one of four planes suiting anyone from aerobatic-ready adrenaline chasers to steadier photo takers. I opted for an open cockpit flight experience and had the best fun! Pilot Anatole is the kindest guy you will meet, and will make you feel completely safe and at ease throughout the experience.
1411 Barwon Heads Road, Connewarre
Get topsy turvy on wine tasting (in an upside down house)
Is this not the cutest house you ever did see? You can find this upside down house turned cellar door within Oakdene Vineyards and Restaurant property. While you're there, consider fine dining at the Oakdene Restaurant, where Welshman executive chef Marty Chichester offers delicious Europen inspired, modern Australian cuisine focused on local produce. The outdoor gardens are eclectic and fascinating.
255 Grubb Road, Wallington
Indulge a little – at Montalto
There's food, and then there is Montalto. This place does food and wine next level. Set overlooking vineyards and olive groves with floor to ceiling windows, Montalto is a beautiful way to spend an afternoon dining on seasonal delights and sampling the estate's own wines. Oranges, lemons, snow peas and radishes are all harvested on site – and with the restaurant's philosophy that food should never have to travel far, they all star on the menu. Prepare yourself for more than a meal – food here is an experience.
33 Shoreham Road, Red Hill South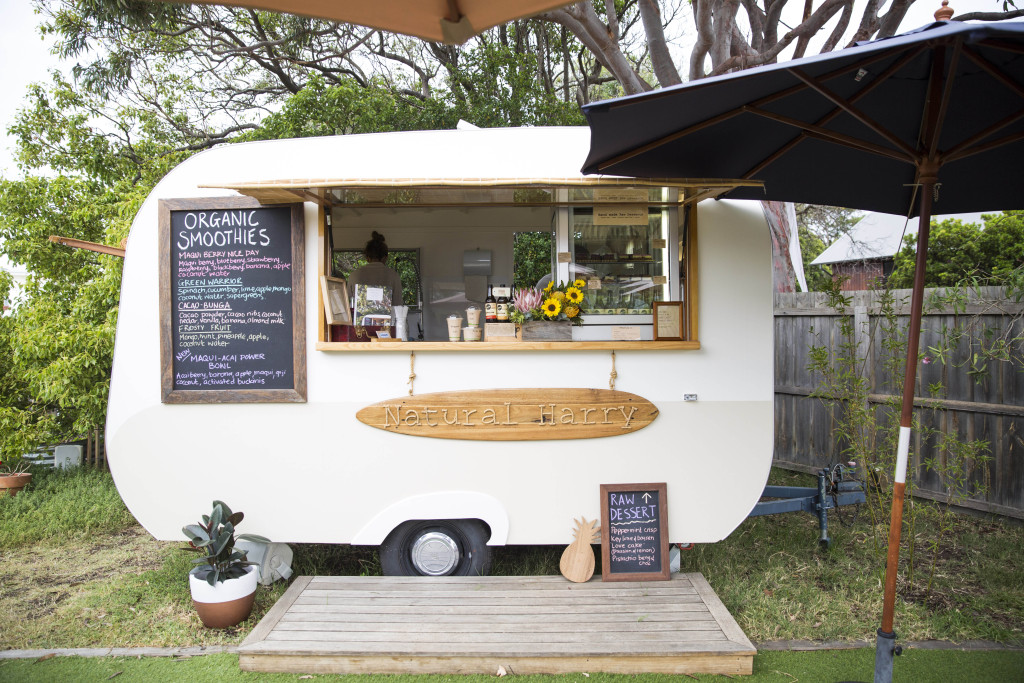 Try a cacao-bunga at Natural Harry's
Enjoy a lazy morning on outdoor beanbags in sunshine, at Natural Harry's. You can find the 1950's wooden caravan atop a grassy hill on the Bellarine Peninsula, in the relaxed town of Barwon Heads. Run by locals Fraser and Harriet, these two are as sweet as the treats on the menu. You'll find it impossible to decide between the cacao-bunga cacao smoothie, green warrior smoothie, macadamia cookie dough sandwiches or acai brekkie bowls on offer, which are all made with 100% organic super foods. Beyond delicious.
54 Hitchcock Ave, Barwon Heads
Eat straight from a biodynamic kitchen garden
In the vineyard garden at Kiltynane Wines at Swan Bay, there is a secret garden just begging to be roamed. Depending on the season, you might find anything from logan berries, to rocket, french onion and zucchini. From the cellar door's on-site cafe, grazing platters are prepared in abundance featuring goods straight from the garden, along with a daily changing menu. Oh, and it's all situated right on the waterfront. Bliss.
43-53 Nye Road, Swan Bay
Glimpse behind the scenes of beer brewing
Arriving at Little Creatures Brewery feels like stepping inside a micro world. After extensively renovating an historic woolen mill in South Geelong, the new base for this Fremantle-based brewer is now home to an impressive restaurant open for brunch, lunch and dinner – with regular live music for adults, a playground for kids, and other delights and surprises. There's also a craft market every second Sunday of the month.
Corner of Fyans and Swanston Streets, Geelong
With thanks to Tourism Victoria for a wonderful few days packed with adventure!