The Simien Mountains are one of the most popular places to visit in Ethiopia and for good reason. This incredible mountain range is located in Northern Ethiopia, around two hours drive from Gondar. Despite being a popular stop for tourists in Ethiopia (of which is still a small emerging market), you often feel like you have the entire mountain range to yourself. This is your complete guide to staying in the Simien Mountains!
The tallest peak in the mountains is Ras Dejen (4,550 m) and it is here where you have the highest chance of spotting the famed Walia Ibex, endemic to Northern Ethiopia. But for all the beauty the Simien Mountains has to offer, there are limited options for travellers to explore the area. Here is your complete guide to help you plan your visit.
Your Guide to Staying in the Simien Mountains
In this guide to the Simien Mountains you will find:
How to get to the Simien Mountains
Where to stay (Camping)
Where to stay (Luxury Lodge)
The best things to see in the Simien Mountains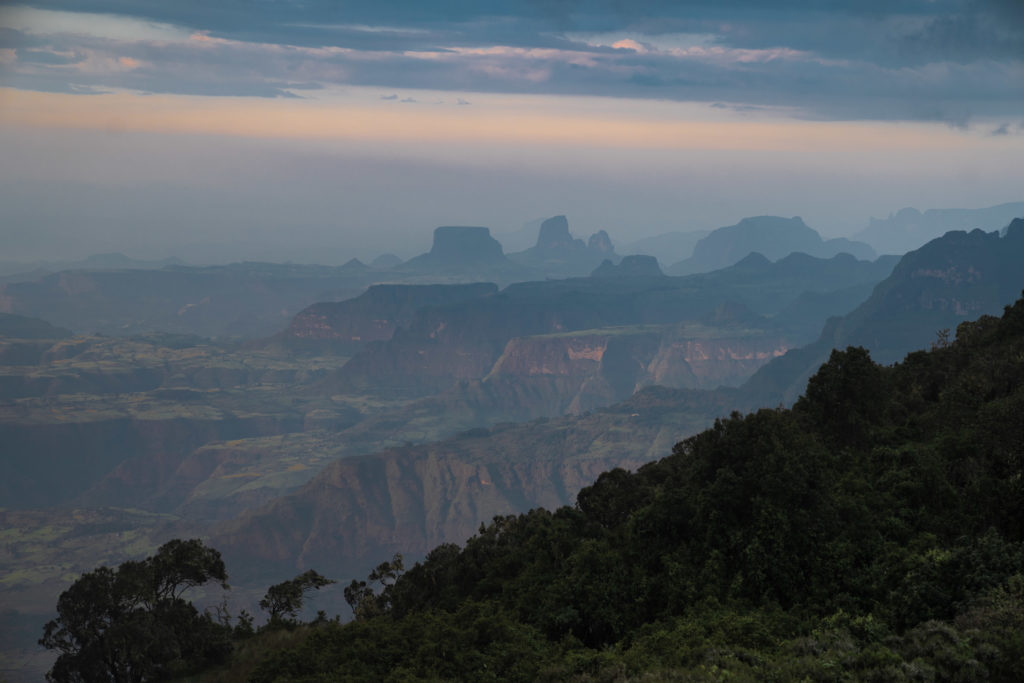 How to Get to The Simien Mountains
Arriving in the Simien Mountains is one of the most humbling experiences as you soon get a feel for how vast and impressive the mountain ranges are. The first step to visiting the Simien Mountains will be to either fly or travel by land to Gondar, Ethiopia's ancient capital.
From Gondar it is around 2 hours to reach the Simien Mountains by car. There are endless tour operators offering multi-day camping treks in the Simien Mountains and they will include either a shuttle transfer or private 4×4 transfer.
The road to The Simien Mountains will take you through a lot of small villages and give you a chance to get a feel for rural Ethiopia and the way of life out here. You will soon notice the intrigue of locals who make their best effort to look inside every car window that passes. As you reach the park entrance you will be required to pay for a scout and tour guide (a daily fee) or else you will not be permitted to enter. Once you have registered at the Park Office it is a further hour or less to your starting point, depending on how much hiking you have signed up for or which campsite you are staying at within the park.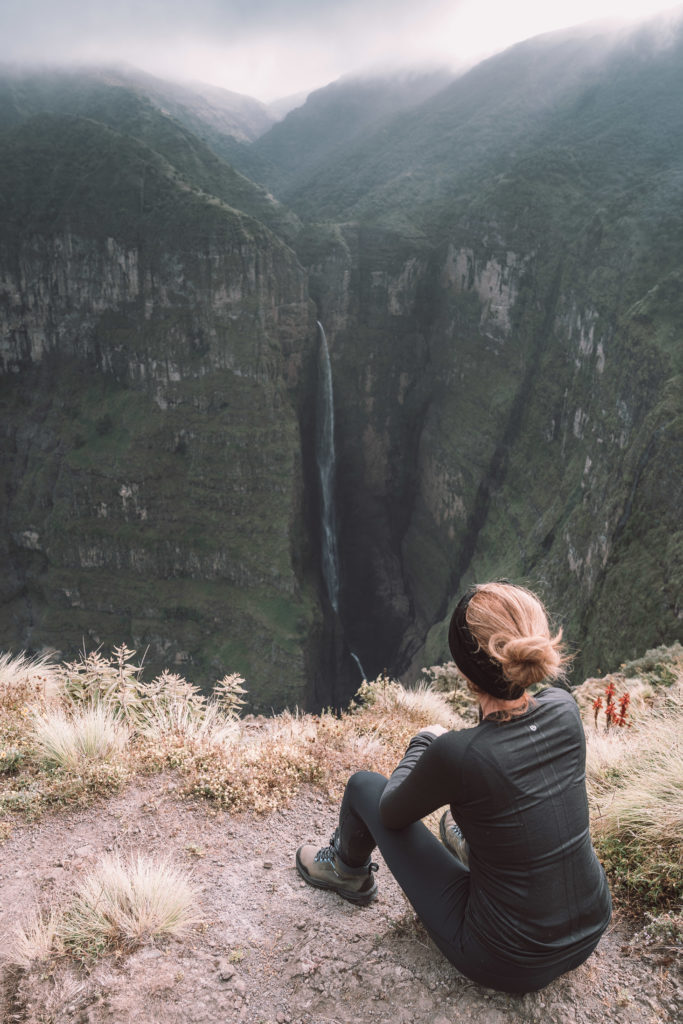 Where to Stay: Camping
For our first night in the Simien Mountains we decided to camp to get a real idea for what life is like inside this epic landscape. We were collected from Gondar airport and driven first to Gondar for a city tour. Since we were here already, I wanted to make the most of the opportunity to see Gondar though I had heard from other travellers that Gondar is "skippable". Sure, it doesn't have the same adventurous appeal as the mountains do, but the ancient capital is really fascinating and we didn't regret our time there.
After a brief city orientation and delicious meal at the Four Sisters Restaurant, we continued driving a further 2 hours to the Simien Mountains. Once there, we picked up our mandatory scout (security) and guide, who we were obliged to pay a daily fee to enter the park. Everyone has to pay for a scout and guide daily and there's no getting around it. Although it might feel like another expense on top of everything, it goes a long way toward supporting the local economy and creating jobs.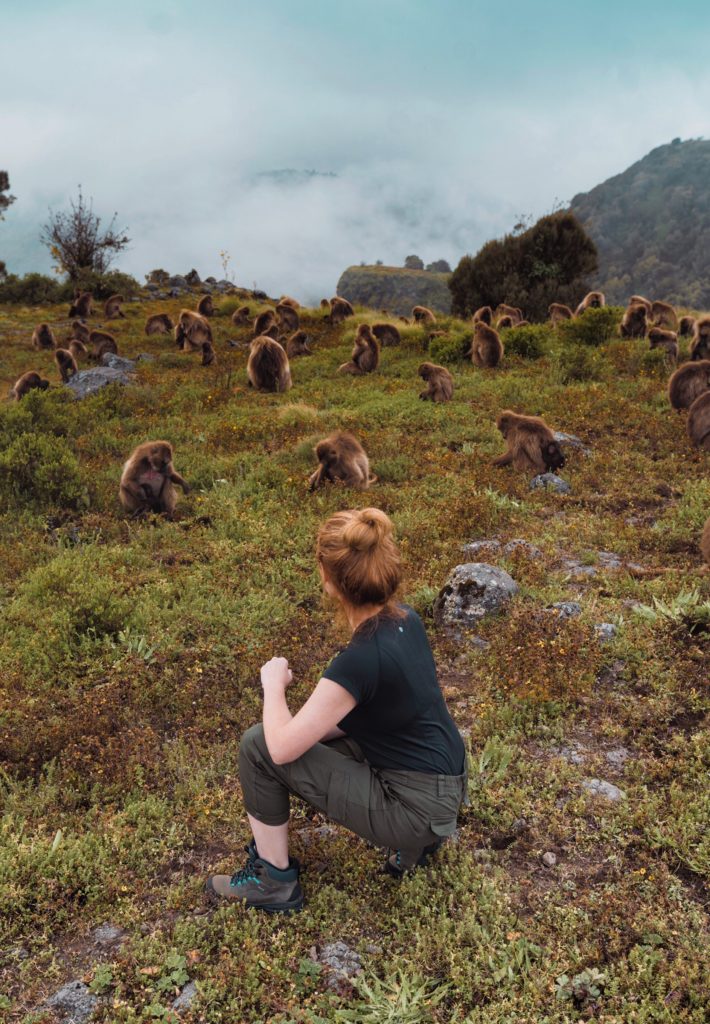 Once we had collected our scout and guide, we signed in to the park for the duration of our stay (three days) and journeyed further in our 4×4 to the starting point for our first day hiking. The tour company we used was Simien Mountains Trekking which also came with a great chef who prepared us lots of hearty meals to support our trekking itinerary.
After hiking just a couple of hours the first day, we soon began to feel the effects of hiking at such a high altitude. The Simien Mountains reach a whopping 4,550 m at their highest peak and we made our way to 4,200 metres above sea level on day two.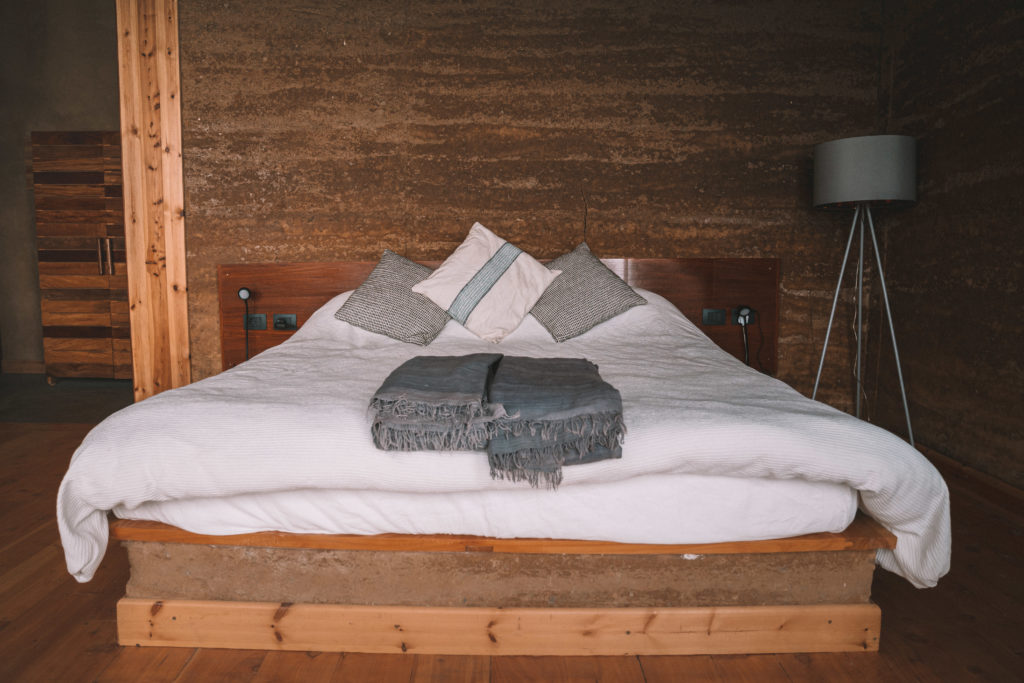 Where to Stay: Lima Limo Lodge
For those who prefer a little luxury, Ethiopia's best lodge is located on the fringe of the Simien Mountains. Lima Limo lodge boasts epic views, full-board and has been sustainably built to reflect its' environment.
I had read a lot about this lodge prior to our visit and was really excited to spent a night here after a couple of days camping in the Simien Mountains. Unfortunately I found the lodge a little overpriced for the basic offerings and couldn't agree the food was as good as we had enjoyed elsewhere in Ethiopia. The menu is mostly Western with Eastern influences and although some of it was tasty, we would have preferred some more traditional Ethiopian offerings.
For the night we stayed the standard rooms were all booked out so we were forced to pay an additional $100 USD for a "Superior View" room. Unfortunately this was a bit of a waste given the Simien Mountains are almost always covered in a haze of fog. The upside to the hotel that is still in its early stages is the sustainability focus and how the team at Lima Limo are drawing attention to the importance of this by setting a standard for others to follow.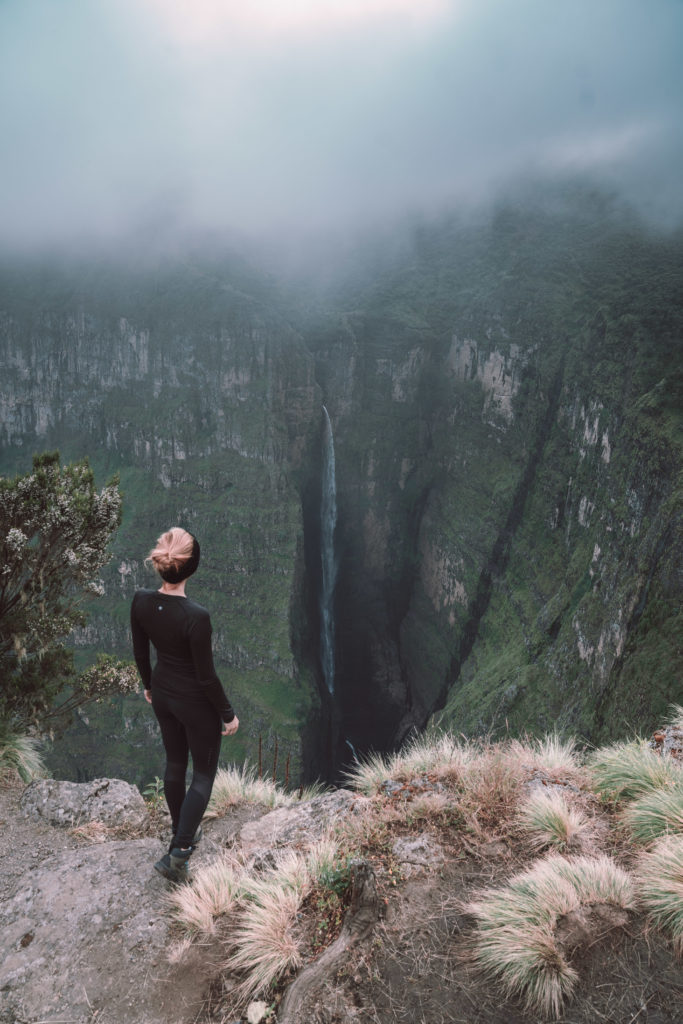 The best things to see in the Simien Mountains
If you are planning a trip to the Simien Mountains I would recommend at least two nights here, if not four or five. There is so much to see within the National Park that you will certainly keep yourself entertained, especially if you love hiking in the outdoors, epic views and wildlife.
The Geladas
One of the main reasons travellers make the journey up to the Simien Mountains is to visit the Gelada monkeys. These friendly primates are calm and welcoming to humans, so you can expect to spend up to an hour sitting with them and watching them groom one another. We saw the Gelada monkeys on every day of our visit.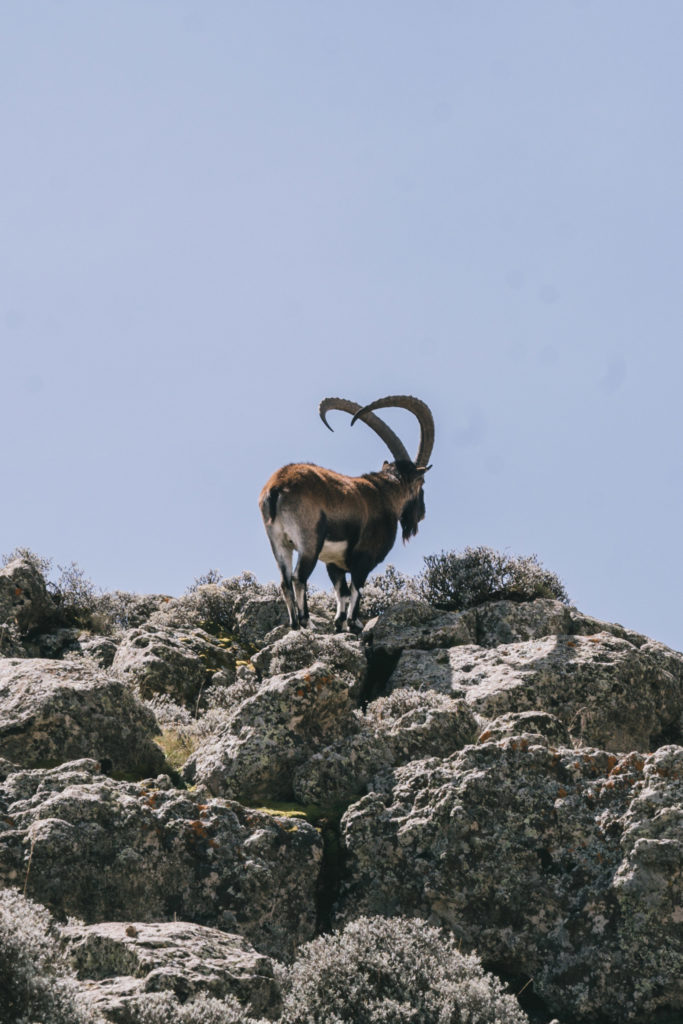 Walia Ibex
A less visible creature endemic to the region is the Walia Ibex, a mountain Ibex that prefers the higher altitudes. We saw the Ibex on day two when we were hiking at 4,200m above sea level and came within 20 metres of them.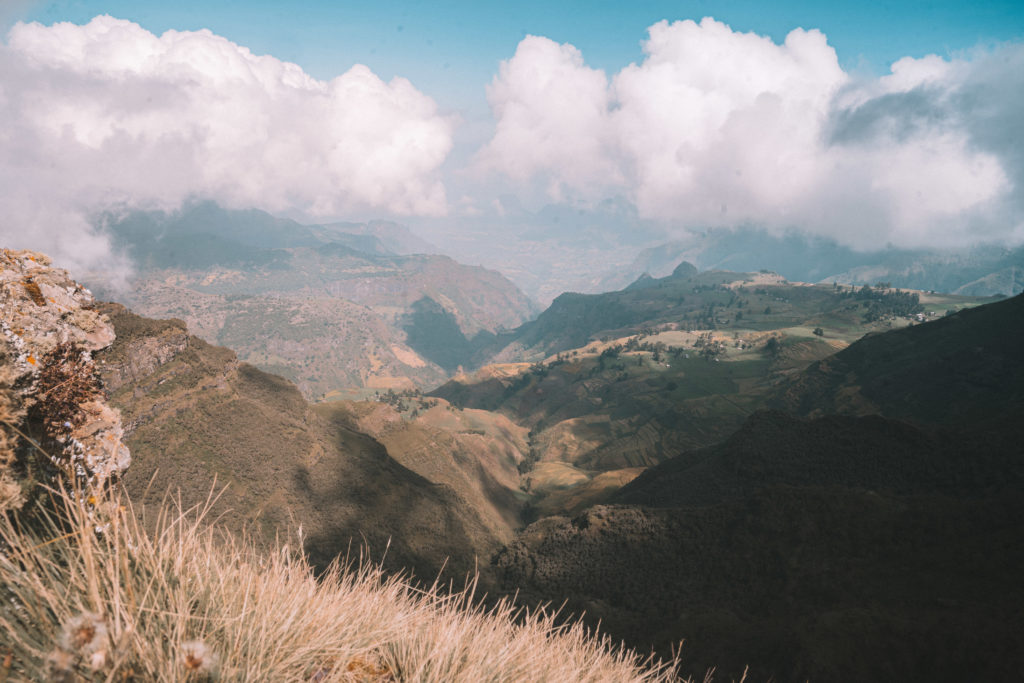 Hike the Trails
Of course the main highlight of the mountains is to hike the trails with your guide who can show you the best viewpoints, waterfalls and small villages within the park. It is illegal to enter the park without a guide and scout so be sure to make use of them and let them show you the beauty of Northern Ethiopia!