White sand beaches stretching to the horizon, rainforests with ferns reaching high, and freshwater creeks with crystal azure water… there's no doubt about it – arriving for a day trip to Fraser Island feels like stepping onto a rugged, untapped paradise.
As the world's largest sand island, and unsurprisingly, World Heritage listed to boot, Fraser Island is merely a forty minute ferry ride from the Queensland coast and just fifteen kilometres from Hervey Bay. This place is unique, sundrenched and absolutely accessible. With native name K'Gari, the island has a rich Aboriginal heritage and a sacred, mysterious beauty about it. Whether you're travelling around Australia, or living here and in need of an island escape, visit for a day, and you'll be utterly charmed.
Here's what you must experience on a day trip to Fraser Island, an oasis of paradise.

Take a morning dip at Lake McKenzie
The jewel of Fraser Island, this crystal clear freshwater lake is probably the most visited attraction of all, not to mention one of the world's most photographed lakes. Lake McKenzie is a 'perched' lake, meaning that the water is only rainwater – and not fed by streams or flowing to/from the ocean. Sand on the shore is pure silica – which you can use to exfoliate your skin, and clean your jewellery – and the aquamarine colours that can be seen in the lake are vivid and spectacular.

Visit Central Station
In the heart of Fraser Island, you'll find Central Station. A world away from the bustling peak-hour train station visual this name may conjure, the Fraser Island version of Central Station is home to a boardwalk rainforest and Wanggoolba Creek. Central Station was originally a forestry camp – a village of homes and even a local school, built for children of tree logger families.
While you're wandering the board walks, listen for some of the Island's 230+ unique species of birds – home to the most varied in Australia. The flora and vegetation is also incredibly diverse – you will find wildflowers, mangroves, kauri forests, native scrub and tropical ferns. Just beautiful.

Four wheel drive along 75 Mile beach
While Fraser Island's inland roads are not for the faint hearted (our wonderful tour guide Kirsty aptly described our roadtrip somewhat akin to 'tossed salad'), make it to the stretch of sand at 75 mile beach and you'll find straight white sand as far as the eyes can see. Actually considered a 'highway', road rules apply on this beach. It's also an airstrip – and there aren't any road lines. Although the beach is beautiful, it is not safe to swim because of strong currents and many sharks – but there are many beautiful sights and experiences along the stretch of land. Well worth a spin!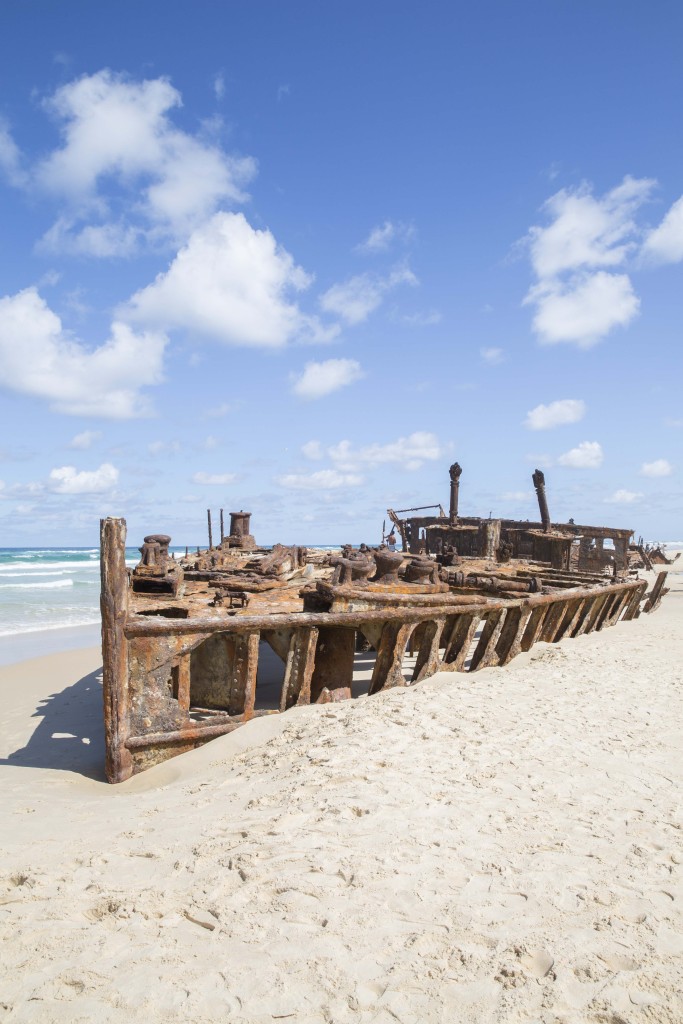 SS Maheno Shipwreck
A rustic steel skeleton sitting abandoned but steadfast on the shore of 75 mile mile beach is the steel hulk of former trans-Tasman luxury liner the Maheno. 'Maheno', meaning Island in Maori, was once an ocean liner used for transport between New Zealand and Australia, and later used as a hospital ship during World War 1. It is both beautiful and fascinating to see up close.

The Pinnacles
Also along the stretch of 75 mile beach are beautifully coloured sand cliffs known as the Pinnacles. Up to 72 different colours can be seen in these coloured sand formations – a mix of reds, yellows, oranges and browns. A photographer's delight!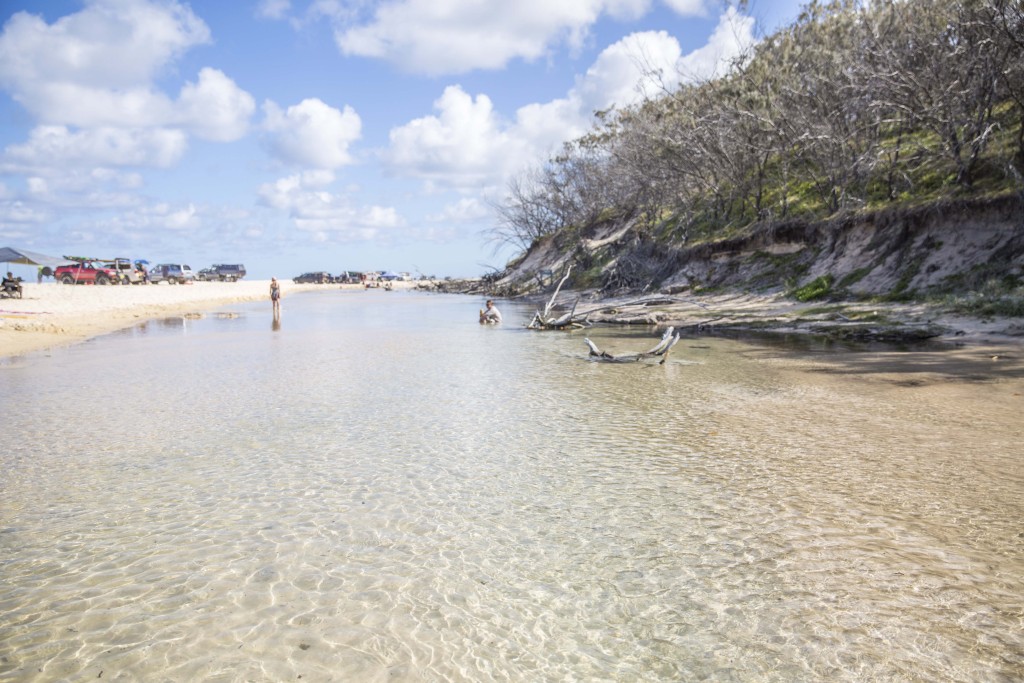 Float down Eli Creek
As the largest freshwater creek on the island, Eli Creek is also situated alongside 75 mile beach. The water in this creek is considered one of the world's purest water supplies, and is very drinkable! Approximately 80 million litres of water flow from the creek to the sea each day, affectionally dubbing it 'mother nature's water slide'. For a fun experience, let yourself float down the creek straight to the sea.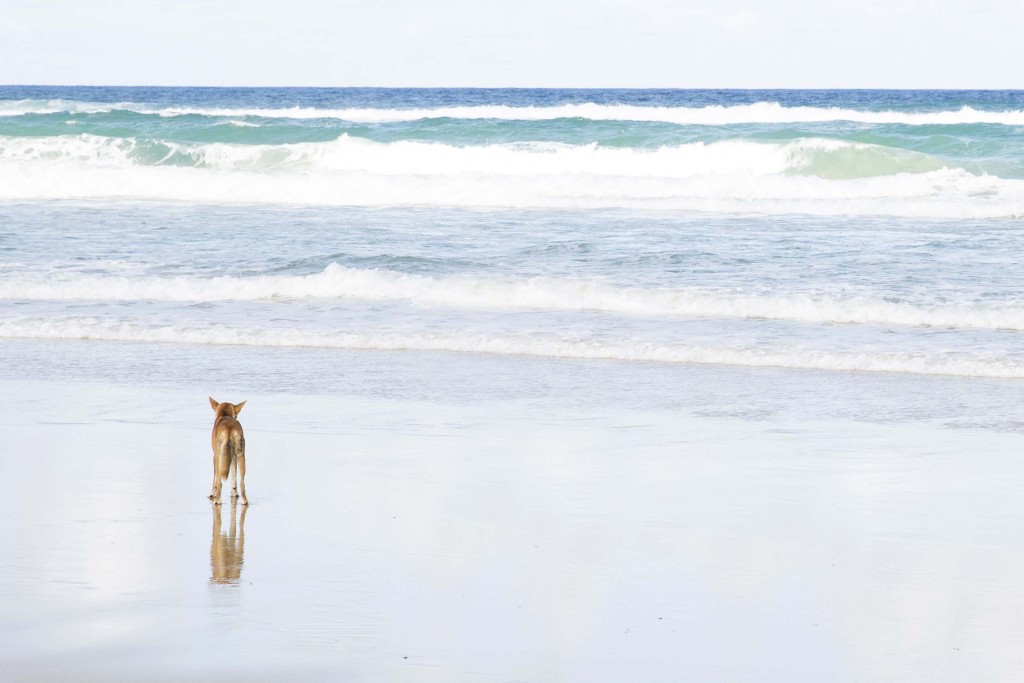 Dingo spotting
Fraser Island is home to some of the last remaining pure dingoes in Eastern Australia, and you may cross paths with one on Fraser Island travels. Dingoes are wild, predatory animals, so if you do, remember to be 'Dingo Safe'. This means not approaching or feeding dingoes, to walk in groups, lock away all food items/containers and mostly, leaving Dingoes to roam free in their natural habitat.
Other creatures that can be found on the island include sea turtles, possums, echidnas, flying foxes… and snakes.
With thanks to Oceans Resort, an Ascend Hotel Collection member, for arranging this visit (and our fantastic guide Kirsty for such entertaining storytelling!)