Located East off the coast of mainland Greece is one of the countries' less talked about islands, that is until the hit movie Mama Mia came to town for filming. Surprisingly this island is still one of Greece' best-kept secrets (perhaps the hype has died down since the film was released). So if you're looking for something less touristy and want to ditch the crowds, Skopelos is a great choice. Here's my guide to Skopelos to help you make the most of your time here on the island.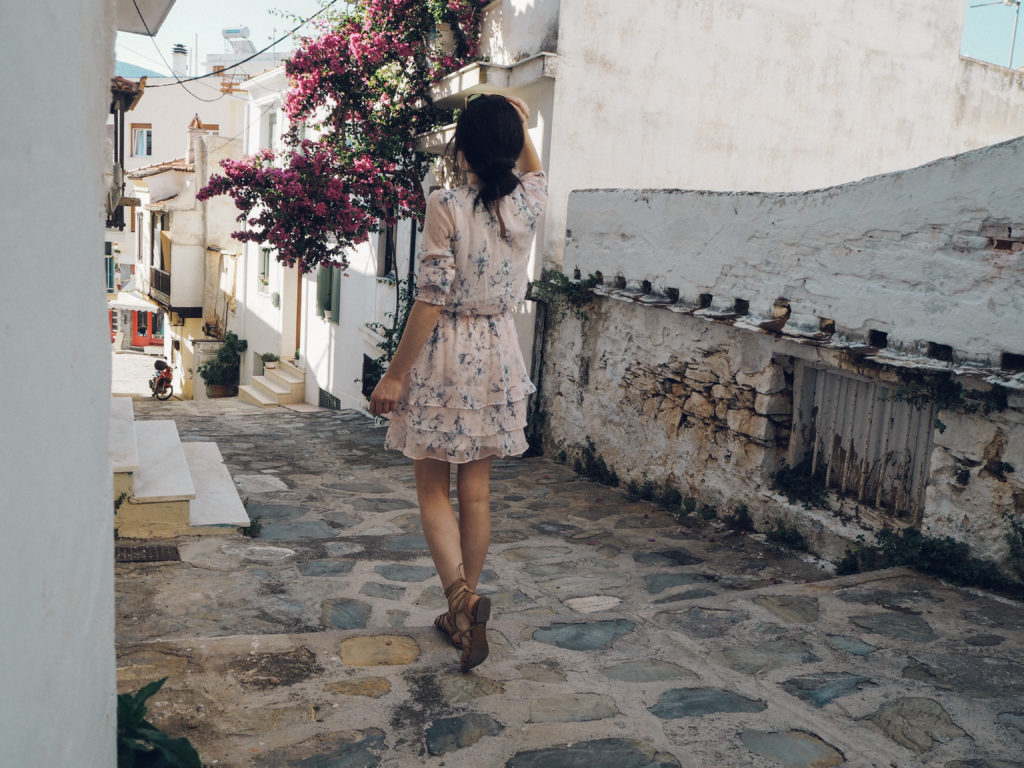 Outfit details: Dress by Y.A.S., Sandals by Steve Madden, Sunglasses by Ray Bans

Your Guide to Skopelos
---
Skopelos was the first port of call on my 7-day Seabourn Cruise through the Greek Isles. Although Skopelos is a large island to discover, with just one day to explore I concentrated my efforts around Skopelos Town, where most of the action happens.
Arriving at the port, I began to climb the steep and winding staircase on the side of the church, which leads to views of a hidden beach below and ultimately arrives at one of the town's best views. Here you will find a small restaurant offering juices, smoothies and light snacks (and also my favourite view in town – see below!)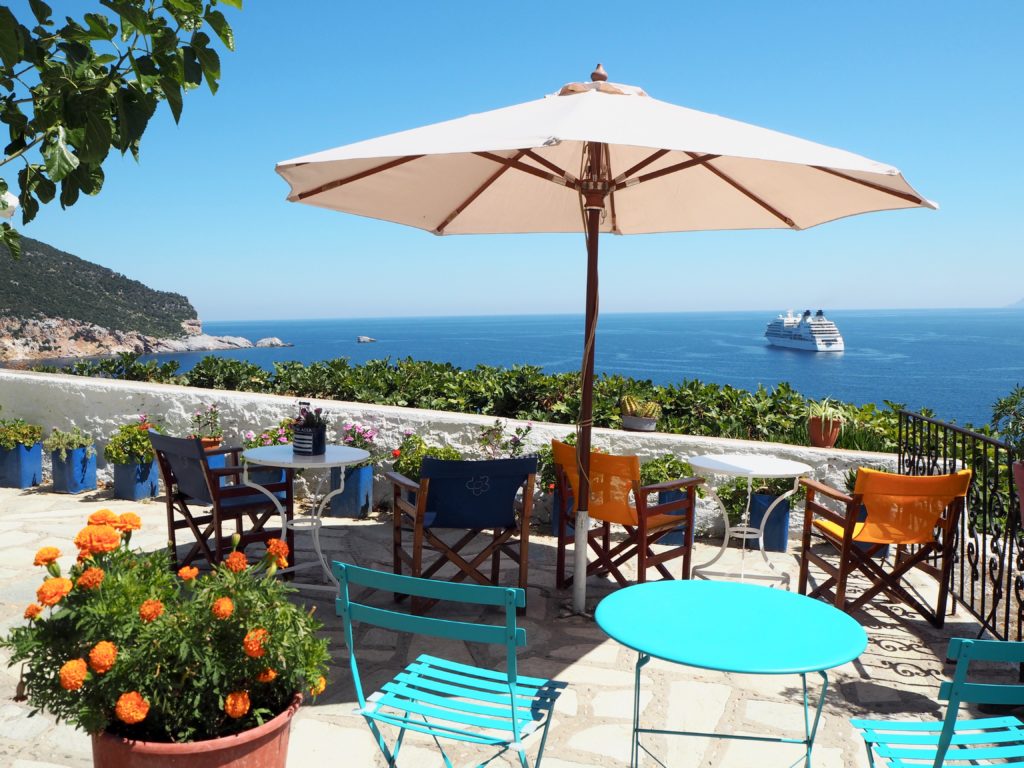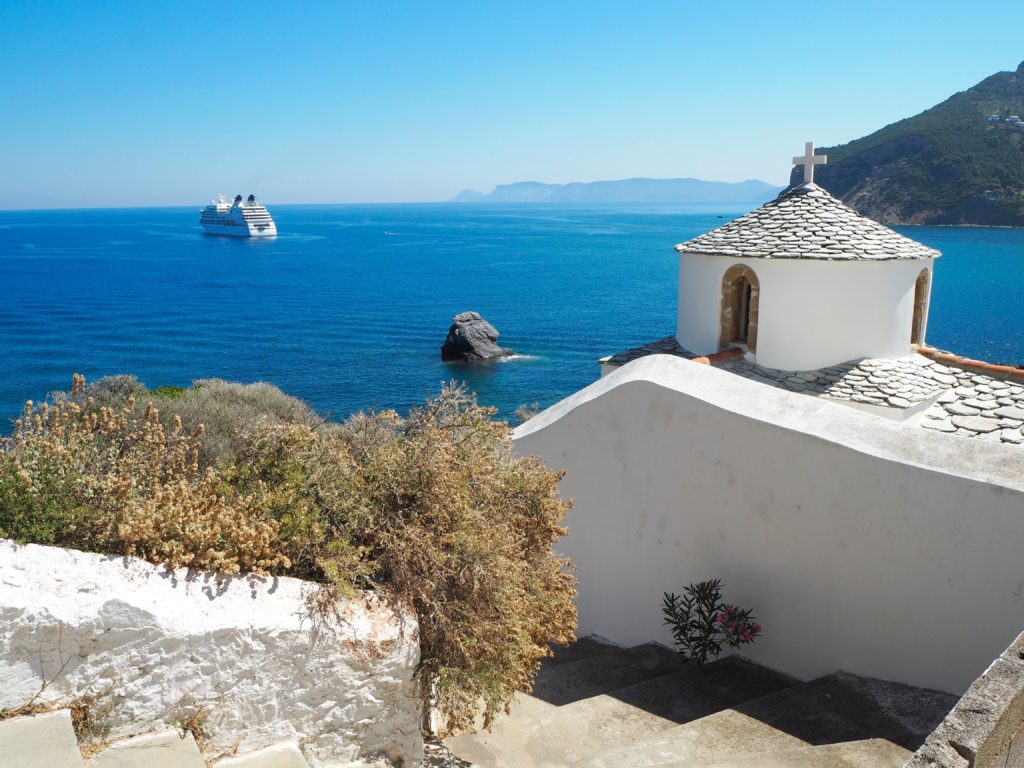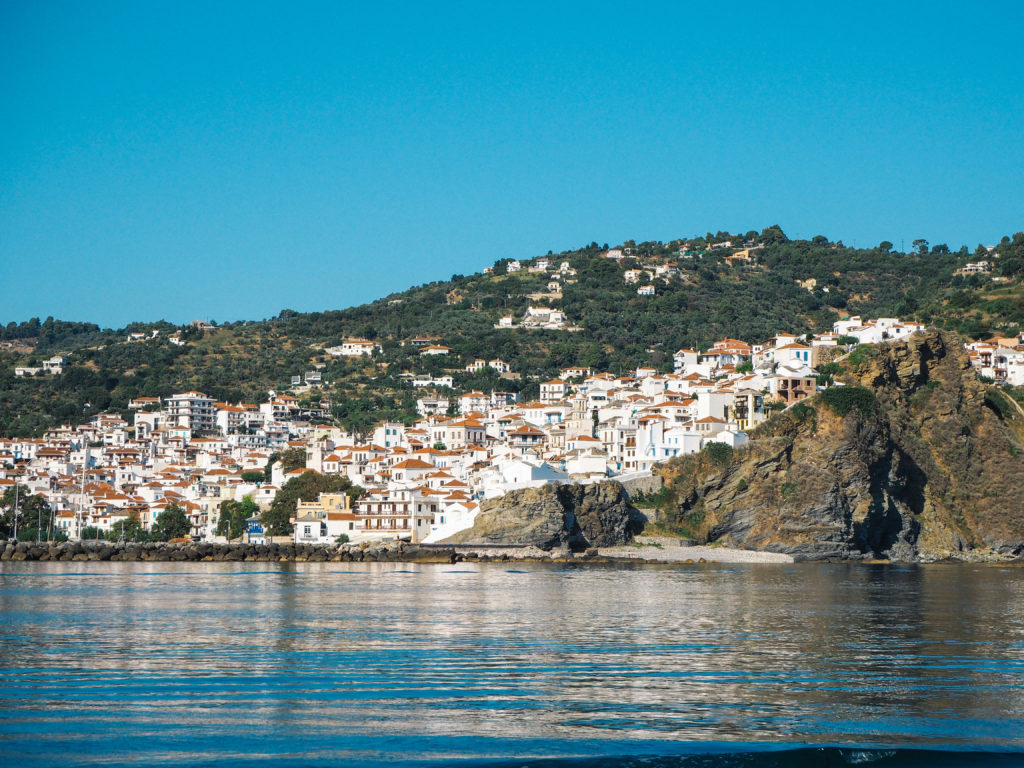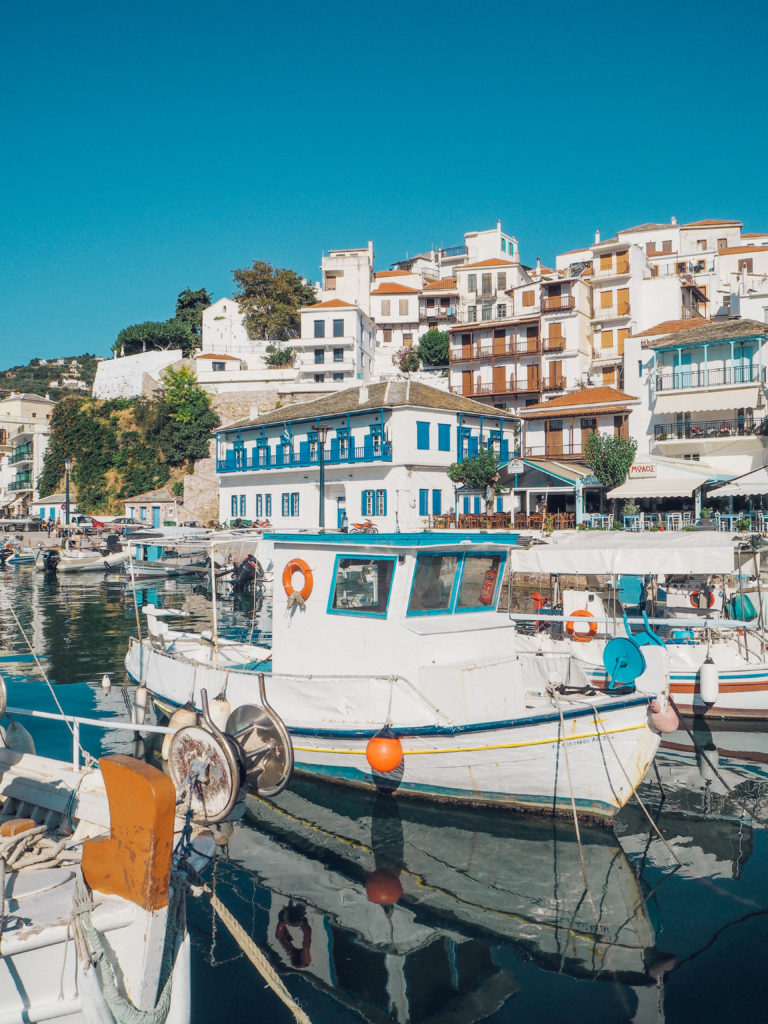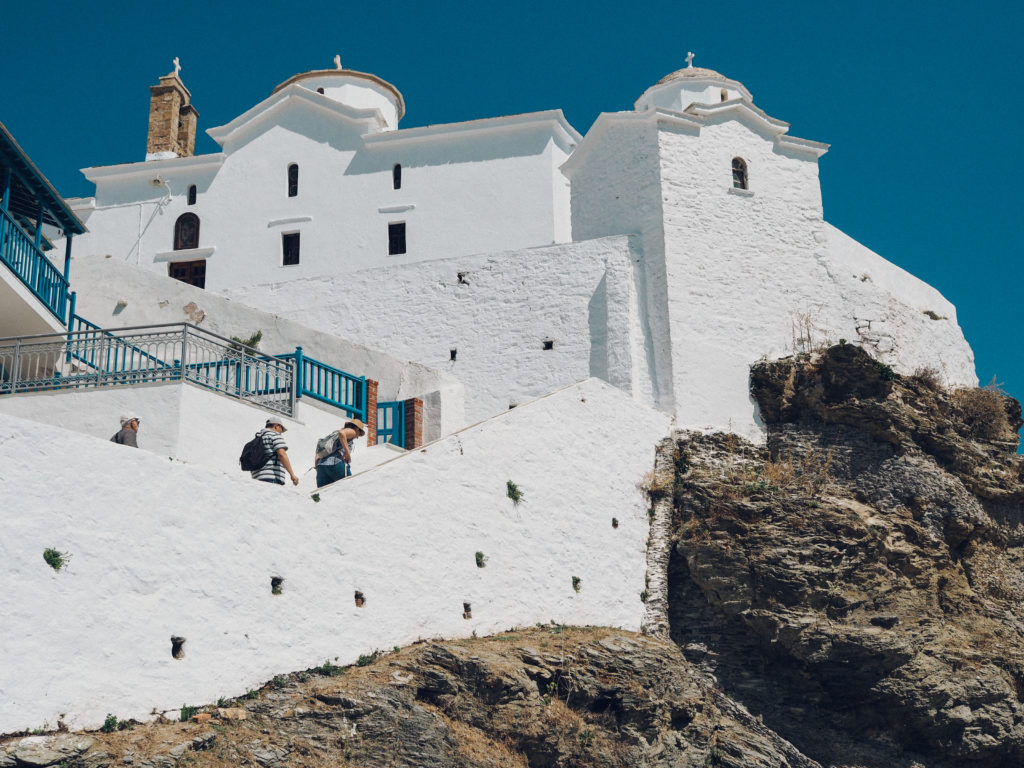 Things to Do in Skopelos
Although a less visited island in Greece, that is not to say that Skopelos is without its' own unique beauty to offer visitors. Without main attractions, the town of Skopelos is best explored on foot, without any destination or intent on arriving.
Panagitsa of Pyrgos (the church built in to the cliffside as you arrive at the port of Skopelos town) offers a great view of the hidden beach and ocean below. This is one of 360 churches on the island of Skopelos, many of which have been privately built.
Beach culture in Skopelos is still the most popular way to spend time, particularly in the summer heat that can soar to the likes of 40 degrees celsius.
Agios Ioannis is the most popular choice of beaches, thanks largely to being a primary filming location for the Mama Mia! film.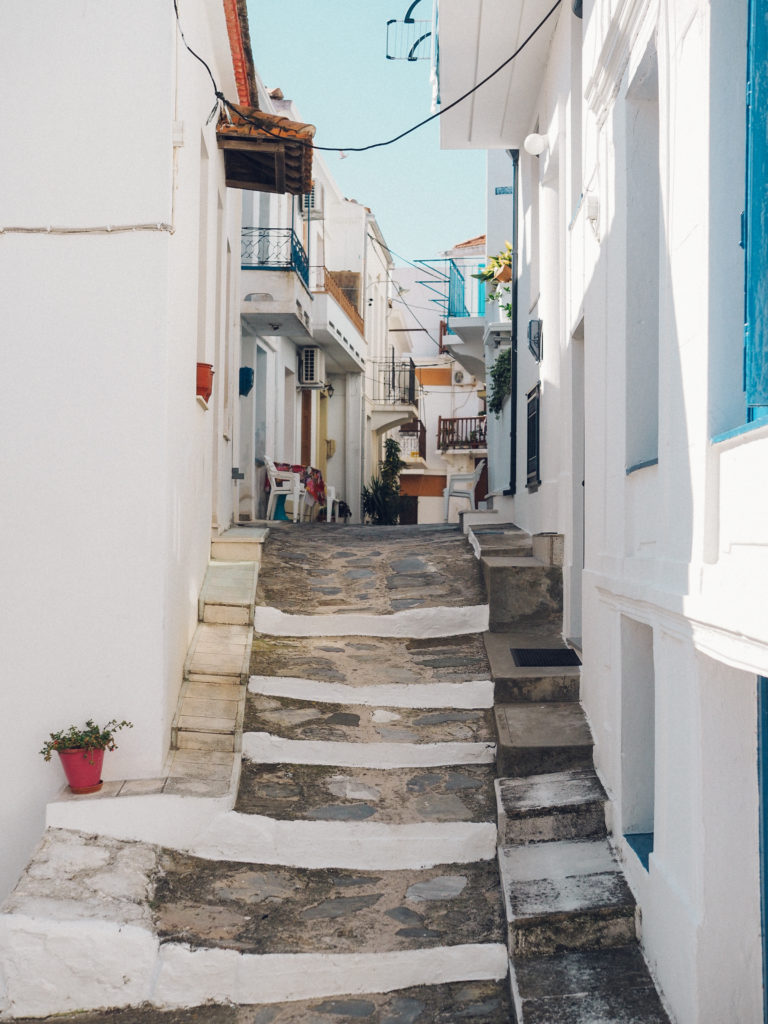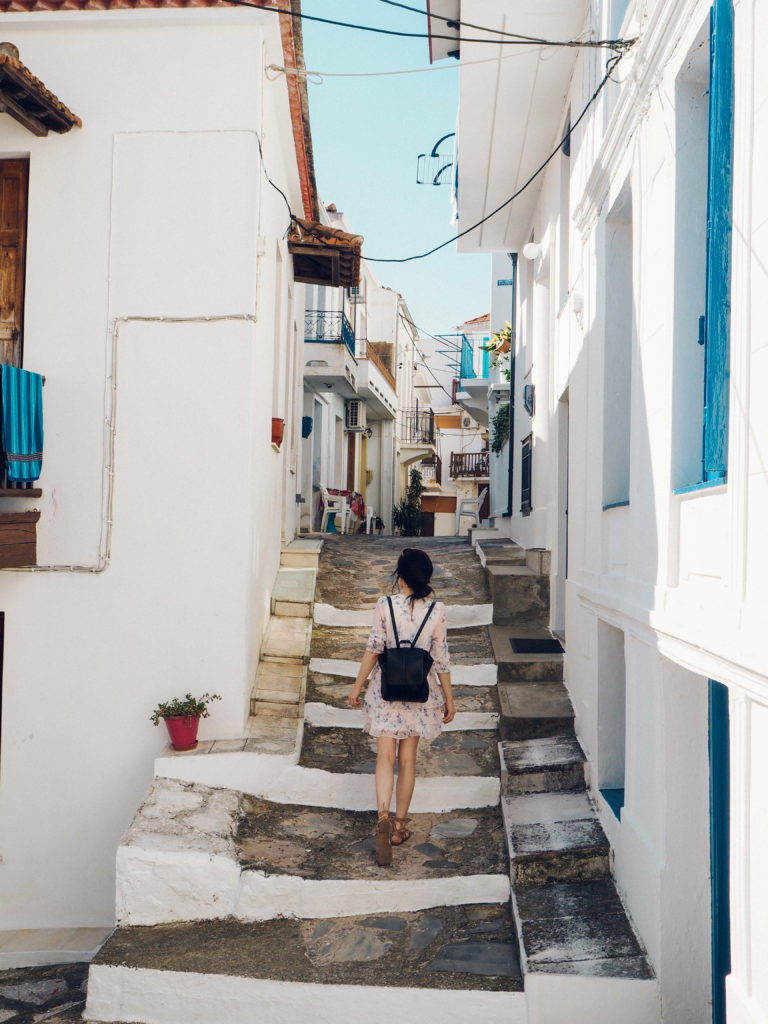 Eats & Drinks
If you eat just one thing in Skopelos be sure to make it a cheese pie, a local specialty that can be found in any snack bar.
Stafilos restaurant offers one of the most impressive views if you're planning a romantic evening out, with a strong seafood focus but thankfully some vegetarian options on offer also.
Molos is a great choice on the shorefront, particularly if you're after something more casual any time of day.
Cafe Bar Thalassa is my preferred choice for a light bite, especially for smoothies and/or yogurt and the most incredible view (pictured above).