Over on Ireland's southwest Atlantic coast lies one of the best kept secrets in Ireland. Rugged coastlines, dramatic landscapes and a friendliness that could only belong to small town folk are all characteristics of the Dingle Peninsula.
If you are looking for that real Irish experience filled with small towns, lively country pubs and endless adventures to be had on an extended road trip, Dingle is a great choice for your Irish adventures.
You will need at least a few days to explore the Dingle Peninsula but if you're making a trip all that way, you could easily fill 5-7 days in this rugged part of Ireland. Here is your complete guide to visiting the Dingle Peninsula in Ireland.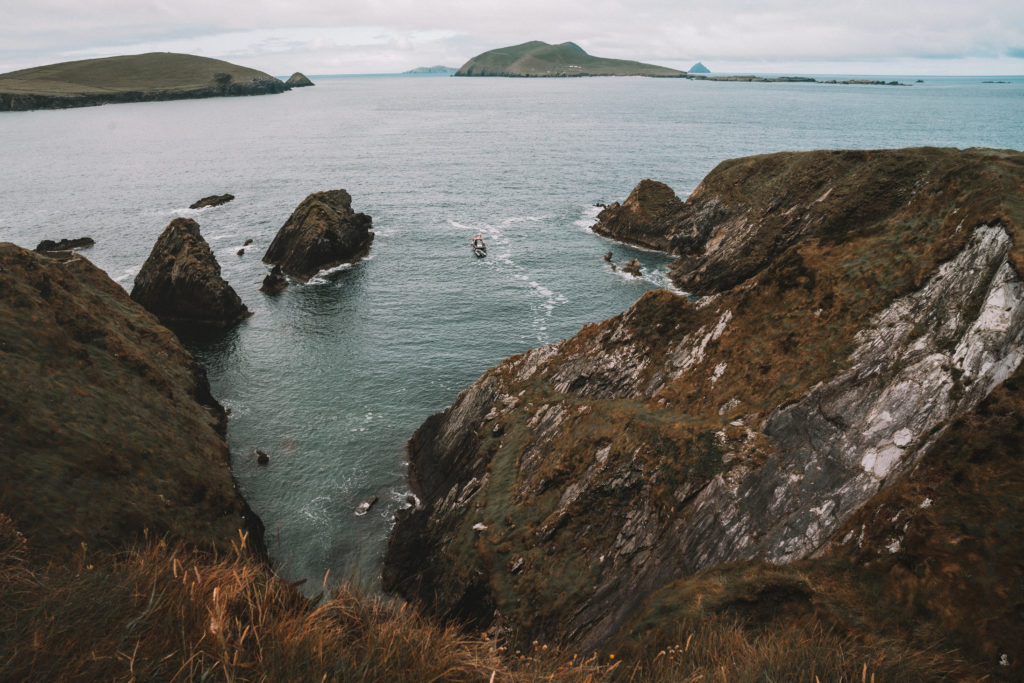 Dingle Peninsula, County Kerry
When I first visited Ireland five years ago I had just one week to explore what I thought were the highlights of Ireland. I was in need of an Irish road trip adventure, so I flew to Dublin and followed the roads to wherever they took me. I had nothing booked – no plans, no hotels, no offline maps at the time (maybe they existed but by then I was still a purist).
On that trip I ended up in random Bed and Breakfasts, asking locals for recommendations on what to do in the area and following an paper map to wherever sounded interesting by the name. I wound up on the west coast but much further North in Sligo, finally making my way down to Galway and back to Dublin.
On that trip I fell in love with Ireland and vowed to return one day. It was more the journey itself that I loved – meeting locals, travelling without a plan and saying yes at every opportunity. When I saw photos of the Dingle Peninsula earlier this year I promised myself out loud that this would be the year I would return… and here I am in Dingle!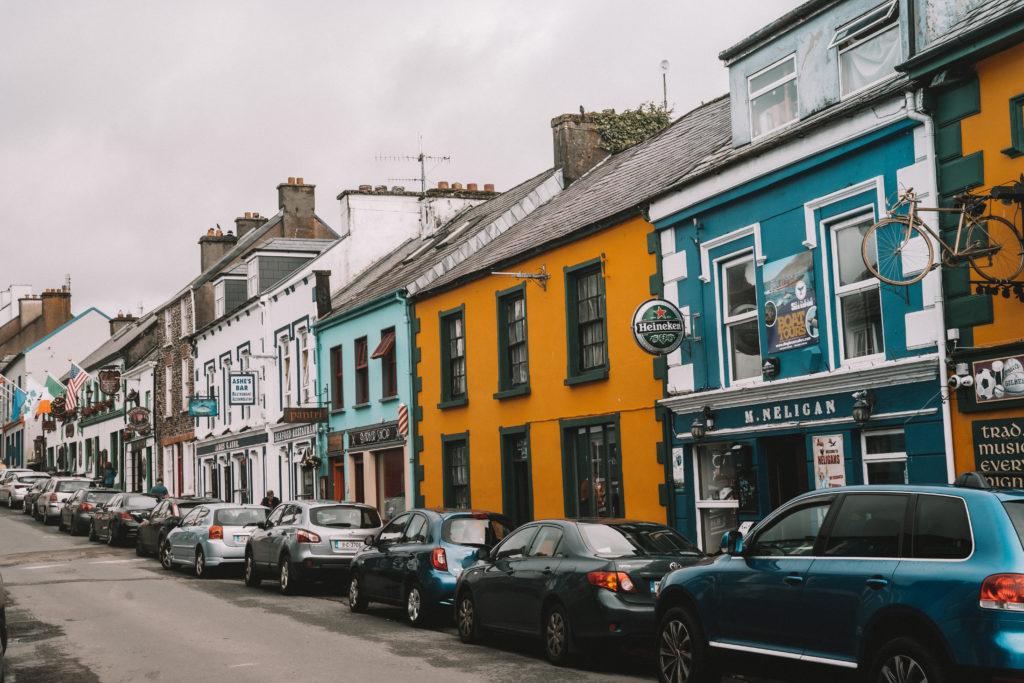 Stay: Dingle
If you are exploring the Dingle Peninsula there are many different accommodation types on offer, however most of them will be bed and breakfast guest houses in this part of the country. This is a great opportunity to arrive without plans, ask the locals for advice and follow it with flexibility as you will undeniably get side tracked on these winding scenic roads.
Dingle (the town itself) is a great base if you would prefer a mix of city and country. I chose to base myself here so I was close to the small boutique shops and cafes, but only a few minutes drive to the countryside and coastline. The town is small but full of cafes, pubs and boutiques like hat stores, wool stores, and so on.
The B&B I booked last minute was Barr Na Sraide Inn. Be careful if using maps to arrive as I did, because there is a tiny town also in Kerry by the same name. Save yourself 2 hours of driving and just get the locations to Dingle (the inn is located on the main strip). My room was around $200 AUD per night – not cheap but one of the more affordable options and it was really cosy. The buffet breakfast is an additional $10 but totally worth it for the unlimited coffee with a make-your-own yogurt parfait station that I definitely made sure I got my moneys worth!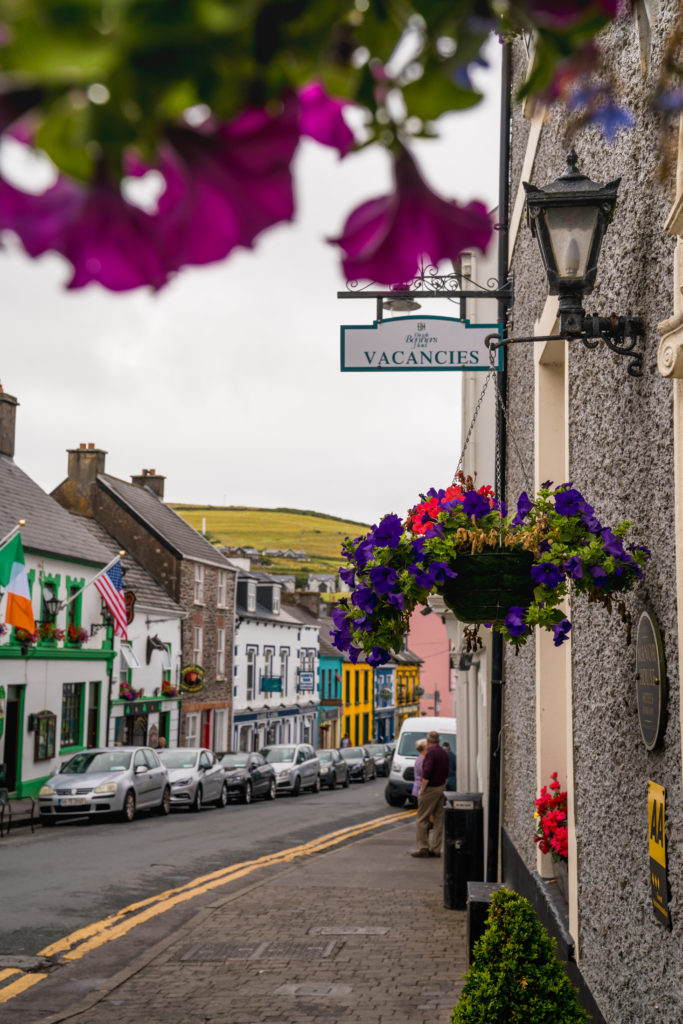 What to Do in Dingle
If you're staying for a few days or more, you will have plenty of time to enjoy the town of Dingle in the evenings. There are endless choices for pubs, restaurants, cafes and even a gourmet supermarket! Here are my top picks, tried and tested:
Pantri Cafe
When I arrived in Dingle late in the evening after two hours of missed directions on top of a four hour drive from Dublin, there weren't many options for dinner. The next day I decided to treat myself by finding the best cafe in town for a huge healthy lunch. Pantri is hands down the best cafe in town though sadly they close each day at 4:00pm so make sure you go for lunch.
Dick Macks Pub
Dick Macks is one of the most loved pubs in all of county Kerry. It has a really lively atmosphere and is always full of locals, so this is a great place to go for your iconic Irish pub experience.
Mad Hatters
I stumbled upon this boutique almost by accident but it was a fun place to discover nonetheless. The small boutique is home to hundreds if not thousands of hats of every variety.
Murphy's Ice Cream
I have heard on more than one occasion Irish people say they would travel to Dingle just to get an ice cream from Murphy's. This small ice creamery is so popular that not only do people travel to indulge, but it has also expanded to a shop in Dublin. Take my word for it – the flavours are incredible and you can tell a lot of thought goes in to making something worth travelling for.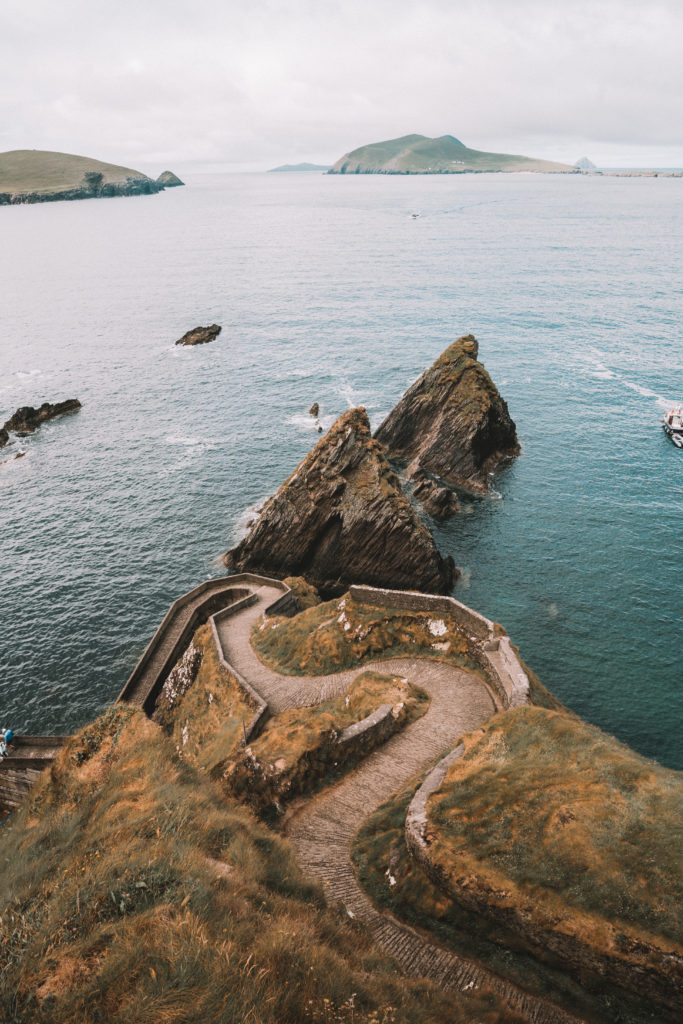 What to See on the Dingle Peninsula
The Dingle Peninsula has a relaxed vibe indoors, but outside of the pubs and cosy cafes there is a ruggedness that calls on adventure travellers. If you're looking for scenic spots, day hikes and great road trip ideas, see below:
Blasket Island Ferry
The iconic photo (above) is what drew me to Dingle in the first place. This narrow winding road is used as an access point to the Blasket Island Ferry. It is one of the most scenic points of interest on the peninsula.
Dunmore Head
Out in the westernmost part of the Dingle Peninsula is Dunmore Head, one of the area's most photogenic spots at sunset.
Mount Brandon
For hiking enthusiasts, look no further than Mount Brandon. This is a great half day hike that will give you sweeping views over the peninsula and ocean. The hike is 9-15km depending on the length you choose and will take around 4-5 hours to complete.
Ring of Kerry
If you are more of a leisure enthusiast then sit back and drive yourself toward the Ring of Kerry, commonly regarded as one of Ireland's most scenic drives.