Marrakech is chaotic and delightful, spellbinding, and a mysterious metropolis. It the fourth largest city in Morocco and has quickly become the most popular for travellers. Sometimes dubbed the 'Red city', Marrakech is bathed in a reddish pink ochre pigment. Two distinct areas make up Marrakech. There is the "medina" or old city, which is home to the markets and main Jemaa el-Fnaa square. Then there is the modern city, which is the residential and commercial side of town. Here is a quick guide to Marrakech to help you plan your visit.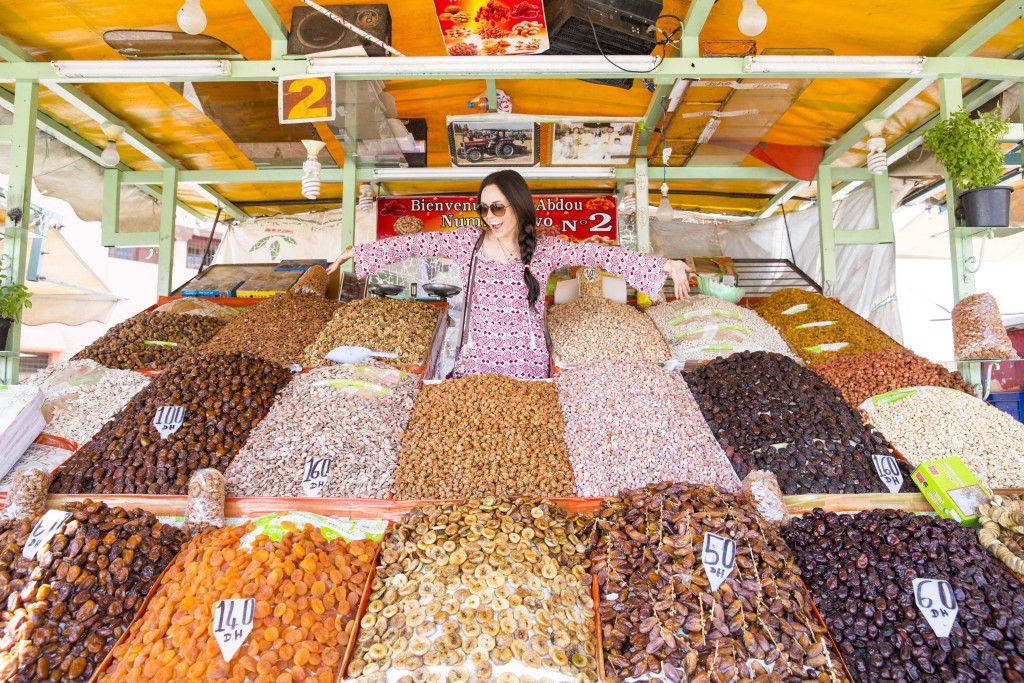 Population: 928,850+
Known for: History, opulence, chaos and charm
Climate: hot semi-arid climate, with cool damp winters and hot dry summers
A Quick Guide to Marrakech, Morocco
Prior to arrival
Marrakech is, by and large, a much more liberal city than many of the Middle East, but do consider that it is still a male-dominated, Islamic city – and it is important to respect the culture. Dressing conservatively and respectfully is a must, especially for women.
Unlike other cities in Morocco, basic English is more widely spoken and you will find that many shopkeepers and business people are multilingual (and very friendly!)
Almost all English-speaking countries (with the exception of South Africa) require no visa to enter Morocco, and visitors can stay for up to 90 days.
One thing to be careful of in Marrakech – snapping photos of street performers come with a price tag. You will be approached and hassled if you don't pay them some dirhams.
On Arrival
Marrakech is easy to reach, with direct flights from most European cities (including daily flights from many low cost airlines).
By Air: The main airport, Marrakech Menara airport, is only about 5km from the city. There is an airport bus (no. 19) every 30 minutes (cost = DH30 one way, DH50 return). Alternatively, take a Petit taxi (small cars that travel within the city, as opposed to Grand Taxis, which transport between cities) and this will take around 15-20 minutes. Be sure to firmly insist on knowing the taxi fare beforehand. Taxi drivers can be quite pushy and will likely quote DH100+, although the fare should not be more than DH60.
By Train: Marrakech is also accessible by train from most Moroccan cities. See www.oncf.ma for network timetables. Trains between Casablanca and Marrakech take 3 hours, while the train between Fes and Marrakech is a 7.5 hour trip.
Getting Around:
In the old city, everything can be seen on foot. Marrakech is a very walkable city!
Calèches (horse-drawn carriages, pronounced kutchee) can be found right near the main square Jemaa el-Fnaa and are an easy way to get a little further afield (rates are shown inside the carriages). There are also local buses that travel between the medina (old town) and ville nouvelle (new city). Petit taxis are also everywhere – but again, be sure to confirm the price or insist that the driver use their meter (compteur in French) for the journey. No journey should cost more than DH20 during the day, or DH30 after sun down.
A final option is to pay for a private, local guide for the day if you're really looking to learn more about this fascinating city! Our guide Abdullah (pictured above) from By Prior Arrangement made the day much more educational and enjoyable as we visited a local's ryad for tea, purchased rugs at cost price and even had local henna tattoos done outside of the square!
Getting by:
Although basic English is more understood in Marrakech than other Moroccan cities, learning a few basic phrases will always be useful for your visit.
Hello: As-salam alaykom
Excuse Me, Sorry: Ismahli
Thank You: Shukran
Bye: Ma`a as-salāma
What to See
There are so many things to see and do in this vibrant, unique city! Here is a shortlist of the absolute must's:
Jemaa el-Fnaa
Your first stop should be at Jemaa el-Fnaa – the ancient square and beating heart of Marrakech. It's a gathering point for locals, visitors, street performers, henna artists, fortune tellers, snake charmers, food vendors, orange juice carts… a happy and spellbinding melange of chaos! As the sun goes down, the square really comes to life. Smoke from the food stalls spiral high into the dusk sky, snake charmers play their eerie music and the open space floods with onlookers.
To take in the magic from above, visit a rooftop terrace to watch on with a mint tea in hand – Café du Grand Balcon offers a beautiful vista.
Beware of your belongings in the chaos here – pickpockets are rife, but do not let that stop you from visiting.
Wander the souk, spice markets and beyond
Adjacent to Jemaa el-Fnaa, you'll find the famous covered markets. Walk in and you'll feel like you have stumbling into Aladdin's cave. You can find practically everything here – conical piles of spices, bowls of olives, silverware, glassware, metalwork, leatherwork, textiles and fashion. An absolute must experience.
You may wish to consider walking around with a licensed guide, who will be able to navigate beyond the typical tourist track and show you hidden gems in the back streets of the Medina. Our wonderful guide Abdellah took us to Koutoubia Herbal for a fascinating, private lesson on the healing benefits of herbs and essential oils – along with reviving neck massages and henna!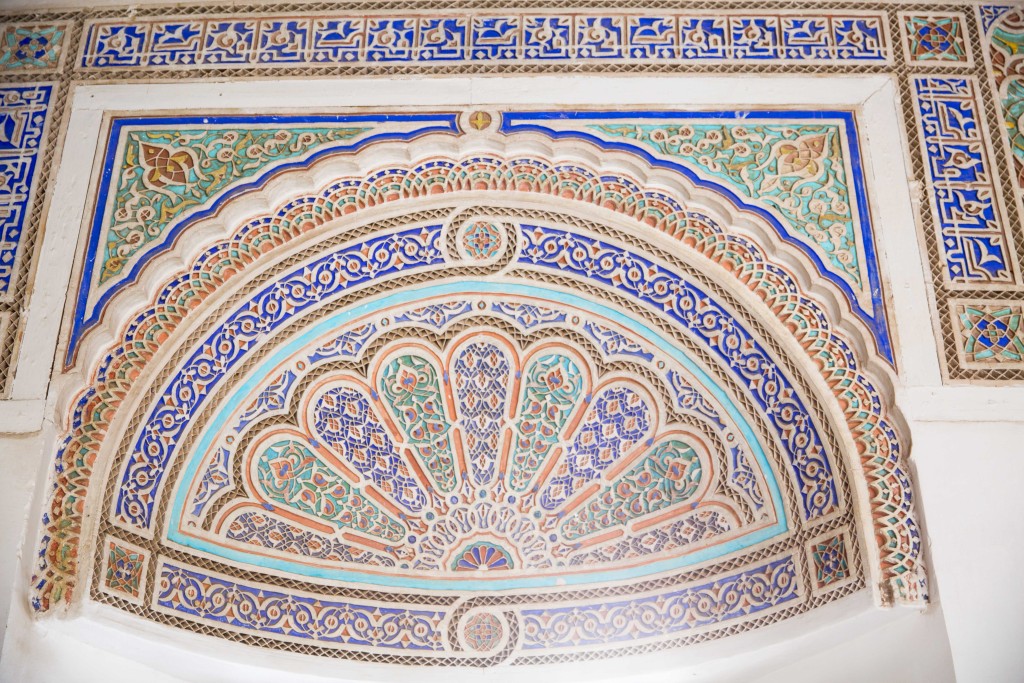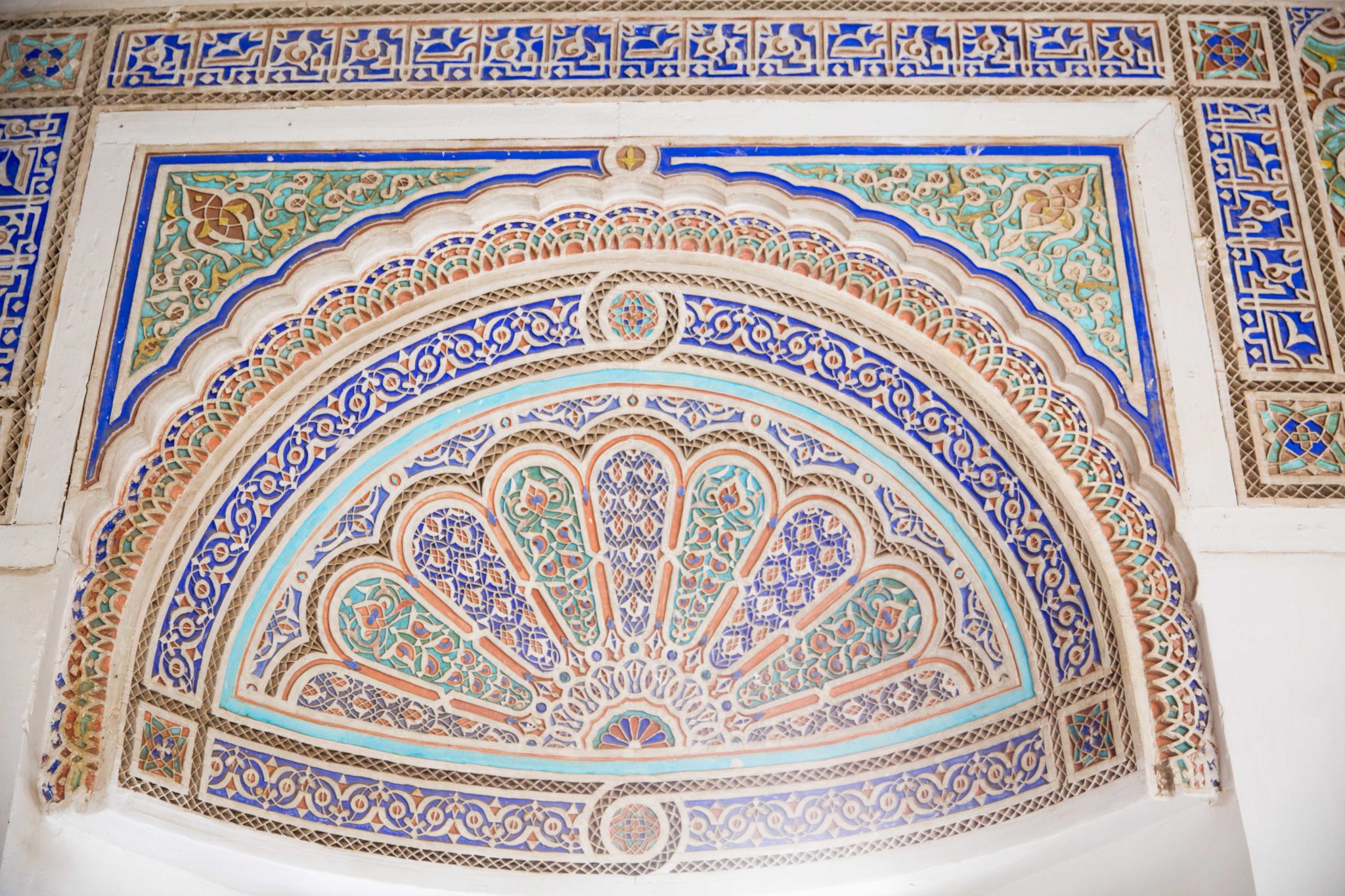 Bahia Palace
Be sure to visit this exquisite, architectural wonder from the 19th century (entry is DH 30) – you'll find a tranquil courtyard offering beautiful refuge from the chaos of Marrakech. Don't forget to look up – the ceilings are elaborate and beautifully ornate.
Majorelle Garden
A favourite attraction for many, this mature botanical garden was designed by French artist Jacques Majorelle during the 1920-1930's – a somewhat colourful desert oasis willed with 300 plant species from 5 continents, including an impressive collection of cacti plants scaling to the sky. Yves Saint Laurent purchased the garden to preserve the original vision, and later gifted the garden to the city of Marrakesh. Yves Saint Laurent's ashes were scattered in the garden in 2008.
Koutoubia Mosque
Unquestionably an iconic symbol of Marrakech, the Koutoubia Mosque is a twelfth century minaret and is beautifully lit by night. Non-muslims cannot enter the mosque, but the tower can be observed from afar from almost any viewpoint in the city.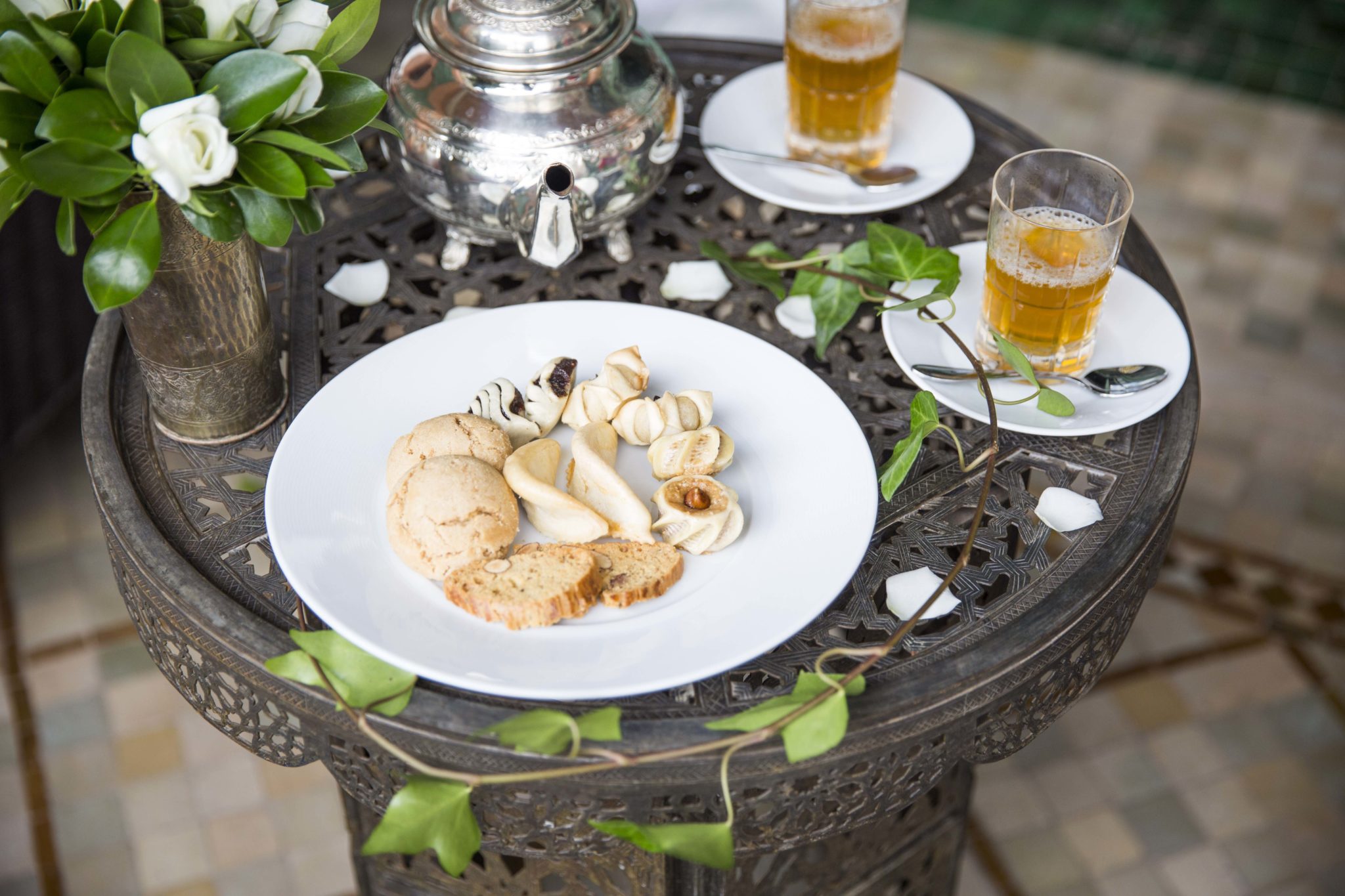 What to Eat & Drink
In the ethos of eating dessert first, we heartily recommend visiting the Patisserie des Princes just off the Jemaa el-Fnaa main square – this is our pick as best patisserie in Morocco. Pastries are purchased by weight. We love the almond biscuits (Ghriba) and Briouats (pastries stuffed with almond paste)
Moroccan cuisine has come from a mix of Mediterranean, Arabic and Berber cuisine. Spices feature prominently – as does mint, olives, almonds, dates, olive and Argan oils, and couscous (tiny granules of durum wheat). Don't leave Morocco without trying a quintessential Tagine – the staple Moroccan dish, a slow cooked stew made with vegetables and meats.
Mint tea is an unparalleled tradition and strong cultural icon. Also don't miss out on an orange juice, freshly squeezed right before your eyes!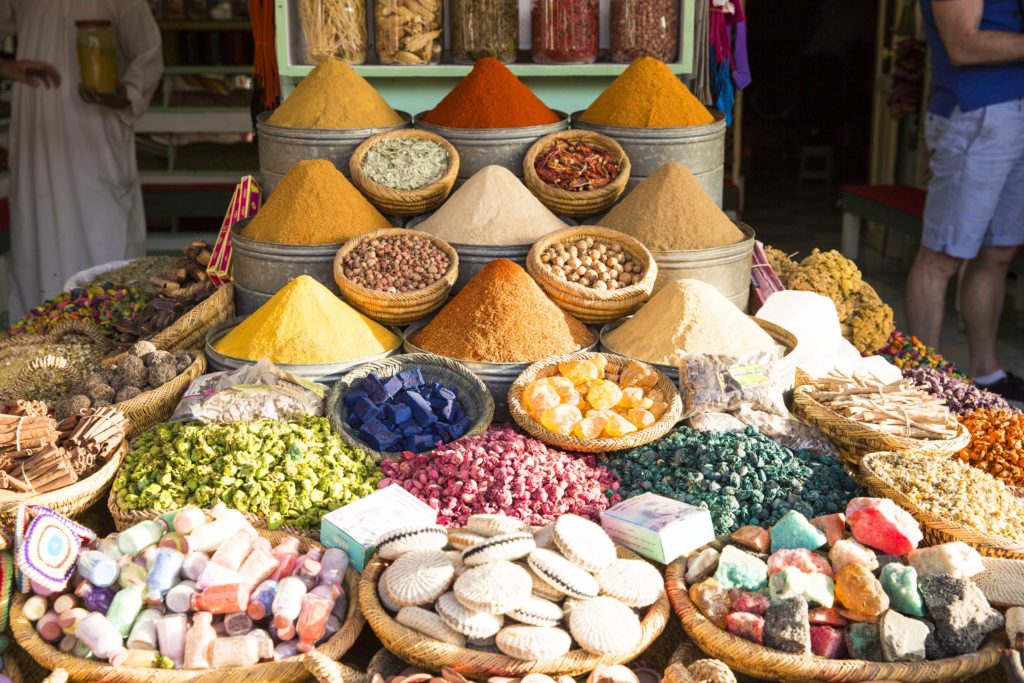 Get Out
Beyond Marrakech are a plethora of incredible experiences awaiting. Consider visiting seaside down Essaouira (2.5 hour drive from Marrakech) or make your way to the High Atlas Mountains, and then on to the Sahara.
World of Wanderlust recently travelled to Morocco as a guest of By Prior Arrangement.