If there were ever an institution in Paris as dedicated to the sweet life as Angelina, I would love to hear of its existence. Angelina is one of the most renowned tea houses in Paris, having established itself in 1903 and continuing to wow customers and loyal clientele to this day.
For more than a century the tea-house has welcome Parisian aristocrats, celebrities, and dedicated sweet enthusiasts through its iconic wooden doors opposite Jardin de Tuileries. Of course nowadays there are a number of Angelina's throughout Paris and even now in other countries, but nothing comes close to scheduling a rendezvous at the original Angelina itself.
Visiting Angelina Paris
In the summer you will have to patiently wait in a queue just to get in the door (it really is that popular) but in the winter you can not only enjoy less crowds and wait time, but also delight in the winter warmer that the tea house is so famous for: the chocolat chaud.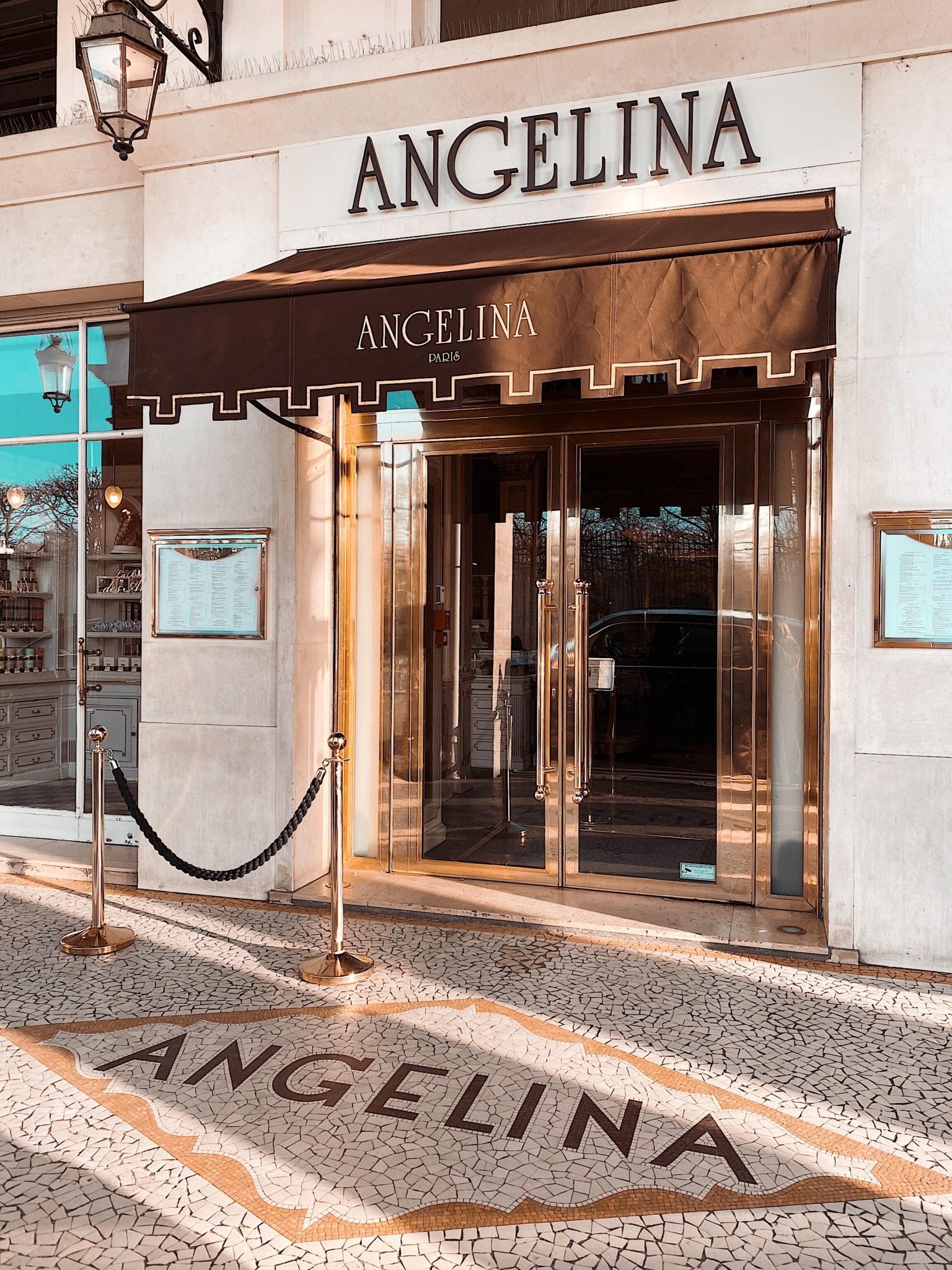 There's no denying that Angelina is a cliche: a typically french patisserie in an enviable location and widely recommended by guidebooks and fans alike. However if you're looking for the best hot chocolate in town, a fantastic pastry selection and are happy to pay more than you should to indulge, then there's no way you should miss a visit to the famous tea house on your visit to Paris.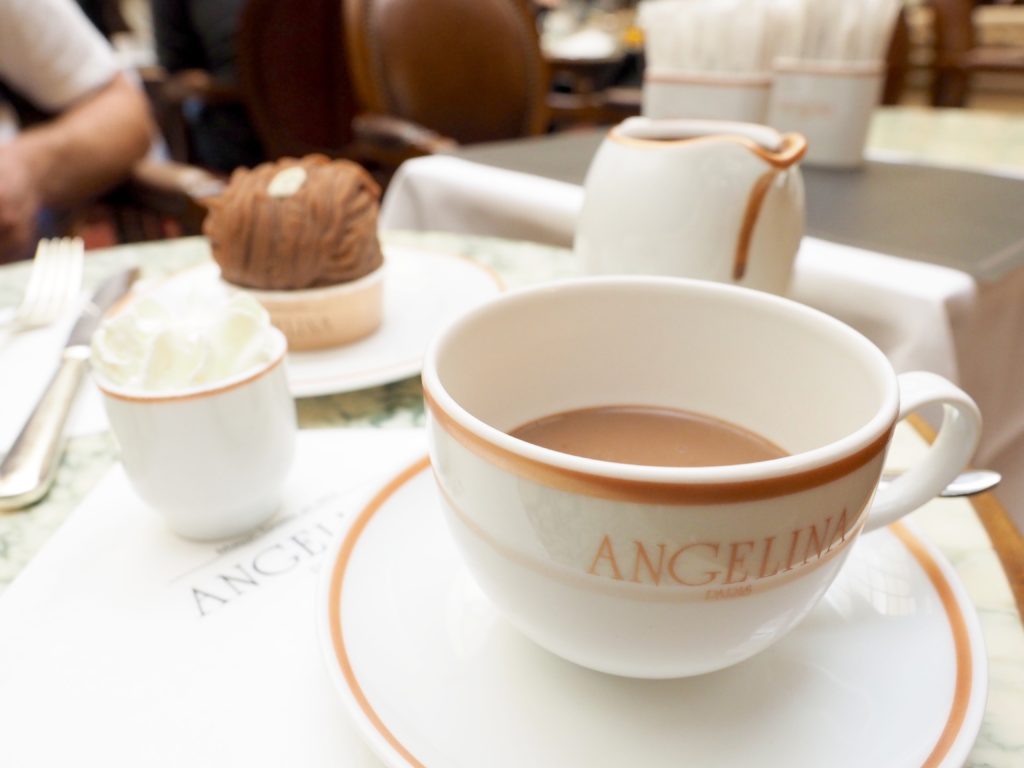 Chocolat Chaud
Let usbegin with the menu item Angelina is most famous for: the incredibly thick, rich, and somehow not overbearing chocolat chaud à l'ancienne dit "l'Africain" (or simply, the old-fashioned hot chocolate). At 8.20€ a piece it doesn't come cheap, but the hot chocolate is a dessert in itself and comes with a serving of fresh whipped cream on the side to allow you to sweeten the drink to your liking.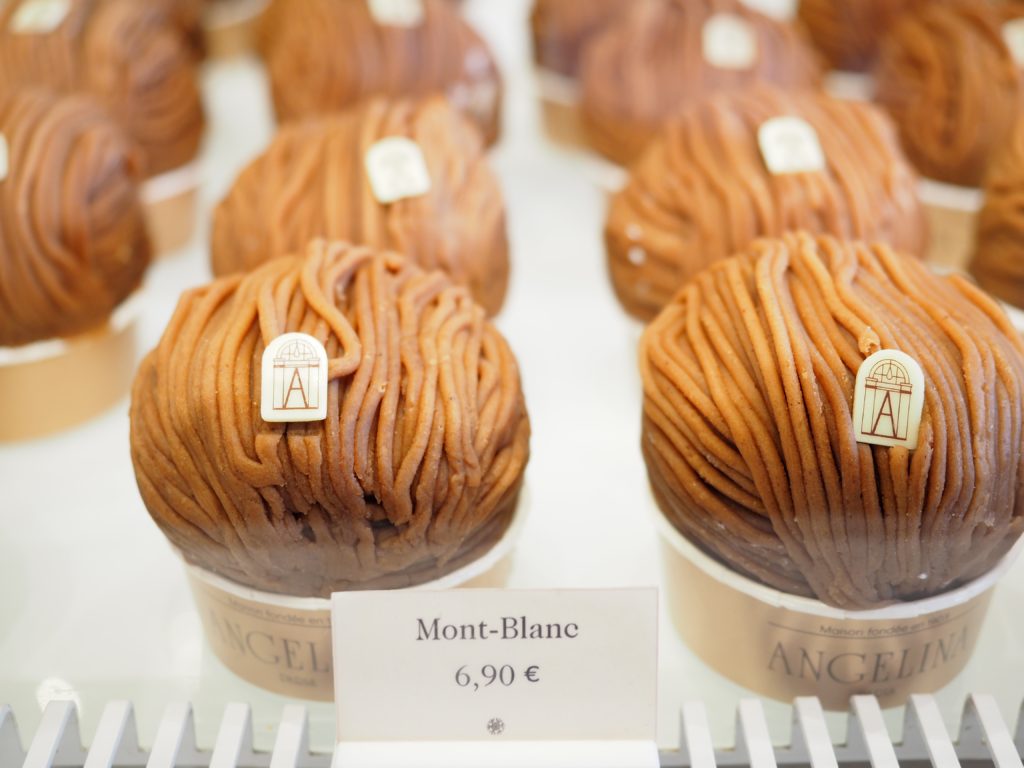 Mont Blanc
Another classic on the menu is the highly celebrated "Mont Blanc" pastry dessert, which is the dessert Angelina is most famous for (perhaps equally to the chocolat chaud). The dessert describes itself as a meringue with light whipped cream and chestnut cream vermicelli. This is a pretty loose description of what I would like to call an incredibly indulgent, thick consistency, extremely rich dessert which does not leave you any room for hot chocolate. Be sure to choose one or the other (or visit twice) as both the chocolat chaud and mont blanc are incredibly rich and overly infulgent. To dine in you will pay 9.20€ or to take-away 6.90€.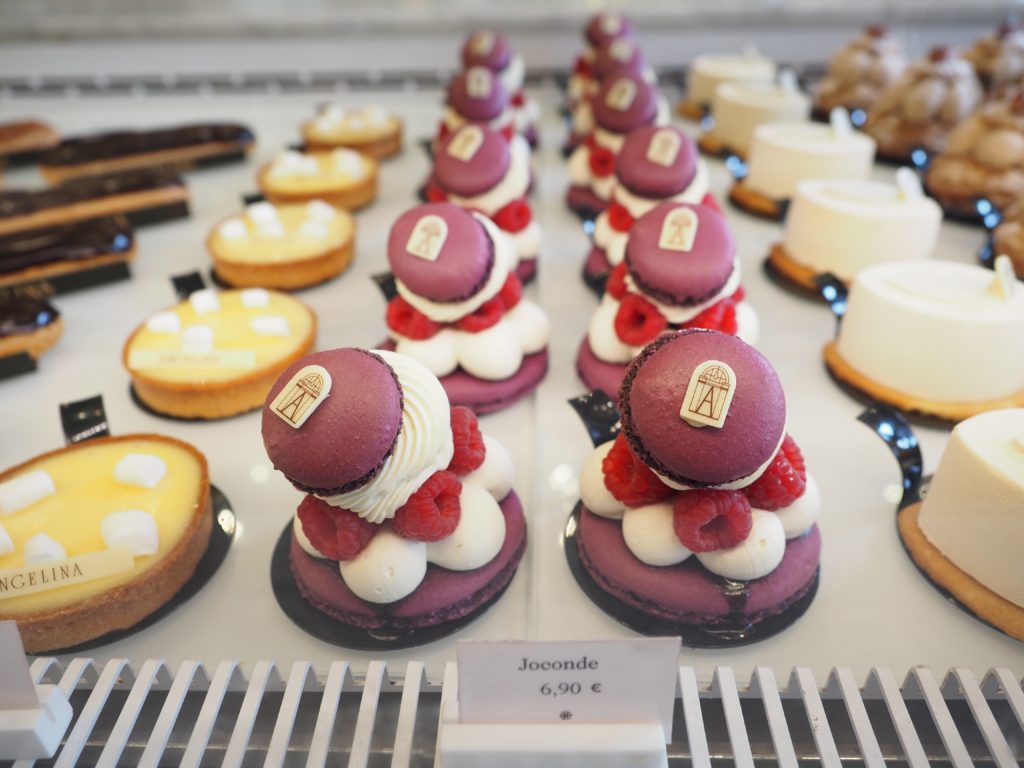 Joconde
If you're looking for a sweeter and much lighter dessert (although still incredibly indulgent), then you can't go past the colourful creation known as a Joconde. This dessert consists of a macaron base and top, filled with cream and raspberries. Although it might look light and fresh the dessert is still plentiful, so perhaps better to share! The price is 6.90€ to take away.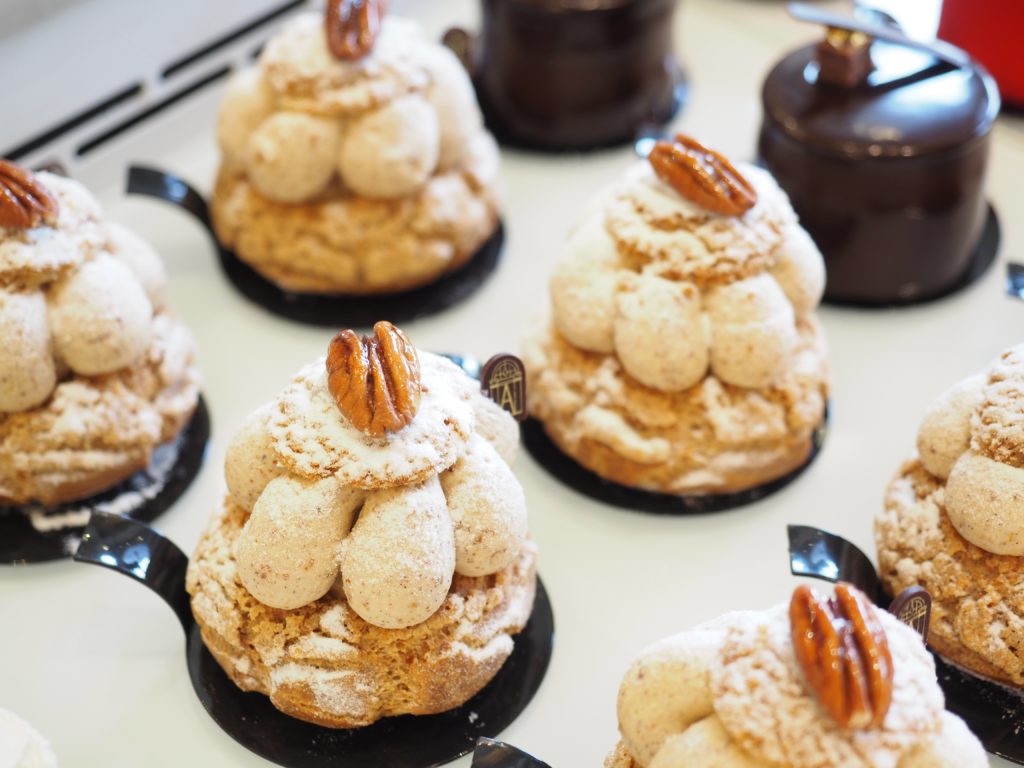 Paris-New York
Another gorgeous dessert from the pastry selection that caught my eye was the Paris-New York. This dessert considers itself to be a chou pastry with pecan praline light cream and a crunchy pecan praline centre. For those of you with a sweeter tasting palette (and less rich), this would be my dessert of choice. The price is 9€ to dine in or 6.90€ to take away.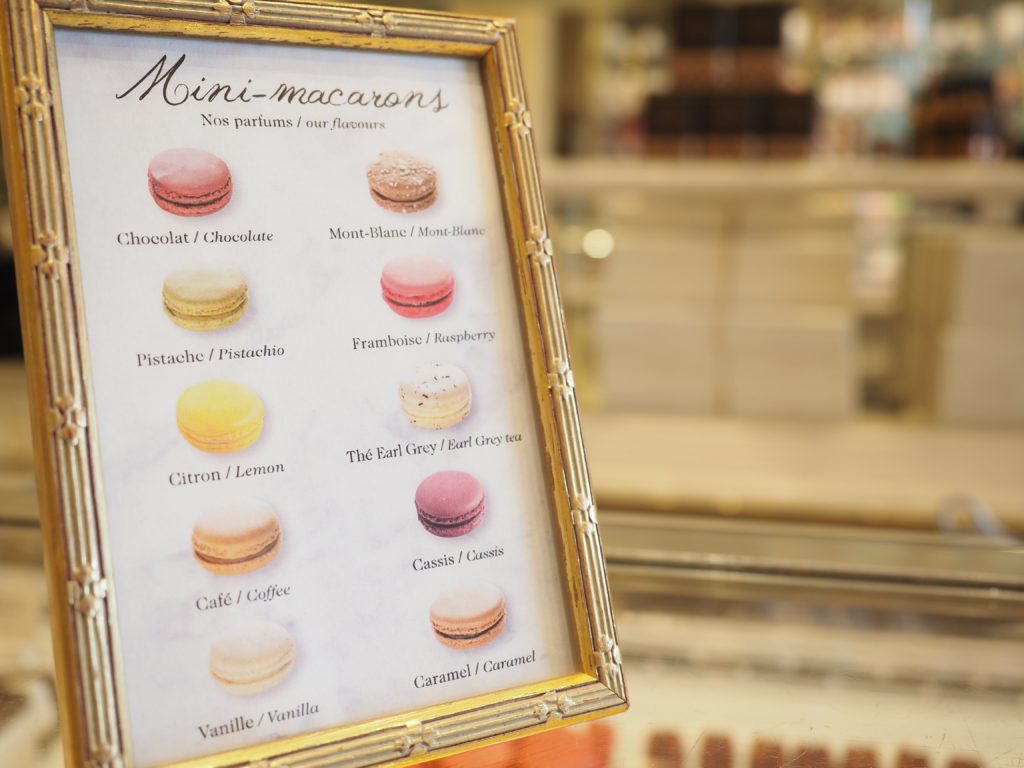 Macarons and Ice Cream
Angelina also sell a range of macaron & ice cream flavours, though if you ask me neither of these are much to rave about and you will certainly find better on offer throughout Paris (Carette for macarons & Berthillon for ice cream).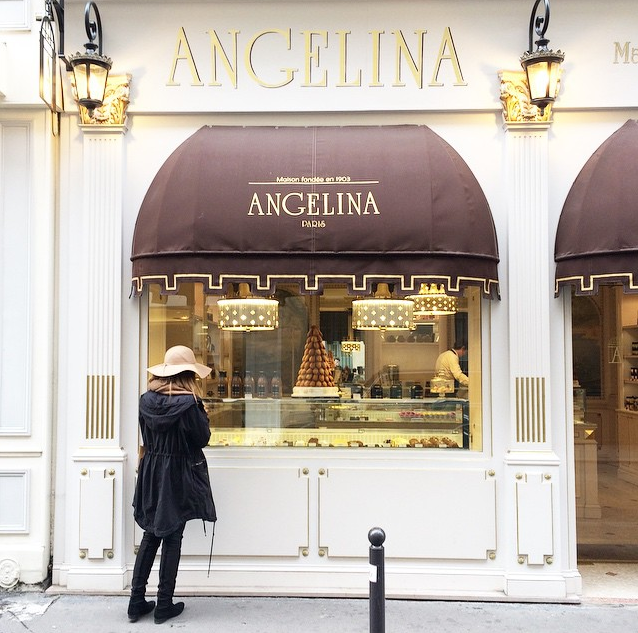 Locations in Paris:
Paris Rivoli
226 rue de Rivoli
75001 Paris
Paris Rive Gauche
108 Rue du Bac
75007 Paris
Versailles – Pavillon d'Orléans
Château de Versailles, 1st Floor at Pavillon d'Orléans
78000 Versailles
Versailles – Petit Trianon
Parc du Château de Versailles, Petit Trianon
78000 Versailles
Musée du Louvre
Musée du Louvre, Aile Richelieu, Café Richelieu
75001 Paris
Aéroport Paris-Charles-de-Gaulle
Terminal 2E et S3
95700 Roissy-en-France