Stumbling across cheap and delicious food is a win on any given day, but especially so when you find yourself on the beautiful but outright expensive streets of Amsterdam. The good news is there are plenty of great street food stalls and hole in the wall friteshuis' to discover, so without any further convincing, I present to you the best cheap eats in Amsterdam!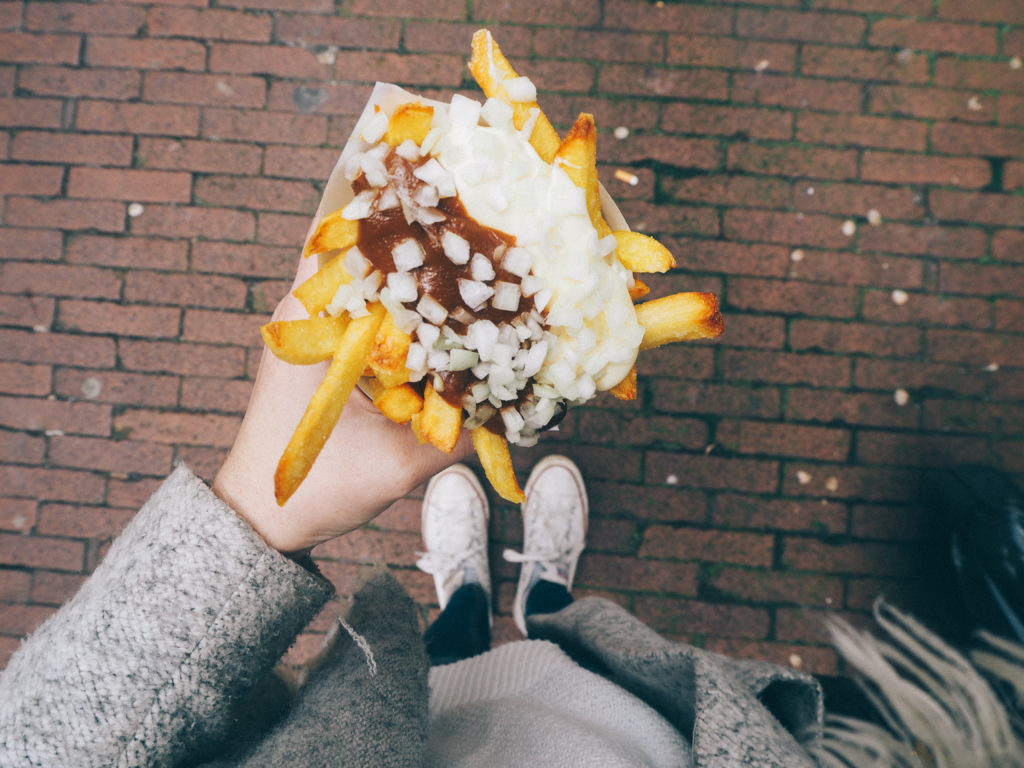 The Best Cheap East in Amsterdam
Vlaams Friteshuis Vleminckx
Hands down the best fries in all of Amsterdam and according to their sign, "The Best Frites in Holland". While I haven't tried all of the fries in Holland myself, I can say with certainty that these are some of the best fries I've had in my life. You can opt for the traditional "patatje oorlog" (fries topped with peanut satay sauce, YUM) or for any number of combinations (you can't beat ketchup and mayo if you ask me!)
Vlaams Friteshuis | Voetboogstraat 33, 1012 XK Amsterdam
Price: €2.90 for a medium serve, €0.70 per sauce (cash only)
Greenwoods Keizersgracht
Located on the Keizersgracht is a great little find for that in-the-know. This would be my first choice for brunch or breakfast in Amsterdam, and for an Australian who is spoilt for choice back home, that's a pretty big call to make! The cafe is super accommodating for veggies and vegans, making this one of my top spots for cheap eats. (Hot tip: Greenwoods is also located on Singel canal).
Greenwoods Keizersgracht | Keizersgracht 465, 1017 DK Amsterdam
Burgerlijk
Cheap and burgers are usually two words you'll see together, but the good news is these burgers are good, too. When I stopped by Burgerlijk they had sold out of veggie burgers, but a local expat assured me these are some of the best burgers in town – or at least in the touristy areas of Amsterdam of which you are likely to find yourself on vacation. Check out their instagram for some drool worthy pics.
Burgerlijk | Runstraat 1, 1016 GJ Amsterdam
Price: €5.50 for a base burger, additional for cheese, sauces and frites
PIQNIQ
I do love a resident cafe cat and at PIQNIQ you'll be welcomed as a guest in Pedro's home. Although the food is nothing to write home about (not bad by any means but nothing super special), I have to mention PIQNIQ for being one of the cutest little cafes in Amsterdam. This place is usually packed so be prepared to wait for a table if you come at peak times.
PIQNIQ |Lindengracht 59 hs, 1015 KC Amsterdam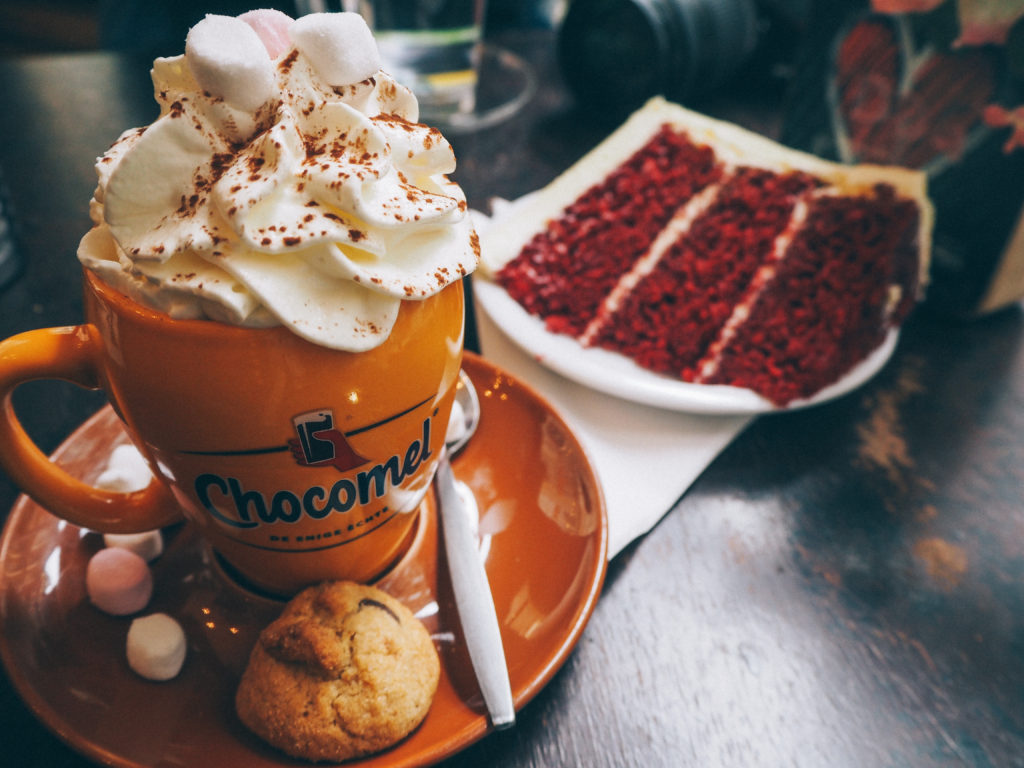 De Drie Graefjes
When I read online that this was "the best red velvet cake ever", I knew immediately that I would have to go and check it out. While the red velvet cake wasn't quite all it was cracked up to be, the hot chocolate gave me faith in the reasoning behind this cafe's superstar rating online. Its cute, cheap, and full of cakes. What more could you need!? It is no secret this is one of the best cheap eats in Amsterdam. Thanks to my local friend for showing me!
De Drie Graefjes | Rokin 128, 1012 LC Amsterdam
Price: €4 for a slice of cake (which is so huge you'll need a takeaway bag)
Jacketz
Want cheap food that will fill you up? You can't go past a hot jacket potato (seriously, who has ever had a bad one of these babies!?!?) Jacketz is home to just this and you'll be sure to thank me later. The toppings are plentiful and generous – but best of all, its cheap!
Jacketz | Kinkerstraat 56, 1053 Amsterdam
Vegan Junk Food Bar
This place is beyond words. And it is no surprise I have named it one of the best cheap eats in Amsterdam. One of my readers (shout out to Taylor!!!) thought to take me here and I've gotta say, it was one of those meals you're so happily confused about that you're almost certain you will talk about it for months to come. Not knowing that vegan food could taste so good, I was pretty hesitant at first. How wrong I was. From burgers to cheese croquettes and all of the delicious deep-fried goodness one could imagine, this place was ridiculously tasty. The only down side? Vegan food will never taste the same again.
Vegan Junk Food Bar | Staringplein 22, 1054 VL Amsterdam
Price: €8.50 for a deliciously filling burger
De Vier Pilaren
Pancakes, anyone? Here's where you'll find some of the best in town AND they're cheap. Located near Vondelpark (which isn't far from the Rijksmuseum and Van Gogh museum) is this cute little pancake eatery that tastes as sweet as it looks.
De Vier Pilaren | Stadhouderskade 11, 1054 ES Amsterdam
Plan your trip to Amsterdam: