Here are the best things I discovered this year. They range from books to a fancy little tripod the size of my left hand (not that my right hand is any bigger) and even a pot of wipes that make your nail polish disappear. Each item has a purpose and serves it well for travellers. Here they are…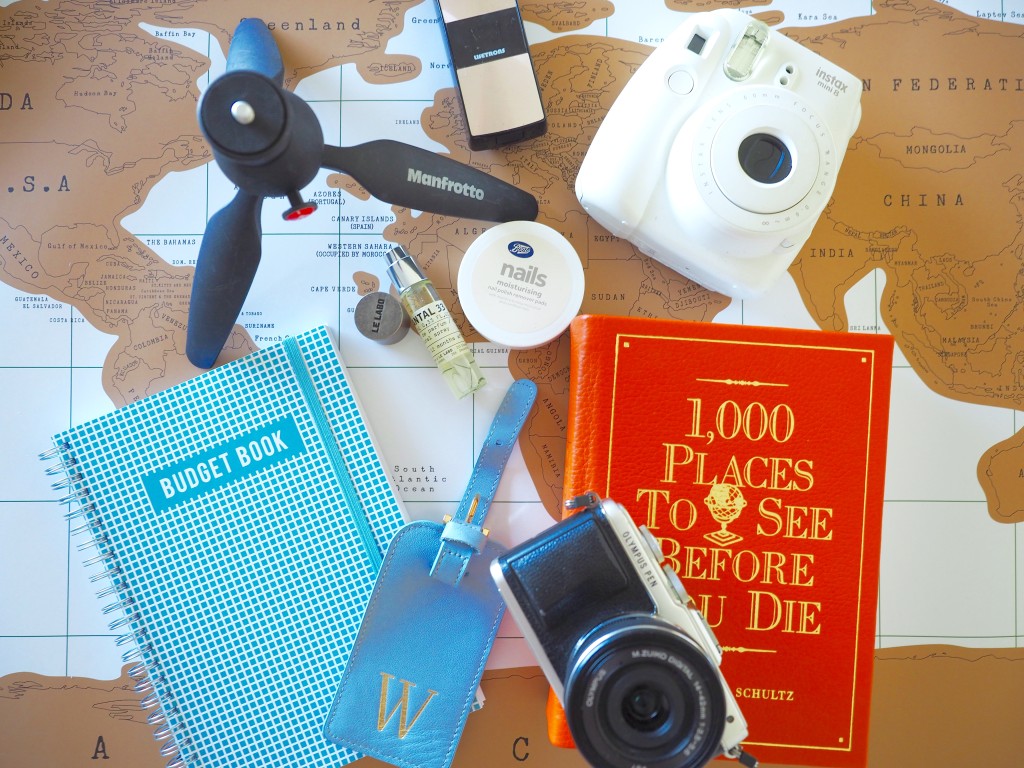 1. Budget Book
I've never been too bad at saving money, but spending money is a completely different story. As a self proclaimed advocate of the "Work hard, Play hard" mantra, I have a slight issue when it comes to budgeting with the money I have spent so long saving! So this year I purchased a Budget Book from Kikki K to keep track of the money I spend each day whilst travelling. This has helped me to realise a few things: firstly, I spend a lot of money on ice cream. Secondly, I seem to view my credit card as a magic card that doesn't have an end point. Thirdly, that while I spend a lot of money on ice cream, I don't spend much money at all on 'real food'. Point being: I can track where I'm going wrong (or right, depending on which way you look at it).
After grabbing the wrong bag off the carousel one too many times, I have finally invested in a luggage tag from Graphic Image. Its fancy and I love it.
3. Olympus PEN Camera
I don't even know where to begin to explain my love for this camera. A number of you that I have met in person have asked more about it, even saying "is that REALLY all you use!?" because YES it is small and YES it has a whole lotta quality going on in such a small package. Oh… and YES that really is all I use for vlogs and some photos (switching for my Olympus OMD 5 Mark II for landscape photography).
I'm always searching for new inspiration and it seems that my usual route of the interwebs is failing me of late, with so much faffy information (I'm mostly disgruntled by the photos that are beautiful but are of an entirely different place to the name of the photo), I've decided to revert back to what I know best: books.
I have a pretty long history with tripods – now having lost a total of THREE (3) adaptors that click into your camera and attach to the tripod itself. Each of these tripods now having been rendered useless (the parts are really hard to get a hold of), I have found the solution: a mini tripod. It is also much lighter, much cheaper, and damn cute.
My obsession with instant photographs made a return this year, having previously owned a Polaroid 600 (they're from the dinosaur age, are huge and heavy to carry around). Now I just use this lil' thing and it works a treat.
I never ever ever ever last a day with just one phone battery so this has been a lifesaver. What am I doing spending so much time on my phone, I hear you ask? I have an obsession with note taking every and all of my thoughts, listen to music whenever I walk somewhere and take lots of quick photos on my phone (like of a sign so I can remember the name), etc.
8. Nail Polish Remover Wipes
Let the 21st Century be known as that which changed the game of nail polish… forever.
9. Le Labo Travel Perfume
Too many times I have let my expensive perfumes spill out all over my clothes and leave me forever smelling like a walking florist. Enough was enough, so I purchased this little gem that has a screw top lid, meaning you will never morph into a florist again! Hooray!
Did you make any wham-bam-shizam discoveries this year? I'd love to hear about them!