A soulful escape is precisely what everyone needs at the end of a busy year. I found just that at the newly opened And Beyond Sossusvlei Desert Lodge when I checked in for an end of year escape. For those of you who don't follow along on Instagram, I've just moved to South Africa from Australia. With Africa at my fingertips, I've planned a bucket list of adventures to have on the continent. Namibia is the first stop on my list!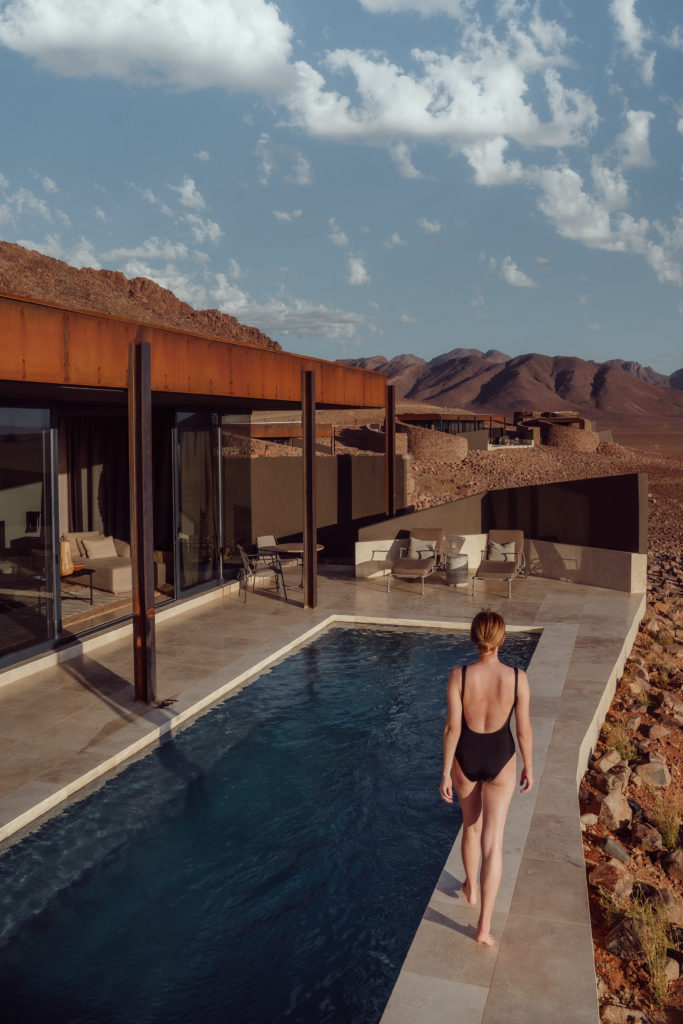 And Beyond Sossusvlei Desert Lodge
Of all the places you can stay in Sossusvlei, And Beyond is the most luxurious. While there are some great views on offer from camp sites throughout Namibia, Sossusvlei Desert Lodge is as fancy as it gets. The lodge is surrounded by distant dunes, desert landscapes and mountains that hide the sun beyond the horizon.
When we arrived in the desert, we learned that Sossusvlei is the world's oldest desert (an estimated 55 million years old). It is also on of the driest deserts in the world, so be sure to come prepared! We spent our days climbing dunes under the sun and discovering desert critters.
One of my favourite highlights of the lodge is the purposely built observatory for star-gazing. This is one of the darkest places to see the stars, so be sure to make the most of your opportunity. We had the pleasure of learning from Doug, the in-house astronomer.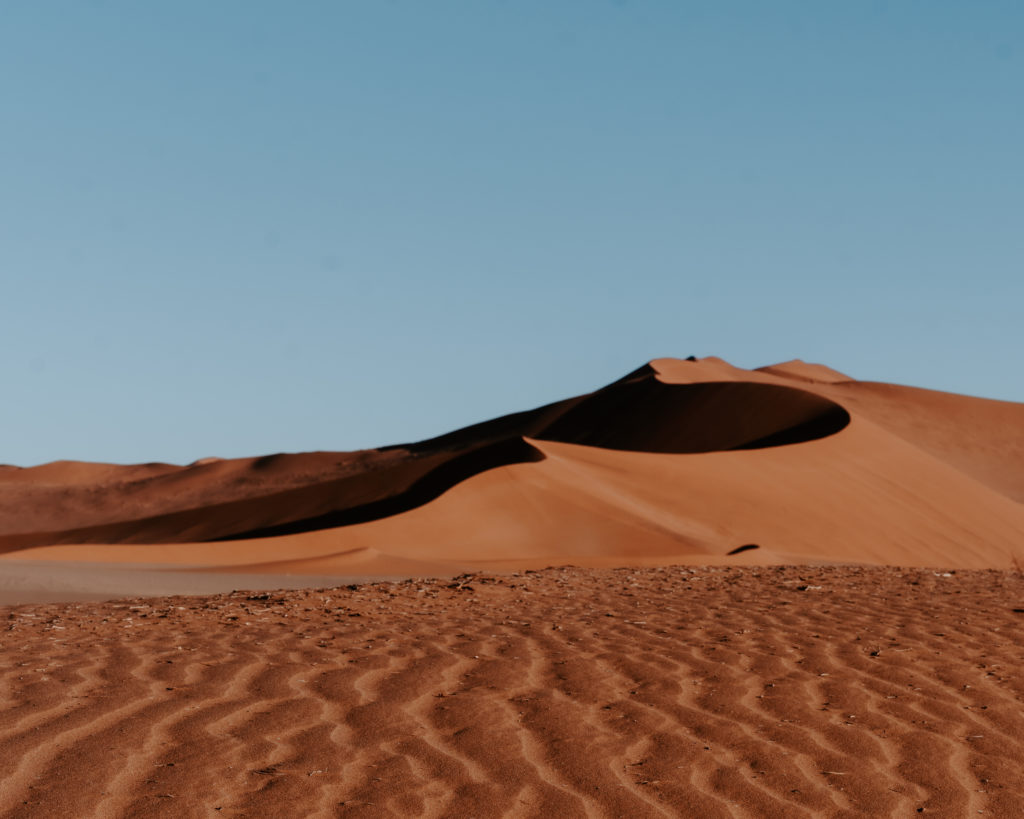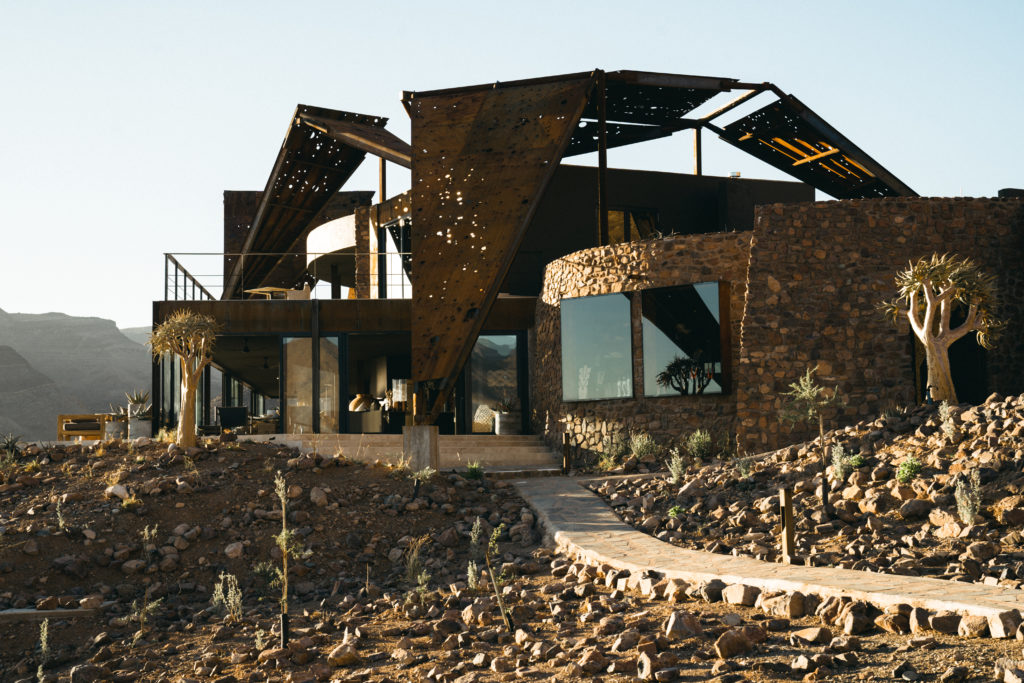 The lodge is situated a short drive from the entrance to Sossusvlei National Park and an even shorter distance from the red dunes. Nearby you can book a hot air balloon to see the dunes from above, or there is even a resident helicopter on site if your budget allows.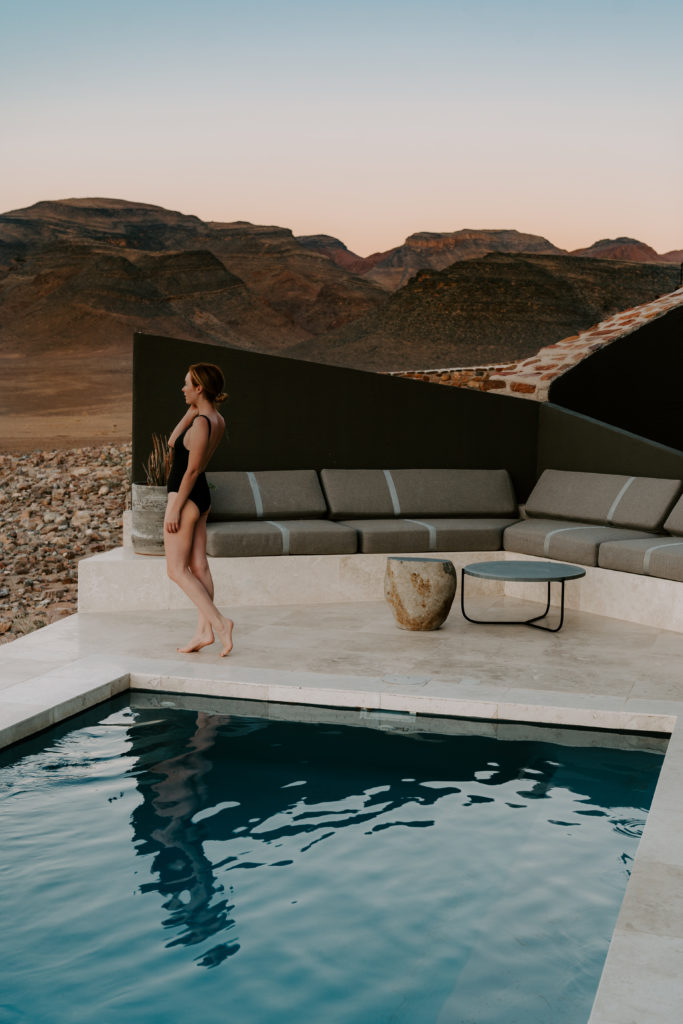 The Rooms at Sossusvlei Desert Lodge
Each of the rooms are luxuriously appointed with everything you need and more. The mini bars in each room are stocked with a variety of gins, tequila, cocktail making tools and snacks. There is a butler's window where you will receive coffees on the mornings you decide to go on an adventure. Otherwise you can watch the sunrise in your room before making your way up to the lodge.
Although wildlife is not a heavy feature of Sossusvlei Desert Lodge, all day we saw oryx and zebra drinking from the watering hole. From each room you have a great viewpoint to see wildlife from afar.
Because wildlife is not the sole focus of this lodge, we spent much of our time at the lodge inside our room. It is the kind of idyllic honeymoon escape you never thought truly existed.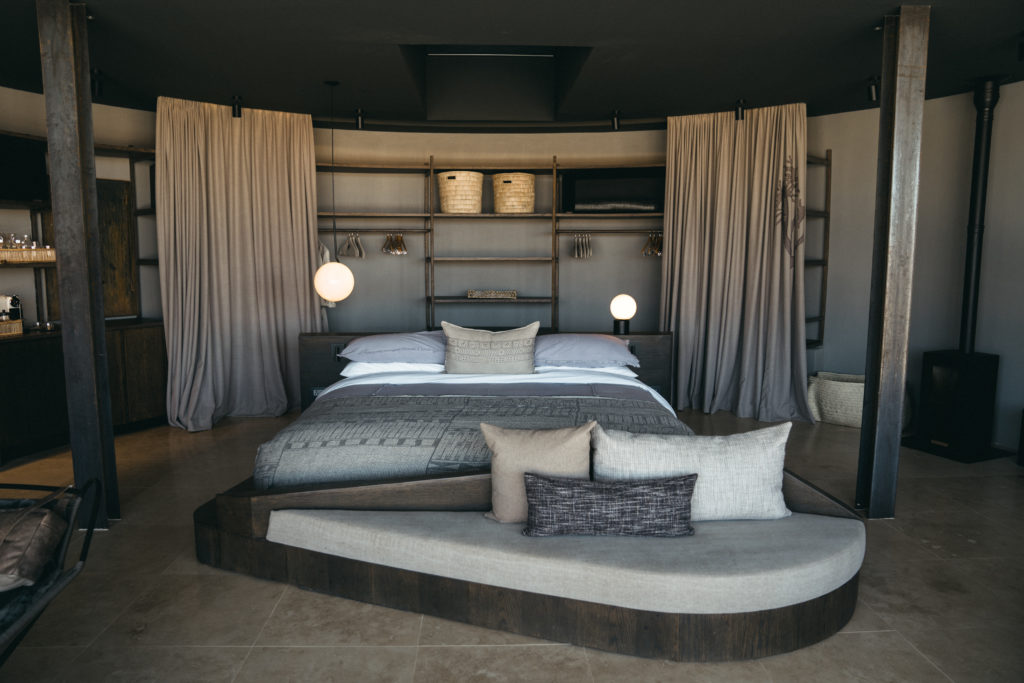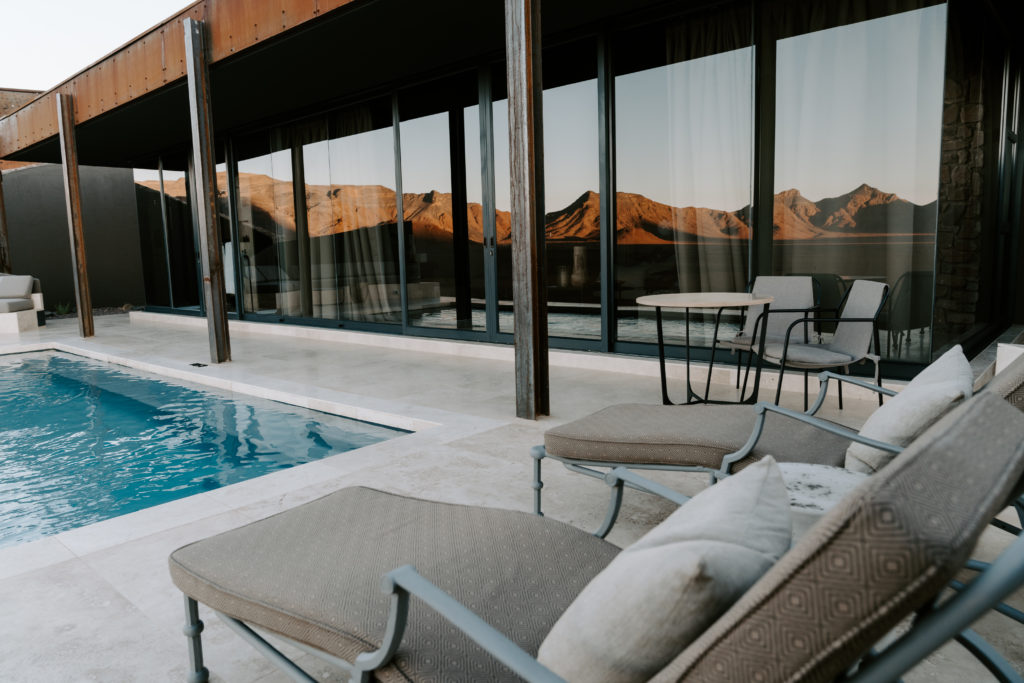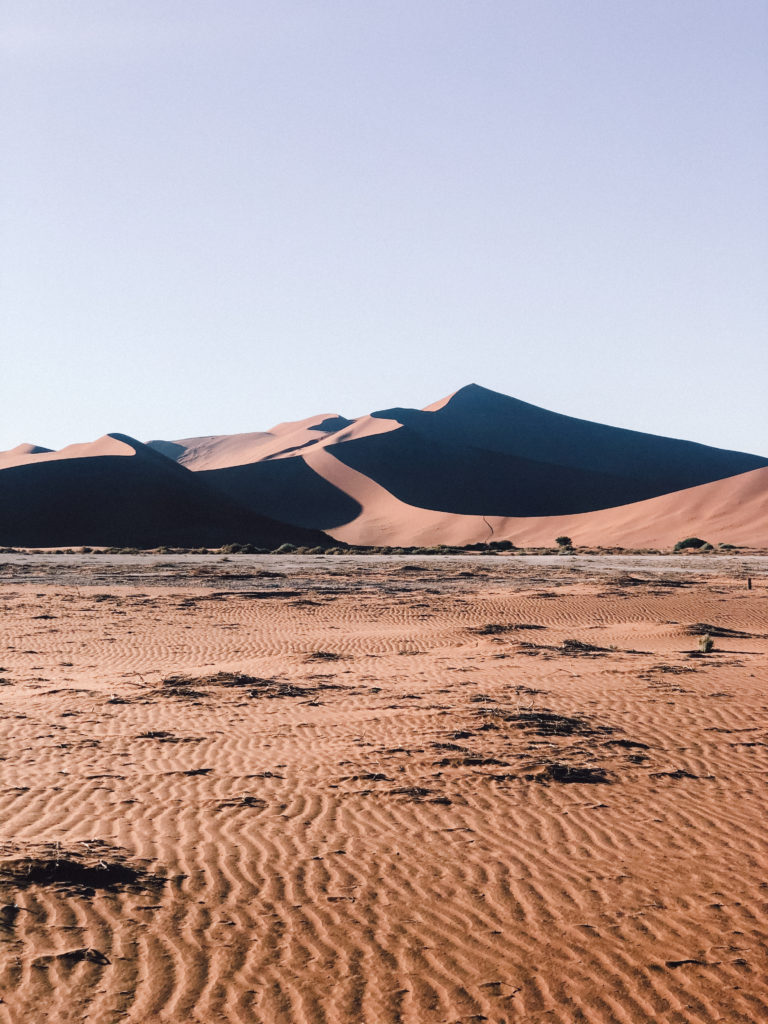 Guided Activities in Sossusvlei
One of the benefits to paying extra for the &Beyond experience is the all inclusive nature of these lodges. Rates include all meals, daily activities and laundry service. On the first morning we set off for a half day tour to Sossusvlei and climbed the famous Big Daddy dune. Afterwards we saw Deadvlei – a photographer's delight. Finally our ranger cooked us breakfast before heading back to the lodge. Other activities include sundowner missions, quad biking, e-bikes and guided walks around the area.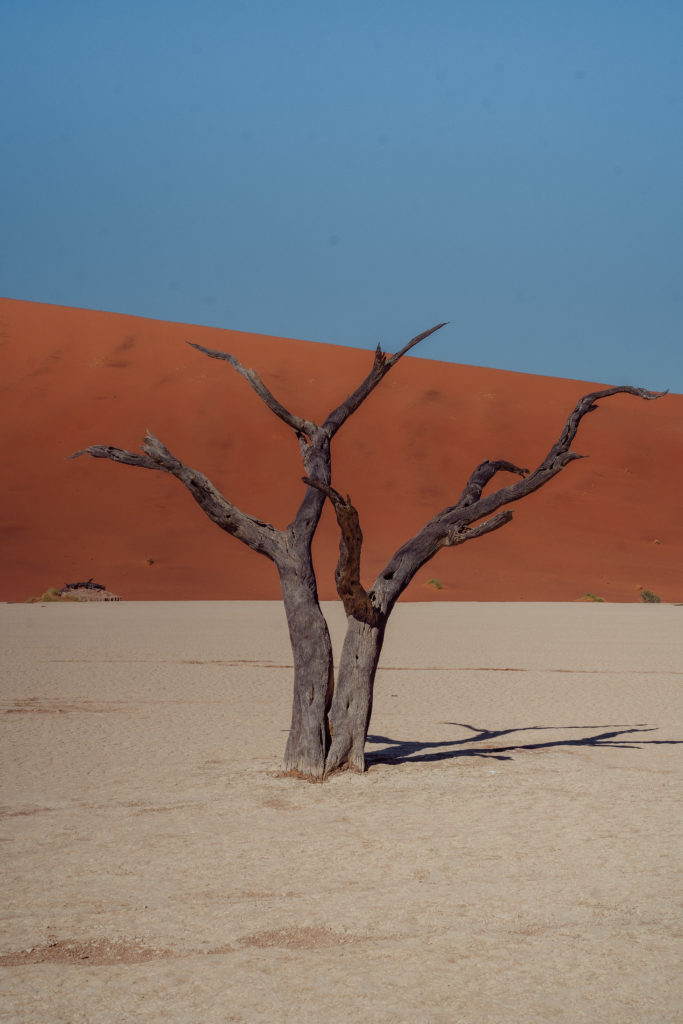 Book your Stay
Room rates start at $1270 USD per room, per night (for two people). This includes accommodation, meals, wine and spirits, and activities. I would recommend booking direct online as there are often specials like stay four nights and pay for three.
Getting there
To get to &Beyond Sossusvlei you can opt to self drive or hop on a small chartered flight. Flying will be a lot quicker, however the 6 hour drive will save you a lot of money. We opted to drive and spent a night either side of our stay at nearby camps so we could get a feel for other locations in the desert.
Recommended Stay
You will need at least two nights to make the most of this lodge, especially if you are joining the daily activities. Three nights would be ideal as it would allow you to make use of all the activities on offer. Four nights would give you the benefit of an extra night and day to relax after enjoying the activities.
A very warm thank you to AndBeyond for welcoming me to stay at the lodge. All opinions and photos are my own!