Situated in the Franschhoek valley, La Residence is one of the most opulent hotels I have ever stepped foot inside. The foyer is adorned in chandeliers, marble, and all the gold trimmings you'd ever care to see in one space. Put simply, this hotel is one of the most extravagantly decorated properties you will find in South Africa and as such has become one of the finest hotels to stay on the continent.
Luxury in the Cape Winelands
The Cape Winelands are renowned for grapes and gastronomy, but if you plan to stay a few days in Franschhoek you will see there is much more to be discovered in the area.
La Residence is a 30-acre estate filled with vines, exotic animals and various room categories in the main residence and separate houses that appear as if they go on forever.
Room interiors ooze the glitz and glamour of a time now passed: luxe fabrics, too many threads to thread count, antique furniture and a seemingly endless collection of artwork collected over the years.
The Cape Winelands
The Winelands are located just under an hour's drive from Cape Town and the main towns you absolutely cannot miss are Franschhoek and Stellenbosch, particularly if you love wine and wine tastings.
Franschhoek village is just five minutes drive from La Residence and is home to a great range of celebrated eateries including La Petite Colombe, Orangerie at Le Lude and Le Coin Francais. Famous wine estates such as Boschendal and Babylonstoren are just a short drive away, so be sure to make time for tasting expeditions in the afternoon.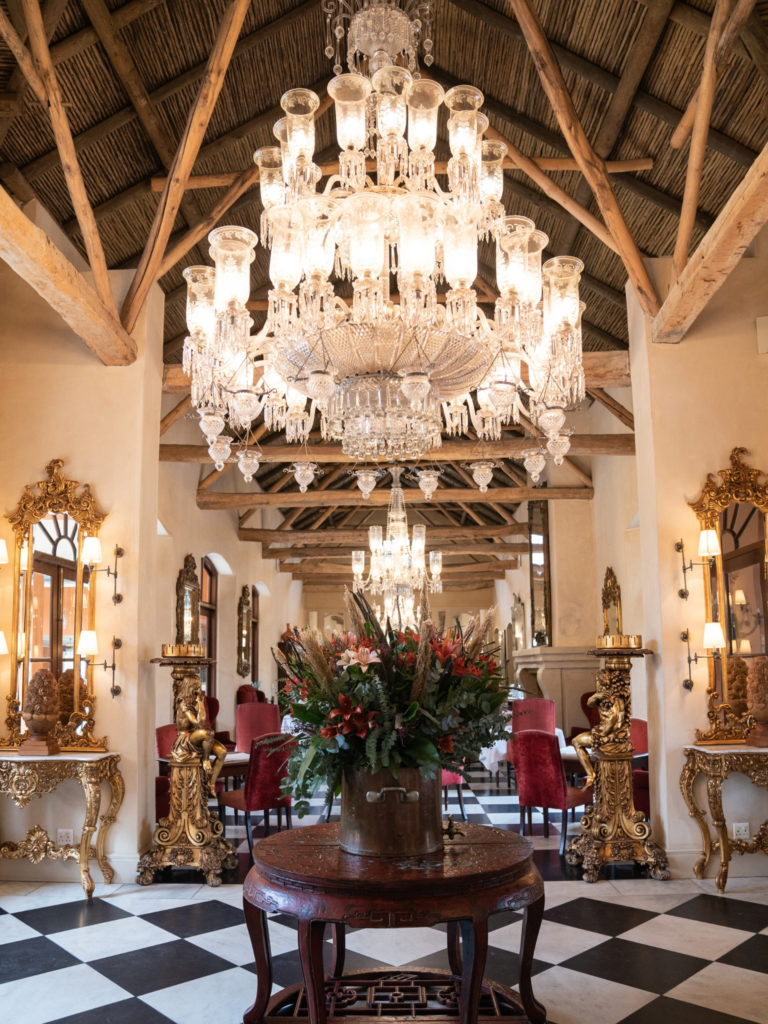 La Residence Franschhoek
If you plan to stay a few days in the winelands and have a special occasion to celebrate, a stay at La Residence is sure to be memorable and the staff are more than keen to deliver on their promise to do so. The front room feels more like a palatial residence than it does a hotel, so be sure to drop in for a dinner one evening for the full experience or enjoy a glass of wine by the fire before venturing out to one of the many dining options on offer nearby in Franschhoek and surrounds.
Bedrooms are individually decorated to various themes and tastes, but I couldn't help but squeal a little when I discovered I was staying in "The Elton John Room" where the legend himself has stayed previously.
There is an infinity pool on site for summer days but for my winter escape there was enough water falling from the sky to prompt me to stay indoors and enjoy the fact that I was in wine country!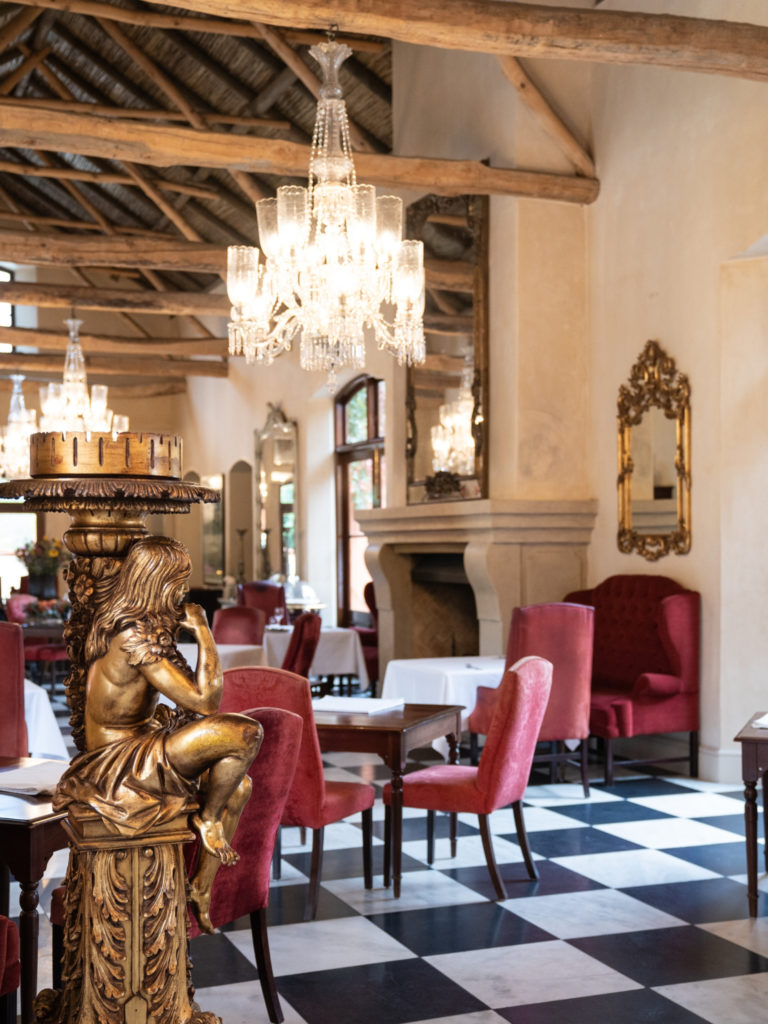 Hiking in the Winelands
When the weather was agreeable I made my way up to Mont Rochelle to experience some of the hiking trails on offer in the winelands. Because time was limited, my friend Jacques and I chose to hike the shorter trail to Uitkyk, a brief 6km track to reach this view. If you have more time the longer version is sign posted as Perkedop trail and is 13km in length. Both hikes are graded moderate and the perfect choice if you want to stretch your legs without a strenuous hike.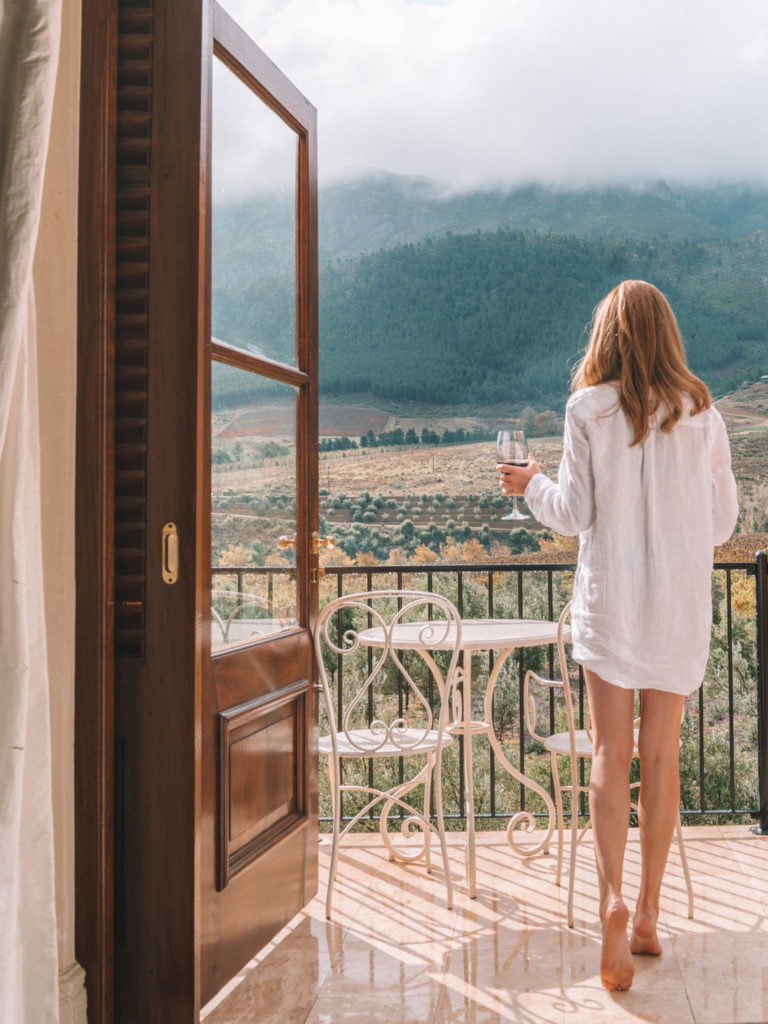 A very warm thank you to The Royal Portfolio for welcoming me to La Residence. I had such a fabulous stay with Edward and the Team!