When you're invited to check in to the world's "Best Boutique Hotel", it's an offer you simply don't refuse. As a guest of Tourism Tasmania, I visited the prestigious Saffire Freycinet to see just why this 20-room uber luxe hotel has been dubbed the best of the best.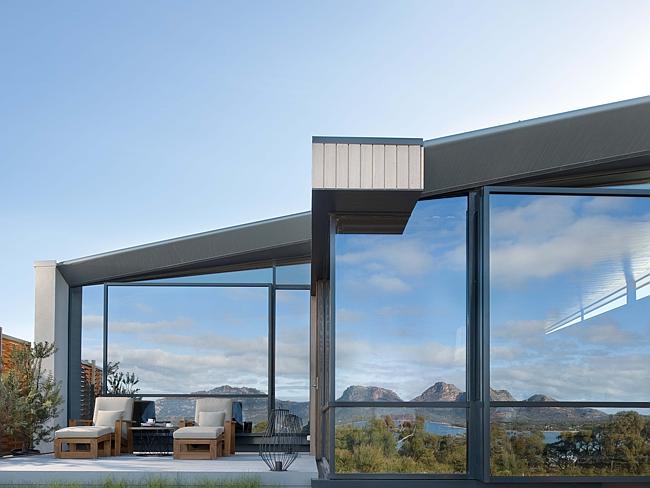 Upon arrival, I quickly discovered that none of this stay – an all too short 48 hours – will be anything like what I have experienced before. After making a career out of visiting the world's most luxurious resorts and visiting over 120 of them, I was convinced prior to my arrival that I had in some respect, 'seen it all'. How wrong I was.
As we (I was visiting with my partner in tow) pulled into the driveway of the exclusive resort, I noticed a polite reminder to my left that the property was reserved for "hotel guests only", making this an even more exclusive property than most hotels I had visited in this calibre. Many luxury properties make quite a lot of business from outside guests who choose to visit the hotel for a luxurious afternoon tea, pre-dinner drinks or even a spa treatment. However at Saffire, all of these luxuries are reserved for hotel guests only.
As soon as we open our car doors, we are greeted by our Guest Services contact, Nina, who performs all the dutiful tasks of a butler, but without the swanky name of one. However this is all part of what makes Saffire able to completely redefine what it is to be a luxury resort in the present day. Nothing is over the top, nothing is underdone, as everything just is as it should be.
Nina greets us at our car and prompts us in the direction of the reception area. On the way we briefly discuss our journey here, the weather, and what we can expect from our stay at Saffire over the coming days. There's nothing robotic or well-rehearsed about it, as we enjoy a lighthearted conversation with what feels like an old friend.
So far, so very good.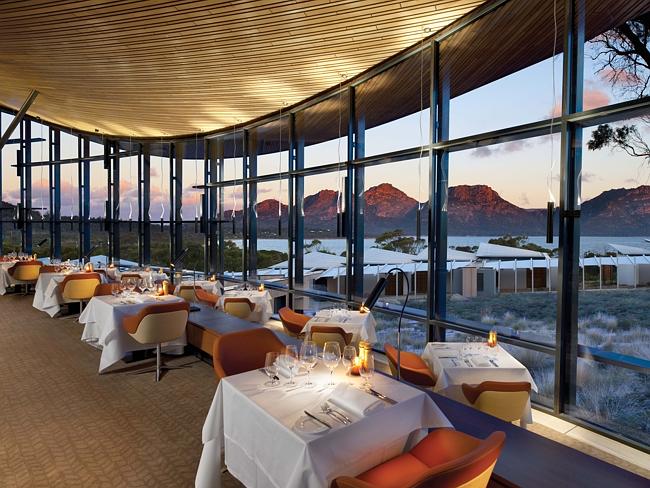 Once inside the building itself, we are greeted with champagne and offered a seat in the lounge area. Check-in is nothing more than a mere signature and within minutes we are being whisked away to our room. Within those few minutes we were also prompted to give up our car keys, so that the team could valet the vehicle and kindly take our bags to our room.
As if it were magic (or just a really quick turn around), our bags are stored in luggage racks by the time we reach our room – a Premier Suite, one of only two categories of room types at the property. The only noticeable different is space, as all rooms are decorated in the same understated design, sourcing a great range of Tasmanian design, textures and materials.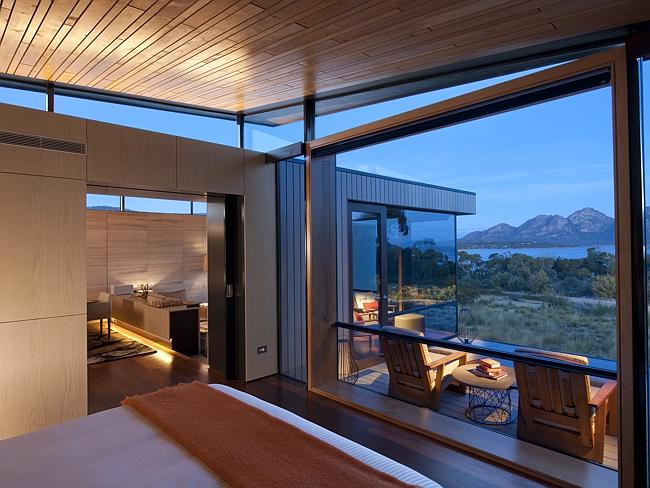 The room & That View…
The rooms at Saffire are something else. So much so, that you'd never want to leave your room if it weren't for that view peeking through the clouds, luring you out into the wilderness to explore. There are many activities on offer which can be arranged through your guest services contact, such as hiking, mountain biking, kayaking, archery, boat rides, and much more. Many of these activities are included in your room rate, as well as fun scheduled additions such as cocktail mixology, cooking demonstrations and so much more.
Inside the room you will enjoy many hidden features, as it seems that the Saffire team have truly thought of everything. Your mini bar is completely included in your room rate, and any item can be restocked by the simple dialling of one number. There are current magazines in abundance, luxury bath amenities by the Saffire brand, and homely touches such as tea ready made for your in the evenings and freshly baked cookies.
It's about the Experience…
It's hard to know where to stop when describing some of the many perks of my time at Saffire… I'm sure I could go on for much longer than this blog post. But to keep it short and sweet, some further highlights include:
All meals are included – meaning you are treated to breakfast, lunch and dinner by an extraordinary team of chefs.
Evening meals offer a full 6 course degustation menu, along with matching wines (also included in your room rate), should you desire.
There are complimentary DVDs and books available in the lounge/library for you to take and leave as you please.
The Saffire team can also arrange private chartered flights in the area to see the Freycinet National Park from above.

Rates: $2,250 per room per night
World of Wanderlust was welcomed to Saffire as a guest of Tourism Tasmania.