Ever since I first visited Copenhagen some eight or so years ago, I've promised myself I would come back. Back then I was in my early twenties and my travels looked (very) different to what they do now. And back then Copenhagen was one of the most expensive cities in Europe to visit (which hasn't really changed!) But as I grow up and grow into life, I can now enjoy these cities in their entirety. And not only has my budget changed, but my interests too. Nowadays a few days in Copenhagen didn't at all feel long enough, as this is a city I could easily spend weeks on end enjoying a slower pace of life. But alas, my time was limited to just a few nights in the city of Copenhagen to visit d'Angleterre, Copenhagen's finest five star hotel.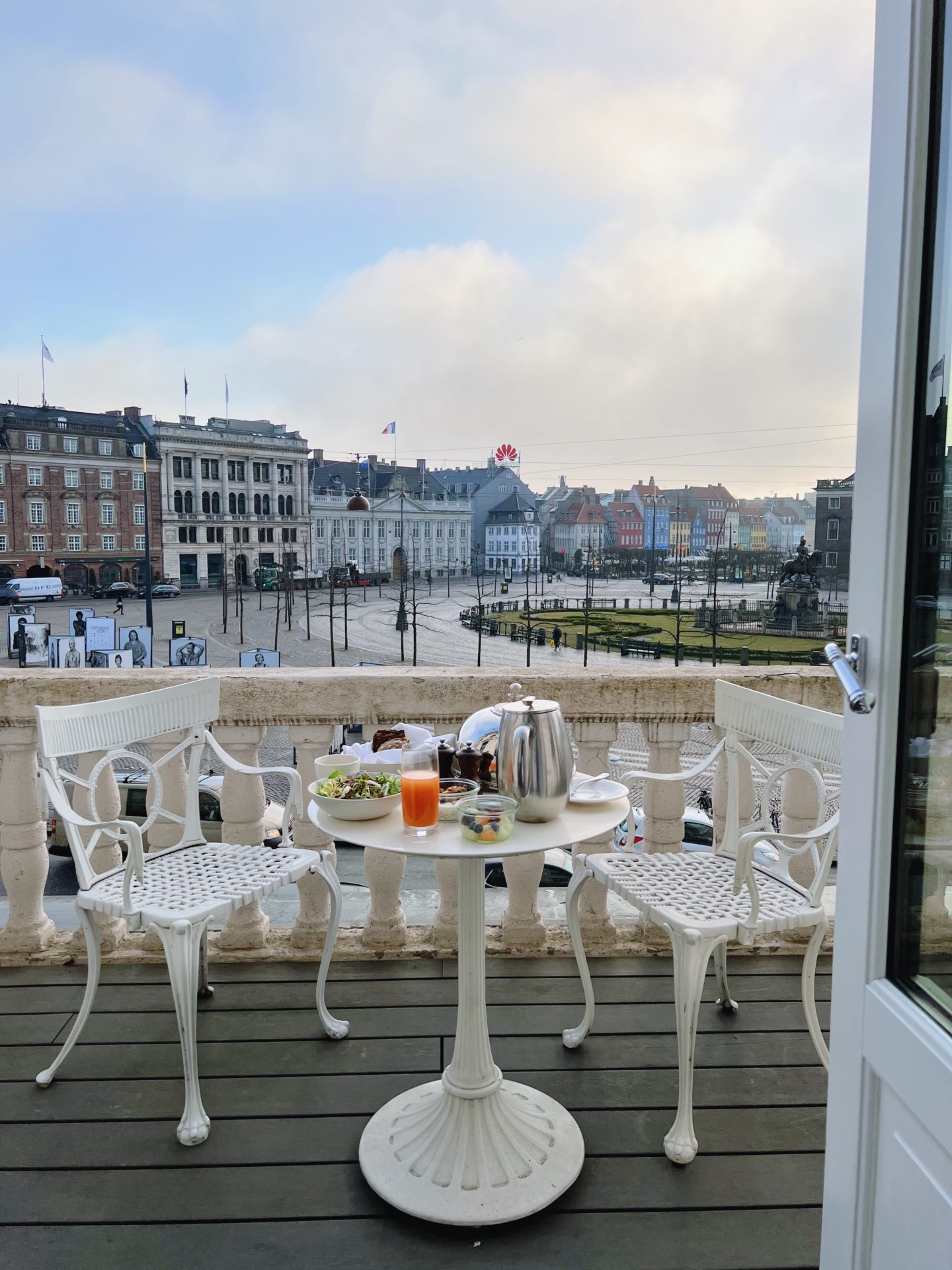 Staying at d'Angleterre in Copenhagen
If you ask a Dane, they know exactly where to find d'Angleterre in Copenhagen. It is the kind of hotel whose reputation precedes it, with a long list of famous guests including royalty (of course!) And indeed, the hotel is just a stone's throw away from the royal palace itself, as well as being just a hundred metres or so from Nyhaven, Copenhagen's most visited landmark.
It is perhaps unsurprising then, that my expectations were high before I had even arrived. As I boarded my flight in Paris bound for the Danish capital, a wave of excitement swept over me.
It has been years (a whole eight of them) since I had visited Denmark and I was eager to see the city in my new – better trained eyes. Since my visit so many years ago I had travelled to dozens more cities and countries, as travel had since become my full time career.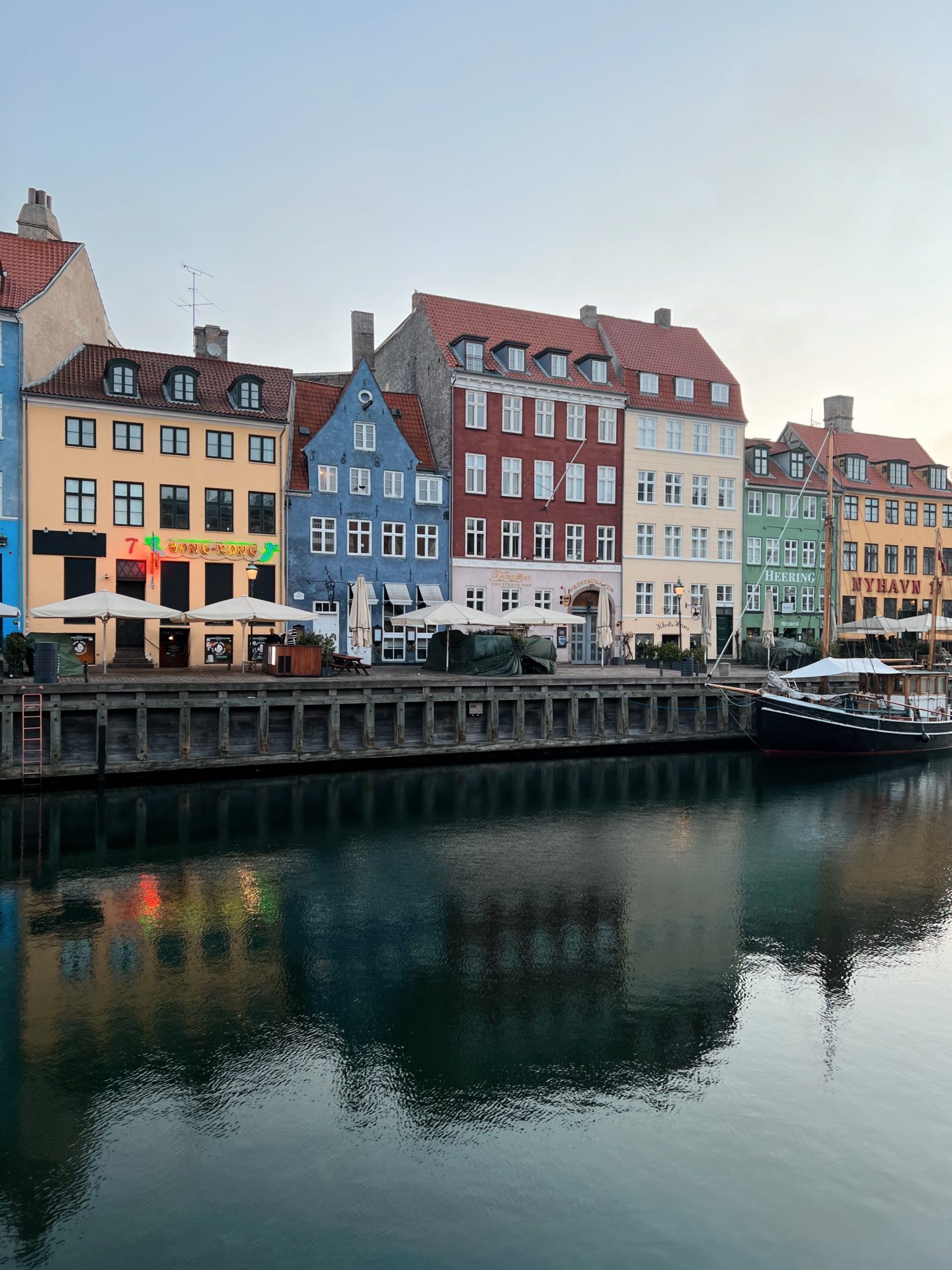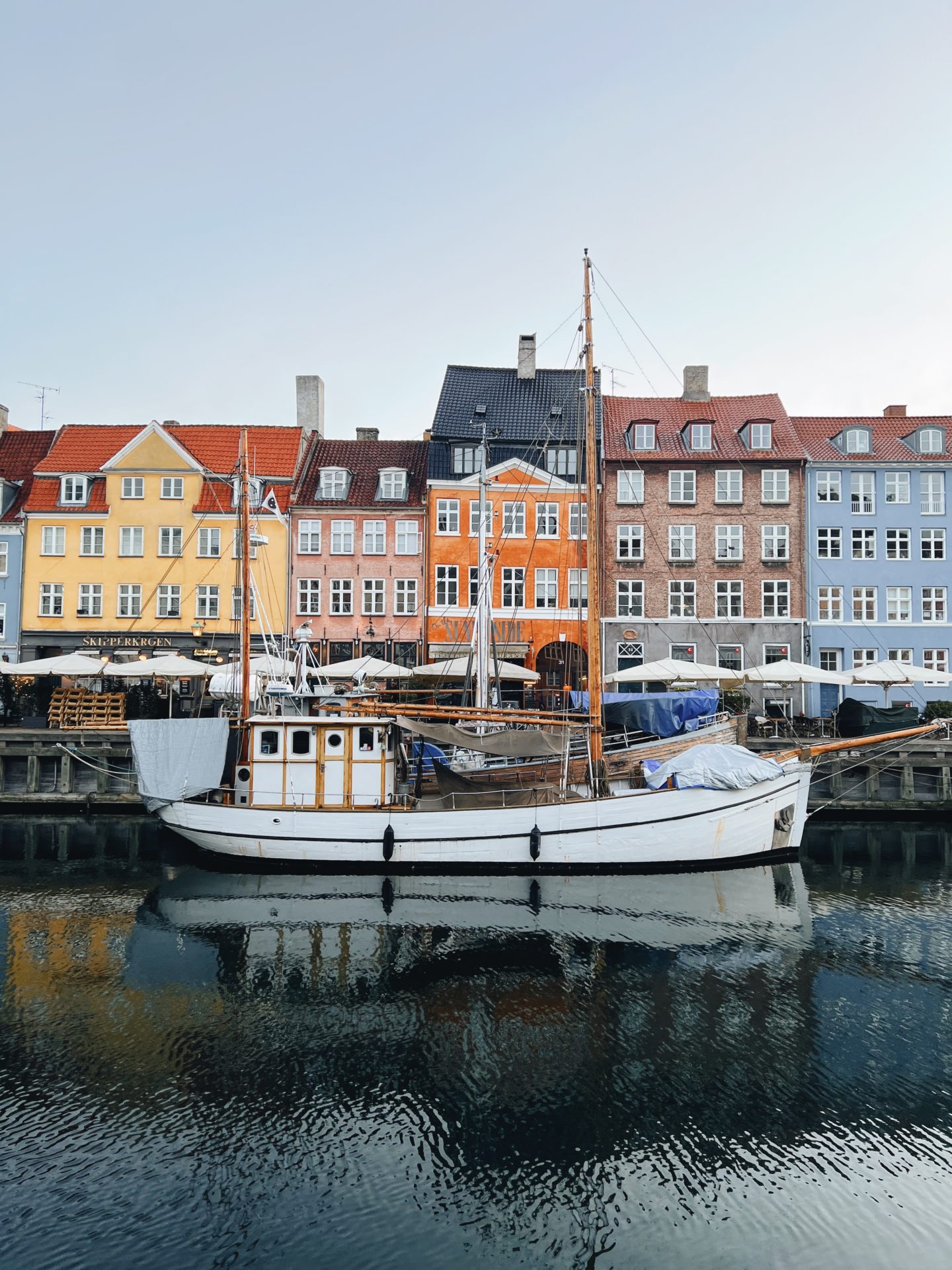 Arriving at d'Angleterre
This might surprise you, but it is actually much easier, quicker and more economical to arrive at the hotel by metro. And you can forget Uber – the city doesn't have it. So what better way to get your introduction to the city than to feel like a local and ride the metro in to town. It will take just 15 minutes to arrive out the front of the hotel, with the metro station being a mere 30 metres from the lobby. And if you've got luggage, fear not. There are escalators and lifts at both the airport metro (where you get on) and at the metro station in town (when you arrive in Copenhagen).
After a brief check in I made my way up to the room – room 103 – overlooking the square and with an unparalleled view over the city. I didn't know it then, but this view and the private balcony it possessed would be where I would spend each of my mornings, watching the city wake up as cyclists sped past and workers busily made their way through the crowd. All of this with a Nespresso in hand, without even having to leave the room!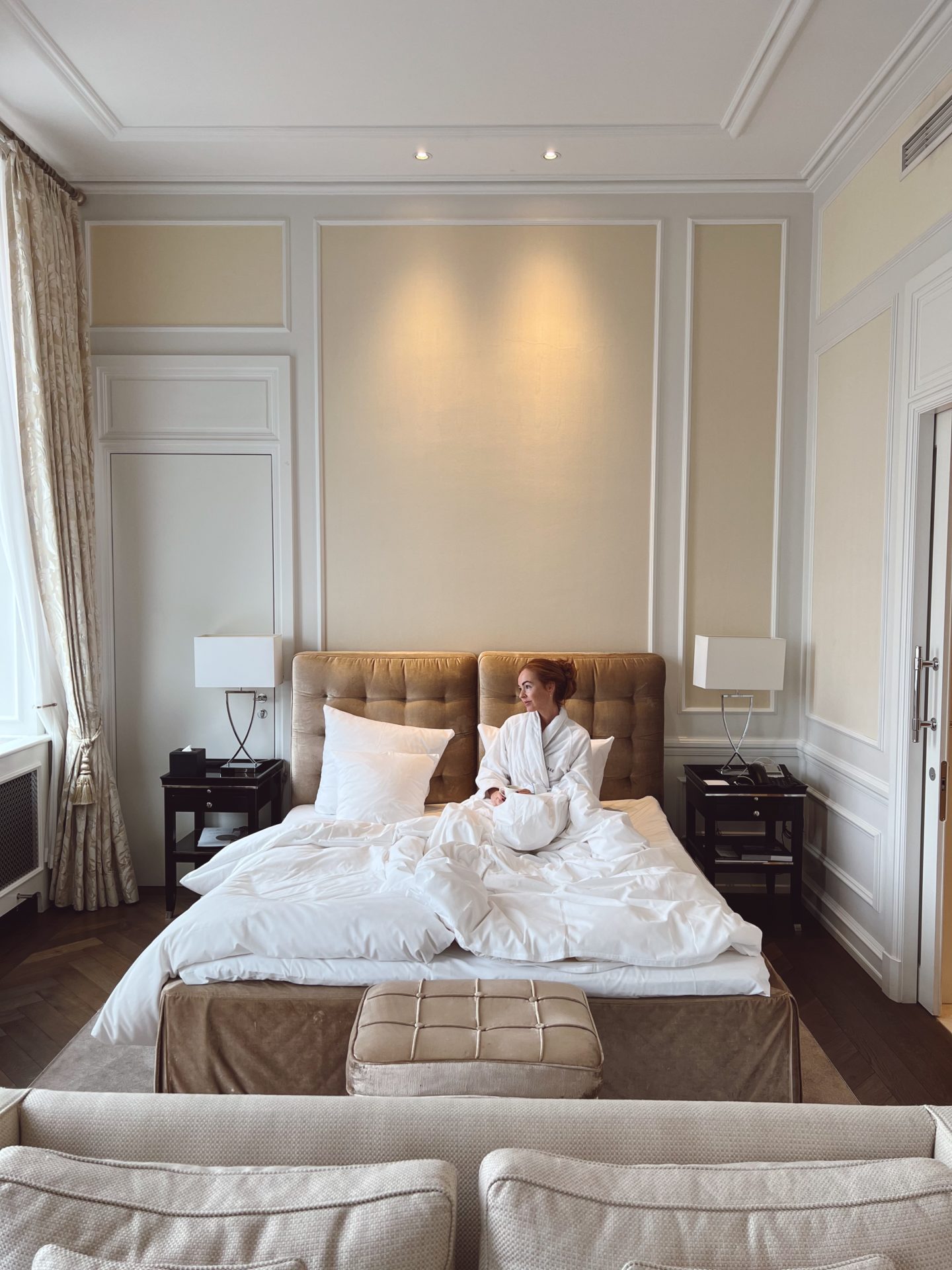 Inside the Suite
As only the suites face the square and offer the view over the city, you might consider splurging on an upgrade to really make the most of your stay. From your private balcony you can wake up and feel the beating heart of the city before you even leave your room, all the while making a plan for the day based on the weather (these are quite changeable weather conditions here in Denmark and very seasonal!)
The suite had a huge wardrobe with more than enough hanging space, located right at the entrance of the suite with a useful full length mirror to outfit check before heading out for the day. There was also a sitting area (with a bottle of bubbles on arrival), a coffee station, a work desk, the luxurious Queen bed and an oversized bathroom with both a bath tub and a shower.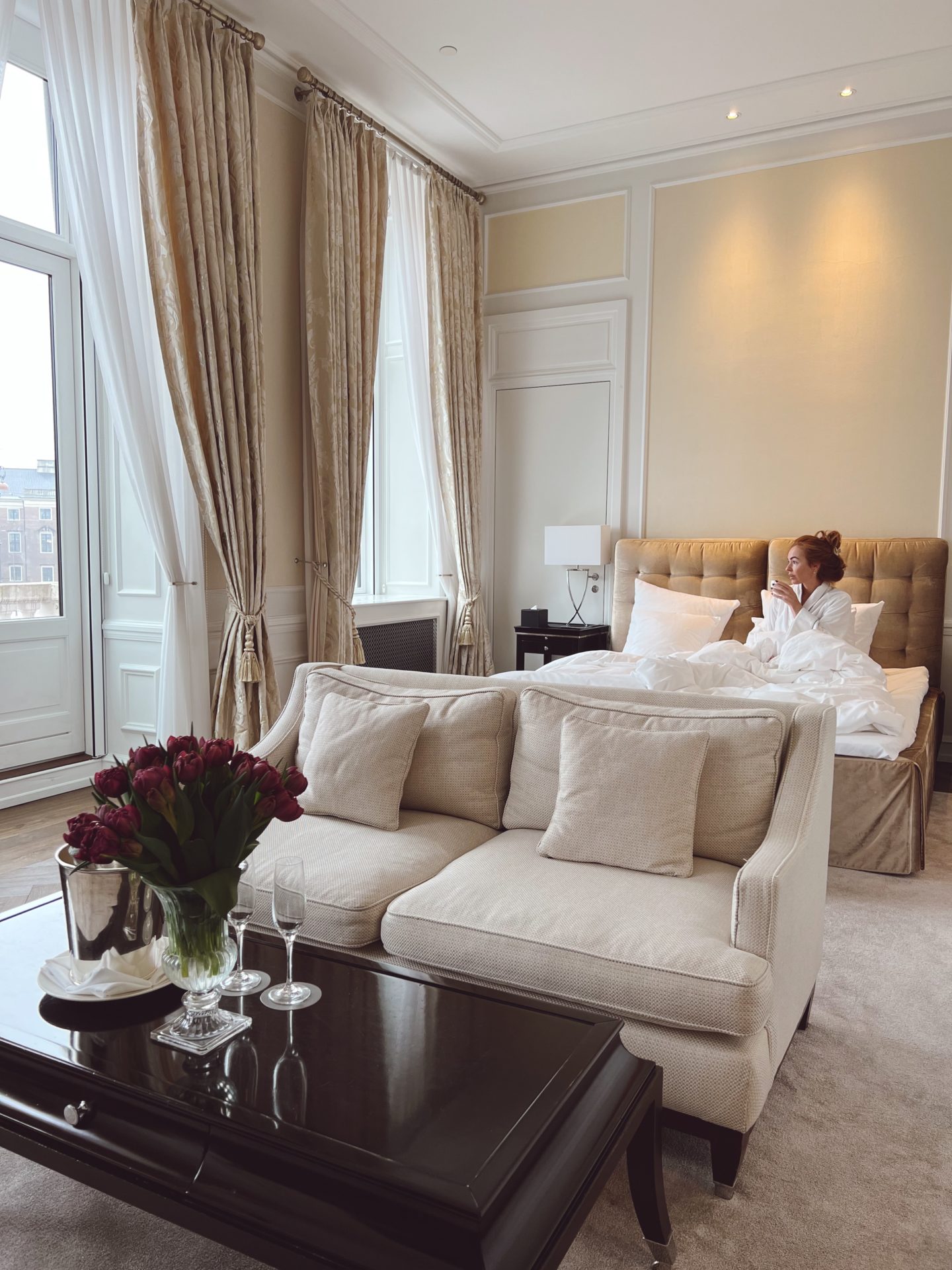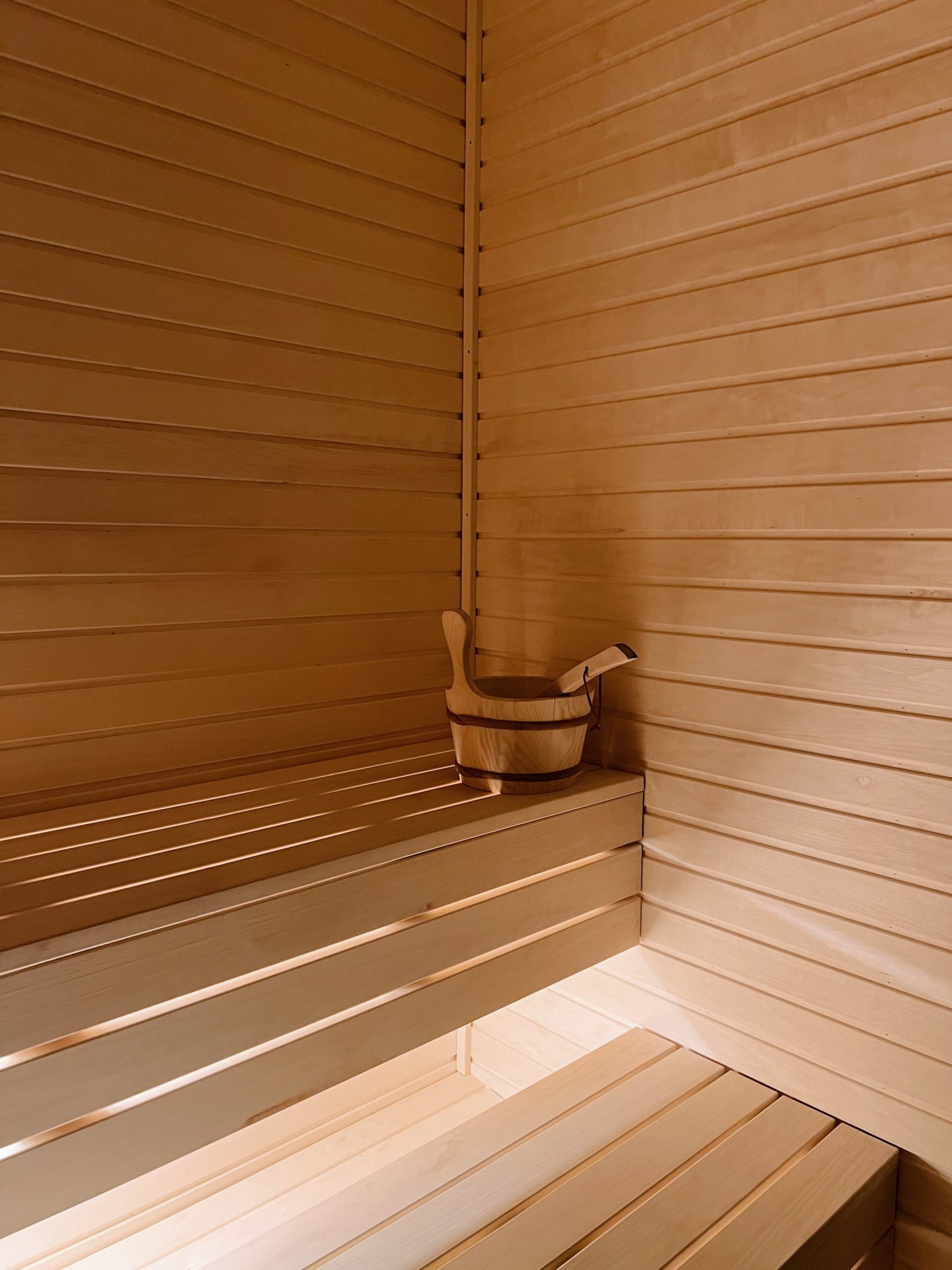 Around the Hotel
During your stay, be sure to carve out some time to go to the basement and experience the hotel spa. The hotel possesses the only indoor heated pool of any hotel in Copenhagen, so the spa experience is really a part of their specialty offering. Treatments are available at the Amazing Space hotel spa, but if you ask me a visit to the heated pool and sauna is just as good.
Breakfast is served daily in Marchal restaurant, which idyllically looks out over the busy street and is also a great location to people watch in the morning time. The breakfast spread covers all of the bases and then some – with the likes of bircher muesli, cured meats and cheeses, scrambled eggs and sides, as well as classic Danish pastries, smoothies, health shots and all the jams and spreads your heart desires!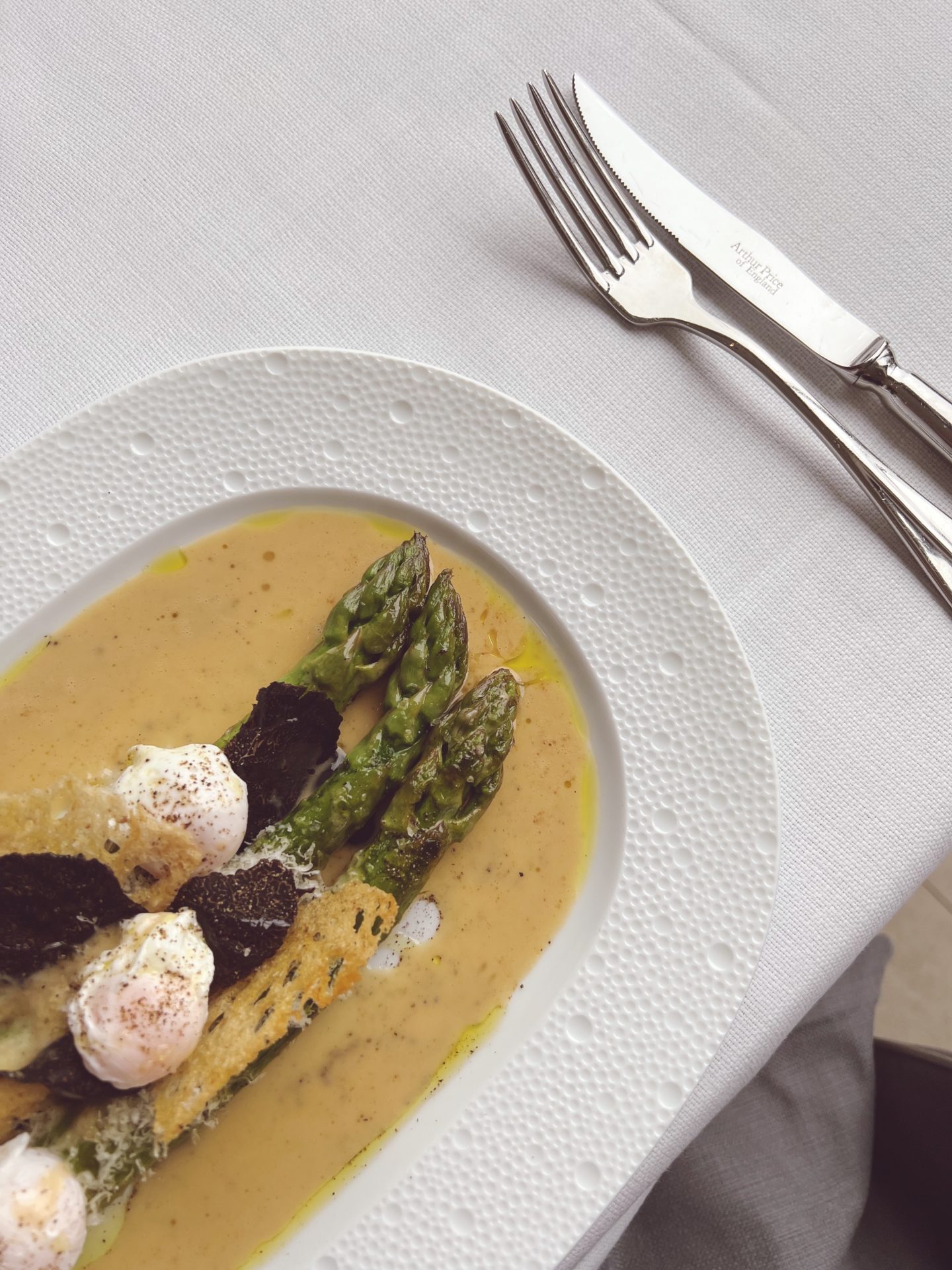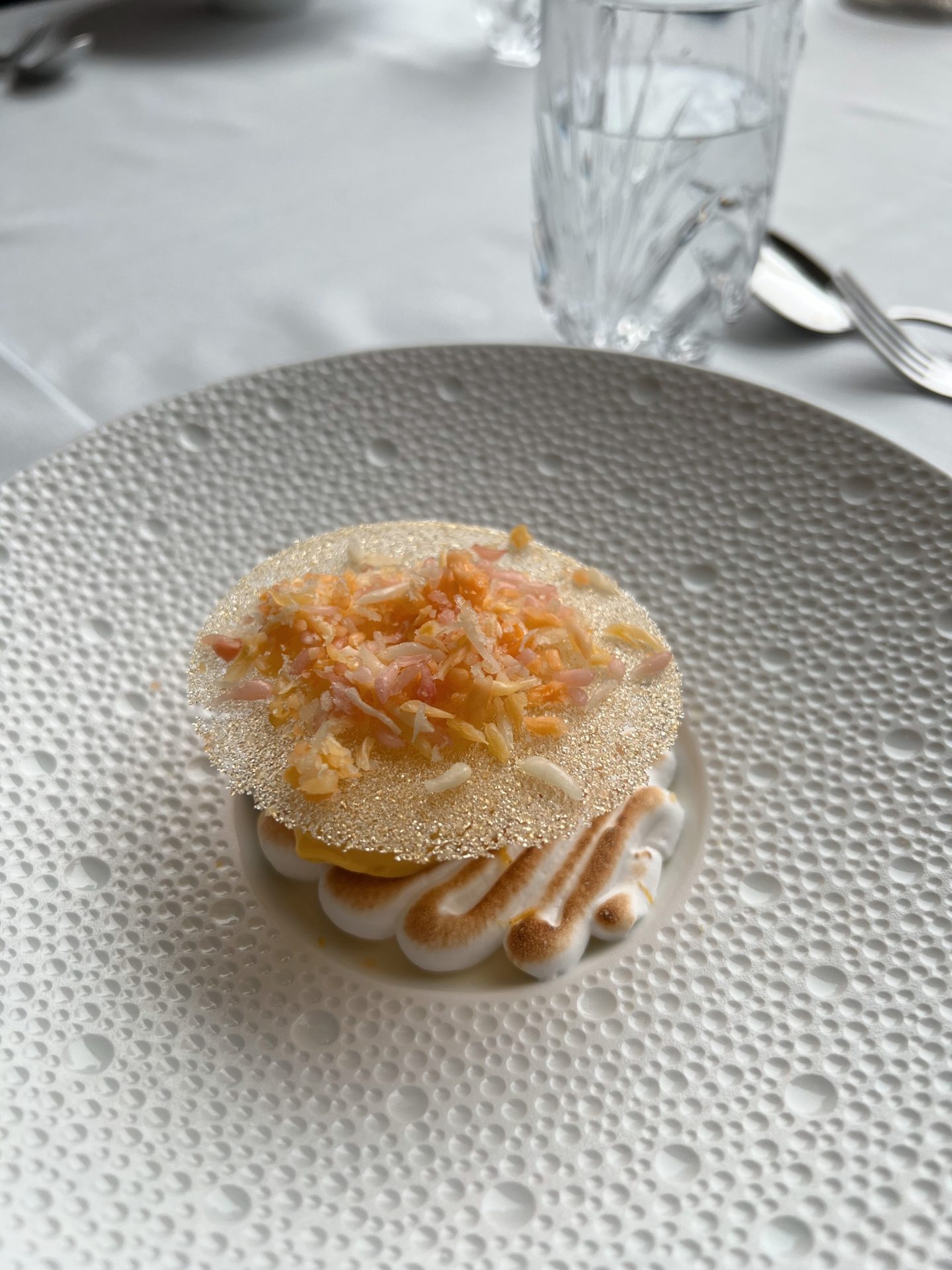 Dining at Marchal
Without a doubt the highlight of my stay was a lunch reservation I made at Marchal restaurant. This one Michelin star restaurant is one of the best dining experiences you can have in the city, so be sure to arrive hungry and prepare for a journey of local tastes and delicacies!
My meal started with a delicious bite-sized amuse bouche that feature fresh truffle and warm gruyere cheese inside a choux puff (delicious is an understatement!) From there it was a journey of flavours through an a la carte menu, with an asparagus and poached egg main followed by the most delightful take on a lemon meringue tart for dessert. And not without petit fours to finish, of course!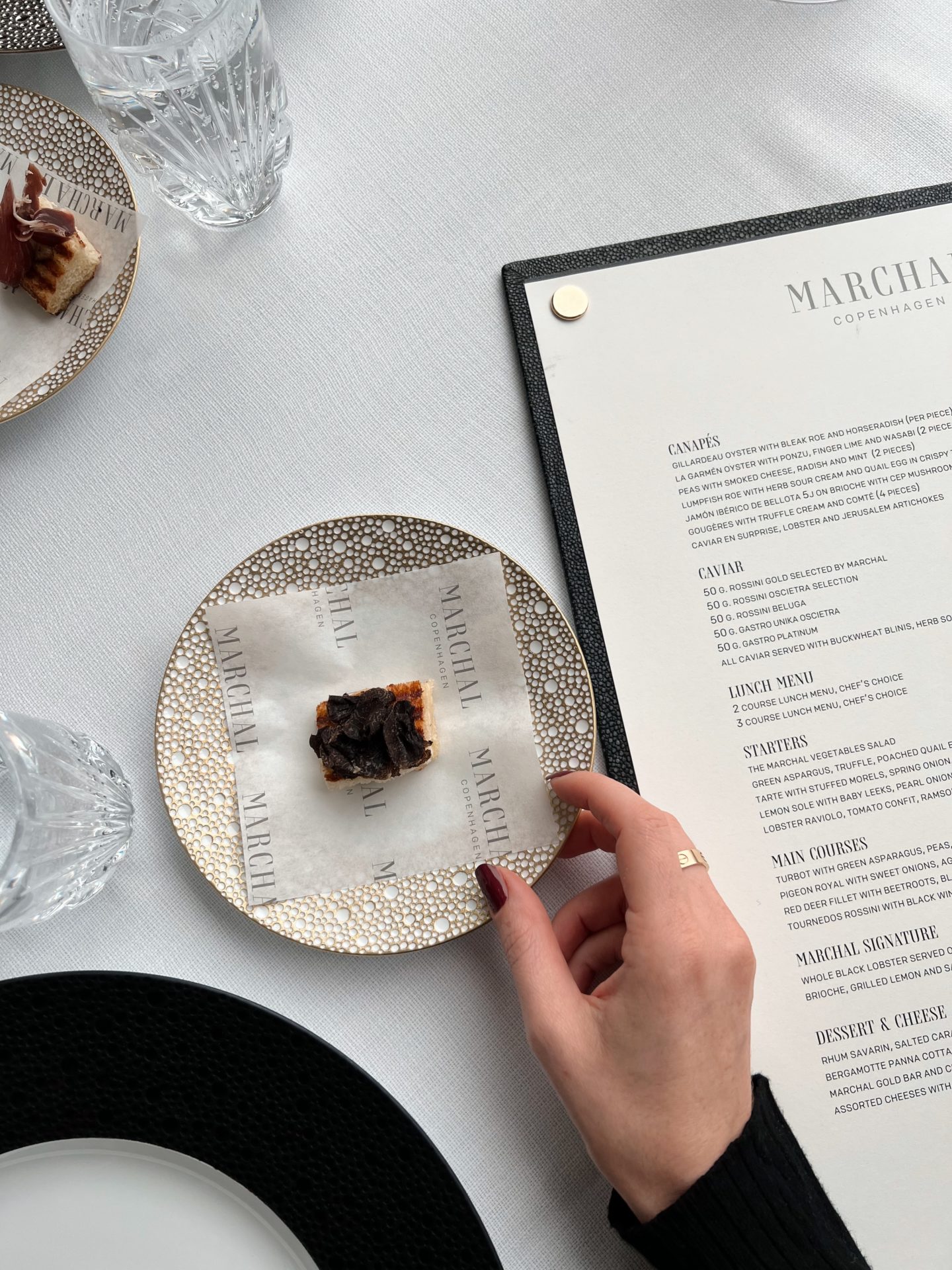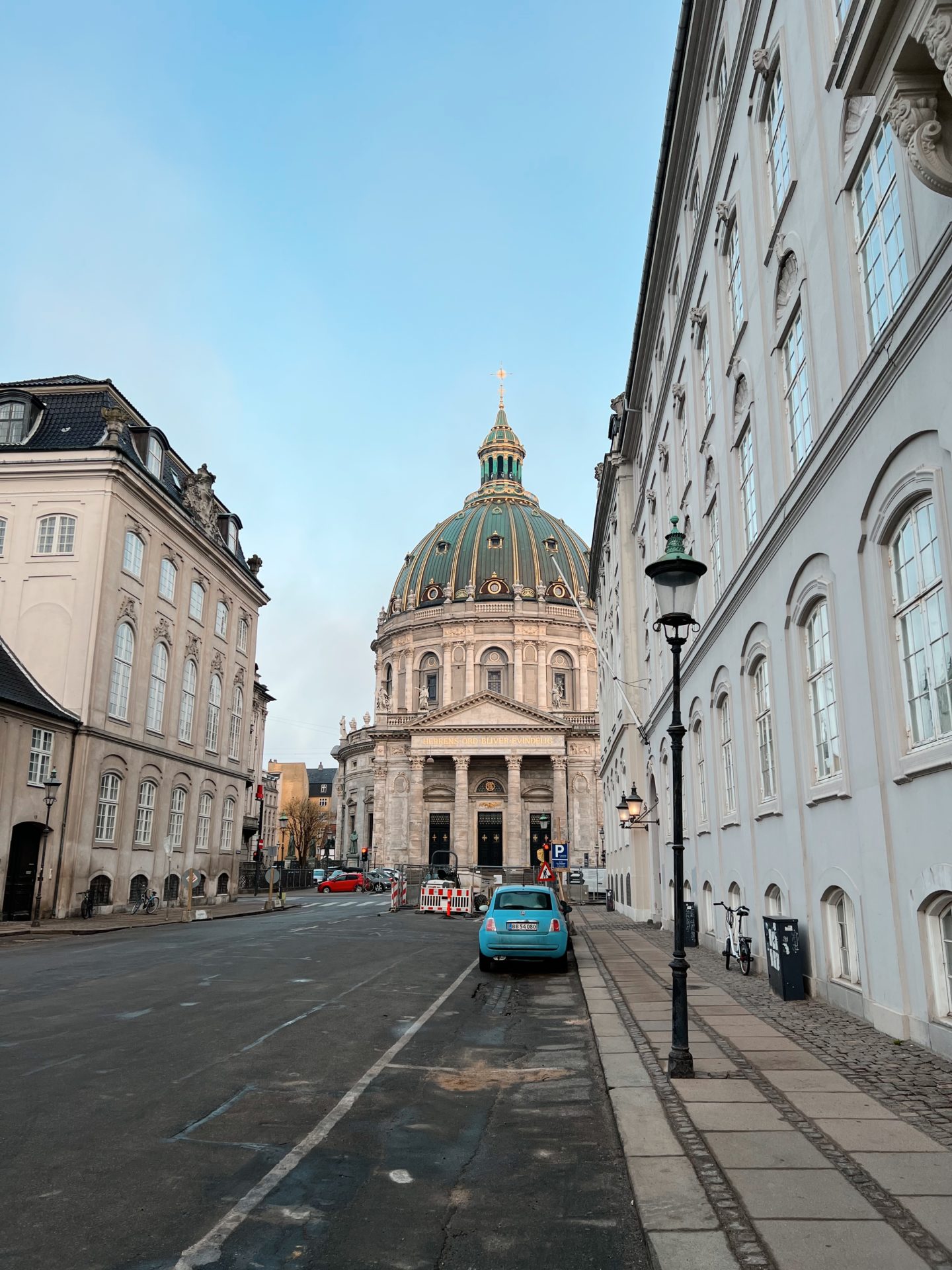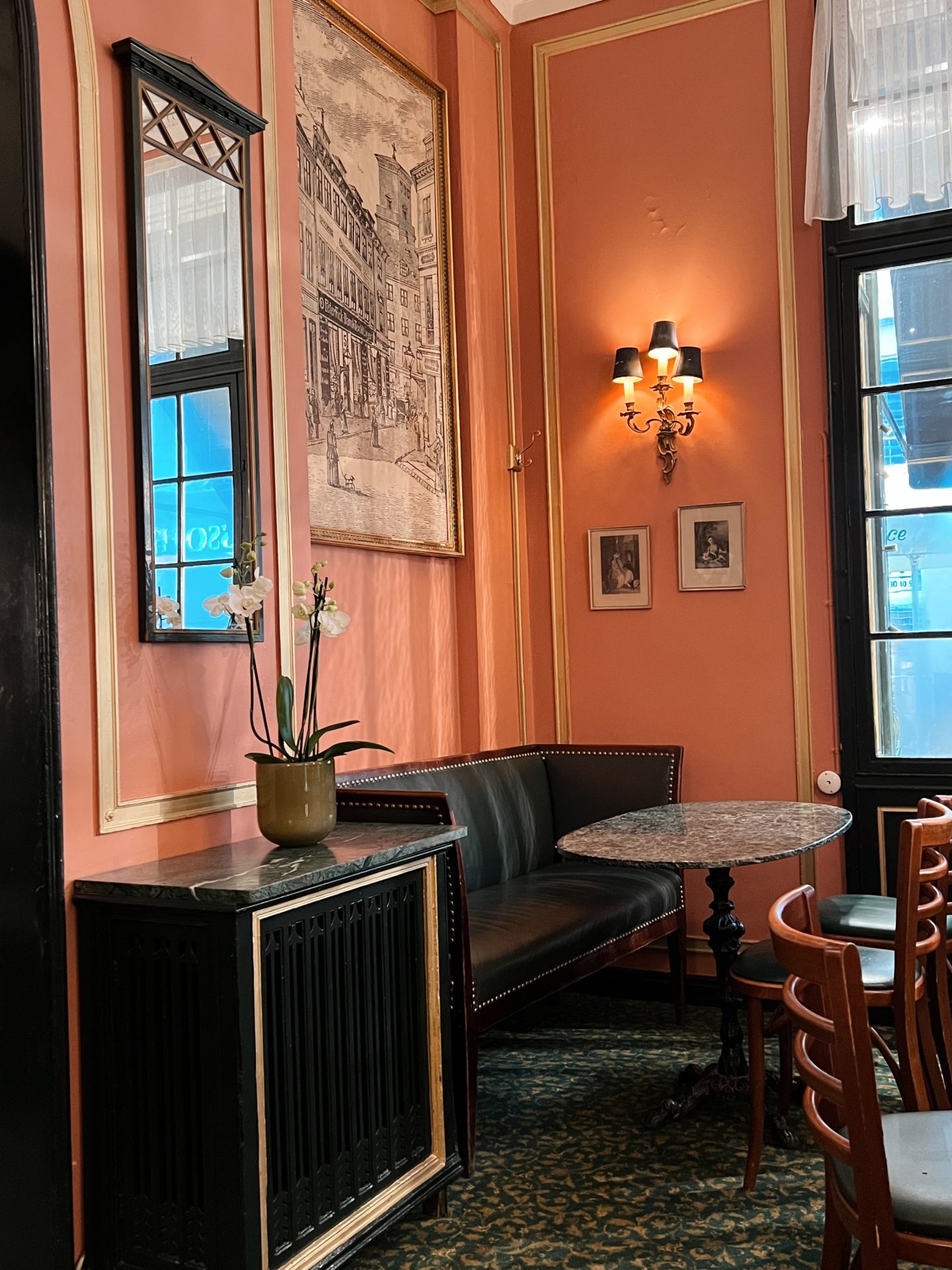 Book your stay
For the best room rates, book directly with the hotel. If you're looking for a room facing the square (with a glimpse of Nyhaven), then you'll need to book a suite and request the square facing balconies on level one.
If you would like to visit the hotel without staying there, you can book a table at Marchal (a great spot for a long lunch) or a treatment at the hotel spa named Amazing Space (located underground). There's also a bar in the lobby you can drop into for a drink or hot chocolate to break up your day, plus Maison d'Angleterre next door for all the sweets your heart desires!
Disclaimer: I visited the d'Angleterre Copenhagen as a guest of the hotel. However, all opinions and photos are my own and this is an honest reflection of my time at the hotel. You can always count on World of Wanderlust to provide honest reviews and features – we want to share with you all the best insider tips, daily inspiration and relevant information to plan your escape!