After writing a few airline reviews here on World of Wanderlust to help you decide whether purchasing an upgrade (either by paying with money or points) is worth your while, I'm delighted to finally be writing about my favourite airline; Emirates. As I travel so frequently I often amass enough points to upgrade an economy ticket to Business Class, so while this is not the first time I have flown with Emirates in business, it is the first time I have documented it in such detail and really taken the time to observe why I love this airline so much.
I have been flying with Emirates for around 3 years now, having decided that my first experience was so good that I would from that point forward aim to fly with them on all routes. I was determined to save up enough points to experience Business Class with Emirates one day, and I did just that a couple of years ago when I upgraded my flight from Cape Town – Dubai – Hong Kong on the highly talked about A380.
Since then I have received two complimentary upgrades to business with Emirates (of which I conclude is likely due to having a silver or gold status on FF miles), and have upgraded another two of my flights with points or by paying over the years.
Today for the purpose of providing a full review of the service with WOW Readers, I am again flying with Emirates in Business Class to share my full experience and again highlight why this is my all time favourite airline.
Check-In
The Emirates Business Class experience begins before check-in, with a complimentary chauffeur service from your house or hotel through to the International Departures gate. This service does need to be booked in advance, so be sure to log in to "Manage Your Booking" to make the most of your service. Here you can select meals, seats, and book a chauffeur service.
The experience continues at check-in, with a separate check-in counter dedicated to Business Class Passengers (if you're lucky enough to be in First Class you will also have your own dedicated check-in counter). The Business Class lane also includes Silver & Gold Emirates Skywards members, of which I have been using for the last few years since I almost always fly with Emirates given their connections to almost anywhere in the world (and I just love the on-board experience so much more than any other airline!)
The Skywards FF points system with Emirates offers more points as per your status, so once you've climbed your way to Silver, Gold, and maybe even Platinum, you can enjoy more benefits – giving you more incentive to keep flying with Emirates.
Emirates Lounge
Our flight journey began in Tasmania and connected in Sydney, Australia, where we were able to enjoy the perks of flying business before you even board the plan, by making our way to the Emirates Lounge in Sydney.
I was pleasantly surprised by this lounge (as I usually fly out of Melbourne) and couldn't believe there were so many tasty dishes to choose from and an endless stream of magazines to dive in to. As I prefer to eat before boarding incase there isn't anything tempting on the flight, I loaded up my plate with green vegetables and a generous serving of meringue with fresh raspberries to fill up before the flight.
The Emirates Lounge in Dubai (or rather lounges – there are three, one in each terminal) is a place I frequently stop on my travels, as with silver, gold and platinum status you can use the Emirates lounges in Dubai (silver) and around the world (gold and platinum).
The food doesn't really suit everyone, so if you have allergies like a gluten intolerance, it would be better to eat elsewhere in the airport or book your special meal in advance and eat on the plane (the plane food in Emirates business class is exceptional – but more on that later!) Vegetarians will find ample food on offer at the Emirates Lounge as meal as a number of meat options for the meat-eaters, though the sweets on offer are never a stand-out, so I'd suggest waiting for the complimentary Godiva chocolates on board!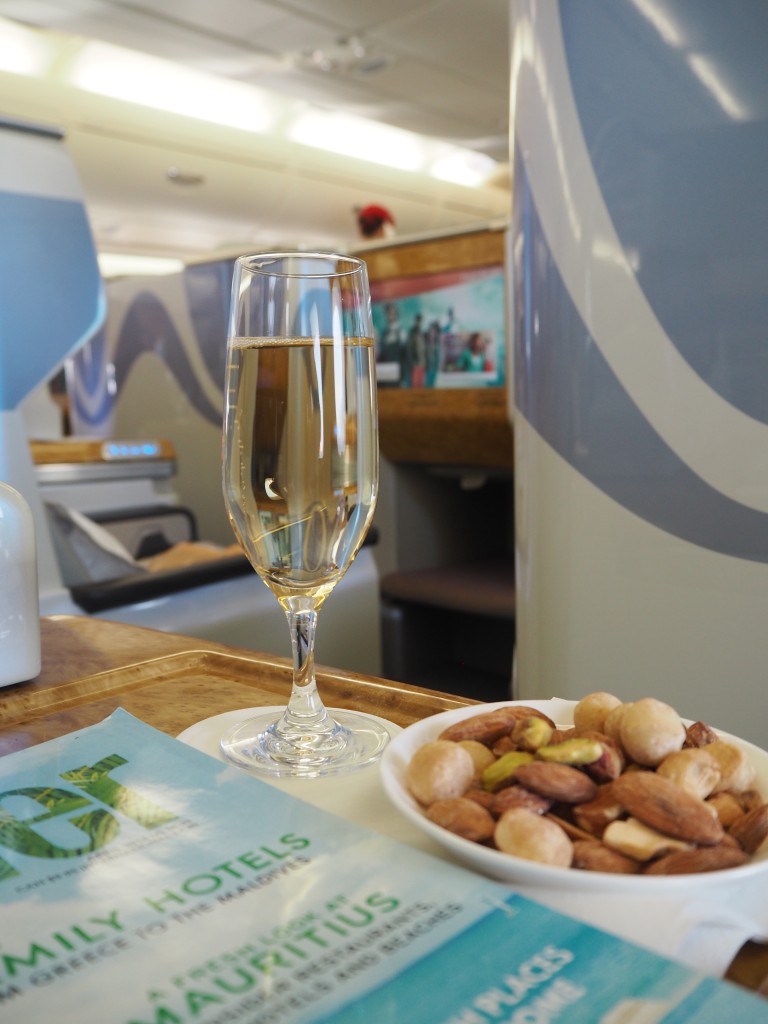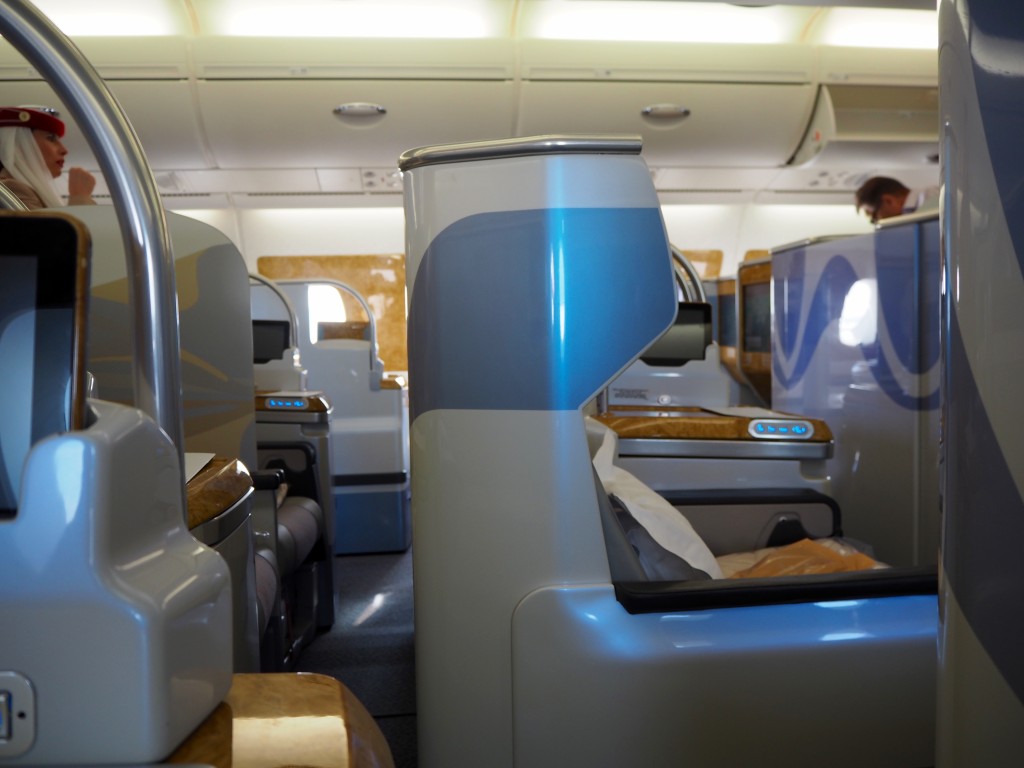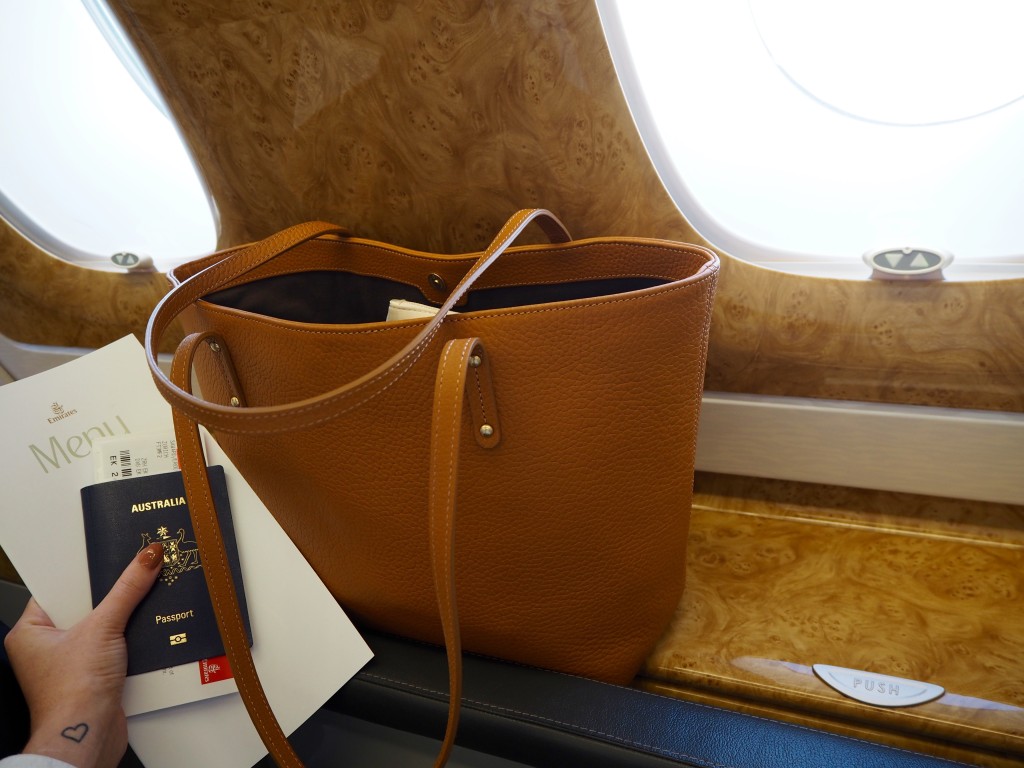 On-Board the A380
If you're looking for the best value for money, the A380 Business Class experience with Emirates is much more advanced than the same class of cabin in smaller planes like the 777. On the A380 you can enjoy a fully lie-flat bed in a private pod (not completely enclosed but close nough to it), and the best seats are undoubtedly the window seats – offering not only a great view but also the most privacy on board. You also have direct access to the aisle from your seat as the seats aren't structured side-by-side.
Business Class passengers enjoy the upper deck of the double storey A380 aircraft, which also offers a Business Class Lounge at the back of the plane. Here you can request beverages, enjoy light snacks throughout the flight, or grab a magazine to read on the couch (yes – there's a couch!)
In terms of seating, you will not only enjoy a lie flat bed, but will also be given a thin mattress for your bed, a cosy blanket/doona, much larger pillow than economy class, and have a private mini-bar with drinks to help yourself throughout the flight.
The on-board menu offers the best plane food I have personally encountered (compared to the likes of Singapore Air or Virgin Australia) and you can request your meal at any time during the flight instead of eating at set meal times.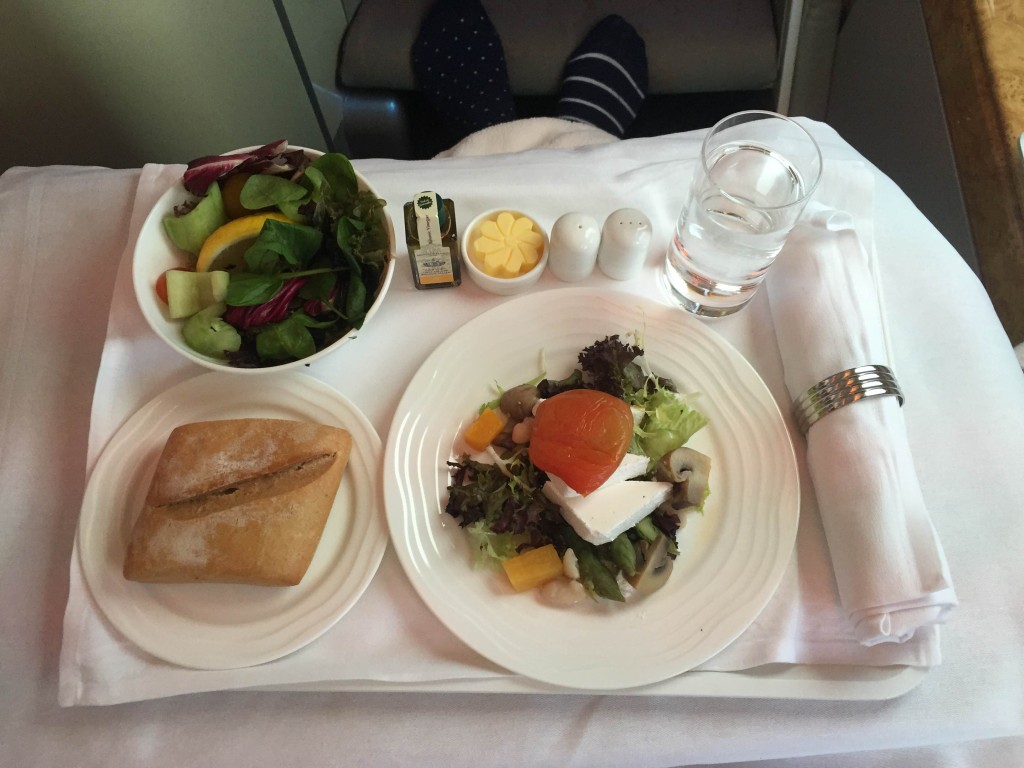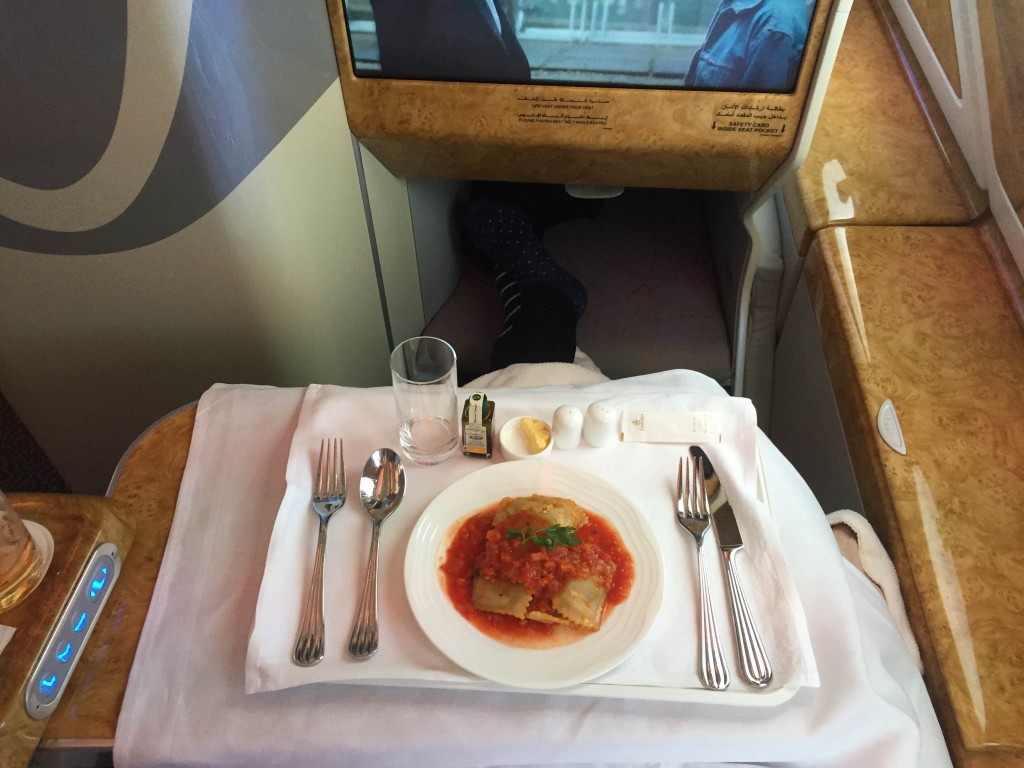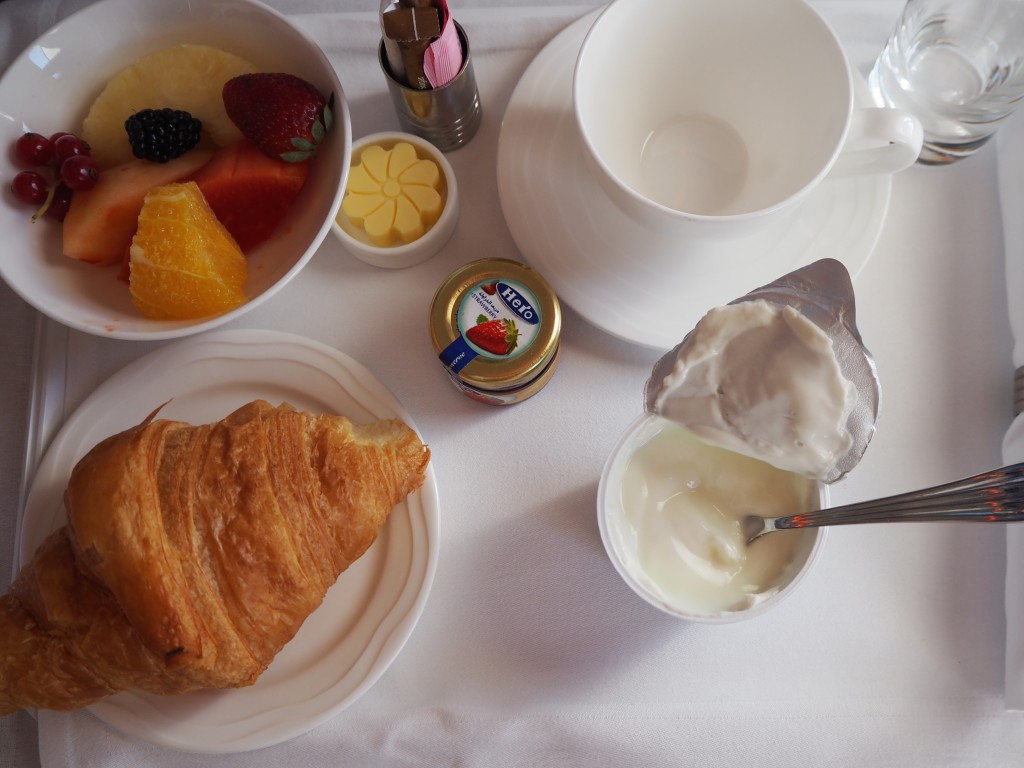 The Food
And now for my favourite part!
On the first flight of our two-flight journey through to Zürich, Switzerland, I spent the majority of the journey sleeping for an impressive 8 hours straight. For the remaining 6 hours I snacked on warmed nuts, small pastries from the bar and a placed few too many requests for Godiva chocolates (my all time favourite praline maker!)
During the final leg of the flight I opted to take the light breakfast, being served a stone cold croissant and black coffee alongside fresh fruit and yogurt. As the butter was very hard and the croissant was not warmed, I requested for it to be placed in the over for a couple of minutes and this was no problem at all for the staff – they were more than happy to do so!
For the ongoing six hour flight from Dubai to Zurich I stayed awake to combat jetlag, and thus enjoyed a three course meal for lunch, consisting of a salad entree, spinach and ricotta pasta as a main, and banana cheesecake for dessert. All dishes are served with silver cutlery and a fabric napkin, making the on-board dining experience more reminiscent of a fine dining restaurant than an aircraft!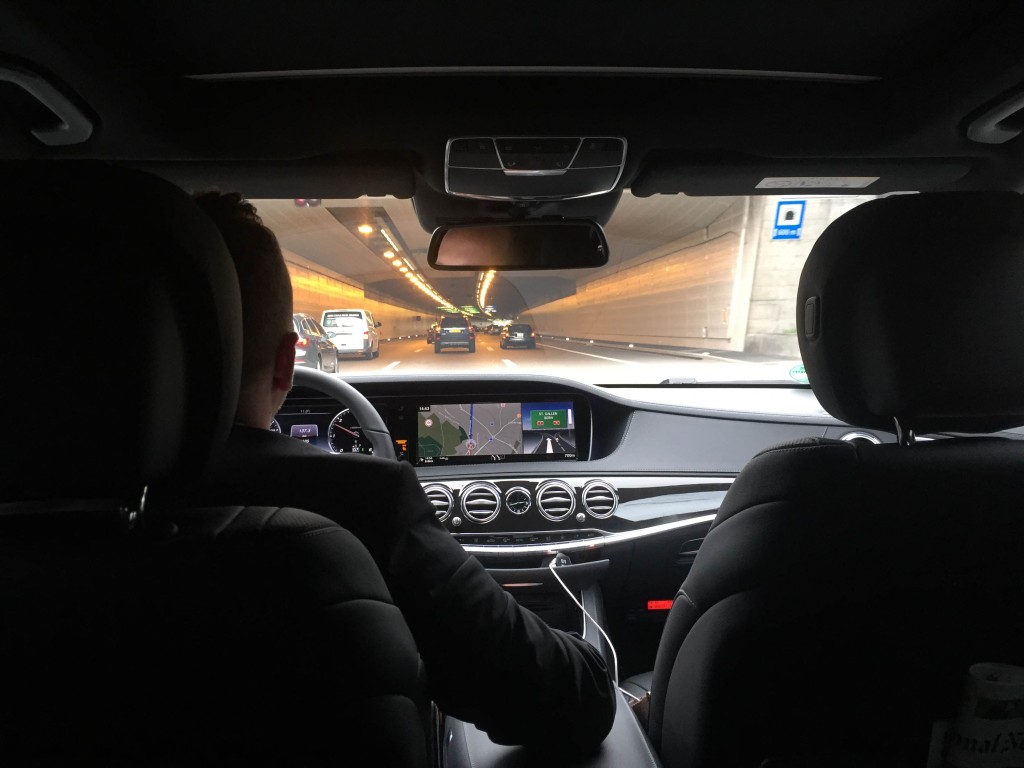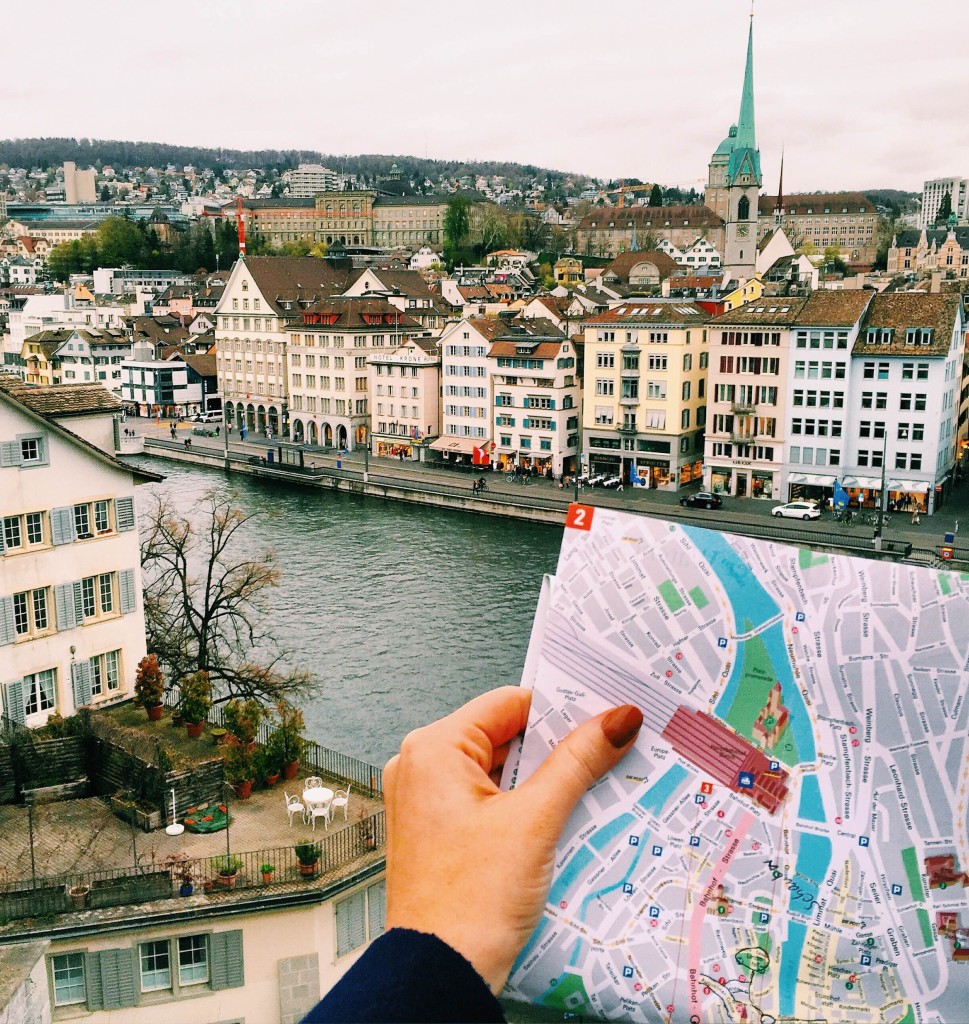 Arriving in Zurich
Our flight journey with Emirates took us from Sydney – Dubai – Zurich. The combined flight journey time was around 30 hours with our layover in Dubai and we covered a distance of nearly 17,000 kilometres. We landed in Zurich at 14:55 in the afternoon and having had a full night of rest on the first flight, I arrived ready to hit the ground running. Of course jetlag eventually hit in around dinner time, though we pushed through with a hearty dinner to ready ourselves for the next day ahead.
The final benefit of flying with Emirates in business class is another complimentary chauffeur service, this time from the airport to your hotel (requires a booking in advance). This allows for a smooth and timely arrival, with a chauffeur driver waiting at international arrivals with your name on a card, ready to take you straight to your hotel (in a luxury Mercedes, no less!) All this combined makes the Emirates Business Class service a more enjoyable journey, leaving you to arrive feeling well rested, fed, and ready to explore your new city!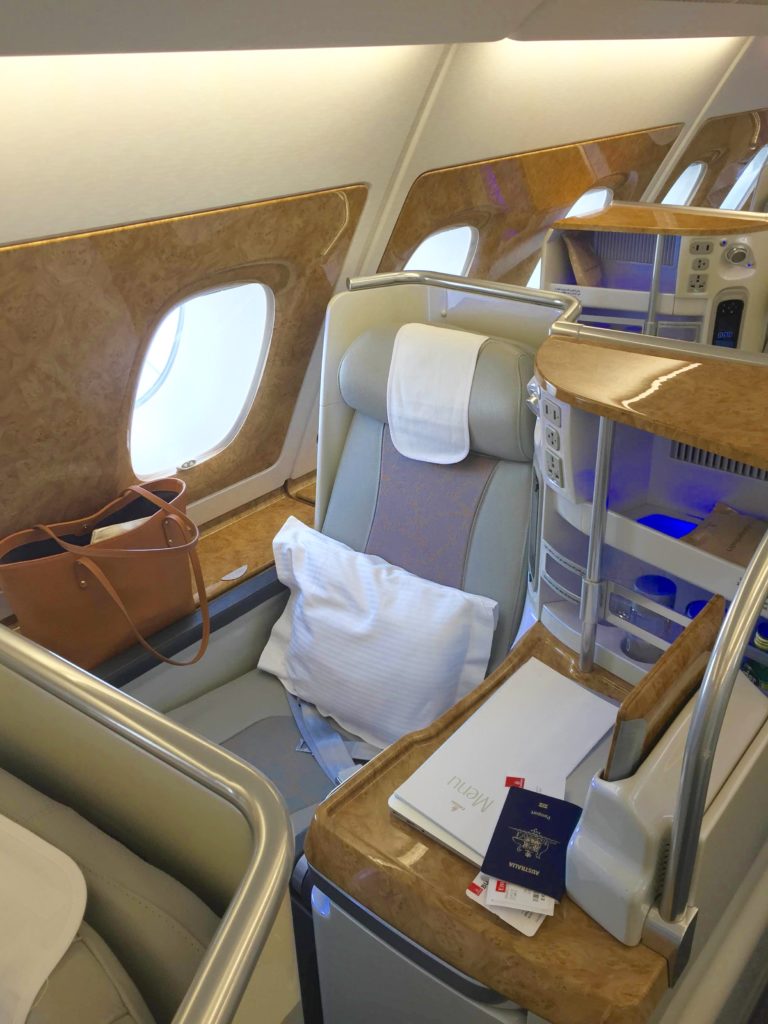 World of Wanderlust flew as a guest of Emirates for the purpose of reviewing the product – however the opinions and oodles of photos are all my own!