There are few places on earth that feel so far removed from civilization and the tech-boom of the 21st Century as the Atacama desert in Northern Chile. I landed in Calama airport after a short 2 hour flight from Santiago to an empty airport. My Explora driver was nowhere to be seen, no one spoke English, and only 3 out of 4 wheels on my suitcase were in tact. What a journey, I thought to myself. It was just the beginning.
My driver eventually arrived some 30 minutes after I landed and we began the 60-minute drive to the town of San Pedro, a small oasis in the middle of the Atacama desert. Once here I checked in to Hotel de Larache, the base of my exploration in Atacama with Explora.
Explora have reinvented the Art of Travel by placing luxury hotels smack bang in the middle of nowhere and offering an experience unlike any other. I had just experienced Explora Patagonia a few days prior to my visit to Atacama, so my expectations were high after what seemed like the best 4 days of my life.
But the Explora lodges aren't your typical luxury hotel – they lack the pretentiousness, opulence and grandeur of typical luxury hotels. Instead they offer luxury 'in the experience, not the appearance'.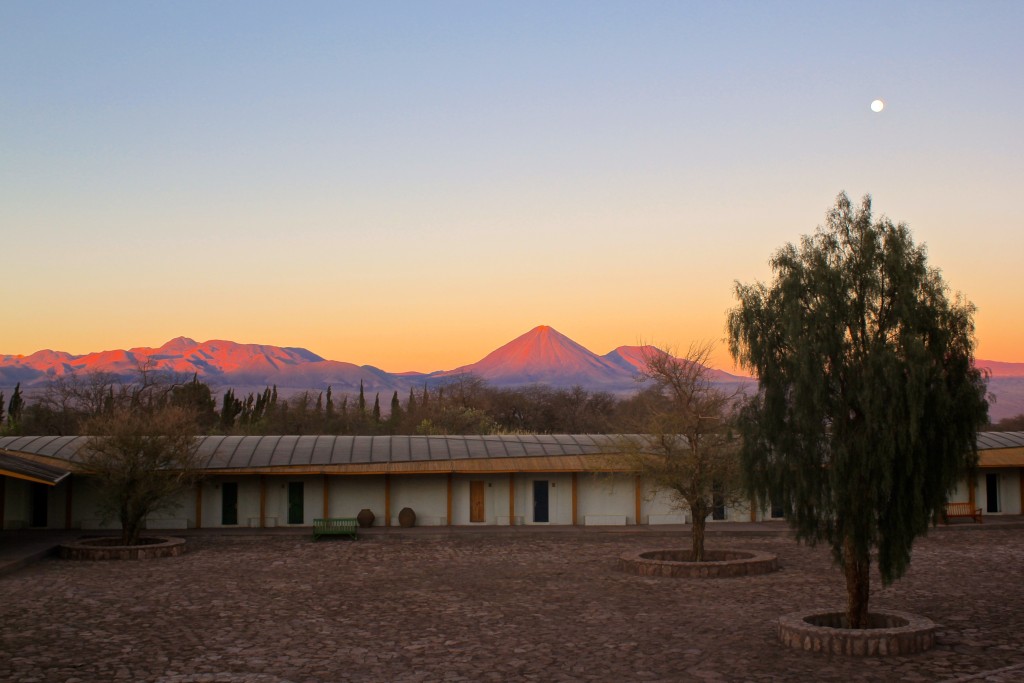 Each day guests set off on an exploration around 8:30am to various points of interest near to the lodge. There are half day explorations and full day explorations, depending on your preference and physical conditions. Once you return from your exploration you are rewarded by a gourmet lunch or dinner and complimenting wines. But this isn't indulgence in the traditional sense – you've earned it. Whether you trekked for 7 hours in the desert or climbed a volcano 5,000+ metres above sea level, you have indeed earned the right to indulge a little more than the ordinary.
In the evenings Explora offer informative talks on everything from astronomy to flora and fauna – so you walk away from the experience feeling as though you have learned all you could, walked more than you thought your body capable of, and immersed yourself in an experience unlike any other.
If you've overworked yourself on a morning excursion you can always take the afternoon off to enjoy the pools, sauna, or steam room. Fancy a massage? The lodges are equipped with trained professionals and massage rooms to cater to your every need.
The rooms are kept basic but the linens are lush, bathroom amenities are indulgent, and gourmet chocolates find their way to your bed every night at turndown service. The architecture of the property as a whole is kept traditional and relative to the environment, which all the while ensures you enjoy an authentic experience, nothing more and nothing less.
Getting There:
International guests will need to fly to Santiago, the capital of Chile, followed by a connecting flight to Calama. Your Explora driver will collect you from the airport for your complimentary round-trip transfer to the lodge.
Climate:
Clear skies and sunshine 90% of the year. Temperatures are typically kept high.
What to Do when You're Here:
Explora Atacama offer more than 20 treks, more than 10 by bicycle, and more than 10 horseback rides. There are 7 high-mountain climbs though you will need to stay longer than 4 nights in order to partake in any of these as they take place at a higher altitude (the most you can climb per day is a further 1,000 metres above sea level).
Prices:
$1980 for 3 nights per person twin share
$2,760 for 3 nights per single room occupancy
*Prices quoted are in US dollars

World of Wanderlust was welcomed to Explora Atacama as a guest, however my opinion is as always, my own. Follow us on Instagram for daily travel inspiration.