Welcome to the third instalment of exploring London's neighbourhoods, we're going from East back to the West-Central region this time. I hope you enjoy exploring London's neighbourhood's: Chelsea edition!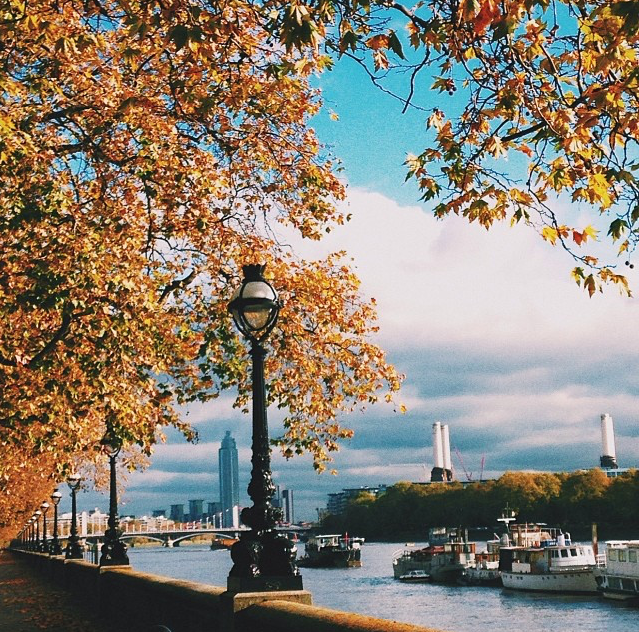 Chelsea is one of London's richest neighbourhoods, often home to the coloured chino, a boarding-school British accent, beautiful Victorian houses and brand new, shiny cars. It's certainly elitist and the people watching is unparalleled. Whether you're hiding behind a newspaper or the all to common Bug-like shades, there's many people to be spotted tottering down the most infamous road in Chelsea, King's Road. The area is adorned with many hidden squares lined with white-pillared houses, boasting large windows that expose only a peep into the luxury that lies behind. It's the ultimate place to wander round and pick out your future dream home. Aside from the luxuries and eloquently spoken folk that roam the streets, there is actually stuff to do there and a huge selection delicious restaurants waiting for you to try them out. Explore away!
Location: South West London
Tube Station: Sloane Square
To Eat

Breakfast and Brunch:
Tom's Kitchen: Hidden in the heart of Chelsea off Cale Street, Tom's Kitchen is one of a number of Tom Aiken's restaurants in London. Dine on wooden tables and choose from the ultimate brunch menu, they never fails to start your day right.
The Good Life Eatery: If you've read my Healthy cafes in London post then you'll have heard about Good Life Eatery before, they are you're best bet for a filling, nutritious and healthy brunch in the area.
Nell's: If you head down King's Road in the direction of Fulham you'll come across Nell's which in the summer opens up completely to the street. Serving up delicious eggs, smoked salmon and toast and nutritious juices amongst other things, be sure to pay them a visit.
No 11 Pimlico Road: An instagrammers haven, the lighting, the marble or wooden tables and the delight of dishes ready to be snapped away. Thankfully the food tastes just as good as it looks!


For lunch or dinner:
Bluebird: During the day eat at their cafe, they have a delicious selection of salads, sandwiches and more filling meals. The Bluebird burger is pretty delicious. In the summer be sure to make full use of the courtyard for drinks and snacks later in the afternoon before heading up for a fancier dinner in the main restaurant. What to expect: British bistro food, mdoerate to expensive prices.
Big Easy: Book as far in advance as possible! They're booked up practically every day of the week and for good reason. A crab shack fused with American dishes with fantastic cocktails, be prepared for a meaty-crab-feast and try and arrive before 6.30 to make the most of 2 for 1 happy hour!
Kurobruta: One of the most original restaurants on King's Road, recently opened in the last couple of years you'll find a fusion of Japanese cuisine that will have you wishing you handed finished all your dishes so quickly!
The Orange Tree: Located on Pimlico Road the Orange Tree is a beautiful modern British restaurant serving up a great selection of food with beautiful light flooding the restaurants and eclectic interiors.
The Ivy Chelsea: A new member to the Ivy family, this one is a little different with a beautiful garden courtyard located off King's Road. Having recently opened they're fully booked most night for dinner so try earlier in the day for lunch if you're keen to check it out and sit out in the garden.
To drink
Chelsea Farmers Market: On a sunny weekend afternoon the Chelsea Farmers will be buzzing and packed with a crowd eager to finish their jug of Pimm's. It's the perfect hang out for an afternoon drink with a group of friends.
The Phene: Often featured on the structured reality show, Made in Chelsea, there are other reasons for visiting this pub-come-bistro aside from spotting the odd cast member. It boasts a beautiful little courtyard and a great cocktail list, they also serve food in the restaurant but I'd recommend it mainly for a drinks location!
Raffles: If you're looking for a place to dance the night away I can't say this place is the best but maybe that's just because I'm not the biggest fan of night clubs (!) it will certainly serve it's purpose if you're willing to shell out half a week's salary for a table or know a promoter working the night!

To do
Saatchi Gallery: The Saatchi Gallery is free for all and they have a collection of interesting exhibitions or instalments frequently changing throughout the year.

The Curzon cinema: Head to the Curzon for an arty, foreign or old movie with the occasional blockbuster. A delightful little cinema if you're seeking one out.

Duck and Dry: An affordable blow dry bar located on King's Road, beautiful pastel interiors with a well stocked bar – this is a little indulgence that won't break the bank.
Shopping: There's a number of beautiful shops lining King's Road and the surrounding area. Here's a collection worth visiting: Heidi Klein for swimwear, Sandro, Zadig and Voltaire and Cos for beautiful, good quality clothing. There's also a huge Peter Jones (one of the John Lewis chain) on Sloane Square or a large Zara branch on Duke of York Square that always have everything you need!
To work out
Triyoga: Triyoga have a number of studios in London with classes running throughout the day. Choose from pilates, ashtanga or vinyasa yoga all the way through to an hour's chanting if that's what floats your boat. They cater to everything and have their own little cafe upstairs that you can work in too or you could head over to Juice Baby after your session here to replenish yourself with one of their many healthy drinks!
Lomax Chelsea: Located on Fulham Road, Lomax offer a range of classes as well as bespoke personal training and fitness. Their infamous Lomax Blast Classes and spin sessions are sure to have you sweating within minutes and toning you up in a matter of weeks. They also have a cafe downstairs to refuel post work out!