I'm introducing you to a new series here on World of Wanderlust – 'Exploring London's Neighbourhoods'. A 'Where To' guide of the top places you should know about in as many of the neighbourhoods as possible. A little like New York, London is made up of a collection of little villages. Shoreditch, Chelsea, Notting Hill, Camden, Fulham, Clapham… I could sit here all day and type every single one out but I think that might be quite dull, however the list does goes on! Hopefully you'll find this little series of posts informative for visiting London and even for any fellow Londoner's out there who want to explore a new neighbourhood in our beautiful city. So let's get on with it shall we?! Hope you enjoy exploring London's neighbourhoods: Notting Hill edition!

Notting Hill
Where: West London
Tube stations: Notting Hill Gate, Ladbroke Grove
If ever there was a location that benefitted so much from a movie it is here. Yes that's right I am talking about that Hugh Grant and Julia Roberts' romanticisation of the neighbourhood. The area has become famous for it's market, celebrity residents, beautiful Victorian houses, brunch and of course the Notting Hill Carnival which is the second biggest in the world after Rio and takes to the streets every year in late August.
To eat
As Notting Hill is home to a large majority of London's Yummy Mummy's there are plenty of options for brunch.
You don't want to miss:
Granger & Co – Their butterscotch ricotta pancakes are unparalleled.
Daylesford Organic – Serving Organic produce from Daylesford Farm in Somerset, they also have a gorgeous deli too.
Nama Foods – For a healthy, raw and vegan option head to Nama.
Bluebelles – They serve brunch all day and their French Toast is exceptional, need I say more.
202 Cafe – Delicious breakfasts, their hot chocolate, full English breakfast and pancakes are worth an order!

There's plenty of stops along the way to take a break from all the exploring you're going to be doing, so be sure to seek out a coffee while you're here.
For an afternoon coffee:
Try out Gail's and Talkhouse Coffee.

Notting Hill is bursting with the most delicious selection of restaurants to choose for your dinner, both pricey and cheap, there really is something for everyone.
For dinner:
Boom Burger – Burgers with a Jamaican twist and fantastic rum punch.
Electric Diner – Attached to the Electric Cinema and a sister of the Soho House dynasty, this diner serves a combination of healthy salads and not so healthy treat meals
The Shed – Founded by two brothers, this haven of locally sourced food, great atmosphere and great cocktails is well worth a visit while you're in Notting Hill.
Pizza East – Fairly self explanatory, another sister to Soho House, but open to all, you can guarantee their pizzas will be fresh, delicious and exactly what you're looking for. Ask for fresh burrata as an additional topping – you won't regret it!
Lisa's – A Sweedish sanctuary in the heart of Notting Hill. Serving up traditional Scandinavian dishes for all to enjoy.
Polpo – They've finally headed West! One of my go-to restaurants in Central London has expanded to Notting Hill. Think Italian tapas and you'll be along the right track. The meatballs, pizettes and grilled focaccia are all drool-worthy.
Honest Burger – Another burger spot you shouldn't miss while you're here, one of a number across London, Honest Burgers are up there with the top burgers in London and their rosemary salted fries are out of this world. If you want to read more about it and Boom Burger check out the Best Burgers in London post that went up a few weeks back!
To drink and dance
The Rum Kitchen – A Caribbean inspired cocktail bar and restaurant. They have a delicious selection of rum-infused drinks as well as the perfect food for when you feel like you need a little sobering up.
Supperclub – Drinks followed by a little dancing, Supperclub is a pretty fun location to end your day in Notting Hill.
Trailer Happiness – A den-like cocktail bar mixing up drinks with a Tiki twist, the Trailer Colada cocktail is a personal favourite.

To do
Portobello Market for a little bit of shopping and bargain hunting, although it's unlikely you'll find many bargains along here anymore. Be sure to take a little look into Alice's, they have the most amazing collection of antiques and everything in between. You'll find them at the top end of Portobello Road if you're walking from Notting Hill Gate tube.
Wild at Heart for a bouquet of flowers or just to stare at their beautiful little shop on Westbourne Grove.
The Electric Cinema for a movie experience like no other, sofa's are involved.
For a bit of culture head to the Museum of Brands to learn about the history of advertising!
To work out
As I mentioned above, Notting Hill is yummy mummy central so there's obviously a selection of specialised fitness studios to cater to this!
Form Studios – This takes a standard reformer Pilates class to another level, they combine Pilates with High Intensity Resistance Training to work all of your muscles in a compact 50 minute session. What could be better?!
Heartcore – They offer a selection of TRX, Reformer Pilates and Barre classes so you'll be sure to be leave feeling lean and toned by the end of the class
Barretoned – A work out centralised on the ballet barre, to lenghten and tone your muscles whilst also breaking a sweat!
Bootcamp Pilates – As the name gives away this is a Reformer Pilates studio which offers dynamic and differing sessions with each class. You'll definitely be breaking a sweat by the end and every muscle will be burning!

If you're a fan of the movie…
Well I couldn't very well leave out some of the key spots from that beloved movie now could I?! If you're a fan of 'Notting Hill' you're going to want to check out these places.
The Blue Door: 280 Westbourne Park Road
The Bookshop: 142 Portobello Road
The Market: Portobello Road Market
The Secret Garden: Rosmead Gardens on Rosmead Road – good luck getting in!
Happy exploring!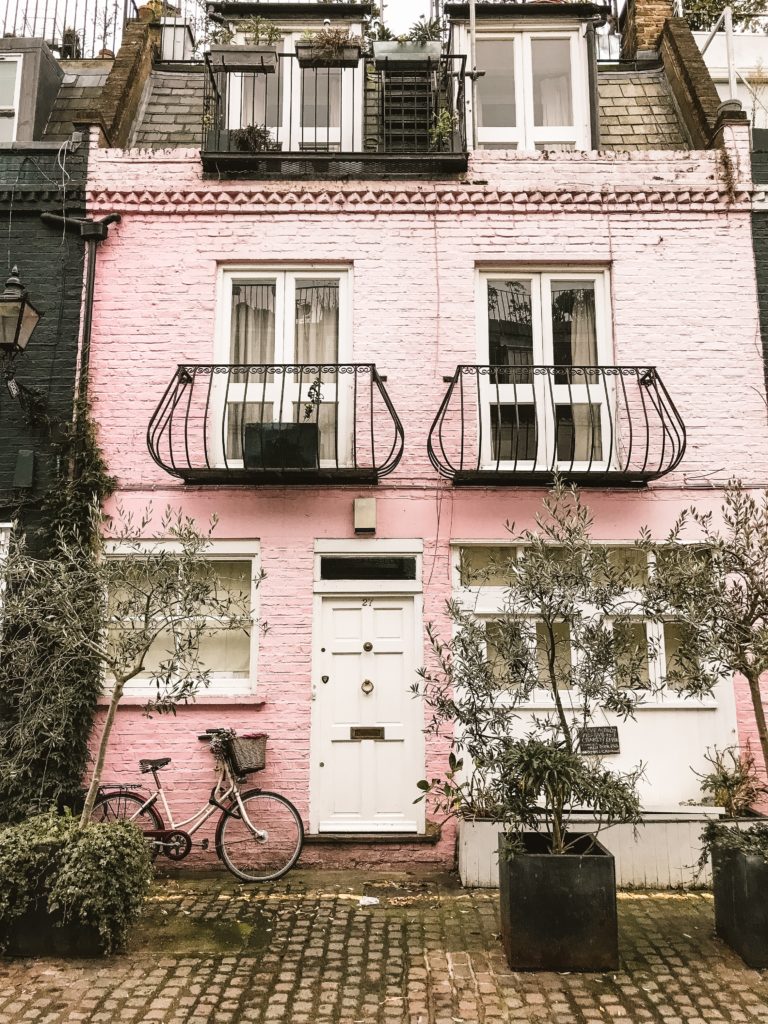 PLANNING A TRIP TO LONDON? CHECK OUT OUR GUIDE: