Let me start by saying I do not normally fly first class. And while I wouldn't be complaining if I did, it is certainly not an everyday occurrence for me. In fact, this was my first time flying up front! And what better way to start than by flying Emirates first class for my long journey home to Australia. Here is a complete review of my experience from start to finish. Believe me, the luxury was not lost on me!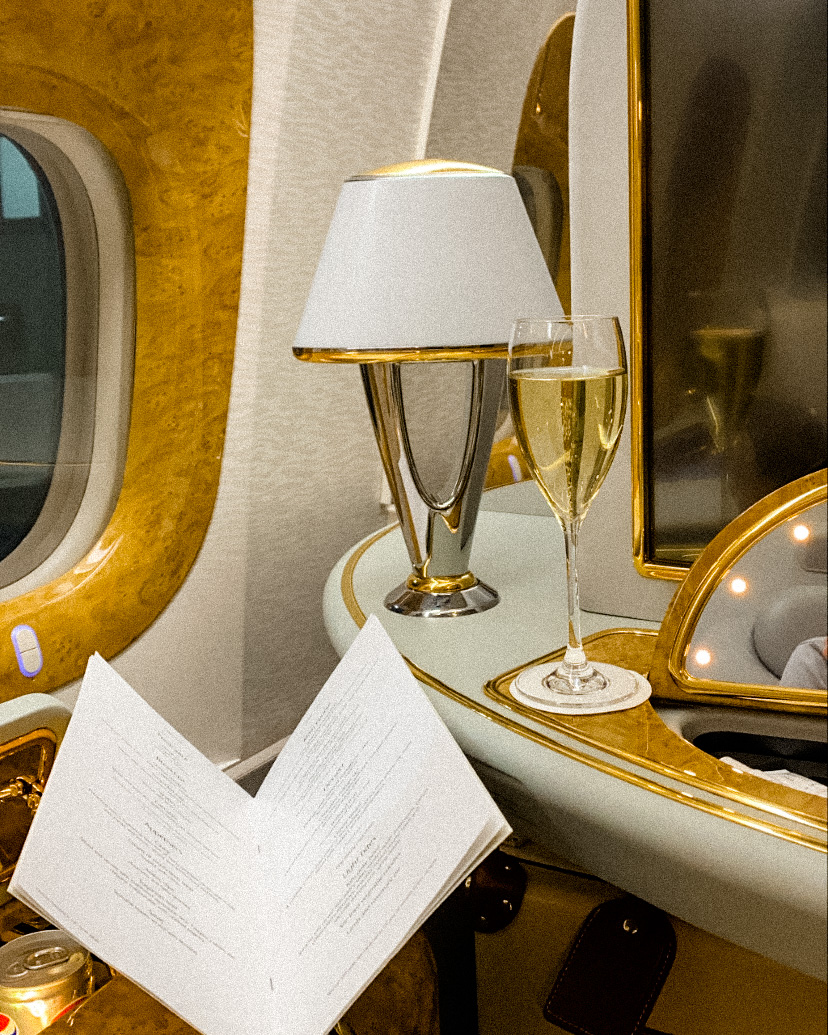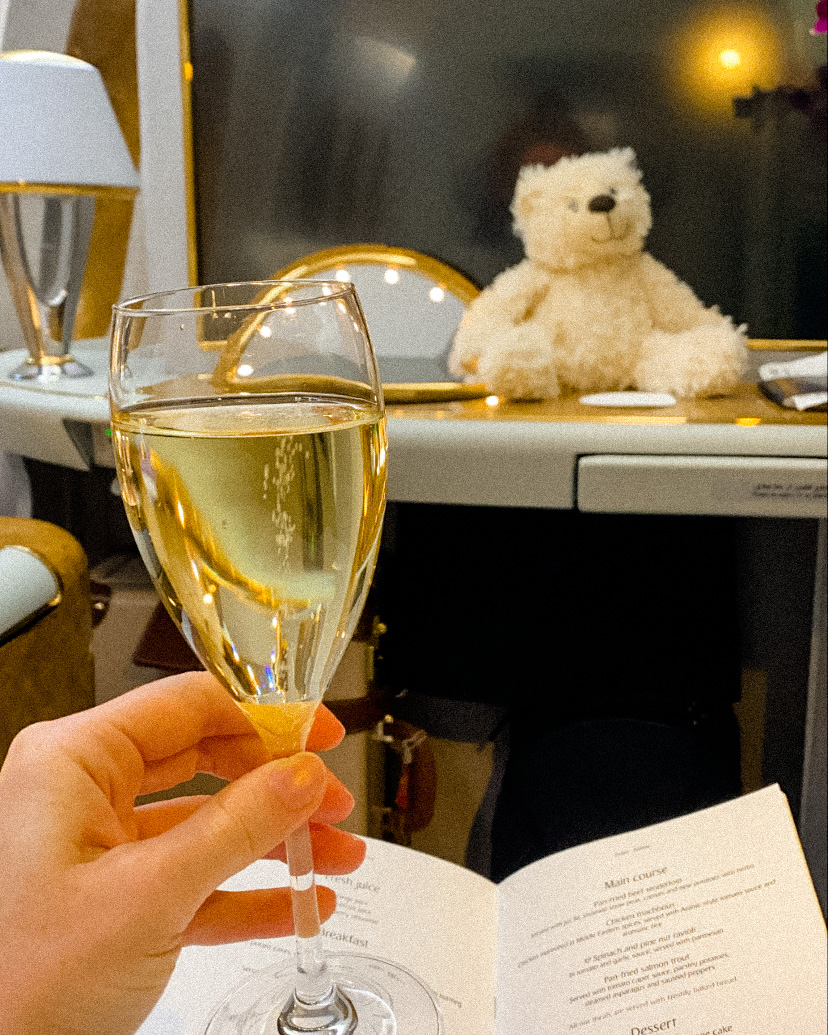 Flying Emirates First Class
Flying through the pandemic is something I have been nervous about since borders started closing in March. Back then, I thought I would wait out the travel bans and stay in Cape Town until things returned to normal. I figured travel restrictions would pass within a few months. How wrong I was!
As it became more and more clear that travel restrictions were here to stay, I soon realised I was out of a job. As a full time travel writer and photographer, it was time to accept my short career break was more long term than I originally thought. But to be honest, I didn't mind too much. I have been travelling for eight years almost full time, so I'm quite enjoying taking extended time off.
The problem came, however, when my visa in South Africa expired and I could no longer stay. Theoretically, I could extend my tourist visa in South Africa for three months. But I figured I was just delaying the inevitable. Moreover, I haven't worked since March and there's only so long you can stay sane (and above your credit margin) before the walls cave in. It was time to move back to Australia.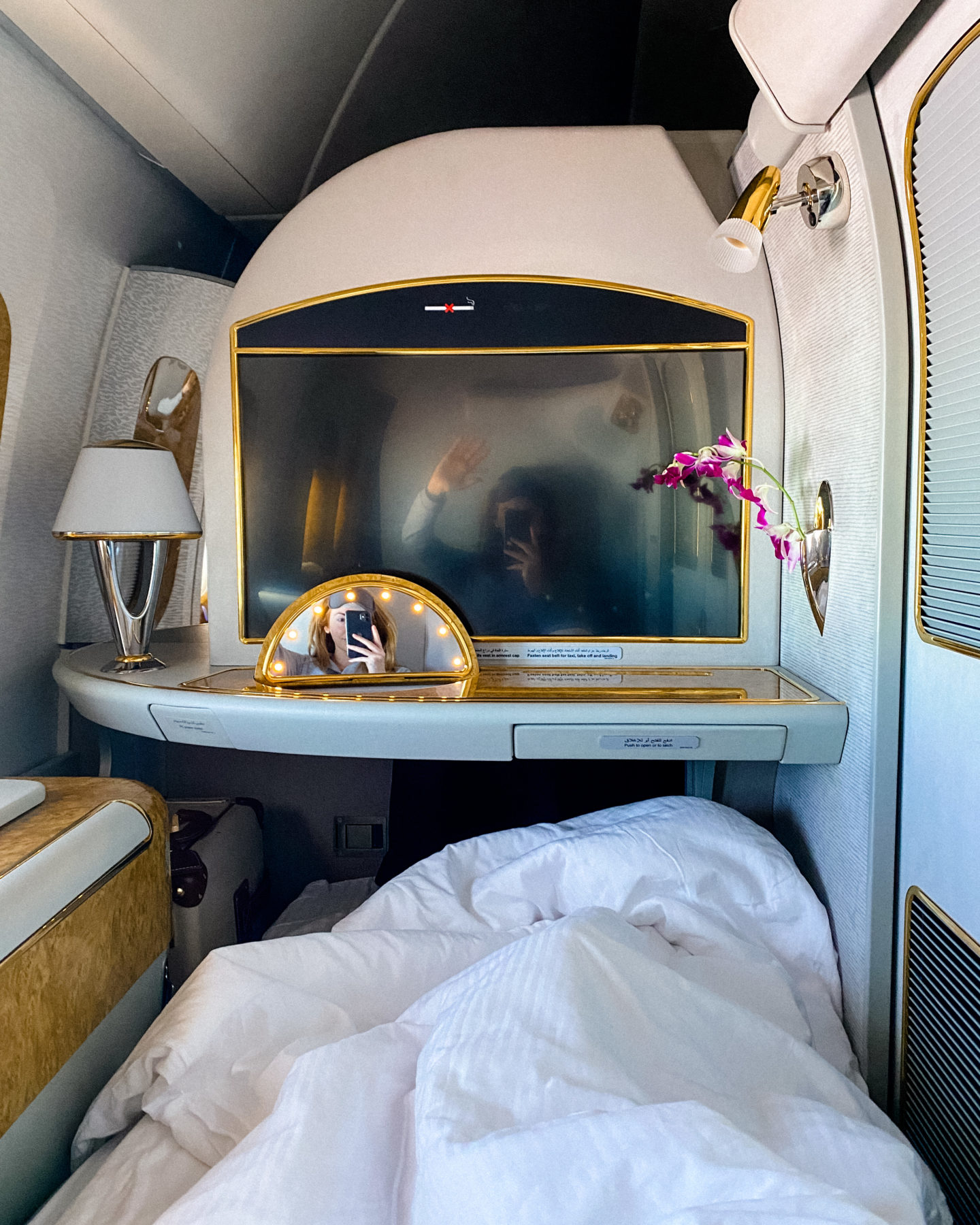 Booking my flight
I had been looking for a flight for weeks when I found an Emirates flight via Dubai to Sydney. Prior to that I had two flights cancelled on me, so I was checking airline websites daily when this flight popped up.
The only catch? It was in first class.
Because of the flight caps on how many people can enter Australia per day, there are very few flights available to book. Those that do become available are business class or first class. This is because airlines need to justify the cost of the flight with higher paying passengers. Booking this ticket was my best bet at getting home in 2020.
So, I put it down to experience. Typed in my credit card digits and held my breath while the page loaded.
Success! I was flying one-way from Johannesburg to Dubai and later Dubai to Sydney. I was going home.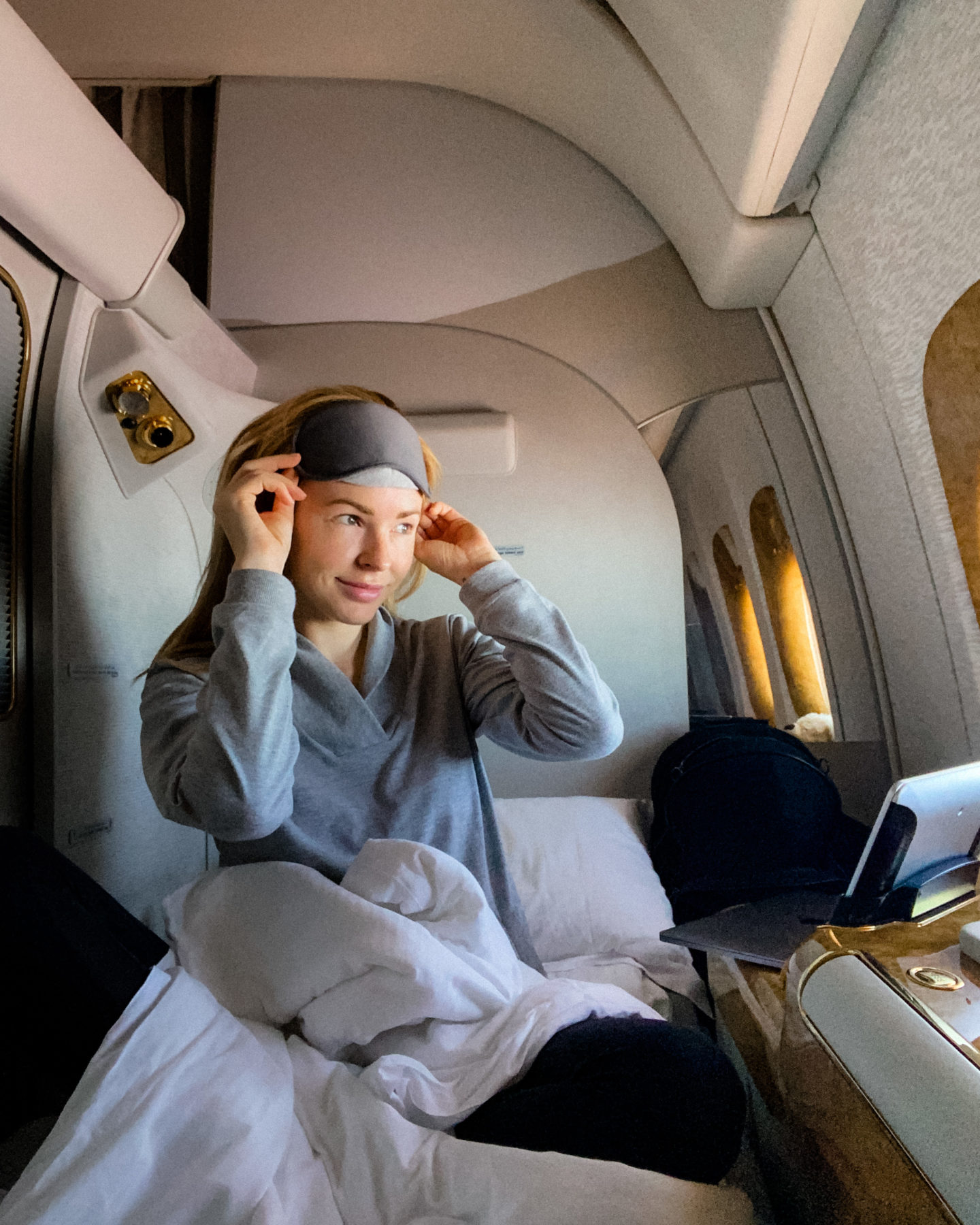 Onboard my Emirates First Class Flight
Because of the pandemic, my check-in experience and Johannesburg and pre-flight rituals were fairly uneventful. At the time of writing, Emirates lounges around the world are closed. However, the lounge in Dubai is open, which was a welcomed relief given my 20 hour layover!
Now to my onboard experience.
My flight was a Boeing 777 with just eight closed suites in first class. The first class section of the plane was full, but I didn't need to worry about social distancing. Each of the suites comes with a closing electronic door for complete privacy. I've read that on some of the newer planes this security wall goes all the way to the ceiling!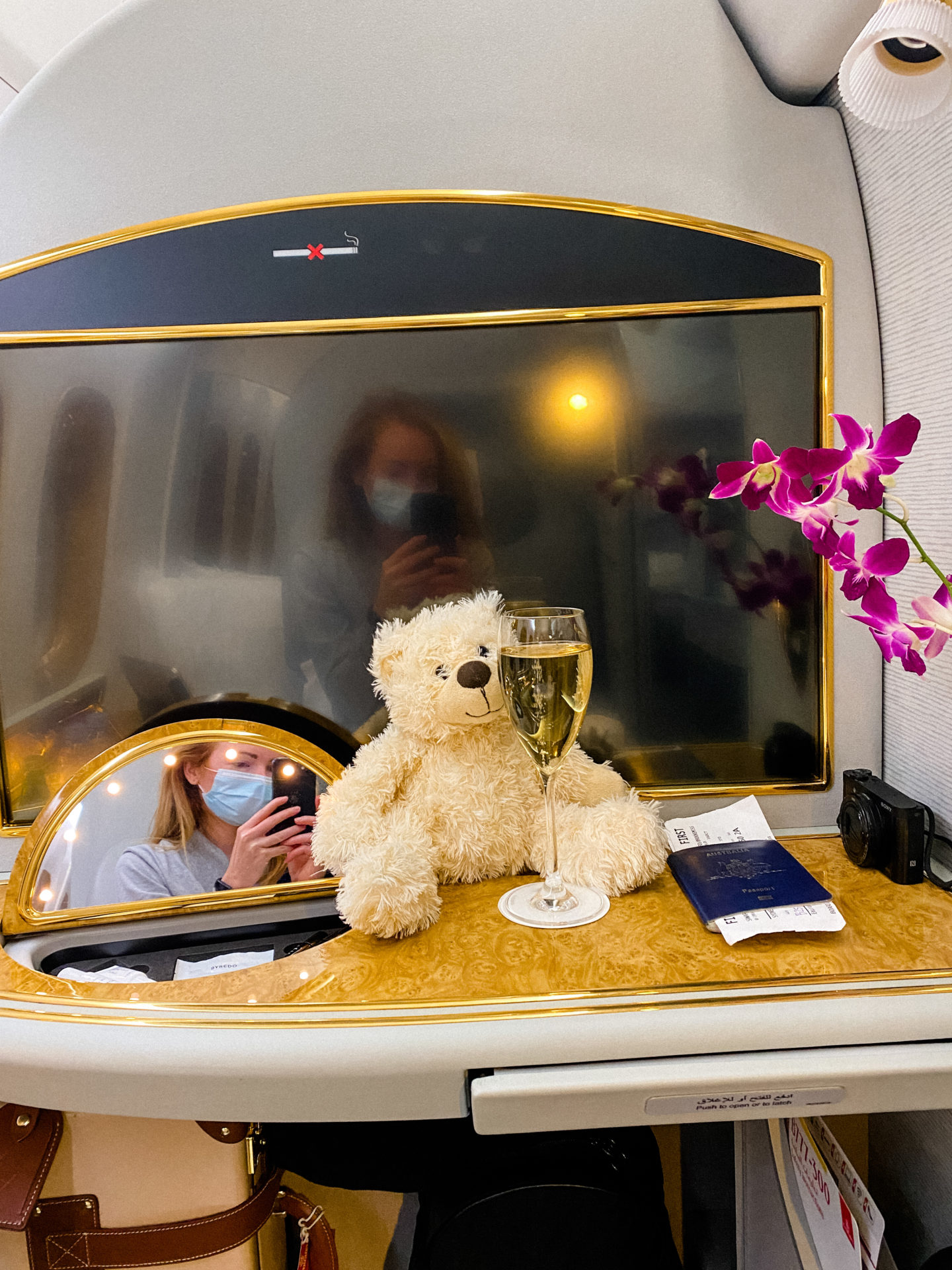 The onboard welcome
Whenever I fly Emirates I love their service most. And while I've flown business class a handful of times for work, I was excited to see what would be different about the experience in first class.
When I boarded the plane I was immediately welcomed and offered a glass of champagne. Dom Pérignon to be exact! I was also offered a pair of pyjamas for each flight (I had two), a bvlgari cosmetics case and a travel hygiene pack for flying during the pandemic.
Inside the suite there were also some lotions and potions from Byredo, one of my favourite fragrance brands. For audio on my flatscreen tv there were Bowers & Wilkins PX noise-canceling headphones at the ready. There is also a full mini-bar in your seat, not too dissimilar from Emirates business class.
The real step up in first class is the privacy wall and increased space in your suite.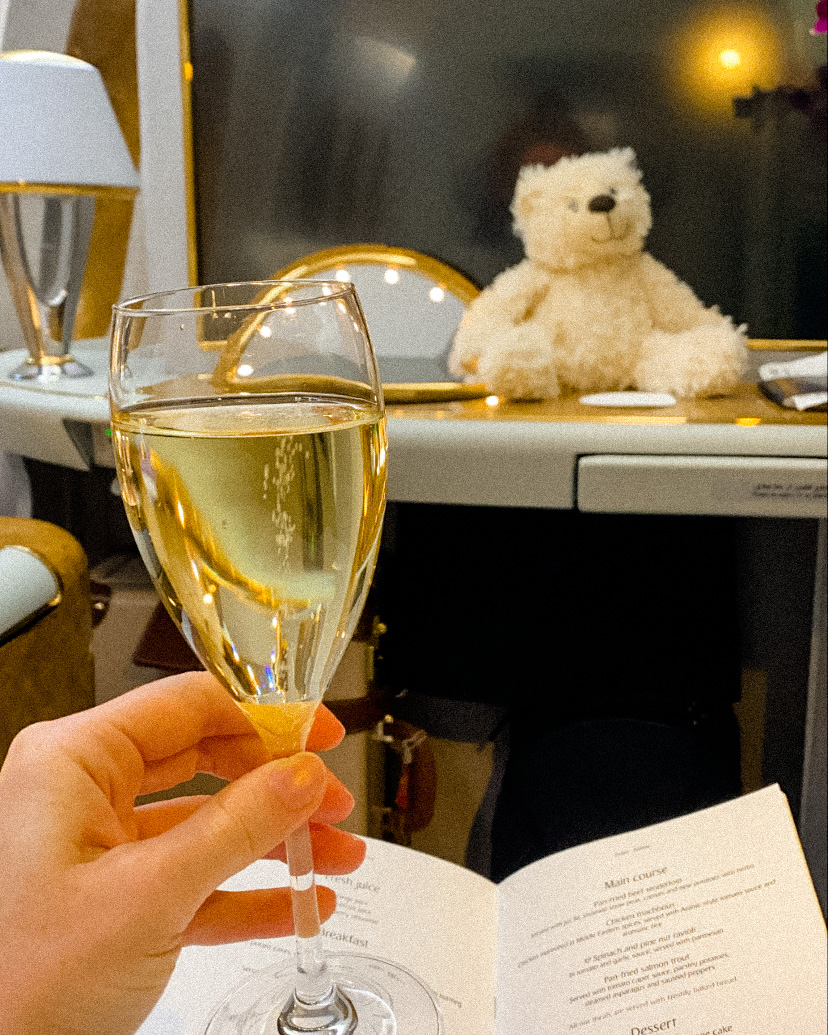 Food and Beverage On Board
I had two flights to catch from Johannesburg to Dubai and later Dubai to Sydney. The first flight was only 8 hours long and in a jetlagged haze, I slept through the entire flight. I woke up as the cabin crew were preparing for landing.
On the second flight, I made time to sample the menu given it was a 13 hour flight through to Sydney. After my glass of bubbles I enjoyed some Arabic mezze and a vegetarian spinach and ricotta ravioli with Neapolitan sauce for dinner. Dessert was a chocolate and mango cheesecake, plus a cheese board to make up for lost time (and calories) on the previous flight.
There wasn't a huge different in food offerings between business class and first class. In fact, I'd say they were both very similar. I did however notice caviar on the first class menu, which as a vegetarian was a no for me, but fancy nonetheless!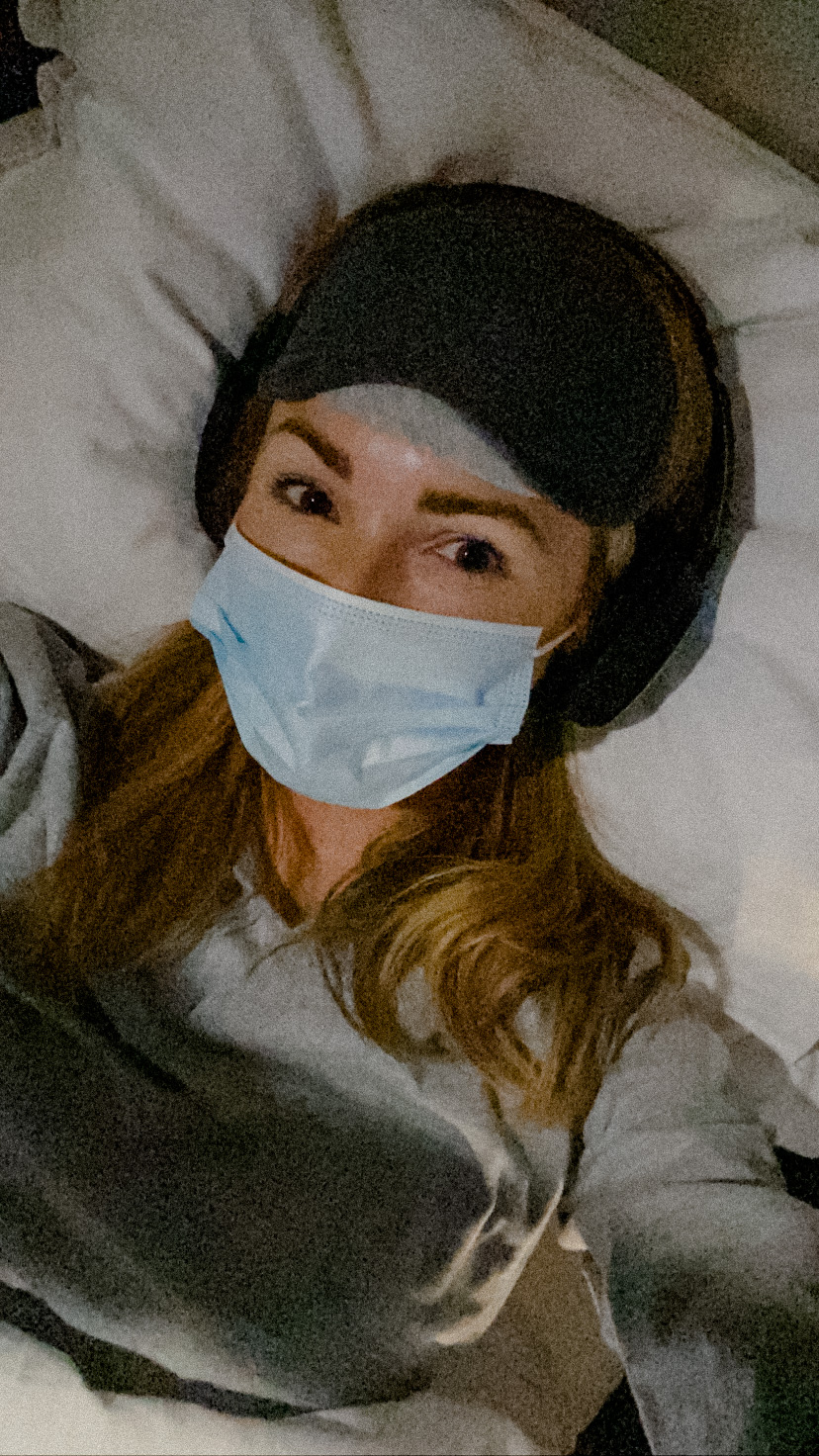 Comfort on Board
I think the biggest different in flying first class is the comfort and privacy of the suites. With an electronic closing door, you can really enjoy complete privacy on board. This was of course a welcomed freedom for flying during the pandemic, as I was able to socially distance with ease.
The seat in first class is of course a fully lie flat bed and a bit more spacious than business class. The major difference I noticed was the lack of overhead lockers, as first class passengers are allowed to keep their luggage inside their suite on the floor. There is also a small wardrobe for each suit with three coat hangers, so the stewardess will always offer to hang your coat when you board.
Another addition in the suits is the beauty cabinet filled with Byredo products and a light to clean your skin or apply make-up before landing. The products included a lip balm, pillow spray, sleep oil, facial mist and a facial wipe.
Finally there was a small compartment with an Emirates notebook and pen to attend to business on the flight. This was accompanied by the pop up mini-bar by the window. What a treat!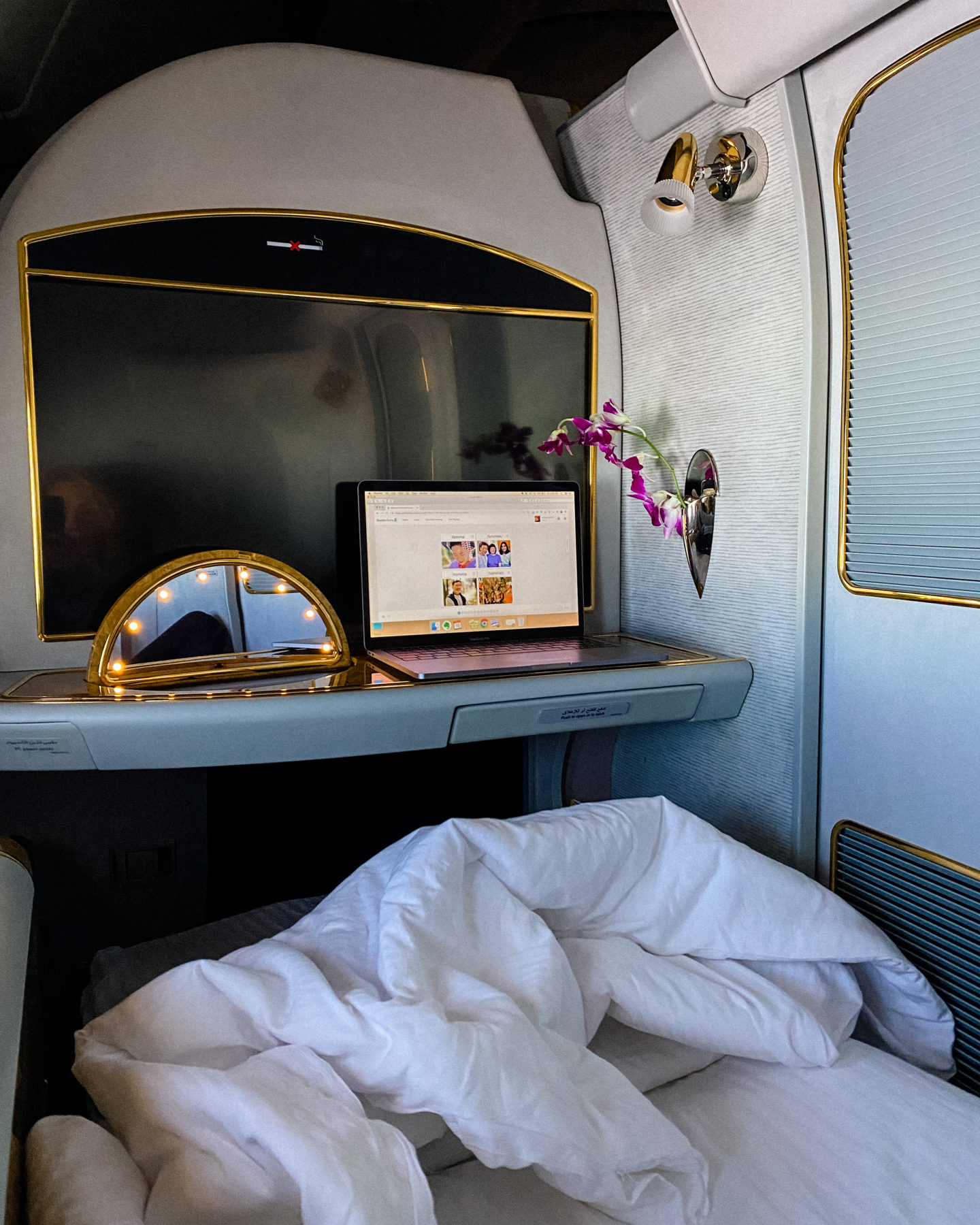 Overall: Would I book it again?
If I had the luxury of choosing to fly first class again I absolutely would. Since sharing my experience on Instagram a handful of my readers suggested accumulating points is the best way to do so! As I am a part of the Qantas program and Emirates is a codeshare partner, now might be a good time to get serious about accumulating points!
Dare I say, I am glad I won't be flying for a while now that I am home in Australia. I'll be holding on to the sweet taste of my first-class flight for a while to come.