You know that bucket list you've been ticking off? Well, you can now add one more "must do in Africa" to it. Flying over Victoria Falls in a microlight is without a doubt one of the coolest experiences you will find in the world and perhaps the closest you will come to mimicking what it must be like to be a bird…. or at least, the true definition of a "birds-eye view". Here's how it went down…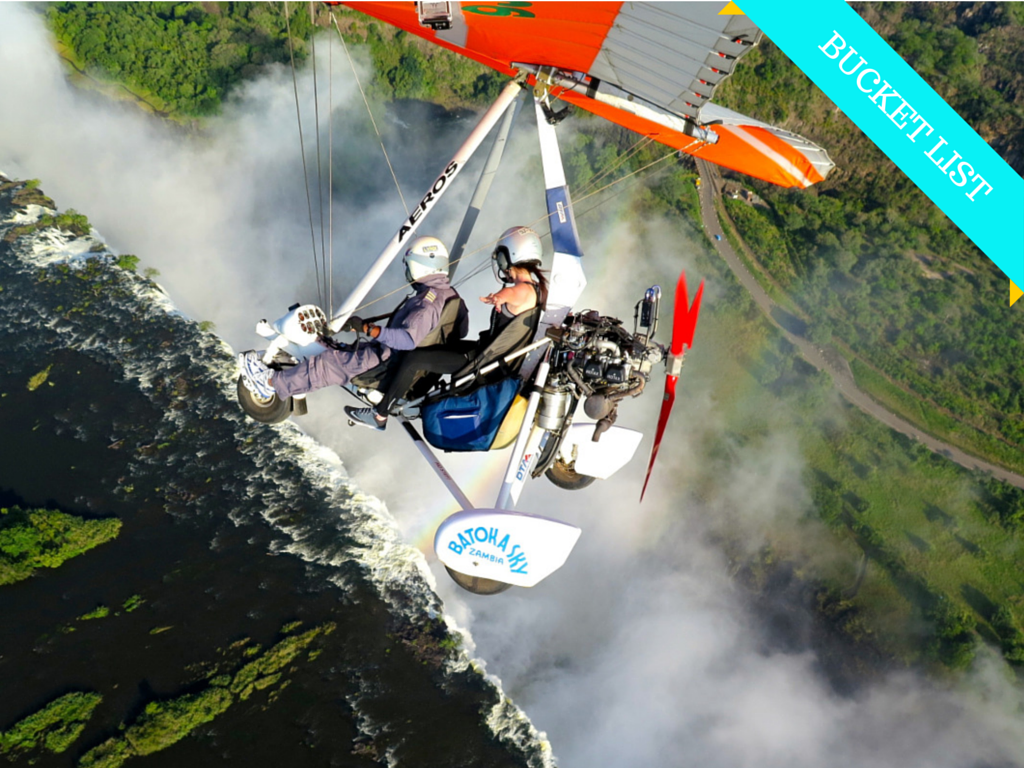 Flying Over Victoria Falls
For those unfamiliar, Victoria Falls is located in southern Africa at the border of Zambia and Zimbabwe. It is one of the world's most recognisable waterfalls, a UNESCO World Heritage site, and stands tall at 355 ft. This does not make it the highest waterfall in the world, nor is it the widest, but its' combined height and width make it the world's largest waterfall. Thus, it should be all means be on that travel bucket list of yours.
There are many popular activities to get up to both at the Victoria Falls and on the Zambezi River (where the falls run-through), but the most popular of these is to fly over the falls – either by microlight or helicopter. Eager to get a real feel for the falls from above, I chose the microlight.
…In a Microlight
This was one of the best experiences you will have in your lifetime and for sure the best way to experience the falls.
You can go on 15 minutes or 30-minute ride, with the latter including an additional 15 minutes viewing game (wildlife) from above. However, the 15-minute ride also includes ample opportunity to see the below wildlife – including elephants, crocodiles, and plenty of impalas. If you're lucky, you might even see some cats as you fly over the Zimbabwean side of the falls.
The cost is $170 USD for the 15-minute flight. You're not allowed to take your own camera, but you can purchase photos after the journey for a reasonable $20 (which are much better anyway as they include the microlight in the frame)!
Over to you! What is THE best travel experience of your life?