Chances are you have already seen photographs of Africa's most photogenic hotel. Surrounded by giraffes, Giraffe Manor is a haven for wildlife lovers and of course, the wildlife themselves. Located in Kenya, Giraffe Manor Nairobi is one of our top picks for the best hotels in Africa. Read on for our full review of Giraffe Manor to help you decide if you'd like to visit yourself!
Introducing Giraffe Manor, Kenya
When you travel to Kenya, you are likely to arrive in Nairobi. The capital city is mostly considered a quick stopover city, with travellers eager to venture out of the city and into the bush almost as soon as they land. However with bush flights normally departing early in the morning, many travellers need to stopover in Nairobi before they embark on their safari journey. And what better place to shake the jet lag and make the most of a stopover, than at Giraffe Manor in Nairobi.
Giraffe Manor is undoubtedly Kenya's most famous hotel. And as far as unique experiences go in the travel world, staying at Giraffe Manor is one of the most sought after hotel stays on the planet. So, what can you expect? Read on for our full review of Giraffe Manor Kenya!
What to expect at Giraffe Manor
There are just 12 rooms at Giraffe Manor, making this an incredibly intimate experience. Rooms are difficult to come by, with dates often booked out a year in advance. The hotel is located in the leafy suburb of Langata, on a 140 acre sanctuary. At the green oasis, the Rothschild species of giraffe roam the green spaces, arriving right on time at the manor for their morning feed.
At breakfast, the giraffes arrive in a timely fashion and put their heads through the windows to retrieve food from eager guests enjoying their own breakfast inside. The giraffe's diet is of course very different to guests' so there are strict instructions on what to feed the giraffes as the peek through the windows.
During the day (after breakfast feeding with the giraffes), guests can enjoy the private and tranquil gardens to themselves. There are endless green spaces to explore, with garden swings and climbing ivory at every turn.
And then, it is onwards for your safari journey! Below are some of our favourite lodges to continue your travels in Kenya:
Review: andBeyond Bateleur Camp in Kenya
Review: Cottar's Safari Camp in Kenya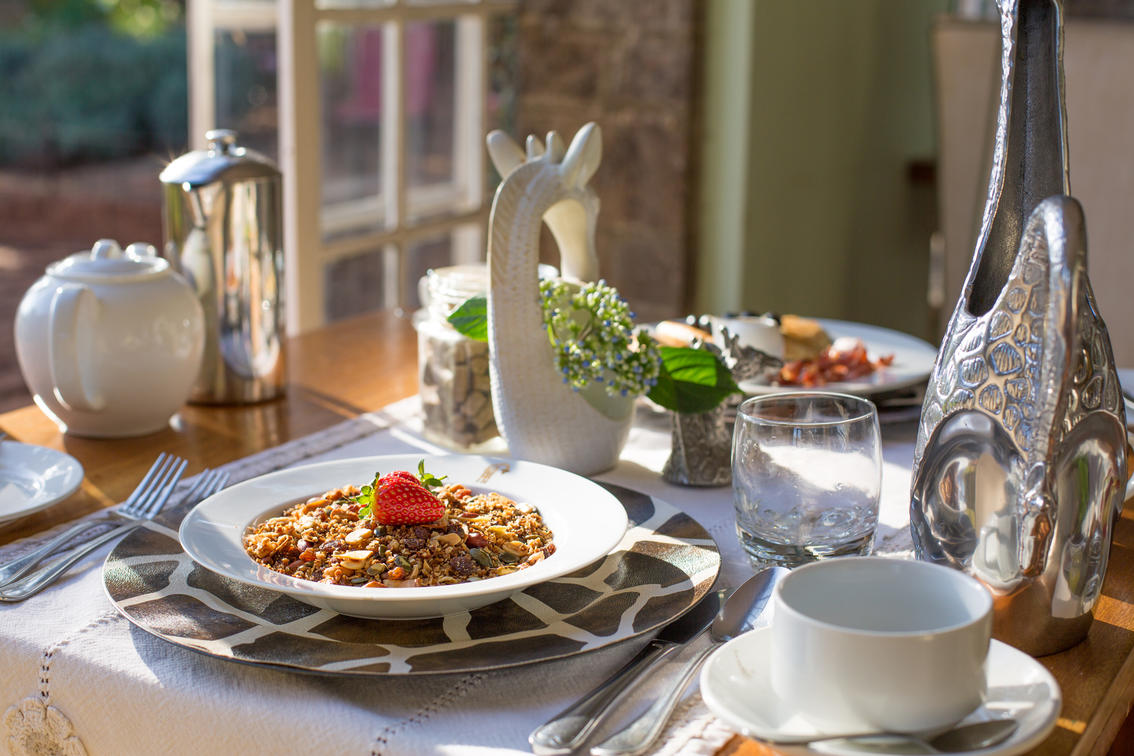 image credits: Scott Ramsay, Thandiwe Muriu, Nancy Gibbs