Healthy Paris – does it really exist!? Healthy eating in Paris is no easy feat, there are temptations around every corner and with a fear of missing out on Paris' famed pastry scene, it's even more difficult to stay on the right track. Nonetheless of recent years, Paris has seen an increase in healthy eateries making it a little easier on those who are health-conscious living the city. If you're trying to eat clean in Paris, then here are 10 of the top healthy spots to stock up on superfoods and keep your energy levels high:
Café Pinson
Café Pinson is the vegetarian restaurant that everyone raves about. My favourite is the original along rue du Forez as it in unbelievably cosy with its enormous slouchy sofas, hexagonal tables and artsy printed wallpapers. The menu is abundant in superfoods such as chia seeds, quinoa and kale.
6 Rue du Forez, 75003 Paris | Métro Filles du Calvaire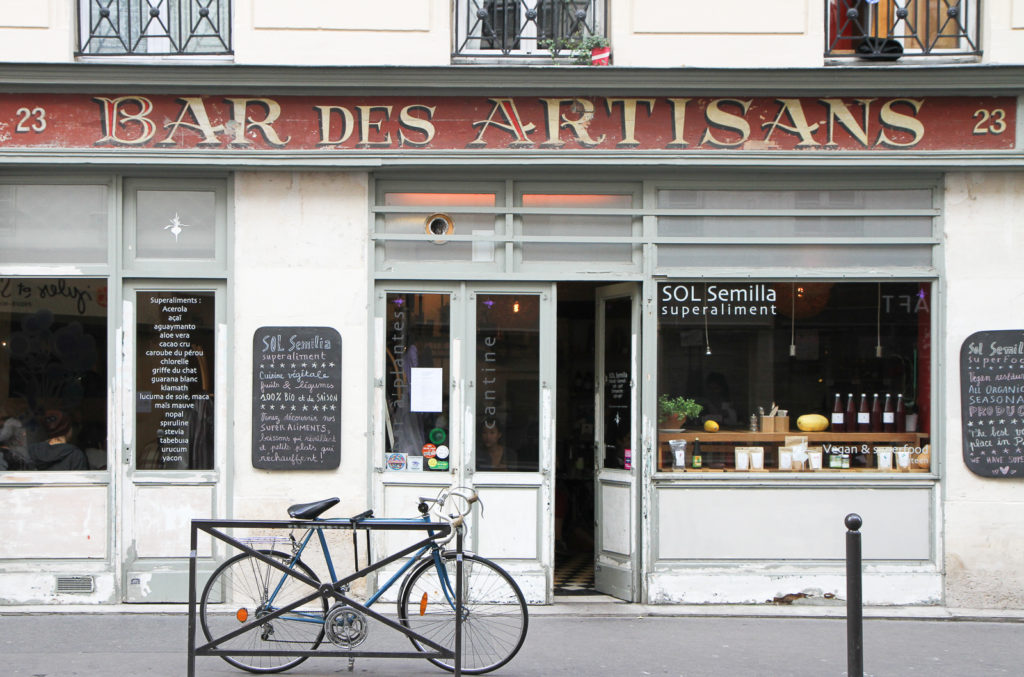 Sol Semilla
Sol Semilla is one of few vegan eateries in Paris. The food created here is good enough to convert even the most committed of carnivores. The restaurant creates colourful dishes which are completely vegan and taste as good as they look. There is a health epicerie as well so you can stock up on superfoods for the home.
23 Rue des Vinaigriers, 75010 Paris | Métro Jacques Bonsergent
Chambelland
A gluten-free bakery in Paris you say? Yes Chambelland offers exactly that: gluten-free bread to Parisians without sacrificing quality. The seeded loafs are crunchy, packed full of nutrients and simply delicious. They offer a tasty lunch menu with healthy sandwiches filled with homemade guacamole or smoked salmon on their signature 5-seeded bread as well as an array of salads and gluten free pastries.
14 Rue Ternaux, 75011 Paris | Métro Parmentier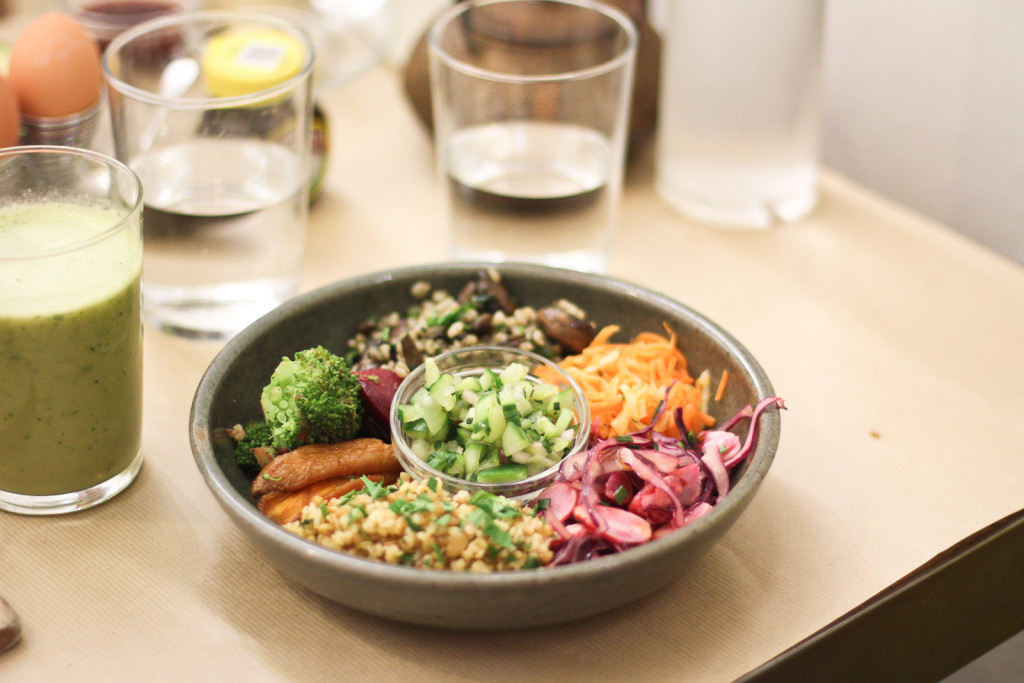 Rose Bakery
This healthy conscious café was the first of its kind in Paris and has therefore gained quite the following. It is run by a Franco-British duo who have a passion for organic and local produce and homemade food. The multi-coloured salads served inside will give your body all of the nutrients it needs.
46 Rue des Martyrs, 75009 Paris | Métro Pigalle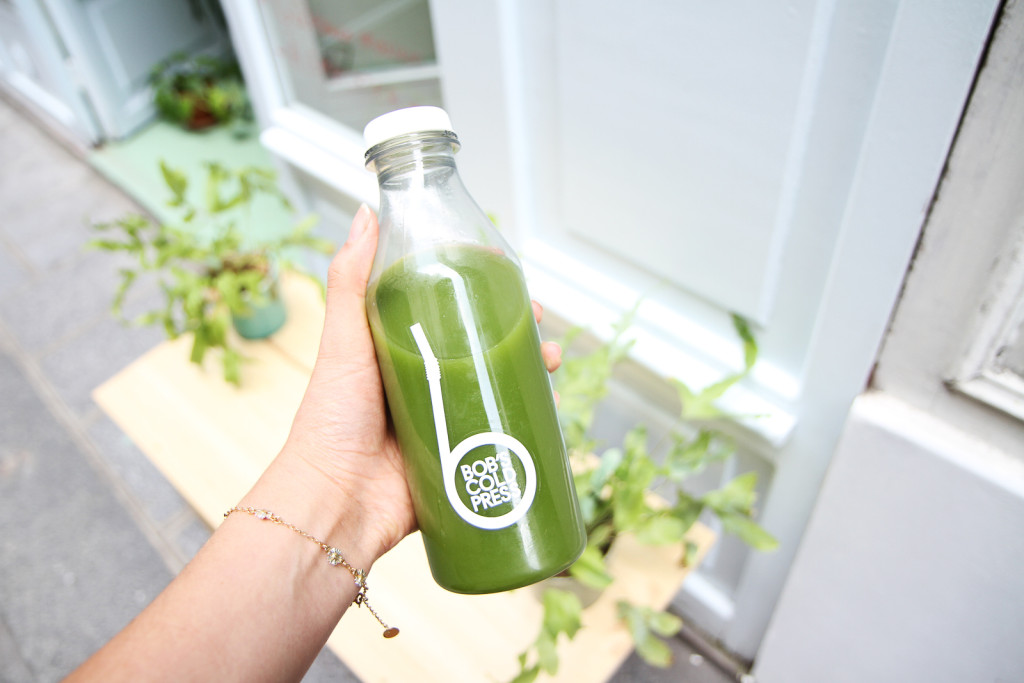 Bob's Juice Bar
Bob's Juice Bar is a great vegetarian restaurant in Paris set in a rustic spot with shared tables and homemade, wholesome cooking. There are three locations in the city, each one with a different focus. Bob's juice bar specialises in cold pressed juices, Bob's Kitchen in savoury dishes and Bob's Bake Shop in salads and bagels. The juicing trend doesn't seem to have properly hit Paris just yet with very few places selling in cold pressed juices therefore I am so grateful to this place for pioneering this movement in Paris.
15 Rue Lucien Sampaix, 75010 Paris | Métro Jacques Bonsergent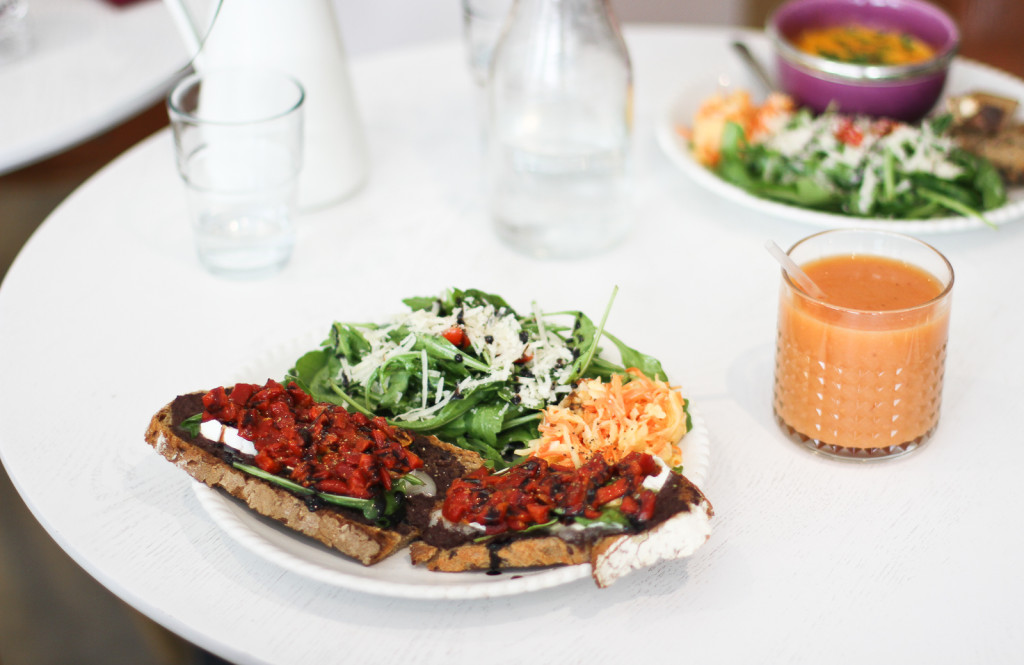 Blackburn coffee
Blackburn is one of the new movement coffee shops in Paris but not only does it promise the perfect flat white, it also delivers an exceptional lunch menu with homemade, hearty dishes. You'll find large tartines generously topped with things such as tapenade, pesto, roasted vegetables and smashed avocado and hearty salads full of lentils and seeds. The food is super nutritious but unintentionally so and that's what makes the meals here so delicious. There's also a wonderful juice and smoothie menu to tempt you.
52 Rue du Faubourg Saint-Martin, 75010 Paris | Métro Château d'Eau
Helmut Newcake
You wouldn't believe what you can eat on a gluten-free diet until you pop into Helmut Newcake. A huge selection of French pastries is on offer selling everything from classic éclairs to zesty lemon meringue tarts, all of which are entirely free from gluten.
36 Rue Bichat, 75010 Paris | Métro Goncourt
Soul Kitchen
Soul Kitchen is the cheeriest café you'll frequent in too often moody Paris; the three ladies who run the café are all smiles and every customer is content after being well-looked after by them. They serve what I proclaim to be the best granola in the whole city; there are three different home-baked recipes to choose from and each of them comes with a generous glass pot of thick Greek yoghurt. The menu changes daily but you can always count on finding wholesome, nutritious food such as spinach curry, quinoa salads and super veggie power tarts.
33 Rue Lamarck, 75018 Paris | Métro Lamarck Caulaincourt
Merci
Merci is the kind of café which does good. It feeds the mind, nourishes the soul and replenishes the body. The used book café has over 10,000 books to peruse amongst whilst drinking one of their vitamin packed juices and eating a grain and vegetable rich salad. The best news though is that the proceeds from the neighbouring concept store go to pay for educational projects and charity work in Madagascar.
Boulevard Beaumarchais, 75003 Paris | Métro Filles du Calvaire
Thank you my Deer
Thank you my Deer is a quaint, little café with a very tasty menu on offer. They serve homemade soups, sandwiches, salads and cakes which are delicious as well as being gluten-free. The juice menu is extensive and striped paper straws decorate the glass jars which they are served in.
112 Rue Saint-Maur, 75011 Paris | Métro Parmentier
Photography and words by Faye Bullock
Have you eaten at any of these healthy eats around Paris? Let us know what you thought in the comments below!