In a city as big and busy as Hong Kong, it can be difficult to know where to start let alone where it should all end. But you don't want to leave Hong Kong without ticking a few (okay, 20) must-see sights and must-visit attractions off your list… so be sure to print it out and take it with you because here are 20 things you must do in Hong Kong, no matter how long your visit!
1. Visit the Peak
For iconic views of Hong Kong from the best vantage point in town, head up the peak either by tram or take a hike if the weather (and personal fitness) permits.

2. Take the Star Ferry to Tsim Sha Tsui
As one of the cheapest forms of transport in the city, it might come as a surprise that this is also one of the most enjoyable. Kick back on the Star Ferry and enjoy the views as you approach either side of Hong Kong from the harbour.
3. Navigate the MTR
The MTR is an iconic insight into local life in Hong Kong. While it is an experience in itself, make an attempt to avoid rush hour – both in the early morning and from 6-8pm in the evenings.
4. Visit Stanley
Stanley is located a little out of the way, just far enough to be out of the hustle and bustle but not so far that you forget where you are. Be sure to spend some time navigating the narrow Stanley market.
5. Hong Kong Disneyland
Although one of the smaller Disney parks, HK Disneyland is a lot of fun and a must-visit with kids – or if you're a kid at heart! Space Mountain is still arguably the best ride – an indoor rollercoaster that goes through the galaxies.
6. Become a 'ladies who lunch' at the fanciest tea in town
Hong Kong is renowned for being home to ample Michelin star restaurants and some of the best international cuisine in the world. But where to head is one of the most open-ended questions. If you're looking for the experience, go straight to the Peninsula Hotel and play it posh in one of the most elaborate hotels in town.
7. Dim Sum with a Difference
While there are some great traditional Cantonese restaurants in town, dare to be different and try Asian fusion at the newly opened Man Mo Cafe. Here you can sample traditional dim sum with a modern twist – incorporating non-traditional flavours such as brie, ratatoille, and sesame nutella balls – delicious!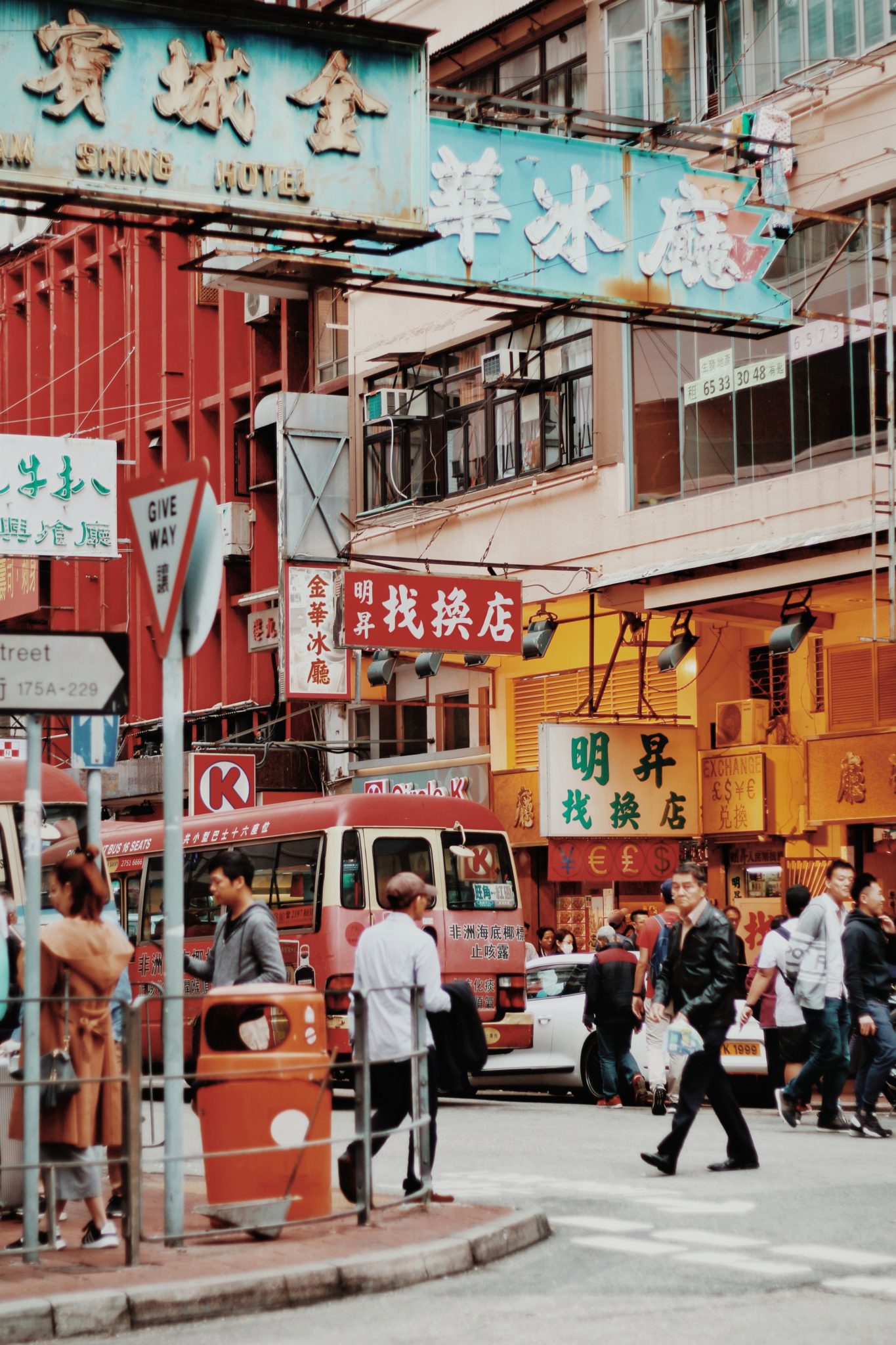 8. Get a taste for Asian markets
There are more great markets than you could imagine in Hong Kong – from the Ladies Night Market to Temple St Night Market, right through to the birds, fish, and flower markets. Try and see as many as you can whilst in town – each have a unique flair!
9. Ocean Park
While Hong Kong Disneyland is good for the kids, Ocean Park is where the adults go to play. With rollercoasters and thrilling rides galore, Ocean Park is a great way to spend a day outside of the hustle and bustle of the city!
10. Chinese Tea!
The only thing just as authentic as Chinese Dim Sum is Chinese Tea, so be sure to take a break from shopping, exploring and learning to pass some time enjoying traditional Chinese Tea.
11. Find treasure on Hollywood Road
While the traditional markets such as Ladies, Temple St and Stanley cater to the tourists with cheap market goodies, Hollywood Road is where you can find the more authentic antiques. Drop by Hollywood Road when you're around central to find some real treasures to take home as a memento of your trip.
12. Ride the trams
When you're over on Hong Kong Island you will notice the colourful trams passing through central. Get the full experience by hopping on and going wherever it takes you – there will always be an MTR stop on the other end to take you back to where you need to go!
13. Wade through the crowds in Times Square
Times Square in Hong Kong is (almost) just as crazy as Times Square in NYC. Come down to see the craziness and find a wall to lean against and watch the world pass you by. If you have the image of Hong Kong in your mind as busy with people going in every direction – this is where it is.
14. Go Hiking
Hong Kong is filled with many hikes if you're looking to see the busy city in a complete different light. Lantau Island is a good place to start.
15. Explore Mongkok on foot
Mongkok is the more local area to explore if you want to see the flashing neon lights, crazy street culture, and virtually anything goes. Take the MTR to Mongkok and wander around the streets without any plans to get the best experience of this part of the city.
16. Visit the Big Buddha
The Big Buddha on Lantau Island if the biggest bronze seated buddha in the world. Whilst here, be sure to visit the nearby Tai O fishing village for a more authentic insight into the life on Lantau island.
17. Journey across the border into Shenzhen
If you're in Asia for cheap shopping, it's actually just a short train ride journey from Hung Hom station to Shenzhen, where one will find the cheapest shopping. Be sure to check visa requirements before making the journey into mainland China as it has changed a lot over recent years and you will be best to arrange a visa in advance of your stay.
18. Wong Tai Sin Temple
This shrine is a well known tourist attraction in Hong Kong and is the perfect choice if you want to experience a temple whilst in Hong Kong.
19. Make a day visit to Macau
Another day trip if you have more than a few days in Hong Kong is a short ferry ride away – to Macau. There's much more to Macau than casinos and lavish shows. Be sure to take some time to explore and understand the Portuguese history and influence – it's a fascinating look into world history.
20. Party in Lan Kwai Fong
If you're looking to venture out for the evening and meet locals + expats alike, Lan Kwai Fong is your best starting point. It is here where you will find all of the 'in' bars and clubs – and it is especially popular on weekends.
World of Wanderlust visited Hong Kong as a guest of the Hong Kong Tourism Board.