One of Hong Kong's swankiest hotels recently underwent a massive renovation: The Landmark Mandarin Oriental. To celebrate, the hotel kindly invited me out to experience the hotel and the city, which was hard to say no to as Hong Kong has always been one of my favourite cities to spend a few days! If you find yourself in Hong Kong and are in search of something extra special, here's a little more about my experience to help you play your stay!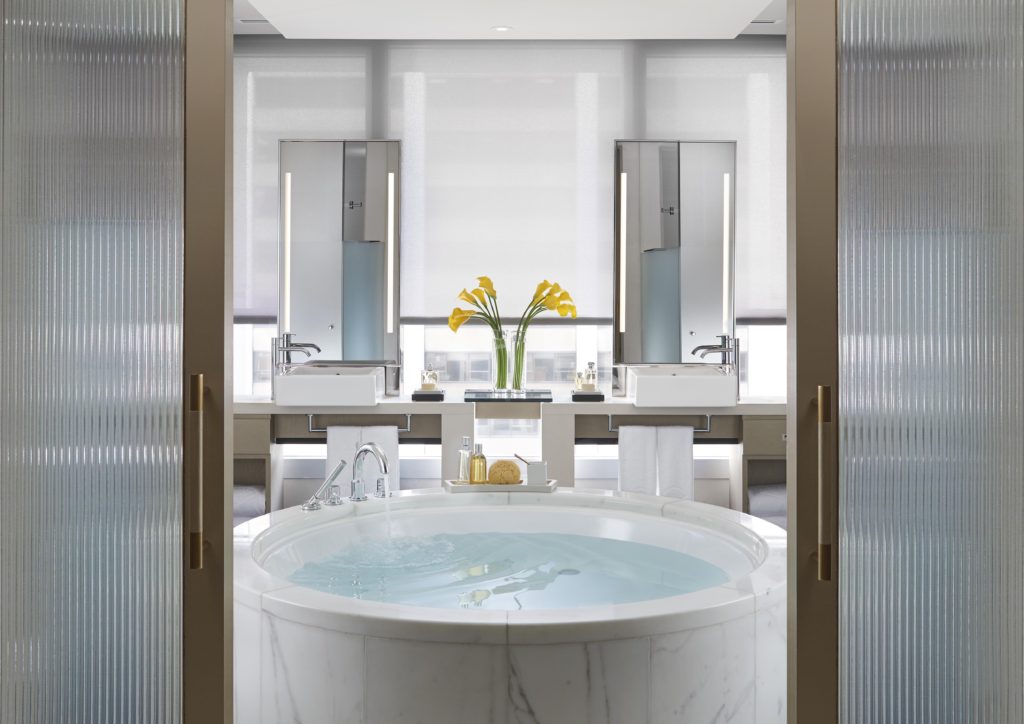 Checking In: The Landmark Mandarin Oriental
Checking in to a hotel like The Landmark Mandarin Oriental is a once in a lifetime experience that you'll have to pinch yourself to know for sure is actually happening. Swept off my feet from the minute I stepped off the plane from Melbourne, I was whisked away by hotel representatives in a golf buggy to transfer through Hong Kong's huge (and I mean HUGE) international airport and pass through customs & immigrations with ease. It was at this point I felt like Anne Hathaway a la The Princess Diaries… how is this really happening!?
From there I was picked up by the hotel driver and speedily taken to the hotel for an immediate check-in. I use this term lightly as there wasn't really a check-in process of sorts. Rather I was taken directly to my room by a hotel representative with my checked luggage arriving in sync. Fancy!
The entire stay from this point forward continued to resemble something out of a fairytale book – pampering spa treatments, a gorgeous (and extremely private) spa area in near darkness, waking up to city views and an indulgent dinner at the hotel's famous two-michelin-starred restaurant; Amber.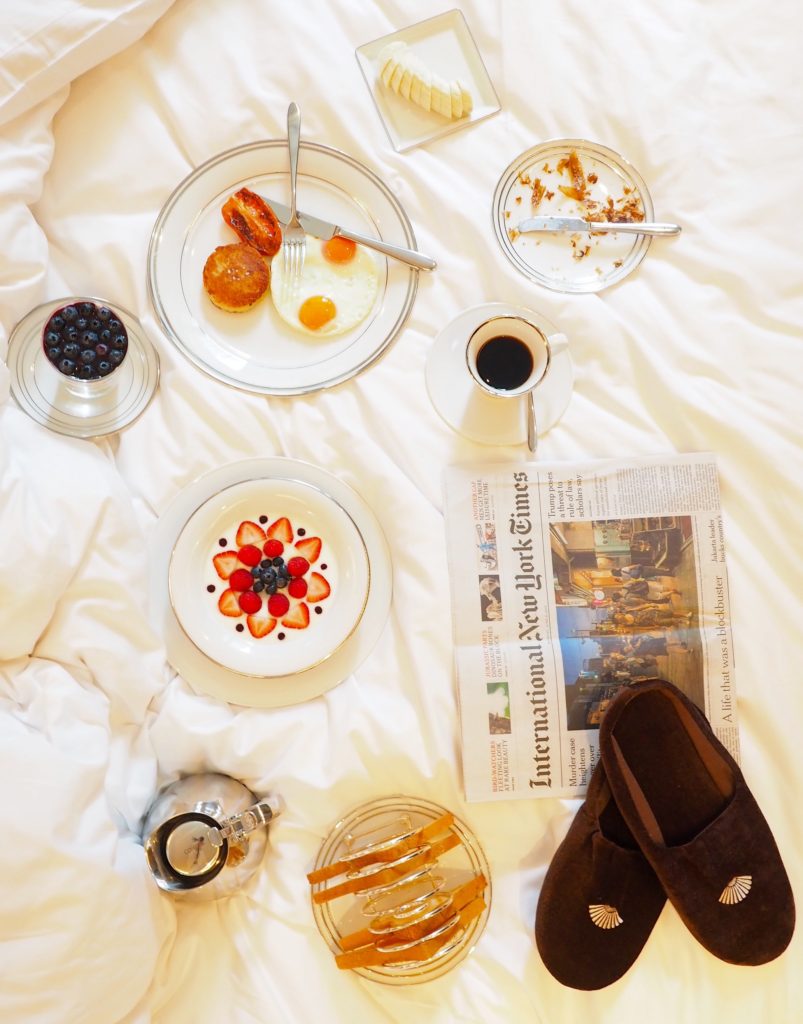 Breakfast in Bed, anyone?
I don't know about you but I'm a sucker for a big ol' breakfast in bed. As a blogger I find myself constantly tapping away on my laptop, so I do love a time and place where I can do so comfortably. On my first morning in Hong Kong I woke up to torrential rain. I'm talking a full blown, chaotic, loud and obnoxious thunderstorm… so I figured, what more reason do I need to tuck up in bed for an hour or so more?
I ordered a selection of breakfast pastries (guilty as charged), fried eggs, and a granola parfait. The lesson learned from the morning was not to pour your coffee in bed!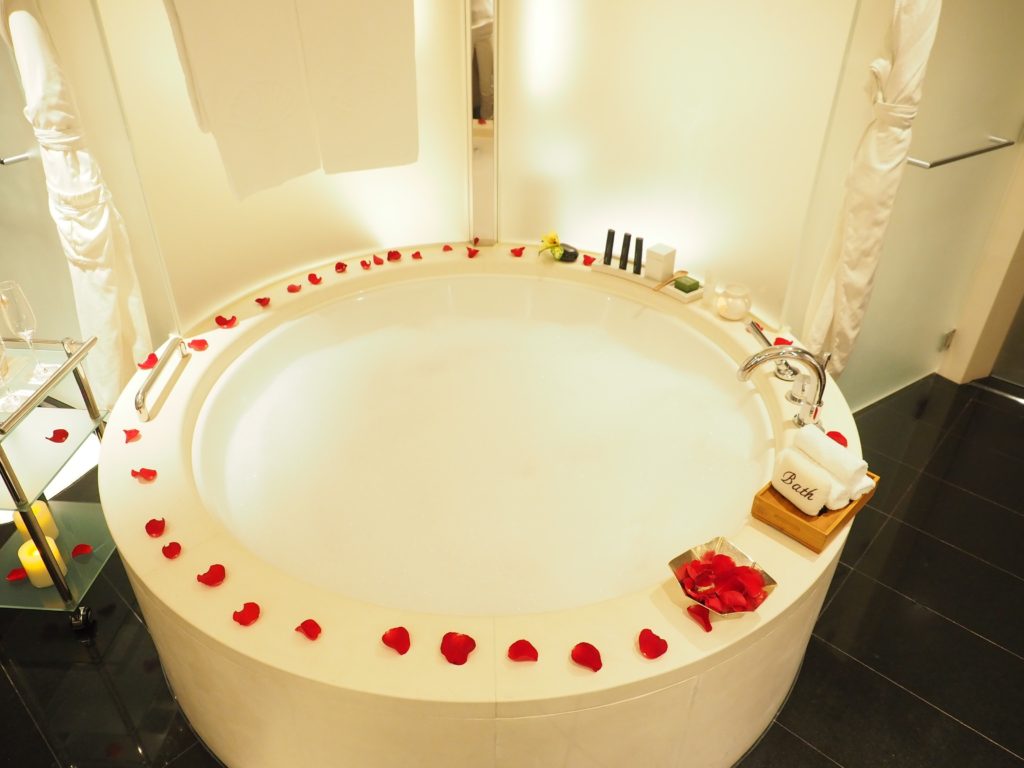 Mandarin Oriental Special Touches
Anyone who has been following my blog for a while will know that Mandarin Oriental are one of my all time favourite hotel brands. I've stayed with them throughout Europe and Asia, with many of these hotel stays being amongst my most memorable trips.
I always find that Mandarin Oriental staff go the extra mile to make your stay an unforgettable one. From a delicious birthday cake in Paris to a rose petal bath on this trip to Hong Kong, I'm always pleasantly surprised by the MO experience.
All hotel staff remember and greet guests by name, remember your coffee orders, place special touches such as pastries and chocolates in the room… and it seems that is just the beginning! Each day when I returned back to my room there was a little surprise to welcome me – be it my cute panda bear or a tub of my favourite ice cream (key to my heart!)
The Location: Central Hong Kong
The Landmark Mandarin Oriental is located in Central Hong Kong which, as the name suggests, is a fab location to find yourself in Hong Kong. To simplify it for first time visitors, Hong Kong is commonly referred to as two key areas: Hong Kong Island and Kowloon across the harbour. The hotel is located in the former, very close to the harbour and offering great sunset views from the waterfront.
Nearby to the hotel you will find the Peak Tram which leads to my all time favourite view in Hong Kong; The Peak (it is very well known, but you can't beat the classics!)
The surrounding area is full of great shops – both local boutiques and international fashion brands. I would strongly recommend taking a walk on Pottinger street for a more localised experience, with the likes of Man Mo Temple and Cat Street a short stroll further in that direction.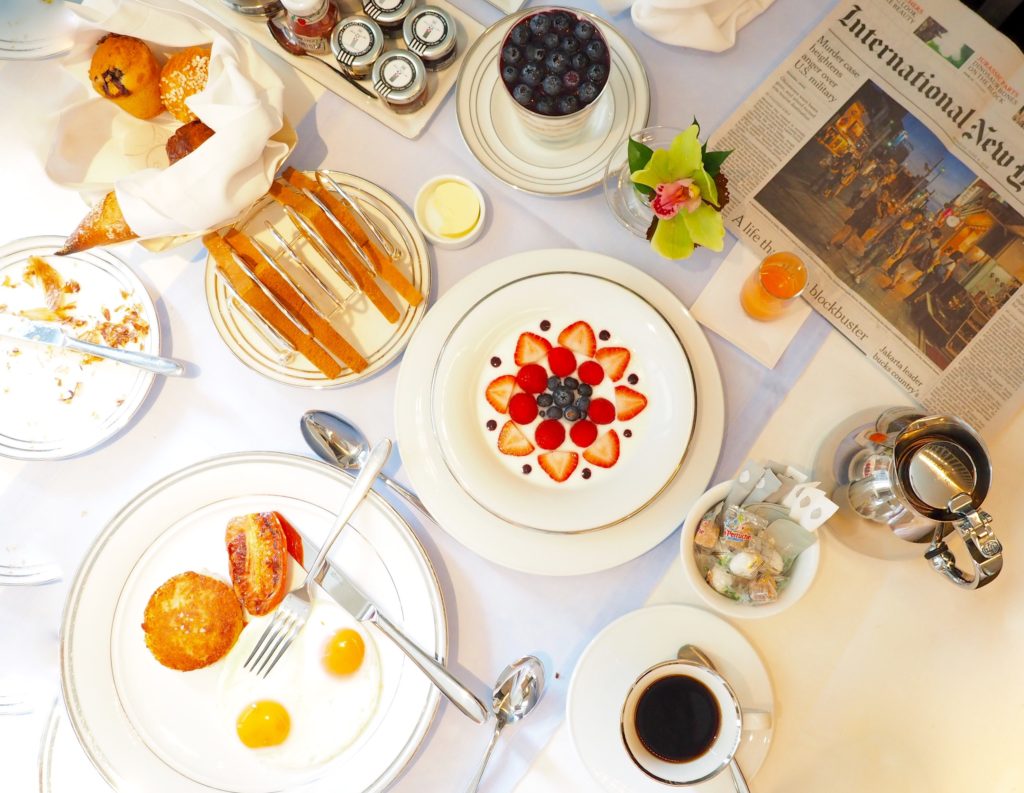 In room breakfast order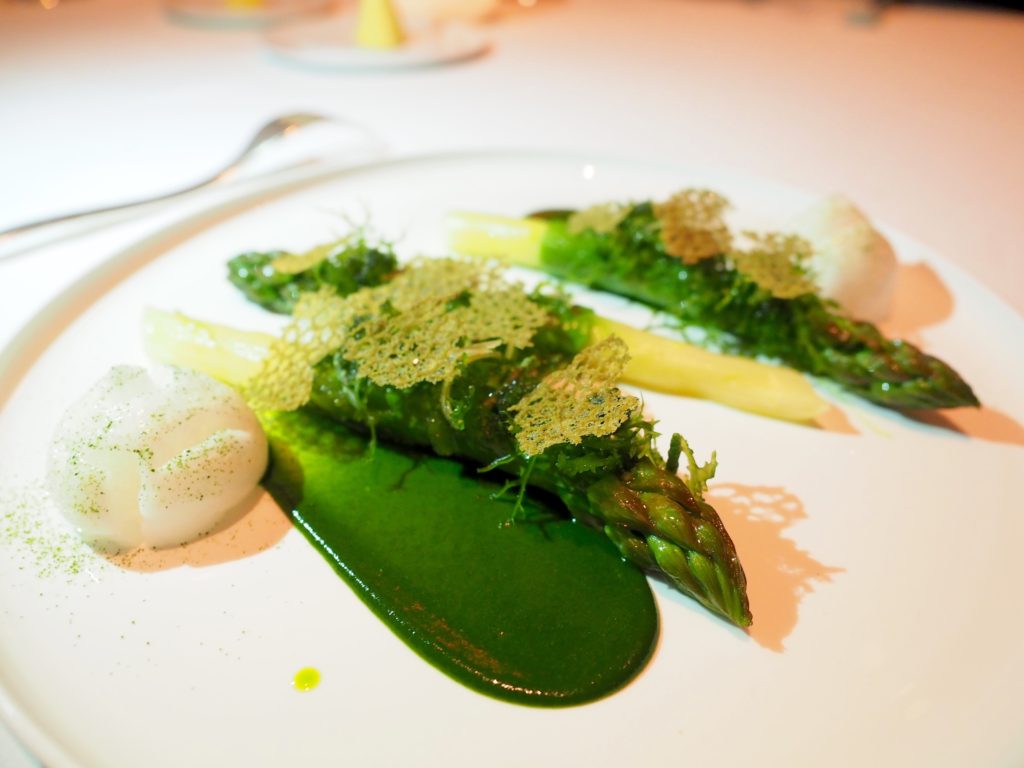 Dinner at Amber Restaurant
My suite – the L600 (mid-range)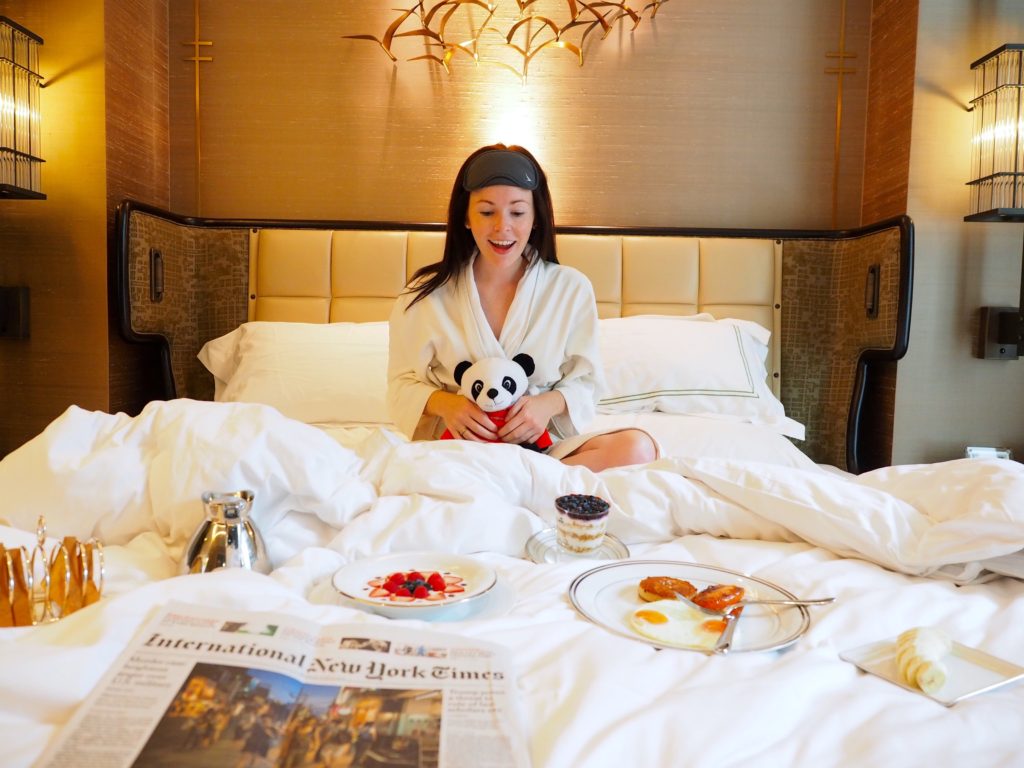 Mornings like these, yes please!
Late night bath surprise!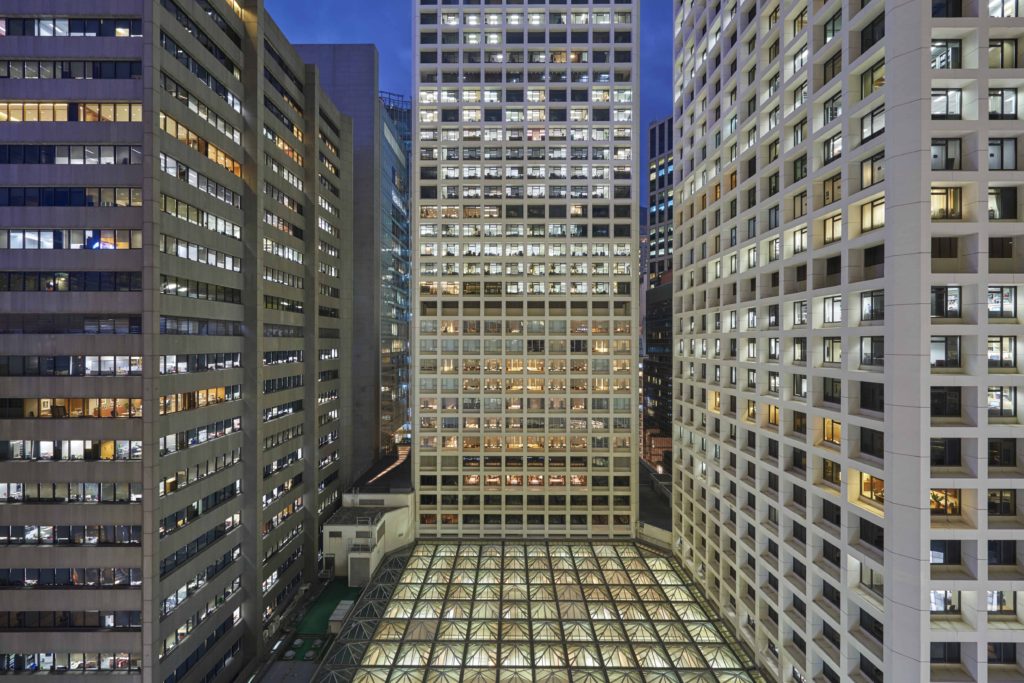 I flew with Cathay Pacific to reach Hong Kong, the national airline who have great connections throughout Asia to the rest of the world. For more information on flights to Hong Kong, visit www.cathaypacific.com.au. Thanks to The Landmark Mandarin Oriental for welcoming me to the hotel! All opinions remain my own.