Recently I found myself on a Sydney layover for less than 24 hours, stopping briefly between international and domestic trips. Although I make these trips regularly (living on an island in Australia results in mandatory stopovers when travelling internationally) I realised this time that I have never spoken about it on the blog or offered my advice for making the most of a Sydney layover.
As I figure there is no time like the present, here is precisely how to make the most of a stopover in Sydney – including my favourite one-day itineraries, where to sleep and eat!
Check In: Airport Hotel vs City Hotel
Checking in to a hotel for one night is up there with my least favourite things to do in life, alongside having my eyebrows waxed and digging the dirt out from underneath my nails. But alas, it is all part of my job travelling full time.
While I would never recommend visiting Sydney for just one day/night (there is so much more to see and do!), I will say that it is entirely possible to do so. The first choice you will need to make is whether to check straight in to an airport hotel, or to immerse yourself in the city experience and make the extra effort to lug your bags in to town.
Rydges Airport Hotel
Whenever I visit Sydney overnight I usually stay in the city, however on our recent visit we were coming in to Sydney off the backend of a big Europe adventure, so we decided to check ourself straight in to an airport hotel as we landed after 10:00pm in the evening. This was a great idea for our circumstances as we could get a full night of rest before having the next day to head off exploring, all the while never having to carry our luggage around town to do so (the hotel was more than happy to store our luggage until we returned). We checked in to Rydges Airport Hotel which is located right at the international terminal with a free shuttle to domestic for the following day. It couldn't have been a more perfect solution for us!
Intercontinental Hotel Sydney
Another one of my favourite hotels in Sydney for a city break is to check in to the Intercontinental Sydney, which arguably has one of the best views of the Sydney Harbour from the 31st floor club lounge! The hotel is a convenient 5 minute stroll from Circular Quay station, so you can catch the airport train for around $17-$18 one way and it will drop you directly around the corner from the hotel. There are also a great range of eateries in the area so I find it really convenient for a one-night stop, close enough to the harbour without being right in the hustle and bustle! I would prefer to pay a little extra for the "Club Intercontinental" package which gives you free internet and club access lounge – meaning free cups of tea all day and snacks…. all of the snacks!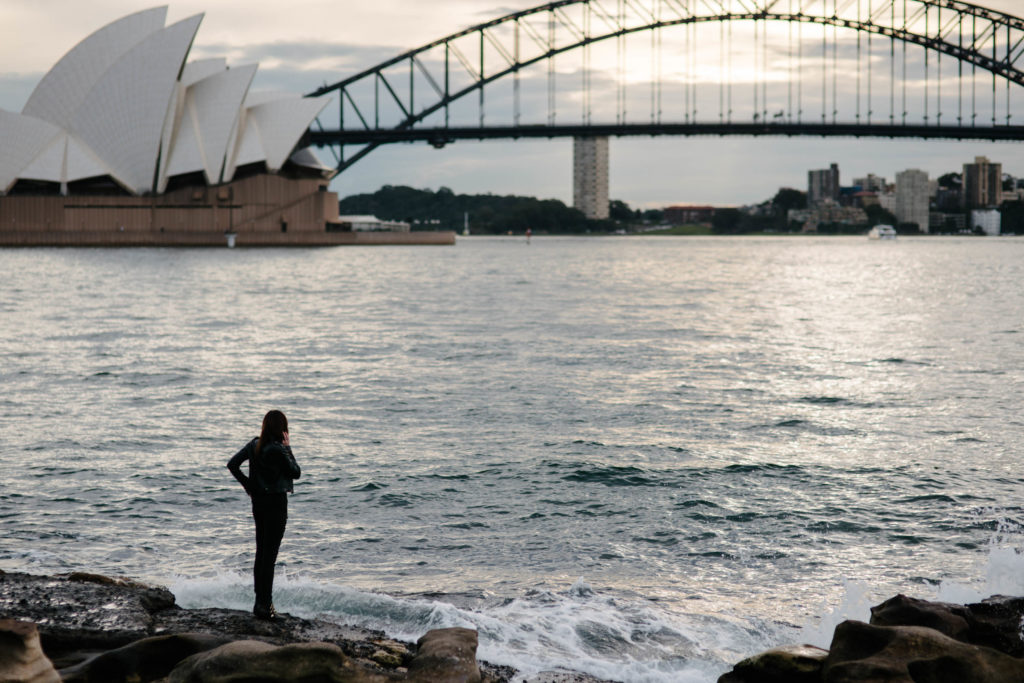 One Day in Sydney: Itineraries
I needn't tell you that Sydney is a huge city with much more to offer than you will ever accomplish in one day, however if it is one day you have it is one day you will make the most of! Below are three different itineraries that you could enjoy in one day – you'll just have to pick what suits you best!
Sydney Harbour Bridge, Sydney Opera House & The Rocks
Catch the airport train to the city in around 15 minutes and depart the train at Circular Quay. Here you will be able to see the Sydney Harbour Bridge to your left, Sydney Opera House to your right, and discover "The Rocks" on your walk around the harbour for the perfect food pitstop. You can choose to admire the bridge and opera house from afar or perhaps embark on the Sydney Harbour Bridge walk (you will need to book in advance), or step inside the Opera House for a tour. I would also recommend jumping on one of the public ferries to see the harbour from the water, especially on a hot summers day!
Bondi Beach & Icebergs
Another great option to get a taste of local life is to head down to Bondi Beach and see the iconic "Icebergs" swimming pool that meets the ocean water. You could easily spend a day here on the beach, with plenty of shopping and eating on offer in Bondi Junction. QT also have a hotel here, making it a seamless check-in-check-out 24 hour experience.
Luna Park & Taronga Zoo
A final option that is great for kids (or kids at heart) is to check out either Luna Park (theme park) or Taronga Zoo… or both! Both are located in the Northern area of Sydney, connected by the public ferry system. For international visitors, Taronga is a popular choice to get up close and personal with kangaroos and koalas!
Eat!
Sydney is full of great food but if you only have 24 hours, here are some standout performers:
Gelato Messina – Now with 8 locations throughout Sydney, you really don't have any excuse not to indulge in Australia's premier gelato offerings! Flavours include Macadamia Crunch, Milk Chocolate with Choc Peanut Fudge and Salted Caramel with White Chocolate to name a few.
The Spice Room – One of the great aspects of Australia is the multiculturalism that lends itself to our diverse cuisine. If you want to get a taste of our surrounds, check out The Spice Room for an inexpensive lunch or dinner experience.
Altitude Restaurant – Still my favourite dinner venue with one of the most impressive skyline views of the harbour is Altitude Restaurant, located on top of the Shangri-La Hotel. If you're looking for a fine dining culinary experience you will find it here and then some, with the desserts being a clear standout.