The Algarve has always been a hugely popular destination for Brits in the summer holidays and it's now drawing visitors from even further afield as word gets out about the beauty of the coastline. There's a number of resorts, hotels and villas dotted throughout the Algarve and when faced with such choice it's often hard to know what type of accommodation to pick. Usually it's a toss up between a private villa vs resort in the Algarve – but who said you have to choose!? We decided to check in to Vila Vita Parc, a resort that also offers private villas – so we had the best of both worlds!

Luxury in the Algarve
We had driven down from Lisbon where it was sadly a little rainy so a sunshine filled arrival at the coast was more than welcomed. Having been greeted by the incredibly friendly and attentive staff, we were quickly whisked away on the back of a golf cart to the villa we were to call home for the next 3 nights. The resort has a combination of hotel rooms, small villas and large villas that together make up the idyllic, white complex.
Our home for 3 days
We stayed in a 4 bedroom villa with an ocean view and our own infinity pool. The thing that makes staying in a villa here so special is that you have all the amenities of a hotel but you're own private space. We found that despite how big the resort is, staying in a villa made it not feel that way at all. It's very cleverly and beautifully designed. Our entire villa was white with dashes of blue interiors throughout. All of the rooms were huge with sleek bathrooms, huge wardrobes and even bigger bedrooms. Each room can also be shut off from the rest making the villa's rooms both private and open plan. This is beneficial for not just a girly trip but also, I can imagine, for a family holiday. The design makes it easy to be all together but just as easy to enjoy the villa away from everyone else.
The other benefit about staying in a villa in a resort is that you can have a big movie night in the living room and also not have to cook or go out for dinner because room service is just a phone call away. It's a little home away from home but with the luxuries of a hotel stay. We decided to have a girly Mean Girls night in on the second night we were here and ordered a delicious selection of food to enjoy without having to lift a finger or get dressed up for dinner!

Exploring the resort
Vila Vita Parc is spread over 54 acres, so it's huge but the best thing about the resort is the fact it doesn't feel like it's this big. It's an escape from real life, if you don't want to, you don't have to leave. There's everything you would need within the walls. From a choice of 8 restaurants or room service, all your eating habits are catered for. The breakfast buffet is particularly impressive, with a choice of basically everything you would ever need for breakfast. I always judge a hotel on the breakfast they provide and I have to say Vila Vita Parc, you rated highly on this front.
What really makes this place special is the service. Everyone was so incredibly helpful and friendly that it made the whole experience that much more enjoyable. There was one waiter at breakfast who was so hilarious that it consistently put me in a good mood for the rest of the day. I haven't experienced service on a par with what we received in Portugal, anywhere else in Europe!
Day time activities
Vila Vita Parc offers activities for everyone whether you want to engage in a tennis match or spend your day at the spa. If you're planning on visiting with your family I imagine it's a great place to go with multiple generations given that there's something for everyone to do during the day. The restaurants provide the perfect location to meet up for dinner again in the evening.
Be sure to try and wake for sunrise at least once because on the second day there was the most exquisite pink, lighting up the early morning sky. We ran down to the beach barefoot and in our pyjamas to admire it from the oceanfront. That's another amenity Vila Vita Parc has to offer – their own private beaches. You can head down and enjoy a day by the seaside which is only a short walk from your villa. Or if you'd prefer, you can relax out by your pool or the communal pool for the day. We found ourselves not wanting to leave the villa it was so beautiful! Due to the position of the resort it also provides a number of walks around the headlands to admire the views of the coastline. We decided to take a stroll on the first day to discover what surrounded us. It was incredibly beautiful, the sea is the most magnificent blue and turquoise here, you can see why it attracts so many visitors!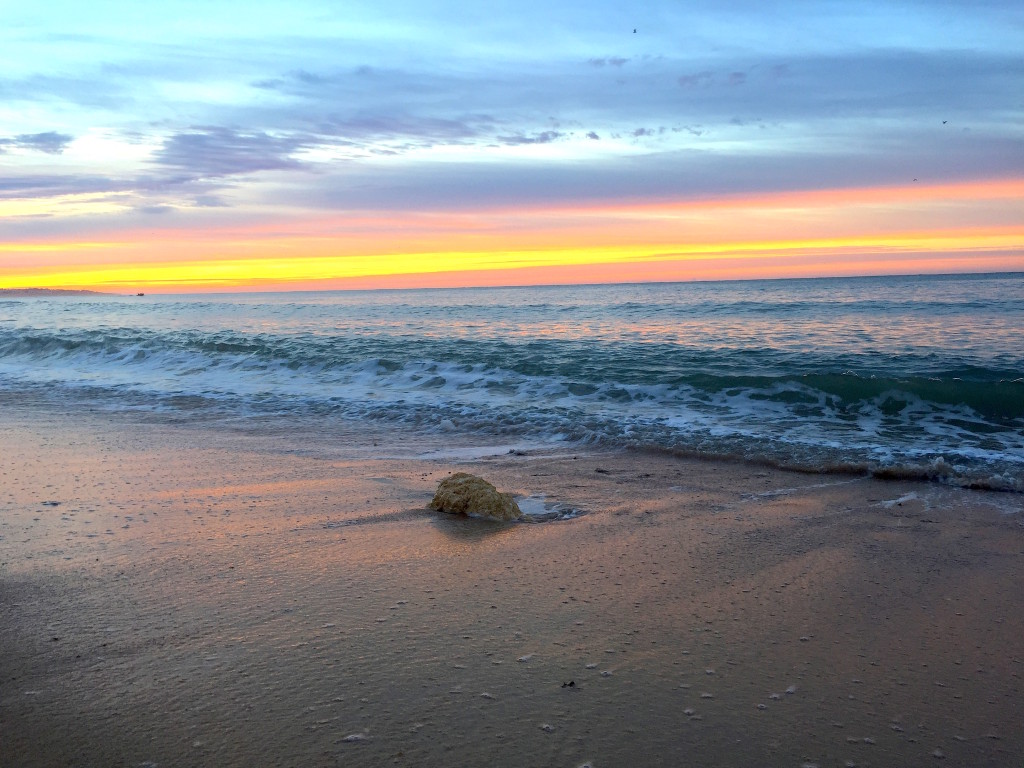 Having experienced a stay Vila Vita Parc I can highly recommend choosing to stay at a villa within a resort. It'll give you the privacy you'd like from a holiday but also the relaxation of not having to self cater if you don't want to. Staying at a villa in a resort also allows you access to all sorts of amenities that renting a villa externally does not. We had a really fun, girly time here and I'll definitely be back!
The World of Wanderlust team was welcomed to Vila Vita Parc as guests, however our opinions are always our own! This place comes highly recommended from all of the team.