When most people decide to make a visit to Pisa Italy, it is no secret they're heading here for that iconic photo in front of or holding up the world-famous leaning tower of Pisa. When I was seventeen years old I travelled to Europe for the first time with my dad, and insisted we travel all the way by train from Rome in a day to do just that. Now, some eight years later and a few more destinations under my belt, I travelled back to Pisa to discover the city beyond the tower. Discover for your in this quick guide to Pisa!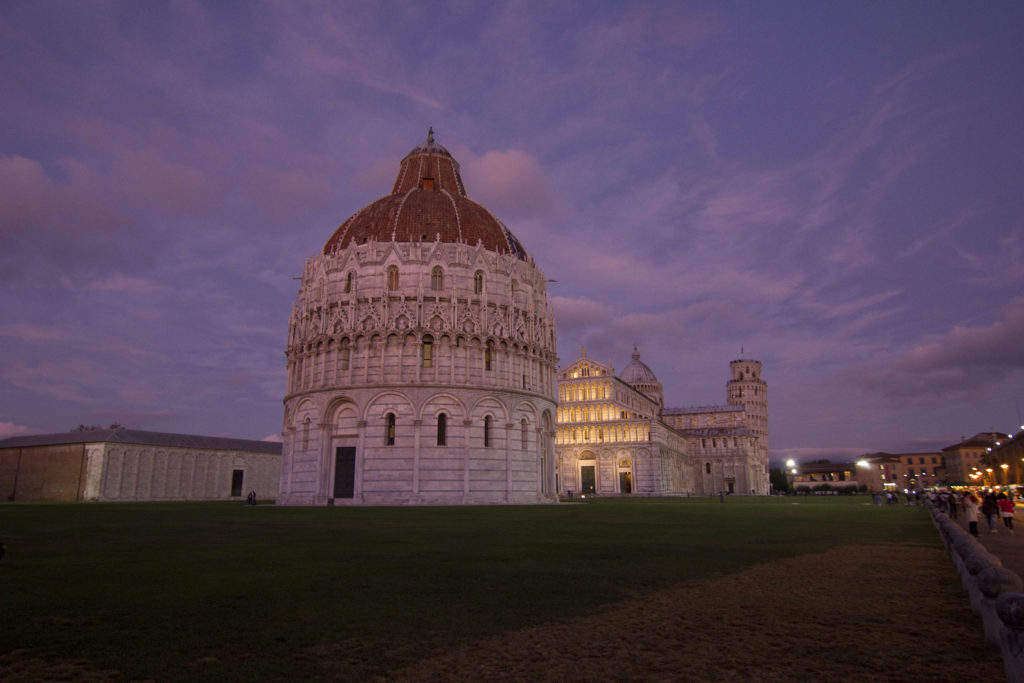 Visiting Pisa Italy
If you come to Pisa insistent that all you want to see is the leaning tower (for which this city is oh so famous for), I can assure you that you'll miss the beauty of this small city. Recently Pisa has become another gateway to Tuscany, with the introduction of direct flights with Qatar airways, making it possible to reach Pisa in just a couple of flights from almost anywhere (you'll need to fly to Doha first, then direct flights are available daily to Pisa).
The city of Pisa is undeniably best explored early morning or late at night, as it is then when you will discover the true beauty (beyond the summer tourist crowds) and if you're a morning person, you will have the city almost entirely to yourself! The city centre itself is very small, so stick to walking if you wish to uncover the true beauty: found in the many small shops, cafes and restaurants.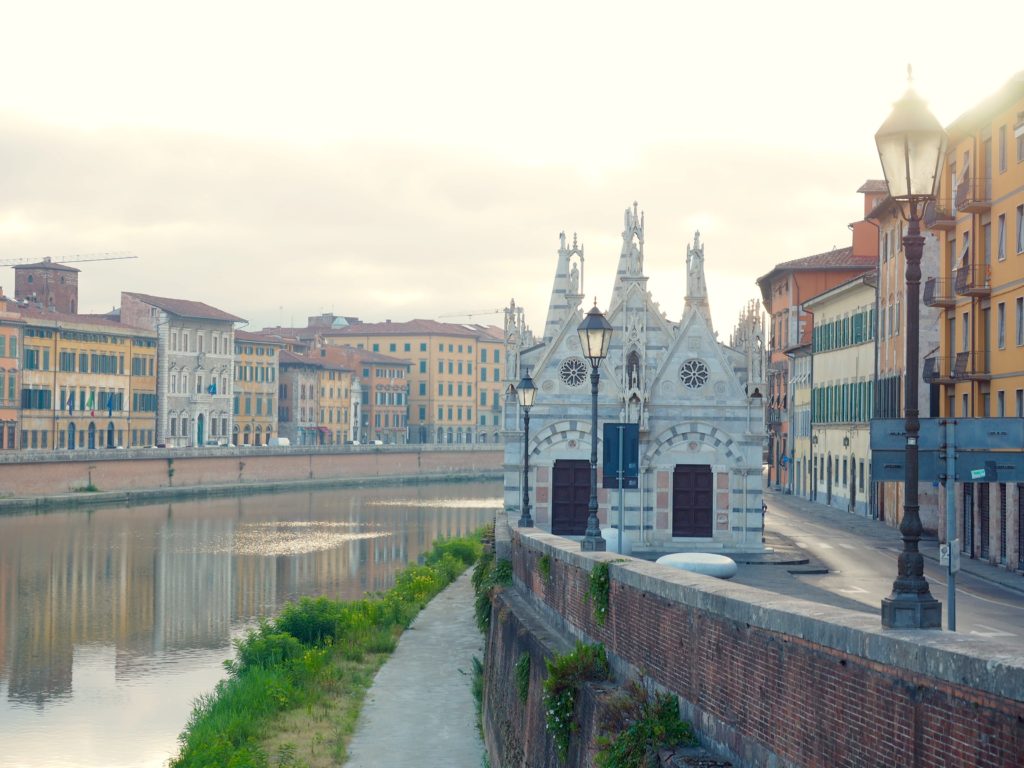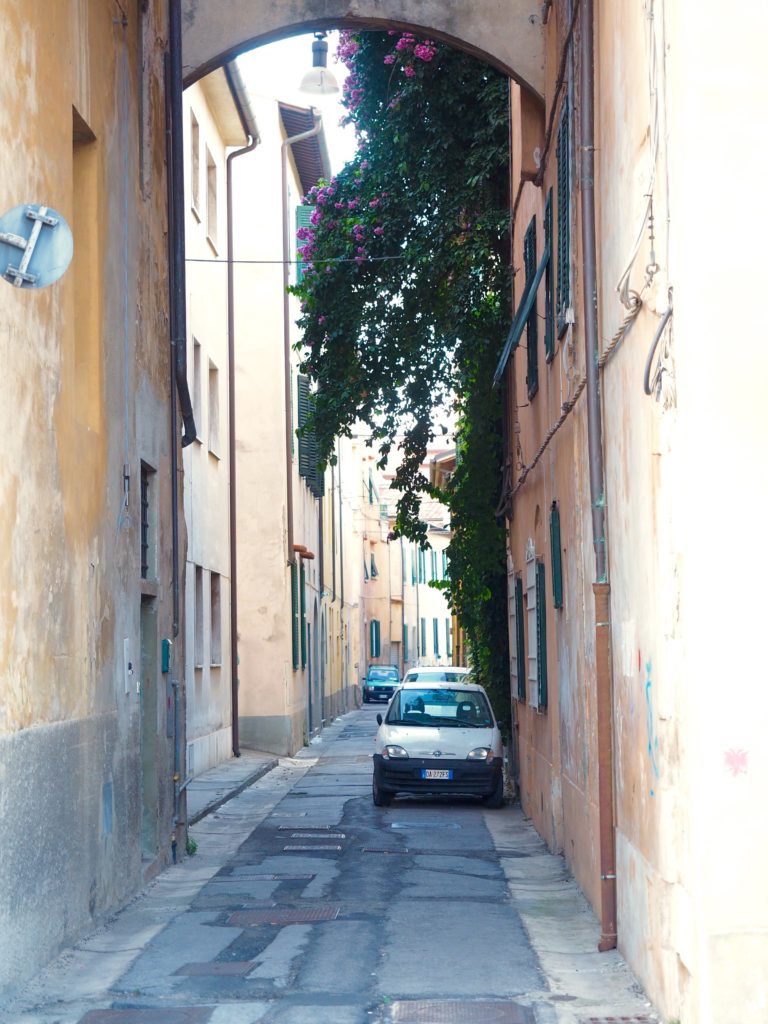 Things to Do in Pisa Italy
Most tourists come to Pisa just to see the leaning tower. Sure, it is a sight for the eyes and also one of the biggest engineering failures… but there is much more to Pisa to discover (even if you only have a day!)
Leaning Tower of Pisa – Of course you can't come to pisa and not see the leaning tower! Check out the vintage travel photo of seventeen-year-old-me with the tower below (cringe!)
Pisa Duomo – Next to the tower you will see the gorgeous facade of the Duomo – well worth a visit inside, especially for art lovers!
Baptistry – Also within the same vicinity (known as the Field of Miracles) is the Battistero (Baptistry). Here you will find one of the best views of Pisa, as it includes the leaning tower in your frame (and has much less stairs to climb!)
Piazza della Carovana – This small town square positions you in the centre of many of the cities' most important buildings, however it is important to note that most of these are not open to visitors (but still worth a look from the outside!)
Ponte Di Mezzo – For a great view of the Arno river either side, take a walk to Ponte Di Mezzo either early morning or afternoon to catch the best light of day.
Santa Maria della Spina – This small church on the Arno river with a gothic facade was one of my favourite architectural finds in Pisa. You'll find it nearest to Ponte Solferino, one bridge away from Ponte Di Mezzo (the church is in between the two).
Where to Eat in Pisa
As a general rule, try to eat away from the Leaning Tower, as prices are hiked up for tourists. The streets between the train station and the tower are full of great little cafes and restaurants to discover – though you may find opening hours are a little sporadic (aren't they always in Italy!?) Below are some personal favourite finds:
Oro Gelateria – Superrrrrrb gelato. The best you'll find in Pisa.
La Mescita – If you're looking for a wine bar with tasty eats, look no further.
Gusto Giusto – Put down the menu and ask Gianni (the owner) for his recommendations.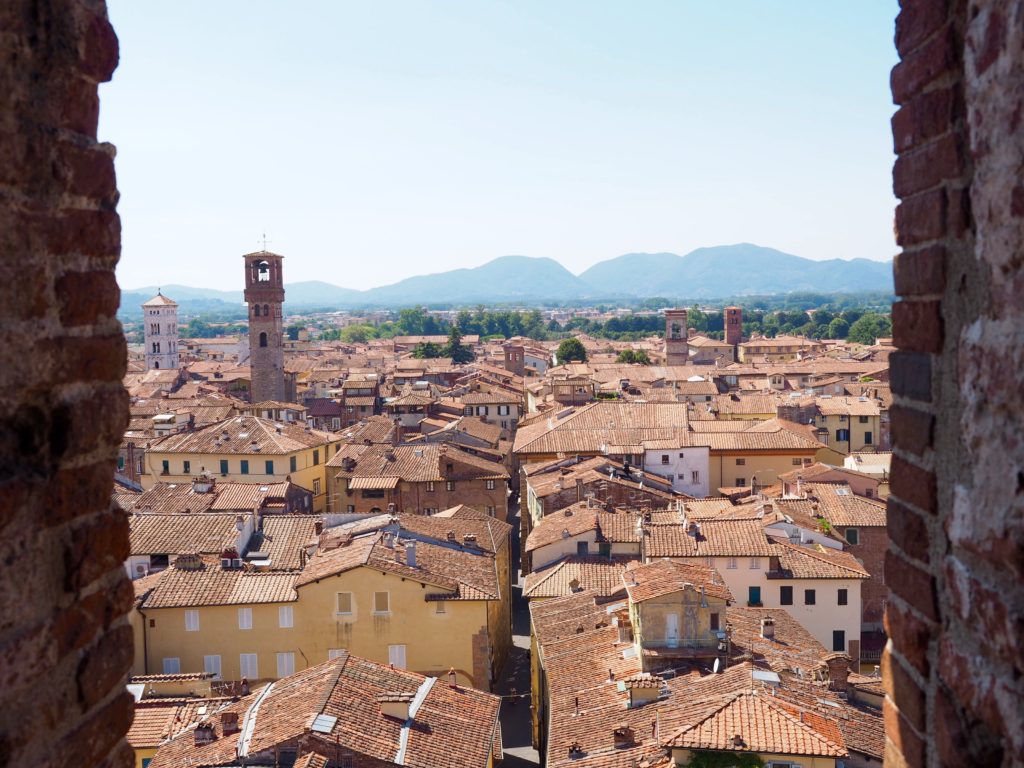 Day Trip: From Pisa to Lucca
Although there is plenty to see and do in Pisa to warrant a full day here, most tourists visit for just half a day on a day trip from Florence. The other half of the day is usually spent at Lucca, a nearby city that is just as charming (perhaps even more so) and very lively throughout the day.
If you're short on time, be sure to fit the two (Pisa and Lucca) in one day trip from Florence. However if you find yourself with more time, I would suggest to take it slow and spend a day in each as the cities both have a completely different vibe in the evenings (when the locals come out!)
Me at seventeen (gah!)
I flew to Tuscany on a direct route with Qatar Airways. Flying from Australia, this meant just two flights to reach the Tuscan region: Melbourne – Doha & Doha – Pisa. I would highly recommend this route for travellers interested in basing their trip in Tuscany, a region that warrants at least one, but up to three weeks to discover. With thanks to Qatar Airways for welcoming me to experience Tuscany on this new direct route!