I can't recall the first time I heard of Positano, however I can recall the first time I ever laid eyes on this colourful, coastal paradise. Ever since seeing a postcard of Positano from a friend who had visited, I saw myself jumping inside of it. And this year, finally, I did just that. So if you plan on visiting the jewel of the Amalfi Coast in Southern Italy, here is a complete guide to Positano, to inspire a journey of your own.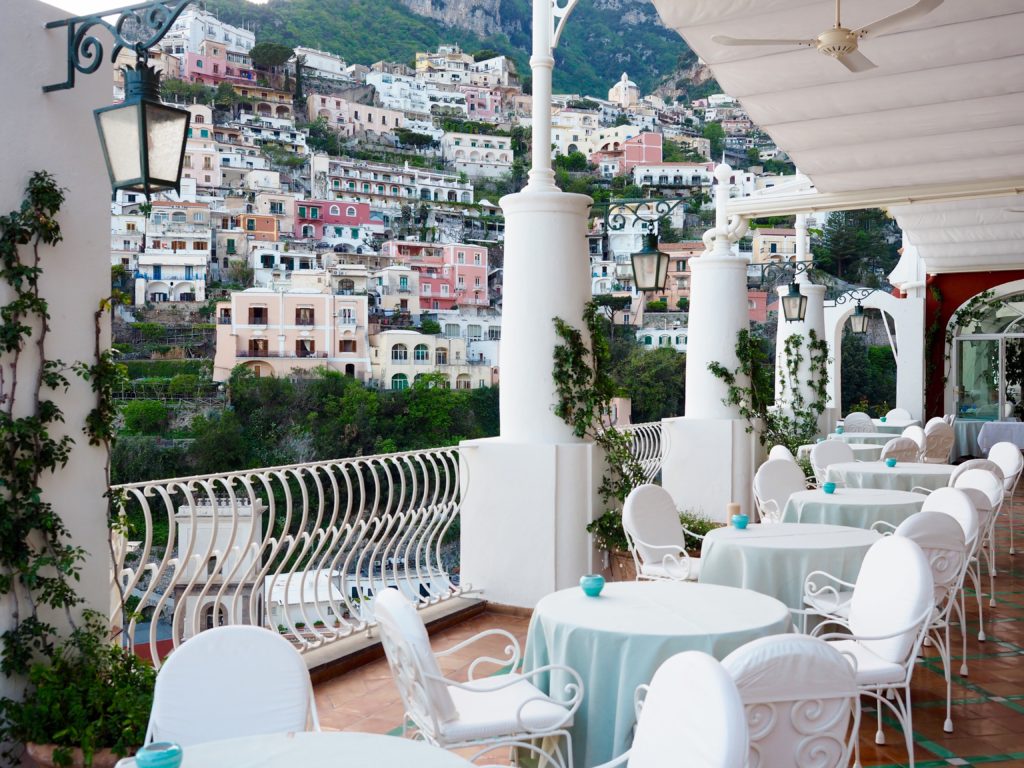 Checking In: Le Sirenuse
The first order of business will be to book a room in advance of your stay, as Positano is incredibly popular and rooms book well in advance for the summer season. Guests usually return year after year and book their stay up to 12 months in advance, so if you find yourself looking to visit from June-August then be sure to book ahead.
For our Spring visit the town was busy during the day and quiet in the evenings, as the summer crowds were yet to arrive and thus room rates were lower than the high season. We checked in to the stunning, family-run, five star property; Le Sirenuse. This hotel has stayed within the same family since its inception and you will realise within a matter of minutes there is no property in the region of the Amalfi Coast that encapsulates the region quite as effortlessly.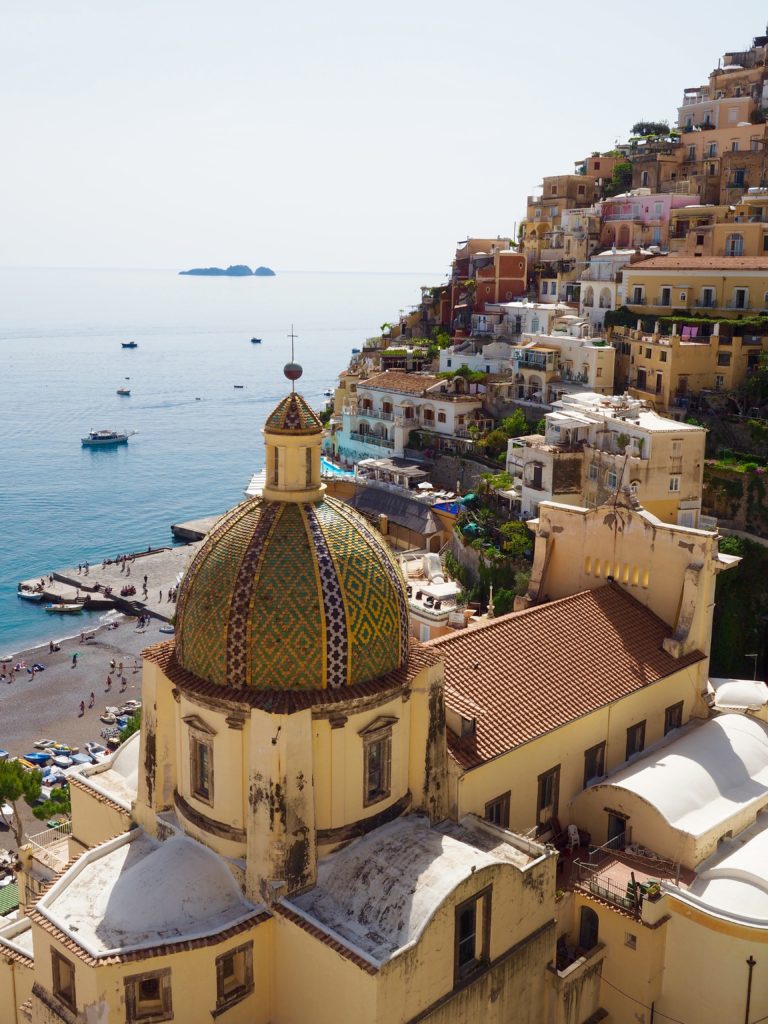 What to see
Positano isn't a destination where you come to see attractions so to speak, nor will you find much to do beyond wander at leisure, soak up the coastal atmosphere, taste the exuberant Campania palette (pizza features heavily), purchase unique, vibrant mosaics and tiles, and indulge your sweet tooth in lemon flavoured desserts.
So long as you walk the streets without rhyme or reason, make your way down to the characteristic black pebble beach, take note of the six senses when indulging in local, fresh cuisine and go out of your way to seek the perfect view, then really you have "seen" Positano. The rest will follow suit.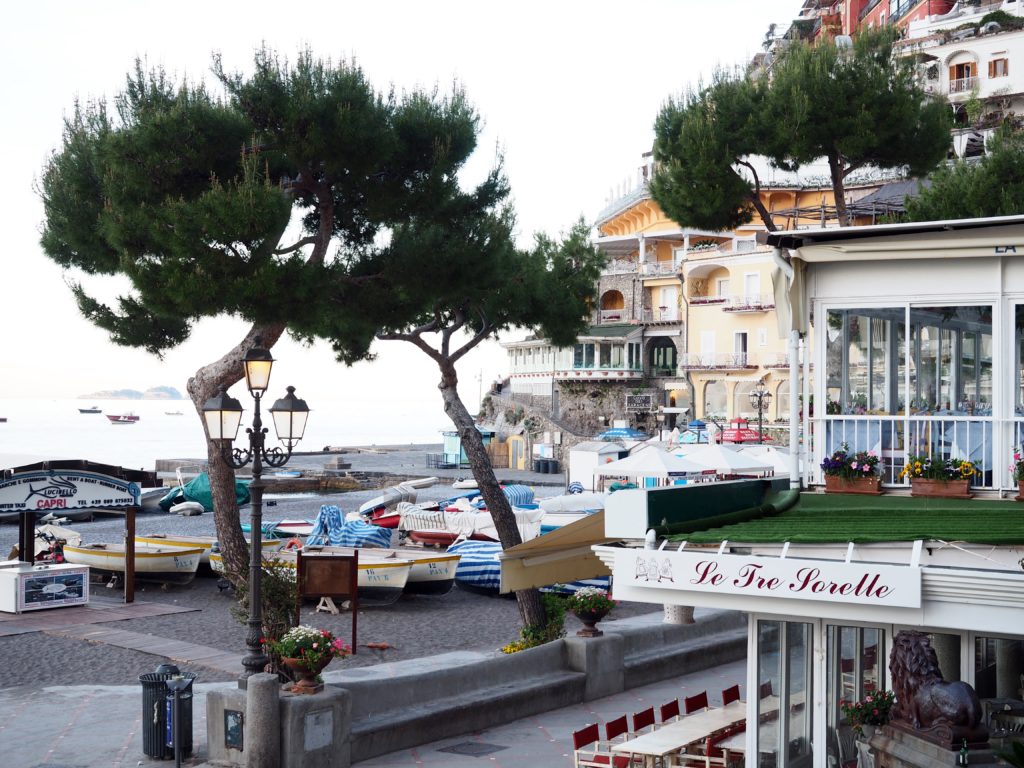 Where to eat
Campania cuisine is rustic, hearty, and full of flavour. Being a coastal town, Positano features seafood heavily, though for vegetarians you really can't go past the delightful melanzane alla parmigana (eggplant parmigana), a personal favourite of mine, or indulge in a fantastic pizza. Of course the best pizzas are still to be had in Naples, but the Amalfi Coast certainly comes close enough to some of the best pizza you will taste on your travels throughout Italy.
Le Tre Sorelle
The first restaurant I would recommend is also the first we visited, located right on the beach (immediately turn right as you pass through the two lion's head statues); Le Tre Sorelle (The Three Sisters). Here is where you can enjoy traditional cuisine from the region and prices are surprisingly reasonable for the beachside location. The place really comes to life during the lunch rush (1-3pm) and late in the evenings.
Ristorante la Sponda
If you're looking for something a little more swanky, then head over to Le Sirenuse Hotel and book yourself a table at Ristorante la Sponda; the hotel's michelin star restaurant with service and food to match. Complete with fairy lighting, charming waiters and a menu to write home about, this is the perfect location for honeymooners and couple looking for a romantic night out.
La Tagliata
For a much more casual dining experience at lunch and in the evenings, you can't go past La Tagliata for great food at incredibly reasonable prices. The views from this restaurant are impressive though with its popularity you should book in advance, particularly in the evenings.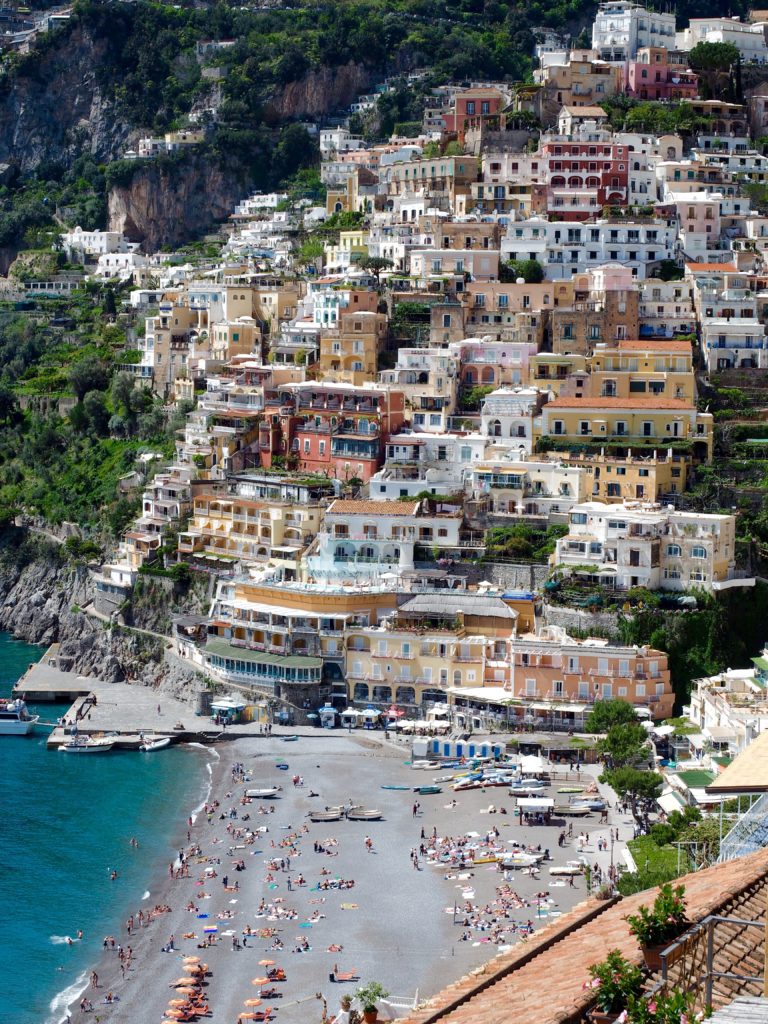 How to get around
Positano is a small beachside village quite literally built in to the cliff face. Thus you can expect plenty of stairs, steep inclines, and narrow streets that motorists share with pedestrians. The town is best seen on foot in order to really get a feel for the place, however if you plan to travel elsewhere in the Amalfi coast I would suggest either a scooter rental or public SITA bus as the easiest and most affordable ways to get around. There is also a "hop on hop off" bus that travels around the Amalfi for those who prefer to play up the tourist card, though if you feel confident on the roads we certainly found the most enjoyable mode of transport to be a day vespa rental, which gave us the freedom to explore on our own time and plans.
Ferries are another popular way to see the Amalfi Coast, particularly if travelling to the isle of Capri. You can also reach Positano by ferry from Capri and Sorrento, however you will find limited services on offer outside of the summer season.