A couple of weeks ago an email landed in my inbox inviting me on the "adventure of a life time" to drive 40 hours to the Arctic Ocean in Canada. I deleted it as spam. It was not spam. Part of my job sharing my travels online is that I get these crazy opportunities to go and do these once in a lifetime trips which often take place days or weeks after the invitation is sent. In this case I would be travelling to Northern Canada with Mazda, alongside a team of journalists, photographers and professional race car drivers – here's what that looked like (including my impressive spin off in to a ditch that you may have already seen on my instagram). I'll also be documenting the trip in a short video on my Youtube channel, so keep an eye out there for my twice weekly videos in 2019!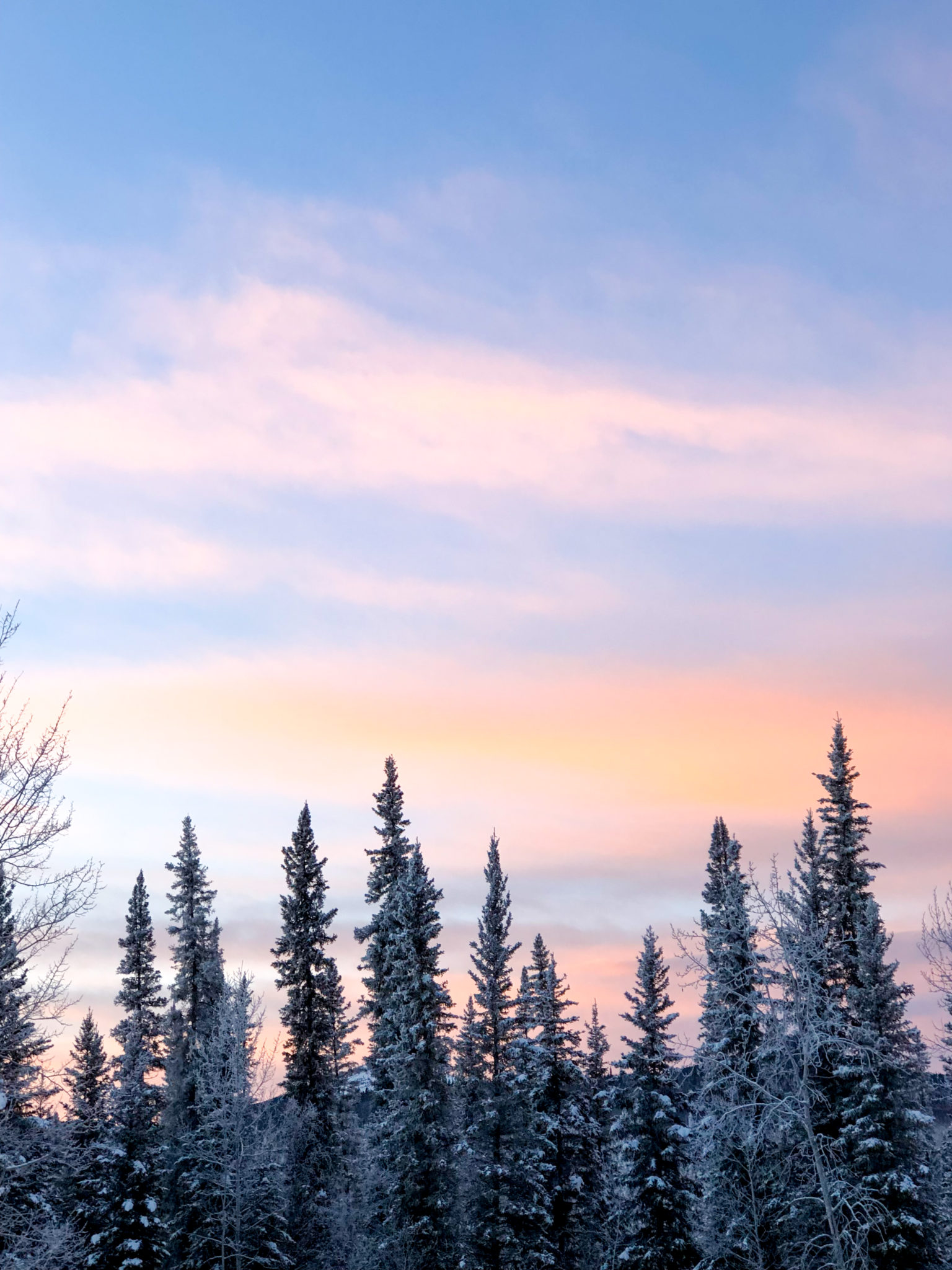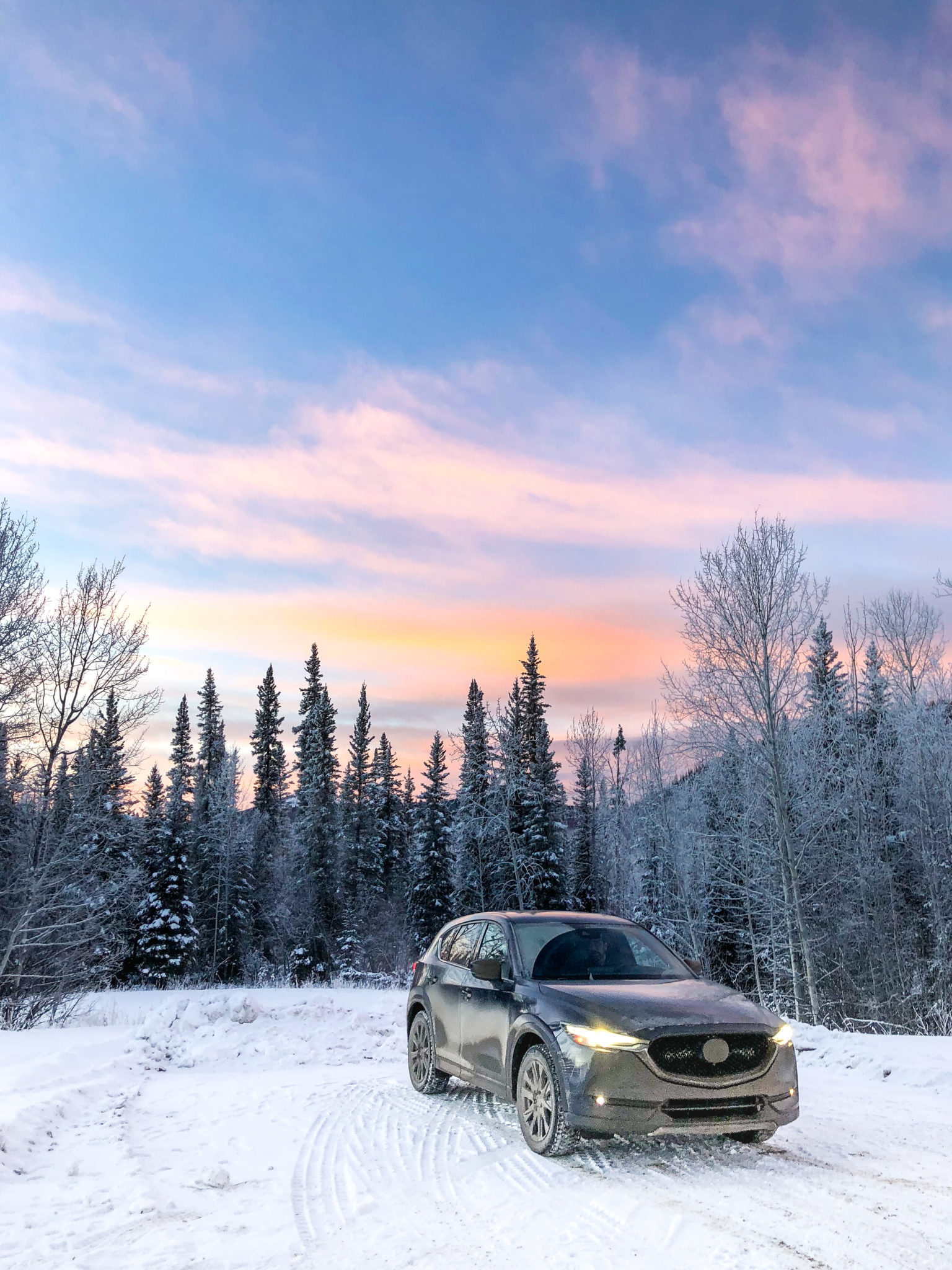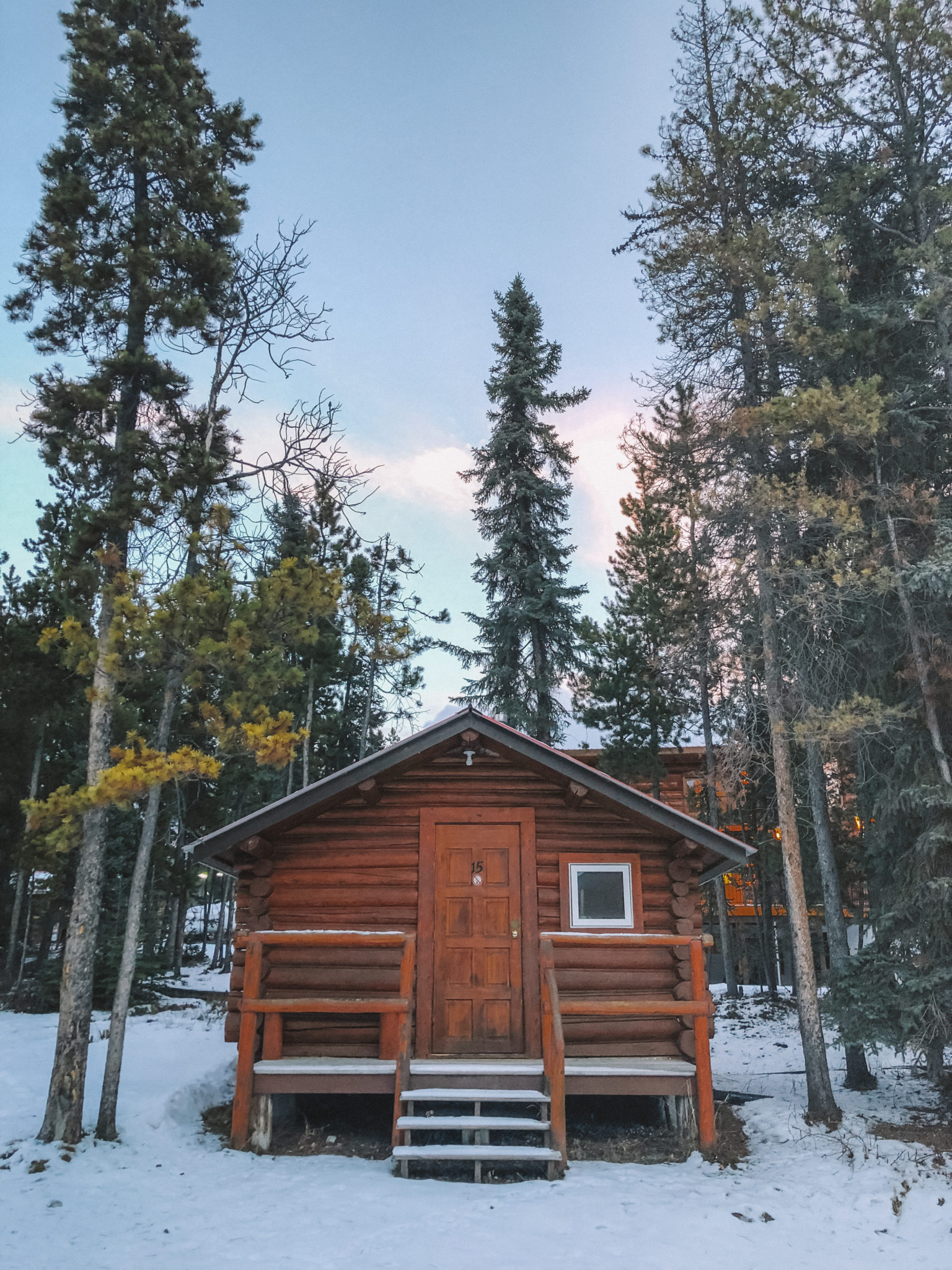 Road Tripping to the Arctic Ocean
The plan was simple: everyone would fly in to Fort Saint John, load up their luggage in 10 vehicles and drive a whopping 40 hours over 5 days to the Arctic Ocean. It sounded crazy and it was. It sounded overly ambitious and it was. It sounded like way too much time of each day in a car — and it was.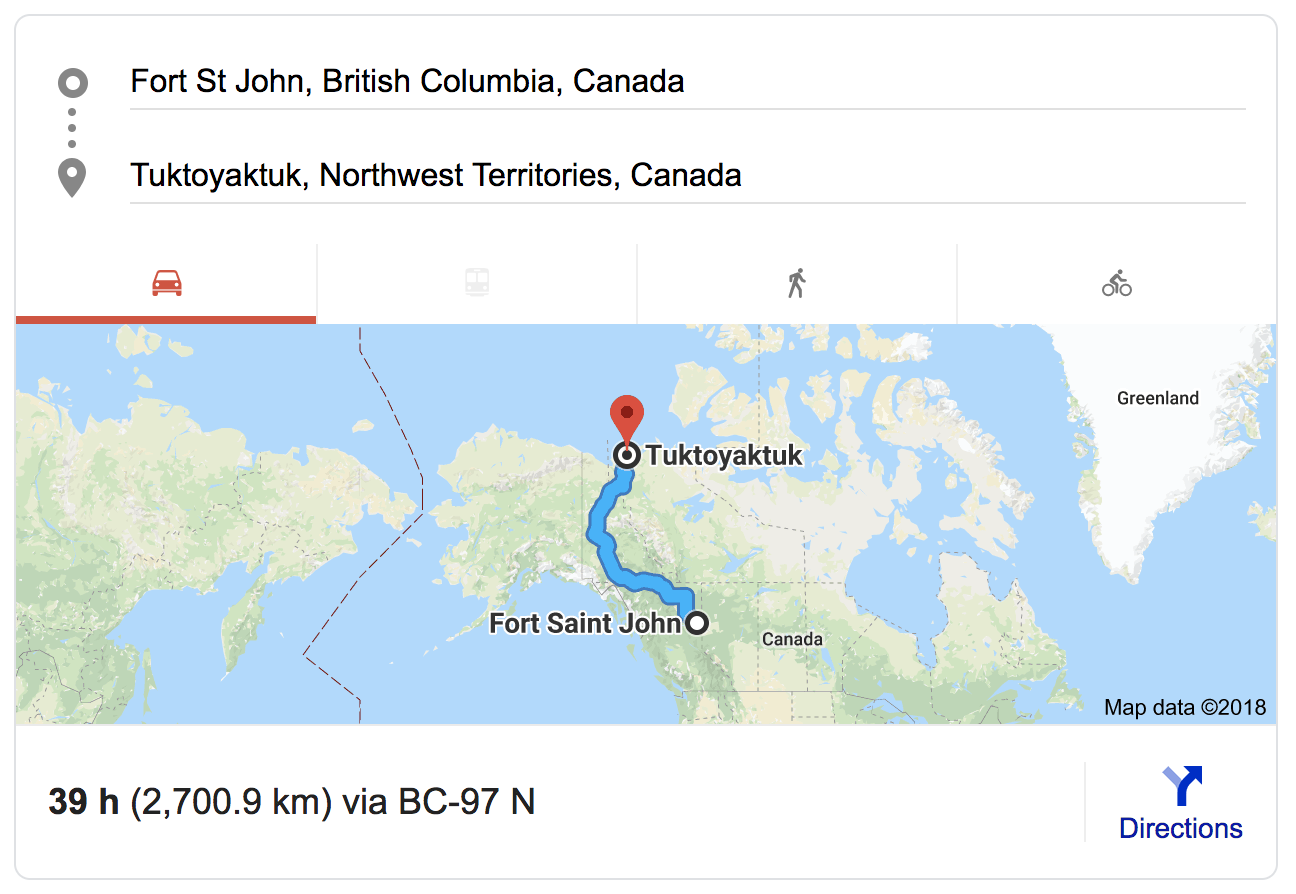 The journey was originally planned to be from Vancouver but some (incredibly thoughtful) person on the trip had the insight that an extra 13 hours and 44 minutes would render the trip virtually impossible. We were already spending around 10 hours each day in the car, slowed down by the icey roads and often crazy weather conditions.
I had never driven in snow before and that excited me. I had never been that far North before, which to me was also a selling point in the trip. I'm always up for an adventure that takes me somewhere new and travelling that far North in Canada during the month of December is — well — let's just say this is low season for a reason, people!
One of the first stops on the trip was Muncho Lake (pictured in the cabin above) which was my personal favourite for the most picturesque stop on the journey. I can imagine this place really comes to life in the summer, however was pretty darn excited to enjoy the views almost all to myself in a quiet little pocket of the lake at last light. Another highlight of the trip was here on the second night of the journey when we visited a natural hot spring as it lightly snowed overhead – one of the more surreal moments as I lay back in the hot springs with sub zero temperatures outside, looking up to an unobstructed view of the Milky Way.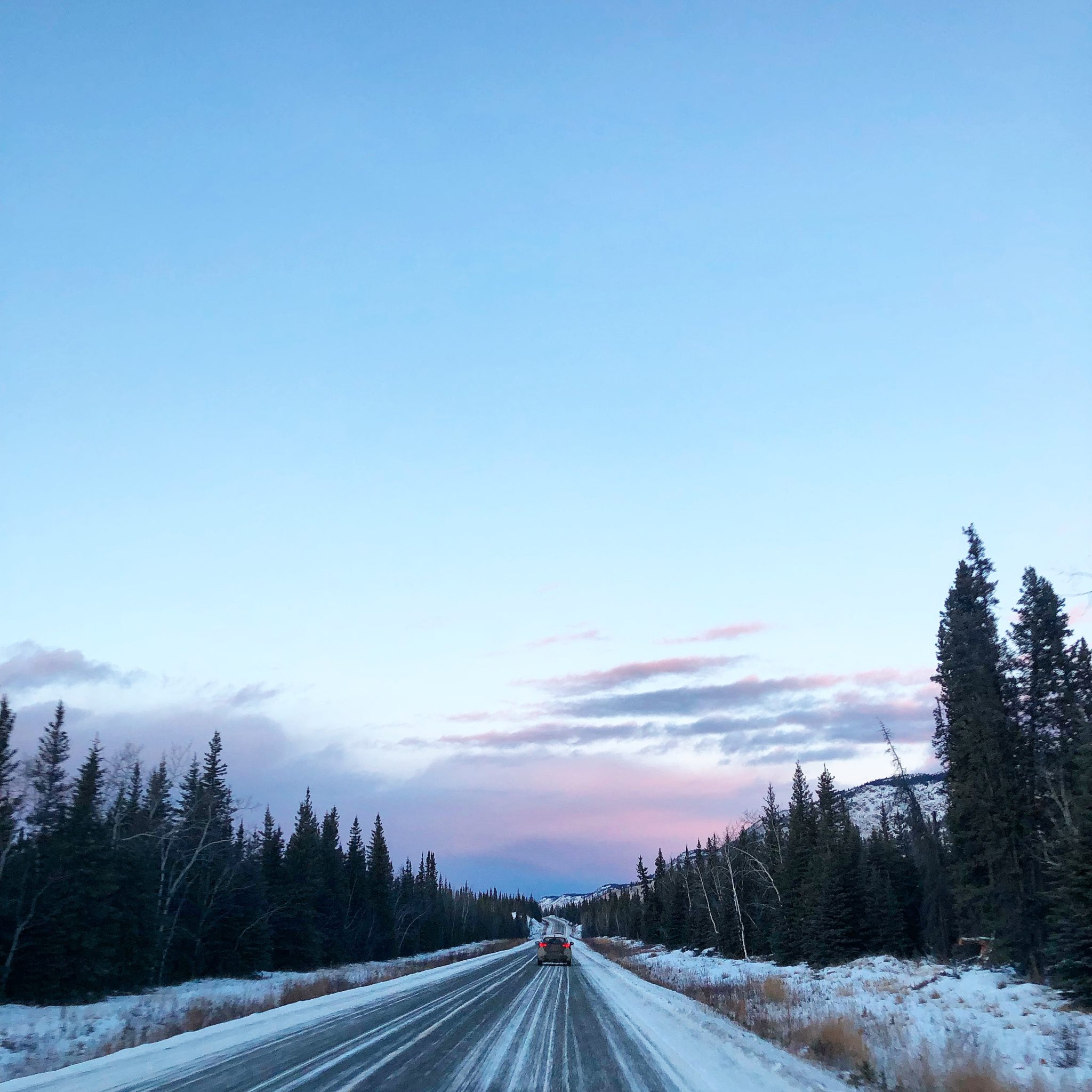 The following day we departed for Whitehorse – the capital of the Yukon. I had already visited the Yukon a few years earlier, so was saving my energy and excitement levels for anywhere North of Dawson City, which would be our next pit stop the day after.
The road was incredibly scenic and the scenery changed at every turn. The days are of course much shorter in winter, so we were looking at perhaps 5 hours of good day light each day at this part of the journey. What shocked me was that anything north of Dawson City was almost complete darkness – only a few hours of "light" which was more like a sombre light blue sky that came and went in only a couple of hours.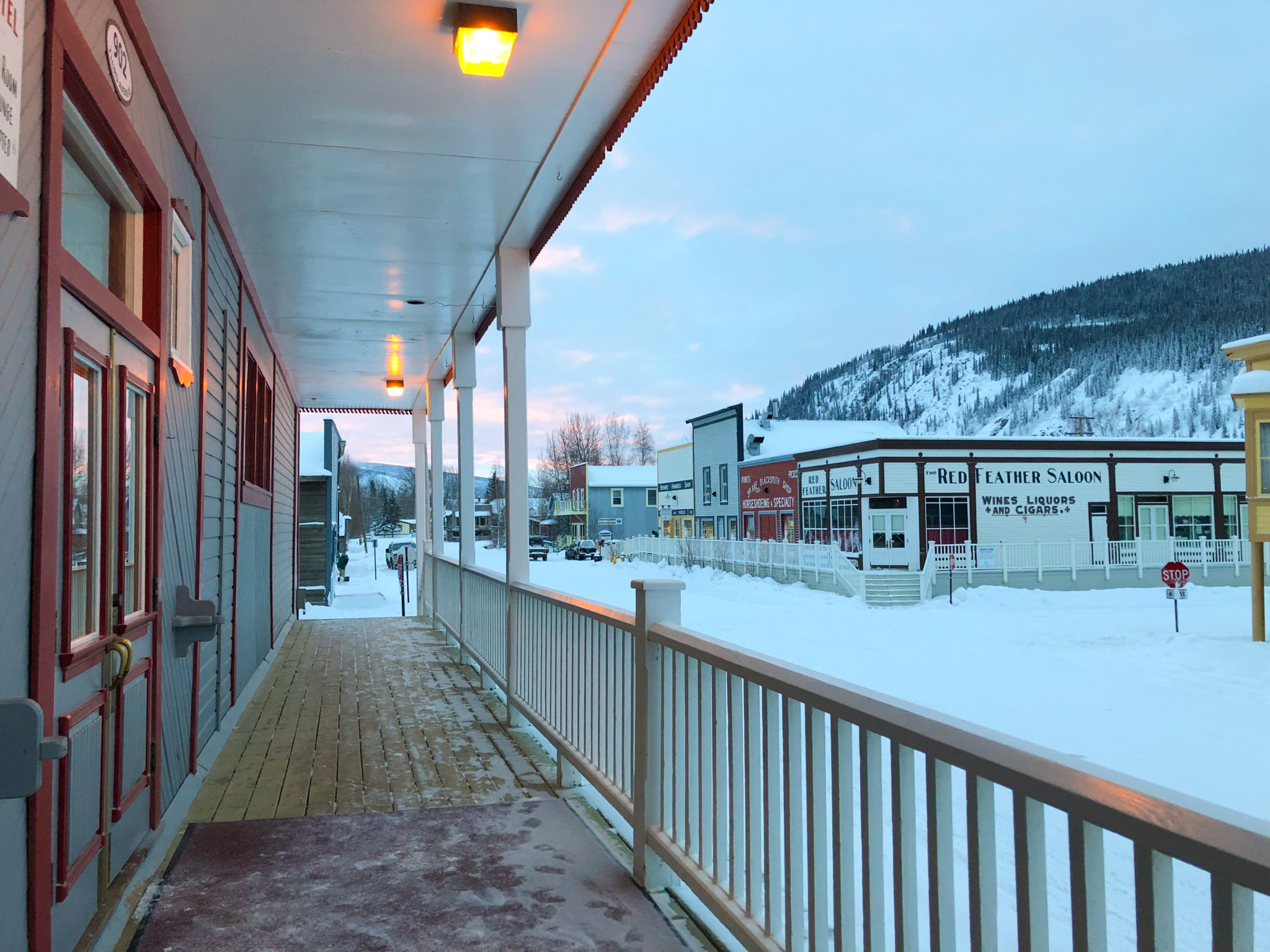 Dawson City is an old gold mining town that looks as if it has just been plucked out of a Western film set. Having visited a few years ago during summer, the visit during winter was incredibly different and it almost felt like a ghost town as we drove around the streets catching the last light of the day. We would later come to learn that there are plenty of people in Dawson over the winter months, they're just smart enough to be inside when it is below freezing outside!

For a hotel in the centre of town, I'd recommend the El Dorado where we stayed. The staff were incredibly friendly and helpful and the food was some of the best of the entire trip (we were told not to expect much as vegetarians this far north in Canada!)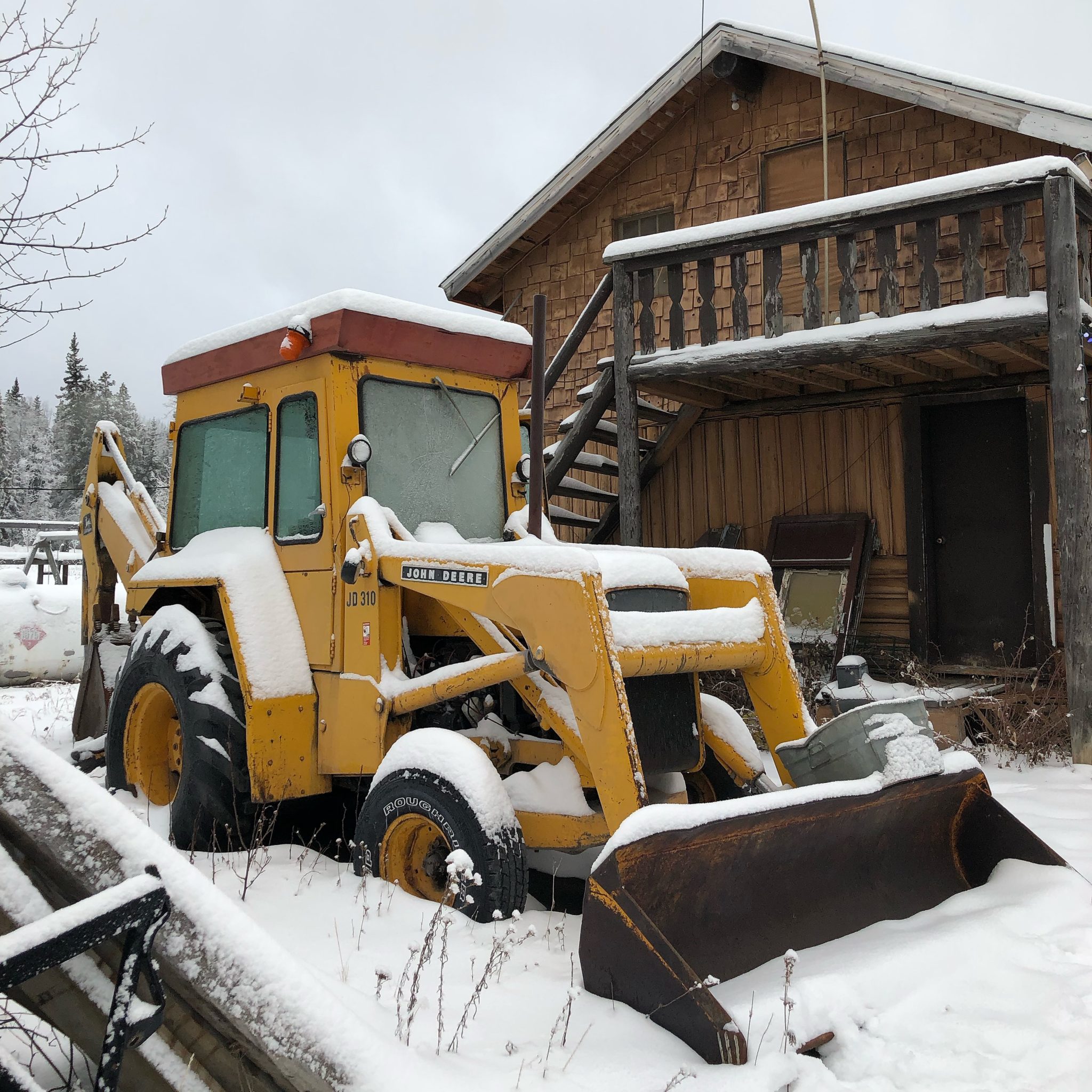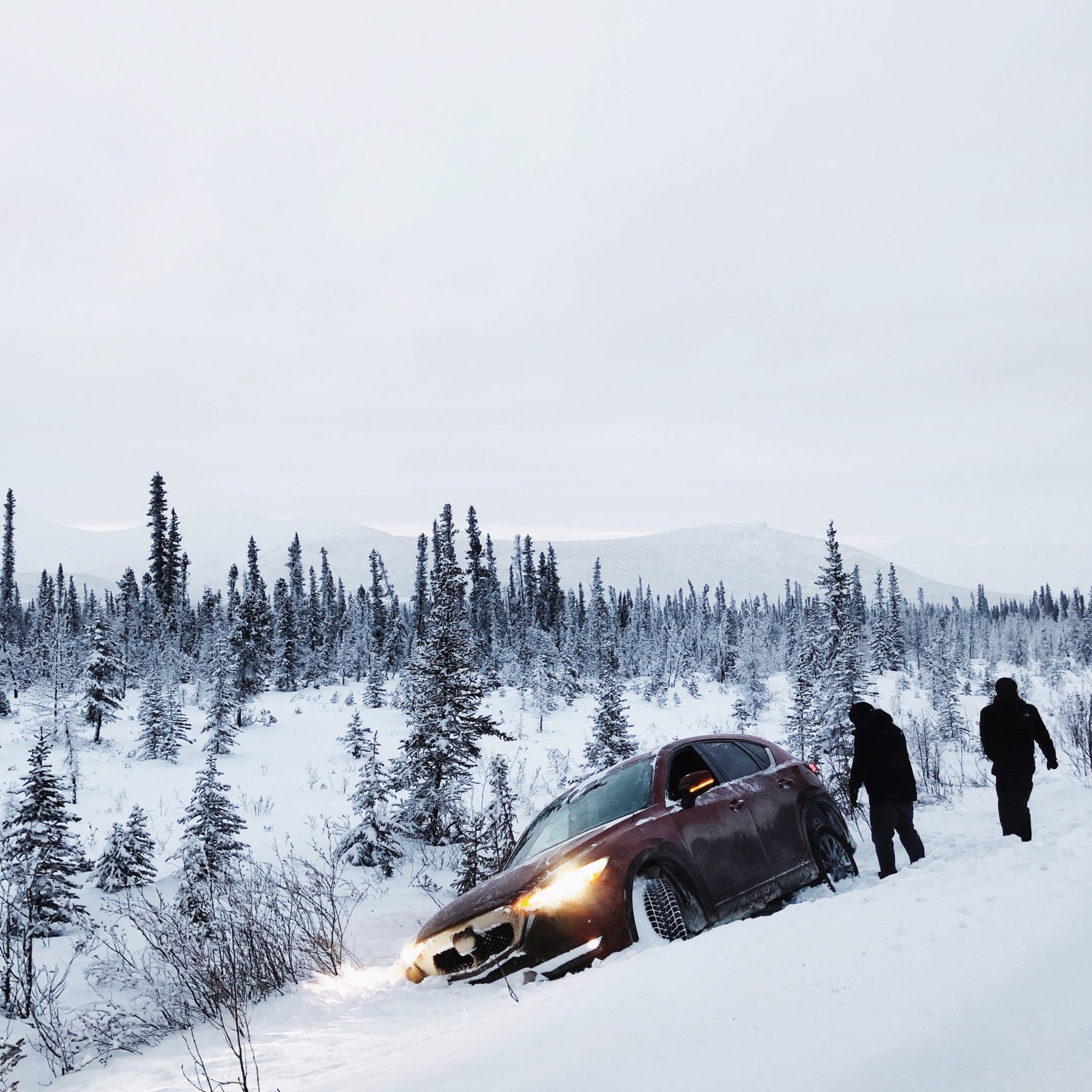 The Dempster Highway
After we left Dawson we began the difficult part of the journey: driving the Dempster Highway. The highway has a reputation for being particularly difficult to drive over the winter months and I would later find out it was used as the filming location for the tv series Ice Road Truckers. Needless to say I was as unsurprised as everyone else on the trip when I was the first car to land in a ditch. Luckily for me there was a full support crew on hand to tow the car out of the ditch (some hour later) but if you're driving the road alone things can get a little trickier when driving this far north.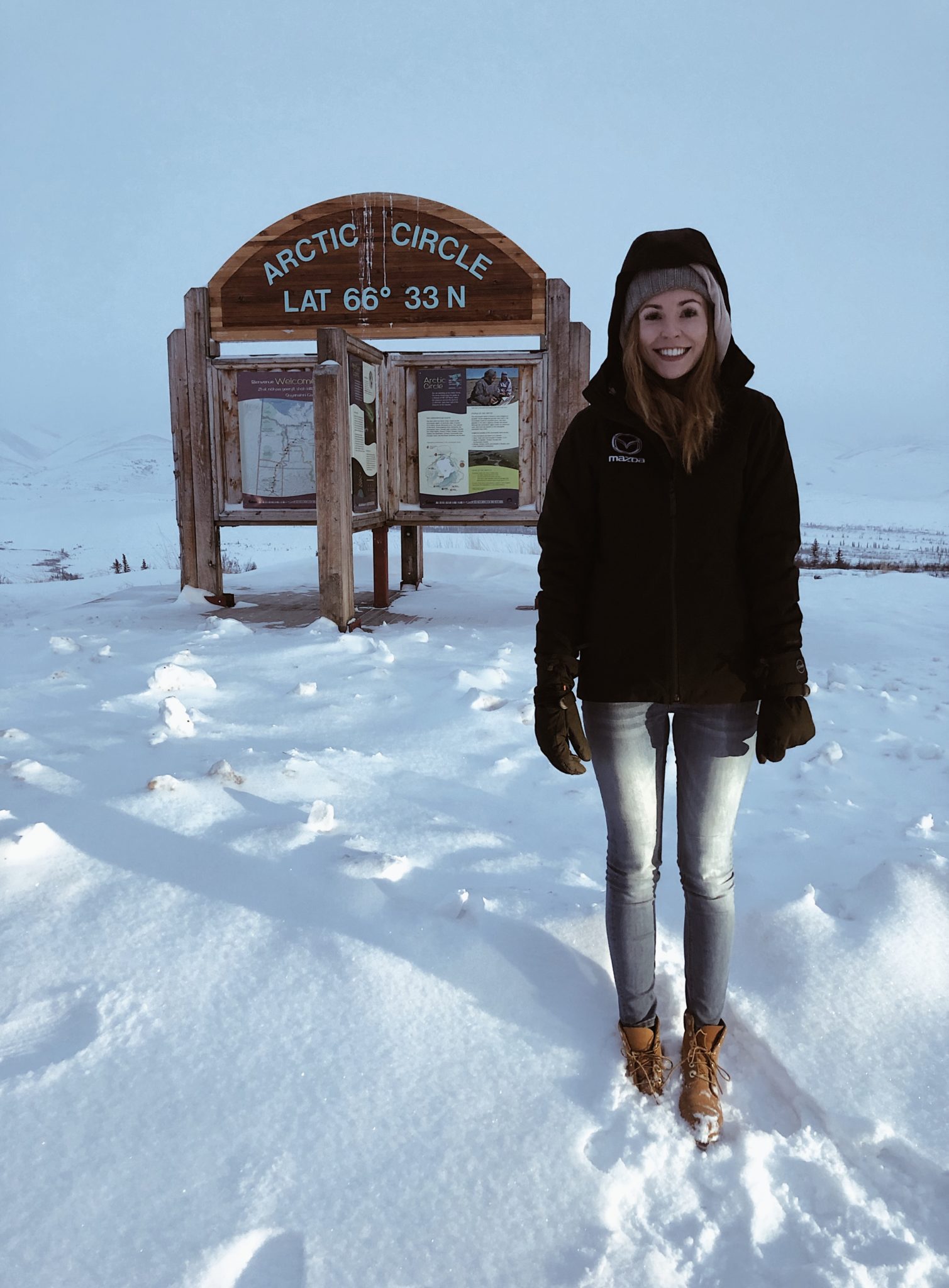 On the same day I crashed the car (and was subsequently demoted to the back seat – a decision I was more than happy with at the time), we arrived at the arctic circle and I was all smiles again. NB: skinny jeans are a bad option in these weather conditions. We were in the car for 12 hours that day so heavy winter layers didn't make a lot of sense until you're standing outside in them!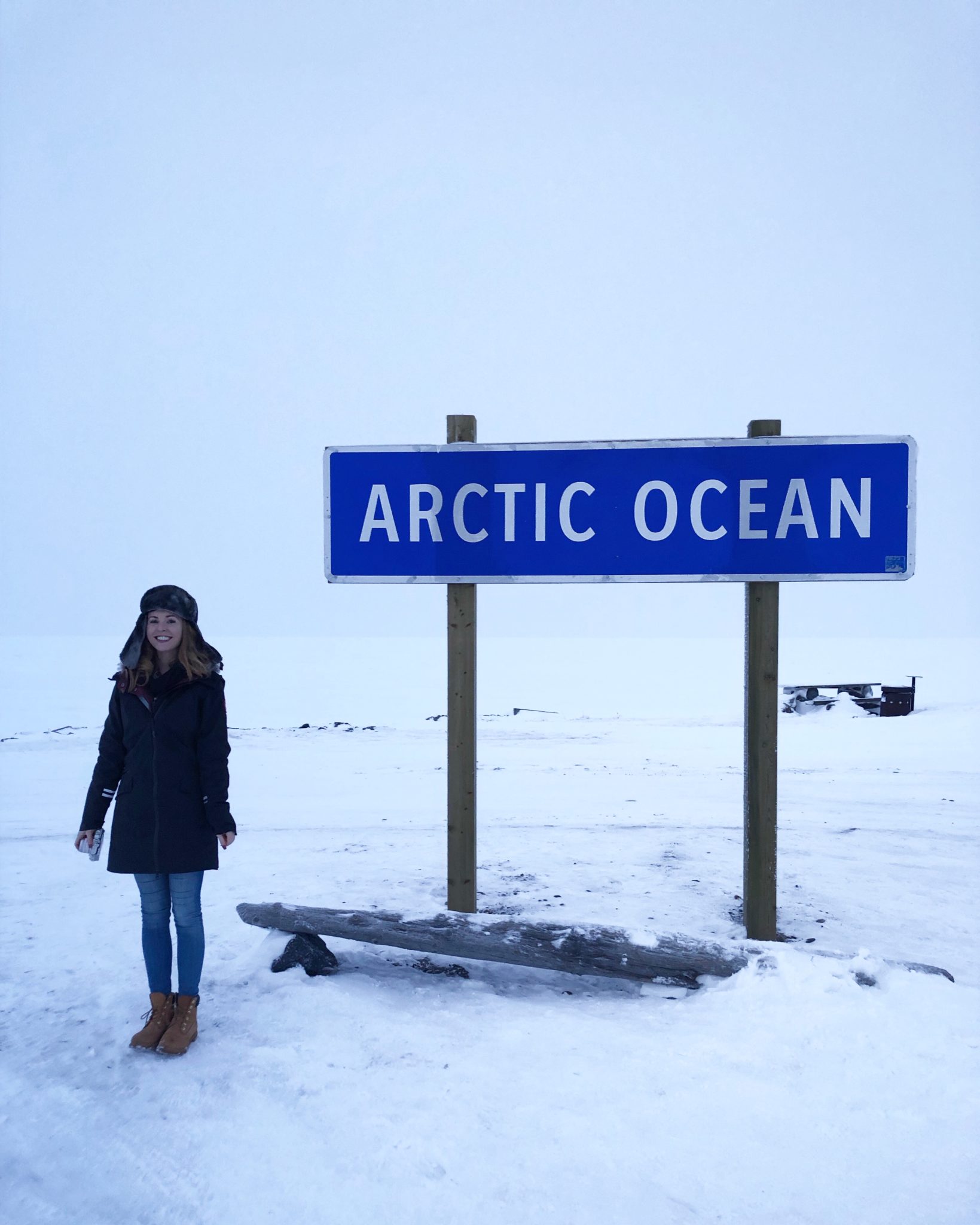 The following day we arrived at our final destination in Tuktoyaktuk and had officially arrived at the Arctic Ocean. This was my favourite day on the journey as we spent a good portion of the day chatting with native women who work in the community to provide food to those who need it and a safe haven for children to come and spend time near the church.
The community here really struggles over the winter months as prices are hiked up even further to get food supplies in to the town. One of the ladies shared with me an idea of prices on food and was displeased with the fact that an apple costs $1.70 and yet a chocolate bar is nearly the same price at $2.20. Of course growing your own produce proves difficult when you reside in such harsh environments, however she did share that a few local ladies were trying to grow their own small veggie patches and were having some success.
Staying warm is another huge challenge for those living in communities this far north. A portion of living expenses are covered by government subsidisation, however when you're battling -30 degree weather for a solid month of the year, I can only imagine how difficult that could be.
What I loved most about this day was how welcoming the community was to our arrival – they don't see many visitors in the winter! It was also really nice to see the group buying local souvenirs and handmade goods to support the community.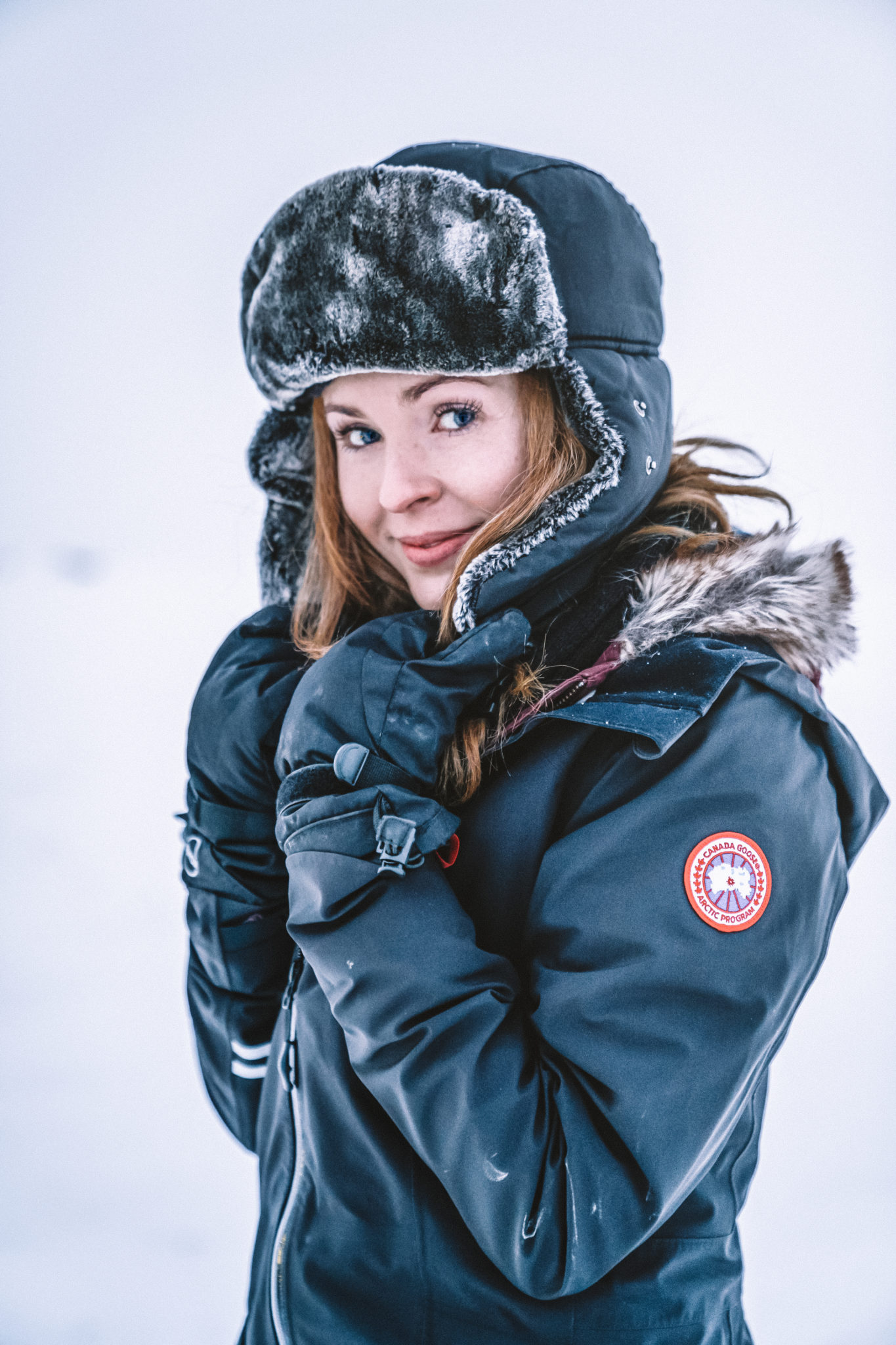 And so was my journey north to the Arctic Ocean! Below are some of the items I swear by to stay warm in these kind of climates. Note: my jacket does not have a fur lining, I am wearing a faux fur jacket underneath a Canada Goose windbreaker, which I wear as an outer layer to shield the wind in sub zero climates. There are a lot of great faux fur jacket alternatives on the market, including this
fjallraven coat
.