Let's cut straight to the point: this was one of the best stays in my life. In fact, it was one of the best four-night periods of my life. It really was that impressive.
I wasn't on my honeymoon, but I should imagine when that time comes it should look every bit like these four days. You can't really go wrong when you combine a private island resort with some of the world's best snorkelling, oodles of activities and a friendly team of staff who not only make you feel welcome but like you're coming home.
Here's everything you need to know that will convince you this resort should be at the top of your travel plans: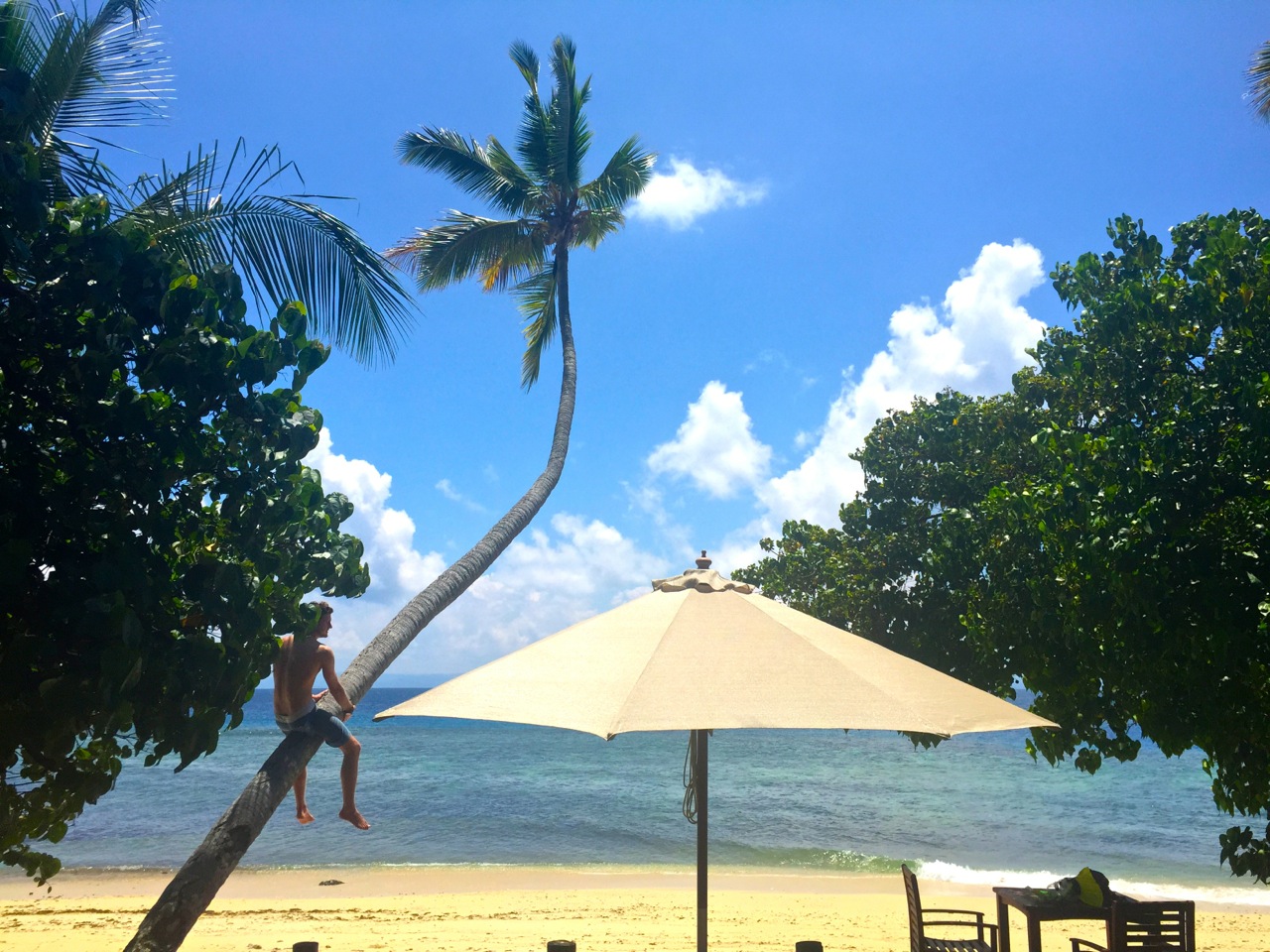 Royal Davui Review
I flew into Nadi International Airport in the early hours of Sunday morning. Shortly thereafter I was joined by James, who was with me in Fiji to film a very fun and exciting new project (more on that can be found on my YouTube Channel). So again to reiterate, I was not on my honeymoon. We were not on our honeymoon.
In the early afternoon we made our way to the check-in desk for our helicopter flight to Royal Davui. Now I don't know about the rest of you reading this, but for me a helicopter ride is a pretty swanky way to arrive at a resort. I've had the great pleasure of flying in helicopters before, but to fly over the mainland of Fiji and onwards over a collection of small islands in the Pacific Ocean until reaching our private island, the Royal Davui, was pretty special.
Upon arrival, we were greeted by the Hotel General Manager who kindly greets all guests upon arrival. Shortly thereafter one of the welcoming staff placed a shell necklace around my neck, asked for a mere signature in order to check-in, and all of these was done with the added comfort of a fruity cocktail welcome drink and cold towel (it was oh so hot in Fiji compared to back home in Australia!). Then, a welcoming song ensued. The staff of the resort gathered together and welcomed as in full song, followed by a friendly array of "Bula!"s (Welcome in Fijian).
The Room
All of the 15 suites are extra special, so even a base room will provide you with the utmost luxury and breathtaking views. However if its the creme de la creme you're after, you can't beat the Royal Davui Pool Suite. It was here I enjoyed many a candy-cotton sunset, glass after glass of Moet, and a cheeky early evening dip in the private pool on my wrap-around balcony. Bliss!
The Royal Davui Experience
Well, where to begin.
First would be the inclusive approach. All of your meals are included and absolutely divine. But it doesn't stop there. Upon arrival, you'll also find fresh banana bread in your villa, enjoy sunset canapés and entertainment in the evenings before dinner, be introduced to the ceremonial drink kava, and all of your non-motor activities are also included. That means you're free to snorkel, kayak, SUP, and lots more whenever you want.
Wifi is included and available in your room + public areas, not that you'll feel the desire to connect whilst you're here. In fact, you may feel the most connected you have in years if you just opt to completely disconnect. If its a stress-free, mindless, exotic holiday you're after, you've come to the right place.
The only hard part about it is leaving.

World of Wanderlust was welcomed to Royal Davui as a guest of Tourism Fiji, however, my opinion is as always, my own.