After two long years of waiting to board a flight overseas, I am beyond excited to share my recent experience flying with Singapore Airlines in business class. For this review, I flew from Brisbane, Australia through to Paris, France. This involves a stopover in Singapore Changi Airport, so I have featured both flights Brisbane-Singapore and Singapore-Paris in this feature review. I hope you enjoy seeing what it is like to fly with Singapore Airlines in Business Class and if you're thinking about upgrading your flight, I think this could very much convince you to do so!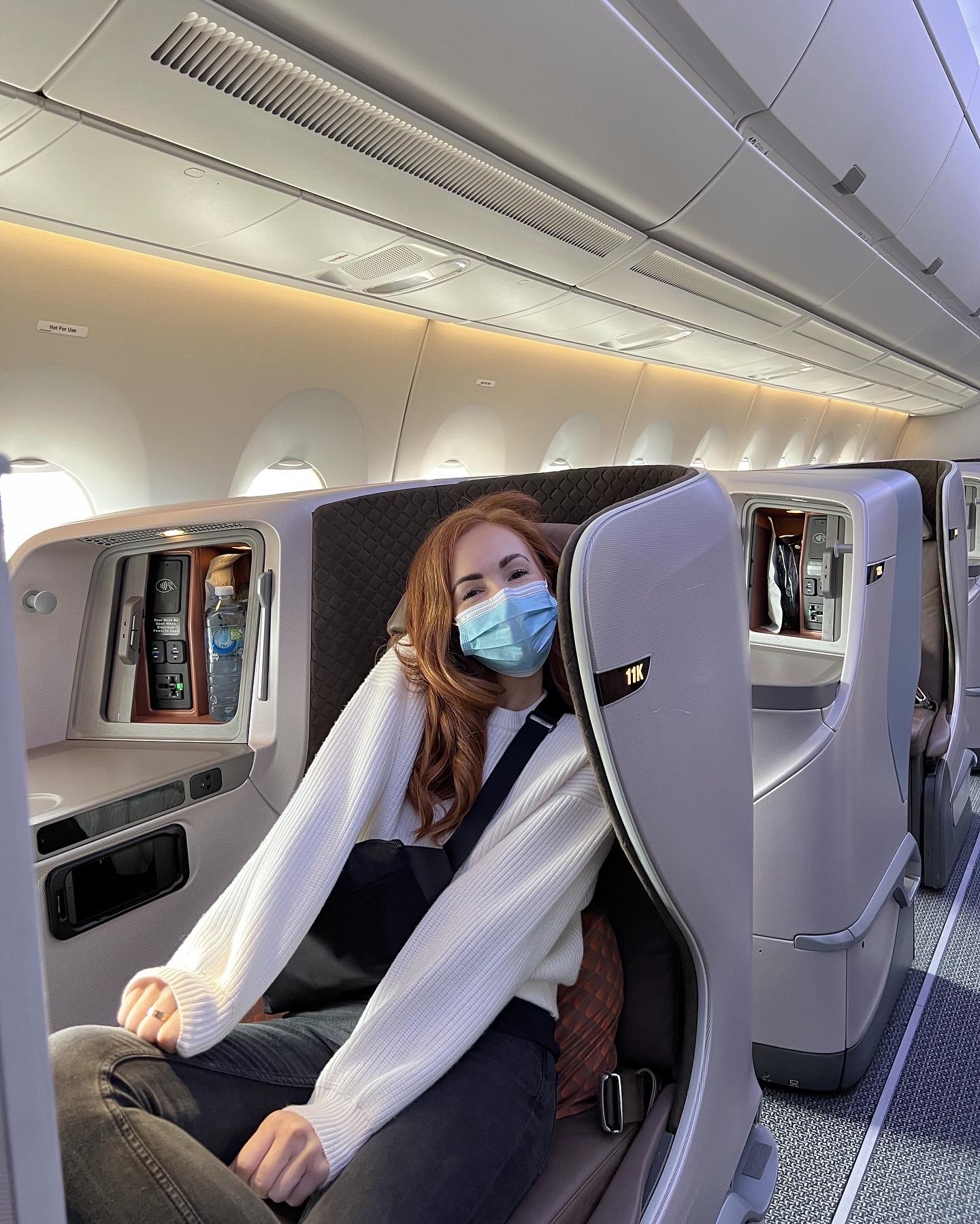 How Travel Has Changed
I'll start by addressing the elephant in the room: travel has changed a lot in the past two years. But not all of these changes are negative, nor are any of them difficult to navigate when booking with an airline like Singapore Airlines.
When I was considering this trip, I found all of the relevant information (updated frequently) for arriving into various countries on the Singapore Airlines website. Here I could learn what restrictions were in place and what I would need to provide in order to land in that country.
I was also able to learn about Vaccinated Travel Lanes, which Singapore Airlines offer for vaccinated travellers who meet the necessary requirements. So there were no restrictions from transiting through Singapore Changi Airport seamlessly and the experience was not unlike transit travel prior the pandemic.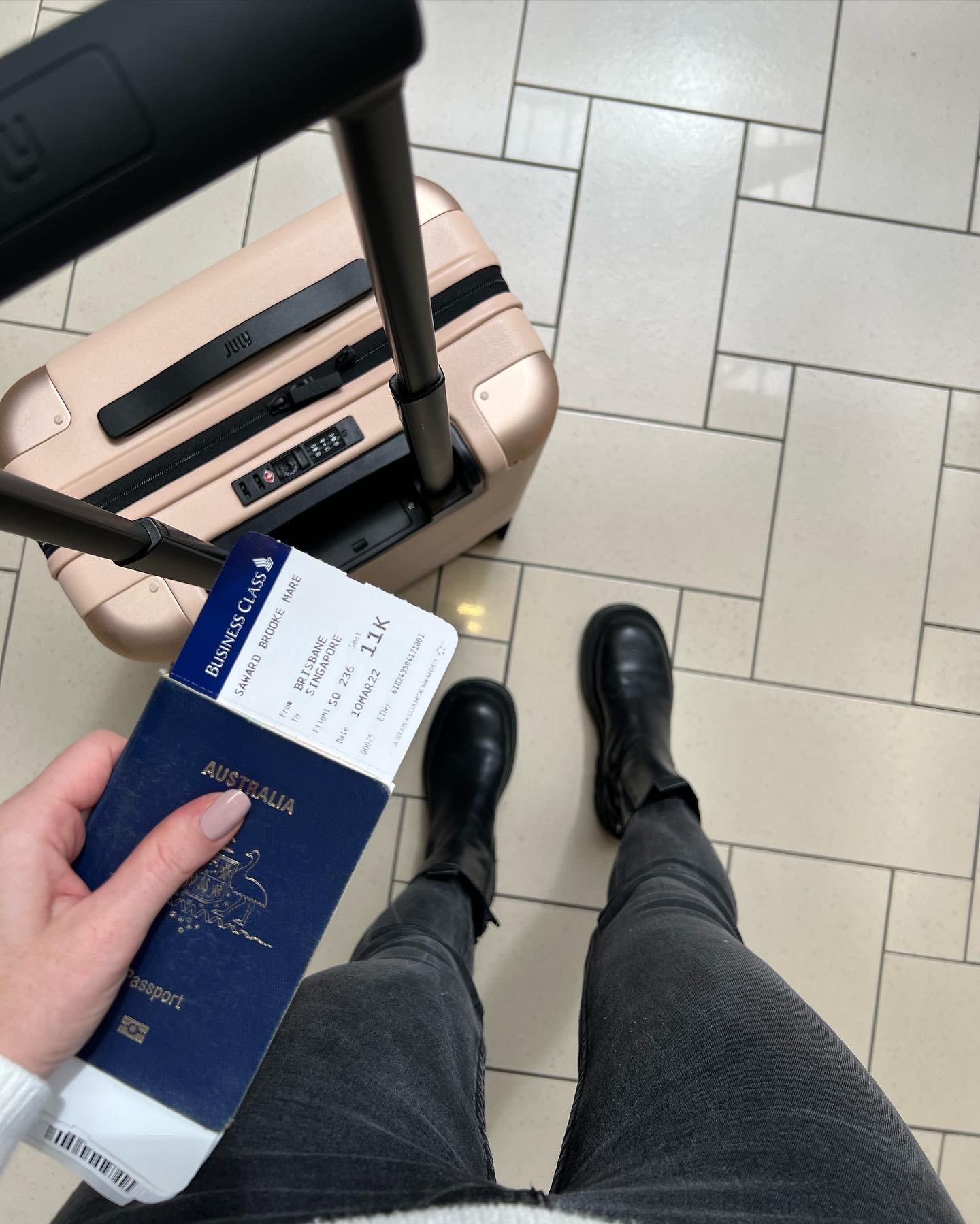 But I'm sure you're wondering: what has changed on board?
For starters, you'll need to wear a mask on board at all times, except when you are eating or drinking. Meal service is still operating seamlessly, with more details on food and beverage in business class detailed below.
Health and safety is paramount now more than ever, with extensive cleaning measures taking place between flights. However if you prefer further peace of mind, you'll find a care kit inside your seat cabinet, with a small bottle of hand sanitiser, disinfectant surface wipe and an additional face mask should you wish to change yours throughout the journey. You'll also find hand sanitiser outside of the lavatories.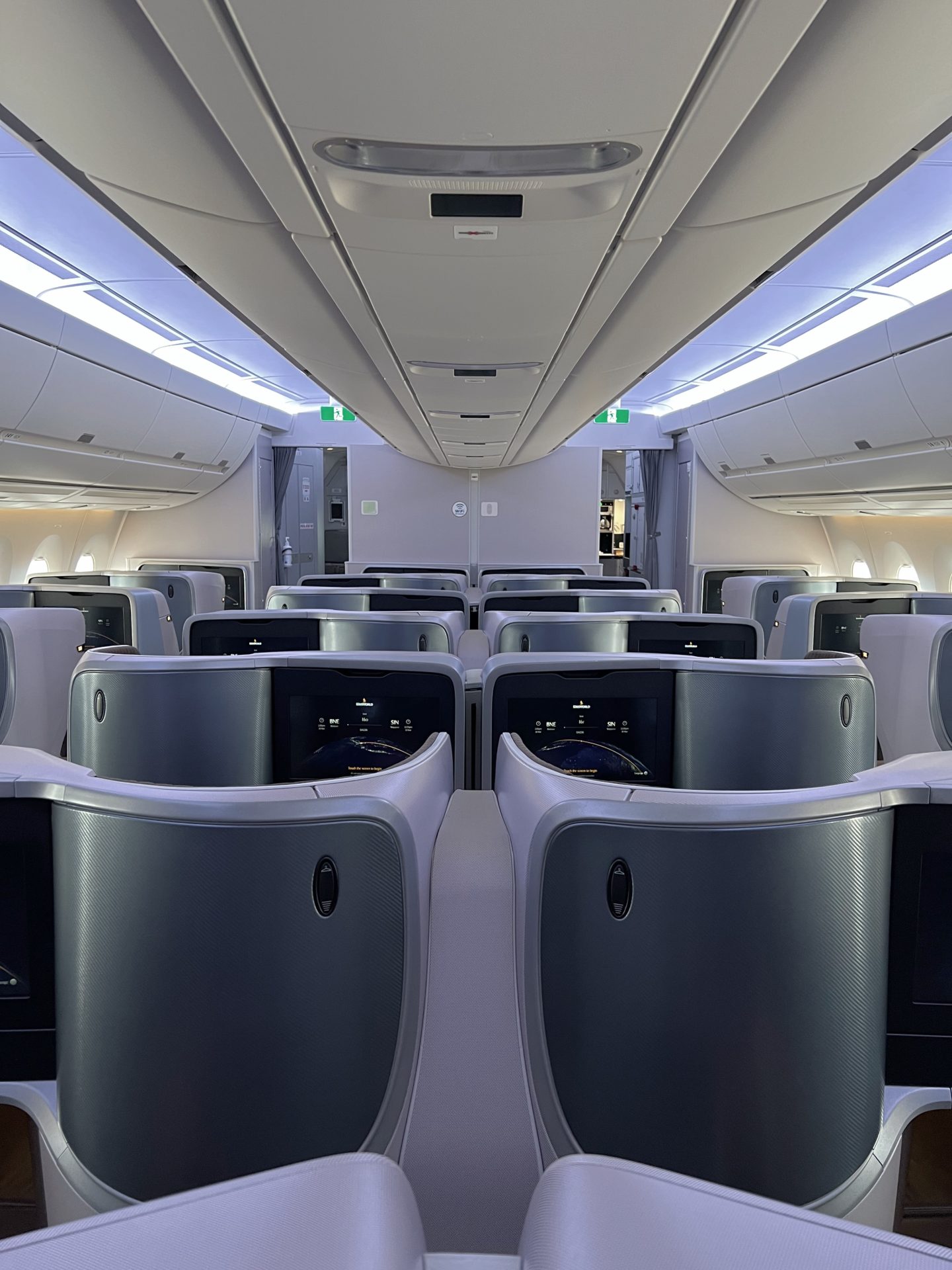 Singapore Airlines Business Class Review
For my journey to Europe, I flew with Singapore Airlines. I've long been a fan of this airline regardless of the class I've flown in – but I have to admit, I really enjoy the business class product. I've been incredibly fortunate to fly with many airlines in business class and I can say wholeheartedly, Singapore Airlines has one of the best business class products on the market – especially with their refurbished seats and new product innovations like an in-flight app to use your phone as a remote for the in-flight entertainment system and the dimmable reading lights to ensure you get just the right amount of light on red-eyes to keep working through the flight.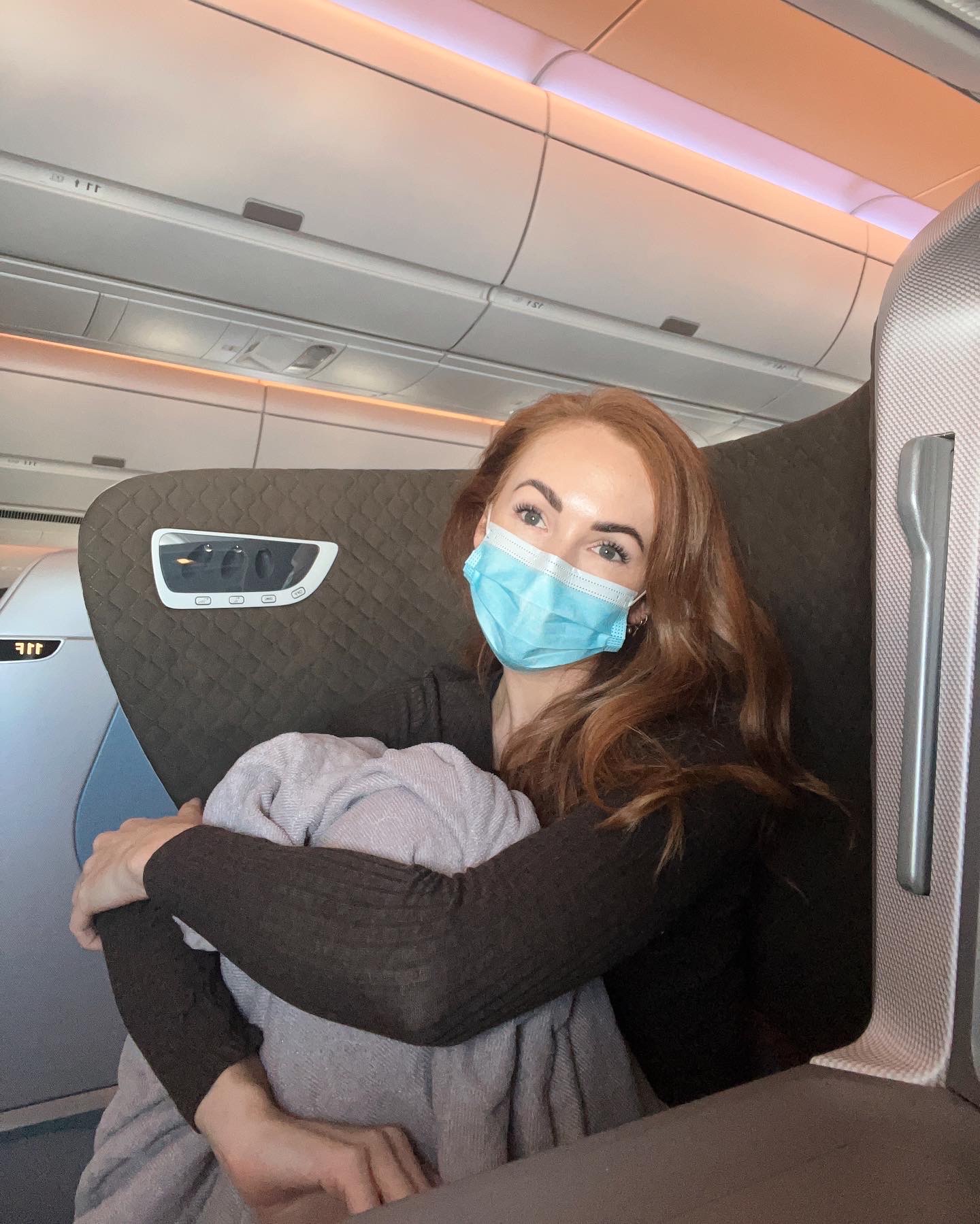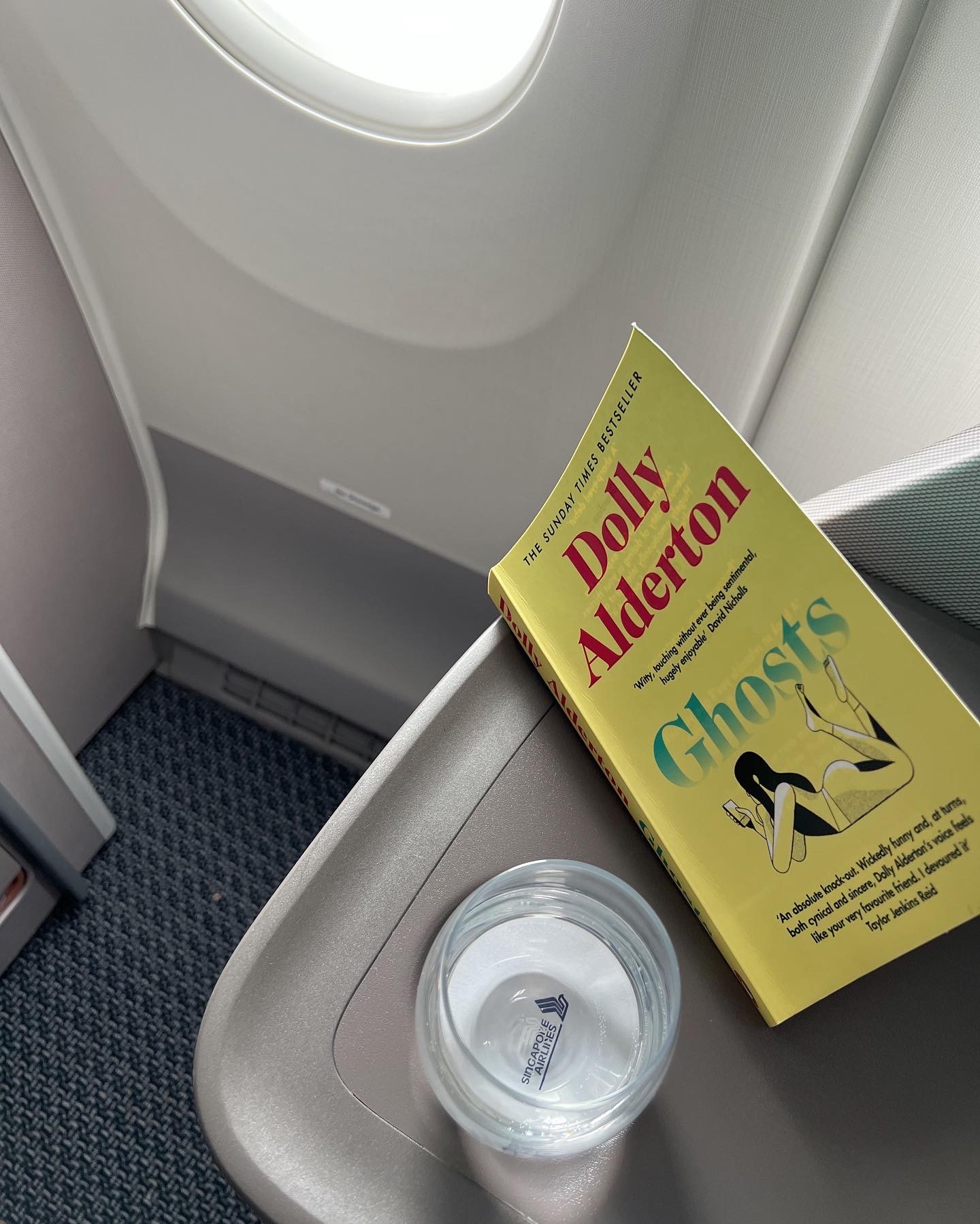 But it all starts as you make your way on board the aircraft and are shown to your seat by the friendly crew. From the moment my boarding pass was read back to me, my name was remembered for the entire flight – and not just by the air hostess who welcomed you on board, but by the entire crew.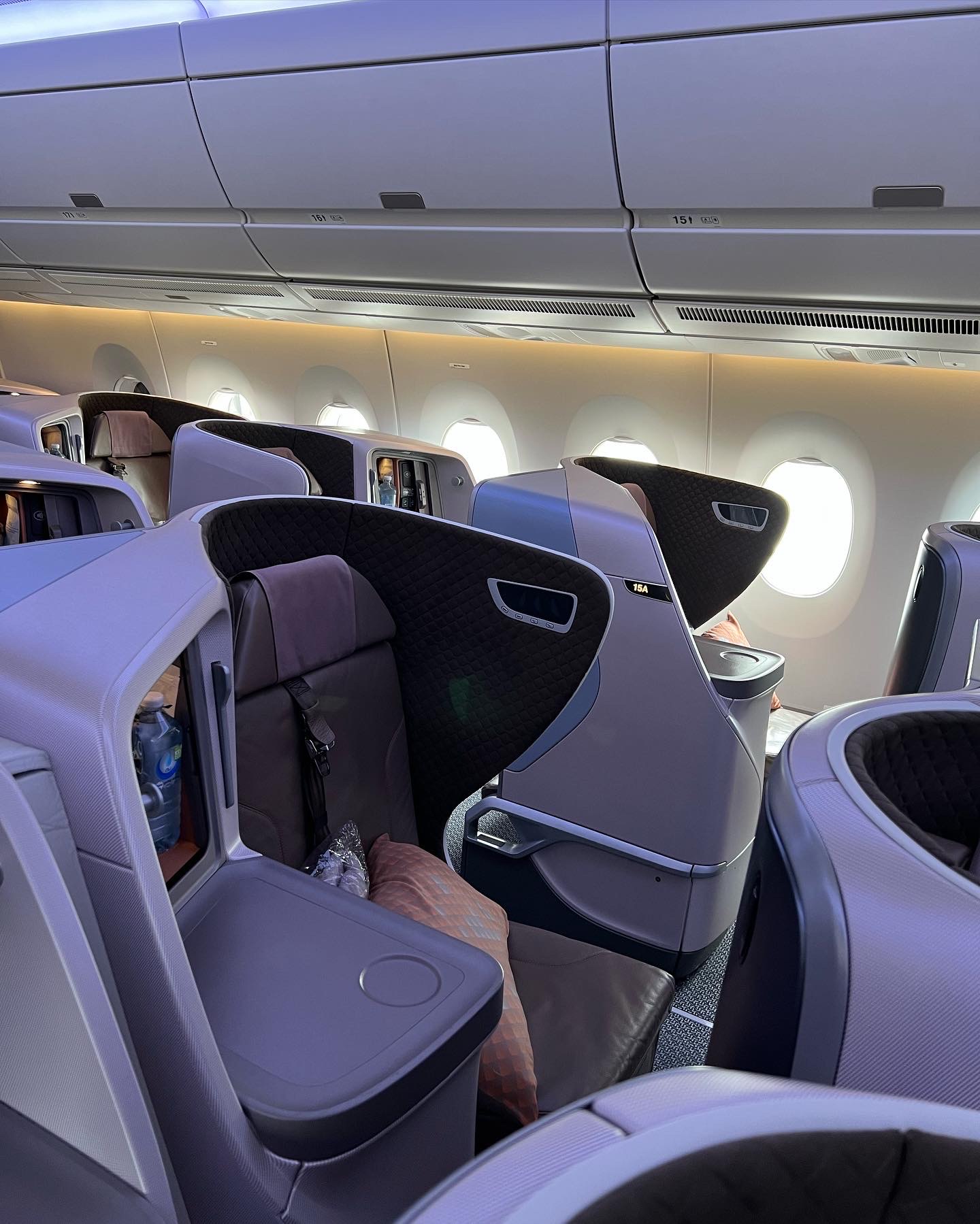 Throughout my seven hour journey from Brisbane to Singapore, I travelled on board the A350-900. This aircraft features the 1-2-1 configuration in business class, meaning that you'll want to plan ahead and choose your seat early if you prefer your privacy (and like those window views!) For couples travelling together, you might prefer to book a double seat together, in the centre of the plane.
While you're enjoying your upright seat, lazy Z position or lying flat and stretching out, be sure to connect to the in-flight wi-fi. This service is free for Business Class passengers, with a limit of 100 MB. That's enough to check your emails intermittently, send a few WhatsApp messages and stay in touch throughout the flight. And once you've exhausted all of your options online, there are tonnes of entertainment options from television to the latest films fresh out of Hollywood. There are also games and apps for those who prefer to keep their minds active on board the flight.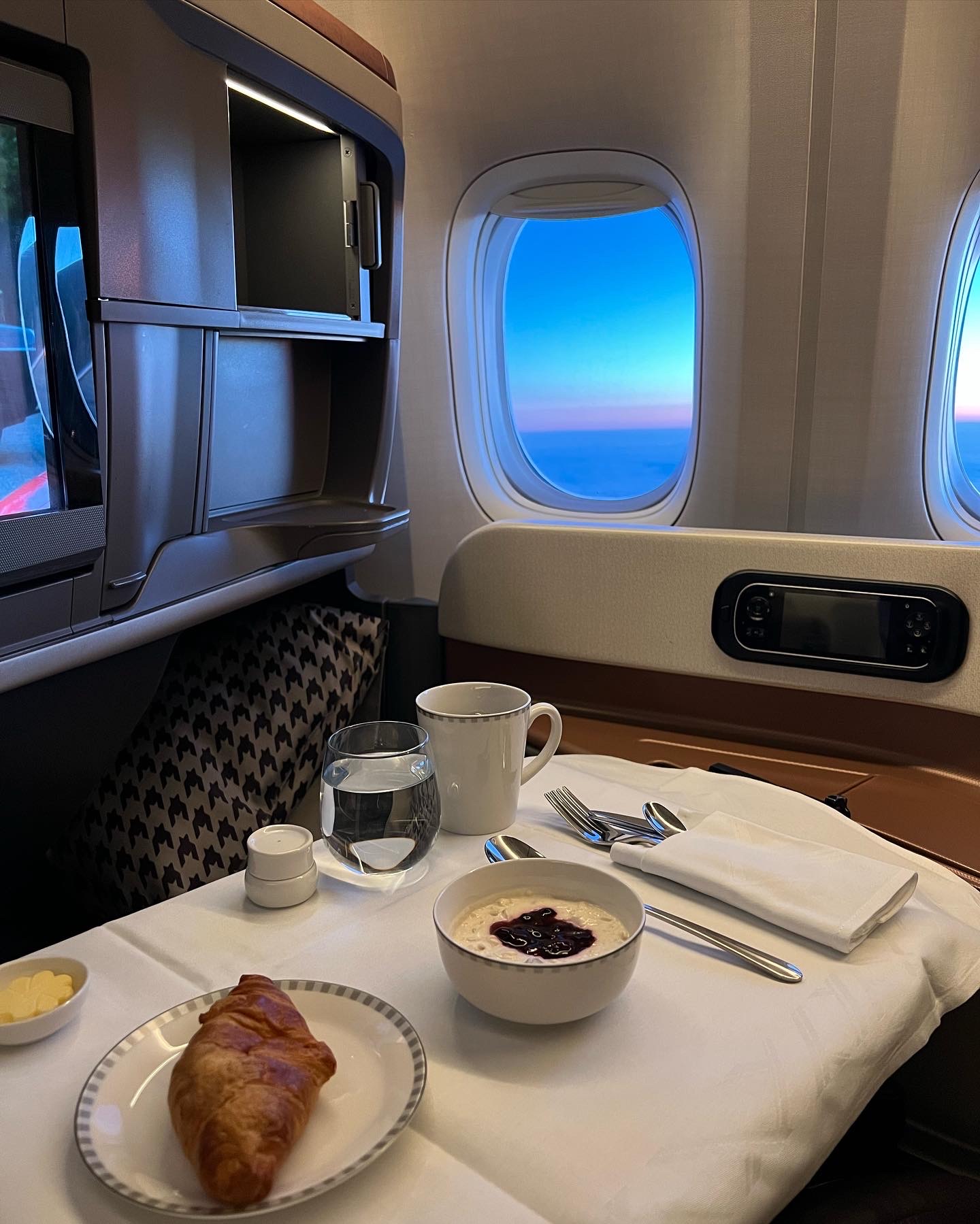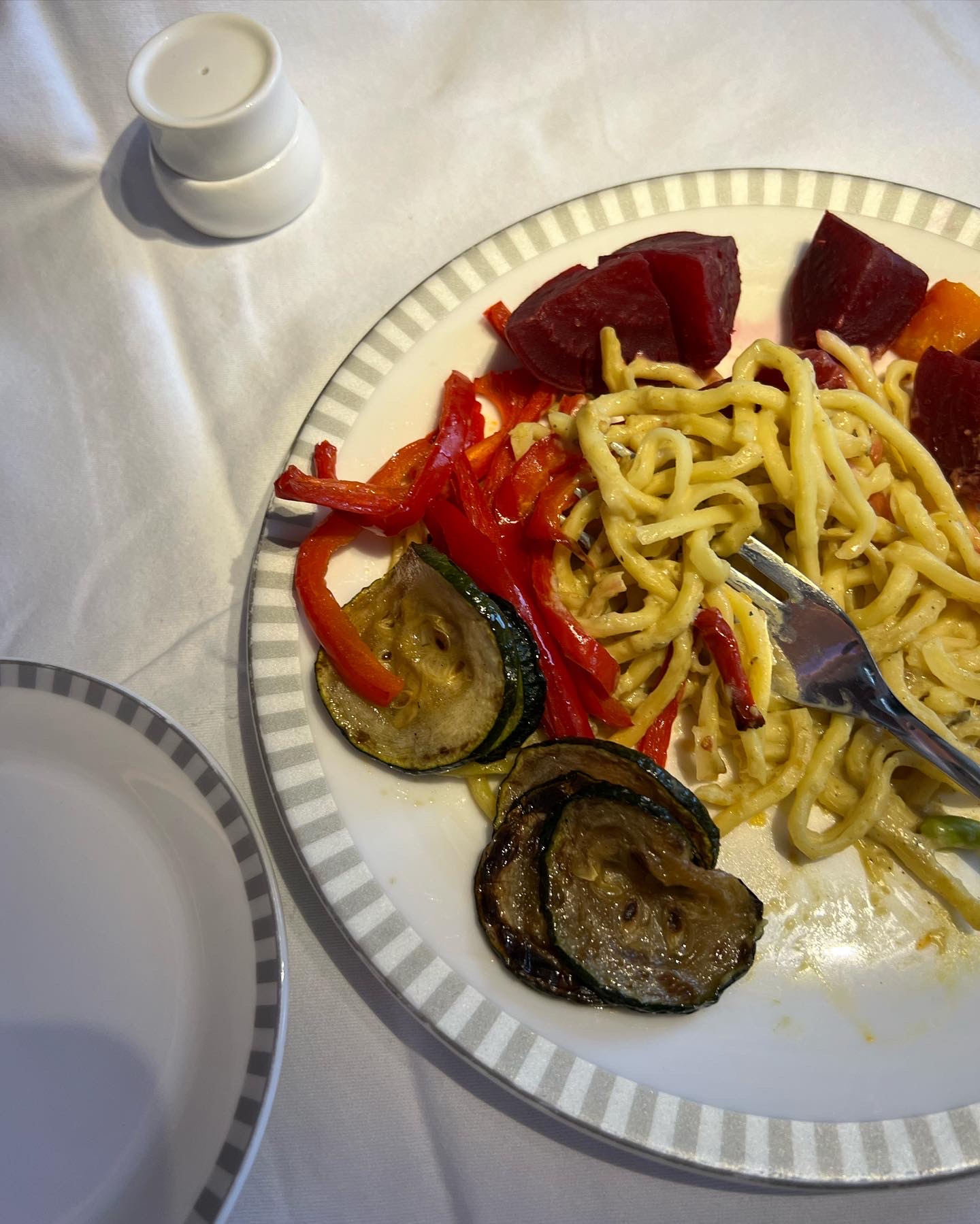 Food and Beverage on board Singapore Business Class
During my flight I enjoyed one main meal (a late lunch service), snacks on request, and a light meal (dinner) prior to our descent into Singapore Changi Airport. The main meal was a three-course affair, with the likes of a hearty quinoa and rice salad as my starter, delicious creamy vegetarian pasta for my main course and the choose of ice cream, cheesecake or cheese and crackers for dessert. If you've been reading my blog for a while now, you'll know which choice I made (it certainly wasn't the cheese!)
Later in the flight I enjoyed a delicious selection of arancini with a sun-dried tomato dipping sauce. Although I hadn't worked up an appetite since my first meal, I couldn't resist! The food is really tasty – which likely is due to the fact that Singapore Airlines collaborate with talented local chefs to create their menus.
In fact, you can go ahead and "Book the Cook" up to 24 hours before you depart on selected flights. This additional service is available in First Class, Business Class and Premium Economy and is a great way to ensure you get your preferred dish onboard.
Why book Singapore Airlines?
There are a lot of airlines to choose from in the day we live in. Believe me, I've flown with most of them! But there are a small handful of airlines that are a cut above the rest, and there's no doubt that Singapore Airlines is one of them. In fact, Singapore Airlines has consistently ranked as the world's #1 airline and has a strong focus on service. But you might be wondering just how different the service is on board, and what gives this airline their edge?
Firstly, the airline boasts one of the most rigorous training programmes in the industry. And that level of dedication to service really shows, with airline staff being among the most welcoming I have experienced on any airline.
Singapore Airlines fly from many locations in Australia (Sydney, Melbourne, Brisbane, Adelaide, Perth and Cairns) to Europe daily via Singapore. While you're in Singapore, be sure to make the most of your time in Changi Airport by exploring the offerings – from a layover hotel with a pool (you don't even have to leave the airport) to a sunflower and butterfly garden. This really is one of the best stopover locations in the world – regardless of whether you leave the airport or not!
From 29 March, Singapore Airlines will operate 100 flights a week from seven destinations in Australia as per below:
5x weekly from Adelaide
21x weekly from Brisbane
3x weekly from Cairns
Once weekly every Saturday from Darwin
21x weekly from Melbourne
21x weekly from Perth
28x weekly from Sydney
Book online via the Singapore Airlines website.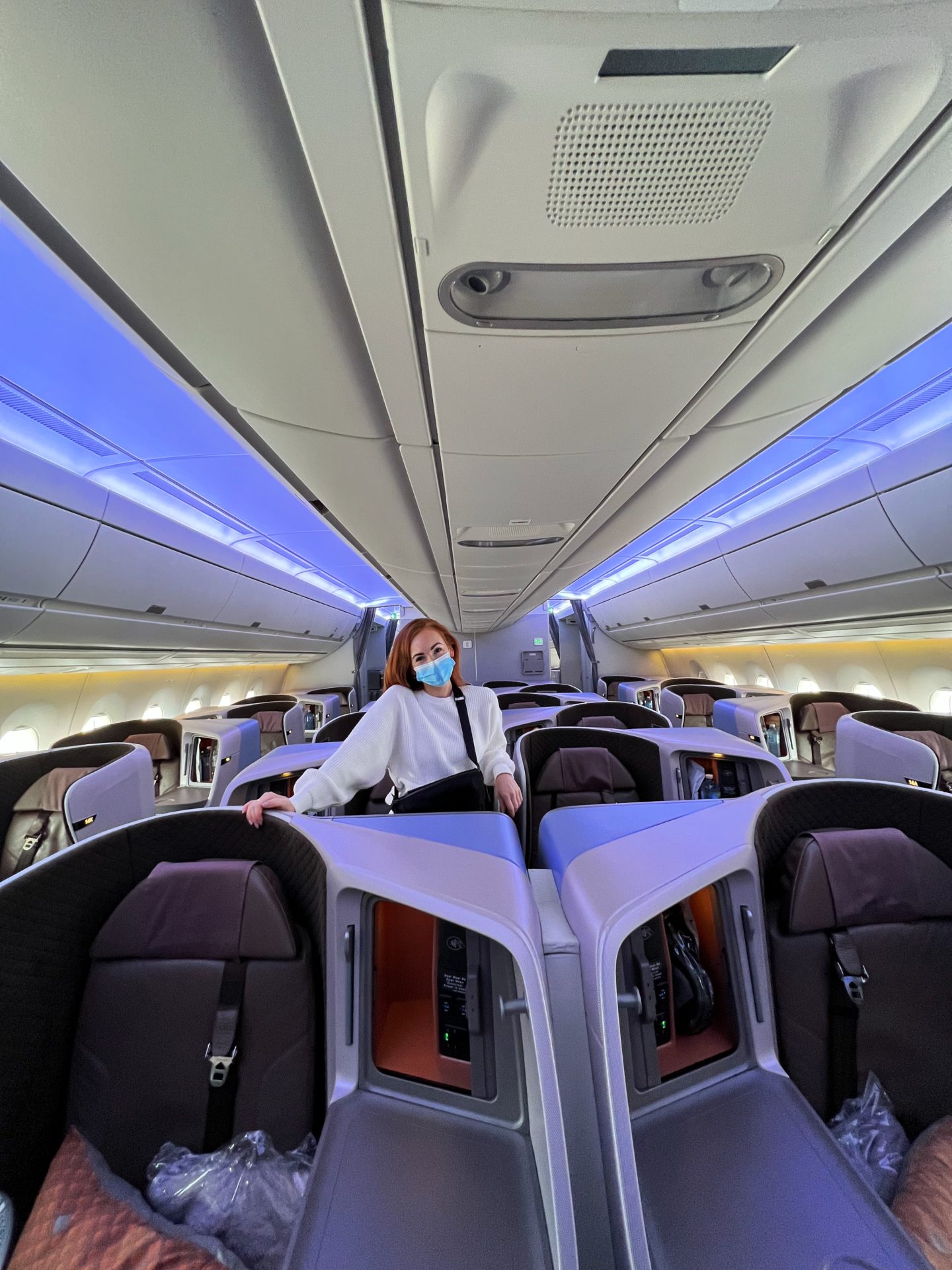 Disclaimer: I was invited to experience Singapore Airlines Business Class for the purposes of writing this review. I was not however expected to provide positive coverage or paid for the feature – I really just loved the Singapore Airlines business class experience so much! It is important to note that all thoughts, opinions and photos are my own.