Having previously never flown with Singapore Airlines before, I had high expectations for their business class product. Their reputation for having the world's best business class for 22 years in a row will understandably do that to you, as well as the fact that flying Business Class on any occasion will cost between double to four times the price of a ticket in Economy. Regardless of the price tag, it is no longer the case that the seats up front are reserved for men in suits holding briefcases in one hand and a cell phone in the other. Nowadays more and more travellers are saving the extra cash to travel in style (and comfort), or saving their points to upgrade their tickets.
And with that I made it my personal mission to review more airlines this year, starting with a review of Singapore Airlines' Business Class.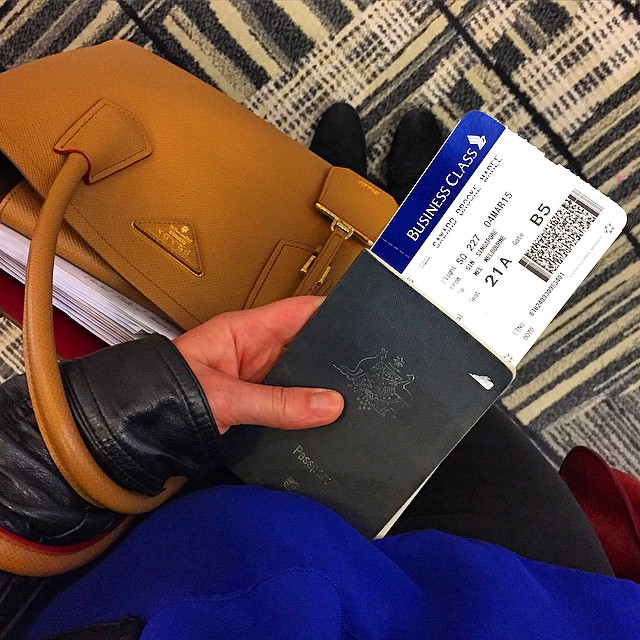 Singapore Airlines Business Class Review
Date travelled: 4th March, 2015
It was late last year when the airline first came under my radar, having seen photos of their new First Class Suites circulate travel media sites. Singapore Airlines Suites are probably the most heavenly way to travel imaginable, however it will be a lifetime before I am able to afford a $20,000 plane ticket, so until that day, I'll be happy to fly and review the business class product from Singapore to Melbourne (gladly)!!
It all starts at the check-in when I make my way to the dedicated Business Class passenger line.
There's no other passengers in front of me and hence no foot tapping, sighing or time wasting ensues. In what feels like the blink of a second, I have my boarding card in hand and I'm ready to make my way through security, customs and immigration.
Once on the other side of the tedious necessities, I make my way to the Business Class Lounge for a bite to eat.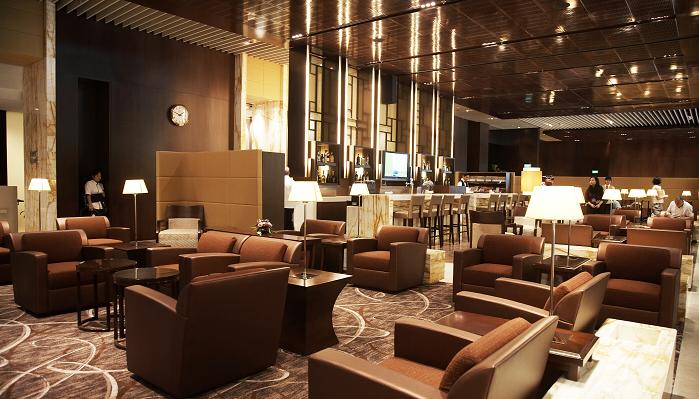 Image courtesy of Singapore Air
Once inside the golden gates (well, silver to be more precise, as business class passengers are offered access only to the 'SilverKris Lounge'), I am met with a welcoming smile by the staff. No one offers to show me to a seat or to take my drink order, however this is fairly regular for business class lounge service – or at least what I have experienced across a few airlines thus far in my travels.
So with that, I make my own way over to the dinner buffet and begin to survey the options that lay before me.
There are many.
So many, in fact, that I eat myself into a glorified food coma of Chinese vegetarian-friendly stir-fries, pastries, broths and a generous plate of sweets. Sure, there are salads, cold cut meats and cheese boards — but with an overnight flight ahead of me I figured I'd jump straight to an in-lounge dinner and skip the on-board menu, in favour of sleep on the 7 hour flight through to Melbourne.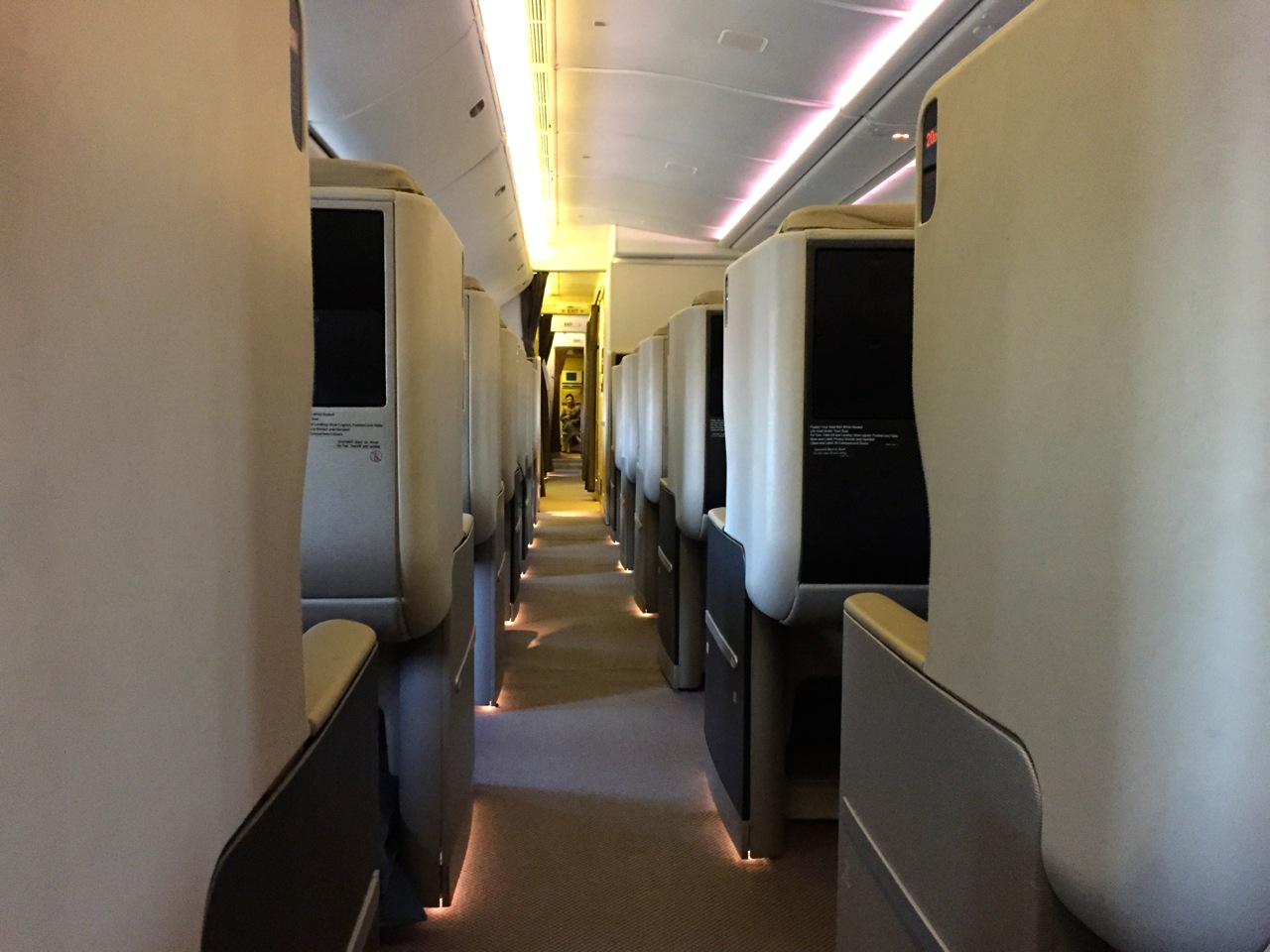 On Board: Let's get down to business
Singapore Airlines have recently featured advertorials claiming their Business Class offers "…service so good, other airlines are talking about it". It is only now that I can understand and agree with this statement.
My experience in Business Class was all but smooth sailing. When I arrived at the boarding gate I was swiftly told that my seat would require to be changed from the window seat I had so carefully selected the night before. I was understandably deflated to be told that I would have to change to an aisle seat because my seat was faulty in more ways than one. The staff explained to me that the seat's call button was not working and the seat had trouble reclining into the lie flat bed. I was given two choices: stick with the faulty window seat or move to an aisle seat, as the flight was almost fully booked and there were only a couple of empty seats in business class.
Reluctant to give up my morning views flying into Melbourne, I decided to keep my seat and reasoned that I would be sleeping nearly the entire flight anyway and would not need my call button. As it turns out the seat reclined just fine and I enjoyed a ridiculously comfortable night of rest.
The Food?
As mentioned earlier, I wasn't particularly keen on eating a big meal right before sleeping on the overnight flight, so I instead chose to forfeit the dinner menu and instead be woken up for the 'light breakfast' just before arriving into Melbourne. The breakfast was particularly dismal as far as breakfasts go, even for an airline and even for Business Class. However considering this was only a 7-hour flight, it can surely be forgiven that the second meal (breakfast menu) was slightly restricted.
Essentially I was served a plate of not-quite-ripe fruit cuts, a plastic cup of yogurt, and an orange juice + coffee combo. Sure, it was better than nothing… But not quite on par with what I have come to expect of Business Class breakfasts – whatever the duration of the flight.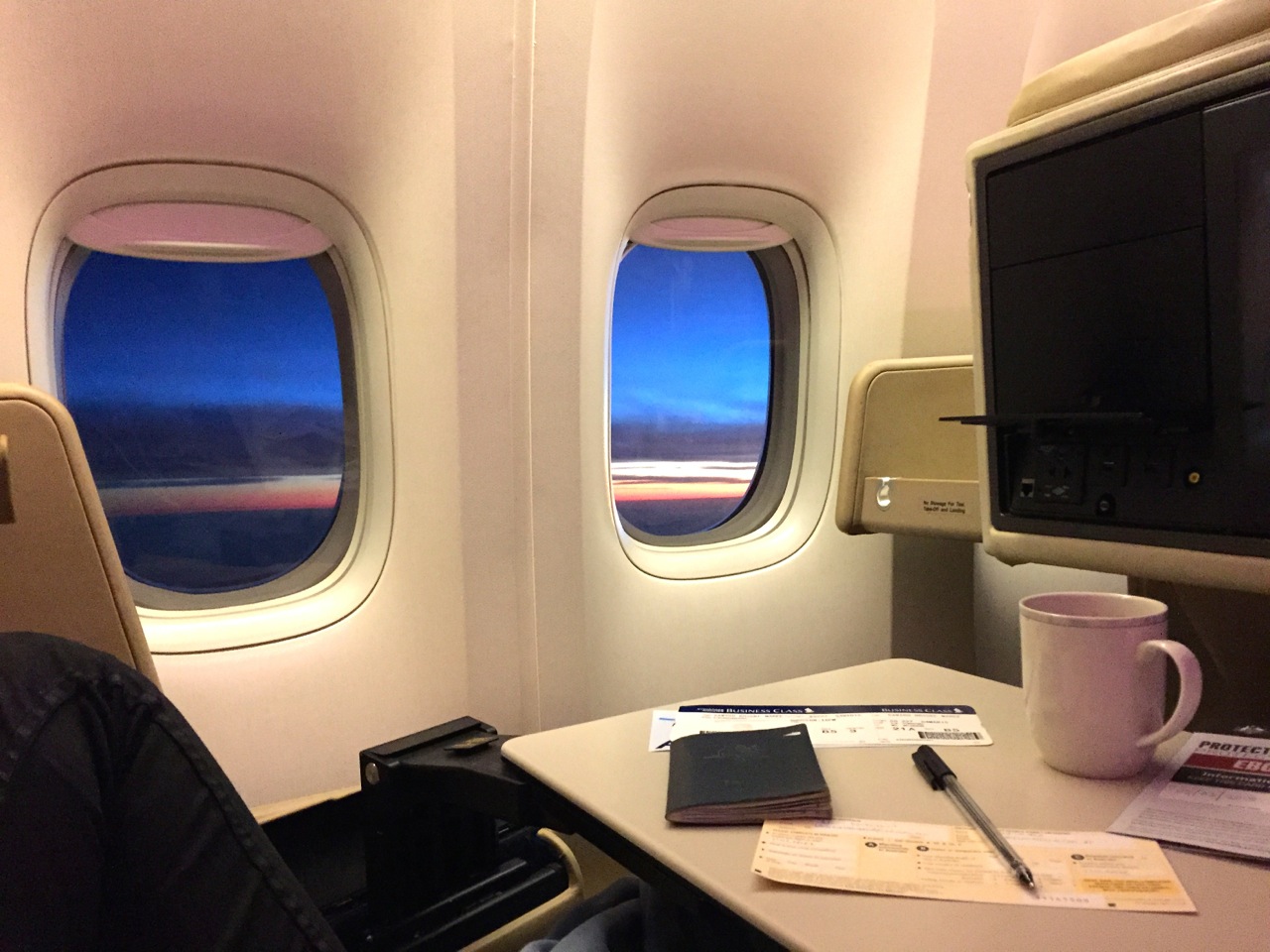 The world's best In-flight Entertainment System
Singapore Airlines use Krisworld as their in-flight entertainment system – undoubtedly the best in-flight entertainment system on offer across all airlines. The selection was plentiful, the screen was very responsive, and the options on offer just seemed to be more thought-out than other entertainment systems' pickings. Impressive and a big tick from me.
Any other lurks and perks?
If you're expecting anything else above the ordinary by booking a business class flight, you can rest assured you won't be blown away. The bathroom amenities are available in the lavatories for you to source yourself, however I'm sure this could be viewed in a positive light to reduce wastage. The Lavatories themselves are no step up from the regular ones in economy, as they are the same size and with only very minimal differences such as cologne to spruce yourself up and some lights around the mirror. Nothing too fancy.
If you're going to book a business class ticket, you are essentially paying for the added comfort of space to lie flat, privacy (there are only one row of seats by the window each side of the aircraft and couple seats down the aisles), and an exceptional, tailored service. Everything else is fairly minimal in difference, but I would certainly recommend an upgrade merely for the added luxury of enjoying a lie-flat bed and wake in your new destination feeling rejuvenated.
Special Service
I want to finish on a high note – the highest, actually.
The stand-out difference between the product offered by Singapore Airlines and other business class products on the market is the service. This was by far the best on-board service I have experienced in all my travels, even with the few things that did try to steer my experience otherwise. The staff handled the faulty seat fantastically, even making a beeline to my seat as soon as the seatbelt sign was turned off in order to make my bed for me. If its comfort and style you want to enjoy in the sky, this is how its done.
WOW was welcomed to experience the Singapore Air Business Class product as a guest. My opinion is as always, my own.