I wasn't sure exactly what to expect for my arrival in to Vancouver but after checking the weather forecast at home before I left Australia, I knew one thing was for sure: rain would be on the cards! To my surprise I landed at YVR airport to blue, sunny skies and for the entire first day resulted in nothing more than a speckle of rain, despite the forecast. Of course I can't say that was true for my entire time in Vancouver but what is certainly true is just how beautiful, multi-faceted and care-free this city is. Here's a complete guide for how to spend 48 hours in Vancouver based on my recent visit!

How to spend 48 hours in Vancouver
Getting There: Air New Zealand
First things first: I set off for no less than a 30-hour plane journey to reach Vancouver. Leaving my island home behind, I first set off for Melbourne where I would catch two more flights to reach Vancouver. While normally I wouldn't choose to fly even a little bit longer than I have to, later in life and my travel career I have come to realise that 1) the cheapest flight route is not always the best and 2) the choice of airline really does make a difference.
Having flown with Air New Zealand a few times this year, I have since decided they are one of my top 3 favourite airlines in the world (probably actually the favourite but to save sounding bias, I'll round it up!) Anyone I know has the same sentiments for the airline – their service is second to none, they fly almost everywhere, their product onboard is one of the best on offer and the food on board actually tastes good.
My flight left Melbourne in the morning, arrived in Auckland in the afternoon, and I was boarding my final long-haul flight to Vancouver in a matter of hours. All in all I spent quite a while in the air and in airports (living in Tasmania is always the trick), but arrived feeling refreshed and ready to hit the ground running at 12:00 noon.

Check in: Fairmont Pacific Rim
As this was a "work trip" I found myself checking in to the city of Vancouver's most highly regarded hotel; the Fairmont Pacific Rim. Like any Fairmont property the service was outstanding, personable, and it was the little touches like sleep oil on my pillow, chocolates at turn-down service and complimentary bike-hire that made this stay so memorable. You'll be hard-pressed to find anything about this hotel not to like and believe me when I say those glorious water-front bath tubs are as relaxing and indulgent as they look!!!
Fairmont Pacific Rim | 1038 Canada Place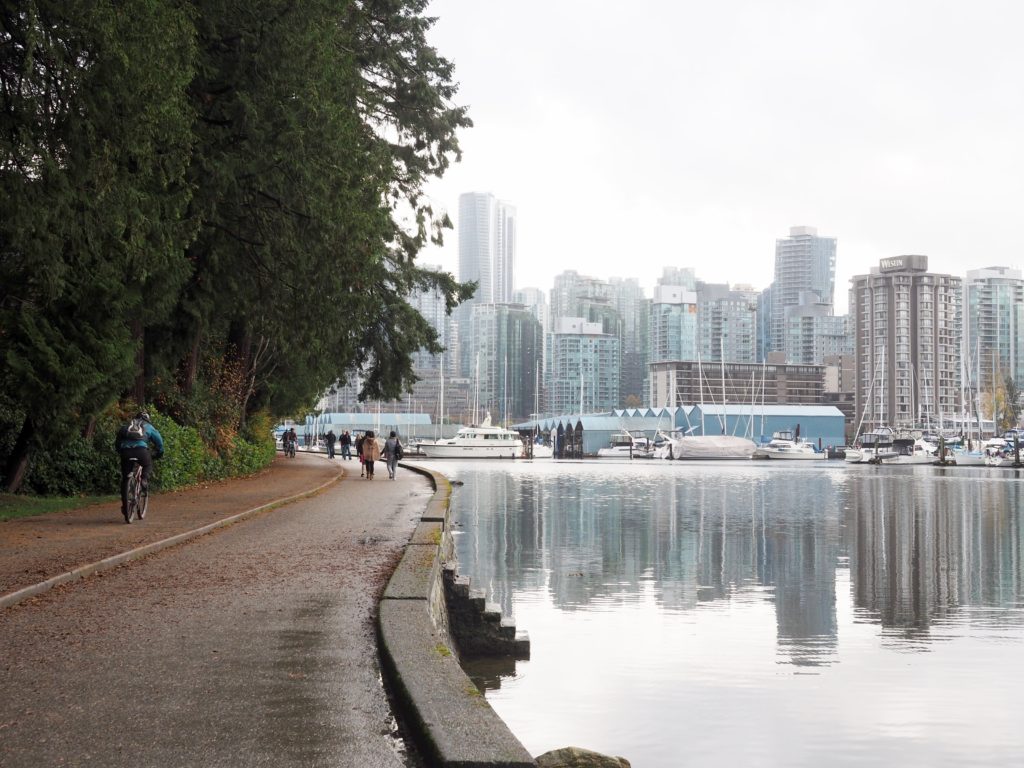 48 Hours in Vancouver
Jet Lag Cure: Bike Ride Stanley Park
Fresh off the 30-hour flight journey and ready to fall in a heap of jet lag mess, I made sure to follow my #1 rule for beating jet lag: getting outdoors. Despite being the 3rd largest city in Canada with a population of somewhere comfortably over half a million (600,000+ in the municipal area alone), I was surprised by how easily accessible and close everything was. From my hotel I could practically touch the waters edge and within a 10 minute bike ride could reach the lush oasis that is Stanley Park. All the best cities have an escape plan: just as New York has Central Park and San Francisco has Golden Gate Park, Vancouver has Stanley Park.
Stanley Park is located right in the centre of town, just a few minutes bike ride from downtown. The park is gigantic (over 1000-acres) so I would suggest grabbing a map if you don't have time to get lost (though based on my experience, the latter was more fun!) While I'm not sure if it was the ice-cold air or the bike ride itself, I found that I had completely kicked my jet-lag by the end of my couple of hours riding around and inside the park, so I would highly recommend it if you too have come off a long-haul!

48 Hours in Vancouver: Eat at The Acorn
That night I caught a cab up town to The Acorn, a fine-dining vegetarian restaurant that aims to please everyone, even their "first-timers" to vegetarian dining. The food was exquisite – tastefully put together and delicately plated with a great ambience in the entire dimly-lit restaurant. All in all I would highly recommend for my fellow veggies and even recommend for those who aren't vegetarian!
The Acorn | 3995 Main St
First morning, First thing: Capilano Suspension Bridge
As one of the most popular tourist attractions in the city (well, 15 minutes drive from downtown) I would recommend arriving first thing (9:00am) to avoid lines and crowds. The Capilano Suspension Bridge itself is beautiful (and incredibly wobbly) but there are also plenty of things to see within the complex. Be sure to walk through the treetops and the cliff's edge – its a great way to immerse yourself in nature and still be so close to the city! For a cheaper alternative you could also check out Lynn Canyon.
Capilano Bridge | 3735 Capilano Road

Find the best coffee in Gastown
Gastown was by far my favourite neighbourhood in the entire city and it took me just ten minutes to realise this. The neighbourhood is grungy and industrial, making it the perfect setting for Vancouver's up and coming coffee bars and their showman baristas. You'll find the best coffee in the city here in this neighbourhood with three absolute stand outs below:
Revolver | 325 Cambie Street
Buro Coffee | 356 Water Street
Timbertrain Coffee Roasters | 311 W Cordova Street
Double Jet Lag Cure: Willow Stream Spa
Midday and mid-heavy rain I made my way to the city of Vancouver's most raved about spa: the Willow Stream Spa inside the Fairmont Pacific Rim hotel. As far as memorable spa treatments go, two of the most memorable treatments I have had around the world were at Willow Stream Spas and the Vancouver spa was no exception. I would highly recommend the hot mud back massage for jet-lag recovery, which was handpicked by my therapist as the perfect jet-lag cure!
Fairmont Pacific Rim | 1038 Canada Place

Lunch: Tacofino
For a midday lunch I would recommend checking out some of Vancouver's food trucks or if lunching a little later in the day, check out Tacofino (which started as a foodtruck and is now taking over Vancouver!)
Tacofino | Locations throughout Vancouver
In the Afternoon: Granville Island
In the afternoon if you find yourself with any room left in your stomach whatsoever, head on over to Granville Island for one of the coolest al fresco dining situations you'll find in a city. Granville Island is full of eats, drinks and a great food market to peruse.
The Last Hoorah: Yuk Yuk's Comedy Club
And for the last hoorah: if you've recovered from the jet-lag and are looking for something fun and uplifting to do, Yuk Yuk's Comedy Club is a great place to start. This is one of the most talked about comedy clubs in the city so be sure to check the schedule and plan ahead if possible!
I flew to Vancouver with Air New Zealand to showcase one of their newest destinations – Vancouver! With thanks to Explore BC and Tourism Vancouver for arranging my stay – all opinions, views and oodles of photos are my own!