After its notoriously long and dark winters, Berlin transforms into a city bursting with life and energy in the summertime. Having been cooped up indoors hiding away from the cold for far too long, when the weather warms up, Berliners make the most of it! Many travellers flood into Germany's capital during the summer months, making it the most popular time to visit. If you're travelling to Berlin this summer, make sure you do it right with 10 of the best summer experiences.
10 Essential Summer Experiences in Berlin:
1. Soak up the sun in one of Berlin's many parks
Berlin is an incredibly green city, with almost a fifth of the city covered in trees. There are over 2,500 parks and gardens spread across the city and, when the sun is shining, every one is packed full of locals and tourists alike soaking up the sunshine.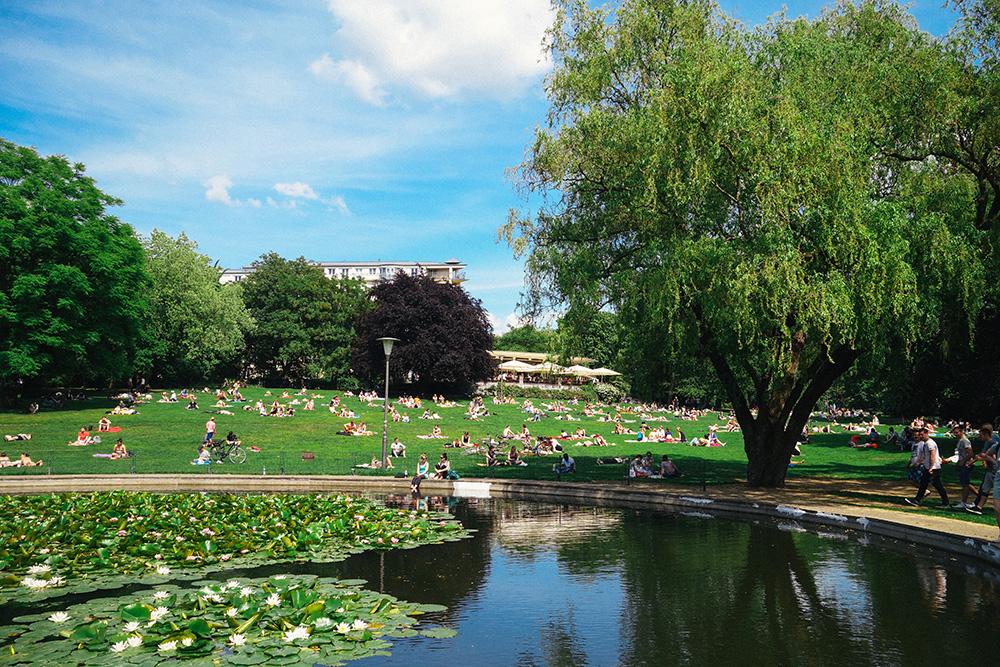 Favourites: Weinbersweg (above), Görlitzer Park, Friedrichshain Park
2. Go swimming
Have you ever been swimming inside a shipping container inside a river? If not, try it in Berlin! The Badeschiff in Kreuzberg is one of the most unique swimming pools in all of Germany. With panoramic views of the river Spree, the Fernsehturm (TV Tower) and the waterfront, relaxing in the Badeschiff is a uniquely Berlin experience. The surrounding area is filled with sand, replicating a beach bar and international DJs play into the night.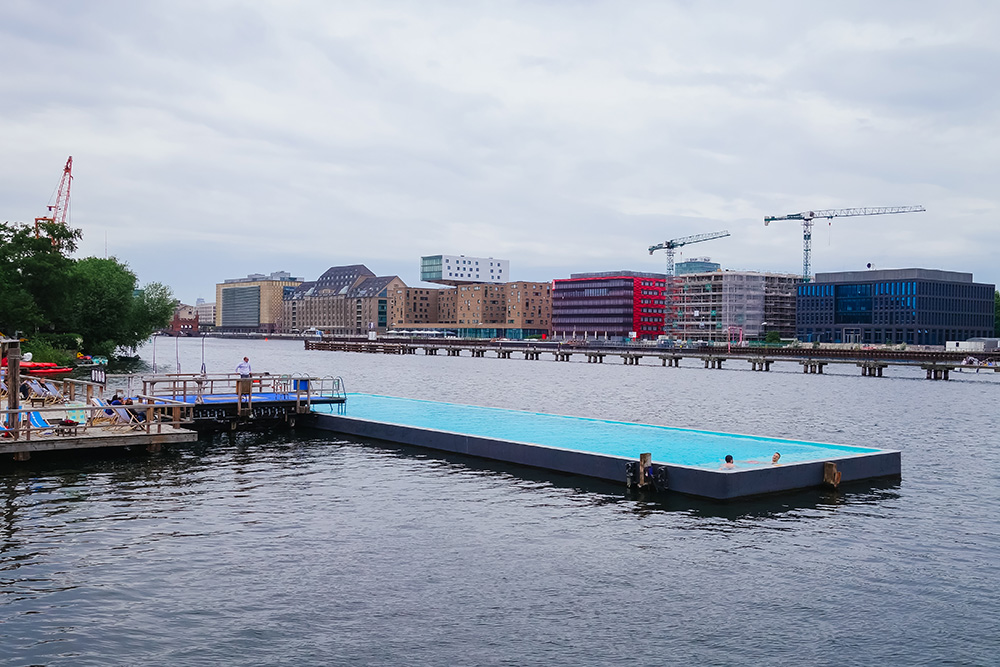 Price: € 4. 00
Opening hours: Open May – September, 8am to midnight
3. Biergarten bliss
Enjoying an ice-cold beer in one of Berlin's beautiful old Biergartens on a warm summer afternoon is an essential summertime experience. Be sure to order a pretzel or a wurst too!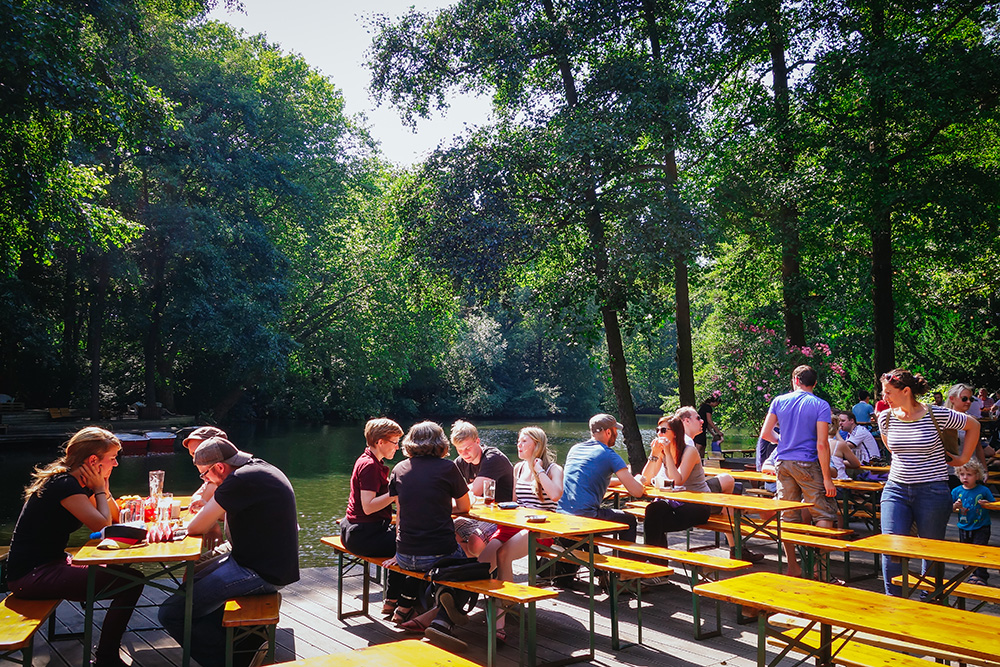 Favourites: Prater (Berlin's oldest Biergarten) and Café am Neuen See (above)
4. Sip on a drink at a canal bar
Little bars line the many canals snaking their way through most of the city. Sip a cocktail on a wooden terrace under the shade of a willow tree and gaze out over the water.
Favourites: Club der Visionaere (above) and Anklerklause
5. Search for Berlin's best ice cream
Berliners are a little obsessed with ice cream so there's no shortage of it around the city! Go on a mission to find the best in town.
Favourite: Die Eismacher in Kreuzberg (above)
6. Watch a movie at the Freiluftkino
One of the most popular summertime evening activities is watching a film at one of Berlin's open-air cinemas. There are a bunch around town, many of which screen original English versions of films. Alcoholic drinks and snacks are available to enjoy and make sure you arrive before sundown to secure a deckchair!
Favourite: Freiluftkino Kreuzberg
7. Sing your heart out at Karaoke in Mauerpark
Karaoke in the bearpit of Mauerpark on a Sunday afternoon is the ultimate Berlin experience in the summer. This outdoor amphitheater is crammed to capacity on warm summer days and the party lasts all afternoon! Simply raise your hand if you'd like to sing and the chances are pretty high that Joe (the host) will have your song! The crowd is hugely supportive of anybody who takes the stage, with energetic rounds of applause and singalongs common. Go for it!
Opening hours: Sundays in summer from 3pm and only in good weather
8. Bite Club
This outdoor street food market is only open during the warmer weather and is one of the best places to grab some food with friends on a balmy evening. The food trucks and makeshift stalls here serve street food from all over the world: think pork tacos, arancini and bao burgers. Located right on the banks of the river Spree, there's probably no better place to be on a Friday night than Bite Club.
Opening hours: Every fortnight in summer, 4pm to midnight
9. Get active at Tempelhofer Feld
Berlin's giant former airport, Tempelhof, has been transformed into the city's largest public park and Berliners love to get active on its wide, open spaces. Grab your bike or skateboard and get on that runway!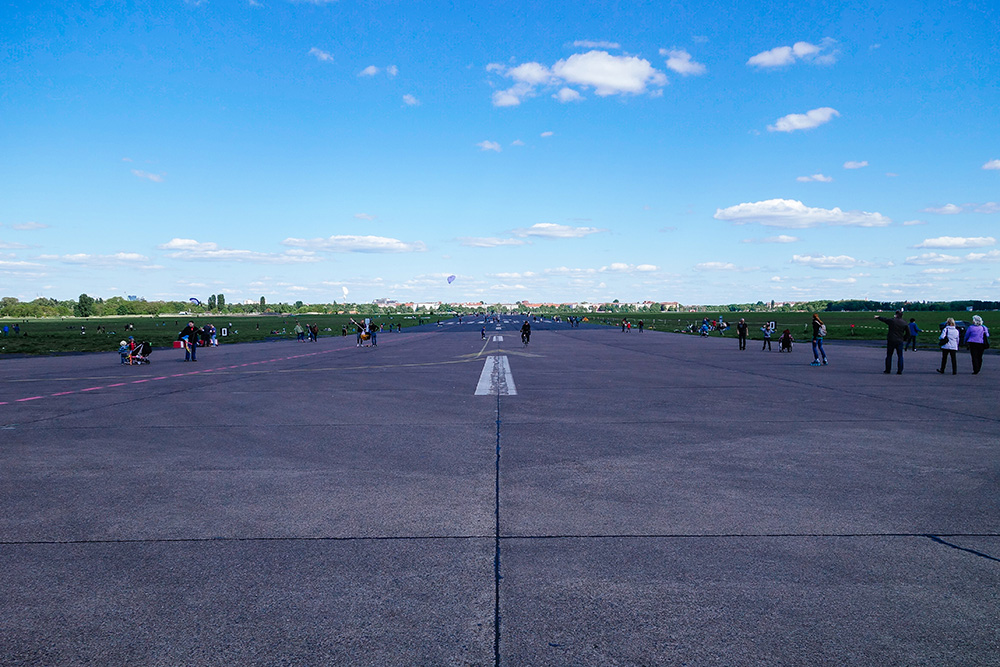 10. Party it up at a street festival
With the arrival of summer so does the party atmosphere. A tonne of street festivals are held in Berlin over summer and each year there seems to be more and more planned!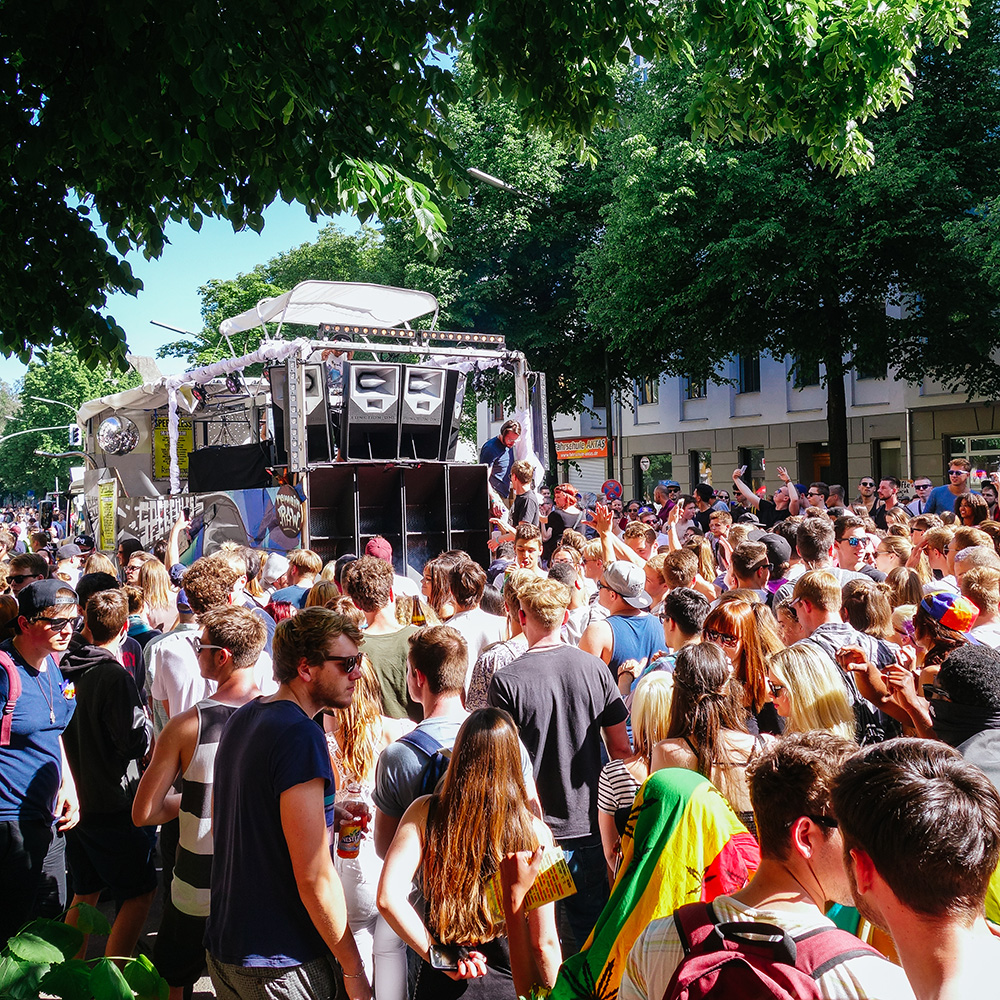 Favourites: Karneval der Kulturen (Carnival of Cultures, above), Bergmannstraßenfest (jazz festival), Internationales Berliner Bierfestival (beer festival)
It's your turn! What are your favourite summertime experiences in Berlin?